Adventurous Kate contains affiliate links. If you make a purchase through these links, I will earn a commission at no extra cost to you. Thanks!
When it comes to the best Mediterranean Islands to visit, you have so many fantastic choices! From massive behemoths like Sicily and Corsica to tiny pristine getaways like Vis and Menorca, I truly believe that there is a perfect Mediterranean island for every kind of traveler.
I've been traveling extensively in Europe for two decades, I live in Europe today, and I make sure to visit at least a few new Mediterranean Islands each year. (Coming up this year? The Elafiti Islands of Croatia, which I've somehow missed in my many Croatia trips!)
Still, I haven't been everywhere — so I've enlisted several of my blogger friends to share their favorite islands in the Mediterranean. From the Balearic Islands of Spain to the 12 Islands of Fethiye, Turkey, this list will show you just how diverse and eclectic the Mediterranean can be. Spend your time exploring the islands' rich history, or kick back with beach-hopping and water sports.
Note that for this guide, I've included entries from the many seas that make up the Mediterranean, including the Adriatic Sea, Aegean Sea, Ionian Sea, and so on and so forth. If it's east of the Strait of Gibraltar, it counts as Mediterranean!
Is there such a thing as the best Mediterranean island? Depending on the day, I'll either answer Korčula or Sicily. Maybe Salina in the Aeolian Islands, or Vis. Those islands punch well above their weight, as you'll see below.
So pack your sarong and shades, fill your wine glass, and throw an extra dollop of olive oil on whatever you're eating. You're in the Mediterranean, baby! Here are the best Mediterranean islands.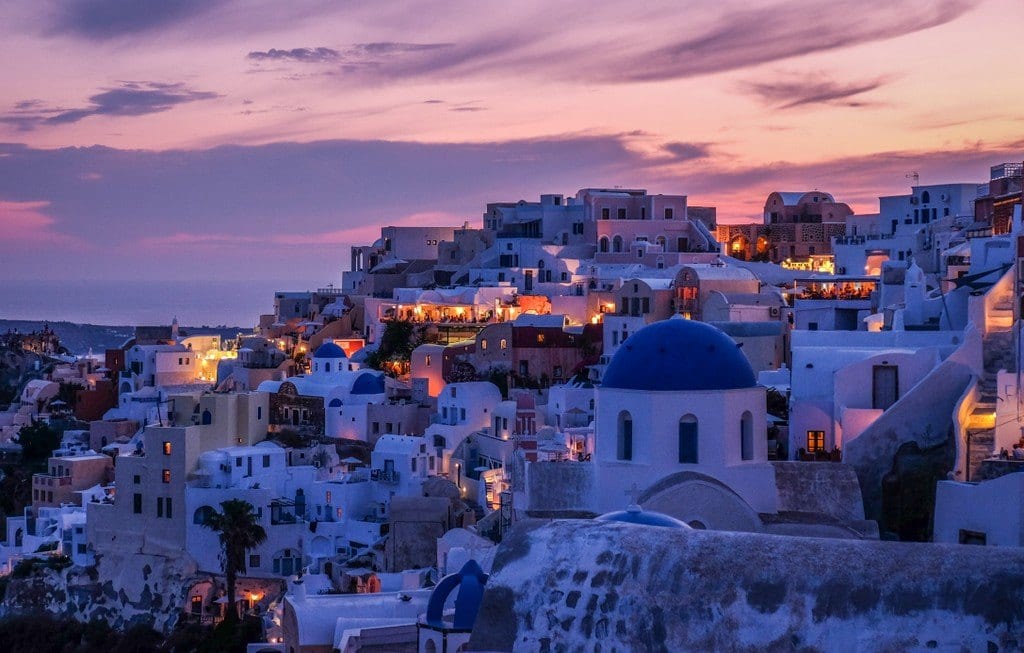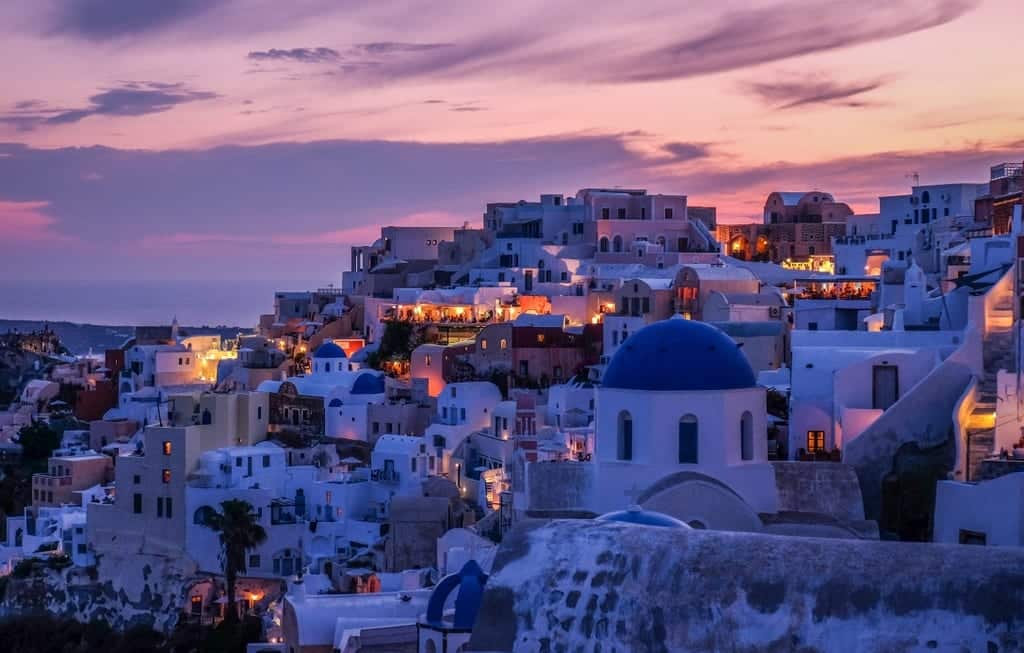 Santorini
Submitted by David & Intan Of The World Travel Guy
The island of Santorini is far from the biggest island in Greece or the Mediterranean, but in spite of its small size, it's known far and wide for its beautiful caldera views and fancy luxury hotels. It really is a quintessential Greek island (and hugely popular tourist destination).
The main tourist areas in Santorini are the white cliffside village of Oia and the main town of Fira, followed by Imerovigli, Kamari, and Perissa. There are plenty of nice hotels and places to stay in all of these areas, or you can just visit them on day trips from other areas of the island. They're all worth a visit if you have time.
In any case, strolling Oia town is definitely one of the best things to do in Santorini! It's an unforgettable town with historic whitewashed buildings, and the viewpoint at Oia Castle is one of Santorini's best spots to watch the sunset. If you walk below Oia, you can reach the water at Ammoudi Bay and see the fish tavernas and the Mediterranean Sea up close.
There are many ferries to Santorini daily, from Athens, Crete, Naxos, Mykonos, Paros, and many other islands. Check the full ferry schedule here. Santorini is a popular destination, so ferries do sell out during high season.
Where to Stay on Santorini: If you're staying in Oia, a great high end hotel option is La Perla Villas. If that doesn't fit in your budget (or if you want to stay near a beach), then another good option is Villa Dima in the Perissa area. Both of these are great!
Read More: Where to Watch the Sunset in Santorini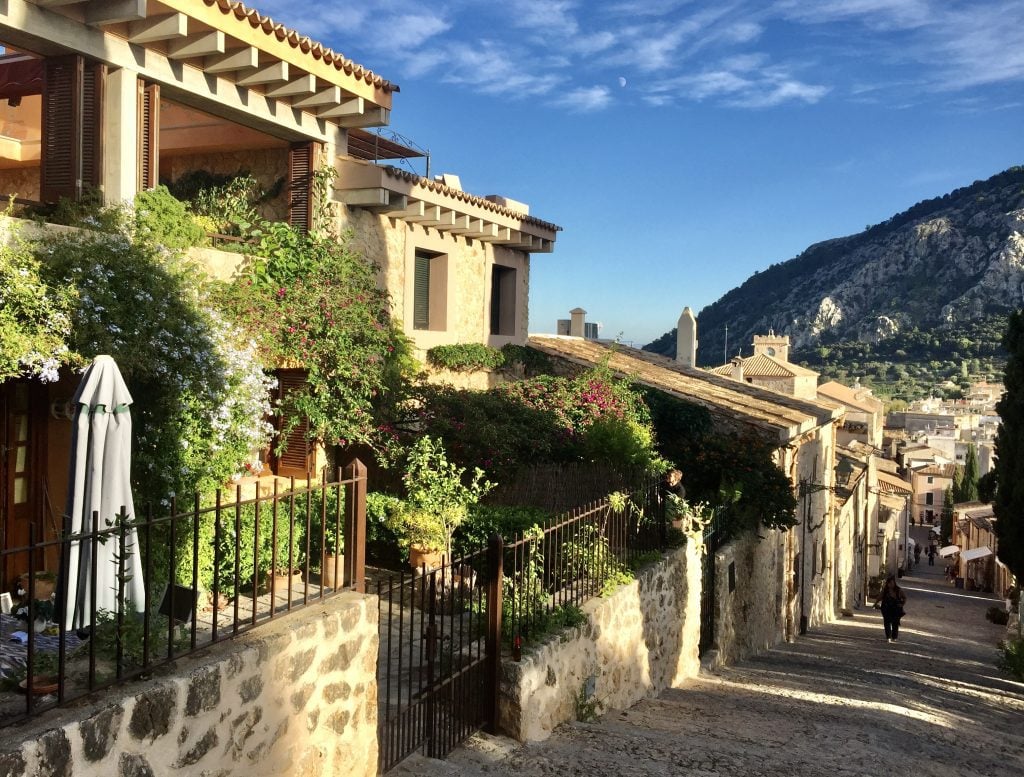 Mallorca
Submitted by Diana of Travels in Poland
Mallorca is an absolutely enchanting island in the heart of the Mediterranean. It has beautiful crystal-clear turquoise waters and stunning peaks from the Serra de Tramuntana range.
While there are lots of things to do in this island in the Mediterranean, an unforgettable experience to have while in Mallorca is to take a sunrise hot air balloon ride over the island.
Just the surreal feeling of floating through the skies over such a majestic island is a very unique experience and an adventure you'll never forget.
Where to Stay in Mallorca: When deciding where to stay in Mallorca, the picturesque town of Pollença, located in the island's north, is a good option. Pollença effortlessly blends historic charm with a laid-back vibe, making it an ideal base for exploring the island. A stay at Hotel Illa d'Or provides some stunning Mediterranean Sea views.
Palma is another option and Mallorca's largest city. Palma is a great option due to its large shopping options and large city vibes, and it's an easier option for those who want to stay closer to the airport. Hotel Nixe Palace is a great choice for a stay in Palma. Strolling the streets, you'll find many options for purchasing pearl jewelry, so be sure you're ready to browse all the local vendors in the area.
You can reach Mallorca via flight or ferry. Check the ferry schedule here.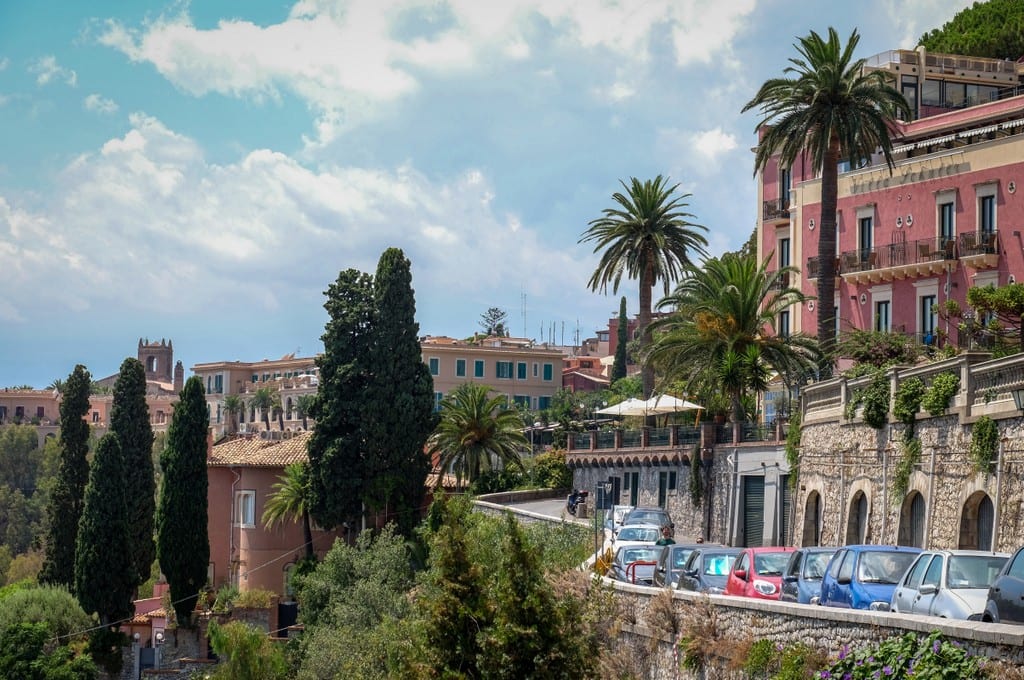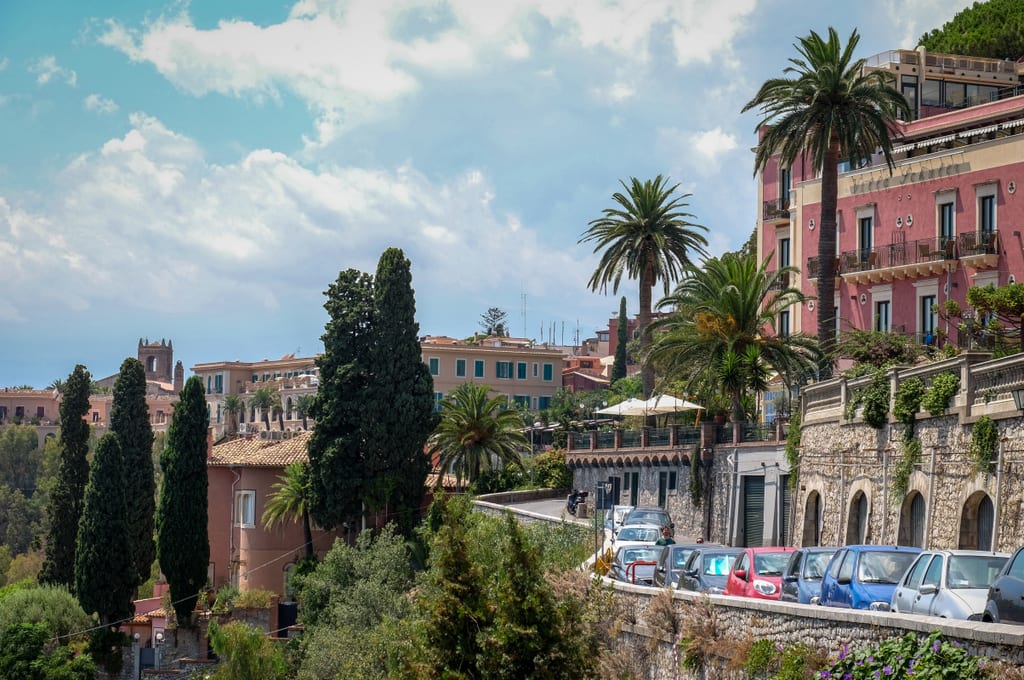 Sicily
Has any Mediterranean island been as mythologized as Sicily? The largest island in the Mediterranean, posed at the tip of mainland Italy's boot, is home to Greek ruins, year-round sunshine, patron saints with knives in their throats, crystal-clear waters, and the thundering volcano of Mount Etna. And The Godfather, of course, whose mafia storyline has become so entwined with Sicily, despite the fact that this is a safe place to visit these days.
Sicily is a massive island. You can't "do" Sicily in a weeklong trip; instead, I recommend concentrating on either Eastern Sicily (fly into Catania and visit Taormina, Mount Etna, and Siracusa) or Western Sicily (fly into Palermo and visit Erice, Cefalù, and the Egadi Islands). You can also reach Sicily via ferry from several mainland Italy destinations. See the full ferry schedule here. Sicily is diverse, so make sure you visit some cities, some historic sites, and some natural wonders.
The ultimate experience in Sicily is diving into Sicilian food — it's so different from the food in Italy, with influences from North Africa, Spain, the Middle East, and beyond. Dine on pasta con le sarde (sardine, anchovy, and raisin pasta from Palermo), caper-studded insalata eoliana from the Aeolian Islands, And don't forget dessert — especially cannoli and cassata!
Where to Stay in Sicily: Again, Sicily is huge, which makes it hard to pinpoint one place. But I enthusiastically recommend visiting the city of Palermo: so full of art and history, and incredible value for money (much cheaper than Prague, where I live, which has a reputation of a cheap city). Hotel Politeama is a well-priced mid-range hotel with fabulous views in the fun Politeama neighborhood.
Read More: The Joys and Challenges of Travel in Sicily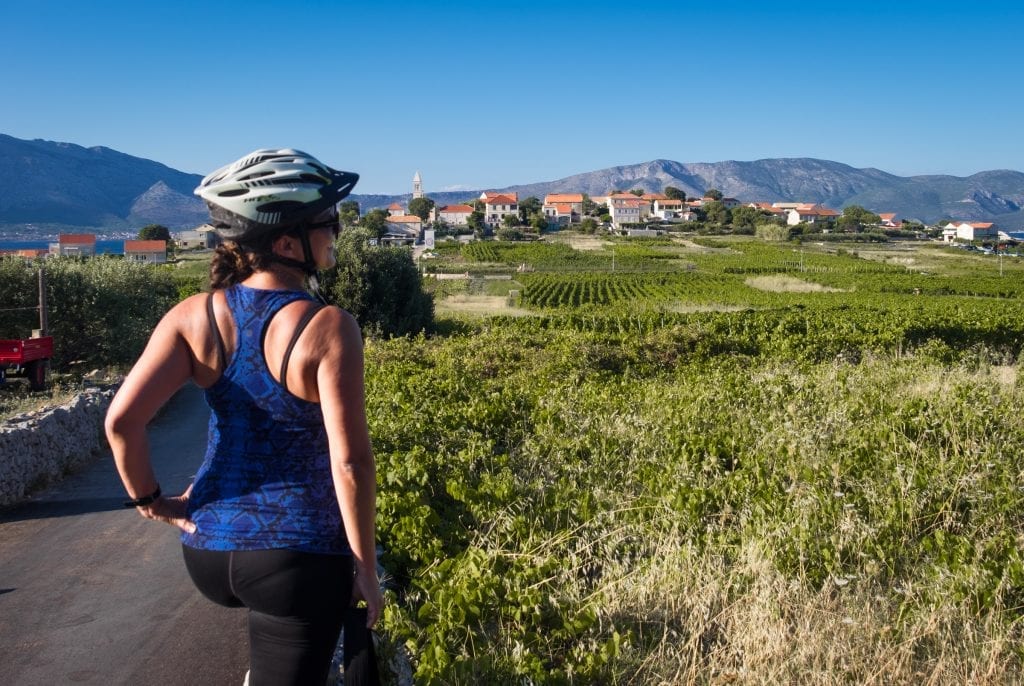 Korčula
Korčula is one of Croatia's most stunning islands — yet it tends to fly a bit beneath the radar when flashy islands like Hvar take central stage. Korčula is most famous for being the home of Marco Polo — though not all historians agree on this — and Korčula Old Town is a UNESCO World Heritage Site.
More importantly, Korčula is all about wine. There are some varietals grown on Korčula that don't grow anywhere else in the world, like Grk, a bright and briny white wine, and there are tiny, wonderful wineries strewn along the island. Hop on a bike to explore vineyards just meters from the crashing waves.
If you want to beach hop, you can hop on the water taxi taking you to the islets of Badija and Vrnik, followed by Lumbarda town and its rare sandy beach. But for a more offbeat experience, rent a car and drive down to Bačva Beach and Pupnatska Luka for a more local experience.
The ultimate Korčula activity? Experiencing a Moreška — traditional sword dance from Korčula! Performances are dazzling (don't sit in the front row, THOSE SWORDS GET CLOSE!) and take place on Thursdays from June through September as well as Mondays in July and August.
You can reach Korčula via ferry from Dubrovnik, Split, and Hvar. See the full ferry schedule here.
Where to stay on Korčula: Staying in the heart of Korčula town gives you easy access to dining, exploring, and the water taxi. Aminess Korčula Heritage Hotel is a beautiful hotel in the heart of the old town with beautiful views and excellent service.
Read More: Ultimate Guide to Korčula Island, Croatia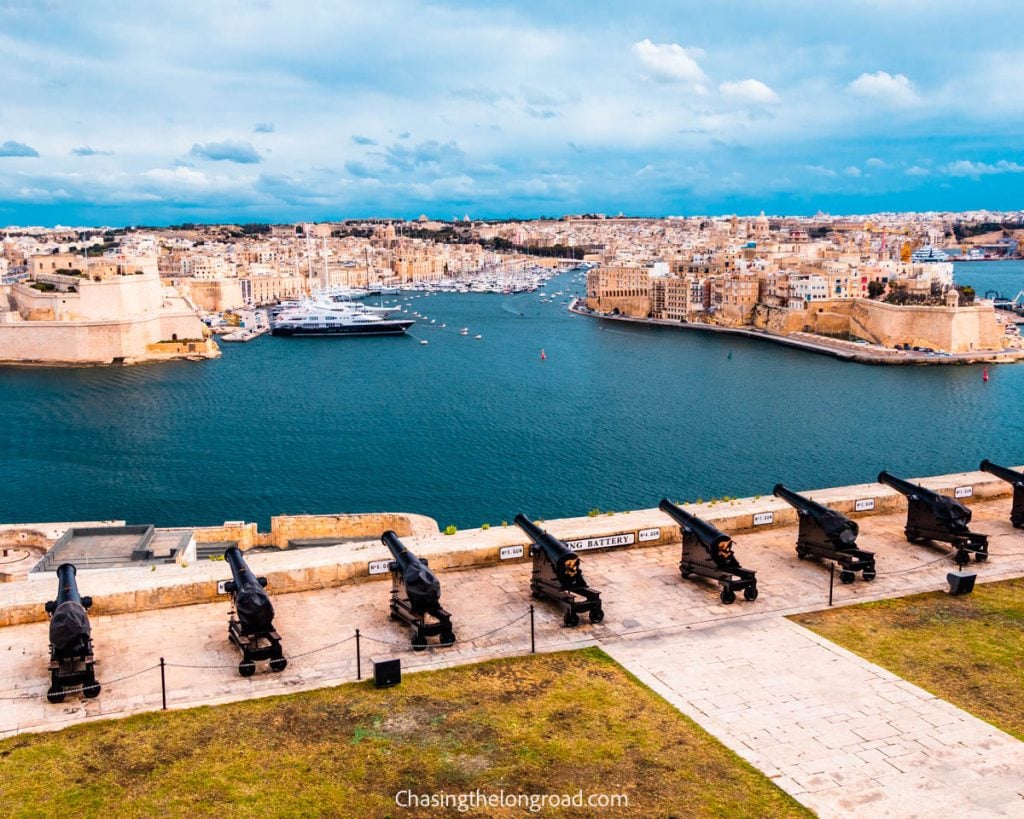 Malta
Submitted by Moumita of Chasing the Long Road
Malta is a small island nation in the Mediterranean Sea, famous for pristine sandy beaches, warm climate, prehistoric archaeological sites and delicious regional delicacies. There are plenty of things to do in Malta to make you fall in love with this incredibly beautiful island.
Wander around the winding streets of Malta's charming capital city, Valletta. This fortified city was designed as a UNESCO World Heritage site in 1980. One of the highlights of Valletta is the St John's Co-Cathedral. Founded in the 16th century, the ornate interior is one of the finest examples of Baroque architecture in Europe. History and art fans will love a visit to the historic Grand Master's Palace.
Next, admire the breathtaking panoramic view of Grand Harbour and the Three Cities from the Upper Barrakka Gardens. Travellers gather here at noon to see the ceremonial cannon shots. You can sail on a traditional Maltese boat to explore the nearby historic fortresses and churches of the Three Cities.
Also, Valletta is a perfect base to explore the rest of the island. You can take a day trip to the atmospheric ancient walled city of Mdina, see the miracle church of Mosta, or enjoy a beach day at Golden Bay. There are many ferries between Valletta and Gozo each day as well. See the ferry schedule here.
Where to Stay on Malta: Located in the historic center of Valletta, The Barrister Hotel is within walking distance from the tourist attractions and provides a stunning view of the city skyline.
Read: Why Malta is a Beautiful, Formidable, Vibrant Island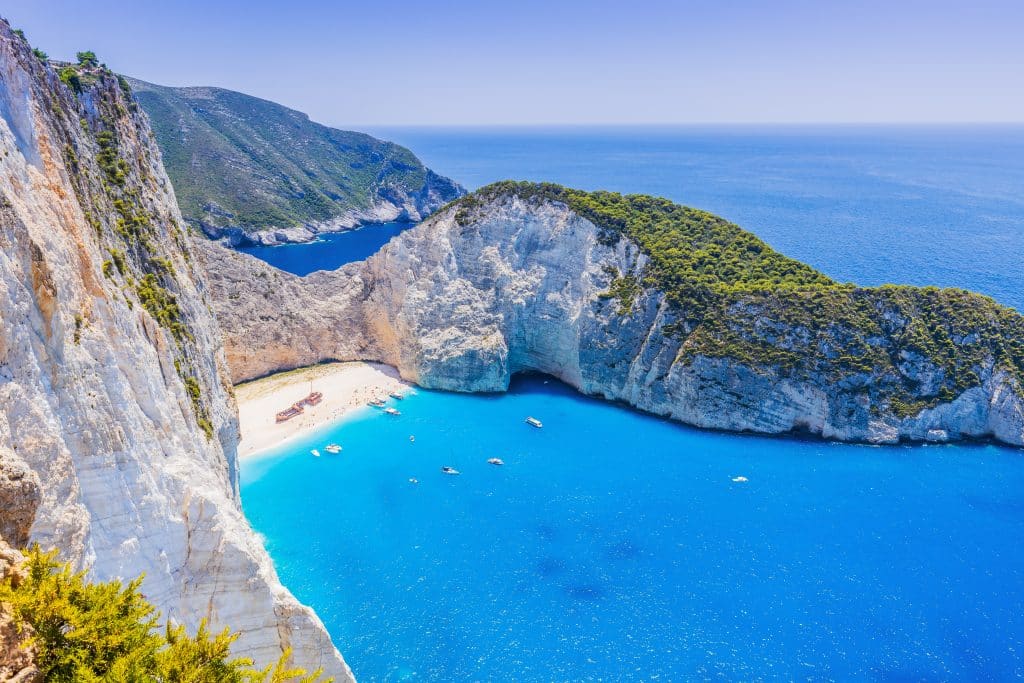 Zakynthos
Submitted by Lowri Thomas from Many Other Roads
Have you been looking for the perfect spot to take a vacation in the Mediterranean? Look no further — Zakynthos (known locally as Zante) in Greece is one of the best islands to visit in your lifetime.
Zakynthos is one of Greece's Ionian Islands, located in the western part of the country. With miles of beaches, stunning natural beauty and delicious food, there's something here for everyone! You can reach the island by flying or by ferry.
One of the highlights while visiting Zakynthos is Shipwreck Cove or Navagio Beach (pictured above). This stunning beach is lined with turquoise waters and white sand, surrounded by majestic cliffs – a photographer's paradise. (Please note that Navagio Beach is closed for 2023 but expected to reopen in 2024.)
Visiting the unique Gerakas Beach is also a must. This is where the Loggerhead Turtles come to lay their eggs and you can experience a rare glimpse into nature.
Or you can take a boat tour around the cliffs of Skinari and enjoy some of the most breathtaking views around. No matter what you decide to do, Zante is a stunning island that offers so much.
Where to Stay on Zakynthos: Zakynthos Town is the ideal place to stay during your visit to this Mediterranean island. This bustling port city has something for everyone, from chic restaurants and bars to museums and churches. The location of Zakynthos Town also makes it easy to explore the rest of the island and experience some of the best road trips Greece has to offer.
For the ultimate place to stay in Zakynthos Town, book to stay at the Strada Marina Hotel which has the best views and offers an airport shuttle service!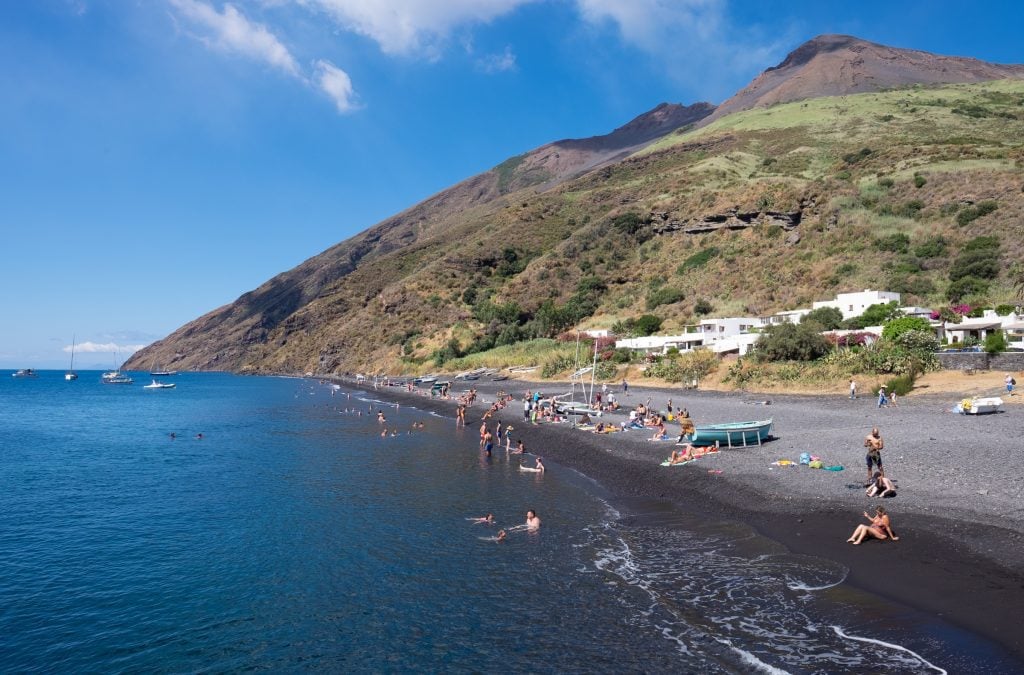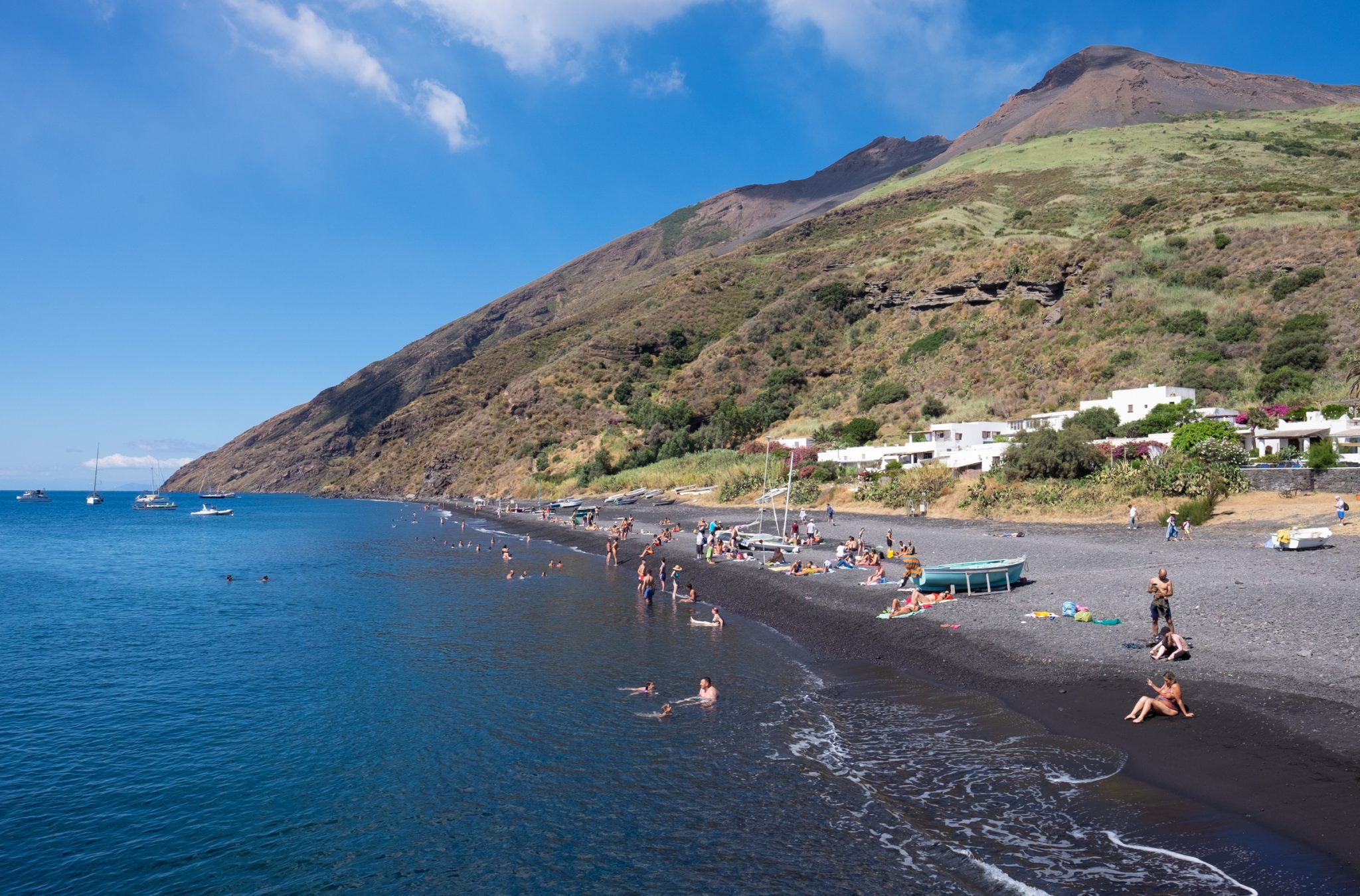 Aeolian Islands
The Aeolian Islands are an archipelago off the northeast edge of Sicily. These volcanic islands are a UNESCO World Heritage Site, recognized for their unique natural environment.
There are seven Aeolian Islands — Lipari, with the largest town and best restaurants; Vulcano, with an extinct crater home to stunning views; Salina, a dreamy island with lots of Malvasia vineyards; Stromboli, home to an active volcano that erupts nightly; Panarea, popular getaway for the rich and famous; and Alicudi and Filicudi, quiet remote village islands. You can travel between islands via ferry. See the full schedule here.
In the Aeolian Islands you can relax on black sand beaches, take boat trips to surrounding islands, hike the volcanic landscapes, and eat lots of capers that grow wild in the hills.
The ultimate Aeolian experience is hiking Stromboli's active volcano. It's a challenging hike, but you're rewarded with up close views of neon red lava as the sun sets. The volcano erupts regularly and you won't be disappointed!
Not up for the hike? Watch the show from Osservatario restaurant, halfway up the mountain, with the perfect view of red ribbons of lava exploding (and the hikers making their way down after dark).
Where to Stay on the Aeolian Islands: I recommend visiting the Aeolian Islands for at least a week to get to know each of the islands, and at minimum stay on both Salina and Stromboli. My all-time favorite place to stay is Hotel Ravesi on the island of Salina. This is one of my favorite hotels in Italy — a small boutique hotel with a heavenly infinity pool overlooking Lipari and Stromboli, a wonderful staff, electric scooters to rent, and a fabulous aperitivo with cocktails.
Read More: Ultimate Guide to the Aeolian Islands, Italy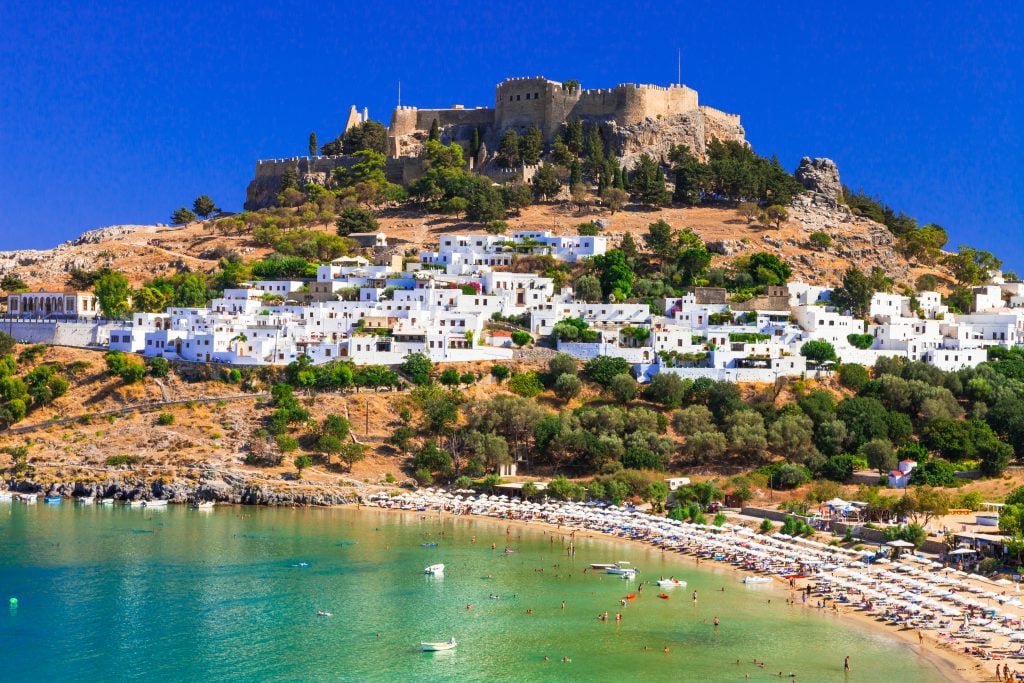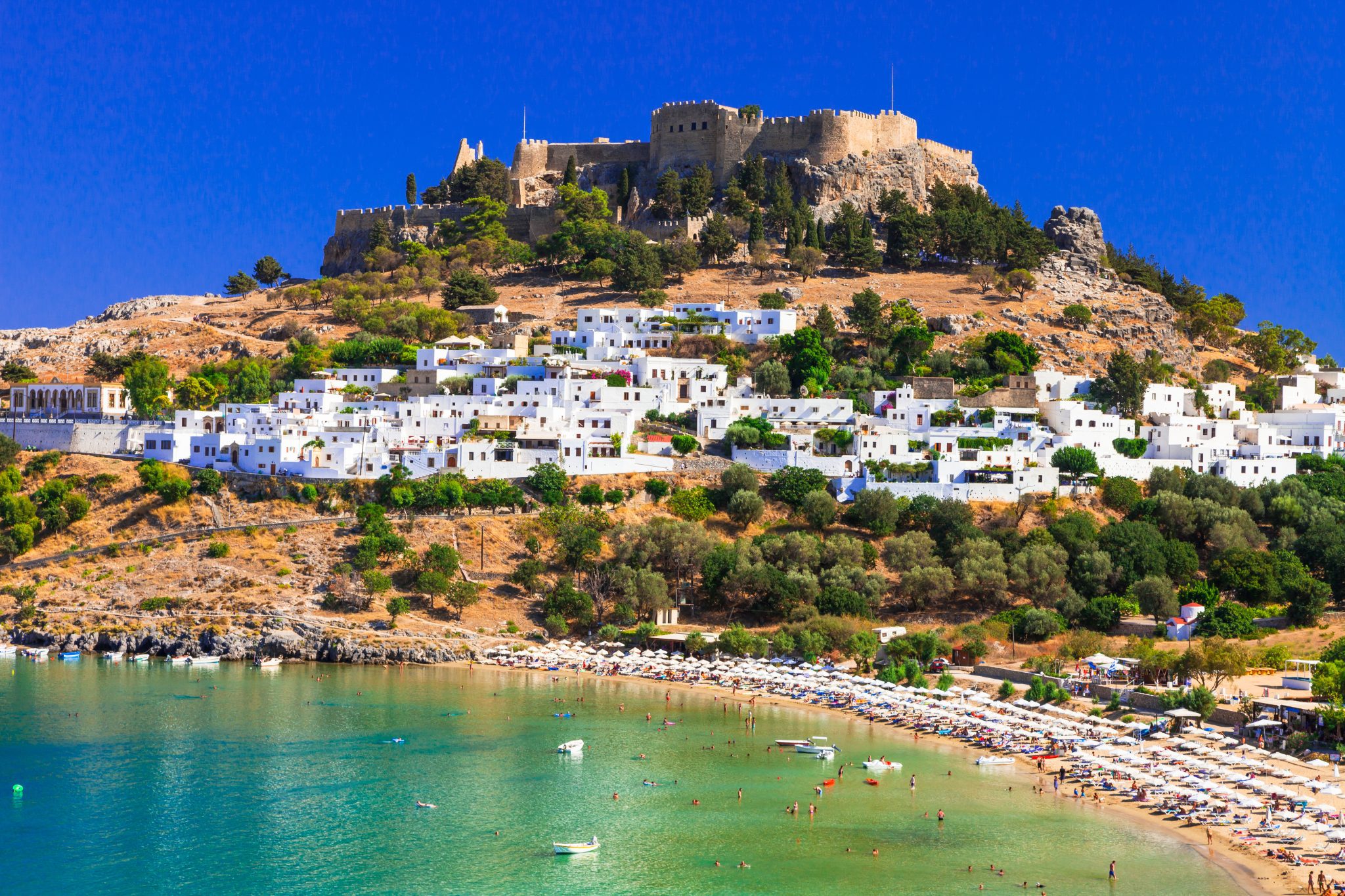 Rhodes
Submitted by Lara from The Best Travel Gifts
One of the most beautiful Greek islands in the Mediterranean Sea to visit is Rhodes. This Dodecanese island, located in the eastern part of the Aegean Sea, right across from Marmaris in Turkey, is filled with history, culture, and sunshine. In fact, it's one of the sunniest islands in Greece!
While it's easy to spend your time soaking up the sun and exploring Rhodes's beautiful beaches, such as Tsambika, Saint Paul's Bay, Ladiko, and Kallithea, you'd be missing out on a lot if you limit your time on the island to just the beach.
One activity that can't be missed when visiting Rhodes is exploring the medieval town of Rhodes. The fortified town is a UNESCO World Heritage Site, and as you wander through its cobbled streets, you'll immediately understand why.
Rhodes Old Town is also the best place to stay on the island. It's the heart of the island, from which you can easily explore other towns (such as Lindos and its acropolis) and beaches. You'll also find plenty of nightlife and dining options here as well as cute shops that sell authentic Greek souvenirs and products such as olive oil, olive wood carving, and ouzo.
The fastest way to reach Rhodes is by flying but you can also travel via ferry from Athens and islands in the Dodecanese and Cyclades. See the full ferry schedule here.
Where to Stay on Rhodes: If you have the budget, definitely go for a hotel inside the old city walls, for example, Attiki Hotel. This beautiful boutique-style hotel that will transport you right back to the Middle Ages — with modern style!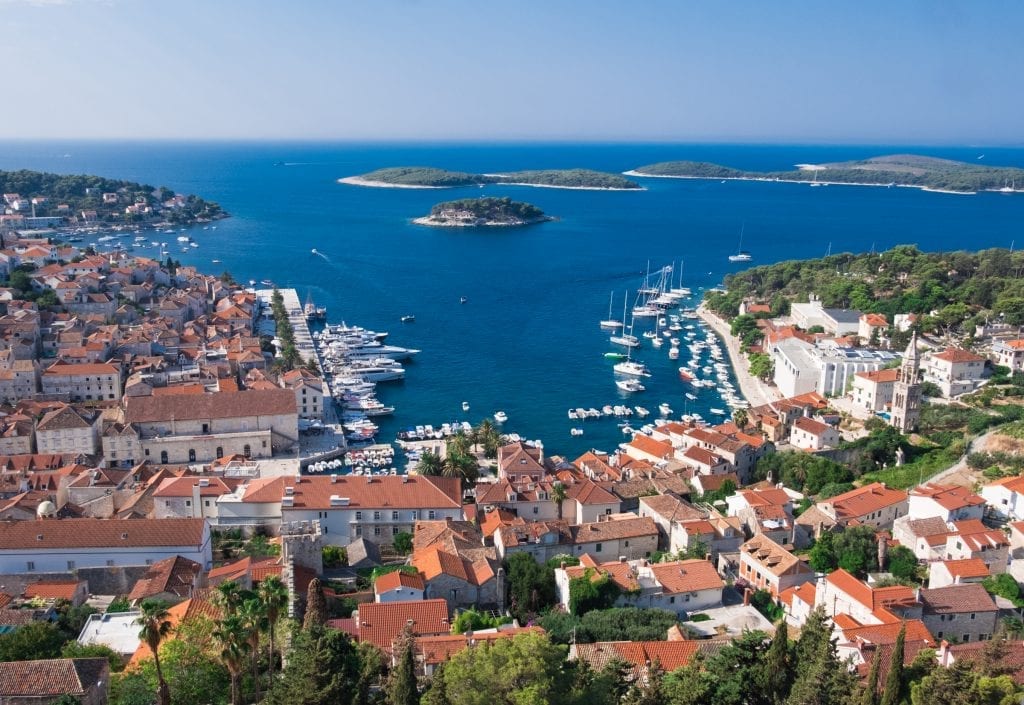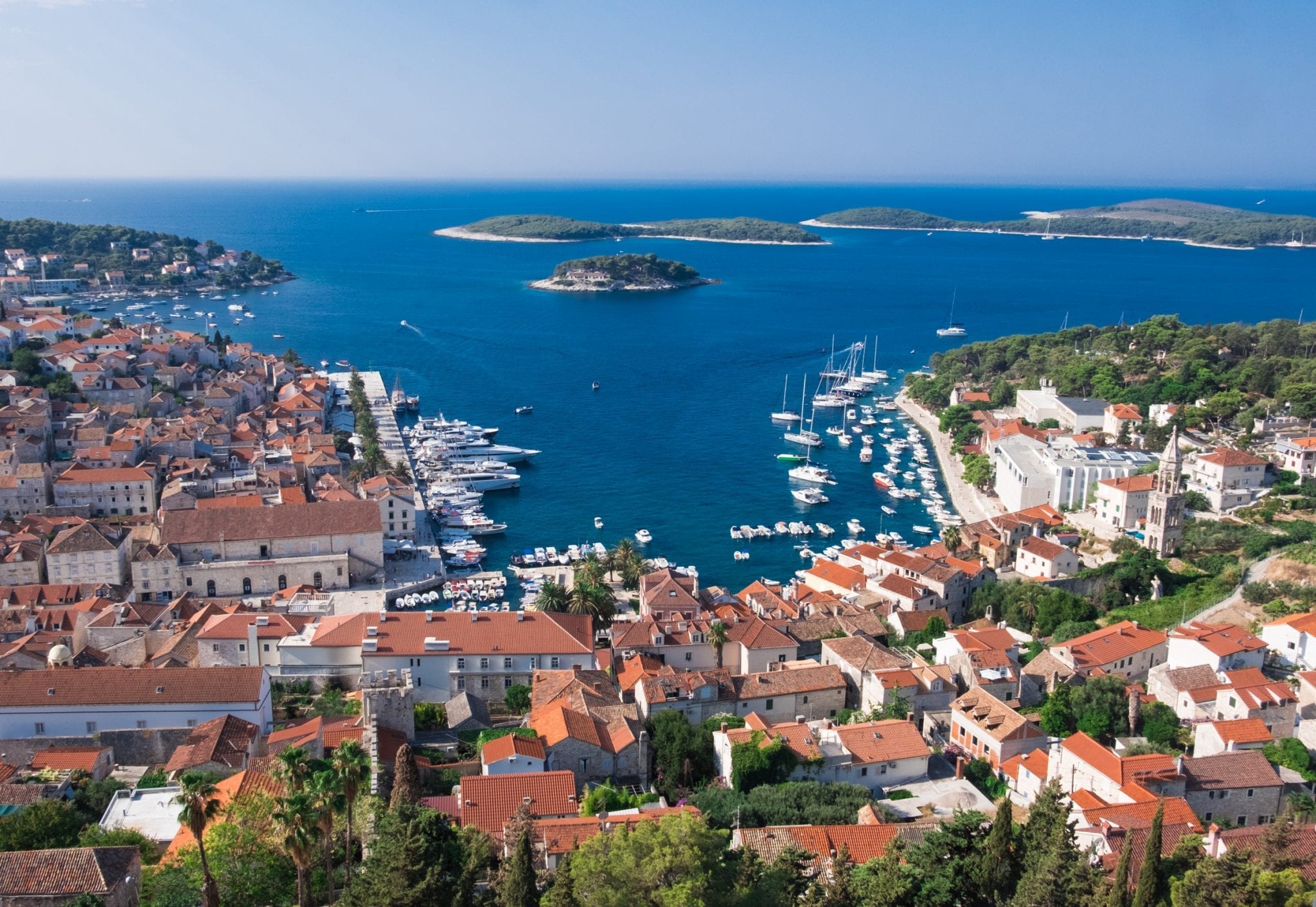 Hvar
If you've heard of any one island in Croatia, it's probably Hvar. This island is one of the most popular destinations in the country and is famous for its wild nightlife, its Insta-celebrities, and the real celebrities who hover in yachts off shore.
But there's so much to Hvar than being a party island! Hvar Town, the main town on the island, is a UNESCO World Heritage Site with lots of beautiful buildings (don't miss the view from the Spanish Fortress, pictured above). The island is larger than most people think and is home to gorgeous small towns (in my experience, canal-filled Vrboska is a highlight). Plus, you can easily reach the island via ferry.
There are also stunning beaches and plenty of vineyards where you can go wine-tasting. Hvar is famously the sunniest island in Croatia, and if you visit in June, you can see their lavender fields in bloom! Rent a scooter to see the island in style.
One of the best things to do in Hvar is to visit the Pakleni Islands for the day. This lesser-known archipelago in the Mediterranean Sea is fun to explore, with beach clubs, little restaurants, and hidden coves for swimming.
In Croatia you can actually rent a boat without a license, but I don't recommend doing this unless you have boating experience. (My husband and I did this and it was a disaster — we had no idea what we were doing.) Instead, book a catamaran cruise to Pakleni and enjoy your day out on the water!
Where to Stay on Hvar: If you're looking for a truly special place to stay in Hvar, I love Maslina Resort. This mindful luxury resort near Stari Grad is absolutely stunning, top to bottom, has great food and drinks, and the most wonderful staff who will take such good care of you.
Read More: Ultimate Guide to Hvar, Croatia's Sunniest Island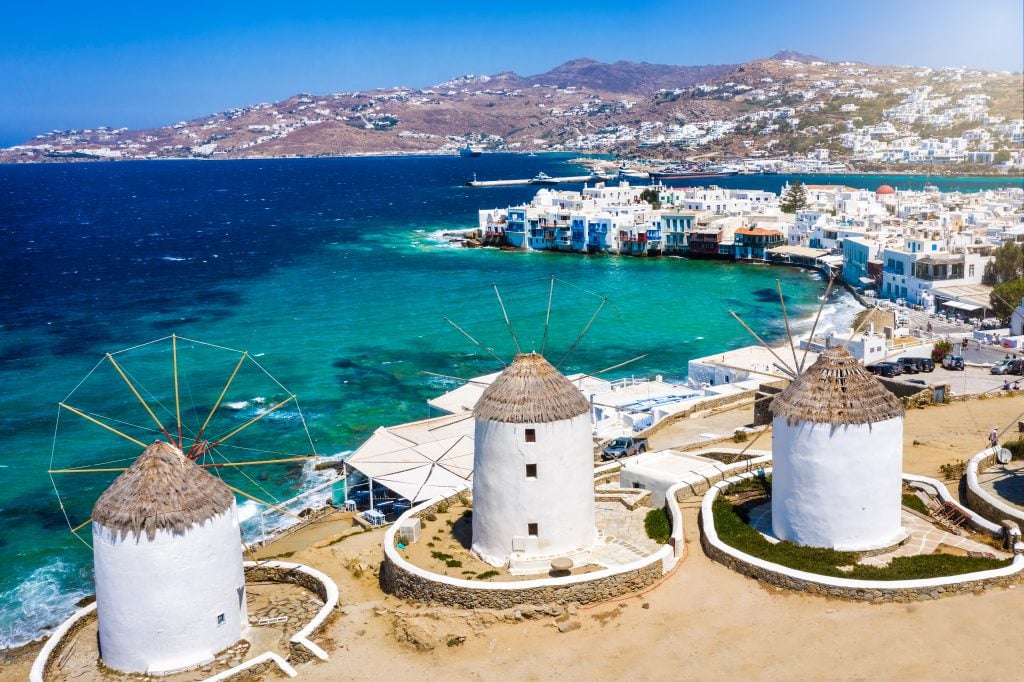 Mykonos
Submitted by Jase of Roaming Vegans
Mykonos is a world-famous island known for its white-washed buildings, stunning beaches and iconic windmills. However, Mykonos is also one of the legendary party destinations in Europe with a nightlife scene that is truly out of this world.
Of all the Greek Islands, Mykonos is where you go to party. The island has it all, from beach clubs and cocktail bars to nightclubs and live music venues! Mykonos Town is the center of the island's nightlife scene, with an energetic atmosphere that lasts late into the night. Some of the island's most famous clubs include Cavo Paradiso, Paradise Club, and Super Paradise Beach Club. The best time to party Mykonos is during July and August, when everyone's in town. There is an airport on Mykonos but it's also well connected to other islands and Athens via ferry. See the full ferry schedule here.
When you're not partying, Mykonos is a beautiful island to explore, and there is no better way to do this than via a four-wheeler (quad bike) which are easily rented from various rental shops and some accommodations on the island.
On a four-wheeler you'll have the freedom to zip around the winding roads and discover some of the island's best kept secrets on your own time. Rental prices vary from shop to shop so it pays to look around and negotiate — discounts apply for longer rentals.
Mykonos Town (Chora) is the heart of Mykonos and a prime area to base if you want to be close to all the action. Mykonos Town has a variety of top restaurants, including vegan eateries, is known for its charming alleyways, architecture, and world class nightlife. So much is walkable from here.
Where to Stay on Mykonos: When it's time to rest your head, check out the Boheme Mykonos Hotel. This boutique hotel is located in the heart of Mykonos Town and offers chic accommodations and an amazing pool area. It's the perfect place to unwind after partying the night away.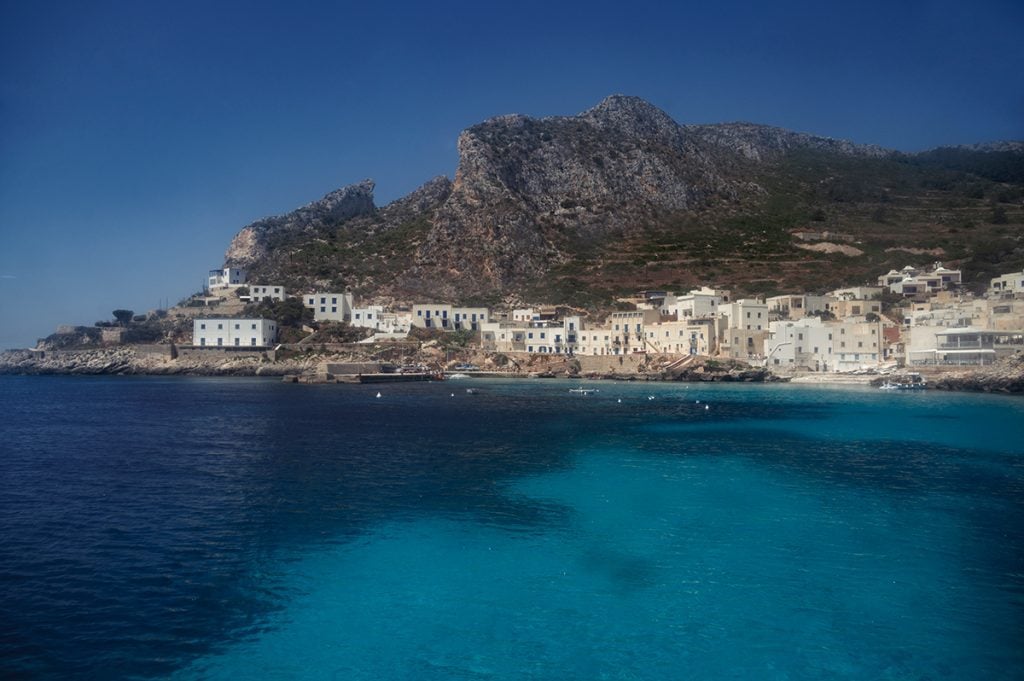 Egadi Islands
Submitted by Ausra Osipaviciute from The Road Reel
Off the western coast of Sicily, the archipelago of Egadi is formed by three inhabited islands: Favignana, Levanzo, and Marretimo, as well as the two wild islets of Formica and Maraone. Egadi is the largest protected marine area in Europe and you can easily visit as a day trip from Trapani (or longer, if you're lucky!).
Shaped like a butterfly, Favignana island is the largest of the three, yet small enough to be cycled around in a day. It is most frequented by local holidaymakers and a few foreign visitors. Favignana is the place where you can experience slow island life, enjoy rugged beaches bathed by turquoise waters, sail and snorkel around the island, climb up to the Saracen fortress on Mount Sanat Caterina, and savor local cuisine (hope you like tuna!).
Dreamy Levanzo, with its white-washed waterfront holiday houses, is the smallest island of the three and has a strong Mediterranean feel. It is located just 20 minutes by ferry from Favignana and is perfect to island hop to for half a day.
Meanwhile, Marettimo is the most remote and wildest of the trio. It is a perfect place for hikers, as it offers many unspoiled nature trails. Scuba diving enthusiasts will also be delighted that Marretimo is a beautiful place to go diving.
Where to Stay in the Egadi Islands: Indeed, the Egadi Islands are very authentic and slow-paced offering an authentic travel experience in the Mediterranean. If you choose to stay overnight, Cave Garden Rooms on Favignana has a rustic yet beautifully set up accommodation surrounded by typical cave gardens, run by a very welcoming local family.
Read More: The Joys and Challenges of Traveling in Sicily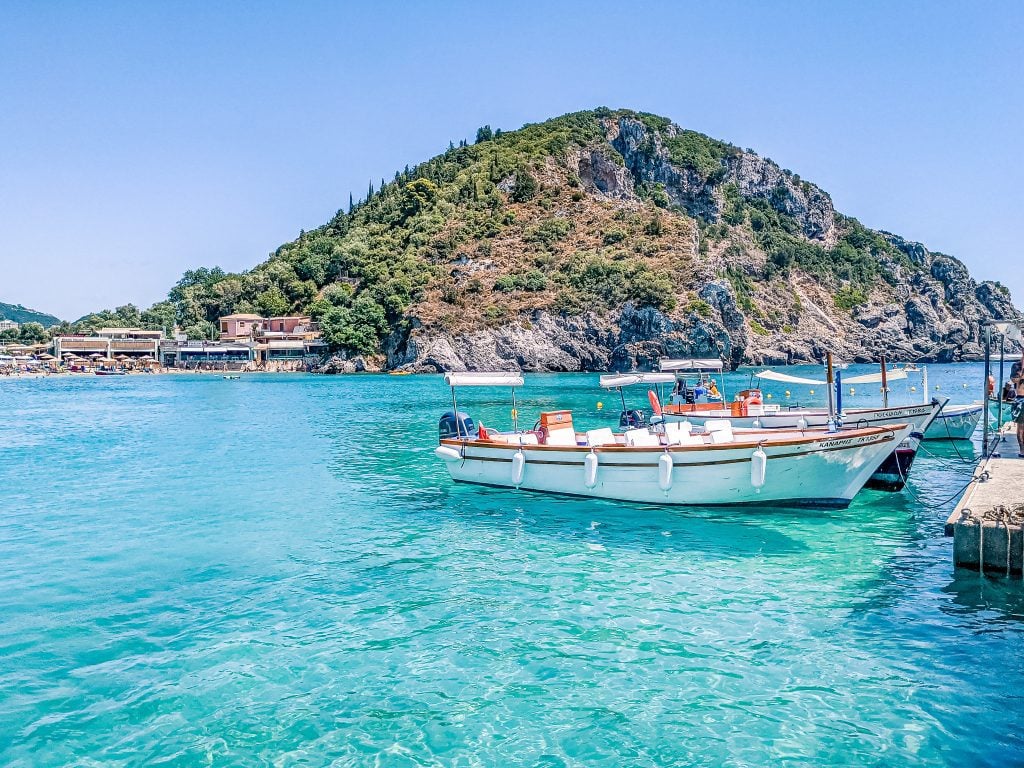 Corfu
Submitted by Jo from World Wild Schooling
Corfu is one of Greece's Ionian islands, boasting a unique blend of natural beauty, history, and culture. Located in the Ionian Sea, close to Albania, the island is famous for its picturesque beaches, charming towns and villages, and rich cultural heritage that dates back to ancient times. You can reach Corfu from Italy, Albania, and other Ionian islands via ferry. See the full ferry schedule here.
One of the things that make Corfu special is its historic Corfu Old Town, a UNESCO World Heritage Site. The town is home to several cultural and architectural attractions, such as the Venetian Fortress, which offers stunning views of the town and the sea. Corfu Town is also renowned for its vibrant nightlife, with numerous bars, restaurants, and cafes that serve delicious local cuisine and refreshing drinks.
Pontikonisi is another attraction that makes Corfu a unique destination. Visitors can take a short boat ride to the tiny uninhabited island and enjoy the lush greenery at the peaceful cafe. Corfu is also home to many beautiful beaches, such as Palaiokastritsa, Glyfada, and Agios Gordios. Each of these beaches offers its unique charm, with crystal-clear waters and golden sands.
One of the things that makes Corfu special is its incredible coastline, which is dotted with beautiful beaches and secluded coves. One unforgettable experience to have on the island is to rent a boat and explore the coastline on your own. You can stop at secluded beaches, swim in pristine waters, and take in the breathtaking scenery from a unique perspective.
Overall, Corfu is a perfect Mediterranean island destination that offers visitors a unique blend of history, culture, and natural beauty. Whether you're exploring the historic Corfu Old Town and Venetian Fortress, enjoying the crystal-clear waters around Pontikonisi, or soaking up the sun on the island's many gorgeous beaches, Corfu is sure to offer you an unforgettable vacation experience.
Where to Stay on Corfu: When it comes to where to stay on the island, the town of Corfu is a great choice for solo female travelers looking for a mix of culture, history, and relaxation, with plenty of dining and nightlife options to keep them entertained. One specific hotel that comes highly recommended is the Corfu Palace Hotel. This elegant hotel is located in a prime location and boasts an outdoor pool and spa facilities.
Read More: Corfu, Greece, in Technicolor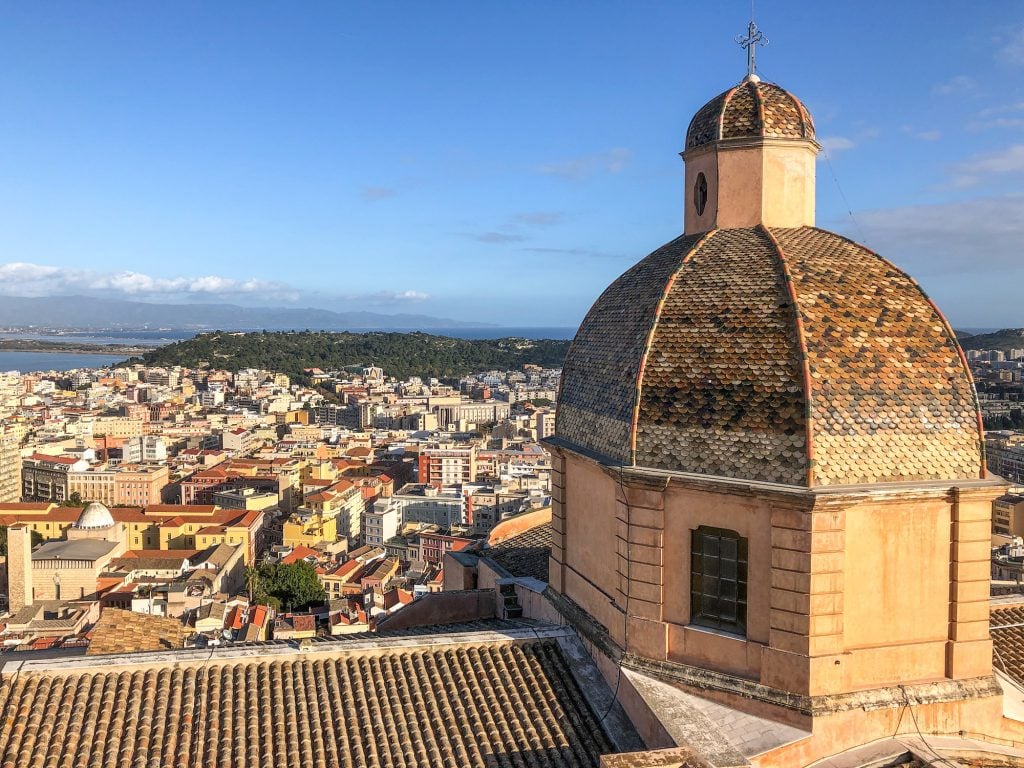 Sardinia
Submitted by Megan of Megan Starr
A fairly large island belonging to Italy, the underrated island of Sardinia is full of fantastic activities like hiking, swimming, and hanging out at the beach. Enjoy swimming in the crystal clear water and soaking up the warm sunshine, or take in the fresh air with a walk along the sand in winter. There are many fun hikes, ranging from beginner to advanced, to enjoy the island's rocky hills and beautiful vistas. The Sella del Diavolo Trail in the south is one of the island's most popular!
Sardinia is rich in history; while you're there, don't miss out on the fascinating museums and archeological sites chronicling this. Make sure to visit a few of the nuraghes, ancient monolithic edifices built by the Nuragic civilization thousands of years ago (which are now UNESCO World Heritage sites!).
Sardinia also has quaint villages dotted across the island like Castelsardo and Atzara, where you can wander through colorful streets and sample the delicious Sardinian cuisine, known for its roasted meats, seafood, and pardulas, a traditional sweet.
For an unforgettable day, take advantage of the consistent winds on a sailing trip around the island. You can enjoy the stunning rugged coastline, have some time to swim in the sheltered bays, or even stop off at one of the small outlying islands like Tavolara or La Maddalena.
Cagliari is a fantastic place to base yourself on your trip, and you can explore the capital city's museums, restaurants, and beaches as well as take day trips out to other parts of the island. One of the best things to do in Cagliari is to check out the Bastion Saint Remy and the Civic Market of San Benedetto.
Where to Stay on Sardinia: For a comfortable stay, book a room at the Hotel Villa Fanny, a boutique hotel near the Cagliari city center with a lovely courtyard and luxurious rooms.
You can easily get to Sardinia via ferry.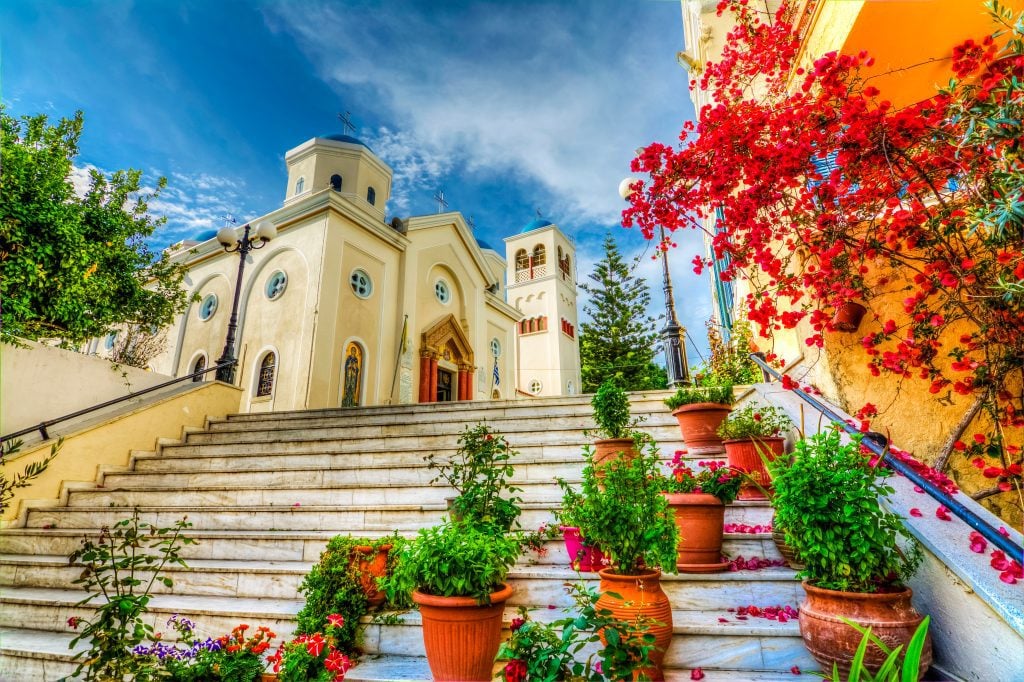 Kos
Submitted by Lindsay Nieminen of Carpe Diem Our Way
Kos is known for its crystal clear waters, stunning beaches, and charming villages. It is also the perfect Greek Island to visit if you want to hop over to Turkey. Many Greek Islands have beautiful beaches, but not all have such rich Archaeological finds as Kos.
Make sure you check out the Asklepieon of Kos. This is where Hippocrates, the father of modern healthcare, founded his school and taught medicine. If archaeology interests you you can also explore the Roman Odeon from the 2nd century and many small village sites around the island.
For those who are just here for the beaches, the popular ones are Tigaki, Paradise, and Kefalos. Other popular things to do include snorkelling (head to Kokina Bay), or shopping at Kos market hall. If you are wondering what to buy in Greece, you will find plenty of souvenir ideas here!
Kos is well connected to the other Dodecanese islands, the Cyclades, Athens, and Turkey via ferry. See the ferry schedule here.
Where to Stay on Kos: The best place to stay in Kos depends on your preferences and budget. If you're looking for a lively atmosphere with plenty of restaurants, bars, and nightlife, stay in the town of Kos. For a more relaxed and upscale experience, consider staying in the village of Kefalos or in one of the resort towns along the northern coast, such as Marmari or Tigaki.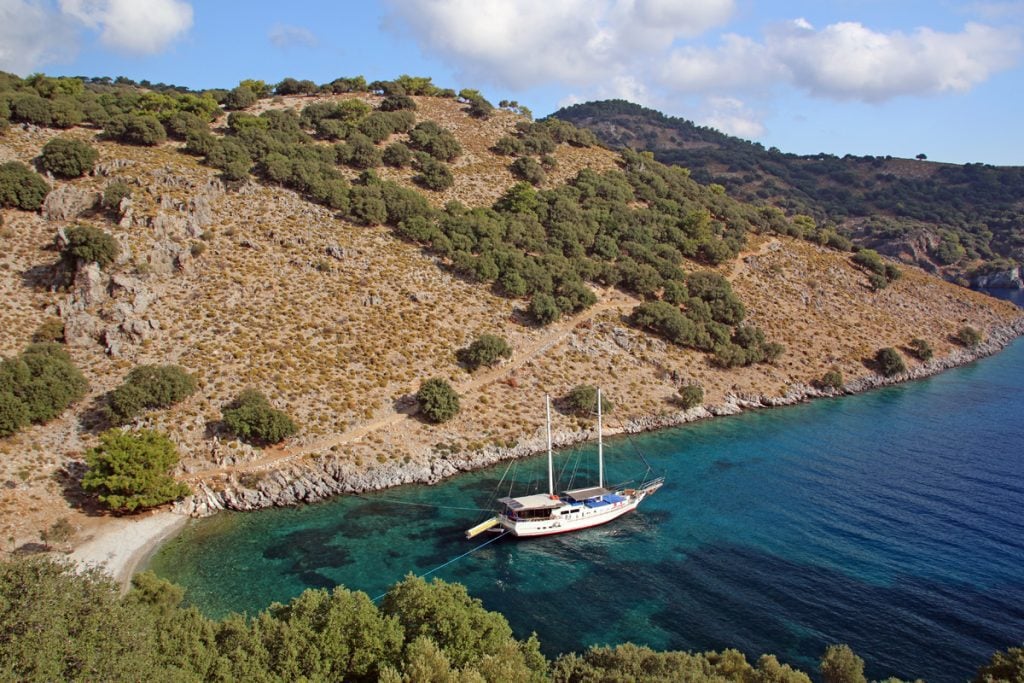 12 Islands in Fethiye Bay
Submitted by Kristin Dahlstrom of Scotland Less Explored
The 12 islands in Fethiye Bay are part of the Turkish Riviera, in an area known for its picturesque coastline.
Most of these islands are uninhabited, so the best way to explore them is by boat. Daytrips can be booked and leave from the dock in Fethiye. It is also possible to do multi day trips since there are so many islands and bays to visit.
If you're looking for a once in a lifetime experience, you can even charter a private boat for a few days to take you around the islands! A longer trip allows you to visit some of the most beautiful islands, such as Yassica, after the day trips have left.
Around Yassica there are actually four islands between which you can swim — they are that close. Another island to make sure is included on your itinerary is Tersane, where you can see ruins from the Lycian era.
Where to Stay on the 12 Islands of Fethiye: Solvalye Island is the easiest to access with a ferry or water taxi from Fethiye Harbour. It also has a restaurant and the best hotel in the area, Ece Hotel Sovalye Island. There are no roads on the island, making it the perfect place to relax. If you feel adventurous, try to find the ruins of the Knights Templar, who guarded the entrance to Fethiye in the old days.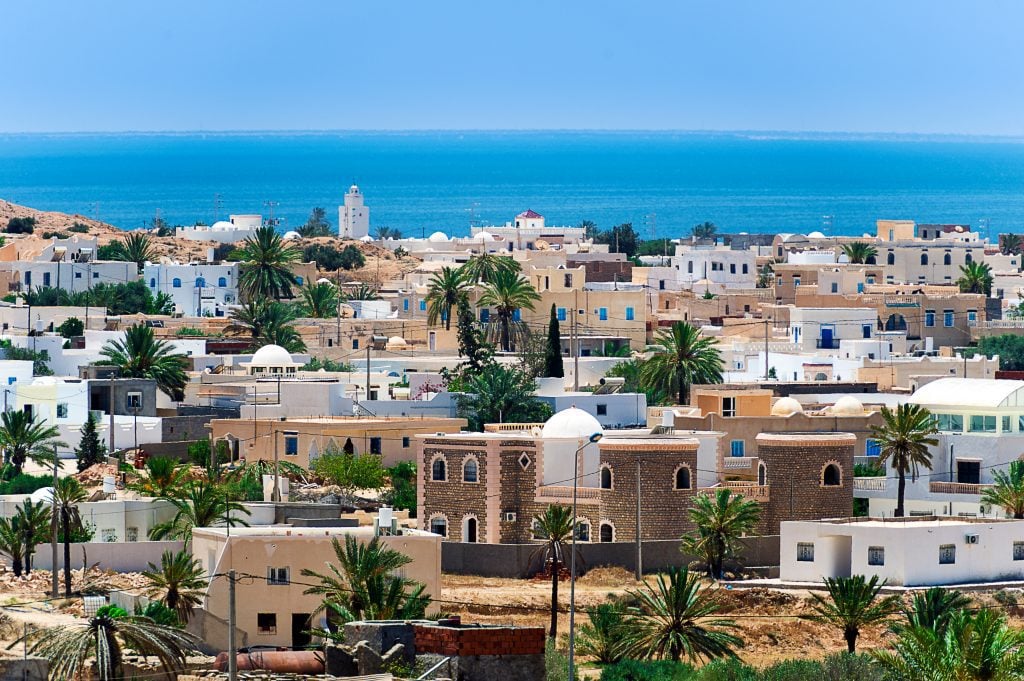 Djerba
Submitted by Heather Cole of The Conversant Traveller
Flying under the radar when it comes to Mediterranean getaways, Djerba is the largest island in North Africa. Lying off the Tunisian coast, Djerba is known as much for its culture as its beaches. Here, you'll discover African, Berber, Arab, and Jewish influences, in both the architecture and the food.
The island is flat, with swathes of date palms and olive trees carpeting the landscape. Whitewashed villages punctuate the shoreline, while fishing boats and traditional markets add extra appeal to the scene.
Houmt Souk is the island's main town. This is the best place to base yourself if you want to be near the heart of the action, such as it is. It's an attractive settlement with all the handicraft stalls and quaint cafés you could wish for.
The top attraction in Houmt Souk is the imposing Arab Fortress of Borj el-Kebir. There has been a stronghold here since Roman times, although the current castle dates to the 16th century when the Ottomans were in power. Once the haunt of pirates and foreign invaders, today Borj el-Kebir is one of the most-visited sites on Djerba. The harbor views from here are superb!
Where to Stay on Djerba: When it comes to accommodation, Hotel Djerba Erriadh in Houmt Souk is a good bet if you're looking for rustic charm in a central location. It's reminiscent of a Moroccan riad, with a leafy courtyard, decorative tiling, and plenty of arches. The sandy Djerba Beach is just 10 minutes away on foot for all your sunbathing and swimming needs.
Ibiza
Submitted by Lara of Valencia Revealed
Ibiza is a relatively small Mediterranean island, best known for its pulsating nightlife and stunning beaches. Yet what makes Ibiza truly special is its unique atmosphere, natural beauty, and cultural heritage.
One unforgettable experience to have in Ibiza is watching the sunset from the famous Café del Mar. This iconic bar, located in San Antonio, on the west coast of the island, is known for its chill-out music and stunning sunsets. It's the perfect place to relax and watch the explosion of color in the sky while sipping a delicious cocktail!
To get to Ibiza, you can take advantage of the numerous direct flights from major European cities or, if you're already in mainland Spain, you can hop on a ferry from Valencia.
Although you might not have though about this before, Ibiza is actually one of the most intriguing day trips from Valencia. By taking the night ferry, you can arrive on the island just in time for the sunrise and spend a full day exploring. Then, in the evening, you can opt for a short flight back to the mainland or choose to extend your stay and spend the night. You can see the fully Ibiza ferry schedule here.
Where to Stay on Ibiza: When it comes to where to stay in Ibiza, one of the best options is Santa Eulalia. This charming coastal town is located on the east coast of the island and offers a more relaxed atmosphere compared to other areas such as San Antonio or Ibiza Town.
If you want to indulge in some much needed self-care and pamper yourself while in Ibiza, the Aguas de Ibiza Grand Luxe Hotel is an excellent choice. This five-star hotel has spacious and elegant rooms, a spa, a rooftop bar and three incredible restaurants for an unforgettable stay.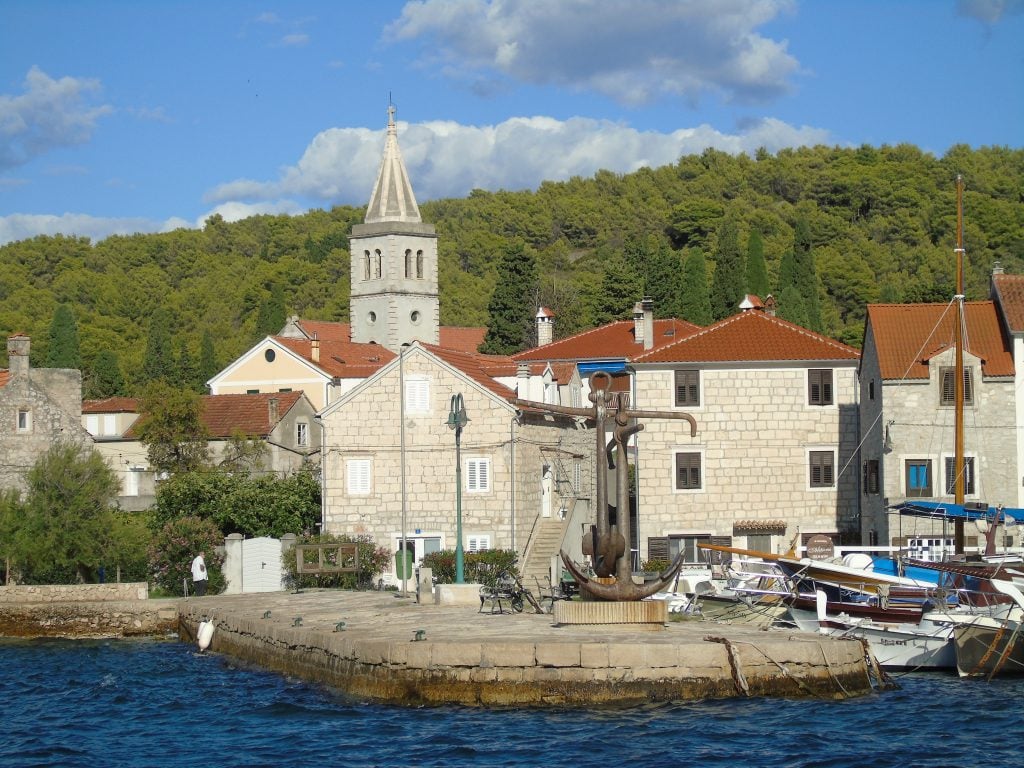 Zlarin
Submitted by Steve Rohan of The Trip Goes On
Zlarin Island is located about halfway between Zadar and Split near the town of Sibenik in Croatia. This small island (it's just 2 km across) is the perfect place to escape the hustle of daily life, as all motor vehicles are banned on the island.
With a myriad of hiking and biking trails across the interior, deserted beaches with crystal clear waters, and plenty of restaurants serving up local specialties (the dolma is a must-try), Zlarin is the perfect Mediterranean island getaway.
There are daily ferries to the nearby town of Sibenik which pass by St Nicholas Fortress which is well worth a visit. I chose Zlarin as my home for a month while travelling around Europe and every day offered a new possibility for adventure.
One of the most unforgettable moments about living on the island was the incredible sunsets over the Adriatic and nearby archipelago. There are plenty of secluded spots to sit with a glass of wine and watch the sun sink into the ocean.
Where to Stay on Zlarin Island: There are no hotels on the island but plenty of B&Bs and holiday rentals such as the gorgeous Apartment Maglica, just 200 meters from Banje Beach. It's just a five-minute walk into the village with bars, restaurants and kayak rentals.
Read More: Best Time to Visit Croatia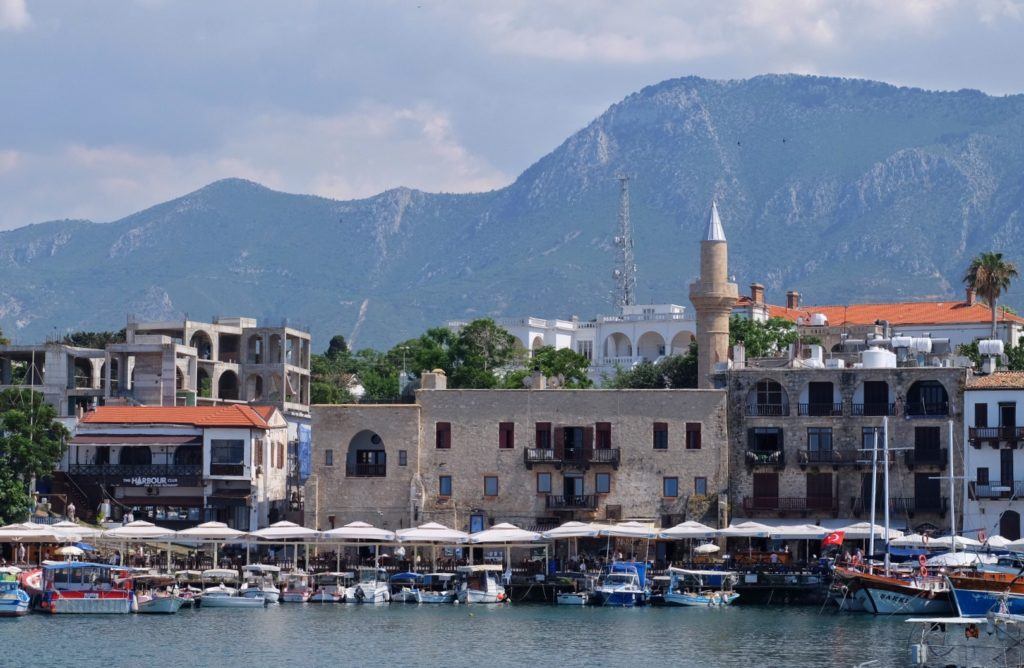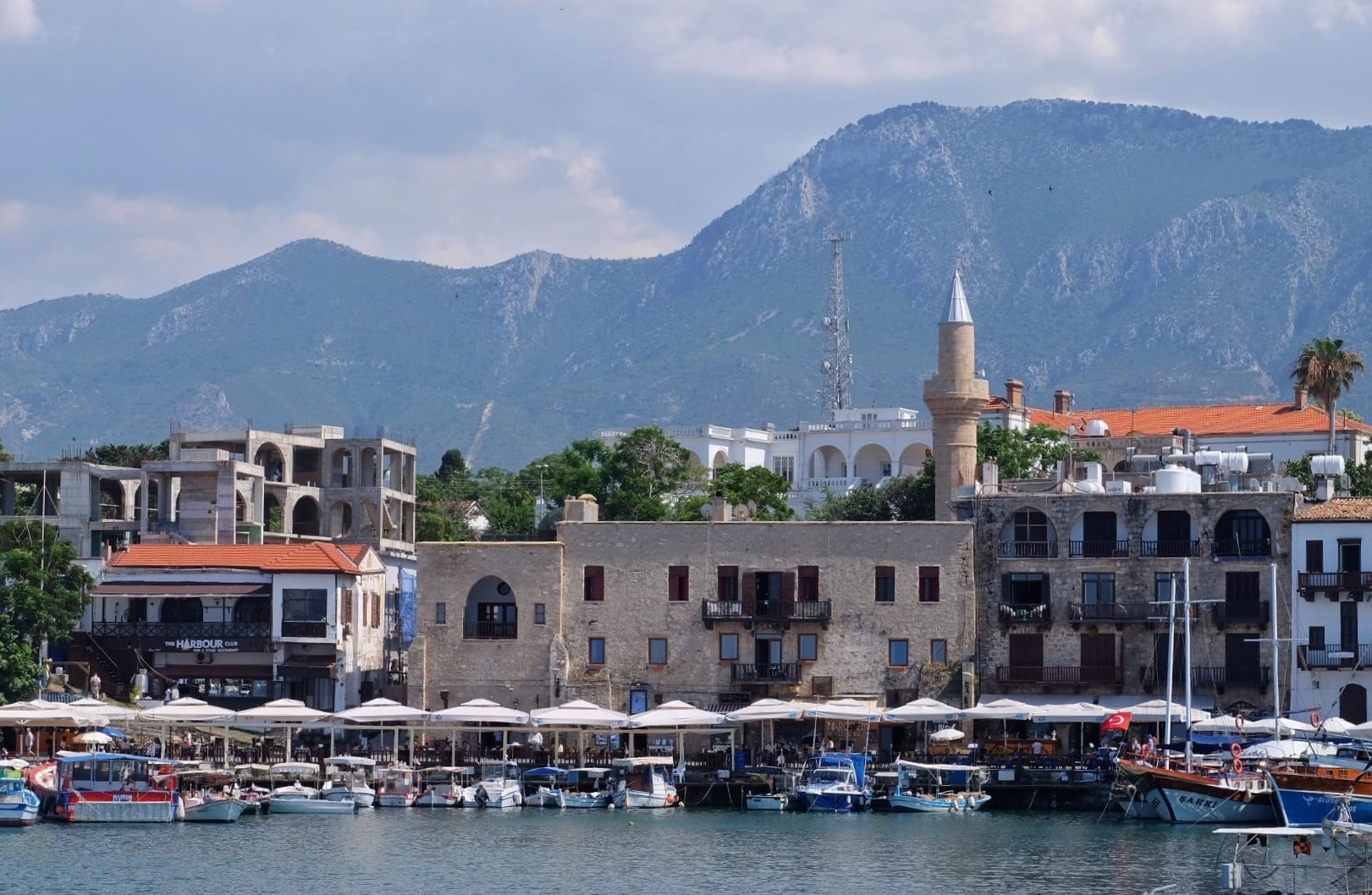 Cyprus
Submitted by Maggie Turansky of The World Was Here First
If you're looking for the ultimate Mediterranean escape, you can't go wrong with planning a trip to Cyprus. This island nation has a fascinating history, a beautiful coastline, incredible food, and perennially beautiful weather. You can opt to fly or take the ferry from Turkey.
Whether you're a history buff, a foodie or a sun-seeker, Cyprus has something for everyone. And while the beaches on the coastal areas are very much worth visiting, make sure not to skip the country's capital of Nicosia. A divided city, you can even cross the border to Northern Cyprus and explore the Turkish side of this historic place.
If you're a wine fan, then make sure to head to the villages at the foothills of the Troodos mountains outside of Limassol. Here, you can sample the oldest named wine in production today — Commandaria. There are also plenty of other great whites and reds made with local grapes to enjoy.
And finally, you absolutely must visit the city of Paphos in the southwest. Known as the mythological birthplace of Aphrodite, you can visit the Aphrodite Rock where she is said to have been born from the sea foam. And if you're a fan of ancient ruins, the Kato Paphos Archaeological Park and the Tombs of the Kings are both can't-miss activities.
Where to Stay on Cyprus: Basing yourself in Paphos is a great idea as there is a lot this area has to offer. If you're looking for a great hotel, then consider booking a room at the centrally-located Hotel Pyramos.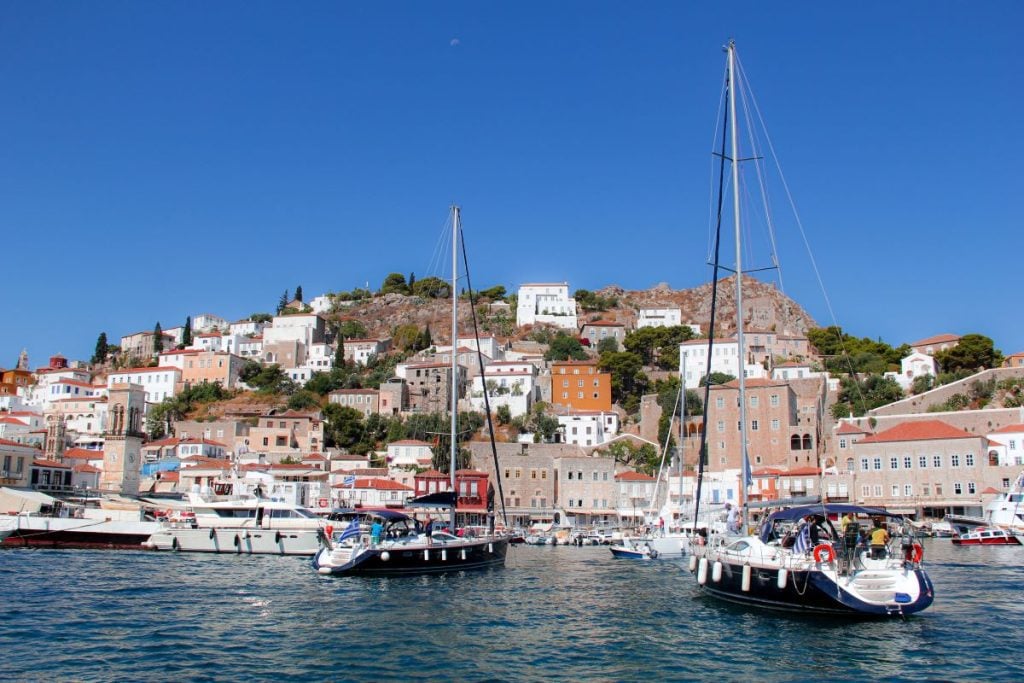 Hydra
Submitted by Chelsea from Adventures of Chels.
One of the best Mediterranean islands to visit in your lifetime is Hydra, Greece. You might recognize Hydra from the recent Amazon series Daisy Jones & the Six, where singer Daisy escapes to the island and falls in love.
Hydra is approximately a 1.5 hour ferry ride from Piraeus, Athens's terminal. It's a quaint little island with a town so small and walkable that it doesn't even have cars on it. In fact, cars and motor vehicles are banned from the entire island! This keeps it a peaceful island escape.
The most enjoyable thing to do in Hydra is relax and take in the beauty of the island. Spend some time strolling through the port and admiring the beautiful architecture. Eat at any of the restaurants along the water and enjoy the freshest seafood. Head to Avlaki Beach if you'd like to spend some time relaxing by the ocean.
Where to Stay on Hydra: For a great place to stay on your visit to Hydra, consider booking at Hotel Sophia. Hotel Sophia offers clean rooms in a perfect location for a great price. The hotel balconies offer great views of the port, which is a great perk. It's everything you need in a place to stay.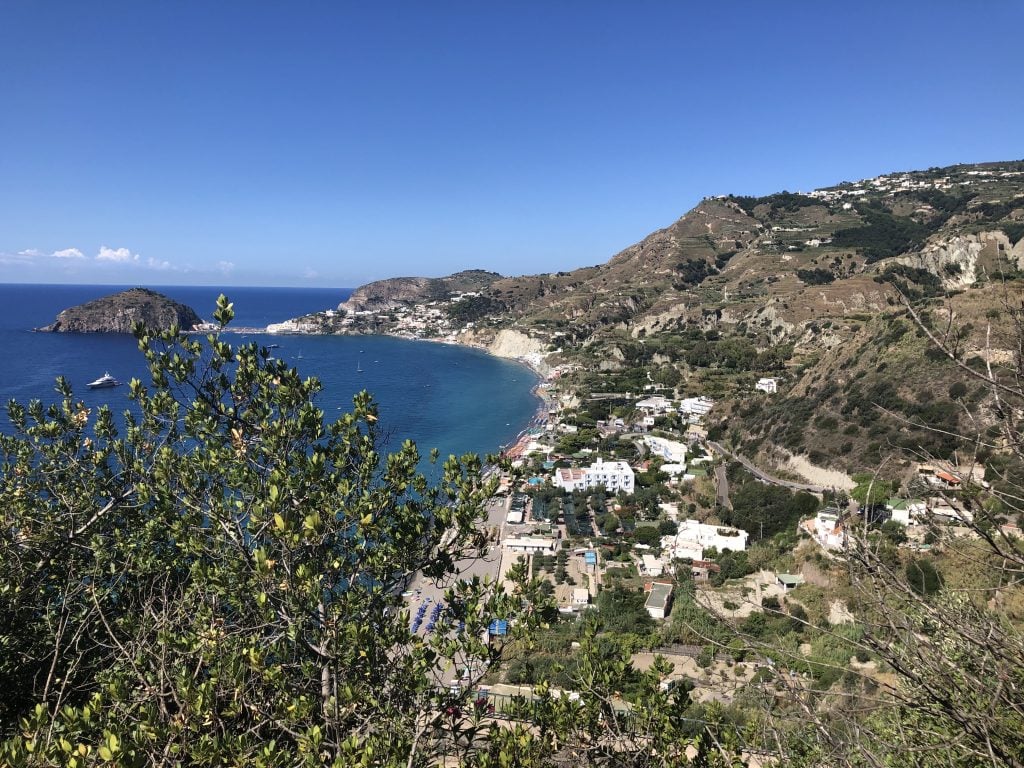 Ischia
Submitted by Amber from Amber Everywhere
Ischia, located off of the coast of Naples in the Tyrrhenian Sea, is one of the best Mediterranean islands to visit in your lifetime. Ischia offers visitors a glimpse into Italian life that almost feels like it's from a bygone era and it's easy to reach from Naples via ferry. You'll find clothes drying outside in the hot Italian sun, small plots of grapes growing on vines, and locals zipping around on scooters. 
One of the top things to do on Ischia is to visit the Aragonese Castle, a small fortress that is connected to the rest of the island by a foot bridge. The castle dates back to 474 BC and offers jaw dropping views of Ischia and the Gulf of Naples from the various terraces around the fortress. There's also a small torture museum and a few small art galleries included in your general admission ticket.
On a hot summer day, you can lounge on the volcanic rocks that line the foot bridge to the Aragonese Castle. When you need to cool off, jump into the sparkling water or visit Pasticceria Trani for a scoop of lemon gelato.
Stay near the port or the town center so that you're able to easily access the island's shopping, beaches, and restaurants. And don't miss soaking in the island's healing waters!
Where to stay on Ischia: There are many fabulous rentals and B&Bs in this area, like VILLA MATILDA luxury B&B. For trips longer than a few days, you may want to rent a car and explore the more secluded spots on the far side of the island.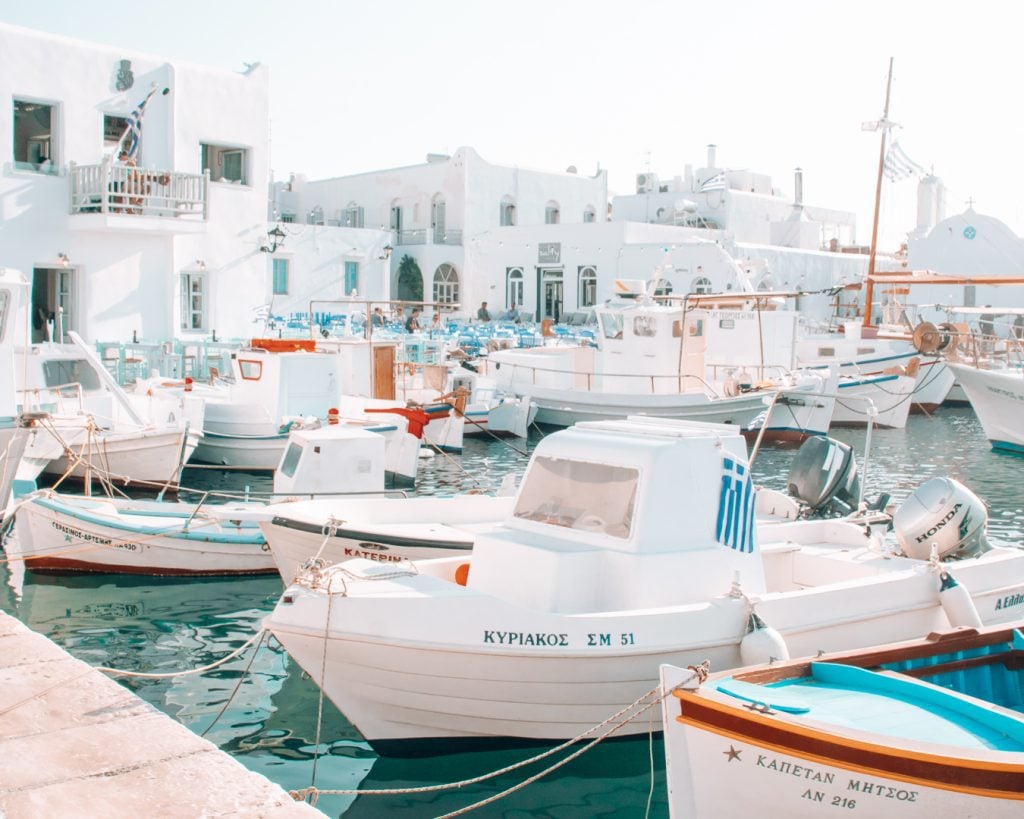 Paros
Submitted by Dymphe of Dym Abroad
One of the best Mediterranean islands that should be on your bucket list is the island of Paros. This is a Greek island that is part of the Cyclades island group. Paros is an island that is very beautiful and not as well-known as some other islands, such as Mykonos and Santorini. However, it's still well connected to other islands in the Cyclades and easy to reach via ferry from Athens and islands like Santorini and Naxos. See the ferry schedule here.
On Paros, you can find many picturesque villages with traditional Greek houses that are lovely to see. For example, Parikia, the capital of the island, has a lot of streets with great Cycladian architecture. Another village that is worth visiting on the island is Naoussa.
This village has a small historic port, white houses, and authentic restaurants where you can get great Greek food. Exploring the villages of the island is one of the highlights of Paros, and some villages to check out, besides Naoussa and Parikia, are Marpissa, Lefkes, and Kostos.
Another great experience is to relax at the beautiful beaches that the island is known for. You can find some of the best beaches in the southern part of the island. Furthermore, Parikia has a bustling nightlife scene that makes it great if you like to party.
Where to Stay on Paros: There are various good areas on the island to stay at. Parikia is likely the best choice as you can find a lot of hotels there, there are many shops and restaurants nearby, and you can find the island's main port here. Furthermore, a good hotel is Oasis Hotel Paros.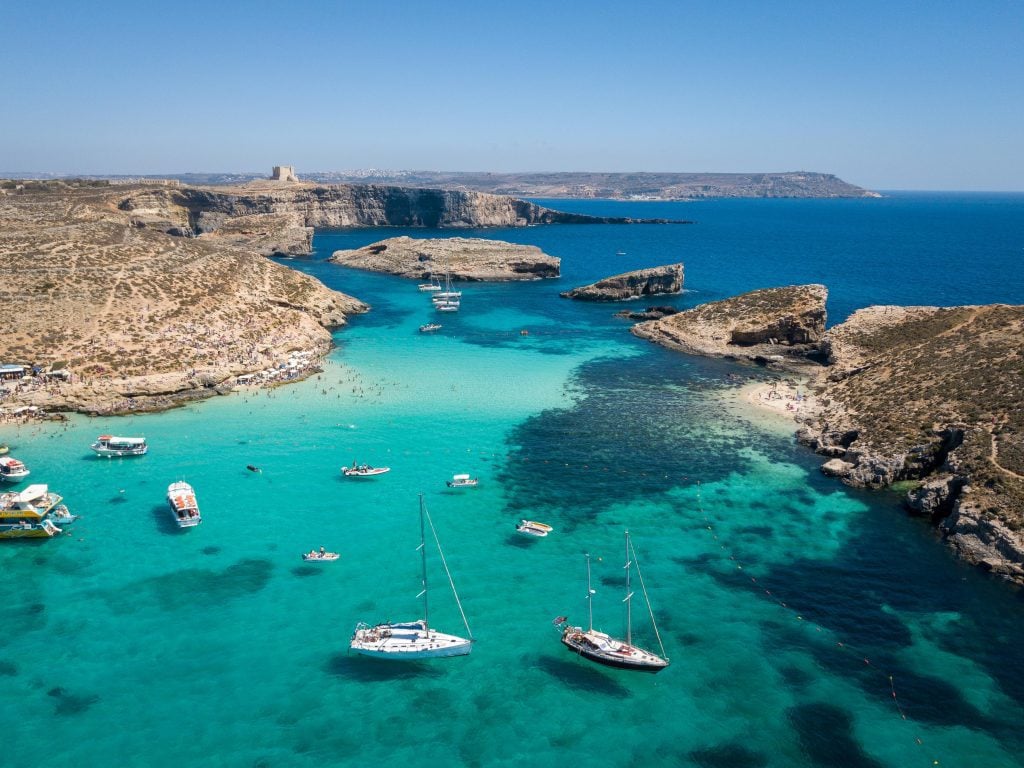 Comino
Submitted by Catherine Xu of Nomadicated
With aquamarine waters and a coast lined with sea caves, Comino Island in Malta may not be one of the most well-known Mediterranean islands, but it is an unspoiled paradise worth visiting. Literally, the official population count is just two people!
Don't dismiss the island as too isolated just yet. Comino is situated between mainland Malta and Gozo and can be reached with just a 25-minute ferry from either port. You can easily take a day trip from Malta to Comino with stops at the Blue Lagoon and caves.
Comino shelters one of Malta's crown jewel attractions, the Blue Lagoon. This beautiful bay is famous for its shallow turquoise waters enclosed by rocky cliffs and sea caves. Swim, kayak, or sail the day away around the perimeter of the lagoon and the island.
Explorers should also take time to hike around this tiny island's desolate terrain. Comino Island has served as a refuge for sailors and pirates since ancient times. The island's strategic location made it a popular spot for military fortifications during both World Wars. Today, visitors can still see the remnants of these fortifications on the island's limestone cliffs, like St. Mary's Tower.
Where to Stay on Comino: Since there are no hotels on Comino Island, it is mostly known as a tourist destination for day trips, which you can book here.
Travelers usually stay in popular places such as the capital, Valetta. If you're looking for a gorgeous place to stay, Palazzo Jean Parisot Boutique Suites is a beautifully renovated historic building featuring rooms with a view of the sea and the city's unique architecture.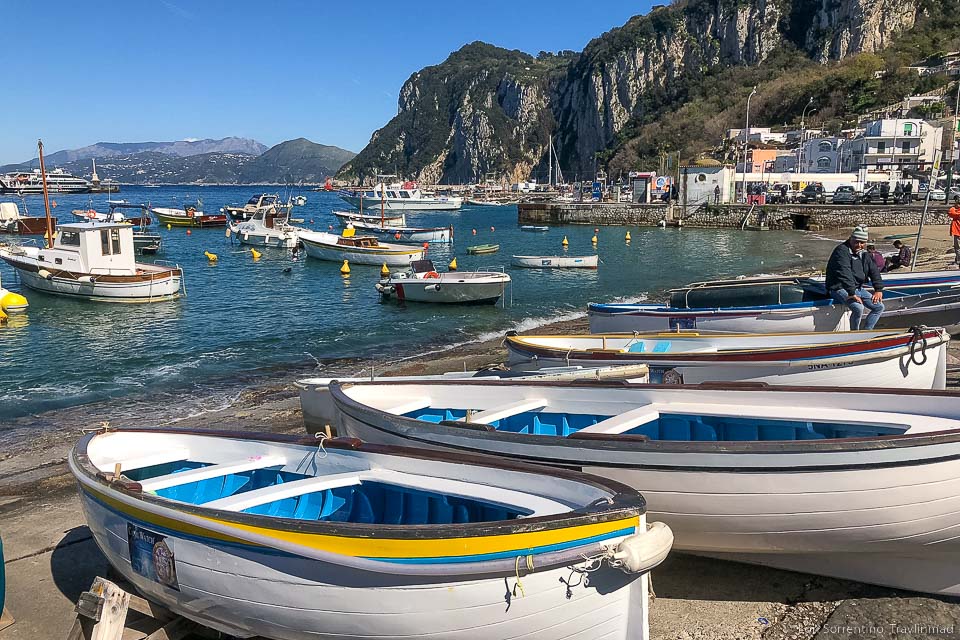 Capri
Submitted by Lori Sorrentino of Travlin Mad
There are many beautiful Mediterranean islands, but one that truly stands out is the stunningly beautiful island of Capri. Located in the Bay of Naples in southern Italy overlooking the Sorrentine Peninsula, visiting the Isle of Capri is easy via regularly scheduled ferry boats from Positano, Sorrento, and Naples.
From June through September, the island is heavily touristed during the day. While the island is a popular day trip, it's even better when you spend a few days or a week.
At night Capri is quiet and enchanting and it's the perfect time to enjoy a late dinner at one of the restaurants in the Piazzetta, Piazza Umberto, the main square in town. After dinner you can stroll the quiet softly-lit streets and hear nothing but the sea below.
Along with excellent restaurants and high-end designer shopping, there are beaches and hiking to historic sites like Villa Jovis, the home of Roman emperor Tiberius.
But one experience that shouldn't be missed is taking a boat to the magical Blue Grotto. On the right tide, a small rowboat can take you inside the grotto where everything is aglow with the azure color of the sea.
Where to Stay on Capri: For an overnight stay it's hard to beat La Minerva, a lovely boutique hotel that's close to everything, has great service, and serves a wonderful breakfast buffet.
Like the jetsetters of years gone by, you are sure to fall in love with Capri. There's no place like it!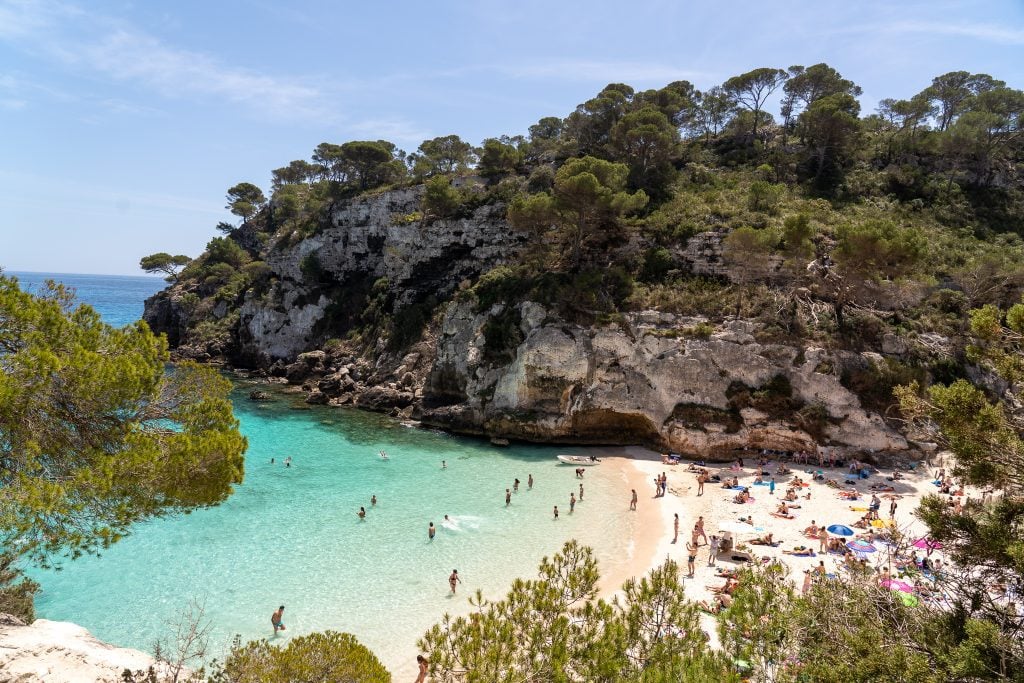 Menorca
Submitted by Nadine Maffre of Le Long Weekend
A largely undiscovered jewel in the Mediterranean, and the lesser-visited of all the Balearics, Menorca is a nature-lovers paradise. It's the place to go to escape the crowds, savour local delights, and immerse yourself in slow island living and it's easily accessible via ferry.
The island, which is a UNESCO Biosphere Reserve, hosts a unique range of fauna and flora, which is best explored on foot. In fact, one of the very best things to do in Menorca, is to trek one of the 20 stages of the Camí de Cavalls — the 185 km ancient trail that circumnavigates the island, taking in breathtaking scenes along the way. You'll pass by some of the most beautiful beaches, through wetlands teeming with birdlife, and spot remnants of the past as you walk.
Off the trail, beautiful villages and towns are ripe for exploration. Browse boutiques selling Menorquin sandals, Gin Xoriguer (the local tipple), and handcrafted homewares. Visit the island's vineyards producing speciality wines in small quantities, served up alongside rustic cheeses and homemade bread.
Where to Stay on Menorca: Menorca is only 53 km long, meaning you can cover a lot of ground regardless of where you choose to stay on the island. However, a great starting point is Ciutadella, the old capital of the island, now a vibrant city with a contemporary feel.
Marosi Boutique Hotel mixes new with old, to create a relaxing place to stay in the city. Alternatively, Menorca Experimental, near Son Bou, is the ideal place for an authentic luxury stay, while being close to lazy beaches and the aforementioned hiking trails.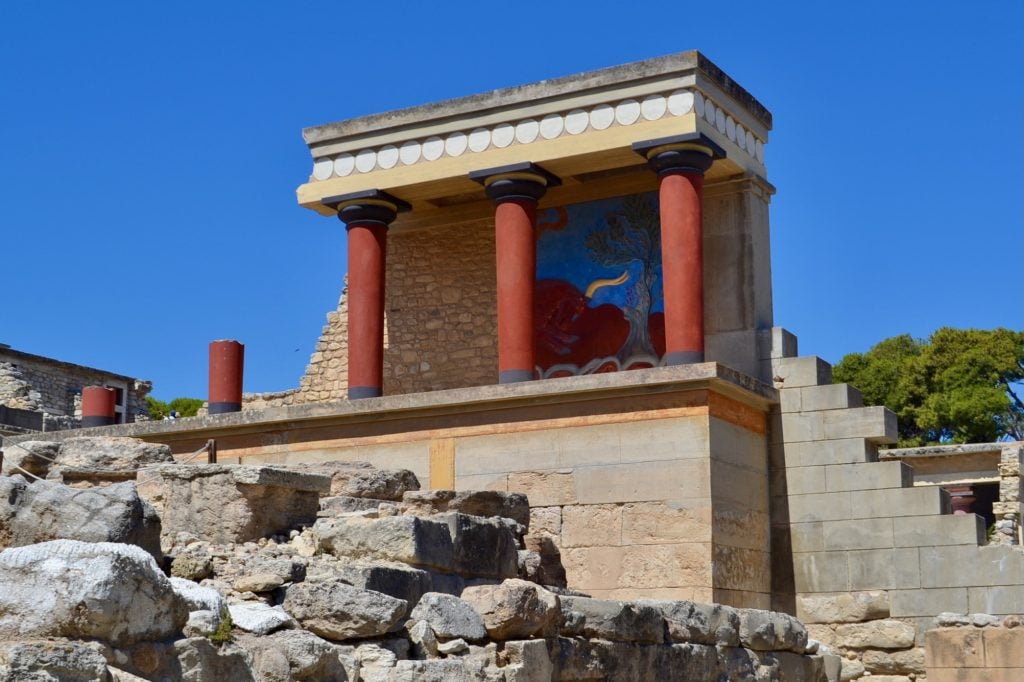 Crete
Submitted by Erica Forrest of Trip Scholars
Crete is one of the most dazzling and fascinating of all the islands in the Mediterranean, and is worth visiting at least once in your lifetime. It is the largest and most populated island in Greece and one of the top tourist destinations in the country. It brims with historic sites and exquisite natural beauty.
History enthusiasts from around the world visit to see the extraordinary remains of Minoan culture at the Palace of Knossos and the Heraklion Archeological Museum. This was Europe's first advanced civilization, flourishing from about 2700 to 1420 BCE. Don't miss touring Knossos, either on your own or with an archeologist guide that you can hire just outside the entrance.
Other engaging historic sites that span thousands of years of history throughout the island include the Old Venetian Port of Chania, Arkadi Monastery, the Tomb of Nikos Kazantzakis, and Rethymnon Old Town.
Nature lovers delight in some of the most beautiful beaches in the Mediterranean like Balos, Falasarna, and Elafonisi. Other activities that highlight the natural beauty of Crete are hiking Samaria Gorge and taking a boat ride off the island.
There is an airport on the island, as well as a few different ferry ports, with several ferries per day arriving in Heralkion from Athens and islands like Santorini, Milos, and Mykonos. You can see the full ferry schedule here.
Where to Stay on Crete: Although many visitors stay in the capital of Heraklion, if you are visiting for more than a couple of days, consider staying in Chania or Kissamos on the West side of the island. It is charming, quieter, and you will be surrounded by natural beauty and interesting historic sites.
A great lodging choice is the Serenissima Boutique Hotel in the heart of Old Town Chania. The Venetian architecture, attentive staff, and delicious breakfast will make it a memorable stay.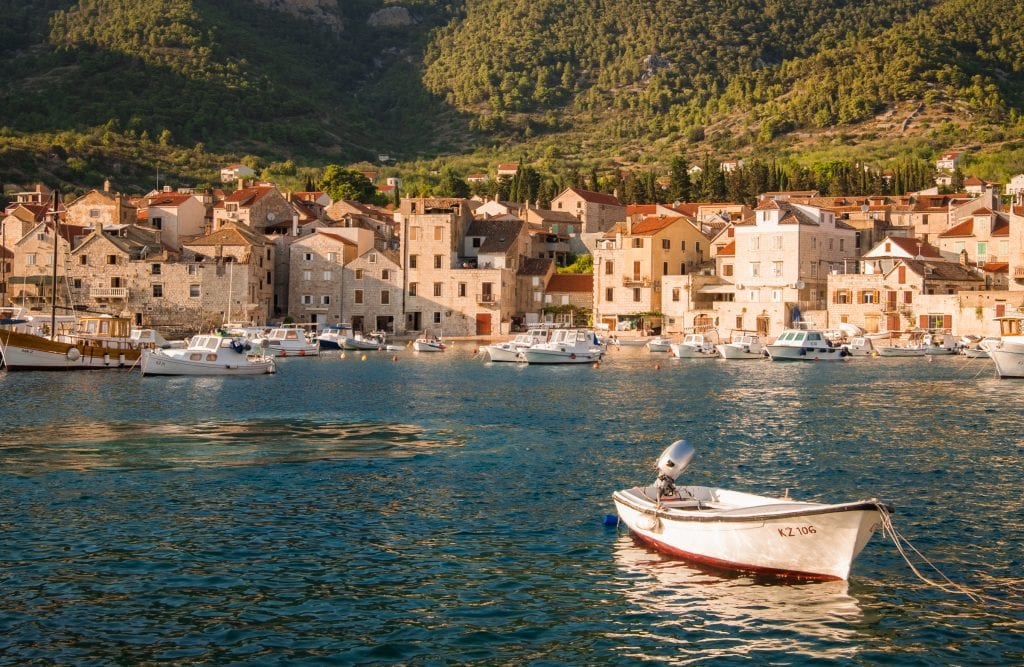 Vis
Vis is the special island you save for your second or third trip to Croatia. And believe me — it's absolutely worth it. Vis is the furthest island from the Croatian coastline, and for years it was off-limits to tourism until 1991 due to being a naval base.
Today, Vis is quiet, upscale, and incredibly gorgeous. You don't get the cruise ship visitors of Dubrovnik, the backpacker sailboats of Split, or the heavy partiers of Hvar. It feels a lot like how tourism in Croatia used to be.
So kick back here! Base yourself in one of the two towns — Vis Town or Komiža, on the other side of the island — and spend your days beach-hopping. Climb up and down to isolated Stiniva Beach, take in the sunset view from Hum Mountain, or explore the island's military tunnels with a guide.
The best thing to do on Vis is to take the full-day boat trip, taking you to the Blue Cave, the Green Cave, and Stiniva Beach, along with a rare sandy beach on Biševo Island, the famous submarine tunnel, and the beach where Mamma Mia! Here We Go Again was filmed.
You can easily reach Vis via ferry from Split, Hvar, and other Croatia ports.
Where to stay on Vis: There are very few hotels on Vis — most guests stay in apartment rentals — but a truly special place to stay is Hotel San Giorgio, in the Kut neighborhood of Vis Town. This tiny boutique hotel has beautiful rooms, a gorgeous courtyard, and lovely breakfasts, in one of the nicest parts of the island.
Read More: Ultimate Guide to Vis Island, Croatia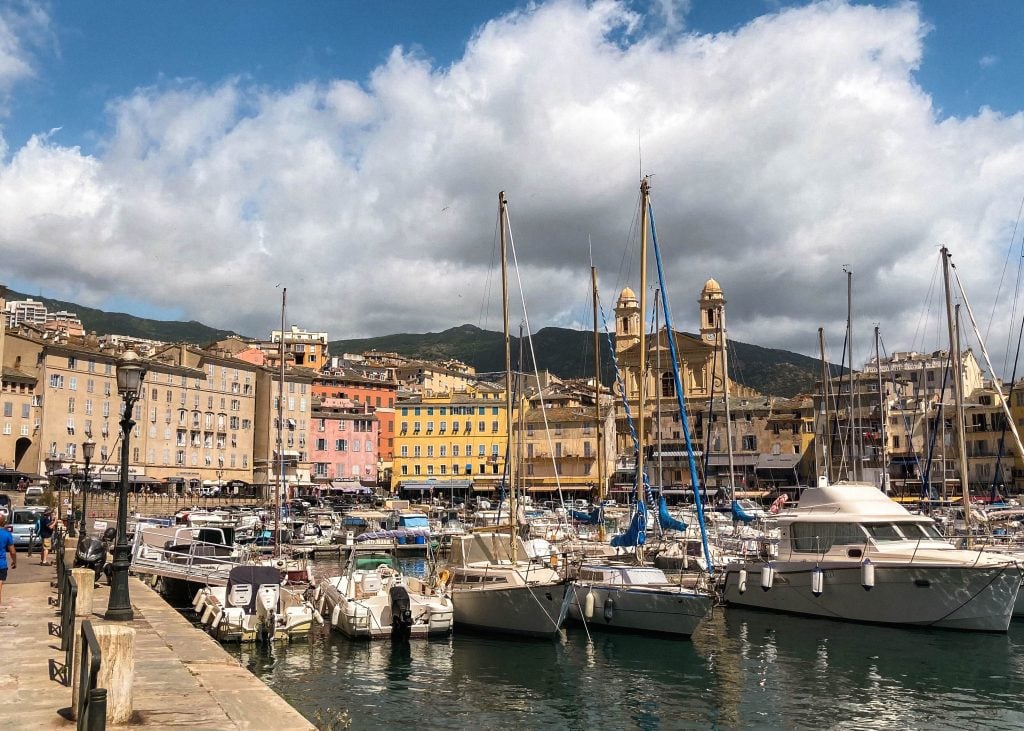 Corsica
Submitted by Sophie Nadeau of Solo Sophie
Corsica is a gorgeous and mountainous island that's located just over 100 miles from southern France (Corsica is technically a territorial collectivity of France). The fourth largest island in the Mediterranean Sea, Corsica is most famous for its crystal clear waters, long sandy beaches, and being the birthplace of Napoleon Bonaparte.
As such, it's no wonder that it's one of the most popular destinations among the French, particular among those who are searching for an off the beaten path destination where hiking trails are abundant and the charming towns scattered across Corsica feel like they've been plucked straight out of a history book. Plus, it's an easy destination to reach via ferry.
Best visited during the summer season, one of the best things to do on the island is to visit the beautiful city of Bastia. Frozen in time, this city is characterized by its three distinctive districts; the citadel, the old town (known locally as the Terra Vecchia), and the old harbor. Most visitors tend to focus on the old harbor, where you can find boats bobbing in the water and a selection of delightful restaurants serving sea-inspired menus.
Where to Stay on Corsica: For an unforgettable stay on the island, be sure to book yourself into the Château Cagninacci in Bastia, which is set within a former Capuchin monastery from the 17th century.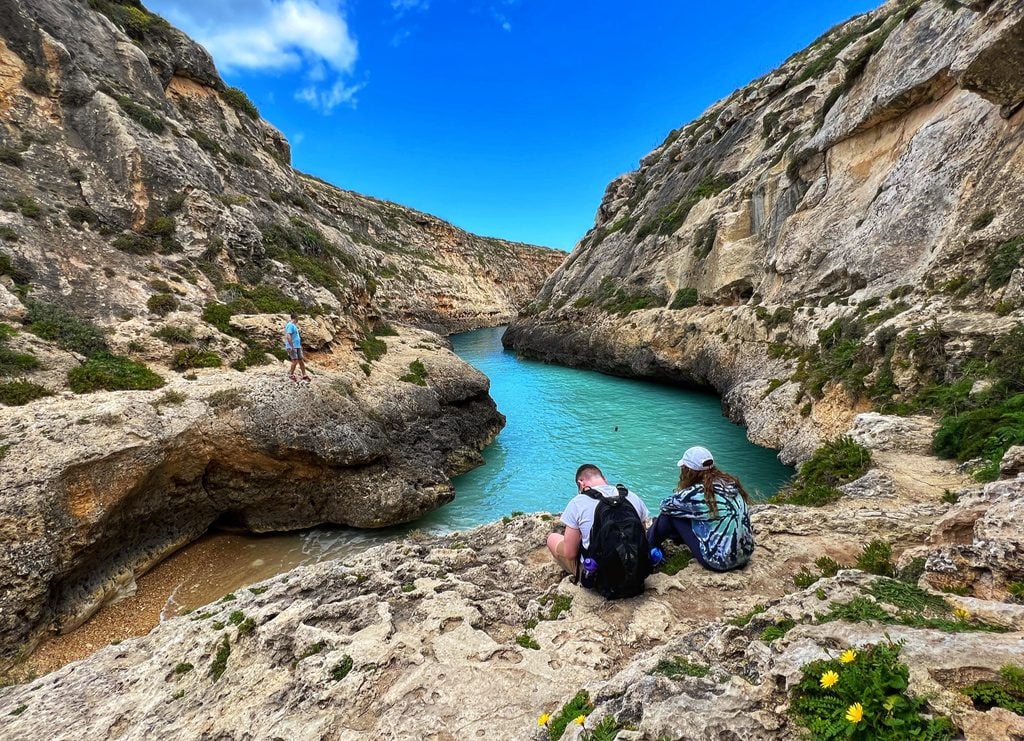 Gozo
Submitted by Janice Moskoff of Gather and Go Travel
With its crystal-clear waters, dramatic coastlines with hidden coves, and charming villages filled with centuries-old churches and forts, the tiny Maltese island of Gozo offers a unique and authentic away-from-the-crowds experience that will charm even the most jaded of frequent European travelers.
In many ways, Gozo feels so much like the main island of Malta, and yet so different, so quiet, and so unique. Many Maltese folks have "farmhouses" on Gozo to which they escape on the weekends.
If you do one thing on this island endowed with natural beauty, take the time to seek out and walk down to the Wied il-Ghasri gorge on Gozo's northern coast.
To reach it, park or get dropped off near the Xwejni Bay Salt Pans and walk west along the Triq Ix-Xwejni road to the gorge entrance. As you descend the steps and catch sight of the gorge, you will be blown away by its dramatic rock walls and hidden turquoise beauty.
Although the water may be too cold and rough in the spring, know on calmer and hotter summer days, you can swim and snorkel in the gorge by entering from its rocky beach.
Although many travelers to Malta choose to skip Gozo or visit on a day trip from Valletta, know there is plenty to do and that spending even a handful of days here will not be enough. It's also easy to reach, with up to 15 ferry crossings daily. See the ferry schedule here.
Where to Stay on Gozo: To make the most of your visit, stay at a charming full-service boutique hotel, like the intimate Viewpoint Boutique Living, just outside the seaside town of Xlendi. Opt for one of their terrace rooms with an impressive view, and take advantage of the personal service and recommendations of the owner to help make the very most of your Gozo visit.
Read More: Beautiful San Bias Bay, a Hidden Beach in Gozo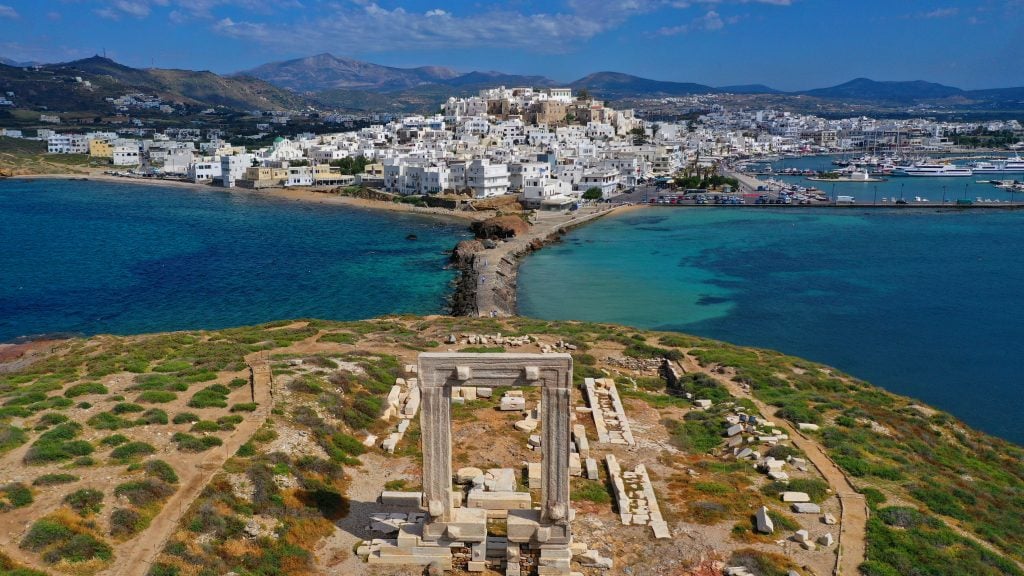 Naxos
Submitted by Mal of Raw Mal Roams
If you're searching for an off-the-grid beach getaway and an authentic charm, Naxos is the island paradise you've been dreaming of.
What sets this destination apart from others is its off-the-beaten-track appeal. Free from the crowds and chaos of busier tourist spots, Naxos offers a more peaceful and authentic experience even during the high season months of July and August. It's also an easy island to access, with daily ferry connections to Athens, Crete, and other islands in the Cyclades. You can see the full ferry schedule here.
Soak up the Cycladic charm by visiting Halki, which is one of the traditional villages in Naxos tucked between rolling hills in the middle of the island. Stroll Halki's white-washed alleys in search of charming photo spots and handmade souvenirs. Sit down in one of the tavernas and try the freshly squeezed orange juice or the local treat called loukoumades — puffy doughnuts which come with tasty toppings.
And, if you feel really adventurous, go on one of the local, historic hikes on which you can explore quaint Byzantine churches and enjoy panoramic views over the island.
Where to Stay on Naxos: If you're a first-time visitor, one of the best places to stay in Naxos is its port town, Chora. The town has a wide selection of restaurants and bars and good bus connections with the rest of the island, plus it is within walking distance to Agios Georgios, which is a fantastic beach. A good hotel option is Naxian Horizon.
More Mediterranean Destinations: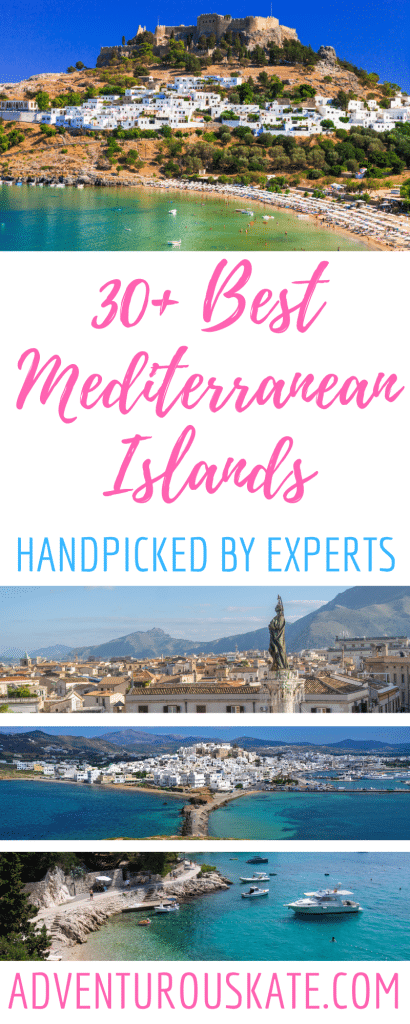 What's your favorite Mediterranean island? Share away!