Adventurous Kate contains affiliate links. If you make a purchase through these links, I will earn a commission at no extra cost to you. Thanks!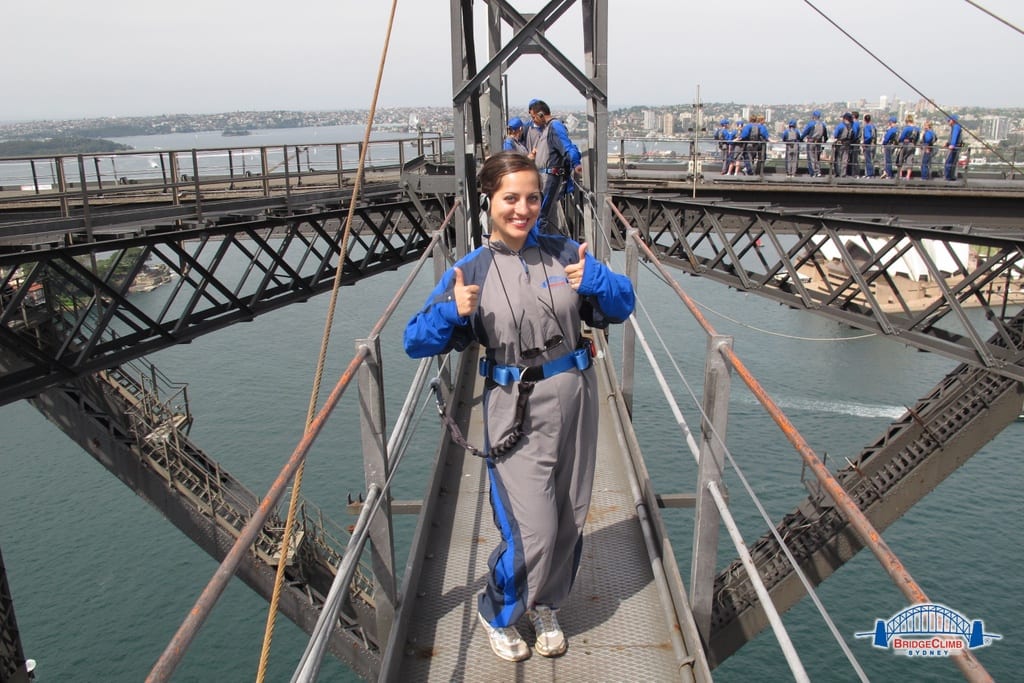 I can pinpoint exactly when and where I first heard about the Sydney Harbour Bridgeclimb.
It was the second season of The Amazing Race in 2002. I remember that clearly — I was a senior in high school, still coming off the high of my first overseas trip to France the year before, obsessed with all things French, and dreaming of traveling the world.
I remember the villain of that season — Wil. Yes, Wil with one L. His partner was his estranged wife, Tara, and he spent the entire race spitting vitriol about everything and everyone around him.
Until the teams landed in Sydney and Wil was told that he would be doing the Bridgeclimb.
It turned out that Wil was deathly afraid of heights. He was so nervous climbing the bridge — higher and higher, on top of all of Sydney, the harbor below — that it stunned him into silence. He actually went without insulting his teammates for more than an hour!
I watched the Amazing Racers suit up in blue, attach themselves to the bridge in harnesses, and climb from the base of the bridge to the summit, gazing out over the harbor, the Sydney Opera House below. This seemed like an incredible experience. Right then I knew — as soon as I made it to Australia, I would be doing the Sydney Bridgeclimb as well.
Should I Do It?
I wanted to — but as our trip to Australia materialized, I became afraid that I'd end up like Wil, too freaked out to enjoy it. I have a fear of heights — nothing too extreme, but enough that I don't want to skydive or bungee jump. Ever.
Out of curiosity, I took a look at the Bridgeclimb's page on TripAdvisor. It's very highly rated, which is great, but the reviews stood out to me the most. Review after review said something along the lines of I wasn't sure if I wanted to do the bridge climb, but I did it and I AM SO GLAD I DID.
That settled it. I was going to do it.
I contacted the Bridgeclimb staff about doing a piece on the climb and they offered me a complimentary climb in exchange for coverage. I then scheduled it the morning of my first full day in Sydney so that I wouldn't have to spend too much time worrying about it!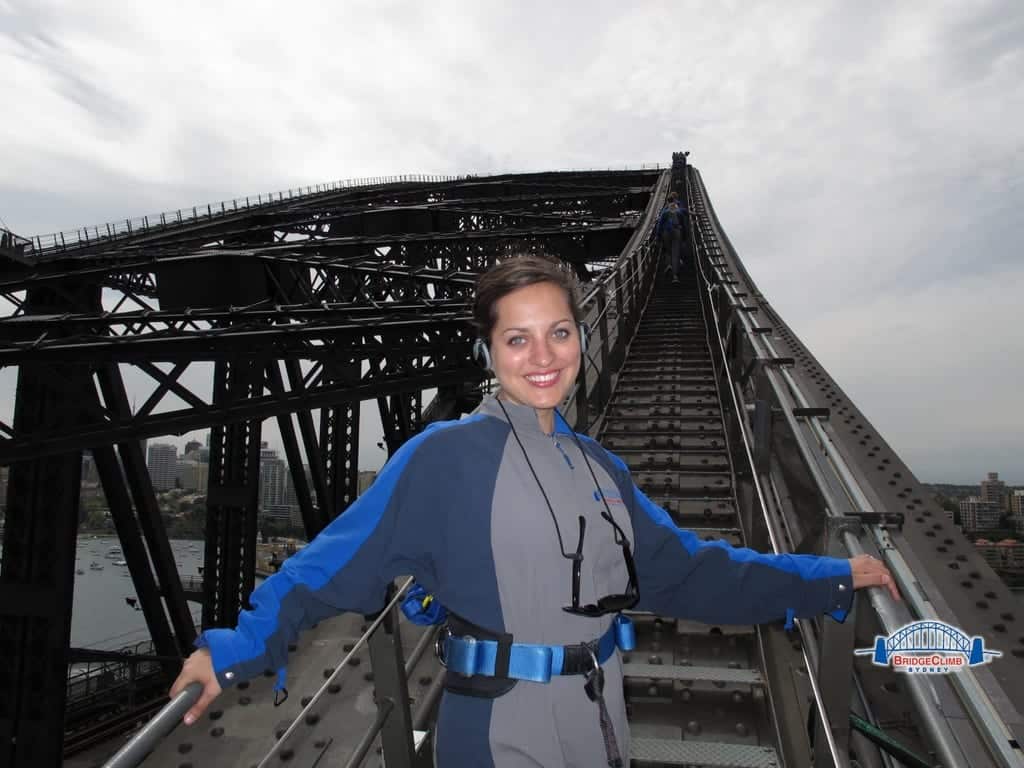 The Bridgeclimb Experience
My group consisted of 10 people: five Danish students studying abroad in Australia, a French couple, a London couple recently relocated to Sydney, and me. We began with a primer on the climb and went to get suited up. With the warm weather, the staff suggested we simply take off most of our clothes and wear the jumpsuits over our undies.
We were introduced to our guide, an affable Aussie named Baxter, and suddenly we went from a collection of global misfits to a group coordinated with military precision. This is where the Bridgeclimb shines — they run it like a perfectly timed operation.
We took our places around a metal ring with hooks and picked up our equipment, lacing our harnesses in unison as Baxter directed us. Everything had a purpose, everything had an order, and everything was done quickly and efficiently.
Next, it was time to do a practice climb up some ladders and around. (There is a structure built inside for this purpose.) We practiced moving our harness hooks along the line, climbing ladders, and making sure no more than one person was on a ladder at any given time.
And then it was time to get onto the bridge itself!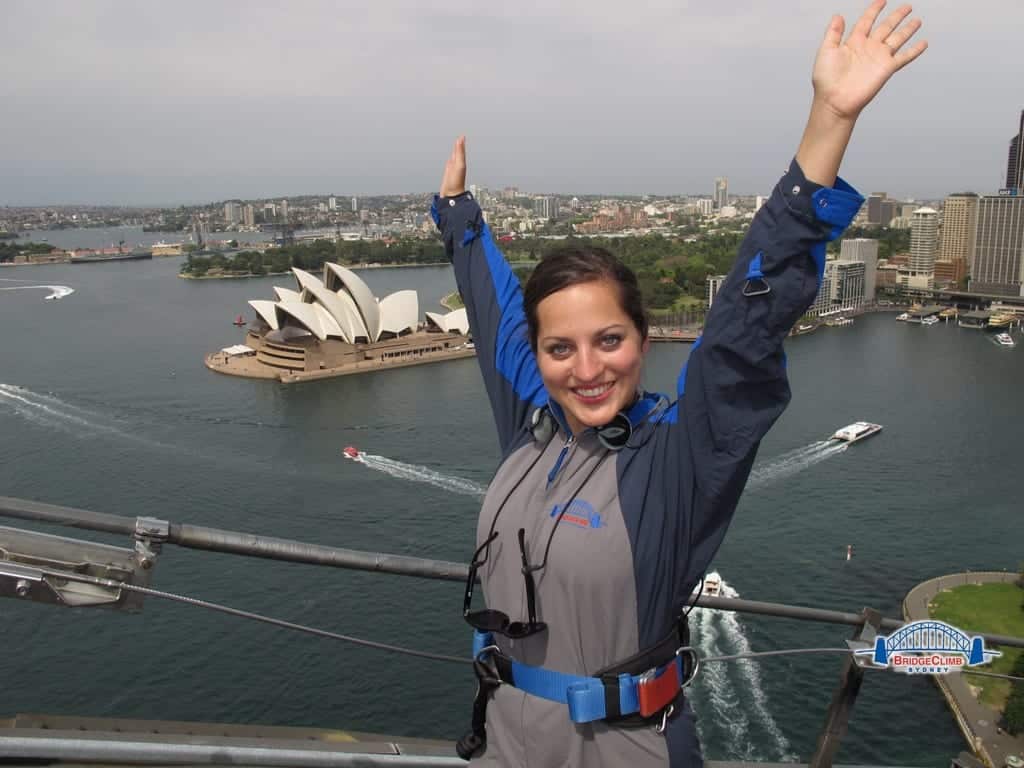 Climbing the Bridge
We hooked ourselves up to the cord running the length of the course up and around the bridge, and soon Baxter led us down a series of walks, then a few ladders. Soon we were ready to start climbing.
The clincher? It wasn't remotely challenging, and it wasn't remotely scary! It was just like climbing up a staircase, and there were plenty of rails. You'd have to be pretty klutzy to fall. (And believe me, I know klutzy.)
We stopped halfway up and took a look at the harbor. At that point, I stared at Sydney in bewilderment, wondering how on Earth this city, with lots of odd-shaped pieces of land sticking into the harbor, had a public transportation system. (Primarily buses, it turns out.)
Oh, but it was so beautiful! Before the climb, I had thought that Cape Town (where I've been) and Rio de Janeiro (where I haven't been yet) were supposed to be the most beautifully situated cities in the world — but Sydney absolutely belongs on that list as well. Even though it was a mostly overcast day with only a bit of sunshine, we gaped at the various suburbs weaving around the bright blue harbor, the skyscrapers dominating the skyline to the right, and the Sydney Opera House itself holding court.
Looking over the other side of the bridge was even more beautiful — a beautiful swirling landscape of blue and green, faint mountains poking out in the distance.
I loved that climbing the bridge was such a leisurely activity — we had plenty of time to gaze out at the harbor and take it all in contemplatively. I valued that time so much.
That said, I yearned for my camera. I couldn't believe I was somewhere this beautiful without a way to document it. I completely understand why they don't allow you to bring cameras or other personal items — if you dropped something, you could cause a car accident on the bridge below — but I wished I had it with me nonetheless.
There were some pictures, though — Baxter took pictures of each of us, which were available for sale later.
Baxter told us lots of interesting stories throughout the climb. My favorite was that the day before the bridge opened in 1932, they had a children's day when the kids of Sydney were invited to walk across the bridge before they opened it to traffic.
A few years ago, Baxter hosted an elderly woman named Gwen on a climb. She walked across that bridge in 1932 as a twelve-year-old, and she climbed the bridge 78 years later at the ripe old age of 90!
Halfway through the climb, Baxter noticed that she seemed tired and he whispered to her that she could take an elevator down from the summit if she wished. Gwen abjectly refused, saying there was no way she would take an elevator down, thank you very much!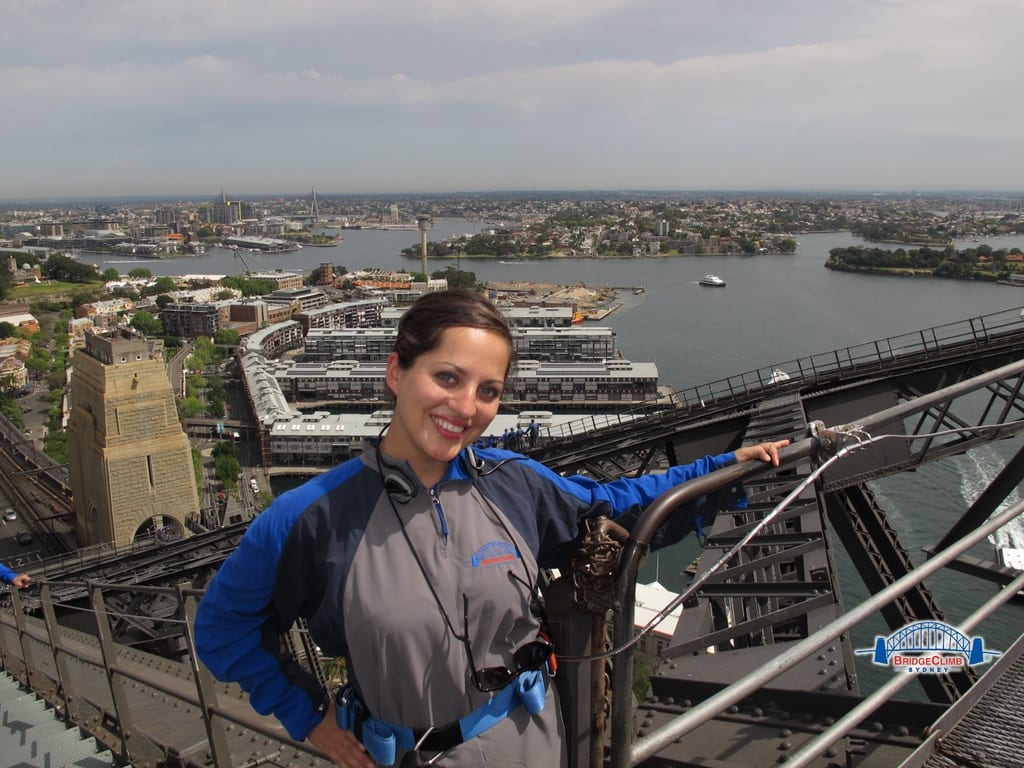 Evaluating the Bridgeclimb Experience
When I travel, I make a point to seek out the kinds of experiences that I wouldn't find anywhere else in the world — like snorkeling the neon blue waters of Silfra in Iceland or, more recently, visiting a balsamic vinegar producer in Modena, Italy, literally the only town in the world able to produce it.
The Bridgeclimb is exactly that kind of unique experience. I don't know of anything else like this in the world.
The Bridgeclimb runs climb after climb throughout the day. In order to run an operation this busy and intense, it needs to run like a well-oiled machine. And while Australia may have a well-deserved reputation for being incredibly laid-back, the Bridgeclimb runs with the utmost precision. There must be dozens of employees working simultaneously, from the guides to the people at the front desk to the people in the changing area to the pre-climb guides and all the people whom I didn't see.
The whole climb is extremely safety-conscious, and I didn't find it scary whatsoever.
Our guide Baxter was fantastic. I can't say enough good things about him. I was especially impressed by the fact that he learned all of our names right away, even the unfamiliar names of the Danish students. If Baxter represents the caliber of Bridgeclimb guides, you'll be in excellent hands.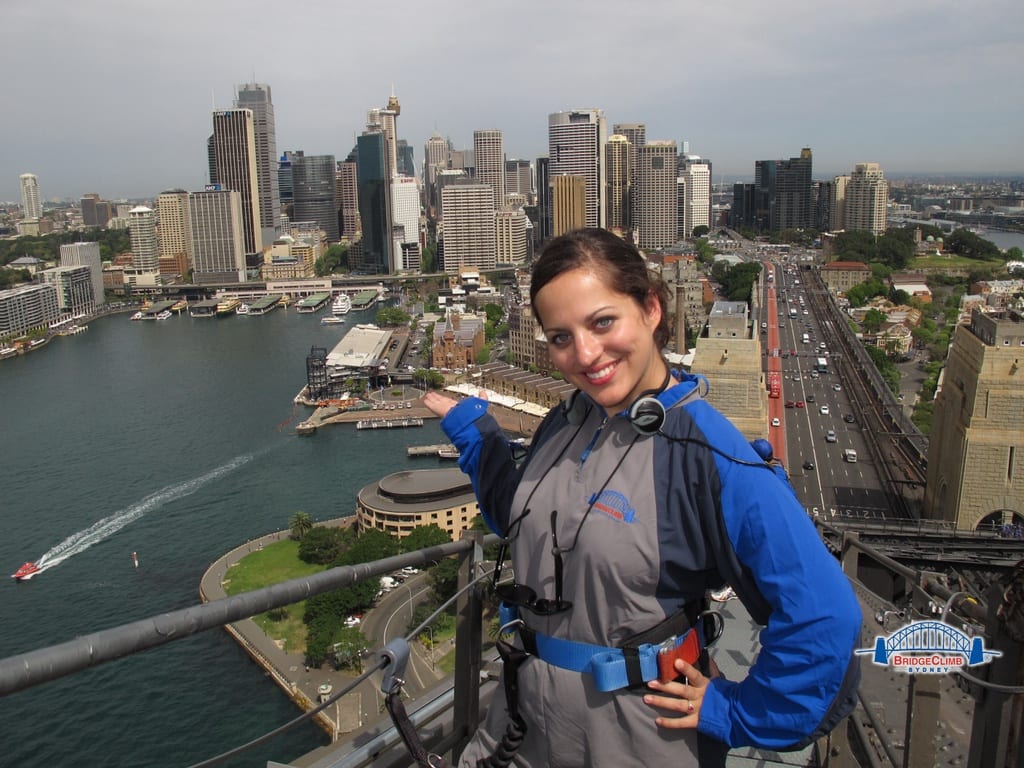 But is the Bridgeclimb Worth the Price?
The Bridgeclimb is one of the most expensive activities in Sydney: prices for adults range from $198-308 AUD ($184-287 USD) for most of the year and $228-318 AUD ($212-296) from December 25-January 8.
It is a very expensive activity, but it's important to keep in mind how staggeringly expensive Australia is as a whole. You need to look at prices differently. Activities in Australia tend to cost 30-50% more than a similar experience would cost in North America or Western Europe, so this is more akin to a $100-200 experience at home. (I will be writing more about this more in depth later.)
I will say this: the Bridgeclimb is a one-of-a-kind experience, a beautiful experience, and they run it so well.
Everyone in my group finished with big smiles on their faces. I met a couple at Uluru who had done the climb before and told me that they wanted to do a night climb next. My friend Paul told me that the Bridgeclimb is one of the best things he's ever done.
THAT is a special experience. But only you can decide if that would make the price worth it for you.
If you're traveling around the world long-term, you might want to skip the Bridgeclimb and put that money toward, say, three to four weeks in Vietnam instead. If you've saved up for a special trip to Australia, however, I would recommend allotting the money for this.
I loved every minute of the Bridgeclimb. And I'd love to go back and do a twilight climb so I can climb during the beautiful colors of the sunset. Let's hope I can return to Sydney soon!
Essential Info: The Sydney Harbour Bridgeclimb costs $198-308 AUD ($184-287 USD) for adults and $228-318 AUD ($212-296) during the peak period of December 25-January 8. All climbers receive one group photo. Additional photos of you are available for purchase. You may not take your own cameras or devices on the climb.

Climbs are available at dawn, day, twilight, and night. Climbs take place in all kinds of weather except for electrical storms or very strong winds. Climbs are available in Mandarin as well.

Children over 10 may climb, provided they meet the height of 1.2 meters. Pregnant women may climb when up to 24 weeks pregnant as long as they have a doctor's note giving permission. Inhalers and other medications may be taken on the climb.

Be sure to wear sneakers or other comfortable shoes with good grip. The whole process takes a few hours, so be sure to eat something beforehand. They have a cafe downstairs. There is a breathalyzer test beforehand and you will not be allowed to climb if you register a BAC level above 0.05.

I never travel without travel insurance and used World Nomads for my trip to Australia.

I stayed with friends during my visit to Sydney. You can find the best prices on hotels here.
Many thanks to the Sydney Harbour Bridgeclimb for providing me with a complimentary climb. They did not request a favorable review, and all opinions here are, as always, my own.
Get email updates from Kate
Never miss a post. Unsubscribe anytime!