Adventurous Kate contains affiliate links. If you make a purchase through these links, I will earn a commission at no extra cost to you. Thanks!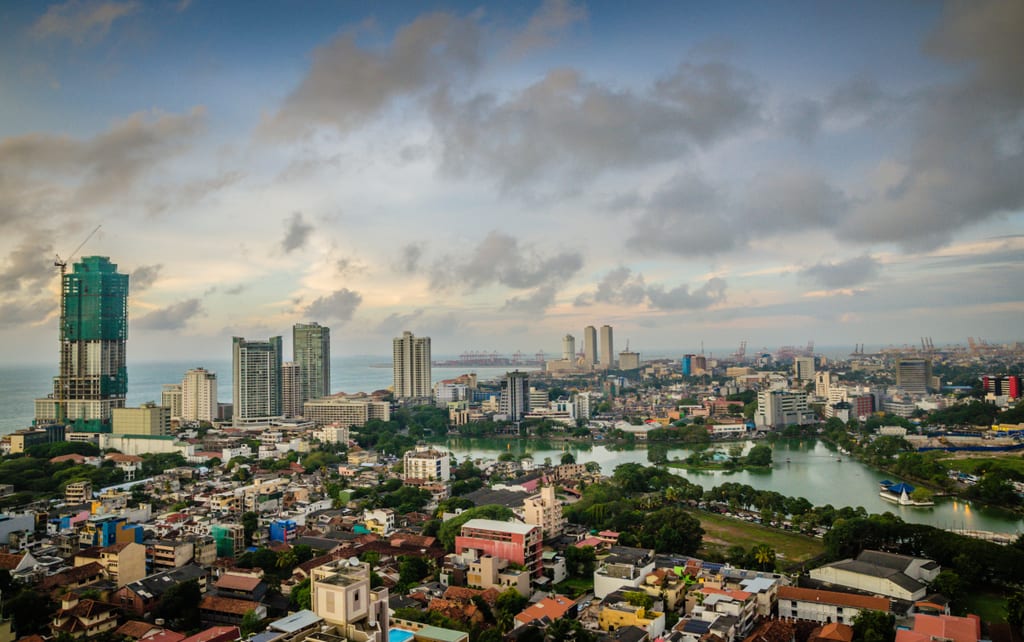 Sri Lanka might be full of fascinating places to visit, but Colombo isn't often listed as one of them.
It's not a city like Phnom Penh and Delhi that gets a lot of flack but redeems itself with its cultural and historical sites. Colombo is the kind of city that people urge you to skip, saying that there's nothing there. Even if you're flying into the country for a short stopover, it's faster and easier to stay in the beach town of Negombo rather than Colombo itself.
Colombo doesn't offer a lot in terms of sights. It's crowded and congested, yet it doesn't have the walkability or vibrant street life that you find in other Asian cities. Tourism infrastructure is mostly in the form of resorts; you won't find a lot of activities geared toward tourists here. You could compare it to the less attractive outskirts of Bangkok or Kuala Lumpur, minus the street life, temples, architecture, shopping, nightlife, and 7-11s. But, oddly, with nicer tuk-tuks.
Still, I have affection for cities like these — places that demand that you dig deeper in order to mine the gold. Thankfully, I had a bunch of Colombo-living friends ready to take me out.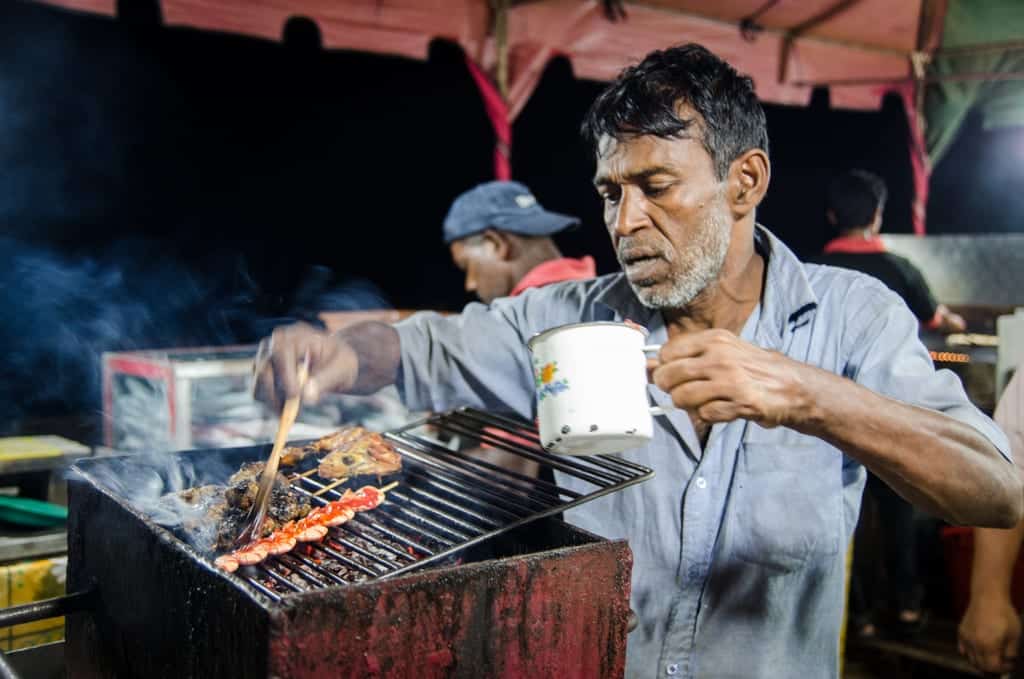 Galle Face Green
Hanging out, eating street food and enjoying the evening air — that's what I love. In Colombo, the place to enjoy this is at Galle Face Green, a stretch of grass by the sea that is home to lots of street vendors.
Sri Lankan food is defined by rice and curry. No matter where you go, you'll likely be feasting on rice and curry in some way, shape or form — but Galle Face Green was more of a snacking kind of place.
Spicy shrimp patties, meat on a stick, spicy fruits and vegetables — you bet my friends and I dove into the food. I had no expectations for those meat kebabs — but that was probably the best beef I've had since Kobe beef in Japan. I was shocked.

The Pier
Just off Galle Face Green is a pier jutting into the ocean. It's a great spot to take photos of the city at night (and practice some long exposure shots).
"What's this place called?" I asked my friend Mevan.
"…the pier," he replied. "Just the pier."
I liked the pier.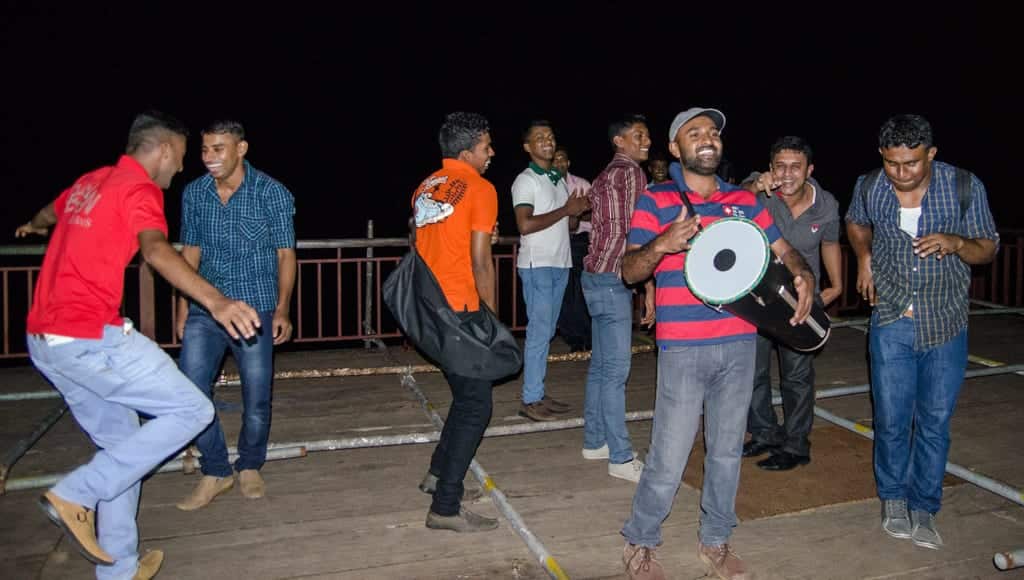 A group of men played the drums and danced. People from all walks of life strolled around.
Pilawoos
The hottest see-and-be-seen place of Colombo…is a fast food restaurant. Seriously. It's a 24-hour restaurant in a very early-to-bed-early-to-rise country, which means that when the bars and clubs close down, this is where everyone goes.
We weren't there at the witching hour, but we still had the full Pilawoos experience!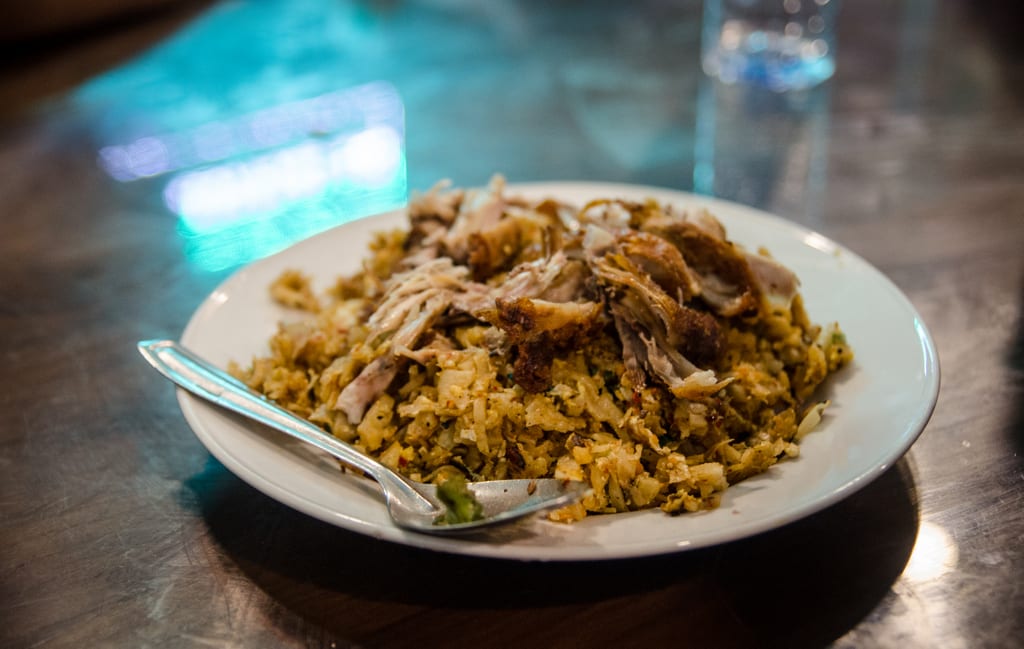 Roti is popular throughout Asia, but Sri Lanka puts its own spin on it with kottu — chopped up roti cooked with chicken, vegetables, and/or cheese.
At Pilawoos, everyone eats chicken kottu with cheese. It sounds a bit weird, but trust me — this is good stuff.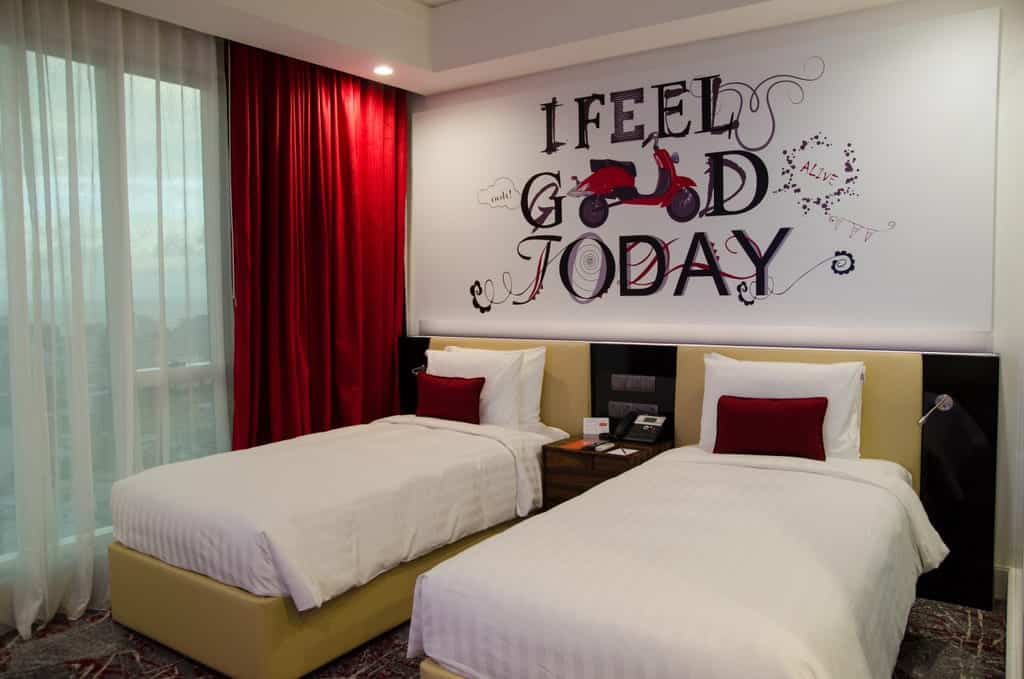 Cinnamon Red
Cinnamon Hotels has three properties in Colombo. During my time in Colombo, I stayed at Cinnamon Lakeside, the quality business hotel where we had the TBCAsia conference. Also in town is the Cinnamon Grand, a ritzy, party-happy monolith that reminded me of a Vegas casino.
But next time I want to stay at Cinnamon Red — such a sexy boutique hotel! They are so committed to the color red that all the facilities have the word "red" in the name.
This place is just the kind of hotel that I love — small, stylish, and extraordinarily faithful to a theme.
It also has the best infinity pool overlooking the city.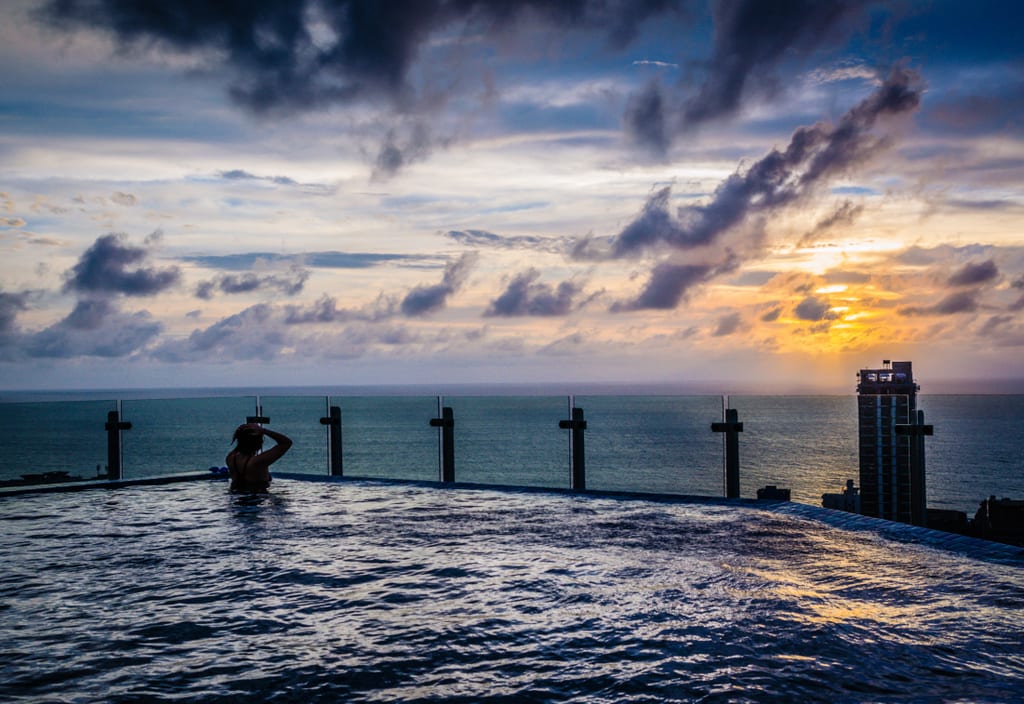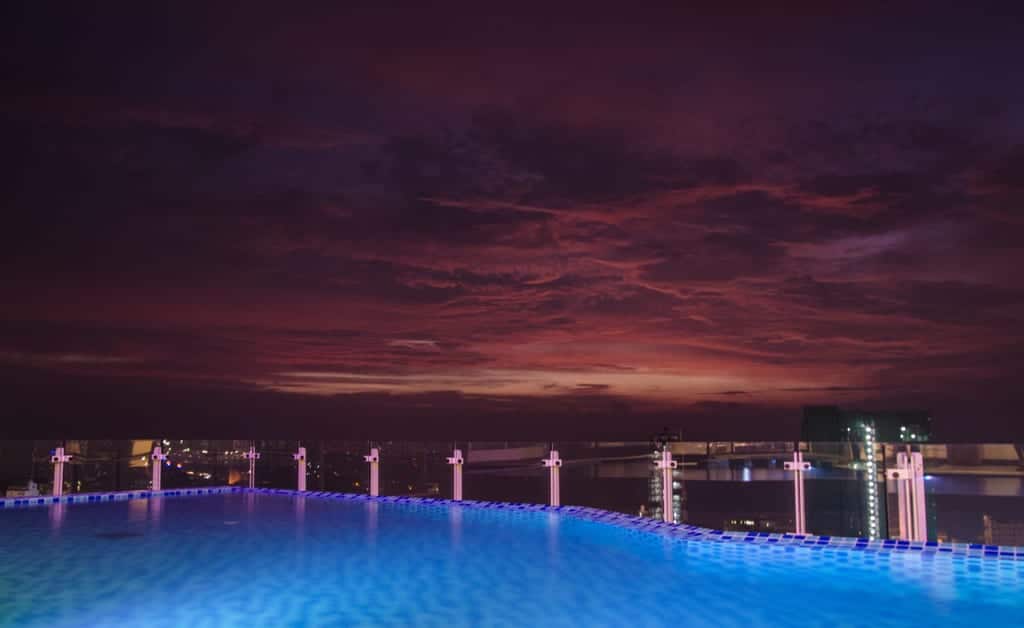 I actually didn't see many sunsets in Sri Lanka — in November it tended to be overcast most early evenings. But in Colombo, we witnessed a hell of a sunset, pictured above. That photo is barely retouched.
Thalangame
First of all, if you're going to Sri Lanka to see wildlife, you should prioritize visiting Yala National Park (one of the best wildlife spots in all of Asia and home to many leopards) or Kaudalla National Park (where I went on my elephant safari).
That said, it takes several hours of travel to get to either destination from Colombo (unless you fly). If you're going to be based in Colombo, there's a nearby local worth visiting: Thalangame, a wetlands area just outside the city.
I went on a birdwatching, butterfly-spotting trip with naturalist Vimukthi Weeratunga of Cinnamon Nature Trails.
I had been birding once before — in Portugal in 2012 — and what I love about it is that it forces you to recalibrate your senses. Soon you start hearing differently, seeing differently, looking for clues in different places. It's a phenomenal workout for your mind.
It was really nice to spend a day in the countryside and breathe in the fresh air and spot the animals, from exotic birds to monitor lizards (creepy!). And having someone as passionate about nature as Vimukthi made it really special. (He also went to grad school at Oregon State and loves the west coast, so we ribbed each other over our coastal rivalry all day!)
The Takeaway
I'll be honest — while I had a great time in Colombo, I doubt I doubt it will ever have a spot on my list of favorite cities. But that's okay. The important part is that you enjoy each place you visit to the fullest. I certainly feel like I did that in Sri Lanka's capital.
Essential Info: Rates at Cinnamon Red start at $80 USD.

Cinnamon Nature Trails offers custom guided tours to Thalangame. Prices available upon request.

Be sure to buy travel insurance before your trip. I use and recommend World Nomads.
I visited Sri Lanka for TBCAsia, hosted by Cinnamon Hotels. Thanks also to Sri Lankan Airlines for flying me there from London, CVisit Sri Lanka for carting me around, and Mobitel for furnishing me with a SIM card. All opinions, as always, are my own.
Have you ever enjoyed a city you thought you wouldn't like?
Get email updates from Kate
Never miss a post. Unsubscribe anytime!