Adventurous Kate contains affiliate links. If you make a purchase through these links, I will earn a commission at no extra cost to you. Thanks!
When I got invited to join a food tour through New York's Little Italy and Chinatown, I was excited — but a bit skeptical.
Isn't Little Italy a giant tourist trap? I thought. Meanwhile, if you're looking for authenticity, shouldn't you leave Manhattan altogether and head to the Bronx and Flushing?
I was wrong. Little Italy may be filled with a lot of crap restaurants; Chinatown, less so. But there is some AMAZING food hidden here if you know where to look.
And Alana knows exactly where to look.
Alana is the owner of Ahoy New York Food Tours. For years, she has been specializing in food tours of Little Italy and Chinatown. In 2008, she took a leap and started Ahoy Tours, offering food tours of her own. This is her zone, and yes, she does her grocery shopping here!
What I loved about this tour was that it was about food, but there was also SO much about the history of of the Italian immigrant experience and Chinese immigrant experience in New York. These are, of course, the neighborhoods to which the immigrants flocked.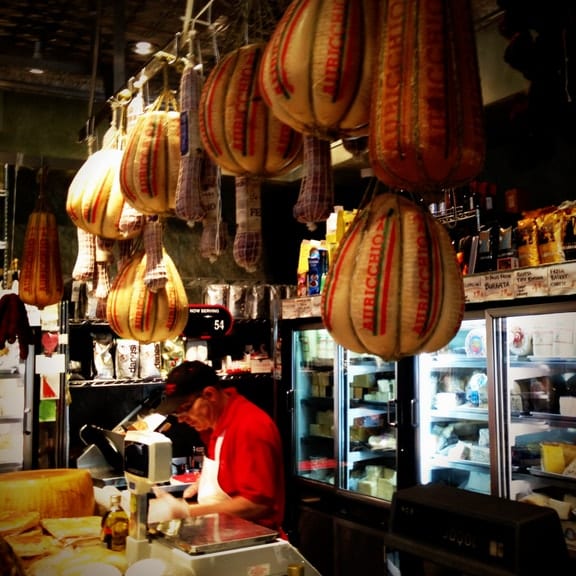 Part One: Little Italy
Our first stop was a lesson to me. As much of a prosciutto-phile as I am, I never knew that there were two kinds of prosciutto: prosciutto di Parma, the standard and most famous, and prosciutto San Daniele, which comes from the northeast Friuli region in Italy.
San Daniele prosciutto was available for us today. It's darker and a bit saltier than prosciutto di Parma, and best enjoyed around a piece of fresh unsalted mozzarella.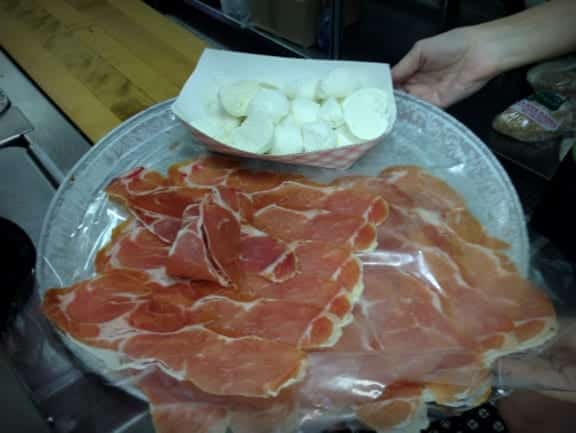 We then moved on to sample some different cheeses, comparing the sheep's cheese and cow's cheese with lots of baas and moos, then made our way across the street to try some pastry.
Being Italian, I'm very serious about cannolis. Most of mine come from bakeries in the suburbs that I suspect are owned by the Mafia. This little one? Not the best I've ever had, but nice.
Part Two: Chinatown
Our first stop in neighboring Chinatown was actually for Thai food! We sampled a few dishes, then moved onto a park. Chinese opera played in the background as we ate the most delicious pork and chive dumplings I've ever tasted. SO good.
And cupcakes!
We dropped by a bakery that makes cupcakes with unusual Asian ingredients. On our menu? Lychee cupcakes with lychee frosting. Scrumptious. Their other flavors include black sesame, red bean, and jasmine tea.
But the piece de resistance was our final tasting: an authentic egg roll.
I know, what could be so exciting about an egg roll? I've had about a million of them, none of them very memorable. They're the filler food accompanying the delicious meat of the pu-pu platter and mostly eaten at 3 AM after a wild night out while begging the waitress to pour beer in your teapot.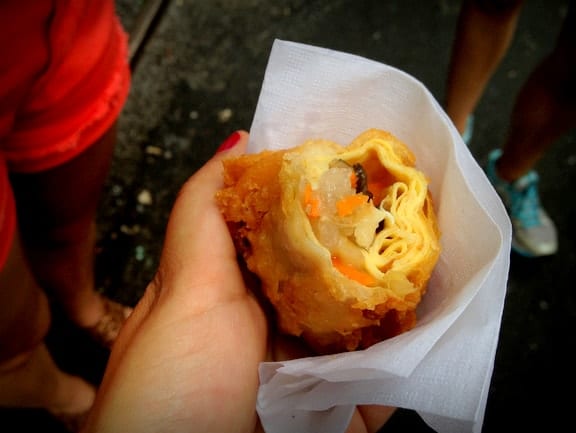 LOOK AT THAT GLORIOUS THING. Now, THAT is an egg roll! And it was ABSOLUTELY DELICIOUS. I can't believe that this is what real egg roles taste like!
Throughout the tour, Alana gave us restaurant recommendations — ranging from "good" (as in GO THERE AND ENJOY IT) to "average" (as in AVOID LIKE THE PLAGUE). We also received coupons to all the stores and restaurants we visited that day, and Sarah and I picked up some fresh mozzarella for later.
I'm so happy that I found my way to this tour! There is plenty of authentic and delicious food in the touristy neighborhoods of Little Italy and Chinatown. Next time I fancy some prosciutto or dumplings, I know exactly where to look.
Many thanks to Ahoy New York Food Tours for the complimentary tour. All opinions, as always, are my own.
Get email updates from Kate
Never miss a post. Unsubscribe anytime!