Adventurous Kate contains affiliate links. If you make a purchase through these links, I will earn a commission at no extra cost to you. Thanks!
Of all the landscapes in the world, there is NOWHERE that looks like Cappadocia.
That's what drew me to this region of central Turkey — this freaky, otherworldly landscape.  During the Tertiary period (65 million to 2 million years ago), volcanic activity formed the mountains in the region.  Over the next few millions of years, volcanic activity and rapidly changing temperatures led to the "fairy chimneys" and unusual cones.
Cappadocia (pronounced cap-pa-DO-kee-ya) is a region and is comprised of several towns.  I flew to Kayseri and took a shuttle to Goreme, Cappadocia's most popular backpacker town (though these days it's becoming increasingly upmarket).
I arrived here in late November, and it was very cold — around freezing.  While no snow had fallen yet, the town was deserted nonetheless.  And, to be quite frank, it freaked me out.  Nobody was around.  I was always looking over my shoulder, feeling like a target.
I wouldn't recommend visiting Goreme in the winter.
But there is far, FAR more to Cappadocia than just Goreme, and I knew I had to explore more of Cappadocia.
Luckily, at WTM in London a few weeks before, I had met Ali of Anahita Travel, a Cappadocia-based travel agency, and he invited me on a tour of Goreme National Park and the surrounding countryside.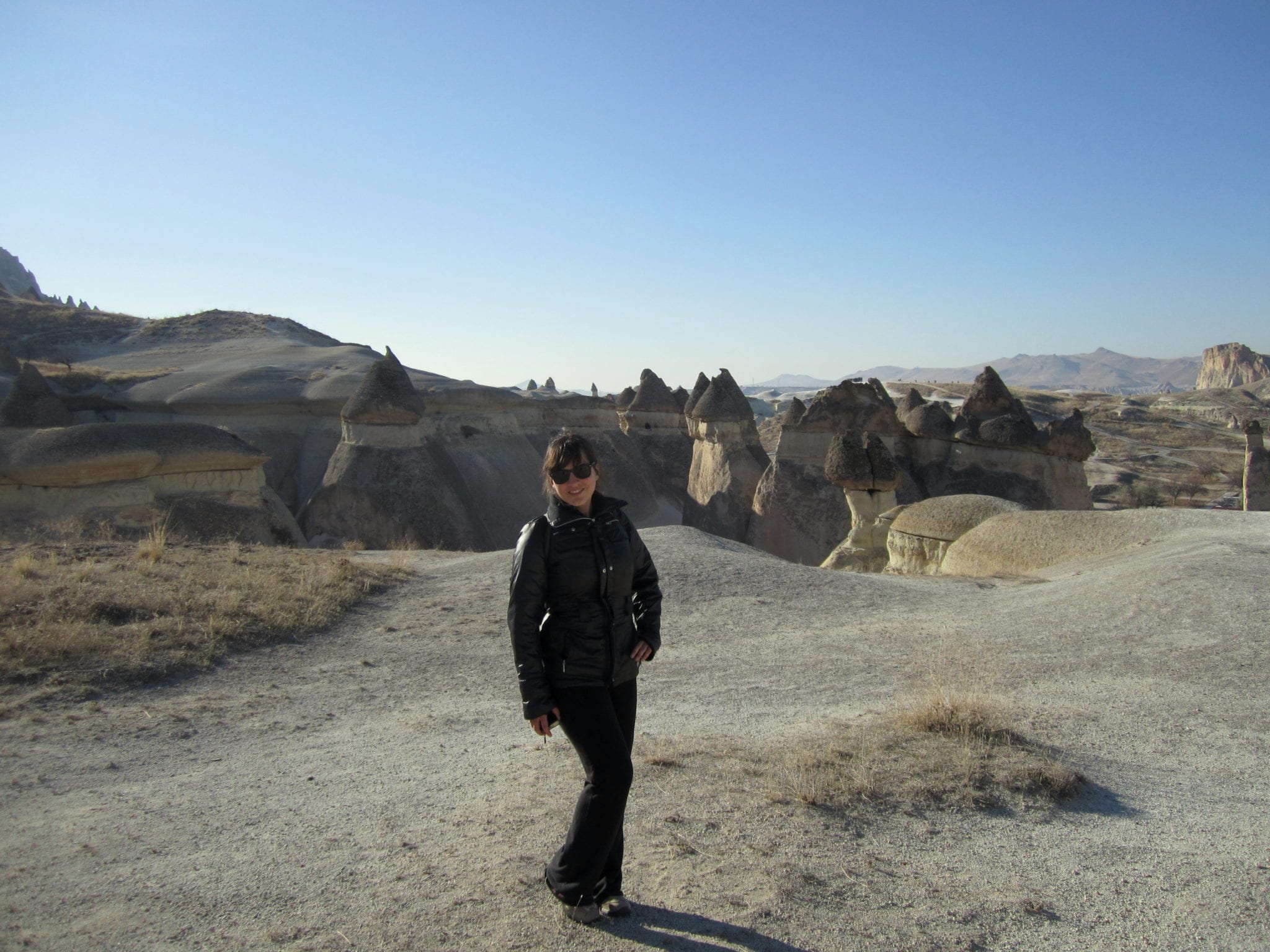 We covered so much ground in Goreme National Park, including Pigeon Valley, the Sword Valley, the Red Valley and Rose Valleys #1 and #2.
I could not have had a better guide than Ali!  Ali has lived his whole life in Cappadocia, and he knows the landscape incredibly well.  We hiked together for hours and he wove history, geology, folklore, language, and religion into a tapestry that gave me an understanding of the landscape.
Check out this video, which showed the view of the Sword Valley:
The most fascinating part of Cappadocia by far?  The cave churches, which are built right into the fairy chimneys and other parts of the landscape.
This church was one of the biggest surprises I've ever seen while traveling.  We climbed up a ladder into a nondescript cave and found this meticulously carved church with incredible acoustics.  (Yes, Ali made me sing.)
Other churches featured frescoes:
As I mentioned before, Goreme was deserted.  This was true on the hiking trail as well, and Ali and I saw fewer than five people over the course of the day.  (For this reason, always make sure to have a partner when hiking in Cappadocia.)
Soon, it was time for lunch.
And Ali pulled out some sausages, hot peppers, and a loaf of bread!  We built a little fire and roasted them in the sun.
Eating food you cook yourself over a fire after hiking for a few hours?  There's no better lunch in the world.
I'm so glad that I got to hike into the hills of Cappadocia with an expert — it was a fantastic way to see this region and it remains one of my favorite days in Turkey.
I received a complimentary guided hike of Cappadocia from Anahita Travel.  All opinions, as always, are my own.