Adventurous Kate contains affiliate links. If you make a purchase through these links, I will earn a commission at no extra cost to you. Thanks!
The first time I landed in Bangkok back in 2010, I did everything wrong.
I was so excited, I didn't get myself close to the schedule before I arrived.
Even though I was arriving close to midnight, I slept on the final flight there.
I gave my guesthouse address written in Thai to my driver, but he couldn't find it and had to keep stopping and asking people where it was.
I chose a guesthouse with a windowless room that was essentially a twin bed with an extra two feet of space around it. No outlets. No wifi. No A/C. Not even a top sheet.
I didn't sleep a wink the entire first night and basically twiddled my thumbs until 6:00 AM, when I figured it was a socially acceptable time to visit some temples.
I slept a few hours in the afternoon the first day — and didn't sleep a wink the second night, either. I then got a nasty cold due to sleep deprivation and missed out on some social gatherings.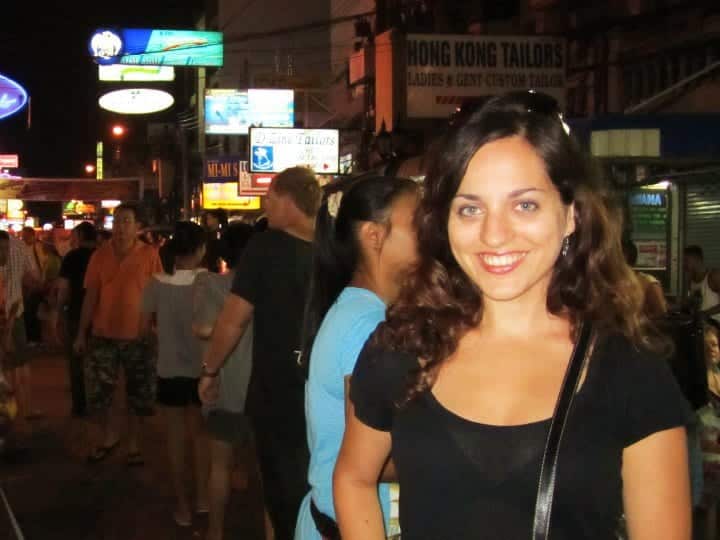 Here I am on my first day in Bangkok in 2010. I was a mess, but I was so happy just to be there.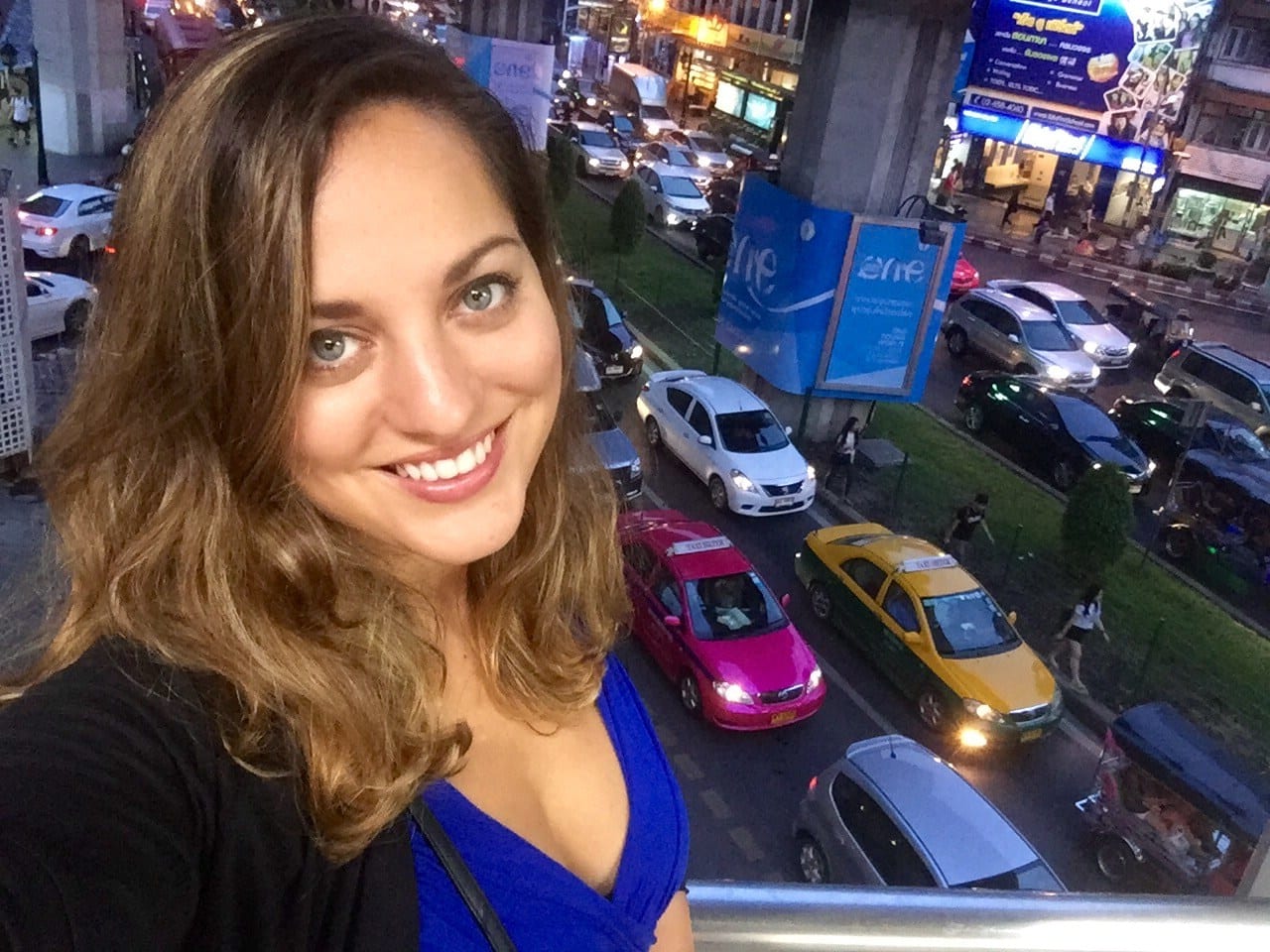 Here I am on my first day in Bangkok in 2015. By this time, my tenth visit to Bangkok, I had my arrival down to a science.
Here's how to do the same when you touch down in Bangkok:
Adjust yourself to the time zone ahead of time.
Granted, this is most difficult from the East Coast of the U.S., where we're usually on a 12-hour time difference. But anything you can do to get yourself slightly closer to Thailand's time zone will have you in much better shape, even if it means you'll be sleeping fewer hours.
Hit up the ATM.
You don't need to get cash before your trip — just hit up the ATM in the airport as soon as you land.
You also might want to visit a 7-11 and buy a bottle of water so you can break a large bills.
Get a taxi from the airport.
When you arrive in Bangkok, chances are you're going to be exhausted and ready to just fall into bed. This is an occasion that warrants paying for a taxi, even if you're backpacking and trying to save money.
Airport taxis have rates set, so you will be charged a meter rate. Keep in mind that depending on where you're going, some drivers will offer to take you via highway, which will cost you extra toll fees that you will need to pay when you go through the toll booth.
Have your accommodation's name and address ready, and pinpoint it on Google Maps.
When I first got to Bangkok, I was shocked at how often taxi drivers would have no idea where my destination was. It's a far cry from London, where taxi drivers are required to memorize every street in the city!
It's a good idea to have the address written in Thai as well as English — but it's even better to have it saved on Google Maps.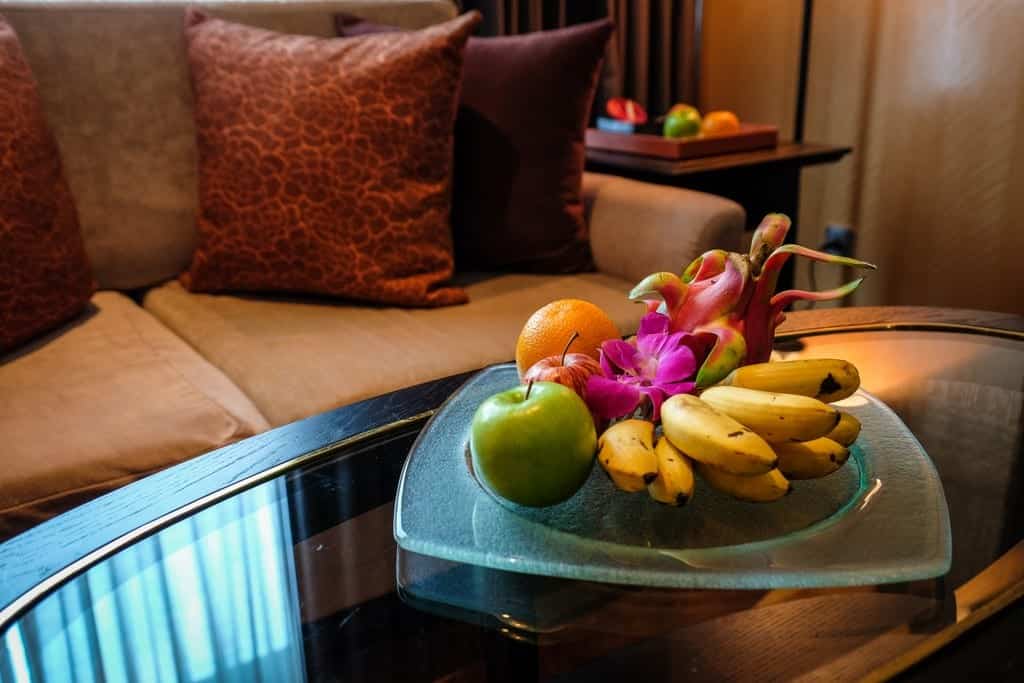 Check into an extremely comfortable hotel or guesthouse.
Why a comfortable place? Because you'll be exhausted and sleeping at odd hours for the next few days. Having a nice place to stay can make such a huge difference. I stayed at the Amari Watergate — more on that below.
Take melatonin right before you go to bed.
I first started bought melatonin when I flew from Boston to Sri Lanka last year, knowing that I'd have a busy schedule and wouldn't have the luxury of going at my own pace.
Melatonin is a natural supplement that helps your body realize that it's bedtime. It's best to take it about an hour before you go to bed, but I find that it affects me within around 30 minutes.
For the first several days, take melatonin at night — it will help you beat jet lag faster. You can get it on Amazon.
Get on a normal schedule as soon as you can.
Avoid napping! Believe me, it's better to go to bed at 9:00 PM and sleep until 4:30 AM than to take a midday nap. Because as soon as you start midday napping, you'll be falling asleep in the middle of the afternoon every day.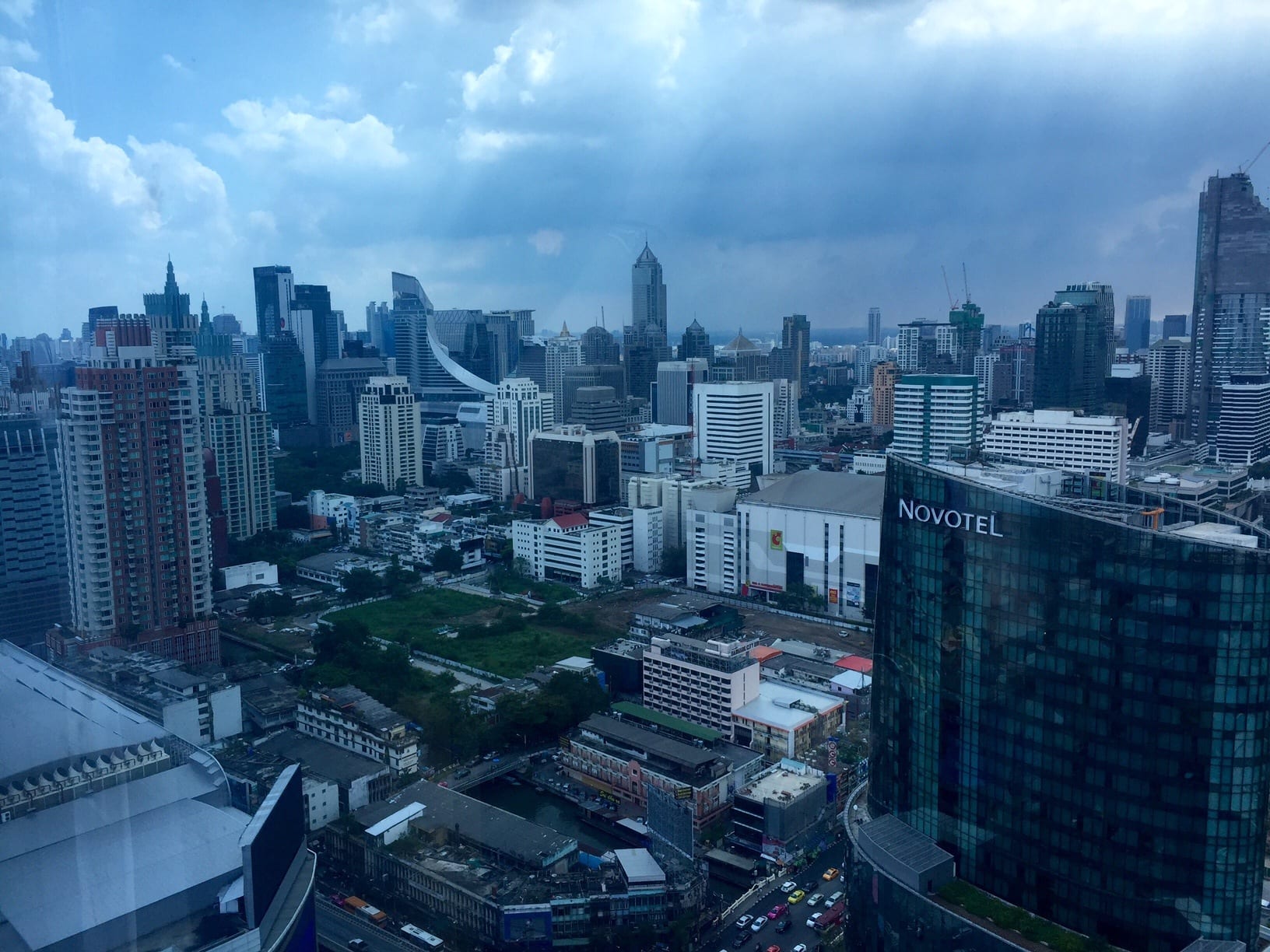 Pick up a SIM card.
I always go to Siam Paragon, a luxury shopping mall near Siam Square, and visit the AIS store. AIS provides some of the best coverage in Thailand, has great data plans, and they're used to assisting foreigners in this store.
Don't forget to bring your passport! It's required to get a SIM card.
Go easy on the food if you have a sensitive stomach.
When I first arrived in Asia, I went vegetarian for the first few days and gradually eased into eating meat. You might want to do the same if you're nervous about the food. Always stick to bottled water, too!
Indulge in massages.
One of my favorite things about Thailand is that Thais consider massage a normal, frequent part of staying healthy. As a result, massage is available for cheap in Bangkok — think around 250 baht ($7) for one hour.
Traditional Thai massage is done with your clothes on (they may give you loose pajama-like garments to wear). It's a lot like assisted yoga. Personally, I'm a big fan of foot massages and get them almost every day.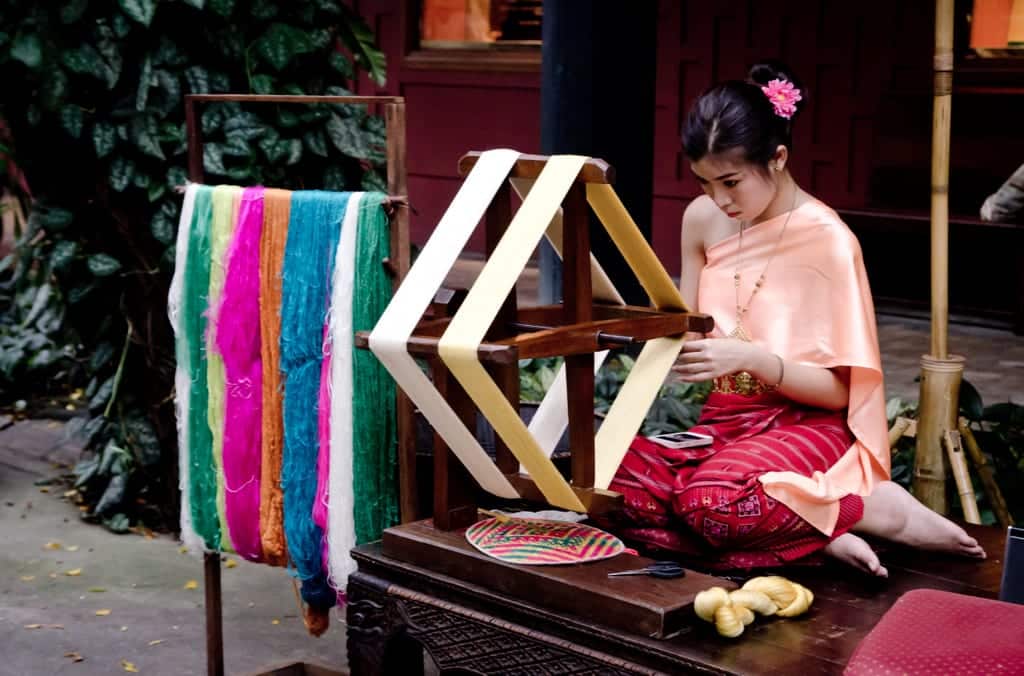 Give yourself at least a few days in Bangkok.
Bangkok is one of my top five favorite cities in the world. You could spend weeks here discovering all that the city has to offer. If you're a returning Thailand visitor, you probably know what you want to do, but if you're new to Thailand, please don't listen to people telling you to skip Bangkok. This city is beautifully chaotic and I love it for that reason.
A few of my favorite activities:
Visit Chatuchak Market. Held on Saturday and Sunday, this is the largest market in the world and they sell everything from unique clothing to fancy furniture to tiny puppies.
Hang out in Siam Square. This is where young Thais hang out and where you'll find lots of cool shops, along with several high-end malls. Keep in mind that Asian sizes tend to be tiny, but accessories are universal!
Go to a luxury movie theater. I love SF World Cinema on top of the Central World mall, where around 700 baht ($20) buys you a pre-movie buffet with a mocktail and tons of food, a plush leather recliner, a blanket (!!), a waitress, and your choice of flavored popcorn and soda. (If you don't want to spend the cash, you can see new releases for around 100 baht ($3)!)
Visit Jim Thompson's house. If you love architecture, luxury, and mystery, make this a priority. Jim Thompson was an American CIA agent turned silk merchant who ended up disappearing in Malaysia. His house is near Siam Square and is like a time capsule.
Explore and chow down in Chinatown. Chinatown is one of the most distinctive neighborhoods in the city, and you can easily get lost in the mazes here. The food is excellent, too.
Visit Buddhist temples. Some good ones for first-timers are Wat Pho, the Grand Palace, and Wat Arun, which are close together and close to the Khao San Road area.
See Muay Thai at Lumpinee Stadium. Not just a sports experience, but a cultural experience unlike any other.
Enjoy Khao San Road. The backpacker center of Southeast Asia, if not the world. Fun for a wild night out, but keep in mind merchandise here costs a lot more than on surrounding streets.
Chill out on Soi Rambuttri. Close to Khao San Road but much quieter and calmer, this is actually my favorite street in Bangkok. I love getting a foot massage while having a cocktail from the mobile VW van bar.
This is just scratching the surface — there is far more to do in Bangkok than I could include in a single post!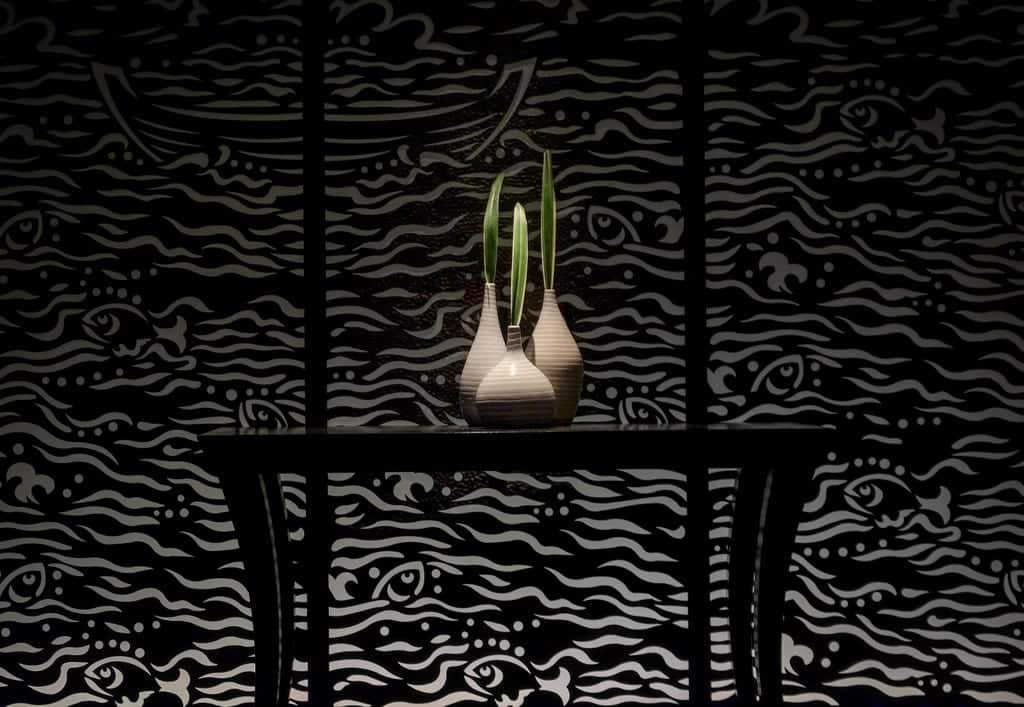 Staying at the Amari Watergate Bangkok
I always tell people that Bangkok and Las Vegas are the two best cities in the world for luxury hotels — there are tons to choose from and the prices are excellent.
Well, to be honest, I've never stayed in a luxury hotel in Bangkok until my most recent visit! A few months back, the Amari Watergate Bangkok offered me a complimentary three-night stay in exchange for some social media coverage, and I accepted it.
I really loved this hotel. And to be honest, having SUCH a nice place to stay made adjusting to Bangkok a far more pleasant experience than in recent years.
I stayed in an Executive Suite — one of the top suites in the hotel. Executive Suites are enormous with a king-sized bed, plenty of seating, a separate sitting room with an office section, and a giant bathroom with a tub you could practically do laps in.
Hello, New Best Friend.
The room, as you can see, is nothing short of glorious. Some of the other room amenities include multiple TVs, fruit upon arrival (so needed!), coffee and tea, lots of bottled water, and a view over downtown Bangkok.
But what I actually enjoyed most was being on an executive floor and having access to the executive lounge, which was airy, quiet, and luxurious. Just being there made me feel like I was part of an exclusive club. They also have happy hours in the executive suite each night!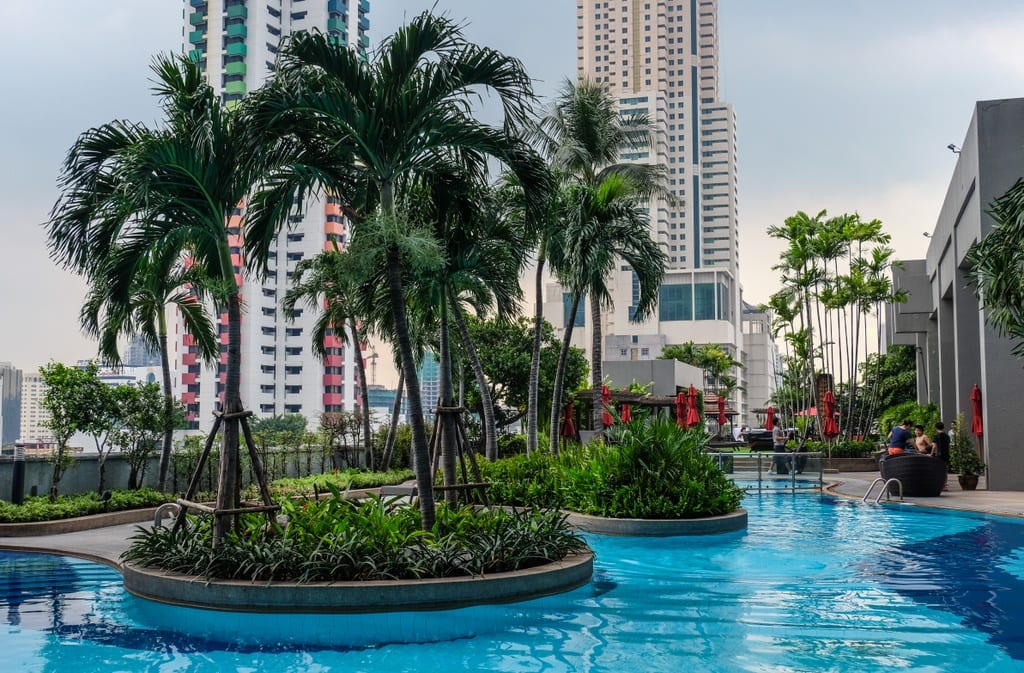 November in Bangkok can be a bit of a mixed bag weather-wise, and there were mostly stormy skies — but that didn't keep some people from jumping into the pool.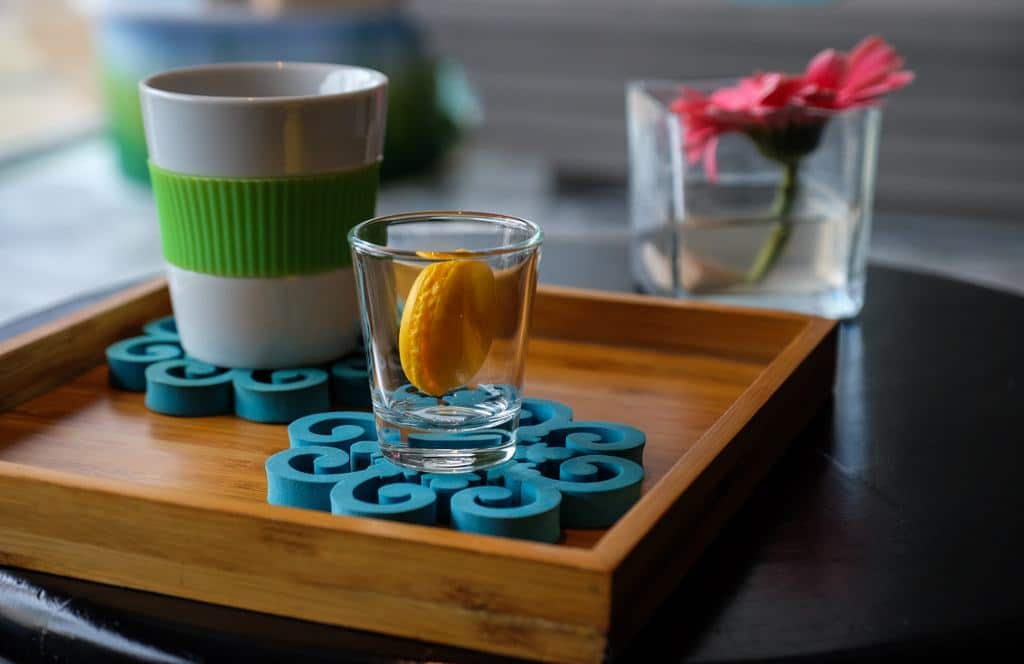 Getting a nice massage is the perfect way to settle into a new time zone, and the Breeze Spa at the Amari Watergate is excellent. You can choose a massage to reflect your mood — I went with invigorated (dreamy, serene, rejuvenated, and energized are other options). Because when you can get a massage on the street anywhere in Thailand, getting a high-end massage makes you feel pampered. I found it blissful, especially with the tea and macaron served at the end.
As for other benefits of the hotel, the location was ideal — walking distance from Siam Square and my favorite malls, making it a perfect hub for my first-day-in-Bangkok errands. You're near the BTS, which will get you all over most of the city, and if you want to head to Khao San Road, you can take a nearby canal boat!
There's a nice-looking gym, if you're into that sort of thing. I wasn't quite motivated enough to go inside!
And on my first night, I was able to experience a brand new event at the hotel — a Thai street market-inspired dining experience around the pool! I spent my time hanging out with new Thai friends and pretending not to cry from the spicier dishes. (I think they caught on when they saw how many Thai iced teas I was drinking.)
So basically, my first luxury hotel stay in Bangkok was a really wonderful experience. If you want to dip your toes into luxury travel in Asia, the Amari Watergate is a high value choice. I couldn't have found a better way to land in my favorite Asian city.
---
READ NEXT:
---
Essential Info: Rates at the Amari Watergate Bangkok start at 2,635 baht ($73). Executive suites start at 8,325 baht ($229). While these are luxury rates, this is very good value for money, both in Bangkok and throughout the world.

You can find other hotels in Bangkok here.

I recommend taking a taxi to and from the airport, but you can also take the BTS (Skytrain) from nearby Ratchathewi Station.

I never travel anywhere without travel insurance – you never know what will happen and having travel insurance can save you thousands in the event of an emergency. I use and recommend World Nomads.
Many thanks to the Amari Watergate Bangkok for providing me with a complimentary three-night stay, including breakfast and a massage. All opinions, as always, are my own.
What's your favorite way to arrive in a new city?
Get email updates from Kate
Never miss a post. Unsubscribe anytime!