Adventurous Kate contains affiliate links. If you make a purchase through these links, I will earn a commission at no extra cost to you. Thanks!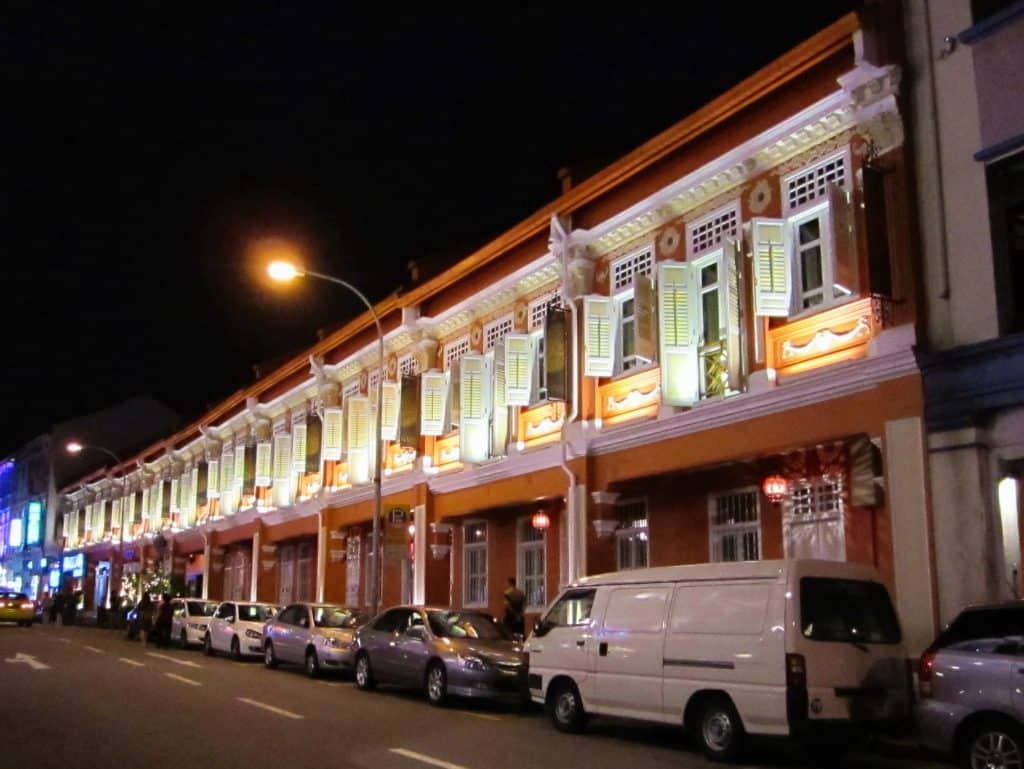 Singapore is clean, beautiful and blissfully organized — like nowhere else in Southeast Asia!
Unfortunately, that comes at a price.
Singapore is much more expensive than the rest of Southeast Asia.  For a cheap, basic backpacker's itinerary, what would cost you $20-30 in Thailand or Vietnam would cost you upwards of $50 in Singapore.
But that's no reason to skip this fascinating city. Here are the best ways to save money in Singapore: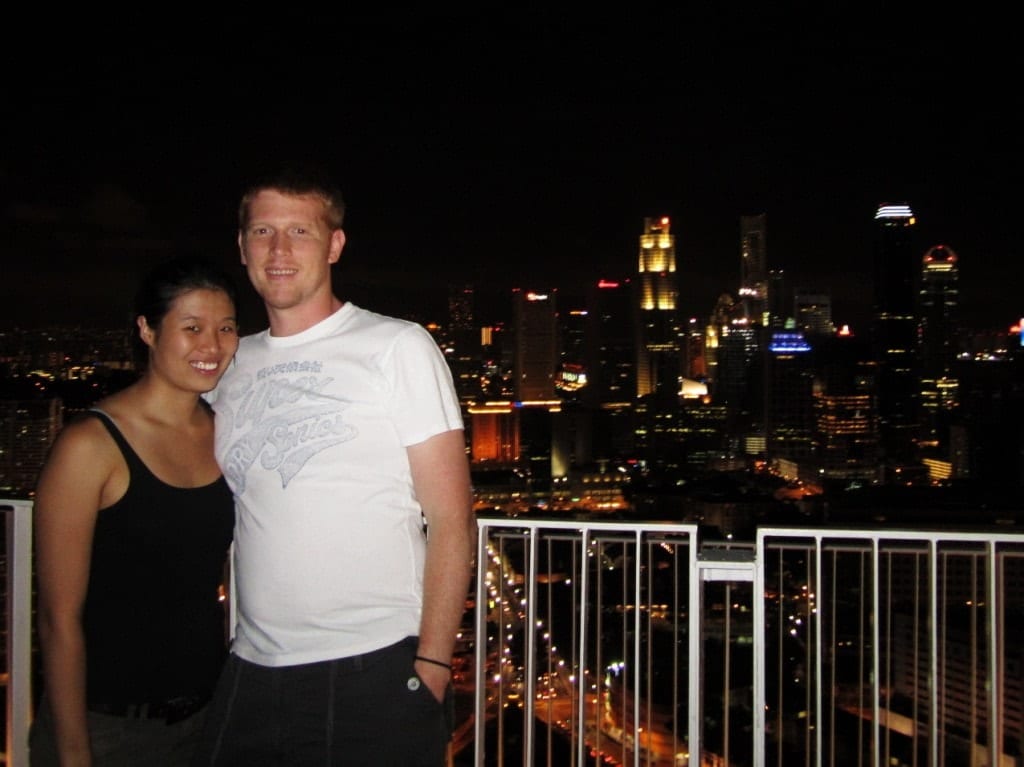 Couchsurf.
Before this trip, I had used Couchsurfing to meet people, but I never actually stayed over with anyone. I wrote about why here.
But when Edna, one of my readers, offered me a place to stay, I gladly accepted. My first Couchsurfing experience was wonderful — Edna and her boyfriend Mike (pictured above), as well as their two flatmates, welcomed me with warmth and generosity.  The apartment was fantastic, the couch was ridiculously comfortable, and it was nice getting to learn about the expat experience in Singapore.
We also spent a night staying in, watching Arrested Development and The Inbetweeners.  After nearly five months of backpacking Southeast Asia, sometimes you need to just kick back and watch some good TV!
Eat Hawker Food.
Singapore's hawker centers — food courts — are the best place to eat in Singapore. Period.  The food is fantastic, and it's cheap (about S$5 per meal, or $4 USD).  Because of Singapore's diversity, you'll find dishes from all over China, Malaysia and India, as well as some Singaporean inventions.
The food was universally fantastic, from soups and dumplings to rice dishes and noodles.  I also fell in love with freshly blended strawberry dragonfruit juice, and I will go to any lengths to see if I can find it in the US.
Edna advised me to get food from wherever the longest line was. Singaporeans will wait a LONG time for good food!  I agree with their philosophy wholeheartedly, and was rewarded with a delicious bowl of fish soup.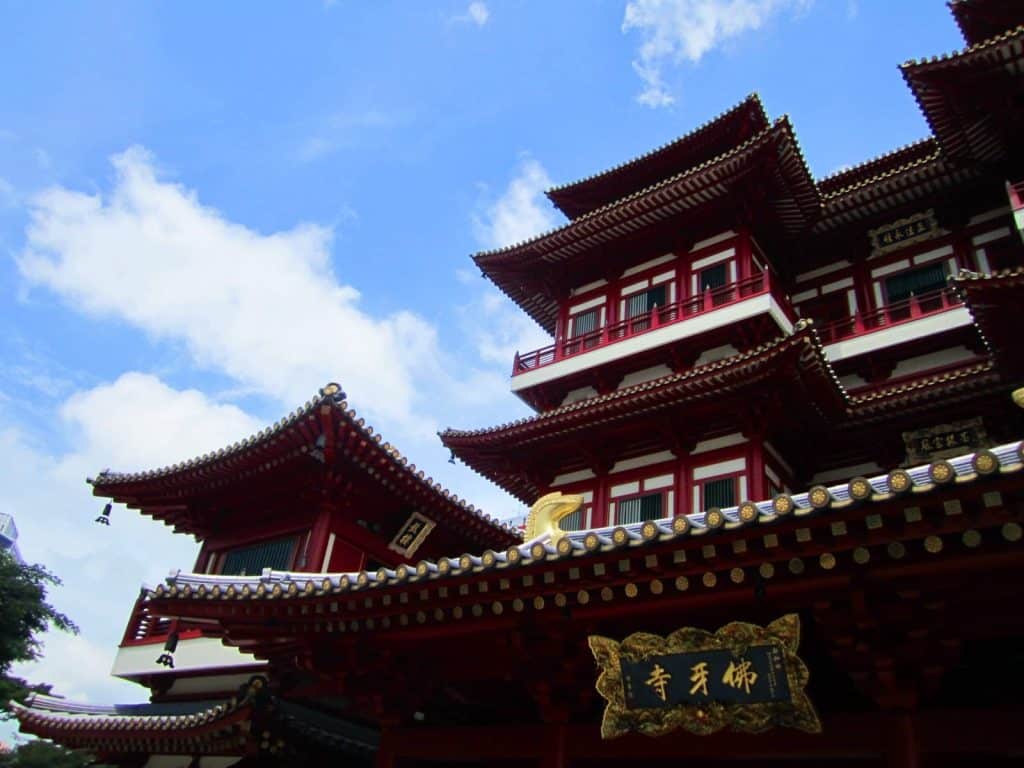 Visit Free Attractions.
Singapore has a plethora of free attractions — mostly in the form of temples, like the Buddha Tooth Relic Temple, pictured above.  (Yes, they claim to have one of Buddha's teeth…wonder what he would think of that.  Reminds me of St. Francis and the cathedral of which he never would have approved in Assisi…)
And never forget that hanging out in a park or people-watching in a mall is free — and highly entertaining!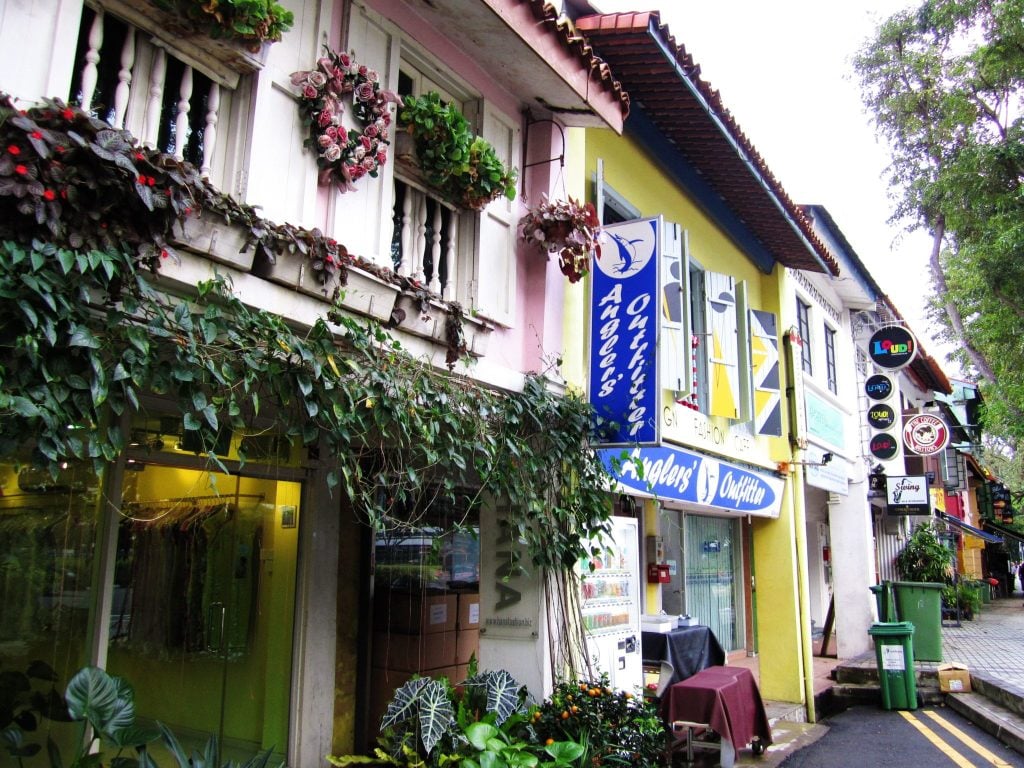 Walk.
Despite how large in area the city-state appears to be, Singapore's central attractions are bunched close together. Wear comfortable shoes and you can walk all the way from Chinatown to Kompong Glam to Little India.
Strolling around different neighborhoods is my favorite thing to do in a new city — and just like Boston, Paris, and New York City, Singapore is an excellent city in which to do that.
If not, get on the MRT — the very accessible subway, where rides are only a few dollars. The last train leaves at 11:30 PM.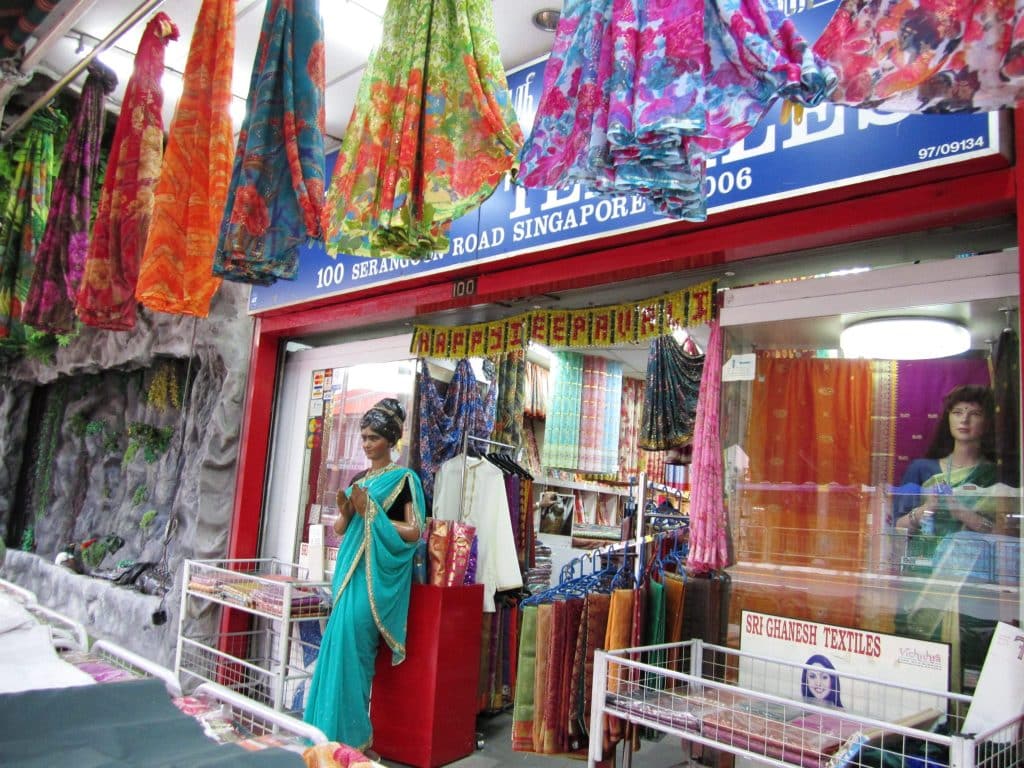 Don't Drink.
I know, I know. Hear me out.
Booze will decimate your budget, no matter where you are, but it will do so to an even greater extent in Singapore.
According to Edna and Mike, the cheapest beer you can find is $2.50 SGD ($2 USD) per can in the supermarket.  And that's the gross stuff you'd never touch under ordinary circumstances.
Bottles of liquor cost several times what you'd pay in the United States. Singaporeans try to buy their liquor from duty-free shops — some even take the bus to Malaysia for the afternoon just to hit up the duty-free liquor store!
Singapore's a good place to dry out for a few days.  I didn't touch alcohol the whole time I was there.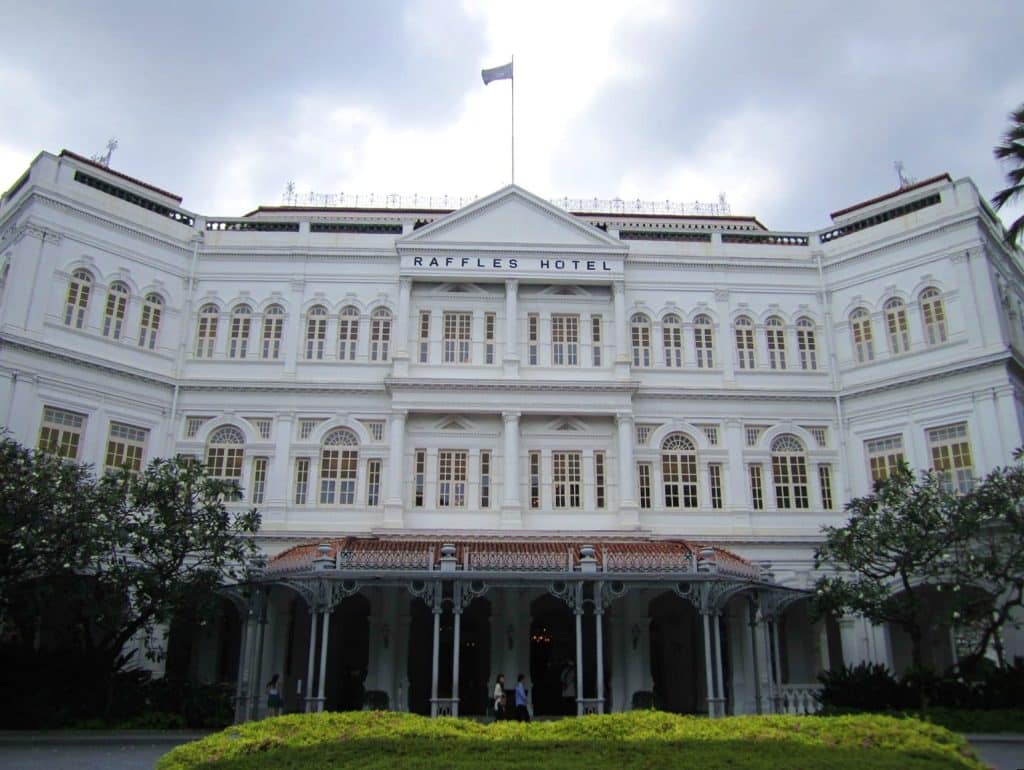 Do not get a Singapore Sling at the Raffles Hotel.
Before you go to Singapore, everybody and their mother will be asking you if you plan to get a Singapore Sling at the Long Bar at the Raffles Hotel. Expect these questions to continue while you're in Singapore and long after you return home.
This quintessential Singapore experience costs S$26 — $21 USD — and that's if you don't want to keep the souvenir glass. Now, a cocktail that expensive should be fancy, shouldn't it?  After all, they did invent the Singapore Sling here.
Well, it comes from a mix. They pour it from a bottle directly into your glass.  WHY does that cost so much?!  If I'm paying more than $20 for a cocktail, it better be fancy, top-shelf booze!
But even beyond the mix, the real question is…
…have you ever had a Singapore Sling in your life?
I didn't think so.
Go, if you're so inclined.  I hear it's a nice bar, and you get to throw peanut shells on the floor.  But you can do that while drinking a Fanta.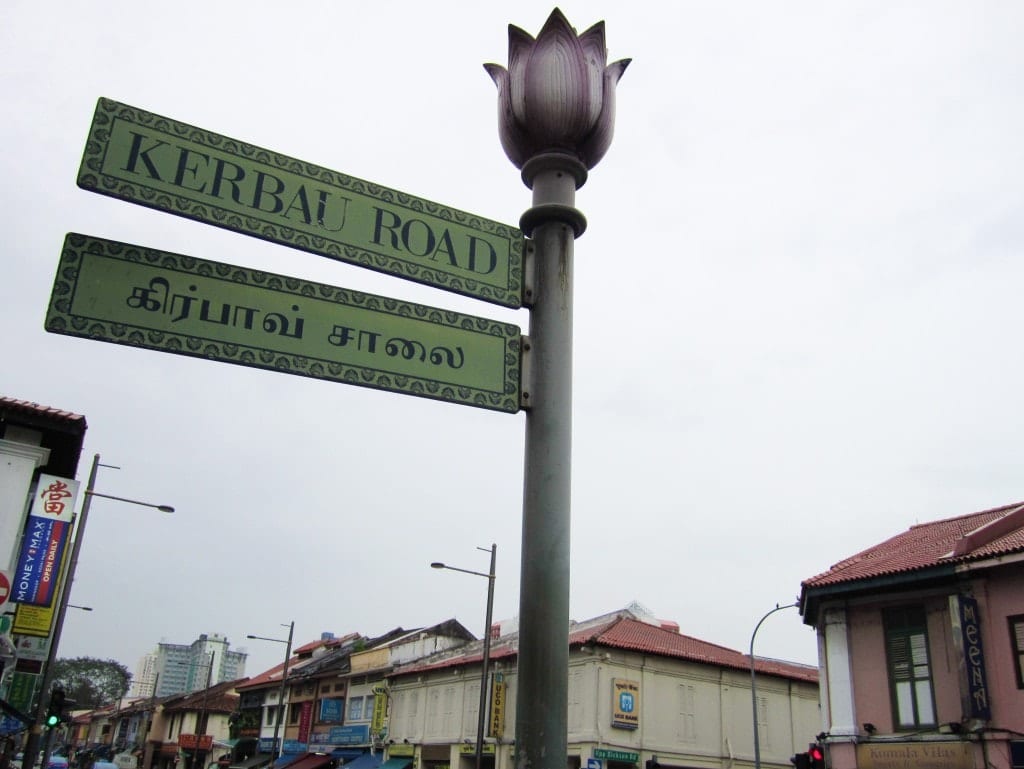 You don't need to spend a long time in Singapore.
While I recommend spending around a week in Bangkok or Saigon, I felt that three days was just about perfect for Singapore.  Any longer than that and you'll probably get bored.
Singapore, though expensive, is definitely worth a visit — and even as a shoestringer, you can do it in a fun and affordable way!
Get email updates from Kate
Never miss a post. Unsubscribe anytime!