Adventurous Kate contains affiliate links. If you make a purchase through these links, I will earn a commission at no extra cost to you. Thanks!
My time in Costa Rica didn't get off to the smoothest start. After a stunning drive through the Guanacaste landscape, I arrived in La Fortuna to thundering rain. It proceeded to rain about 22 hours out of the day for the next three days. (In the dry season!)
It wasn't a complete washout. I enjoyed a dip in the Baldi Hot Springs and had a wonderful night walk with Geovani Tours.
But then I got to Monteverde — and this was the Costa Rica I had dreamed of.
The cute town of Santa Elena set against rolling hills. The sky was bright blue, and even so, light rains fell constantly from the cloud forest, landing in the town.
I had two days in Monteverde and I spent them doing as many activities as possible.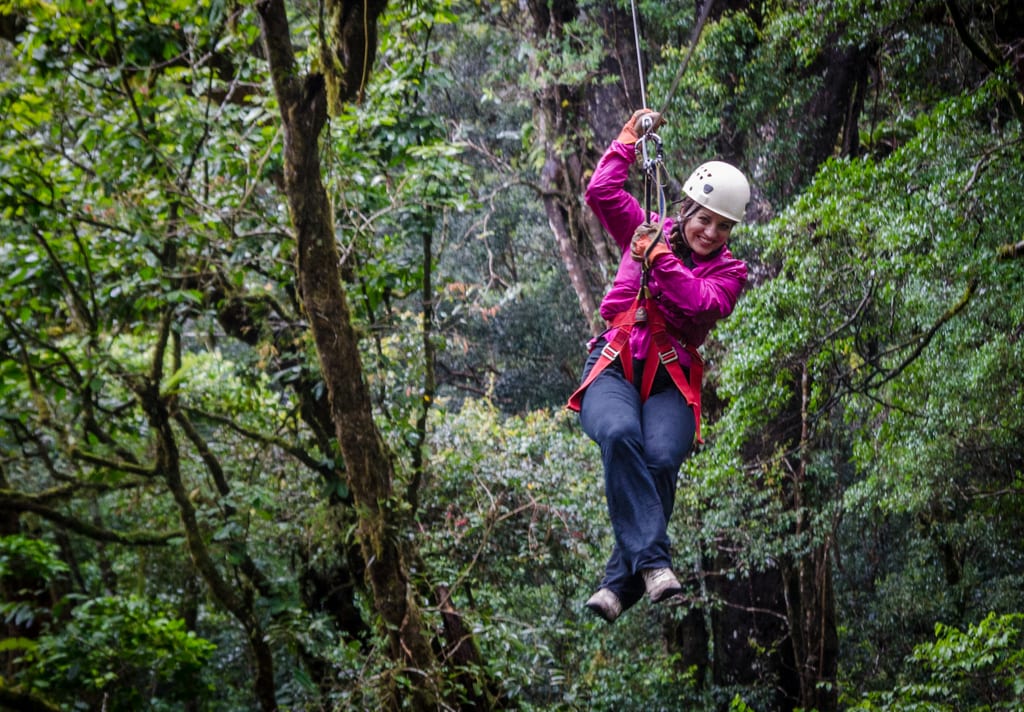 Zipline Monteverde
If you're going to zip-line in Costa Rica, Monteverde is the place to do it. This is where zip-lining started, and there are tons of courses all over the place, from mild to extreme. (I met some guys whose tour ended with a bungee jump through a circular rainbow!)
For me, I wanted to zip down a piece of history — so I went with the Original Canopy Tour, the first zip-line in the world ever designed to be a recreational activity for travelers. It was built in 1992 and every zip-line built since has been because of this course.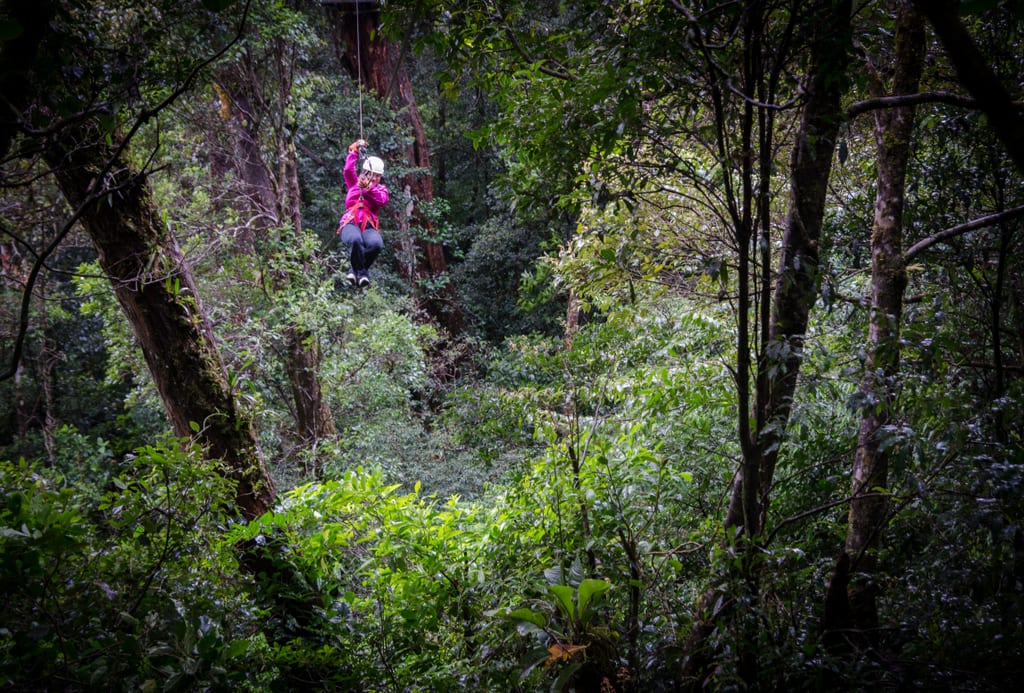 I majorly lucked out by being the only person on the tour, so I literally had a private zipping session through the forest without any waiting!
I loved it. The landscape was enthralling (I hate to say it, but it reminded me of those godawful Twilight movies) and even though it was raining, it was so much fun to fly through the air.
This was my second time zip-lining — the first was in New Hampshire — and both times, I wore hot pink. It makes a great contrast against the forest!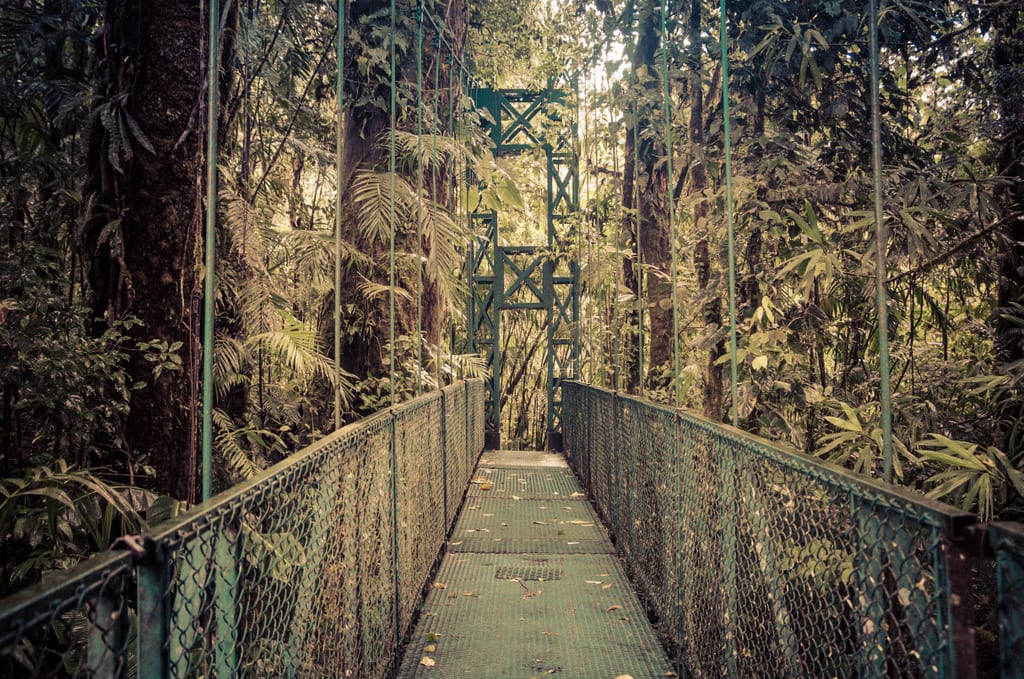 Hanging Bridges of Monteverde
The hanging bridges were recommended to me by so many Costa Rica-loving readers that I had to do them! On Selvatura's canopy walk, I took a two-mile walk through the cloud forest, crossing eight hanging bridges that overlooked the trees and gently wiggled as you crossed them.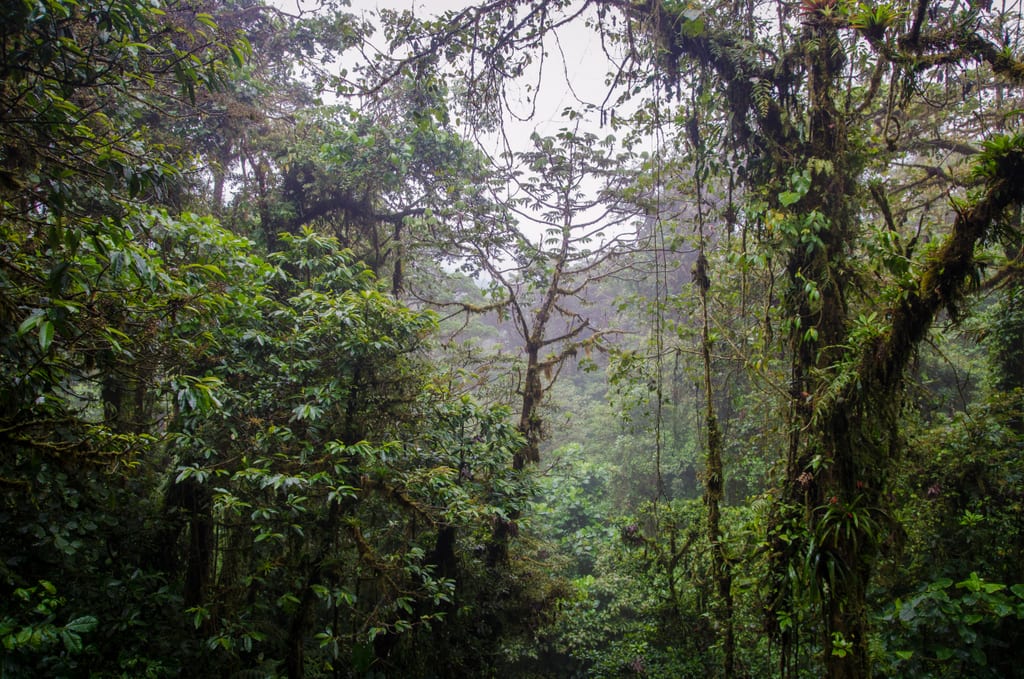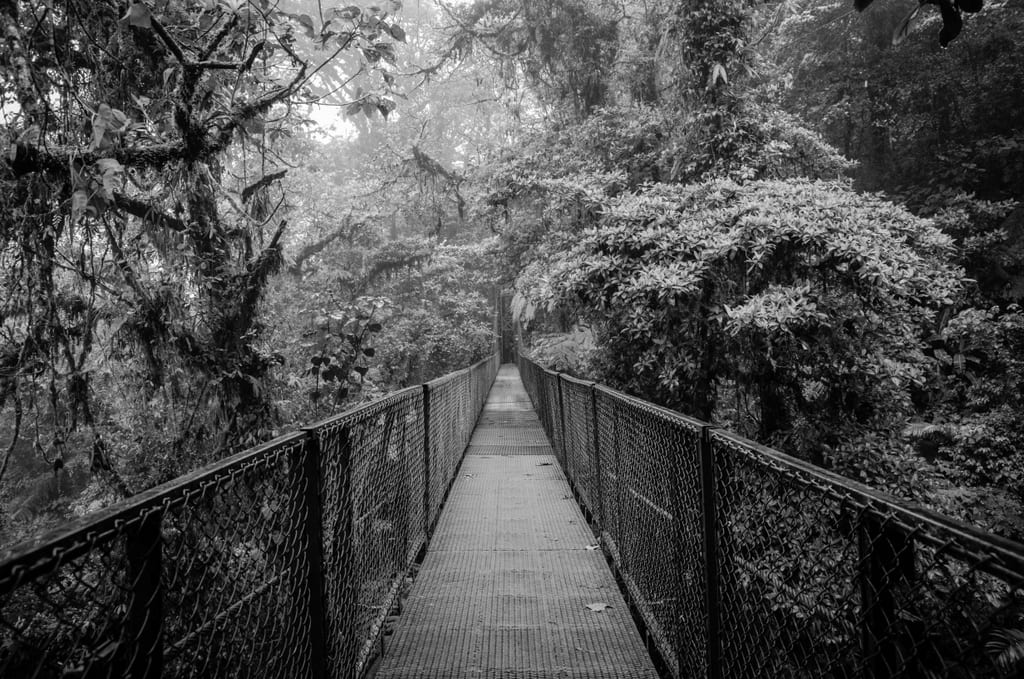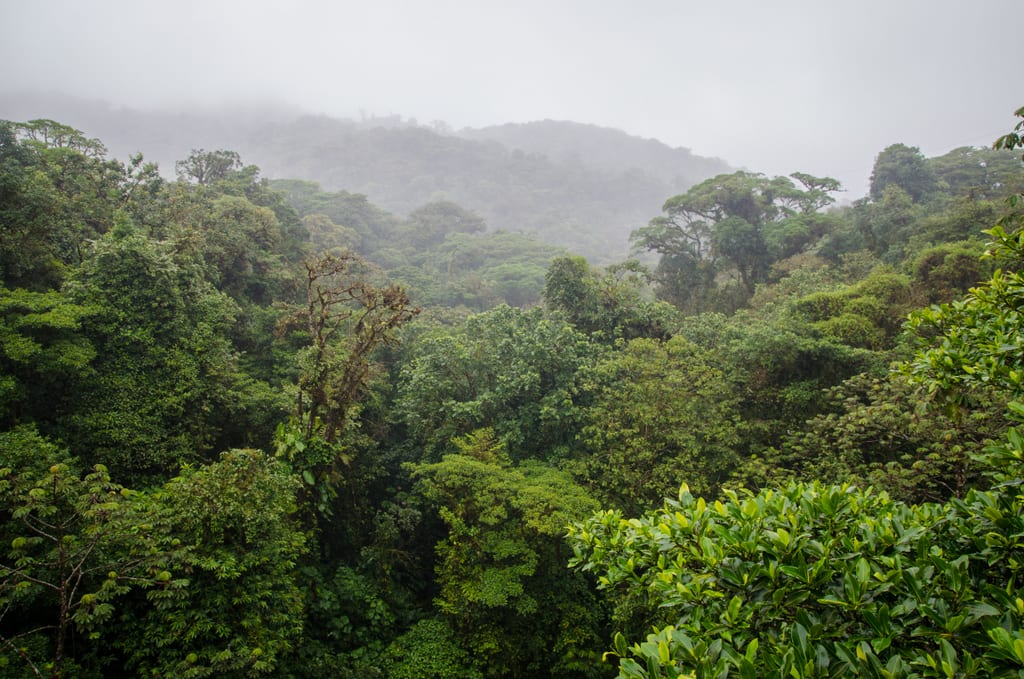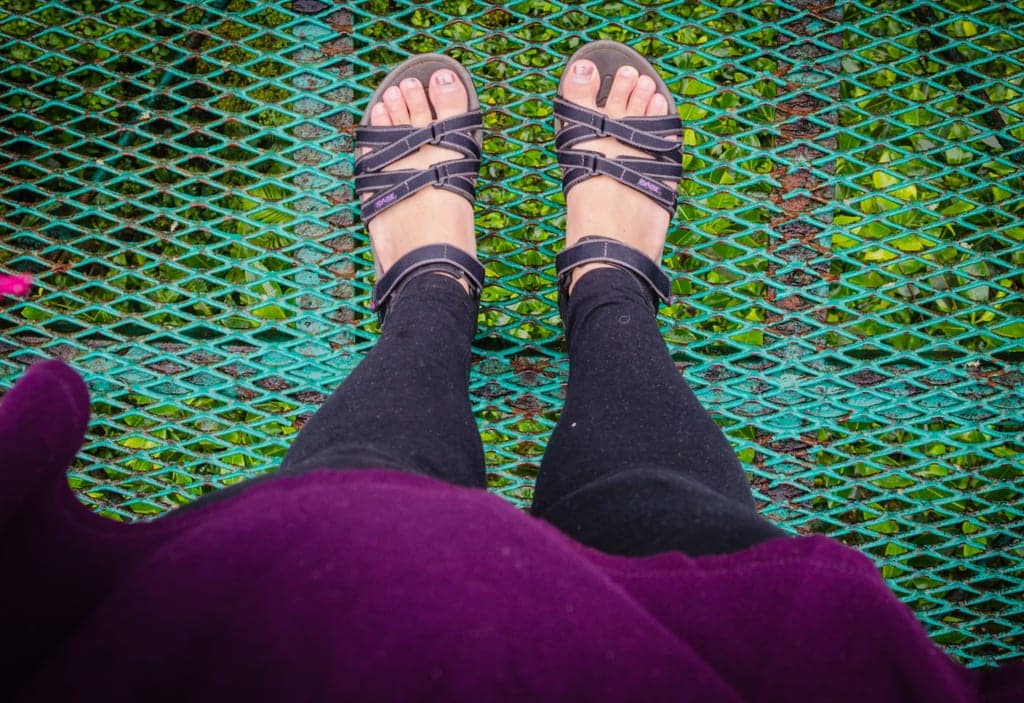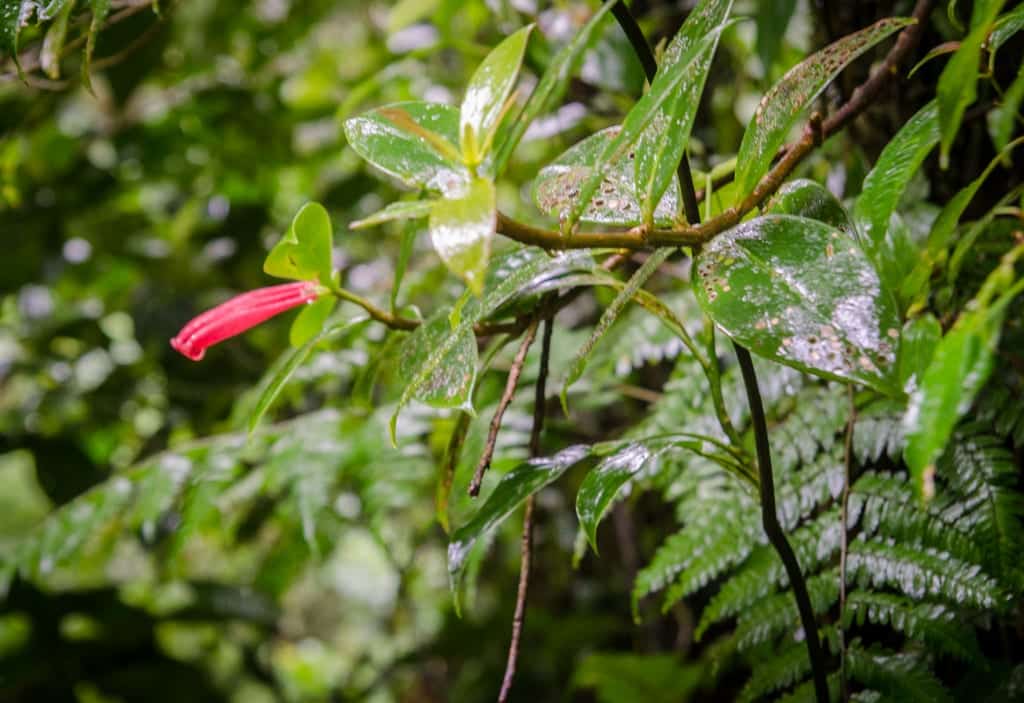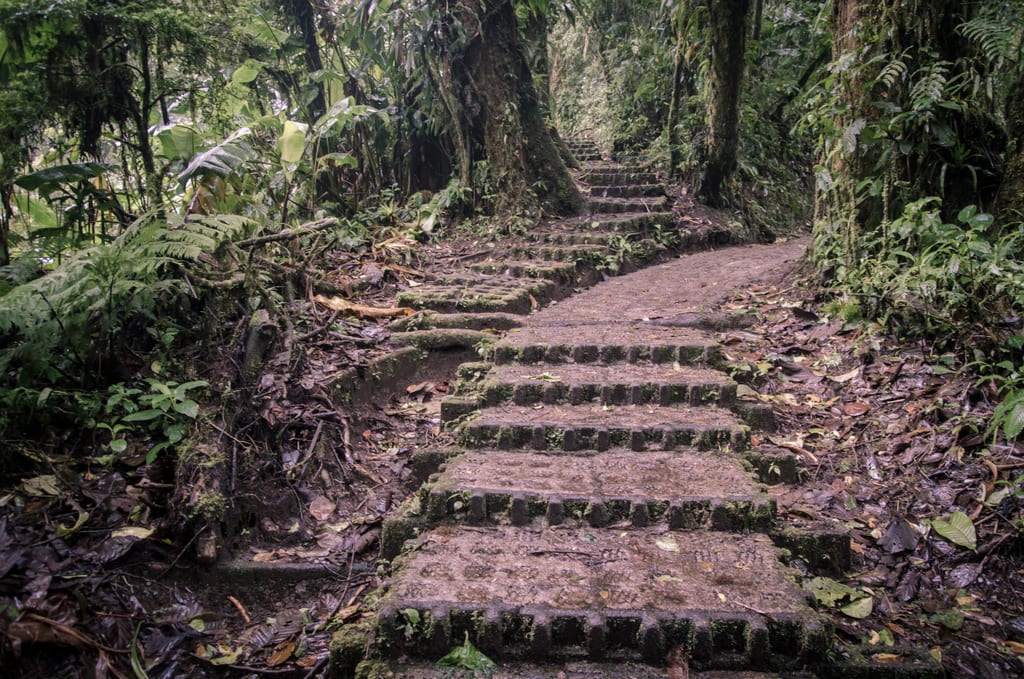 What I loved about the hanging bridges is that it gave me alone time with nature. Just me, alone, walking the trails and contemplating.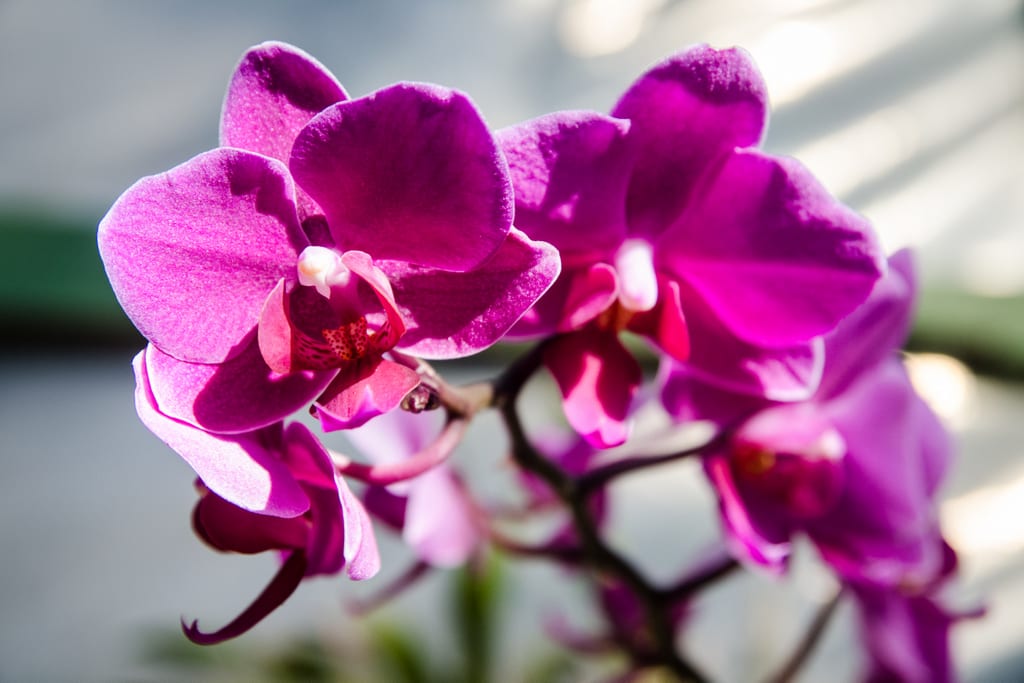 Santa Elena Orchid Garden
I love visiting gardens around the world, and after hearing that there was an orchid garden right in Santa Elena, I had to visit. Unfortunately, I thought it was overpriced at $10, especially at this time of year when hardly anything was blooming. Most of these photos were of the orchids in the greenhouse, not the garden itself.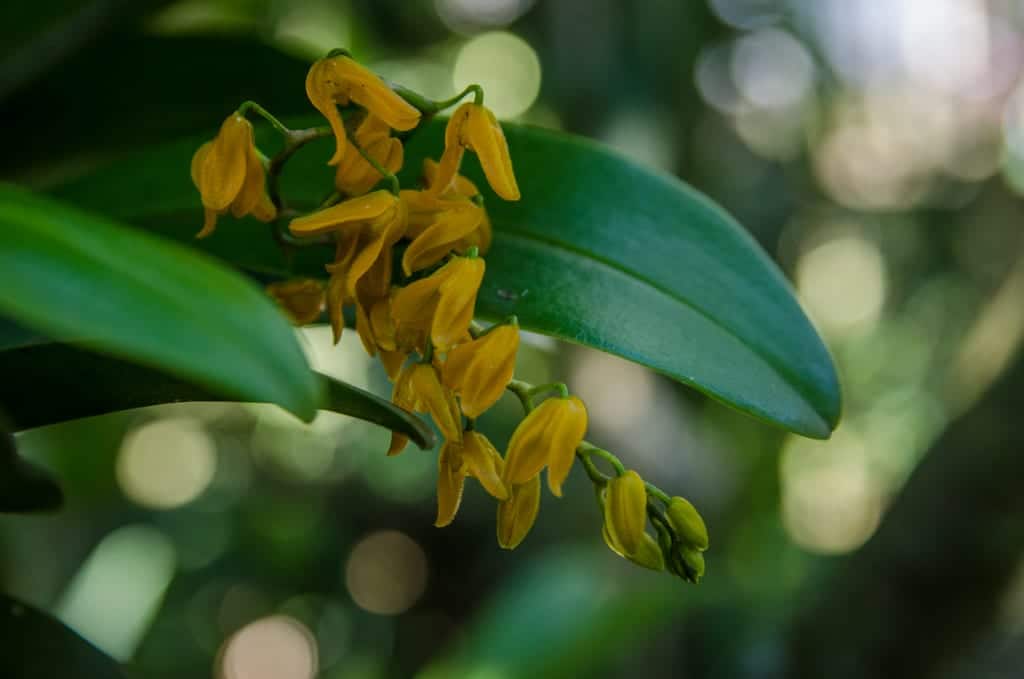 I did get to see one cool thing — the smallest orchid species in the world!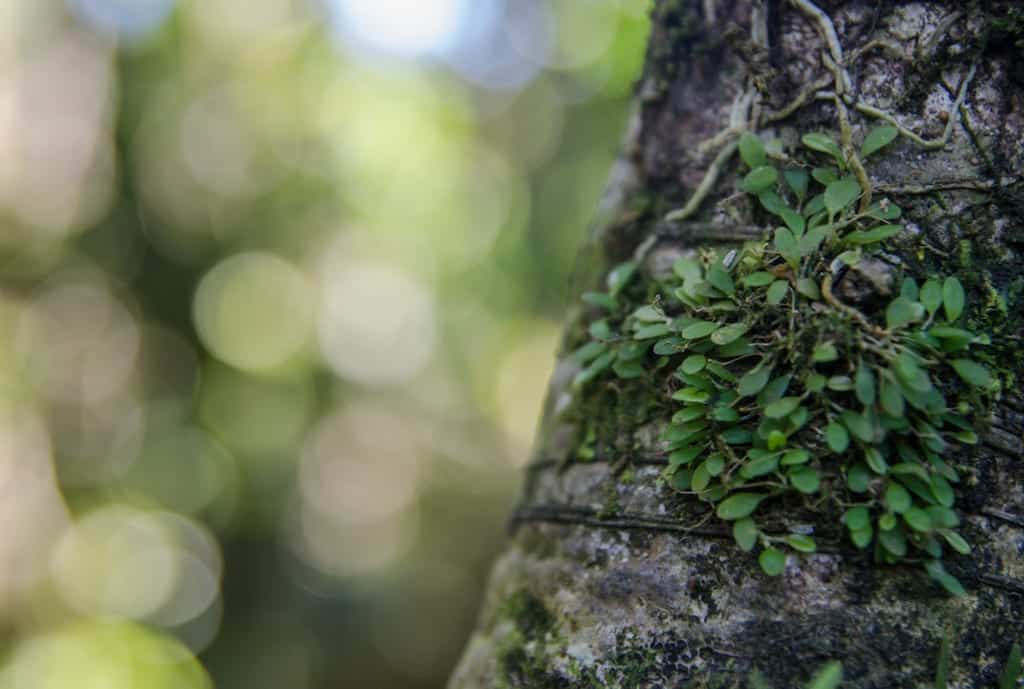 See the tiny yellow flower in the top left of the leaf cluster?
(PS — photographer friends, DAT BOKEH.)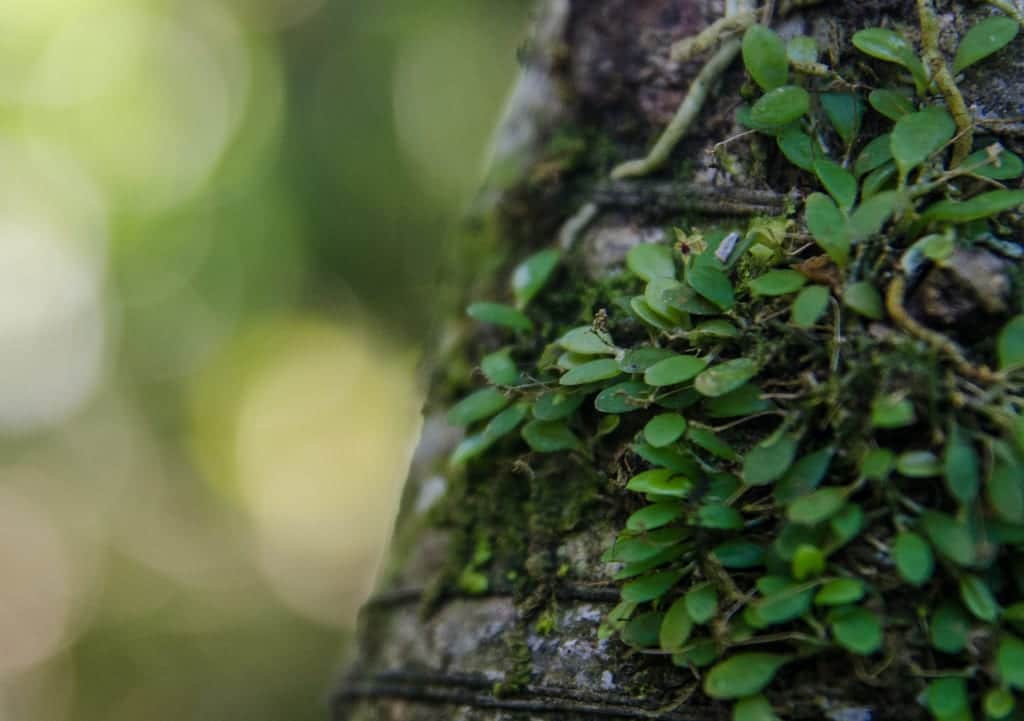 See it now?
So tiny — only one millimeter wide!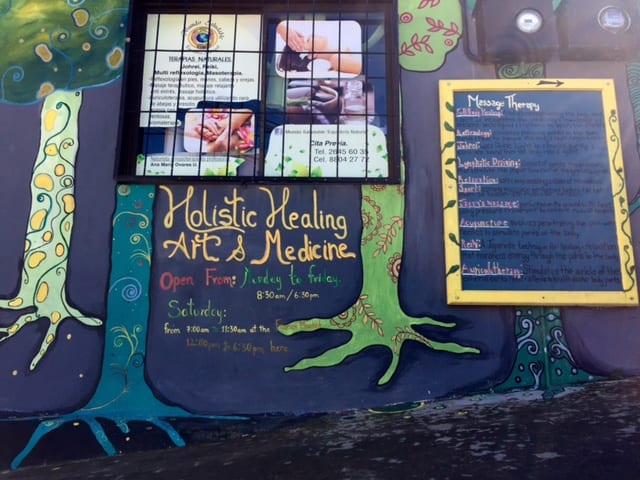 Holistic Healing
But my favorite Monteverde experience turned out to be a session of holistic healing. Located just across the street from the hostel, owner Ana offers reiki, massage, tarot card reading, acupressure, and a variety of holistic offerings. I signed up for a 90-minute session combining a bit of everything.
Personally, I love this kind of stuff. I'm aware that many people dismiss it as crap. But honestly, if you don't take it as gospel but instead use it as a chance to get a different perspective on your life, you could learn something.
For me, the big takeaway was that my third chakra, the yellow chakra, was out of whack. Ana encouraged me to be better about eating, to eat more mindfully, and to avoid dairy. I've been following her advice since. She also pointed out that the third chakra is where worry is centered, and that I should find a healthier outlet for channeling my stress and worries. She suggested meditation.
The session ended with her pointing out the color I chose at the beginning of my session (the same shade of yellow as the third chakra, unprompted) and the tarot card I selected. I flipped the card over and burst out laughing. It was the two of pentacles — the CHANGE card.
I love change. I've always relished change. I'm at a point of great change in my life right now, once again, and I'm keeping pushing on.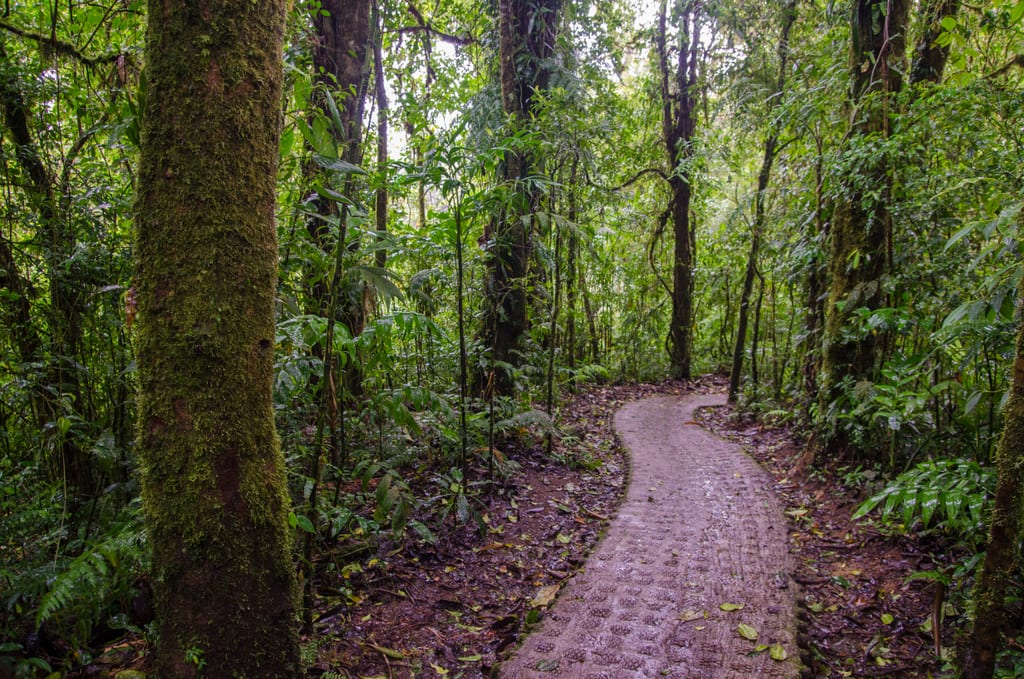 Is Monteverde Worth It?
Monteverde was such a beautiful place to visit! Two nights was plenty of time for me, but you might want a bit more if you want to do more things. Had it not been quite as cold and wet, I think I could have gotten stuck for much longer.
---
READ NEXT:
Solo Female Travel in Costa Rica: The Full Guide
A Perfect Beach Town: Sámara, Costa Rica
Solo Female Travel in Central America: Is it Safe?
See all posts about Costa Rica here.
---
Essential Info: While in Monteverde I stayed at Monteverde Backpackers in Santa Elena. I really liked it, but it got very cold at night and the one blanket they gave us wasn't sufficient, so you should sleep in lots of layers. Dorms start at $10, privates start at $30. They also have a resident sloth living in a nearby tree. You can find the best prices on other accommodation in Monteverde here.

I went zip-lining on the Original Canopy Tour for $45. For this price, I think it's an excellent bargain.

I saw the hanging bridges at Selvatura Park for $30.

Monteverde Orchid Garden costs $10, which I think is overpriced. The attached cafe was my favorite place to eat in Santa Elena.

At Holistic Healing Art & Medicine, Ana offers most one-hour sessions for $50. My 90-minute combination session cost $75.

Be sure to get travel insurance before you visit Costa Rica. It will cover you financially if anything goes wrong. I use and recommend World Nomads.
Where's your favorite forest in the world?