Adventurous Kate contains affiliate links. If you make a purchase through these links, I will earn a commission at no extra cost to you. Thanks!
For the past few years, I've always been on the lookout for the perfect beach town.
Perfect for me, that is. You may disagree. What I like most in a beach town is a big, beautiful, airy beach with lots of space, west-facing sunset views, and the perfect level of development. More on the development in a bit.
In Costa Rica, I know I'd be dealing with a heavily Americanized environment with much higher prices than the rest of Central America (excluding Belize). Its most popular beach towns like Tamarindo exist as overdeveloped playlands designed to satisfy every Gringo need, with sky-high resorts and matching sky-high prices, even by Costa Rican standards.
There's nothing wrong if you want that in a vacation — but it wasn't my thing.
So I prioritized finding a smaller beach town, something that didn't feel too much like a resort town, somewhere that felt a bit more local, that wasn't too busy, that had a lot of space. And in my research I came across a calm, sunny town on the Nicoya peninsula.
I've got to give all the credit to Dani from Globetrottergirls — she recommended the Costa Rican beach town of Sámara so enthusiastically that I knew I would make it my one and only beachy stop in the country.
---
Love this country?
Check out my solo female travel guide to Costa Rica!
---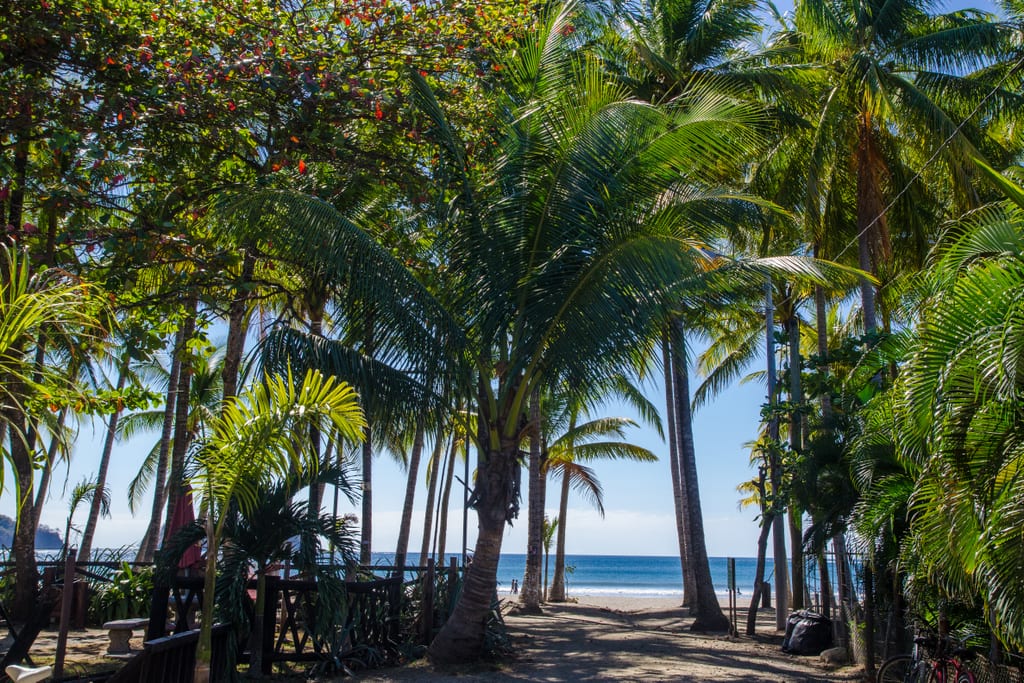 Meet Sámara
Stepping through the trees at the end of my street, I emerged onto a long curve of dark gray sand, rippled in the surf.
The beach was enormous, long and wide with unlimited room to spread out. The palm trees along the edge provided plenty of shade. The sky was reflected in the most brilliant shade of blue. The waves were far too small for surfing, but the perfect size for a SUP adventure.
THIS was pura vida. This was the Costa Rica that I had dreamed of experiencing for myself.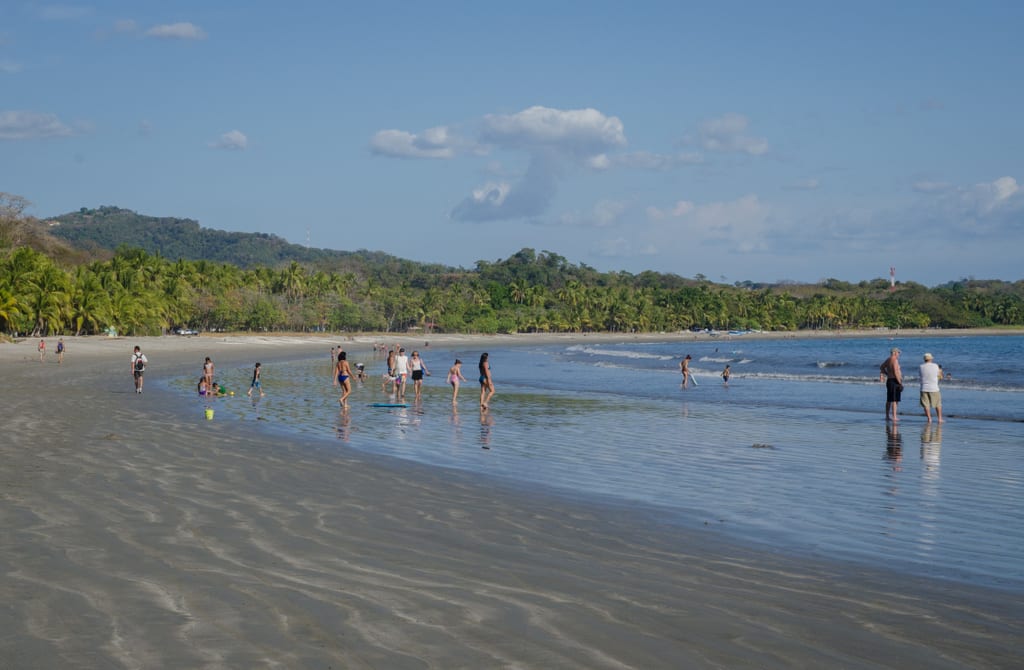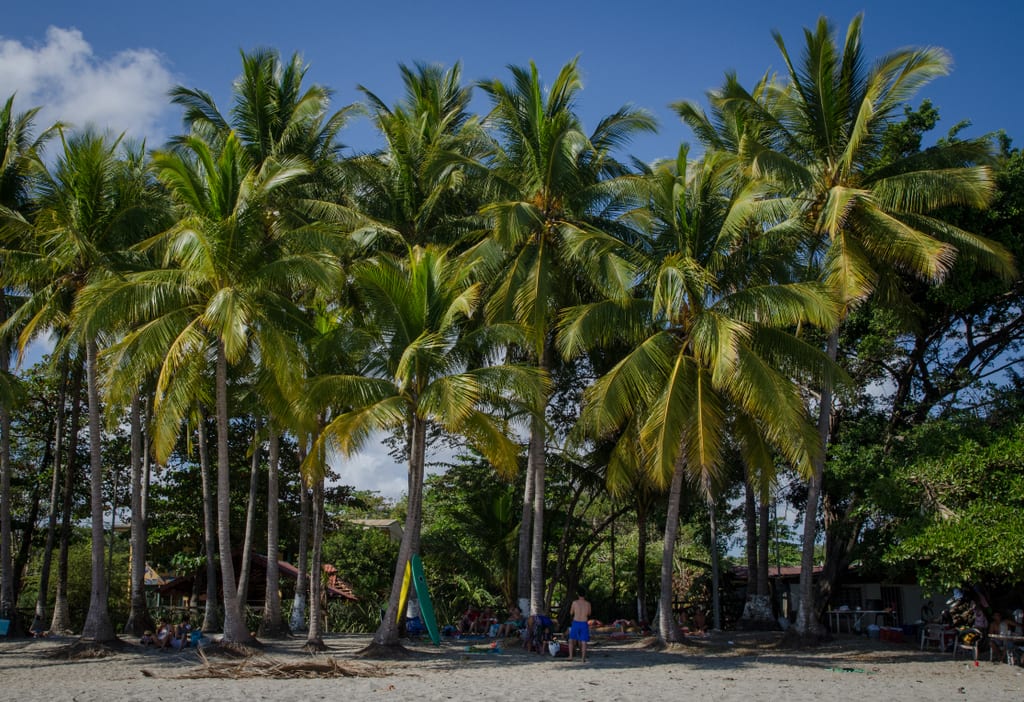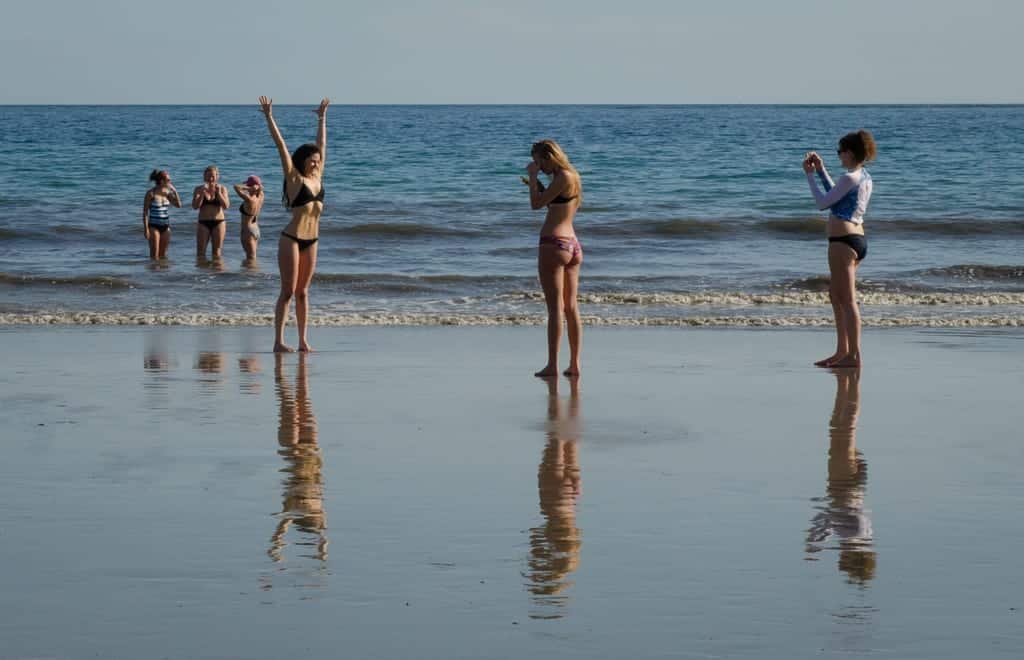 Playa Sámara was so long that I could walk from the more developed end to the most isolated end in about 30 minutes and end up in a place with hardly any buildings or people.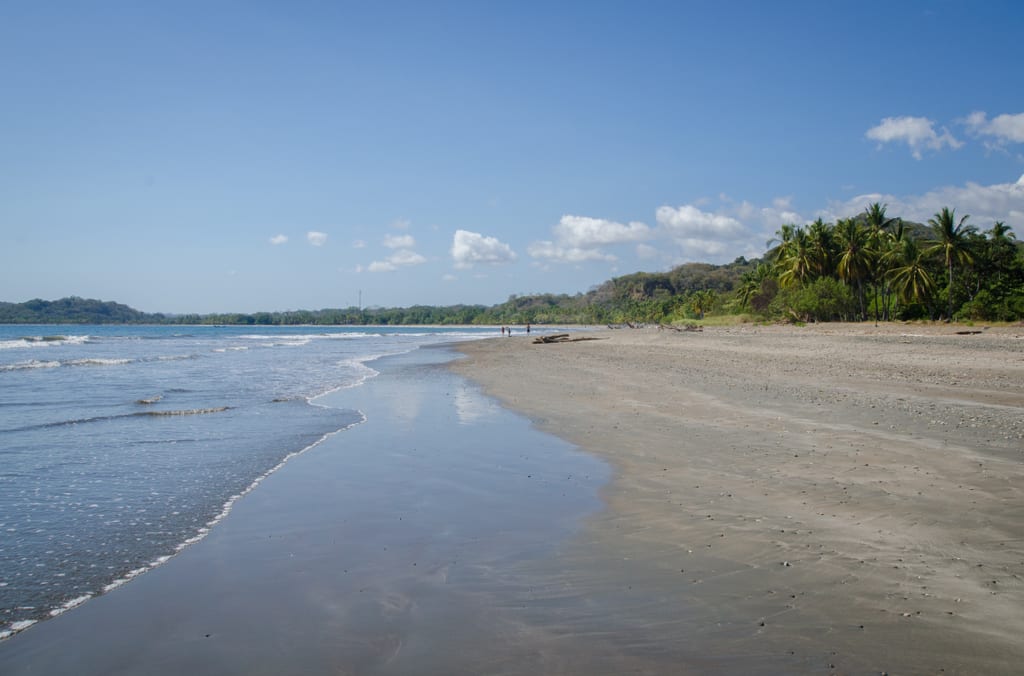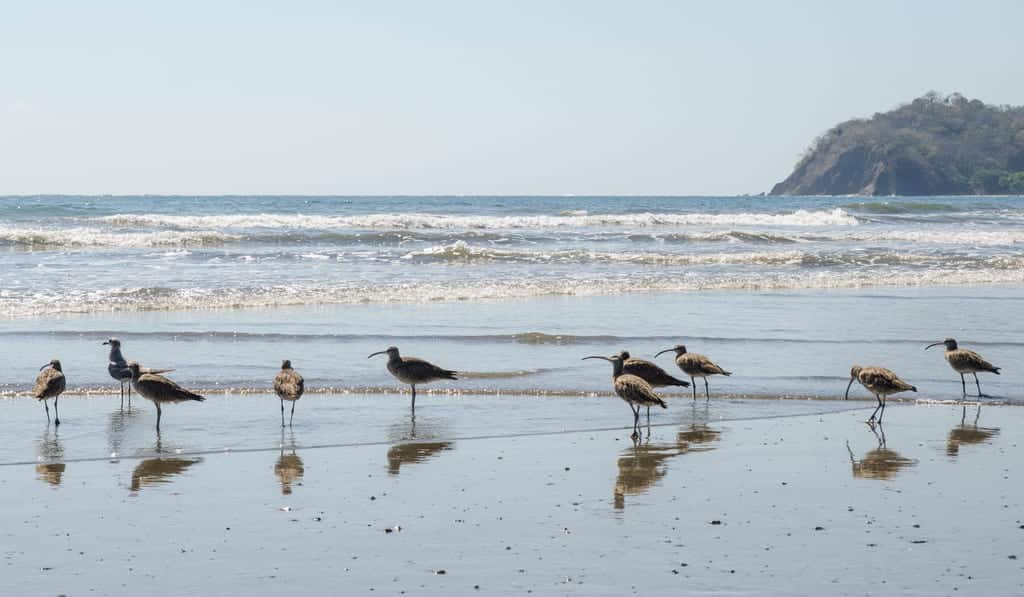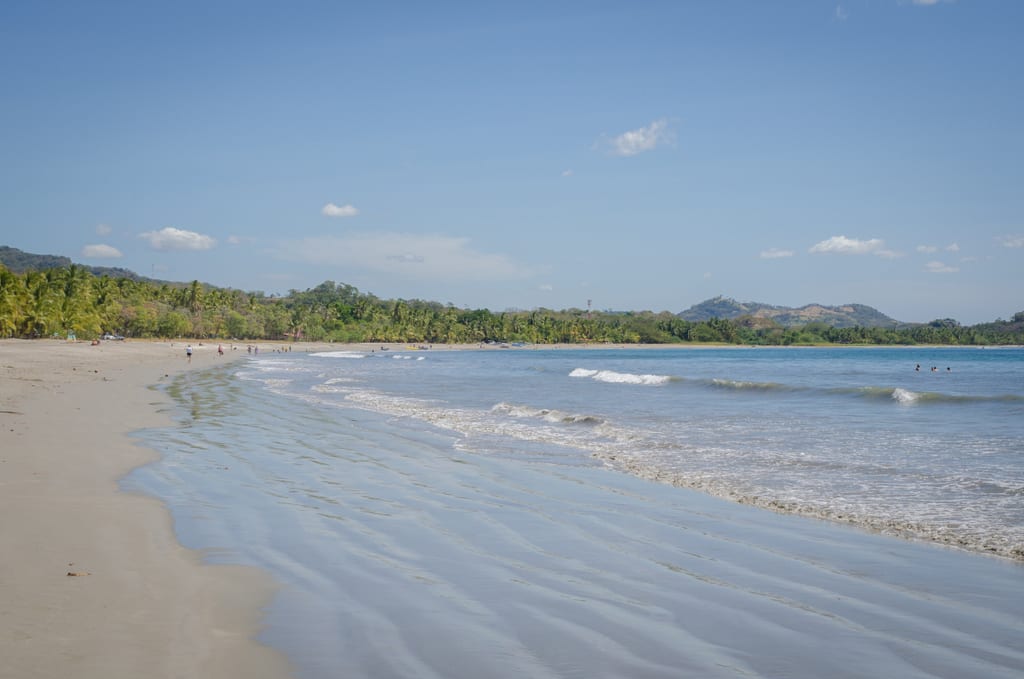 Evaluating Paradise
I've traveled quite a bit in Asia; not so much in Latin America. If I were to evaluate the beach towns I've seen so far, I'd be best off comparing them to destinations in Thailand.
Koh Lanta is the closest place I've ever found to perfect. I still love that little island as much as I did when I first visited in 2010, and I can't stop recommending it to everyone. Last winter I set up shop there for nearly a month and easily could have stayed longer.
On a 1-5 scale of tourism development, I'd put Koh Lanta at a 3 — lots of places to stay and eat, some high-end, but almost all locally owned. Boracay, with its high-end resorts and crazy malls, would be a 5, but the Angol/Station 3 neighborhood I favored was more like a 3. Koh Phayam would rank around a 1 — technically some places for tourists, but not much in terms of electricity or wifi.
So where would I place Samara on the development scale?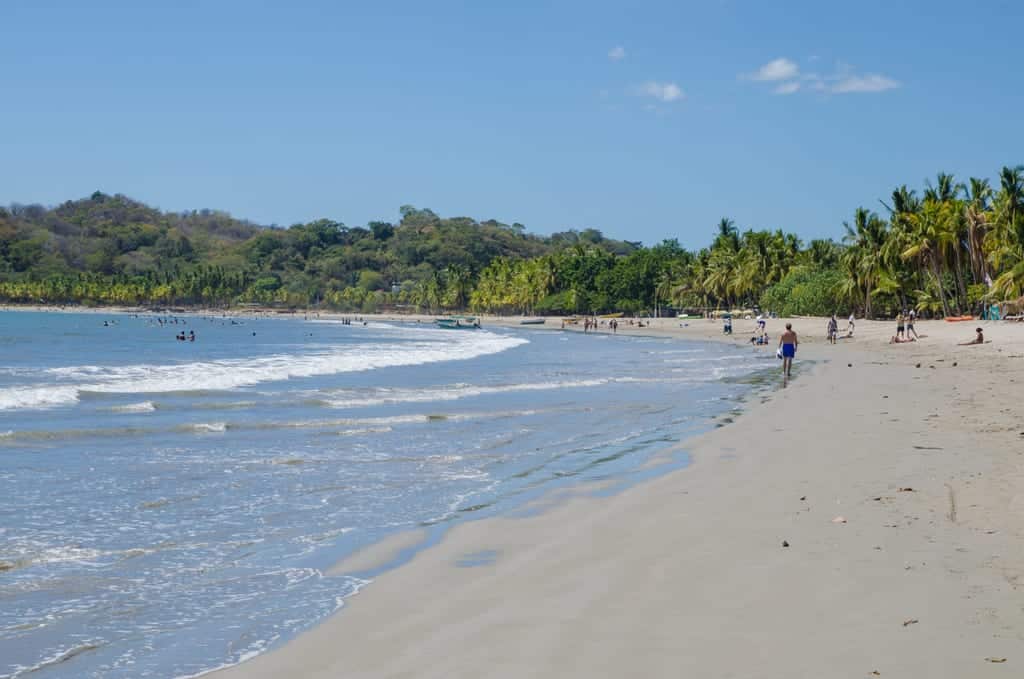 I'd give it a 2. And that's not a bad thing.
The town has its amenities, but almost everything is clustered onto one tiny street leading to the ocean. There are several places along the beach as well. If I were to stay here for a few weeks or longer, I think I'd be going out of my mind with boredom.
Some of its strengths, though, included multiple places to eat healthy (including raw vegan options — let's just say that I'm taking Ana from Monteverde seriously about changing how I eat!) and get fit, with several regular exercise classes and yoga (albeit not on weekends, and I visited Saturday and Sunday so I didn't get to check it out).
And very important for that particular Sunday — there were multiple venues playing the Super Bowl, including my own hostel! (Not that I want all sports all the time. Having the big game was nice!)
Even with that, though, Sámara doesn't stand out as a place that caters solely to Americans and Canadians. There were plenty of Costa Rican tourists as well, and even though the groups didn't intermingle, you had plenty of businesses that catered primarily to locals.
---
READ MORE:
How to Protect Your Belongings on the Beach
---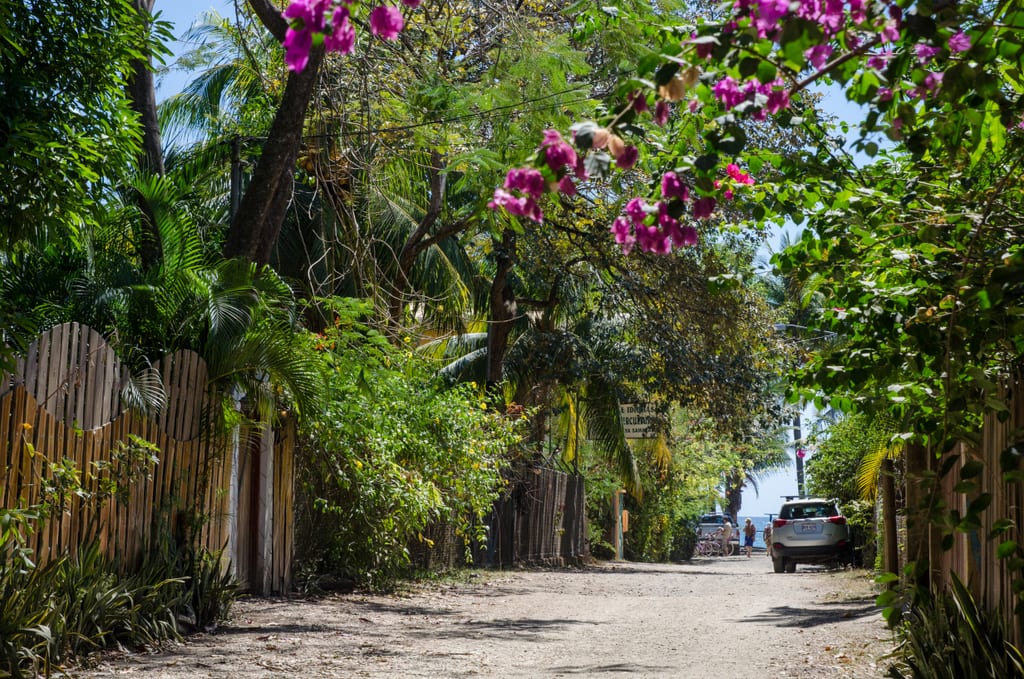 This was the view from my hostel, Hostel Las Mariposas. It was a five-minute walk from the main street and led straight to the ocean.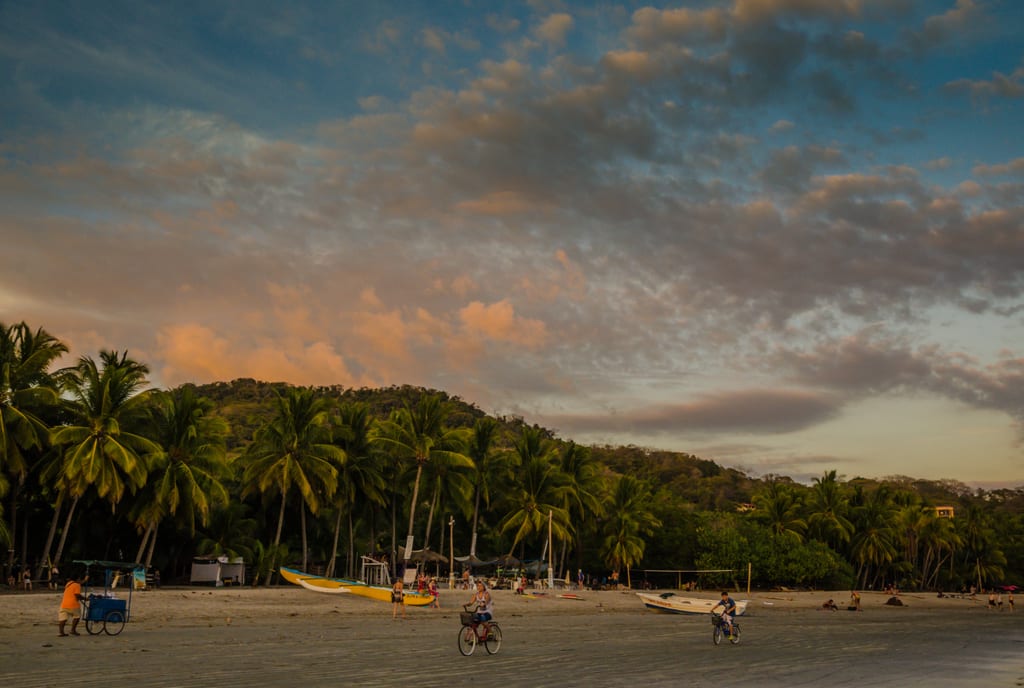 And Sunsets
The final component to a perfect beach town? West-facing beaches and beautiful sunsets.
This is why I headed to Costa Rica's Pacific coast instead of the Caribbean coast. I can't get enough of beach sunsets — and Sámara delivered. Just look at the colors!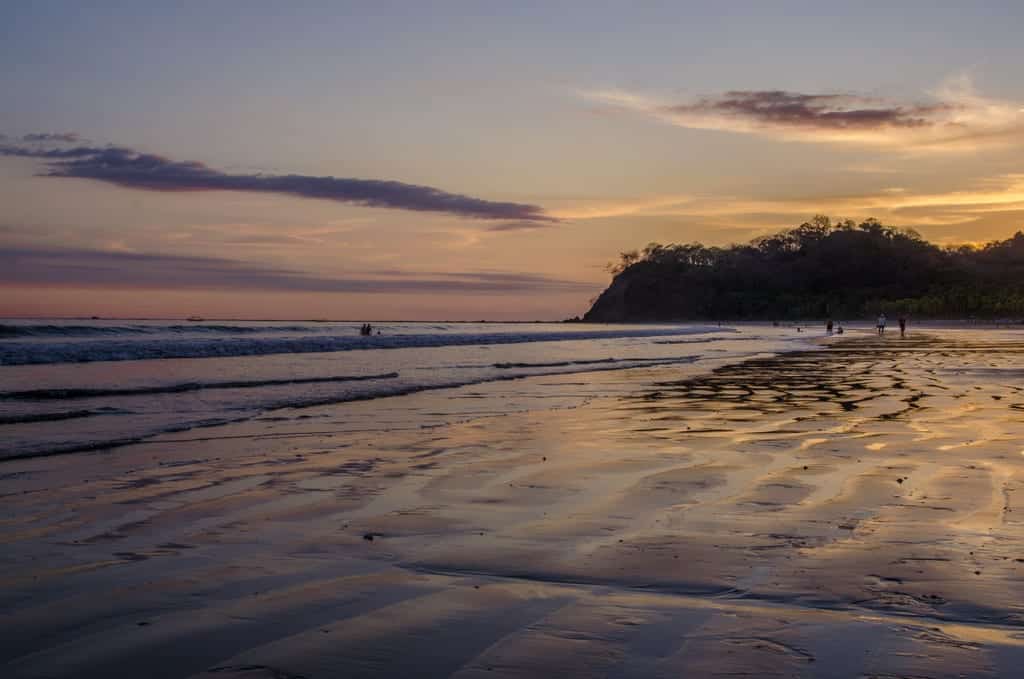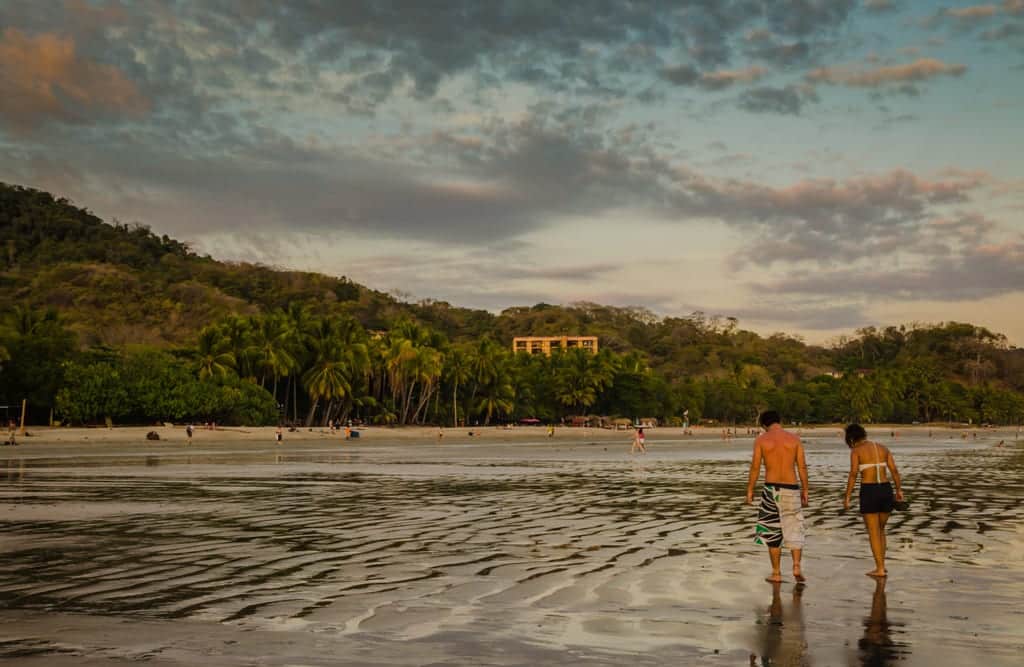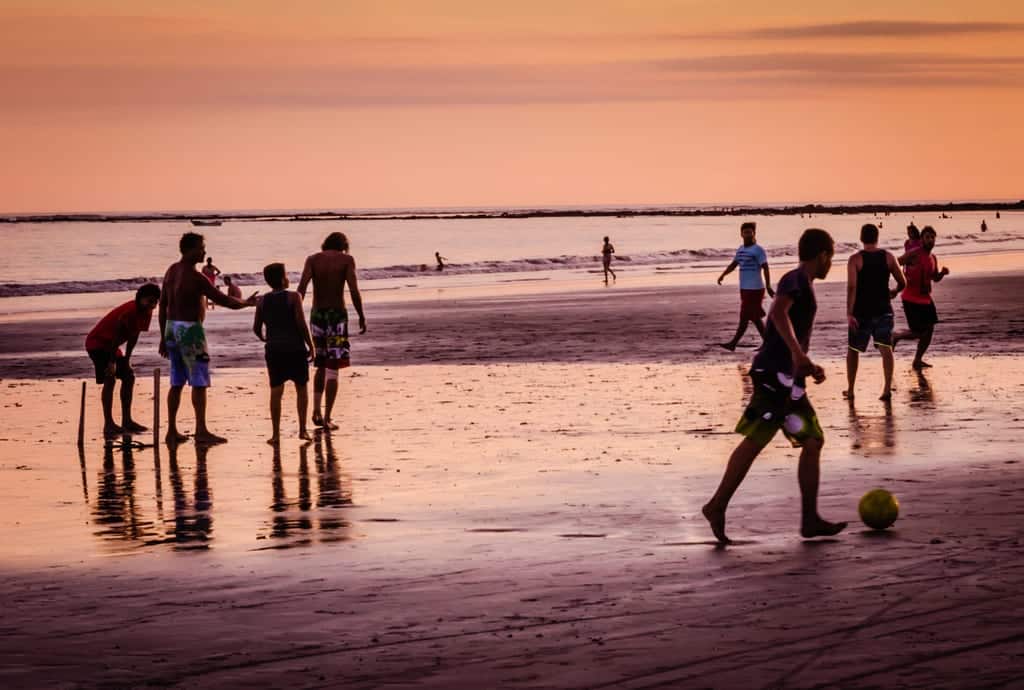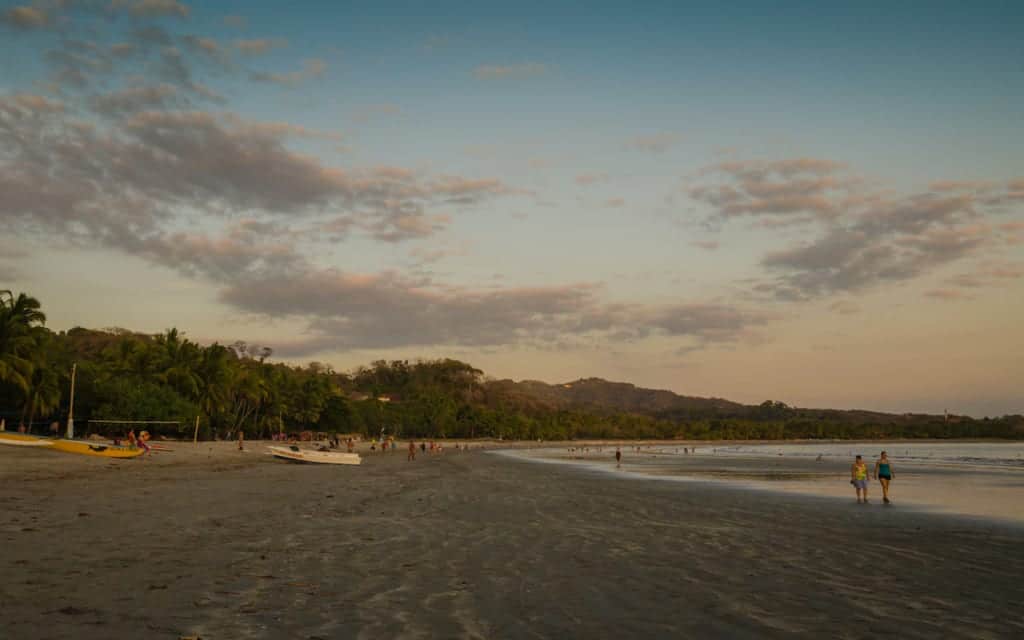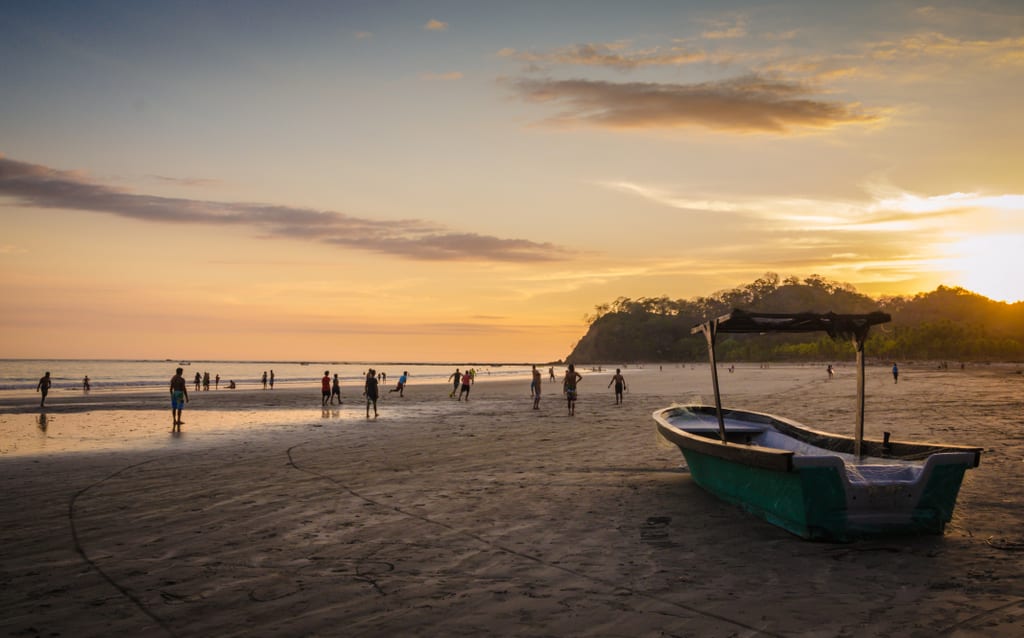 The Takeaway
I almost didn't come to Costa Rica's coast — with direct buses to Nicaragua from Monteverde, I was tempted to just pack it in and head north to cheaper pastures.
I'm glad I chose to come here anyway (and that so many people told me that I couldn't skip the beaches). Sámara was just lovely and beautiful and not too crazy or developed, and the Costa Rican coast is absolutely worth seeing!
For that reason, I'm putting Sámara on my "go now" list — it's pretty fantastic as it is right now, but I don't think it will stay that way for long. I hope you get to experience it as I did.
---
READ NEXT:
Solo Female Travel in Costa Rica: Is it Safe?
Into the Cloud Forest of Monteverde
Solo Female Travel in Central America: Is it Safe?
See all posts about Costa Rica here.
---
Essential Info
Samara is located on Costa Rica's Nicoya Peninsula. You're best off getting a public bus from Liberia. There are also private shuttles; most cost around $50 whether it's from Liberia, Montezuma, or Monteverde.
For food, I loved eating healthy at raw vegan restaurant Elemental and organic market/restaurant Samara Organics.
For activities, I rented a stand-up paddleboard from Pato's Surf School for $12 per hour.
I stayed at Hostel Las Mariposas, which had fairly good dorms and very good internet in the covered outdoor common area. What I didn't like was that there was an extremely loud bar that blasted music until 1:30 AM on Saturday (though it was quiet Sunday). Sámara is a sleepy place; there's not a big incentive to stay up late and most of us went to bed early-ish. Excluding the noise issue, I really liked the hostel. Dorms from $15, doubles from $35, tents and hammocks from $10, bring-your-own tent or hammock from $8. You can find other accommodation in Samara here.
As always, I highly recommend purchasing travel insurance before your trip. It will protect you financially in case anything goes wrong. I never travel without it and always use World Nomads.
Where's your favorite beach in the Americas?
Get email updates from Kate
Never miss a post. Unsubscribe anytime!