Adventurous Kate contains affiliate links. If you make a purchase through these links, I will earn a commission at no extra cost to you. Thanks!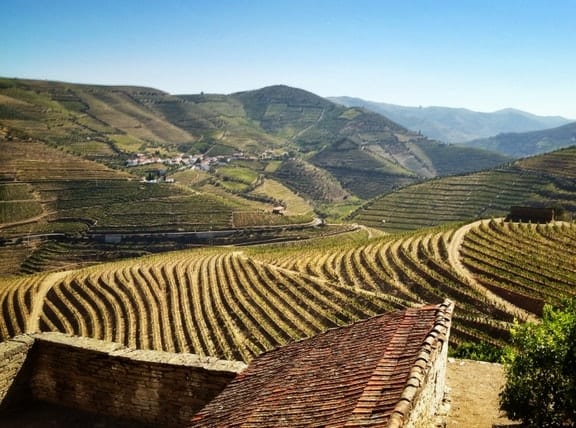 Portugal is a country that I don't think gets enough press for being a destination of both incredible beauty and excellent value.  And my recent trip to the Douro Valley proved that in spades!
The Douro Valley is the primary wine-growing region of northern Portugal.  Having read a bit about it and been intrigued, I was eager to sign up for the Douro Valley post-conference tour option at TBU Porto.    I had heard that this region was beautiful — in fact, the train route through the Douro Valley is known as one of the most beautiful train journeys in Europe.
I knew it would be beautiful — but I had no idea it would be this beautiful.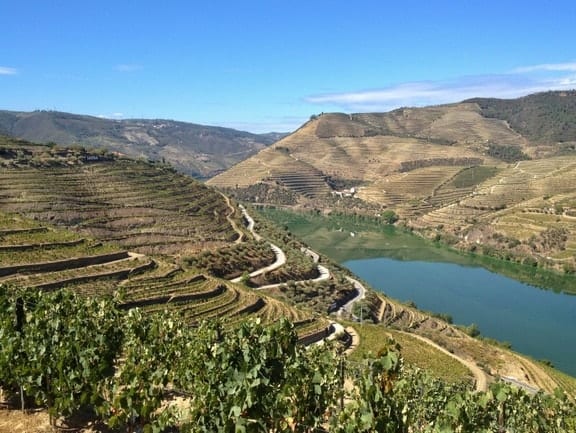 Terraced vineyards and green-brown mountains, swooping down to the glassy blue Douro River — this wasn't just the view in certain fortunate venues.  This was the view everywhere.
I can't imagine how hard it must be to farm land this steep — but there are quite a few people who have been doing so for centuries!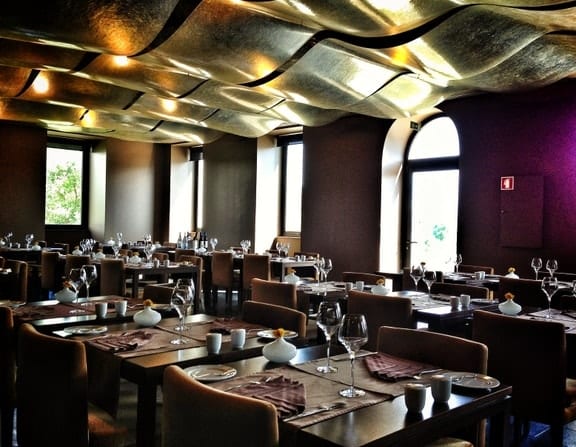 Venues with Style
You might expect a rural environment like the Douro Valley to be filled with ranches, agratourism, and other low-key venues.  Well, I was surprised by how much style some of the venues had — like the Douro Palace Hotel, whose dining room, pictured above, exuded style.
Other venues?  Quinta da Pacheica, with each of its rooms decorated in a different style (and some wild dragon decor in the green dining room!), and Quinta Nova, with an infinity pool overlooking the gorgeous valleys.
You don't come to the Douro Valley to barrel through it at top speed.  This is a place where you come to relax and savor — savor the port, savor the food, savor the gorgeous scenery.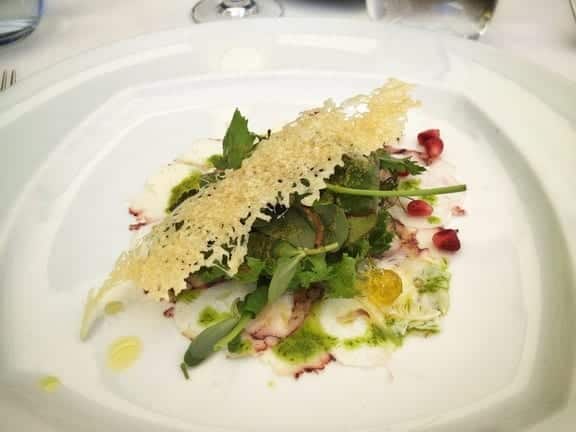 I'll be honest — Portuguese cuisine has never been one of my very favorites, but I do love their fresh, delicious seafood!  The absolute best dish I had in the Douro Valley was at chef Rui Paula's DOC Restaurant: octopus carpaccio with pesto, arugula, pomegranate seeds and a parmesan crisp on top.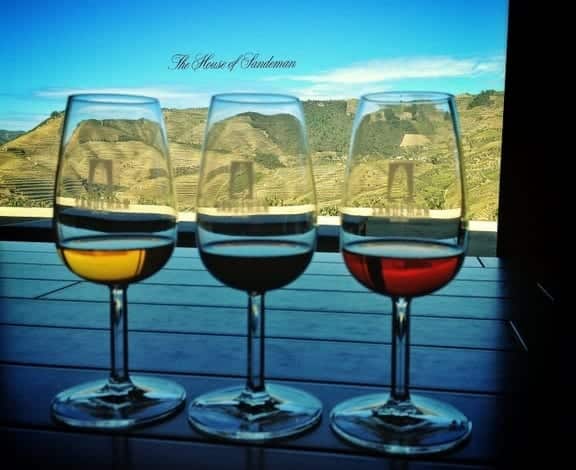 It's all about the port.
As I alluded to in my earlier post, I really got into port this time around in Porto.  So did all of us bloggers, actually!  In my mind, port has always been a bit of a stodgy drink.  Well, this trip has completely turned me around!
The tastiest ports of the trip were located at Quinta do Seixo — one of my favorite venues that we visited in Douro.  We sampled a number of Sandeman ports, including a fine amber port that had the most brilliant almond aftertaste!  It honestly floored me that there are no almonds in port!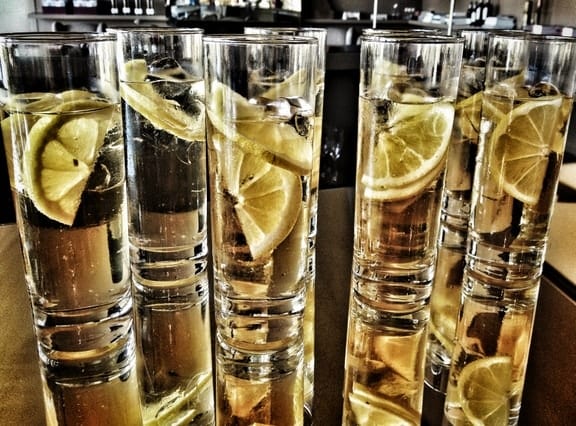 After our tasting, it was time to celebrate — with more port tonics, of course!  (Seriously.  Buy yourself a bottle of port and drink it with tonic and some orange or lemon slices.  This cocktail will change your life.)
And visiting the Douro Valley wouldn't be complete without a cruise down the Douro river!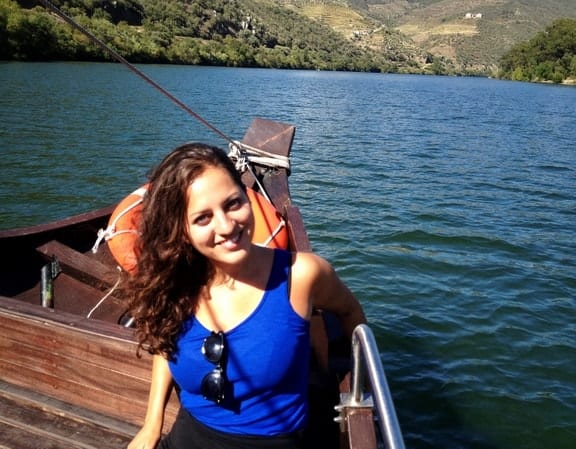 From the town of Pinhão, we hopped on a traditional boat to cruise down the Douro.  Feeling the wind blowing through my hair and the sun shining on my face, sailing down this river was absolute bliss.
Pinhão is also home to one of Portugal's most beautiful train stations, covered in blue and white azulejo tiles.
And, as to be expected, the company was smashing!
As a full-time blogger living in Europe, I can't tell you how vital friendship and camaraderie is within the travel blogging community.  As someone who primarily travels on her own, it's amazing to be able to travel with a bunch of your friends for a few days.  This is why I love well-planned blog trips.
(Also, how many bloggers do you recognize in this picture?)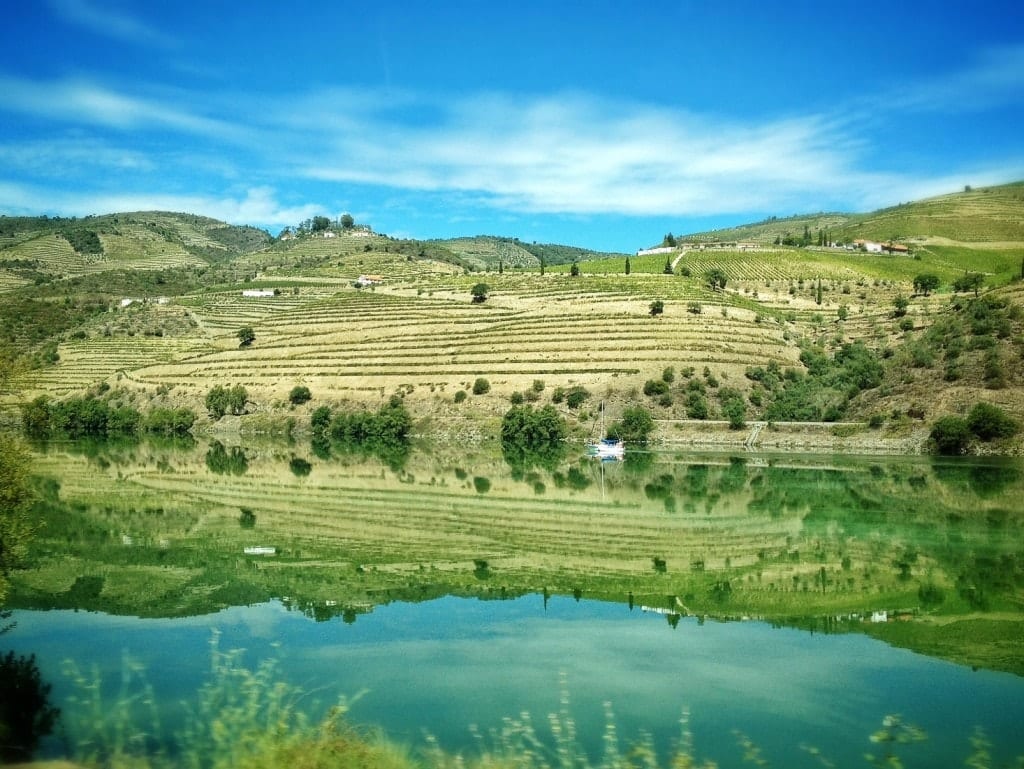 Planning a Trip to the Douro Valley
Knowing what I know now, I would reserve at least a weekend for the Douro Valley alone, and I'd splurge and stay at a nice quinta (either of the two ones mentioned above would be splendid).  You can travel by car or by train, but renting a car gives you the most flexibility.
If I were visiting for longer than a weekend, I would plan some visits to some of the small cities around the area.  Some of the other TBU blog trips visited Guimarães and Braga, both of which looked beautiful.
Also, I'd consider going in the off-season.  While I live for summer weather, Portugal was a nice escape during the winter last year — it feels like springtime when the rest of western Europe is dealing with snow and subzero temperatures.  You'll also find fewer crowds.  It also helps that prices in Portugal are much cheaper than Italy or France, or even Spain, for comparable quality.
Overall, I'm so happy I finally got to experience the Douro Valley for myself — it was beautiful as it was delicious.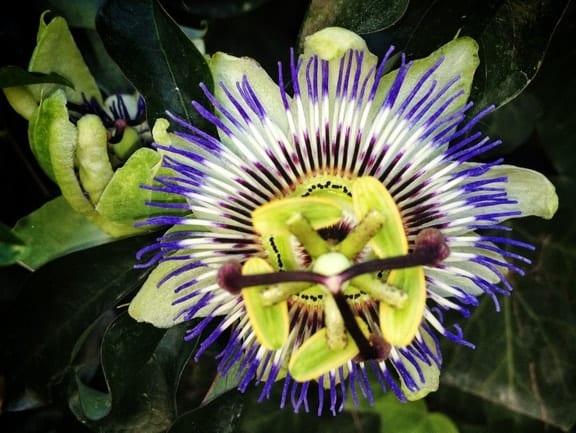 Many thanks to Visit Porto and North and Travel Bloggers Unite for introducing me to this beautiful part of the world.
Get email updates from Kate
Never miss a post. Unsubscribe anytime!