Adventurous Kate contains affiliate links. If you make a purchase through these links, I will earn a commission at no extra cost to you. Thanks!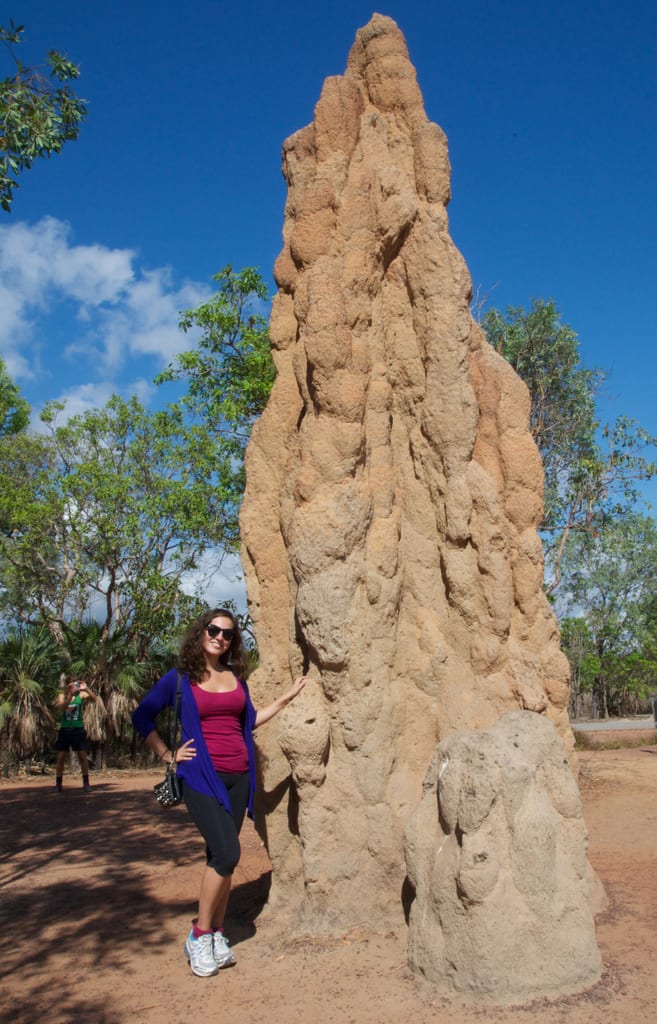 "It's man-made, and it's croc-free!" The voiceover announcer seems to beam with pride at this statement as we ride past a lake surrounded by palm trees.
"Croc-free? Do they actually have to mention that?"
It's a Sunday afternoon in Darwin, the city that sits at the very top of Australia. I landed at 3 AM the night before, my baggage soaked through and putrid from the flood in Korea. I'm not in the greatest of sorts — particularly since I just realized that even my camera lens flooded — but the sun is shining, there are tropical plants everywhere, and this city just has a way of relaxing you.
Most people start their Australia journeys in Sydney, or maybe Melbourne or somewhere in Queensland. Darwin? Not a typical spot. But if I were looking for an Australian stereotype to be defied, they were instead confirmed — people here really were sitting around in camping chairs everywhere, drinking beers and barbecuing!
Darwin is a wacky place. I'd put it right up there with Shetland and Liechtenstein as one of the strangest places I've ever visited.
It has a population of 120,000, but it feels like a tiny town. Most of the city seems to be congregated on one small street. And there are Irish people everywhere you turn. (It turns out that Darwin put out an advertising campaign in unemployment-plagued Ireland, encouraging people to come work there. They came in droves.)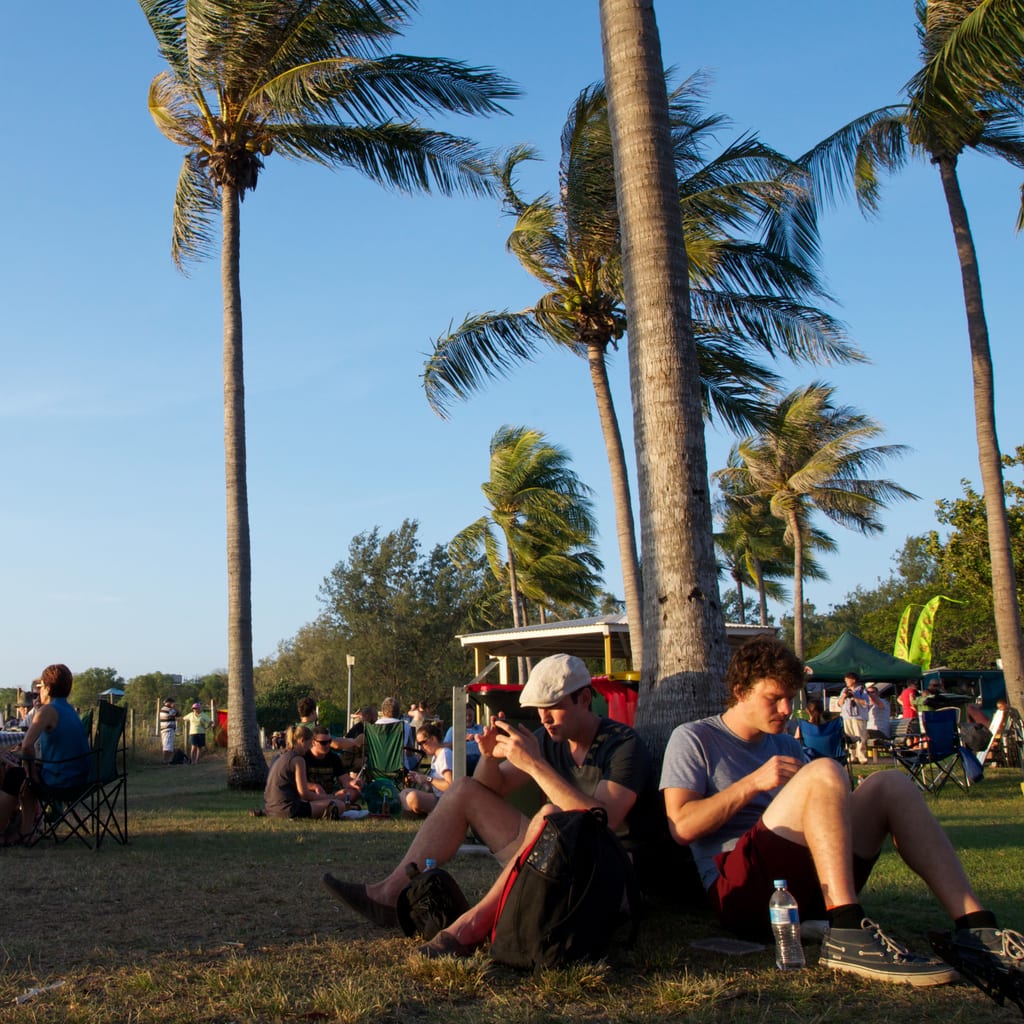 Darwin is remarkably casual. Men walk around shirtless in town, despite the beaches being far away. People hang out in the most casual outfits and have crazy hair. In some ways, it felt like California or the Southern US — only with far less obesity. (Australians have hard, rockin' bodies, wherever you go.)
Oh, yes, and there are crocs. Dangerous crocs. Crocs in the water. Crocs lurking beyond the city limits. They keep catching crocs all the time. And then there's Crocosaurus Cove, where their crocs are named after Prince William, Duchess Kate, Prince George, and a serial killer named Chopper.
Is there culture in Darwin? Not much — but to be fair, this isn't the kind of place to come for culture. There is some history, though. Darwin was where "Australia's Pearl Harbor" took place, and it was heavily bombed by the Japanese during World War II.
But the wacky Darwin moment I will remember the most is when I saw a local guy getting kicked out of one of the bars. "Darwin's a small town, you f*ckwit!" he yelled as he was dragged away. "DARWIN'S A SMALL TOWN!"
Mindil Beach Markets
For me, the biggest highlight of Darwin was going to the Mindil Beach Sunset Markets. On Sundays and Thursday evenings throughout the dry season (roughly May to October), the area by Mindil Beach is filled with food stalls with ethnic food from all over the world, juices and smoothies, crafts and artwork, clothing, various croc skeletons and skins, a live digeridoo drum and bass band, and a guy teaching people how to crack a whip.
It's like the whole world has gathered in one place.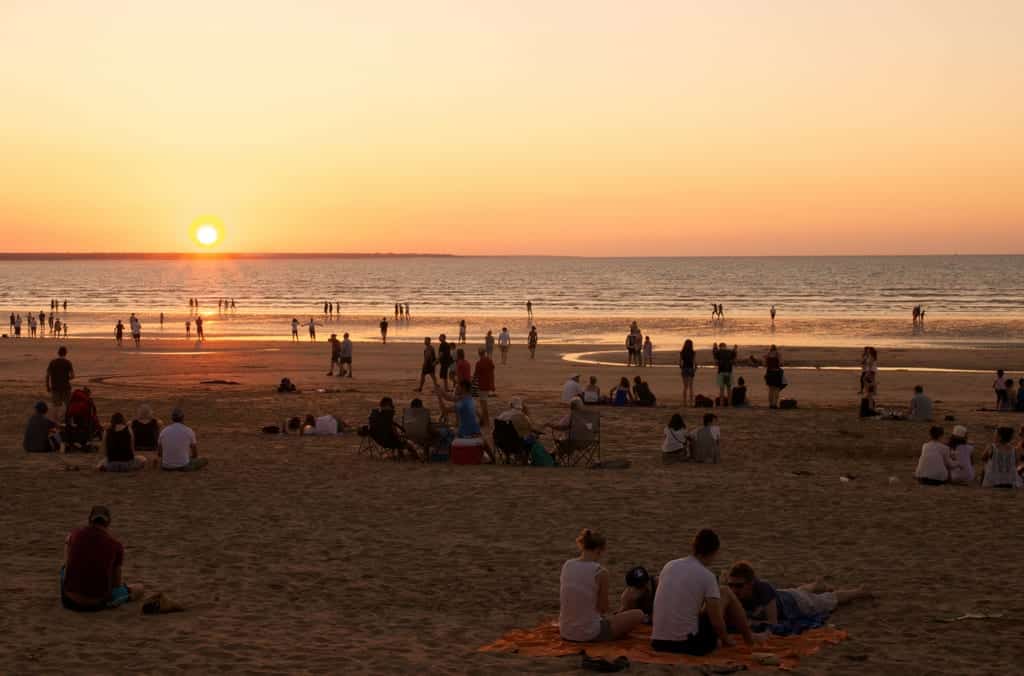 Everyone grabs food from the vendors, then heads to the beach to watch the sun drop into the ocean, the sky illuminated in pink. (My picks? Grab a grilled croc sandwich and a lime juice!)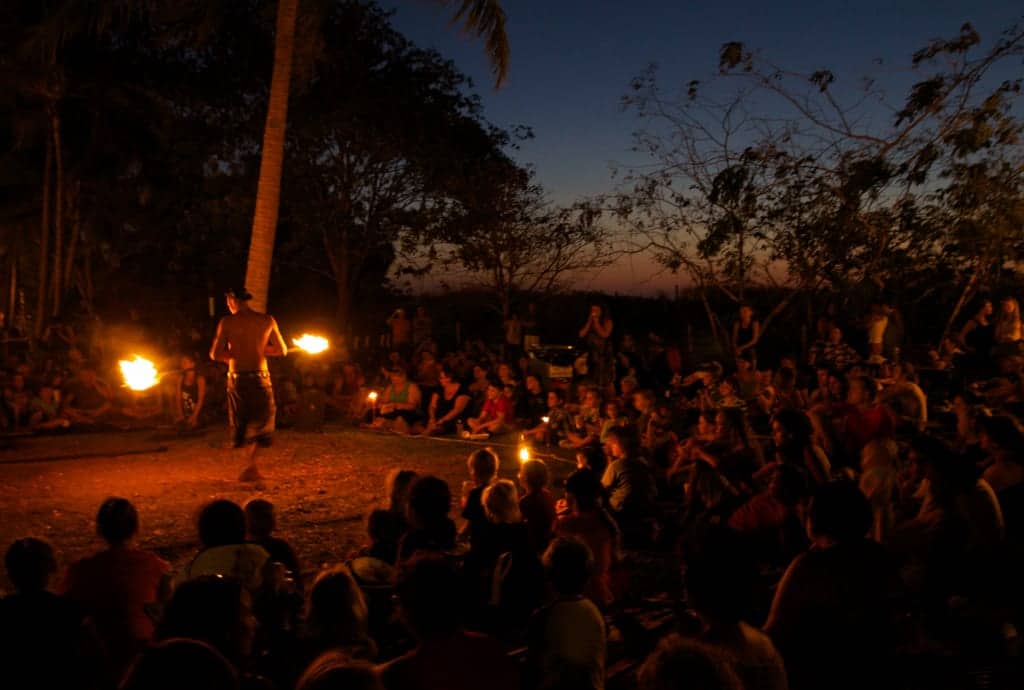 After the sunset, I came back to the markets and came upon a fire dancer — one of the best I've ever seen. It seemed like everyone in town was at the markets, and I felt so much like part of the Darwin community.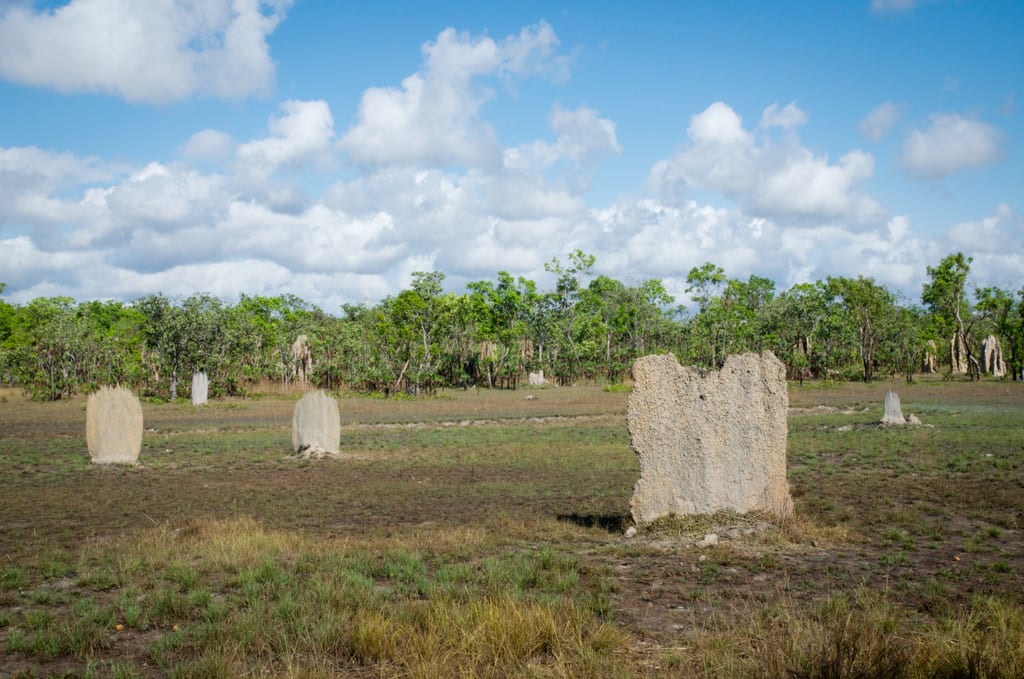 Litchfield National Park
Kakadu might be more famous (and justifiably lauded), but Litchfield National Park is pretty nice as well. It's also easier to visit on your own, as it's just a short drive from Darwin and most of the major sites can be visited without a 4WD vehicle.
First off, those termite mounds. Termites are very sensitive to heat, and they also have magnetic properties — so they build these mounds with perfect alignment from north to south, so that there is always a warm spot if they're too cool and a cool spot if they're too warm.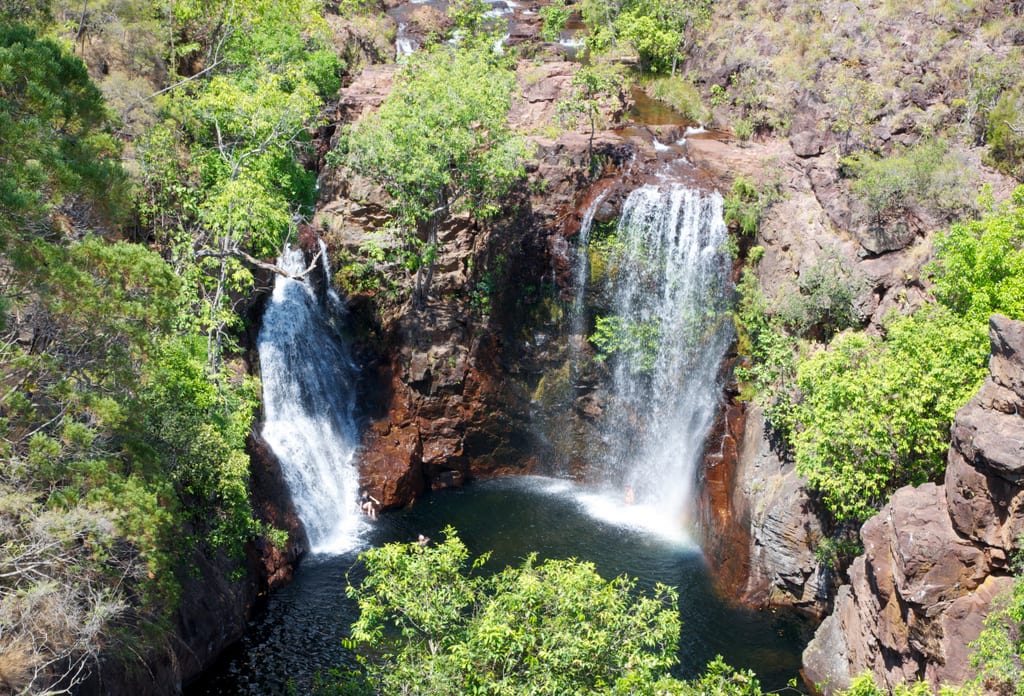 Florence Falls is pretty to photograph from above, and it's also a nice spot to take a swim. You can swim right up to the waterfalls (and they flow even in the dry season, which is rare in this part of Australia).
But my favorite spot in Litchfield (and, in fact, my favorite spot on my three-day Kakadu trip)? Buley Rockhole. A short walk down a path will lead you to these rocks that turned into natural swimming holes.
Swimming in rockholes may be my favorite memory of the Northern Territory. There is nothing better than jumping into a cool river on a hot day.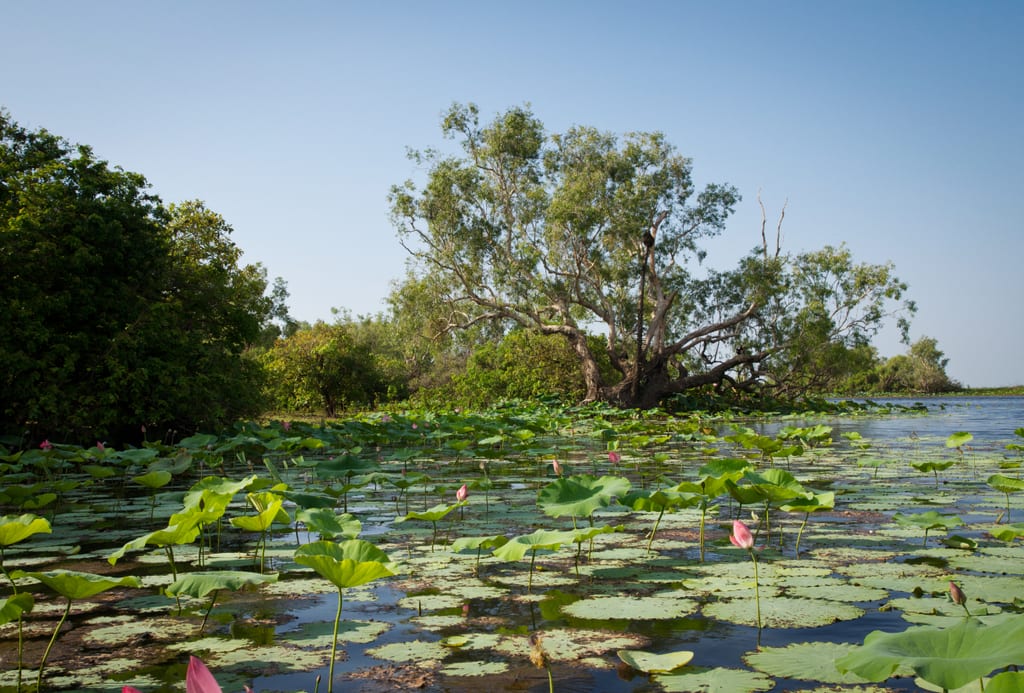 Mary River Wetlands
If you're set on seeing a croc in the wild, the Mary River Wetlands is your best chance — and the odds are good. I took a cruise through the wetlands that allowed me to see about half a dozen of them close-up, most of them lurking beneath the surface except for their nose holes as they waited for their next meal to come obliviously skipping along.
As exciting as it was seeing the crocs, this was also a remarkably beautiful part of Australia, with lots of exotic birds and pink lotuses poking up between the leaves. (The lotuses were brought over by Chinese pearl divers, who have traveled to the Northern Territory for centuries.)
A few weeks earlier, a local man had been killed by a crocodile while swimming in the Mary River. He was dared to swim across it by his friends. It turns out that stories like these are sadly not unheard of. People from this area grow up being told not to go near the water, ever, and yet a foolish decision to defy their lifelong actions ends up costing them dearly.
They estimate there to be about eight crocs per mile in the Mary River. Avoiding them would be a miracle.
On our Kakadu trip, our group kept talking about the man who was killed and wondered how this could keep happening. And then the one Aussie guy on our trip said, "Yeah, I'd swim across that river. If I was drunk, I'd do it."
Well, there you go.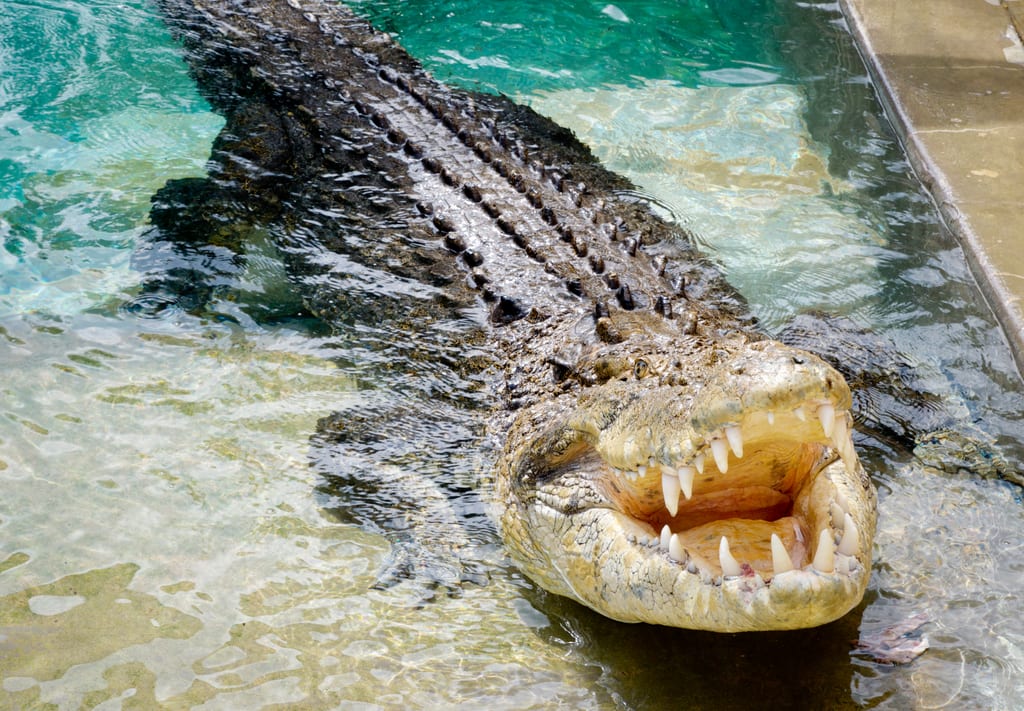 Crocosaurus Cove
Back in Darwin, I was invited to get even closer to the crocs. How close? Close enough to kiss them. Which I did.
Crocosaurus Cove is home to dozens if not hundreds of crocs, from babies up to geriatrics. The younger ones are a lot of fun — you can "swim with them" (there is a glass barrier, so it looks like you're swimming next to them) and feed them by "fishing for crocs" — dangling food on a fishing pole and waiting for them to spring up and chow down!
One of the oldest crocs was named Burt, a "confirmed bachelor" who not only tried to eat every female they tried to introduce to him, but who tries to eat the very workers who feed him each day. ("When Burt's hiding underneath, we can't feed him because he's waiting to attack us," one of the employees told me, almost apologetically. "But eventually he gets hungry and comes out.")
Burt's also a celebrity — he appeared in Crocodile Dundee. He was ferocious there, too.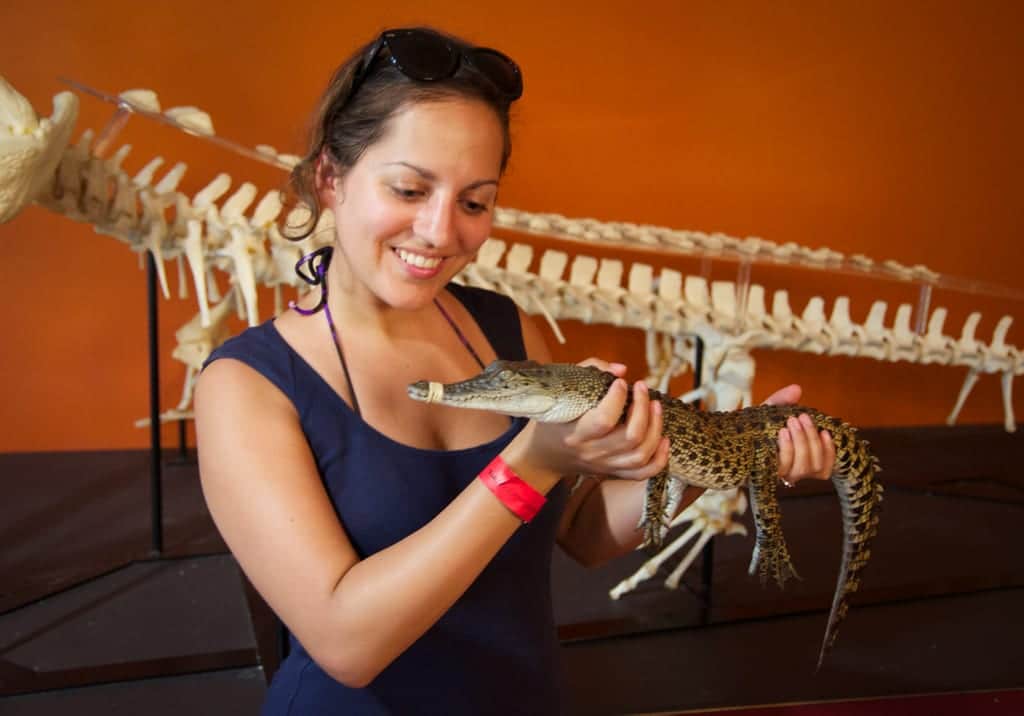 One of my favorite experiences: holding a baby croc named Fluffy. (They're all named Fluffy, apparently.) You won't believe how soft the babies are — it's just like holding a teddy bear!
I also got to go croc cage diving for the second time in five months (after my experience in Oudtshoorn, South Africa). This was even more of a rush than in South Africa, because they teased Chopper the croc (who is handless and named after a serial killer who had a fellow prison inmate cut off his earlobes so he could get out of prison) with food, holding it on top of our cage so that he would snap his jaws at us!
It was terrifying. If the human has the jaw strength equal to the weight of a sack of potatoes, a crocodile has the jaw strength equivalent to a large diesel truck. Now, imagine jaws that powerful snapping at you.
I went from this: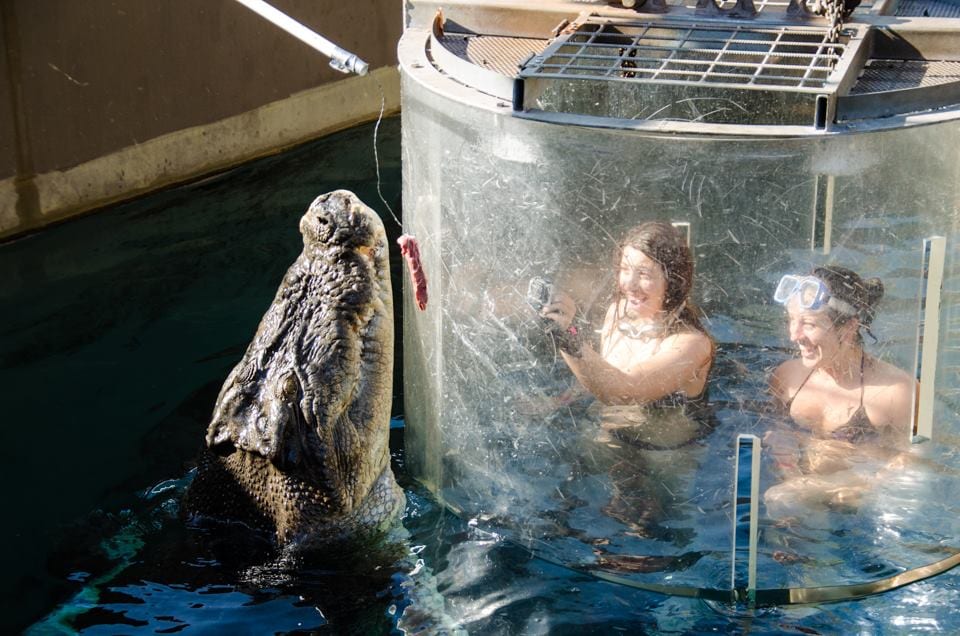 To this: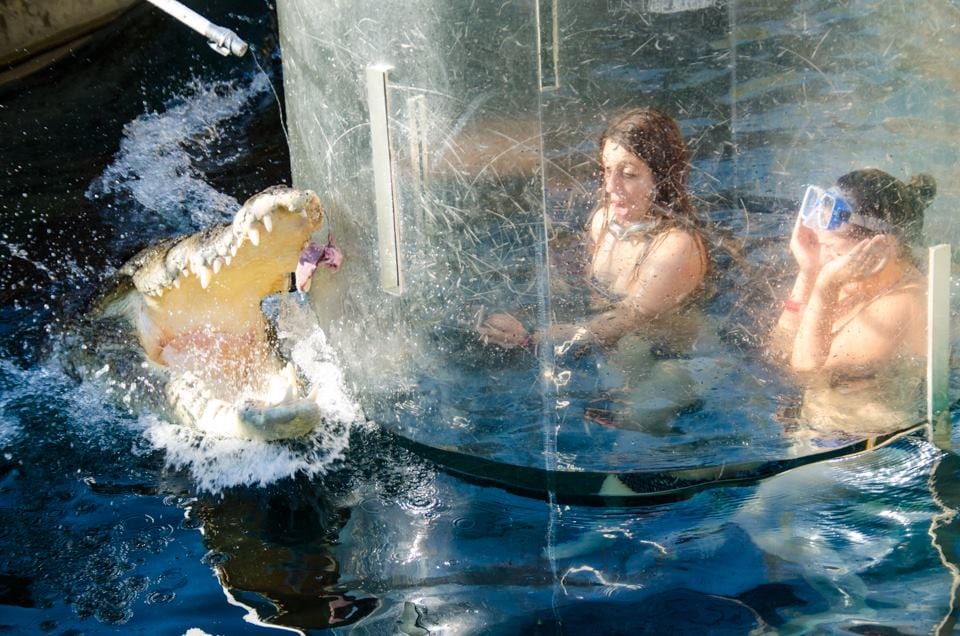 And I pretty much stayed like that the rest of the time. (As you can see, my diving buddy Ellenor was much more composed than me!)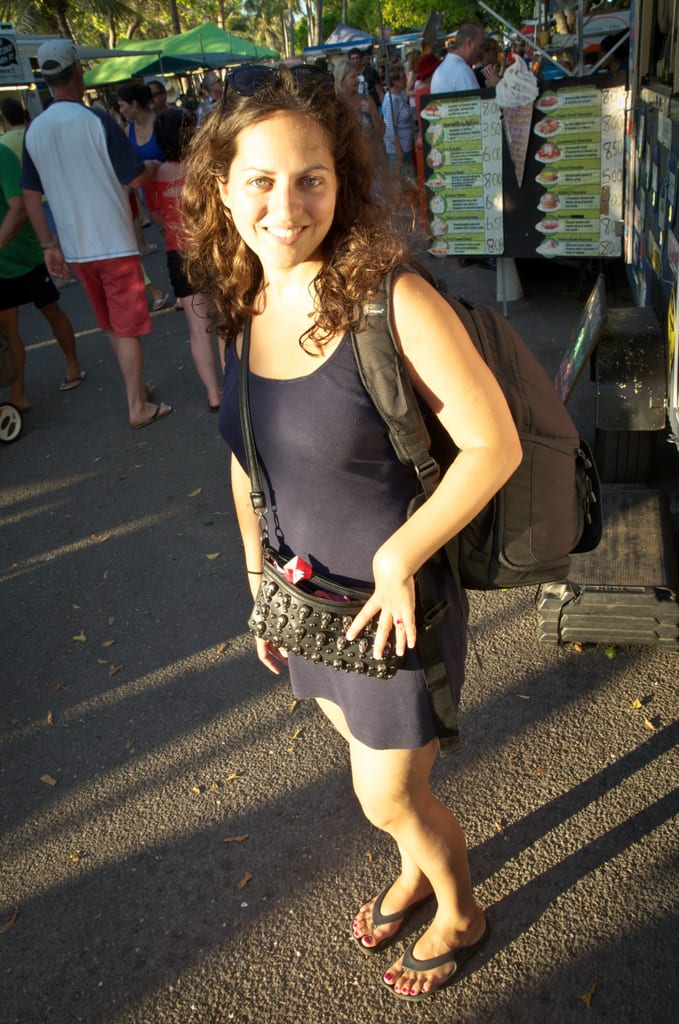 Kate Gone Darwin-Style
My first day in Darwin, I was still in a Korean state of mind. I showed up to the Mindil Beach Markets in a dress and leggings, wearing makeup. (You never know when you'll be photographed.)
But by my fifth day in the Top End, I was in the Darwin state of mind. For my second visit to the Mindil Beach Markets, I showed up with frizzy hair in a short dress, no bra, no makeup. Hand me a $9 beer and get me in front of a barbie and you'd mistake me for a Darwiner.
Good. For as peculiar a place as Darwin is, I really like this part of the world.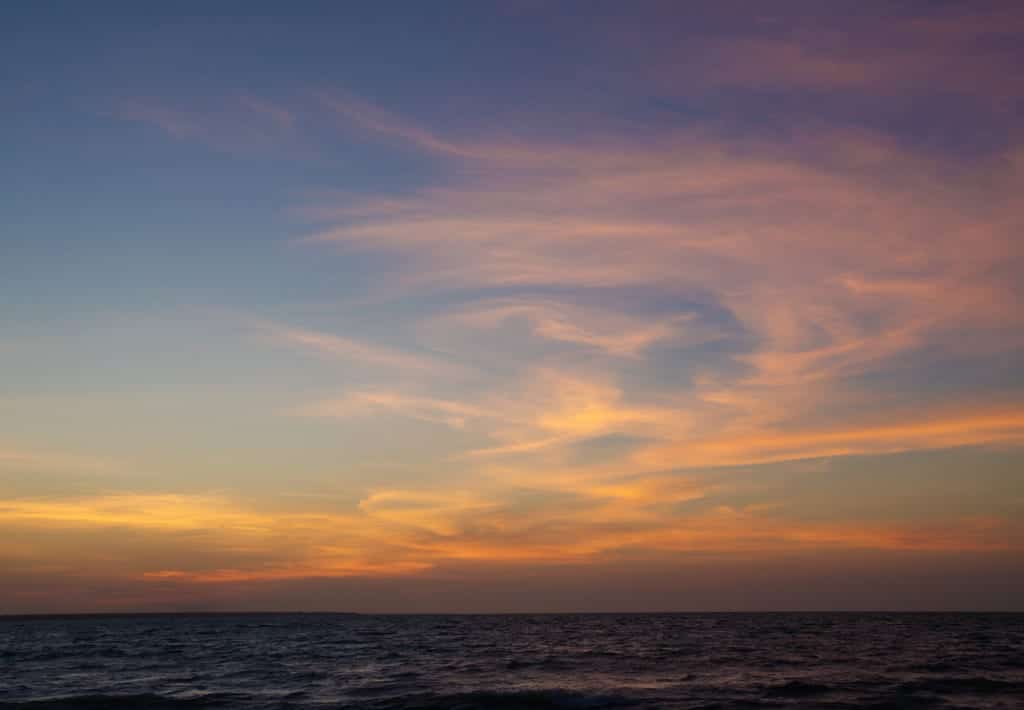 Essential Info: The Mindil Beach Markets take place on Sundays and Thursdays from May to October. You can take the 2 or 4 bus or walk the 2 km (2.4 mile) distance from town.

I visited Litchfield National Park and the Mary River Wetlands as part of my 3D 4WD Kakadu Unleashed tour with Adventure Tours Australia courtesy of Flight Centre, which starts at $705 USD and includes two nights' bush camping accommodation, along with three full days of activities, transportation, entry fees, and all meals.

If you want to visit independently, Litchfield National Park is free to visit. My cruise was through Wetland Cruises Corroboree Billabong and cruises start at $35 AUD ($33 USD) for one hour.

Admission at Crocosaurus Cove costs $32 AUD ($30 USD) for adults. If you want to croc cage dive, it costs $160 AUD ($152 USD) and includes admission. You can also do the Big Feed Experience for $79 AUD ($75 USD), which involves feeding big crocs like Burt, and does not include admission. You have to pay for copies of pictures with the baby crocs.

For lodging in Darwin, I stayed at three places: Youthshack, Value Inn, and Chilli's. Youthshack was fabulous — a high-end party hostel with a pool and high-quality, very comfortable ensuite doubles that were soundproofed so you could sleep! That said, the wifi cost $4 AUD ($4 USD) per day and barely worked. Low-season doubles are available from $75 AUD ($71 USD). Value Inn was a good, basic budget hotel and a fine place to stay, but the wifi, also $4 AUD ($4 USD) per day, had their router was next door (!) and therefore didn't work. Low-season doubles are available from $77 AUD ($73 USD). Chilli's, frankly, is a dump and I recommend you stay elsewhere. You can find other accommodation in Darwin here.

I never travel without travel insurance and used World Nomads for my Australia trip. Travel insurance will help protect you financially if anything goes wrong and I always recommend getting it before a trip.
This part of the SOTM Tour was financially supported. All opinions, as always, are my own.
Get email updates from Kate
Never miss a post. Unsubscribe anytime!