Adventurous Kate contains affiliate links. If you make a purchase through these links, I will earn a commission at no extra cost to you. Thanks!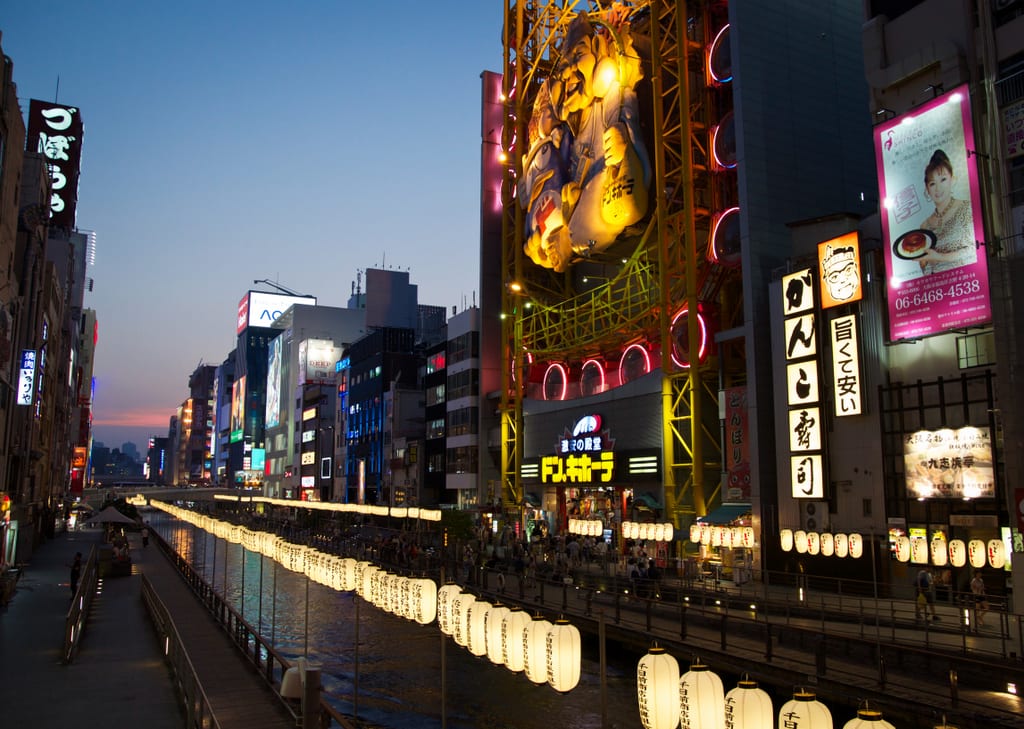 A few years ago, I watched the episode of An Idiot Abroad where Karl was forced to climb Mount Fuji in Japan. Karl did his usual grumbling as he hiked up all night long — but was rewarded by the most incredible sunrise. He was indifferent to it, of course.
That sunrise was on TV, but it was enough to take my breath away — hundreds of rays of pink and gold and red seeming to shine down from each and every direction. I have never seen a sunrise like that — anywhere.
I didn't end up climbing Mount Fuji and seeing that famous sunrise for myself — but I was stunned, again and again, by the sheer quality of the light in Japan. Maybe it was the lack of significant air pollution, maybe it was good timing on my part, maybe my mind has just become more attuned to light as I've gotten more into photography — but I can't deny that Japan has some of the most consistently outstanding light I've ever seen.
I couldn't think of a better way to commence my posts about Japan than with my favorite pictures of this unforgettable light.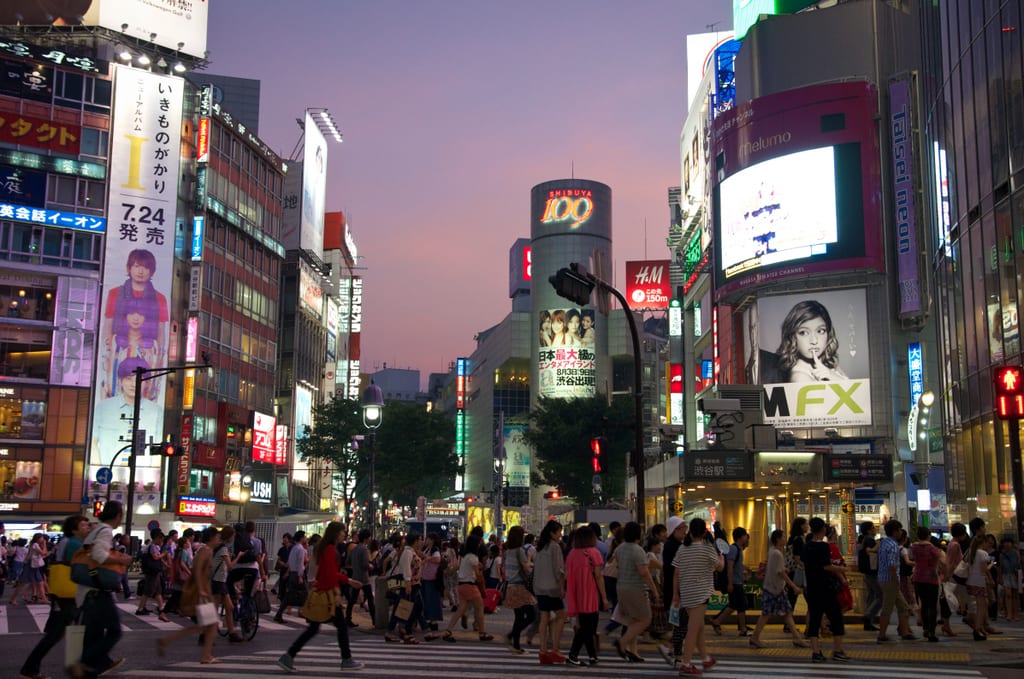 Shibuya Crossing, Tokyo
Shibuya Crossing is arguably the most famous traffic crossing in the world. Hundreds of people cross half a dozen enormous crosswalks whenever the light turns green. How many people does that total by the end of the day? Tens of thousands? (And yes, cars do pass there, too!)
Getting to Shibuya just in time for sunset gave me a beautiful pink and purple backdrop for the silver buildings against the frenetic crossing.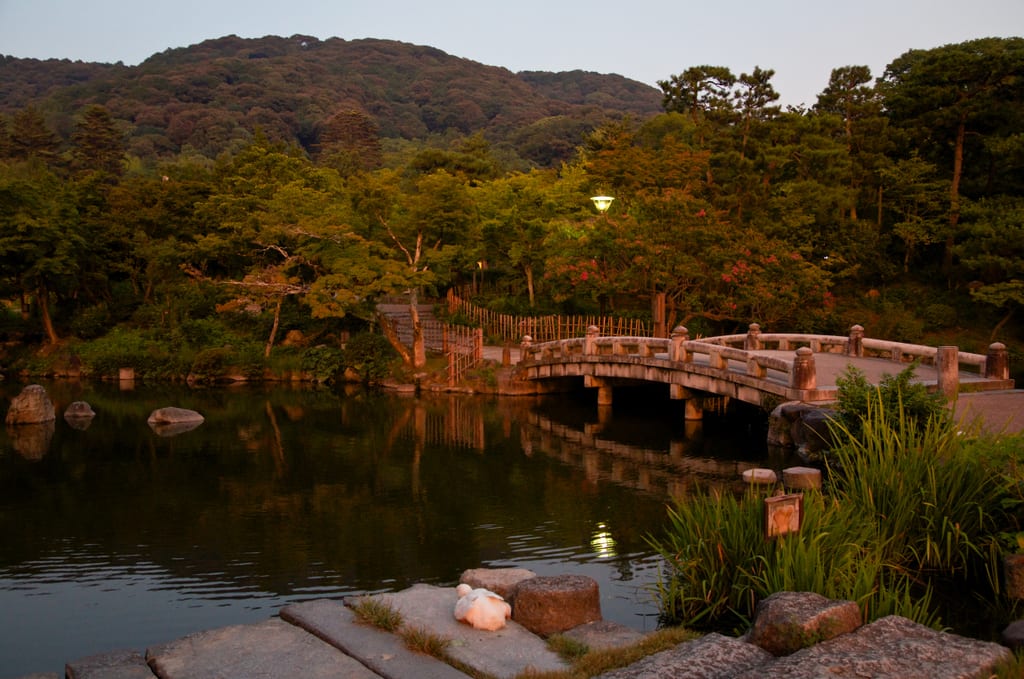 Yasaka Shrine, Kyoto
Yasaka Shrine was one of my favorite places to visit in Kyoto. It had a variety of temples and shrines, it was conveniently located in Gion, it had a mix of tourists and worshipers coming to pray, and unlike most places in Kyoto, it was free to visit.
Now — look at that picture. That bridge is naturally gray. Though this photo is edited and retouched — as all my photos are — it's true that the evening light turned that gray bridge bright red. Those aren't red leaves on the trees, nor is that swan naturally red — the light was just that good.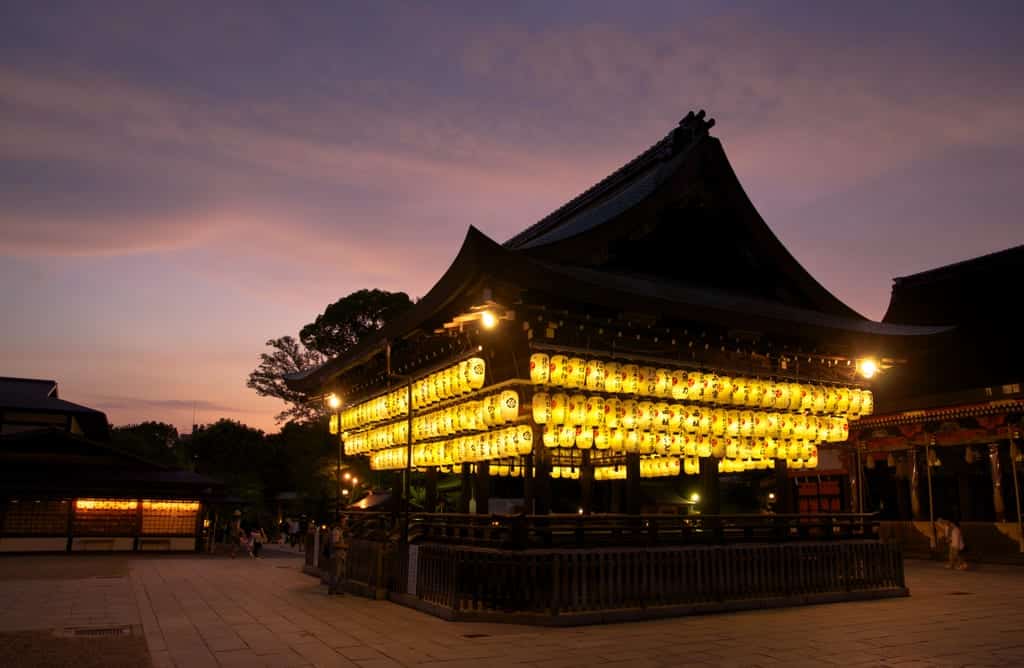 As soon as I came back to the main shrine at Yasaka, I immediately took off running from my new friend Fumi — I had to capture that shrine in front of that sunset. And I knew that I had only a few minutes at the very most.
Good thing I ran. It took about a dozen shots before I had one that I liked. This is one of my favorite shots from all of Japan.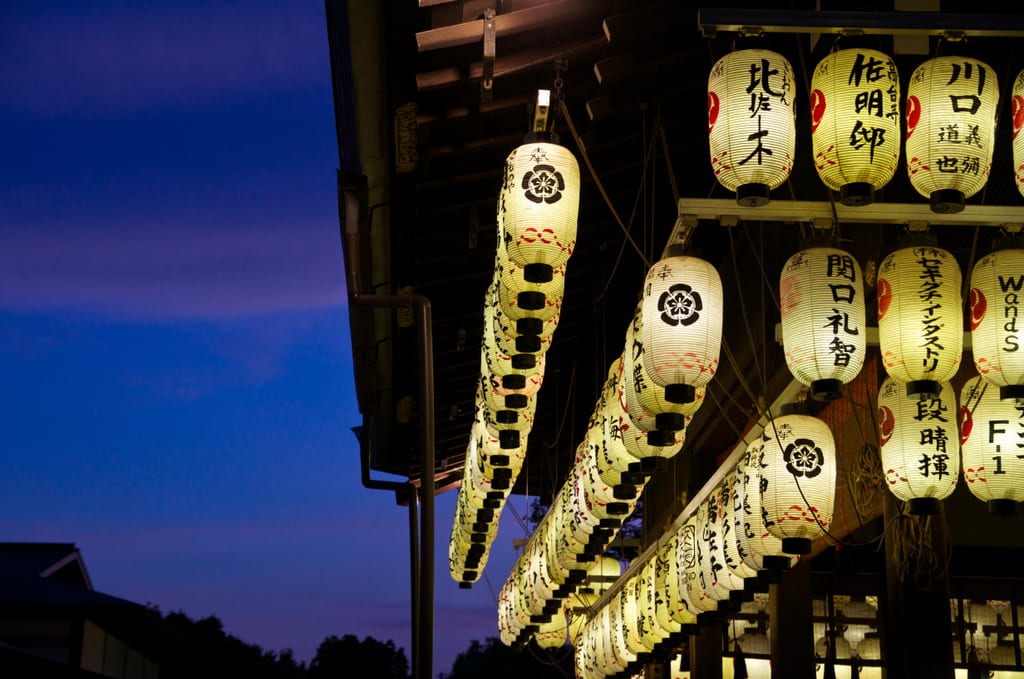 "What do you think the writing on these lanterns says?" Fumi, a former student of my friend Annette, asked me.
"Prayers? Or blessings?" I guessed.
"They're the names of the people who gave the most money," she said with a smile.
I love it. Just when you think that Japan is more different than anywhere else you've ever been, at some point it turns out to be just like anywhere else in the world, broadcasting the names of their most prolific donors.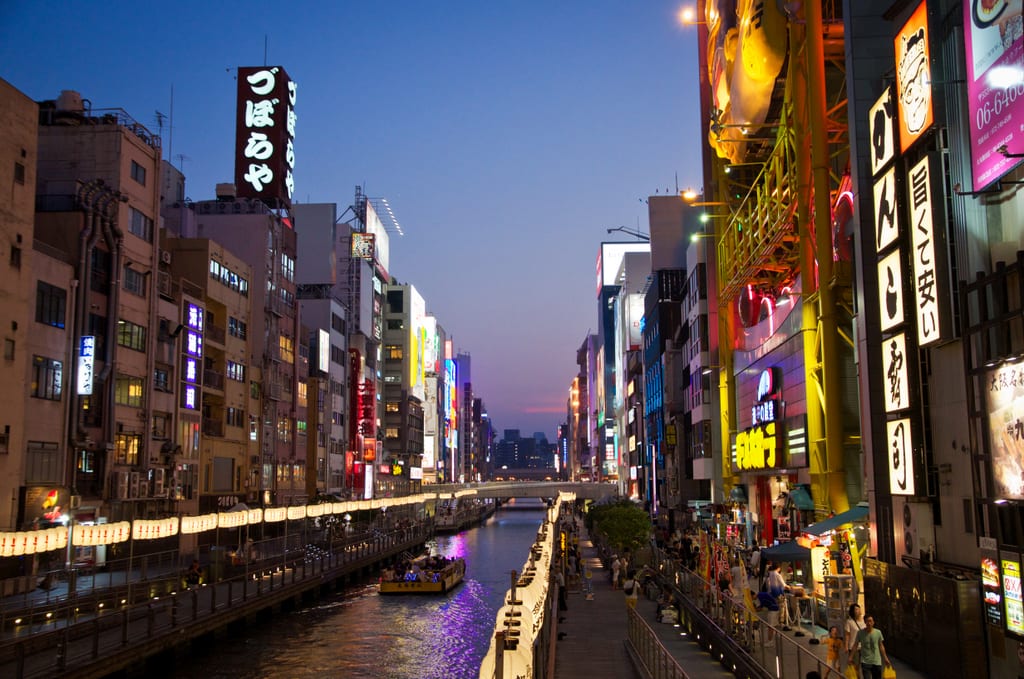 Dotonbori, Osaka
Osaka is a city of bright lights and neon — especially in its wild Dotonbori neighborhood. The sunset, in its many shades of blue and pink, brought out bright neon light, reflected up from the river.
Osaka is definitely doable as a day trip from Kyoto, but you're missing the best part of the city if you leave before nightfall. Few cities comes to life at night as vibrantly as Osaka.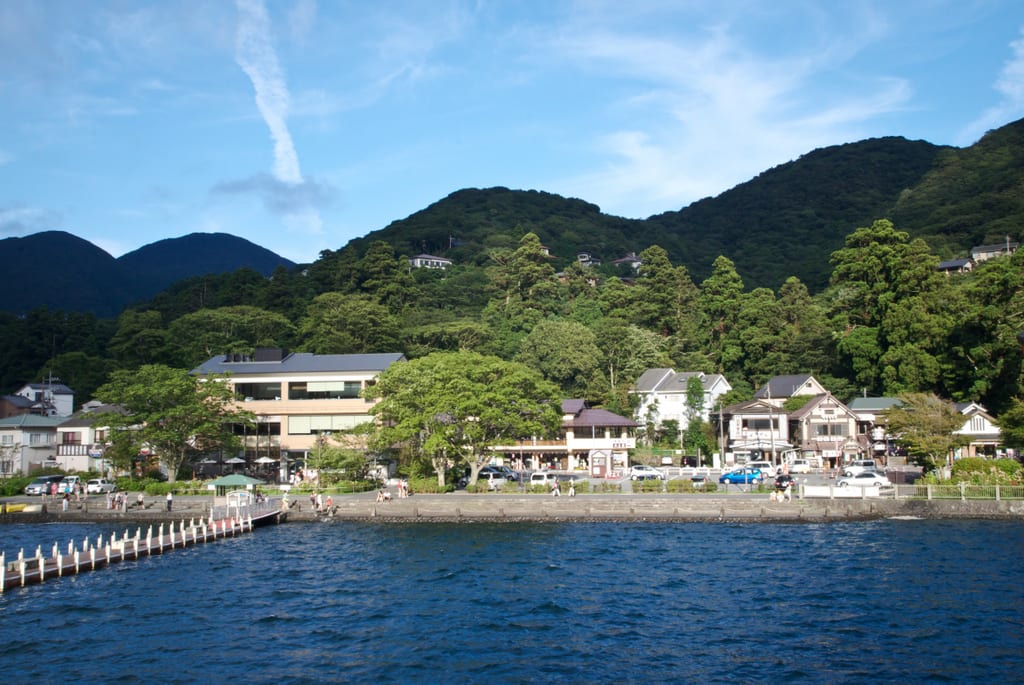 Lake Ashinoko, Hakone Region
My brief 24-hour journey to the Hakone region was a bit of a disappointment — though I had had sunny skies every day in Japan so far, that day I was threatened with stormy skies. Mount Fuji was completely enshrouded in clouds, and the outdoorsy tours weren't as appealing in bad weather.
But at one moment, when I rode the pirate ship across Lake Ashinoko, the sun peered out just long enough to illuminate the shore, the surrounding mountains engulfed in darkness. It didn't even look real.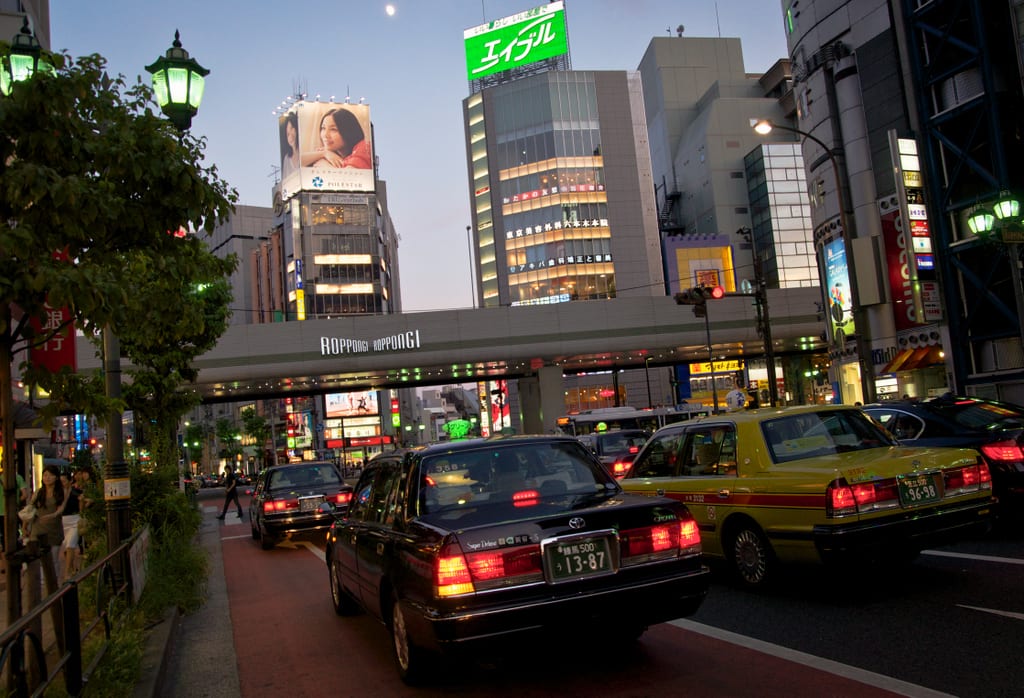 Roppongi, Tokyo
Roppongi was another area that didn't quite live up to the hype. I expected a wild, thumping nightlife with tons of stripclubs, angry bouncers, and expats from around the world pouring out of doors, drunk on sake, but I didn't see a trace of anything like that! It was one of the quietest Saturday nights I've seen — then again, maybe things pick up there after 9:00, when I left.
That said, being there at sunset was a perfect opportunity to catch Tokyo's famous taxis against a periwinkle sky.
Ueno, Tokyo
And to finish it off, a deep cobalt sky in Tokyo's Ueno neighborhood. It's so difficult capturing the bright blues in the sky as soon as the sun sets, but when you can, it's incredibly rewarding.
Japan is a rewarding destination for so many reasons — the kind, polite, and every-helpful people; the delicious and painstakingly prepared food; the peaceful and beautiful temples, the jaw-dropping technology present in daily life — but for me, the greatest surprise was the beauty of that light.
Which photo of Japan is your favorite?
Get email updates from Kate
Never miss a post. Unsubscribe anytime!