Adventurous Kate contains affiliate links. If you make a purchase through these links, I will earn a commission at no extra cost to you. Thanks!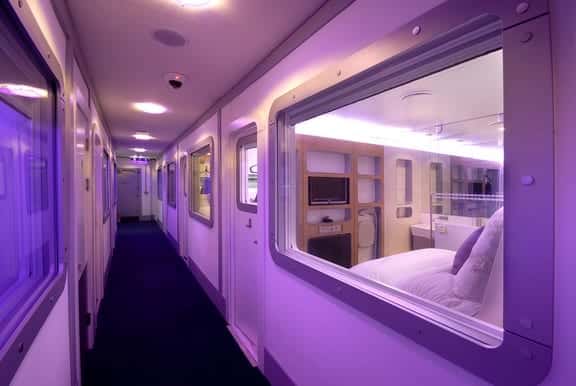 I have always been fascinated by efficient design.  Forget the ostentatious homes and hotels of the world — if you're able to do an incredible amount in a small amount of space, that is what is going to impress me the most.
And the Yotel at Heathrow Airport impressed me greatly.
Usually when I fly from the US to the UK, I fly overnight, arriving in time to catch a coach or train to wherever my final destination may be (though now that I just moved to London, I don't have to worry about this as much).  This time, the cheapest flight happened to be a day flight — departing from Boston at 9:00 AM and arriving in London at 8:30 PM.
I checked the schedules and realized that after adding in time at immigration and picking up my luggage, I wouldn't be able to get up to my final destination, Chester, until the next day unless I took the overnight coach arriving at 5:00 AM (and who really wants to do that?).
While I often crash with my various London friends, I decided this time to stay at the Yotel at Heathrow — and found myself in a snazzy, space-age purple paradise.
Doesn't it look like something out of the Jetsons?
I had stayed at a Yotel before briefly — when I got back from the Faroe Islands, I had several hours to kill in London, and having barely slept on the trip, I decided to rent a room for a few hours and catch some z's.  (The Yotel is rented by the hour, starting at a minimum of four hours.)
To be honest, rather than napping, I spent the whole time enjoying the Yotel experience — from the complimentary cappuccino to the room service to the cushy, impossibly comfortable beds.  There are also movies if you'd like to pay extra.
The Yotel is designed to maximize space, much like an airplane is.  I love how every inch is used wisely — how a desk folds out from a wall panel, how the beds either fold out from a sofa (like my premium cabin, pictured above) or are lofted (as they are in standard cabins).
The Upsides
I enjoyed it here.  It felt like my personal little space cabin!  The bed was comfortable, the shower head had great pressure, and the wifi was excellent.  That's all I need!  I was able to plug in and get work done all night, which is what I look for first and foremost when staying in a hotel.
And purple is my favorite color in the world, so you know I had no problem with that!
The Downsides
If you get claustrophobic in any sense, the Yotel is probably not the place for you.  I don't get claustrophobic, but I found myself yearning for an open window or any way to get fresh air.
Additionally, the walls are thin and it can be noisy.  If you're a light sleeper, you'll certainly need earplugs.  This doesn't seem to be a place for partiers, but you could even hear people walking down the hallway.
The Takeaway
The Yotel doesn't take the place of a nice hotel in the middle of the city, but it is absolutely an excellent choice if you need to stay overnight at the airport.  There's no reason to stay in one of the luxury hotels at the airport when you have a place as good as this for a moderate price (see here for rates).
I also think it's the best choice if you want to get a few hours a sleep but know you won't be staying for a full night.  Since you can book Yotel rooms by the hour (albeit with a four-hour minimum), this is the best choice if you want to get a catnap in peace and quiet.
At any rate, I enjoyed my Yotel stay — and the next time I have an early flight out of Heathrow, you can bet I'll be there.
Many thanks to Yotel for the complimentary stay.  All opinions, as always, are my own.
Get email updates from Kate
Never miss a post. Unsubscribe anytime!