Adventurous Kate contains affiliate links. If you make a purchase through these links, I will earn a commission at no extra cost to you. Thanks!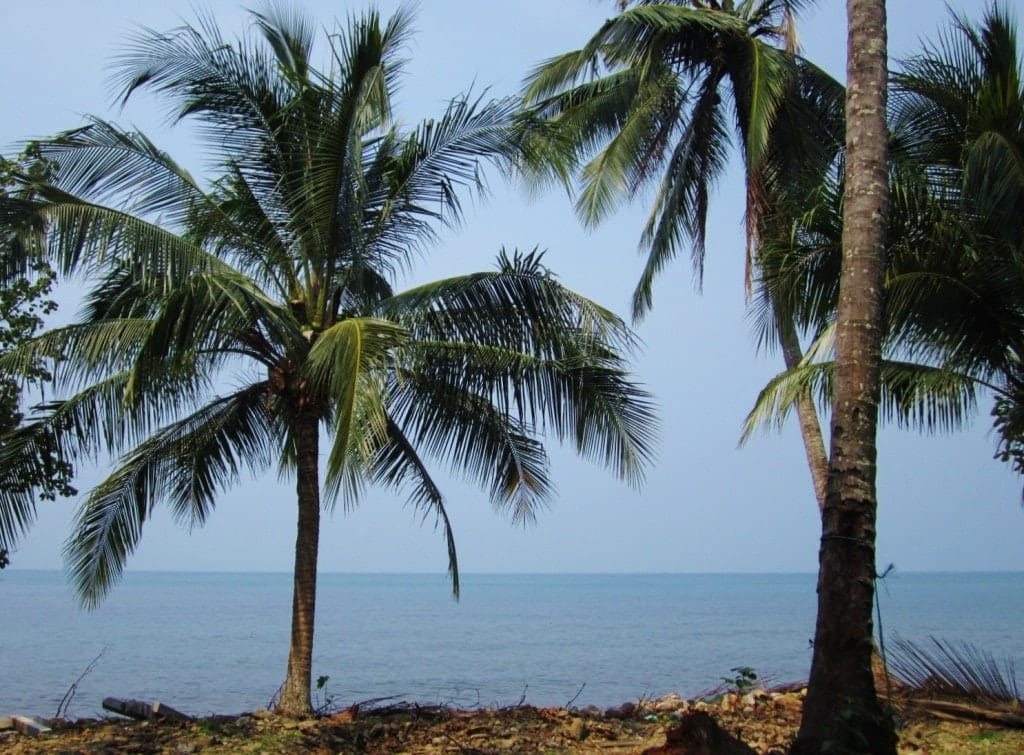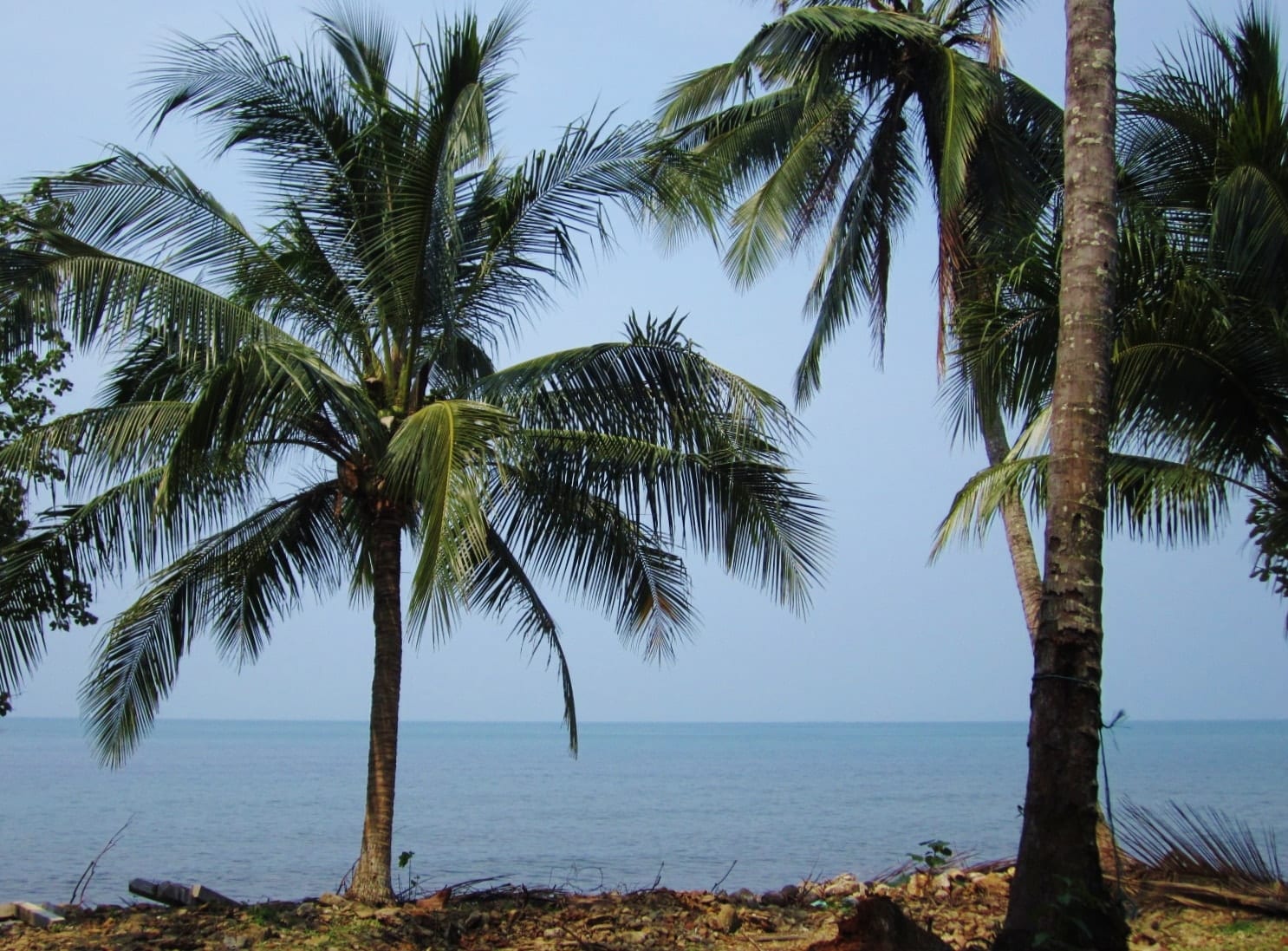 Lots of people dream of finding a random island in Thailand, getting a beach hut for a dollar, and spending days doing nothing and spending next to nothing, just chilling on a beautiful beach with a guitar.
I'm sorry to break it to you, but that image, more or less, no longer exists.
Thailand's islands are far more expensive than the mainland and especially the north.  On Koh Phi Phi, a typical backpacker budget will set you back at $40-50 a day.  Dorm room lodging on Koh Phangan during the Full Moon Party will run you $20 a night.
Sure, you can find small, little-developed Thai islands and local beaches for cheaper, if you don't mind going far off the beaten path.  But as far as islands with major tourism infrastructure go, you won't find any.
However, there's an exception — Koh Chang.
Koh Chang is located on the eastern Gulf coast of Thailand, not far from the Cambodia border.  The island is huge — it's the second largest Thai island after Phuket — and because of its size, its beaches are a series of neighborhoods.
I chose to camp out in the backpacker favorite, Lonely Beach.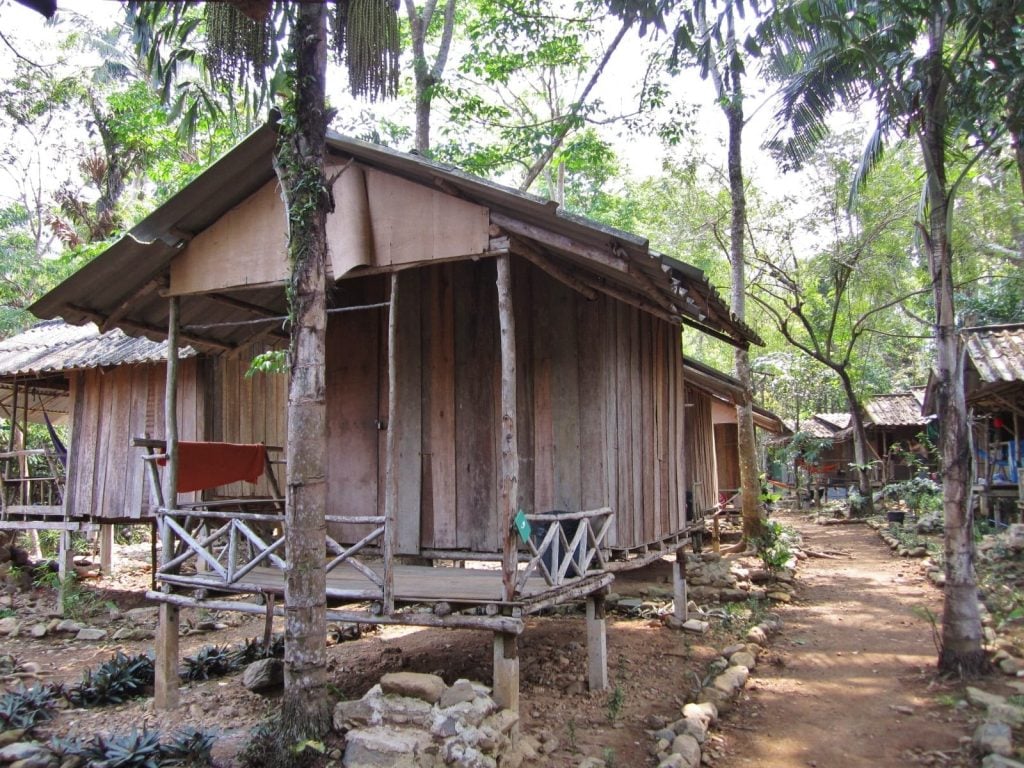 Cheap — but nice!
I paid 200 baht (about $6.67 USD) for my own private bungalow at Ice Beach Bungalows, just an eight-minute walk from Lonely Beach.
The bathrooms were extremely basic — shared and outdoors, with cold showers and squat toilets — but really, at 200 baht during high season, you can't complain!  (And you can go to a restaurant if you need a Western toilet, if you know what I mean.)
Food was well-priced as well — you could find food in basic, local restaurants for 30-50 baht ($1-2) per dish, and slightly more for Western food.
Free WiFi is available in plenty of cafes. My favorite?  The Art Gallery Cafe, which is home to nice decor, friendly people, fantastic electronica music, and plenty of power outlets.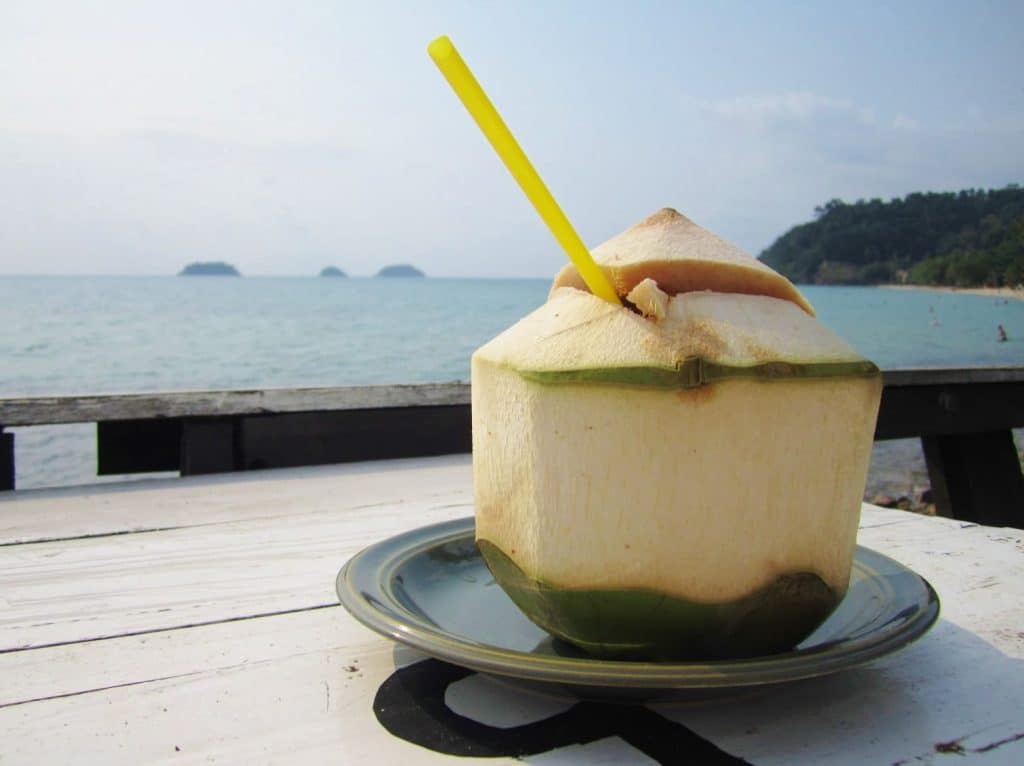 Why, hello there, hippies!
Plenty of places in Thailand are home to hippie communities.  They vary in degrees of friendliness — I found the Koh Lanta hippies to be laid-back and welcoming, while the Pai hippies were cold and insular.
Lonely Beach is home to some of the warmest and friendliest people I've met in Thailand. I made instant friends virtually everywhere I went.
That friendliness extends to the tourists. Within a few days, I'd befriended sarong-wearing Austrian men in their sixties, two forty-something women from a lesbian tour group and Scandinavian backpackers my age, along with plenty of Thais, of course!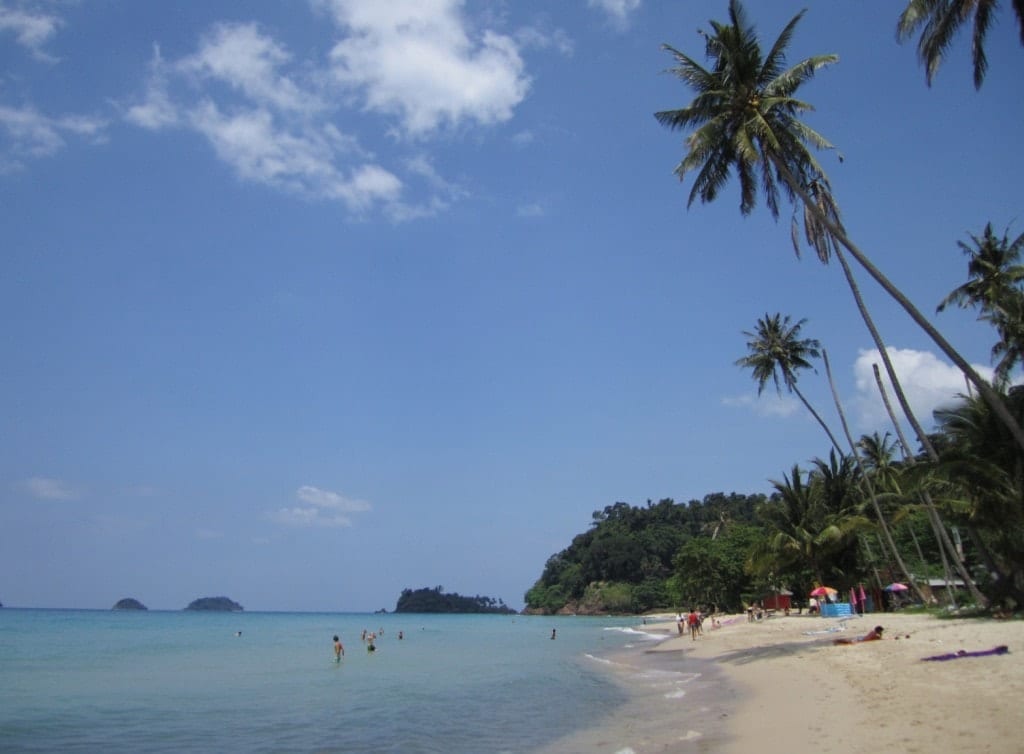 The Most Fantastic Beach
I've been on a lot of Southeast Asian beaches over the past six months.  Lonely Beach is my favorite.
That's a loaded statement, I know.
I found Lonely Beach to have the perfect combination of beauty, an uncrowded shore, soft sand, and clear, turquoise water.  It was close to everything, but felt blissfully isolated.
---
---
Lonely Beach isn't overdeveloped (yet).  You can relax in an isolated corner, and if you want to grab some lunch, there are several well-priced restaurants within a five-minute walk.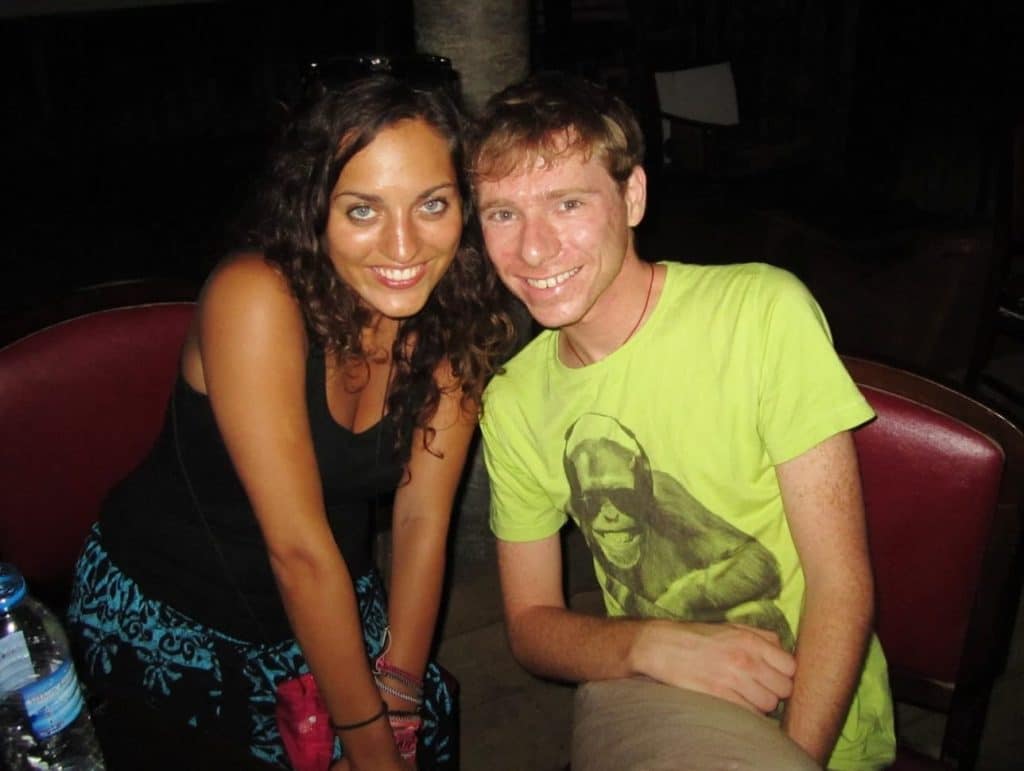 Tattoos and Fun Times
After a few days, I was delighted to have a friend of mine join me on the island — Adam of Travels of Adam, a fellow Bostonian travel blogger!
Adam and I spent far too long watching a guy get his right butt cheek tattooed. It seems like everyone on Koh Chang is covered in tattoos, and there are a dozen studios in Lonely Beach alone!
The guy, who looked miserable, was lying on his stomach with a glass of whiskey in each hand as the artist hammered a long, bloody bamboo needle into his skin.
Remind me not to get a bamboo tattoo ever.  It's not pretty.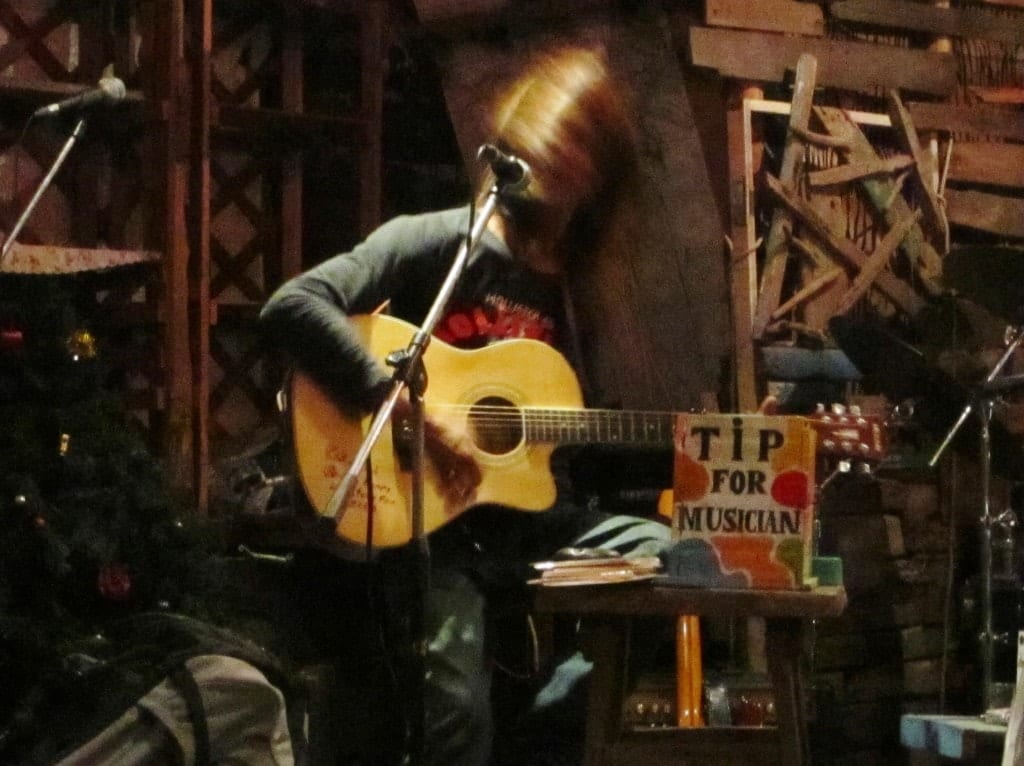 Laid-Back Nightlife
Koh Chang isn't a big party destination. Most of the nightlife centers around live music.  You can sing along to "Knockin' on Heaven's Door" with the long-haired Thai guys, or join in "I Will Survive" with the feisty flamenco guitar girl!
But if you really have your heart set on partying — you definitely can.  Look for 100 baht buckets at happy hour and late night dance parties at Ting Tong Bar!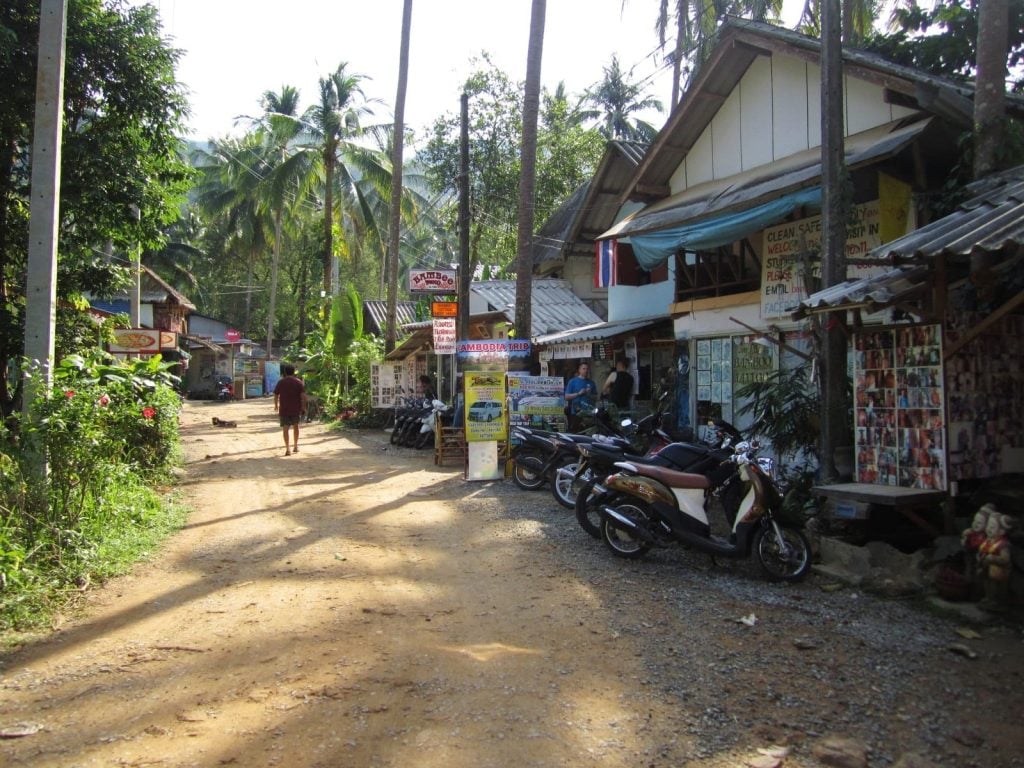 Koh Chang: The Best of Everything
To top it off, Koh Chang is only a half day's journey from Bangkok — much closer than the islands in the south.
I stayed on Koh Chang for nearly a week, and I easily could have stayed longer. Some of the expats were telling me that they came for a week and stayed for months, and I believe them all.
You can find the best prices on places to stay in Koh Chang here.
I am adding Koh Chang to my "Go Now" Southeast Asia list, along with Kampot, Koh Lanta and Railay. The prices are great, but they're not going to stay this low forever.
Enjoy Thailand's last cheap island while you can — it's a very special place.
Just remember to purchase travel insurance before you go. I use World Nomads and never travel without it!
Get email updates from Kate
Never miss a post. Unsubscribe anytime!