Adventurous Kate contains affiliate links. If you make a purchase through these links, I will earn a commission at no extra cost to you. Thanks!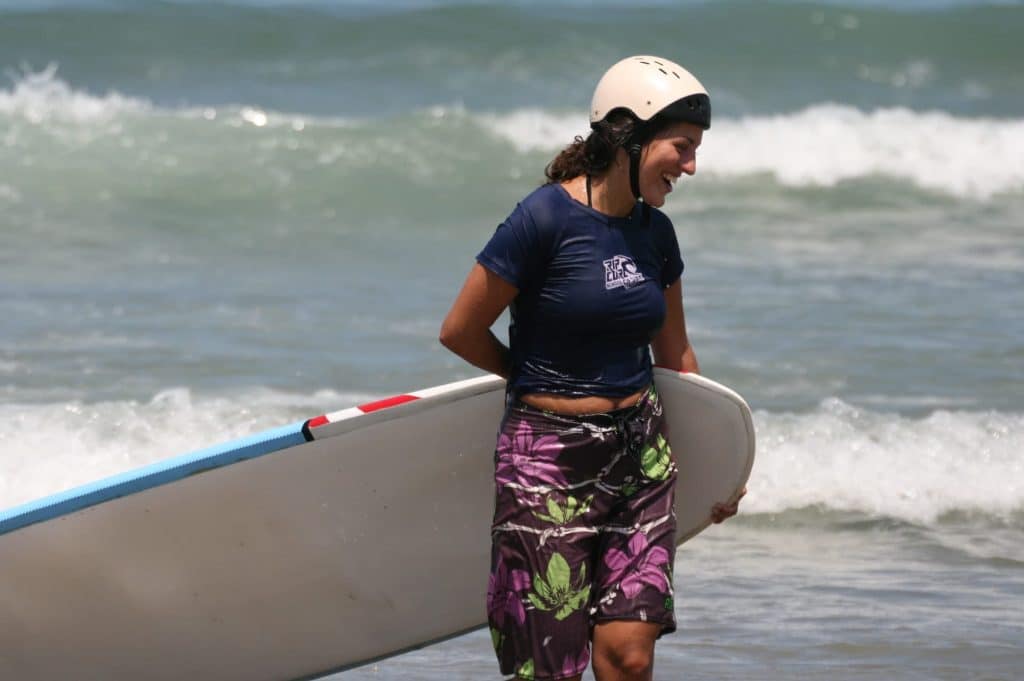 I would like to apologize to every guy I've ever mocked for wearing a speedo.
That may be a strange way to start a post about surfing lessons in Bali, but stay with me here! Like it or not, you just can't surf in a bikini.  Boobs will be flying all over the place, and let's not talk about the multiple kinds of wedgies you can get.
Because of this, I was wearing the standard surf uniform — board shorts and a short-sleeved lycra top — for my surfing lesson with Rip Curl School of Surf.  And I quickly learned that swimming in boards shorts is incredibly uncomfortable.
Board shorts are constricting, they tickle you, they cling in odd places, they feel weird in the water.  I wanted to rip them off.
So, speedo enthusiasts, I finally get it. And I apologize.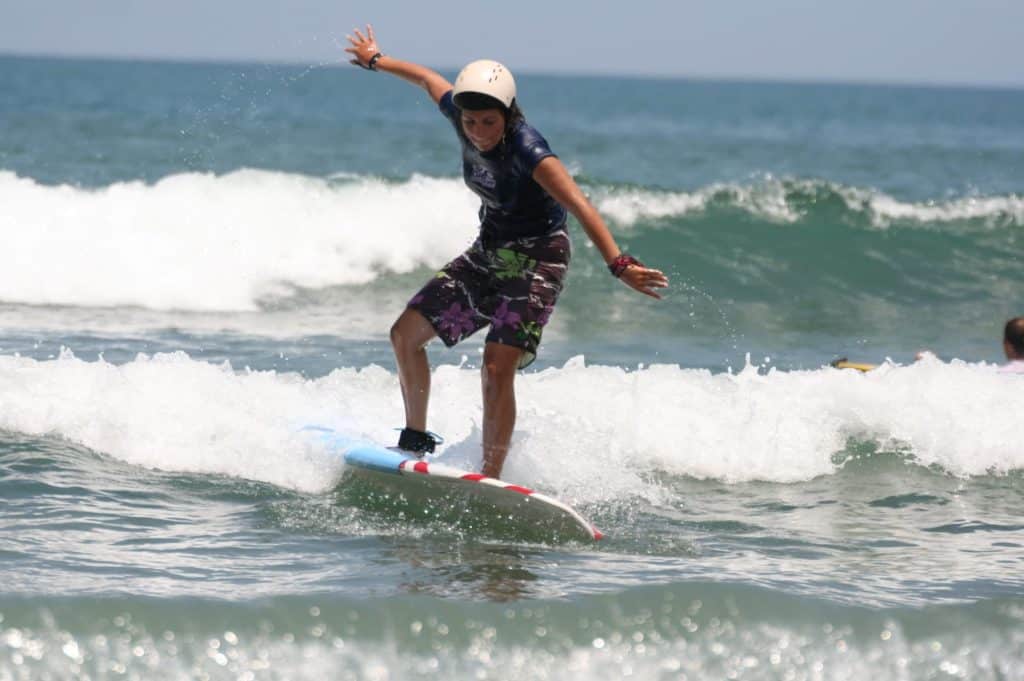 I've never surfed in my life, but like most people, I've always wanted to learn! Bali is world-famous for its surfing, and Kuta is a great place for beginners as well as advanced surfers.
Rip Curl has a reputation for being one of the better surf schools in Kuta. While I visited no other schools and thus have no basis for comparison, I was thrilled from start to finish with my experience with Rip Curl.
After learning basic surfing techniques on shore, we went into the water.  (The lesson took place in Legian, close to Seminyak, where the beach is MUCH cleaner than trash-filled Kuta Beach.)
Before long, I had paddled out and had successfully caught my first wave.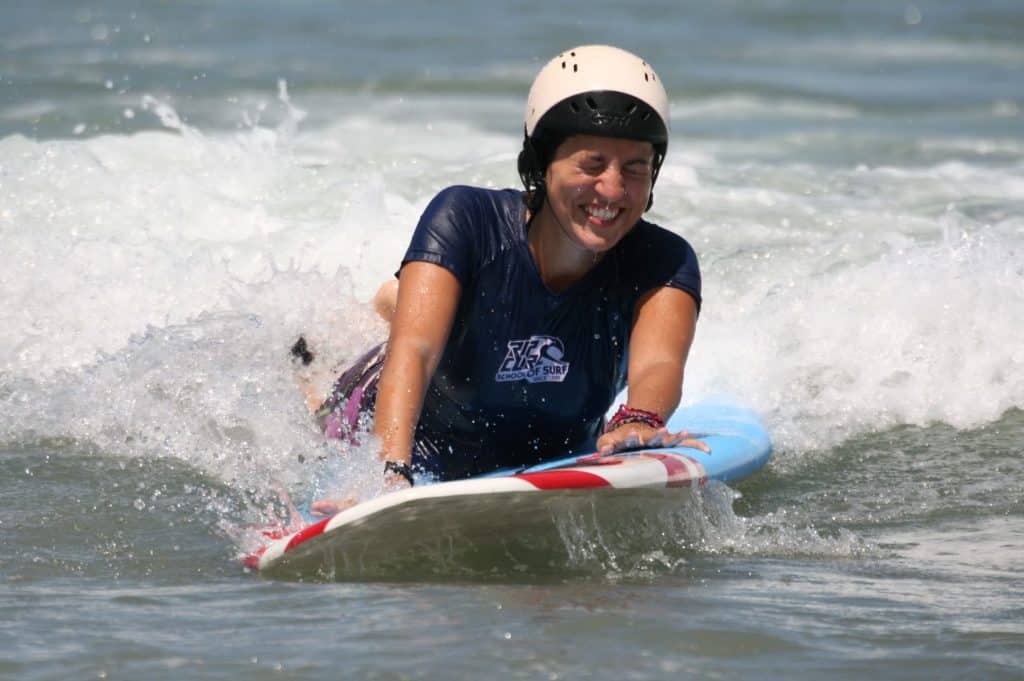 There is NO feeling in the world like catching your first wave.
It didn't matter that I was on my stomach, doing the "chicken wing" pose (think cobra pose in yoga) as the wave carried me away.  There was so much power behind the ocean, and it was thrilling to be riding on it!
One of the advantages of visiting Bali in the low season is that there are far fewer people. My surfing lesson had three students — and two instructors!  I had guidance for every wave I caught.  Even with large groups, Rip Curl maintains a teacher to student ratio of 4 to 1.
As I caught wave after wave, the instructors refined my technique, showing me how to surf more cleanly.
Now, the most important part of all —
Was I able to stand up?
Many people struggle with standing by the end of their first lesson.  Since I lack any athletic talent whatsoever, I assumed I would fall into this category.
Well, halfway through the lesson, I stood.
And I remained standing.
SUCCESS!
It's a testament to Rip Curl's excellence that they were able to get someone as awkward and athletically ungifted as me to stand halfway through the lesson. My instructors were great, pointed out my faults, and continued to encourage me with smiles on their faces.
They also didn't mind my adding "That's what he said" to most of their commands. ("Time to get on top."  "Keep your legs spread."  "Ride as long as you can.")
Well, I think it's safe to say that this girl has fallen in love with surfing — and will be trying it again as soon as she can, whether it's in California or Costa Rica or Australia or wherever she ends up next!
If you want to learn to surf in Bali, go with Rip Curl. I was very impressed with their friendly professionalism.  It's not a budget activity — the first 2.5-hour lesson is 650,000 rupiah, or about $74 USD, and they get progressively cheaper — but it's a great price to pay for an unforgettable day!
I received a complimentary surfing lesson from Rip Curl School of Surf.  All opinions, as always, are my own.
Get email updates from Kate
Never miss a post. Unsubscribe anytime!