Adventurous Kate contains affiliate links. If you make a purchase through these links, I will earn a commission at no extra cost to you. Thanks!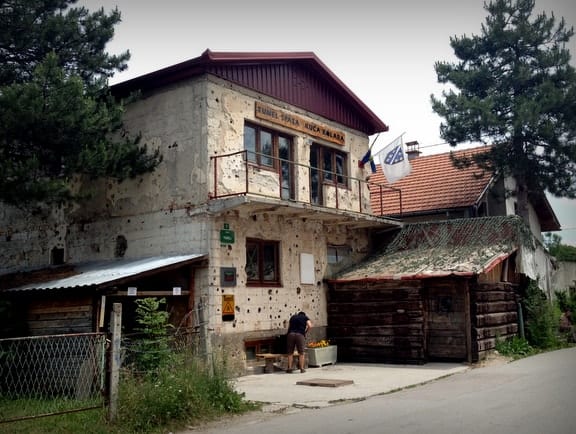 How do you go on after living through hell?
This was the question I asked myself again and again as we toured Sarajevo, Bosnia's capital and a city synonymous with destruction during the 1990s.  Constant bombings; lack of food, water and electricity; and being surrounded by Serbian forces led to a violent isolation.
Before arriving, I had read a quote somewhere that Sarajevo today "bears few scars of its war-torn past."  Well, that couldn't have been less true.  There are scars everywhere you look — half-destroyed buildings, bullet holes, a devastated landscape.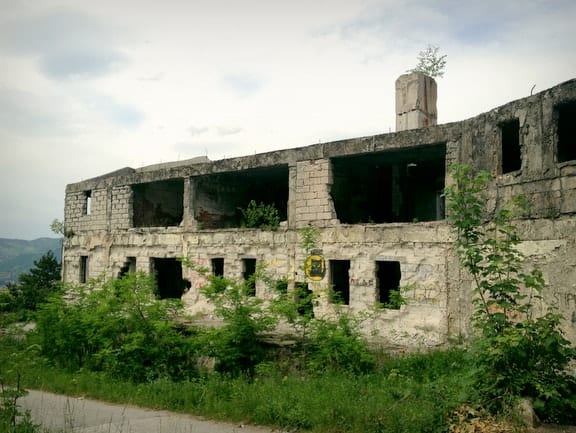 As we drove around the city, past bullet-strewn buildings and piles of garbage heaps, I kept thinking of how different Sarajevo was from Croatia — in fact, it reminded me more of Cambodia than anywhere else.
But not all of Sarajevo is like that.  There are modern parts, beautiful parts — like the cool Bascarsija area, with lots of cafes and restaurants and high-end shops.
But first and foremost, we were in Sarajevo for the history.
Our hostel, Residence Rooms, had a sign-up sheet for a driving tour of Sarajevo given by our hostel owner Saed, taking in the tunnel museum, Olympic sites, and views over the city, for 15 euros per person.  (The local currency, Bosnian marks, is exchanged at the rate of two marks to one euro.)  Dave and I signed up right away; later that night, Saed offered to take us for free as his guests.
And the next morning, four of us piled into Saed's car for a drive through the city.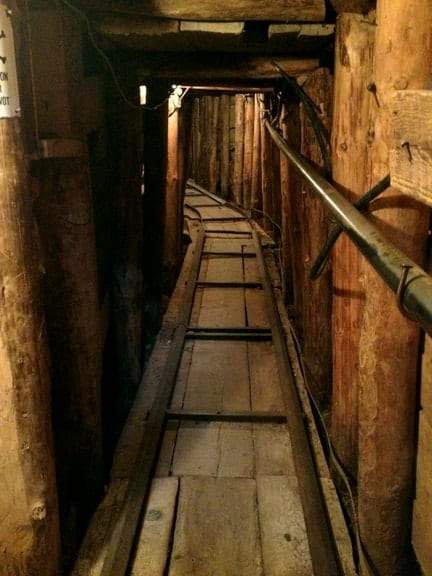 Into the Tunnels
The single most important place you can visit in Sarajevo?  Make it the Sarajevo Tunnel, now home to the Tunnel Museum.  During the siege from 1993-1995, Sarajevo was surrounded by Serbian forces, with the exception of the airport, which was controlled by the UN.
This tunnel, which led to the airport, was Sarajevans' only connection to the outside world and much-needed supplies like food and water.  Today, you can walk into a small part of it and see videos of life during the siege.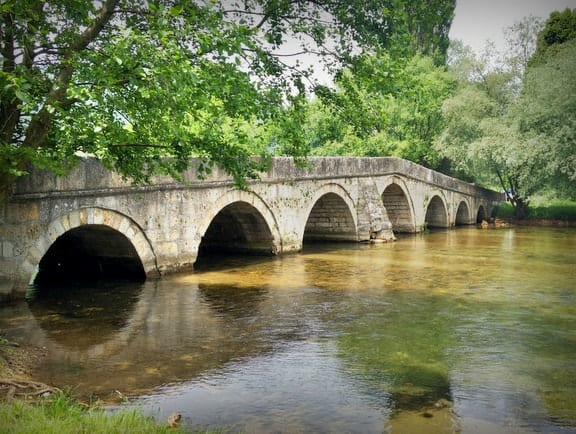 Culture and Garbage
Saed took us to see a Roman bridge (Rimski Most), built in the 16th century and miraculously intact.  As lovely as the bridge was, garbage was strewn everywhere.  You see this throughout Bosnia.
"This is a beautiful place," Saed said, tearing the cellophane off his cigarettes and dropping it on the ground.  Dave and I exchanged glances with the Dutch couple on the tour, the irony lost on none of us.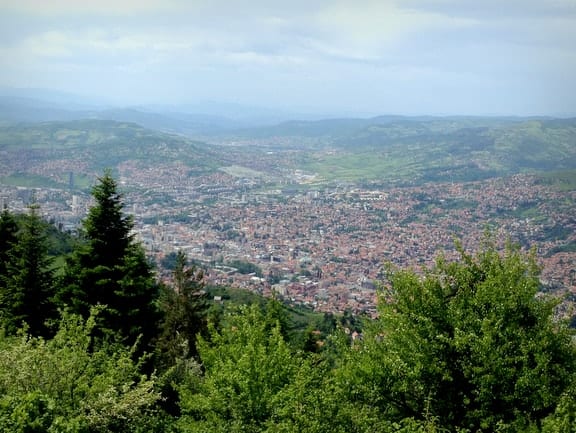 Up in the Hills
Sarajevo hosted the 1984 Winter Olympics.  The city is surrounded by tall mountains, making it perfect for the ski events — but when Serbian forces invaded, it made it all the easier to target the city.
Driving up into these hills over broken pavements was hair-raising — but the views were amazing.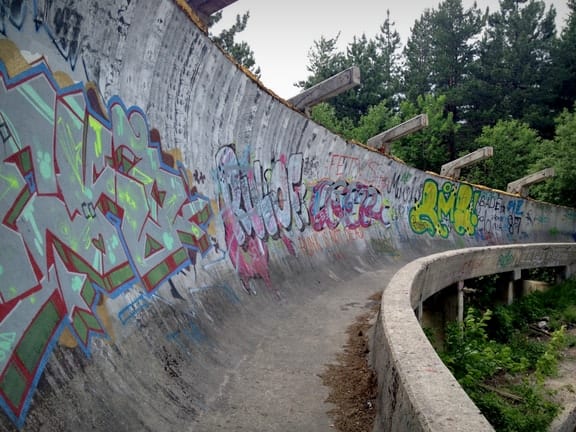 The Olympic Bobsled Track
The single place that affected me the most in Sarajevo was the Olympic Bobsled Track.  Today, it's covered in graffiti and surrounded by plants, poised to reclaim the track to their Earth.
Why did this make me so upset?  I'm not sure.  Possibly because the Olympics are such a symbol of hope and peace.  Sarajevans were so proud to host the Olympics, the first games in Yugoslavia.  And less than a decade later, this bobsled track was destroyed.
More Sarajevo Sites
Saed really goes above and beyond on this tour — there are SO many sites you can cover in Sarajevo.  Here are a few more of them:
The park by the Vrelo Bosne is a really nice escape from the city.  This part of the river is very clean, and the waterfalls are pleasantly cool on a hot day.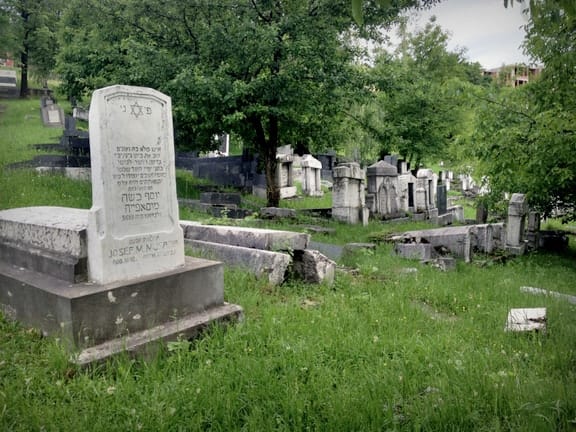 Sarajevo is home to the second largest Jewish cemetery in Europe.  Only Prague's is larger.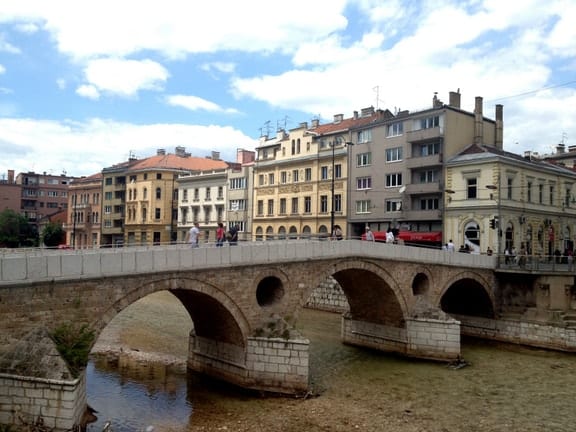 World War I began with the assassination of archduke Franz Ferdinand in Sarajevo.  This is exactly where it happened: here on the Latin Bridge.
Saed's tour was the best activity that we did in Sarajevo.  It's only open to Residence Rooms guests and I highly recommend it to anyone looking to get an understanding of Sarajevo's history and how the past affects life today.
Where to Stay in Sarajevo: Residence Rooms
Our HostelWorld partnership brought us to Residence Rooms, one of the most comfortable stays in the Balkans.  This is a hostel that I recommend highly — I couldn't imagine a better place to stay in Sarajevo.
Our private room was small but had everything we needed, with an ensuite bathroom, a very comfortable bed, and a courtyard-facing window.  We also had a mini refrigerator — a VERY nice amenity, considering that we had temperatures in the high 90s (around 35 C).
Breakfast was a step above the usual continental breakfast — a few kinds of cereal, lots of bread, a variety of cheeses and spreads.
Above all, the best thing about staying at Residence Rooms was the location — right in the middle of Sarajevo's nicest neighborhood.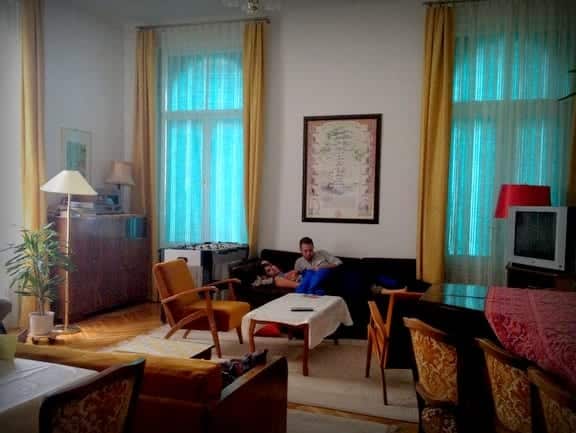 Residence Rooms Breakdown:
Location: Absolutely perfect, in the heart of the city's best neighborhood.  There are lots of bars on the street, and it stays loud until around midnight if you have a street-facing room.
Staff: Saed, Kareem, and Saed's wife welcomed us warmly and were there for us whenever we needed them.
Social Atmosphere: There's a nice, big common room on the main floor, and we met a few travelers hanging out and chatting.
Internet: Excellent wifi in the common room on the first floor..  No internet on the top floor.
Cost: $25.79 per person for two people in a double room with ensuite bathroom.  There are also dorms.
Drawbacks: We had laundry done and they lost our laundry bags — and Dave's laundry bag was his backpack cover, which he had to replace.  A reminder to only bring laundry in plastic bags.
It was a special stay, and a perfect place to get away from the craziness of Sarajevo.
Many thanks to HostelWorld and Residence Rooms for the complimentary stay and tour.  All opinions, as always, are my own.
Get email updates from Kate
Never miss a post. Unsubscribe anytime!