Adventurous Kate contains affiliate links. If you make a purchase through these links, I will earn a commission at no extra cost to you. Thanks!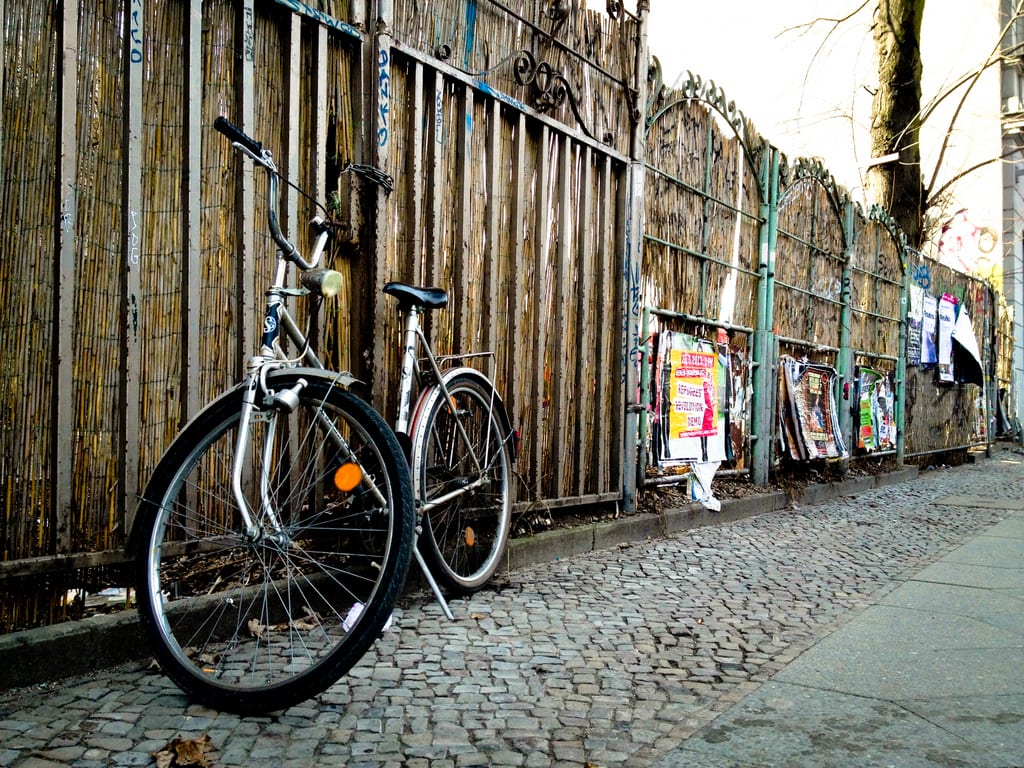 Long before arriving in Berlin, I knew it was a city for hipsters.  But Berlin is a gargantuan place — several times the size of Paris.  Just where was the hippest neighborhood of all?
I started researching and saw people say that both Kreuzberg and Prenzlauer Berg were very cool places to live.  But they seemed to be quite different, and most of the information was dated from a few years ago. In terms of hipness, that can be a lifetime.  So I reached out to the best current news source I had: Twitter.
I immediately got a reply from Adam:
"Prenzlauer Berg = Park Slope, Kreuzberg =Williamsburg, Friedrichshain is also nice :)"
I LOVE this analogy, and it's so accurate.  By comparing Berlin neighborhoods to their Brooklyn counterparts, I knew immediately that Prenzlauer Berg would be hip but increasingly upscale and expensive, and popular with families.  Kreuzberg would be home to the hippest of the hip, the types that wax their moustaches and own actual record players.
Kreuzberg it would be.
Several months back, lodging company Wimdu offered me a chance to try one of their properties for free.  Check out their video here.  I agreed and we decided to wait a few months until I had a good opportunity.  When it became clear that I would be in Berlin for a week or longer, it was the perfect time — not least because Berlin is the home base of one of Wimdu along with many other travel startups.
I researched and combed through listing after listing in Berlin.  Wimdu is a very intuitive, easy-to-use site.  While most of Wimdu's listings are in Europe, there are properties in New York, Sydney, Rio de Janeiro, and other major destinations.
Eventually, I settled on a beautiful-looking flat in the heart of Kreuzberg, right across the street from Görlitzer Banhof station.
Disaster Strikes
I arrived to the flat — and found myself in a studio apartment absolutely reeking of cigarette smoke.  It smelled like people had been chain-smoking for weeks.  The owner, Fabio, seemed nice enough but glared when I asked if there were any air fresheners in the apartment.
Secondly, although Fabio configured my Macbook to access the internet, the internet wouldn't work on any of my other devices.  For most people, that wouldn't be a problem.  For someone who makes her full-time living online, that is a problem, not least because I have several mobile-only apps and I was editing my ITB pitch on my iPad.
This felt like a bait and switch.
Fabio left.  I opened the windows wide to air the apartment out, shivering through the winter cold, telling myself that I could live with it.
Two hours later, I was still running to the window to gulp fresh air.  I couldn't spend an afternoon here, let alone a week.  It was time to email Wimdu and see what my options were.
Wimdu to the Rescue
I quickly got in touch with Wimdu's customer service.  I assumed I'd be out of luck — that I'd lose the deposit and would have to go find a hostel.  Not so.  A representative immediately started calling other landlords in the area, seeing if there was anywhere I could move.  Unlike most sites, Wimdu verifies each of their owners by phone and keeps their numbers on file for situations such as these.
Soon, the rep, René, found an apartment that was right across the street and perfect — a 100% nonsmoking apartment with working internet for all devices.  Within minutes, they put me in touch with the landlord, Martin, and we agreed to meet in an hour.  Most importantly, I wouldn't have to pay a thing.
I later asked Wimdu if they found me a new flat for free because I was working with them, or if they would do the same thing for everyone.  Their answer: they would do this for everyone because the first flat was not as advertised.  While the smoke issue was a gray area (the apartment does say "smoking okay," something I will know to avoid in the future), the internet problem was a clear violation of the listing.
I was so impressed by how Wimdu handled this.  There are lots of apartment booking sites out there, but this incident has made me a big fan of Wimdu's quality assurance.  I will absolutely book with them again.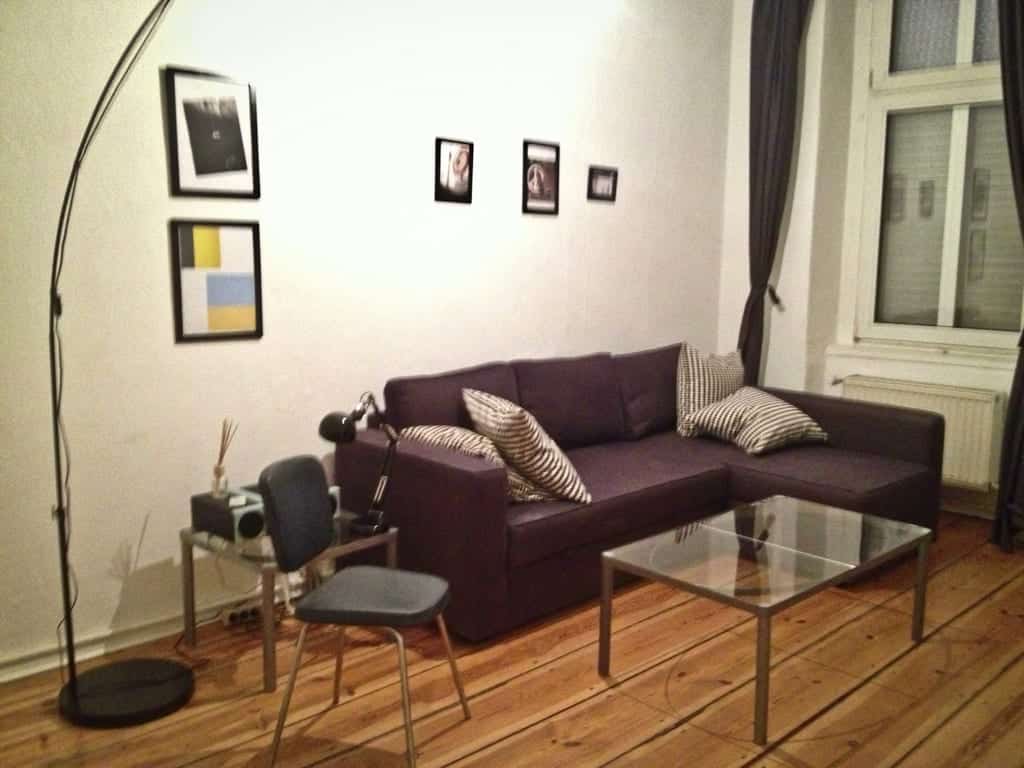 The Perfect Berlin Flat
My new place was nothing short of spectacular.  I felt at home the moment I stepped in — plus, there was no smoke, and the internet was lightning-fast.
It had so much style.  It was the perfect blend of functional design with Berlin's artsiness.  This is the exact kind of place I'd like to have someday, and Mario agreed.  We didn't want to leave!
I loved the hardwood floors.  I loved that there was an iPod dock.  But most of all, I loved that it was SO warm!  Once temperatures dropped below freezing, it was such a relief to come home to a toasty flat each day.
The bedroom was tiny, and the queen-sized bed was wedged between two walls.  It sounds strange, but it was actually perfect.  The walls were perfect to lean against when working in bed the next day.
I loved the bathroom.  It's amazing how a yellow shower curtain transforms it into a bright, sunny room!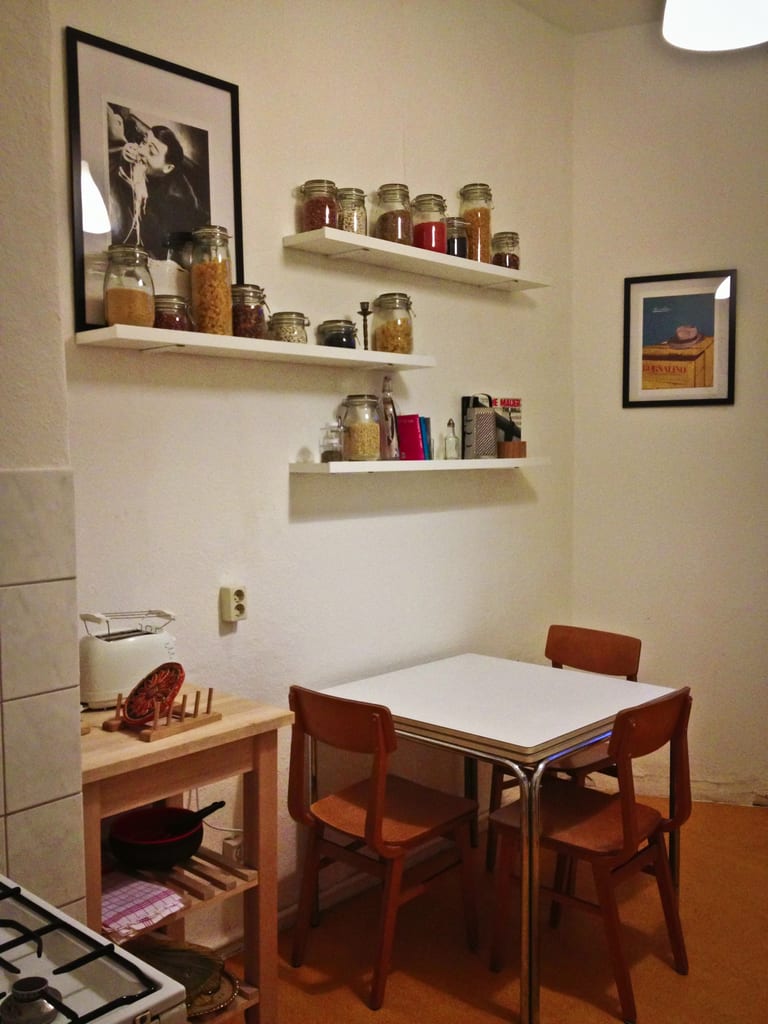 "Don't eat the stuff in the jars!" Martin warned me.  "It's for decoration only!"
"Don't have to tell me twice," I assured him.  Well, except for that one time a few years back…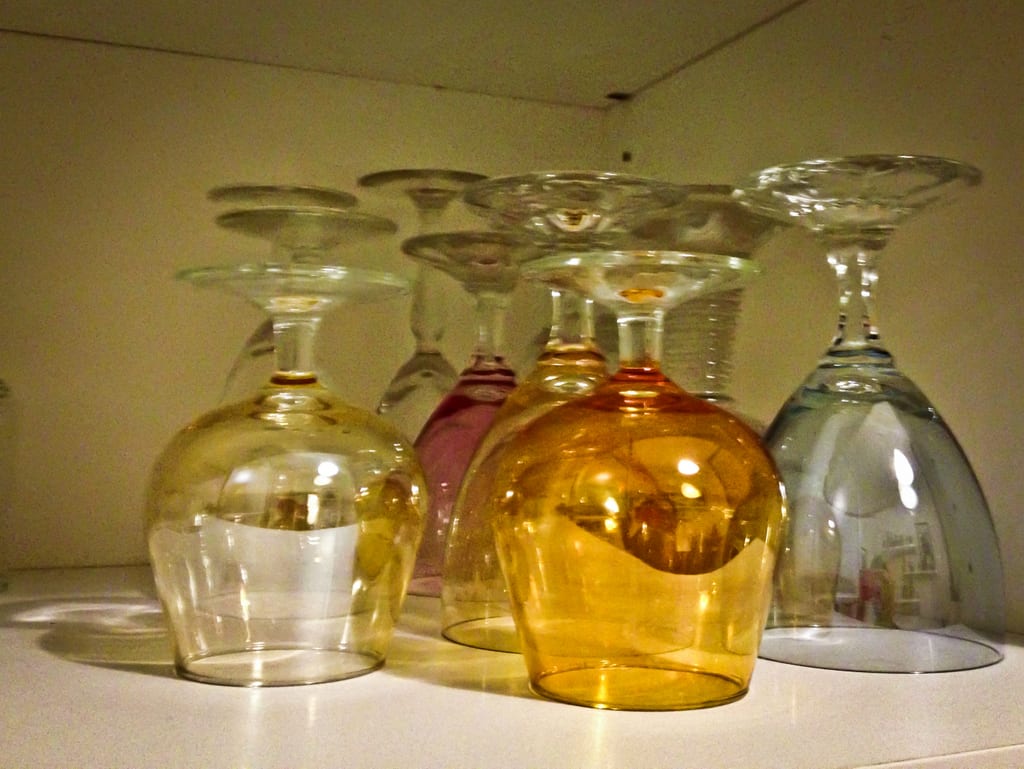 I loved the details, like these adorable wine goblets.  These were our only glasses — it made me feel fancy!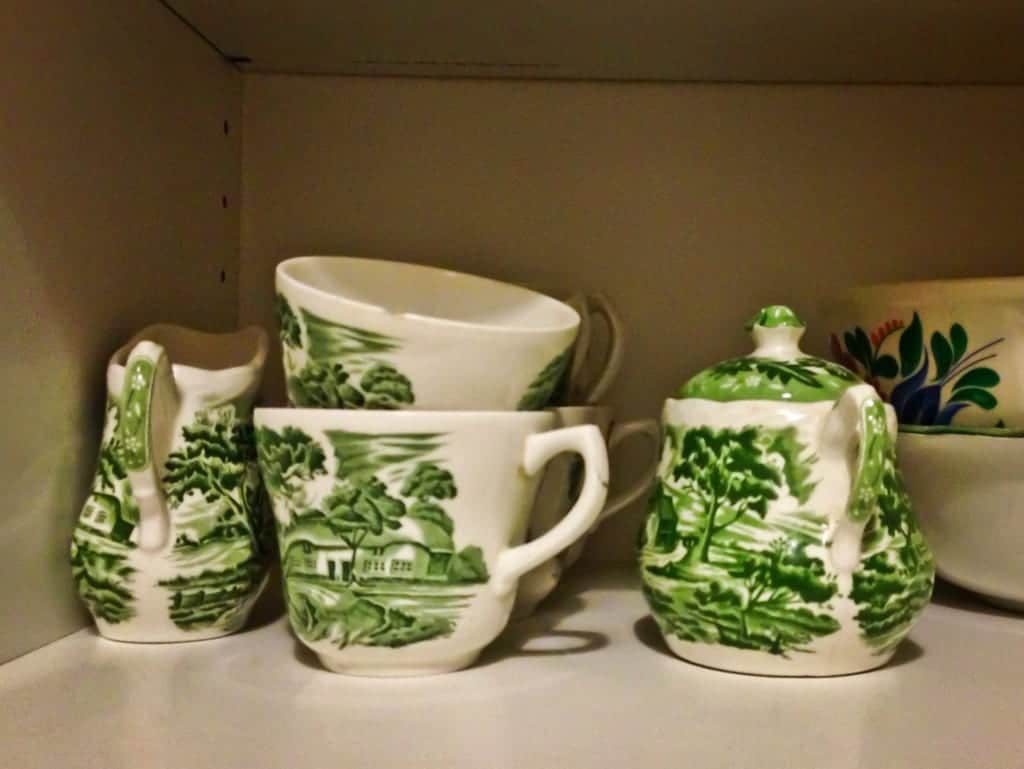 Rather than generic white plates, as most apartments would give you, we got green-and-white-patterned china.
The flat wasn't perfect, though.  The listing said in two separate places that it had a washing machine, and it did not.  I reached out to Martin, and he apologized, saying he had corrected it earlier in the German listing but not the English one.  I'm happy to see that the English listing has since been corrected.
While that was inconvenient, I made it work.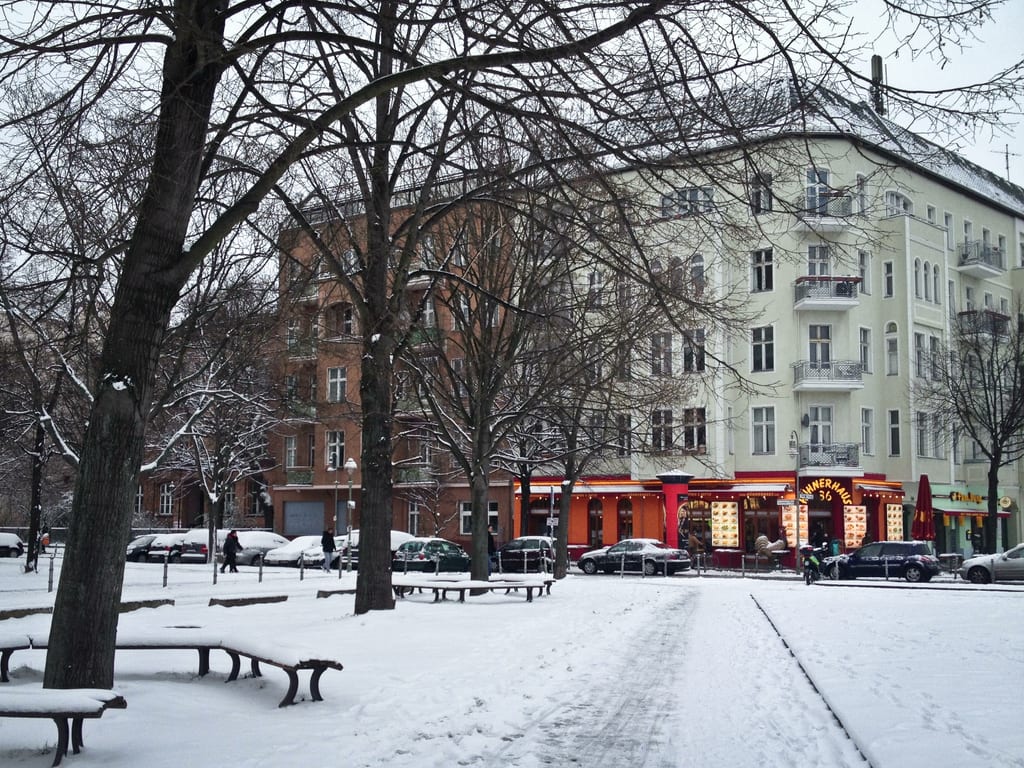 Kreuzberg Life
Kreuzberg was fantastic!  If I ever move to Berlin, Kreuzberg would be at the top of my list.  It was a cool neighborhood, but not touristy in the least.  I was blown away by how cheap the restaurants were, and I felt very safe as well.
Kreuzberg has traditionally been Berlin's Turkish neighborhood, and it still has a major Turkish presence today.
With a three-day blizzard and temperatures that stayed below freezing for the bulk of my stay,  I stayed within a narrow radius of my place most of the time.  It was just too cozy to go anywhere further!  If you book this apartment or stay near Görlitzer Banhof, here are some restaurants to try:
Rocco — Lausitzer Platz 13.  Cheap and delicious pizza, but the true standout was the bruschetta on the juiciest bread ever!
Mac's Kebap — Ecke Eisenbahn & Muskauer.  Awesome kebabs for a ridiculous €2.80 each!
Falafel — Skalitzer Strasse 103.  Tiny place with cheap and delicious falafel and other Middle Eastern mezze.
Hannibal — Wiener Strasse 69 (hehe).  A nice cafe with good milkshakes and €5 burgers.  A bit smoky.
I also lucked out — I went out to see a few friends of mine and a few friends of his, and both flats were in walking distance of our place.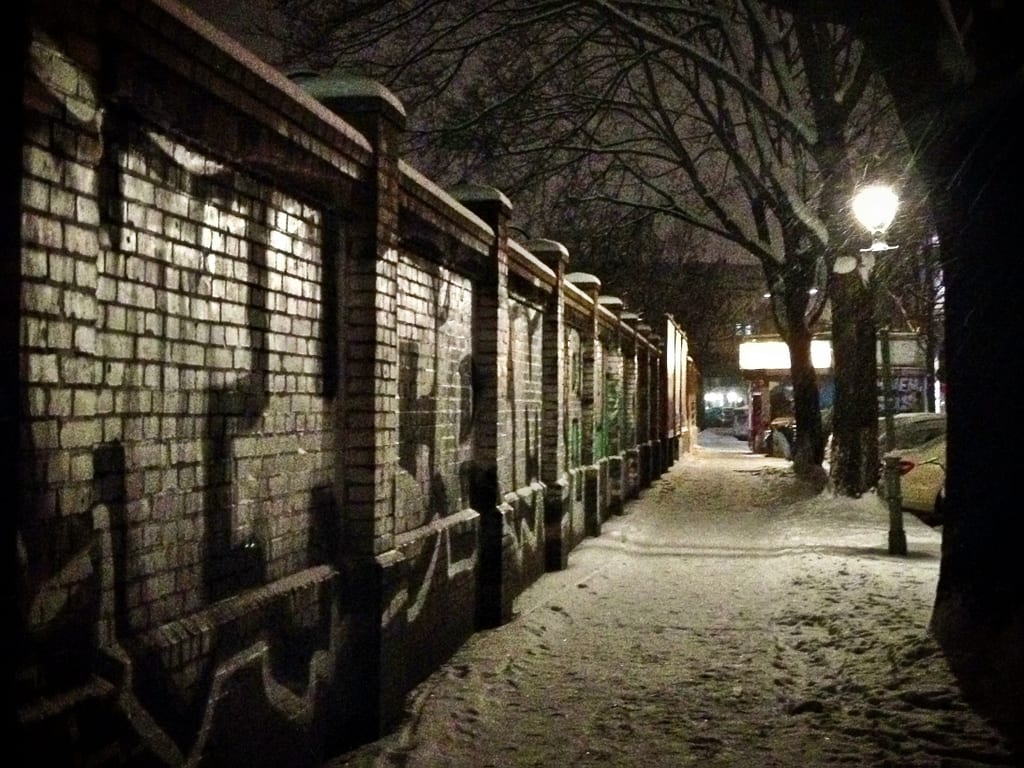 As cold as it was, my time in Kreuzberg is home to warm memories.  I'm looking forward to coming back to Berlin — preferably in the summer — and exploring this fabulous neighborhood even further.
Essential Info: The apartment retails for €86 ($111.34), €470 ($608) per week, or €1696 ($2196) per month.  The couch folds out to a bed, so it can technically fit four.

I never travel without travel insurance and always recommend purchasing it before a trip abroad. I use and recommend World Nomads.
Many thanks to Wimdu for the complimentary accommodation and for handling the apartment switch quickly, effectively and professionally.  All opinions, as always, are my own.
Get email updates from Kate
Never miss a post. Unsubscribe anytime!