Adventurous Kate contains affiliate links. If you make a purchase through these links, I will earn a commission at no extra cost to you. Thanks!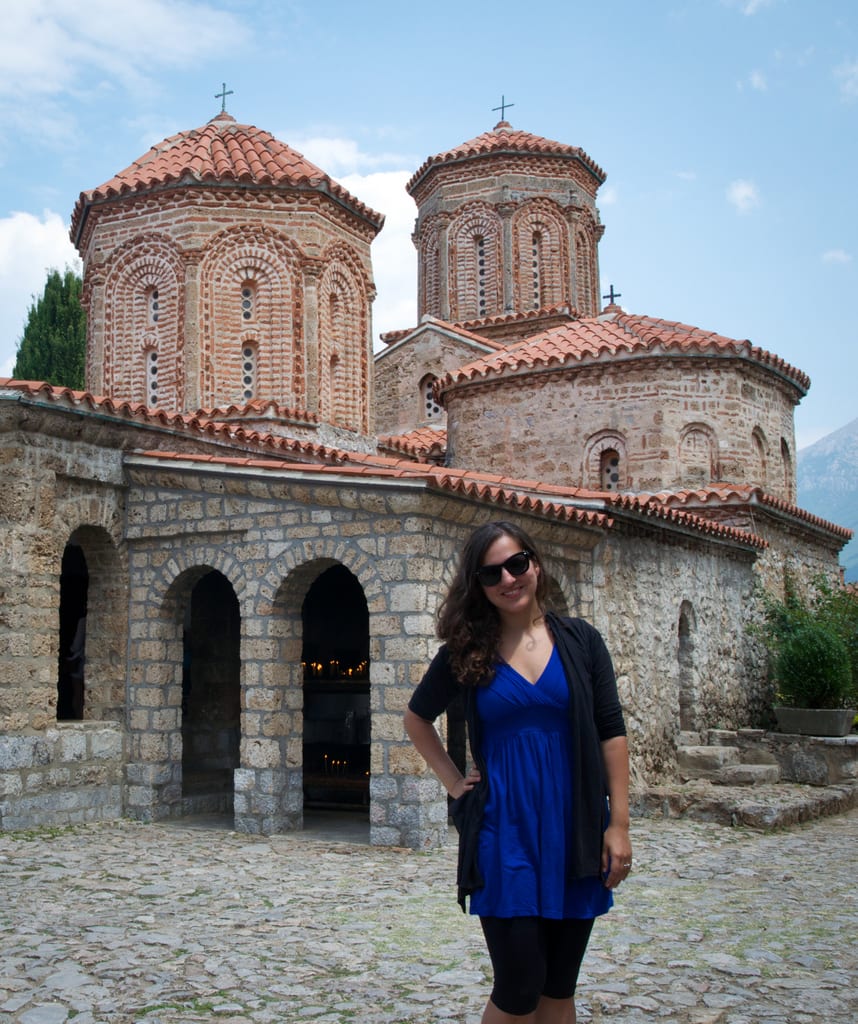 Sometimes the best countries are the most surprising ones. Macedonia certainly falls into that category.
I fell into Macedonia on a whim — I needed somewhere to go for two weeks in between Istanbul and Dubai. Skopje popped up as a cheap flight from Istanbul, and I booked that flight in no time at all.
Macedonia — known also as FYROM, or the Former Yugoslav Republic of Macedonia — is snugly tucked in between Albania, Kosovo, Serbia, Bulgaria, and Greece. (Many Greeks refuse to call it Macedonia, only using FYROM, because they have a region of their own called Macedonia.)
Other than that, there isn't a lot of information on Macedonia out there as a travel destination, especially when compared to the other Balkans. That said, I found it to be an absolutely fascinating country — and one that deserves to be visited more.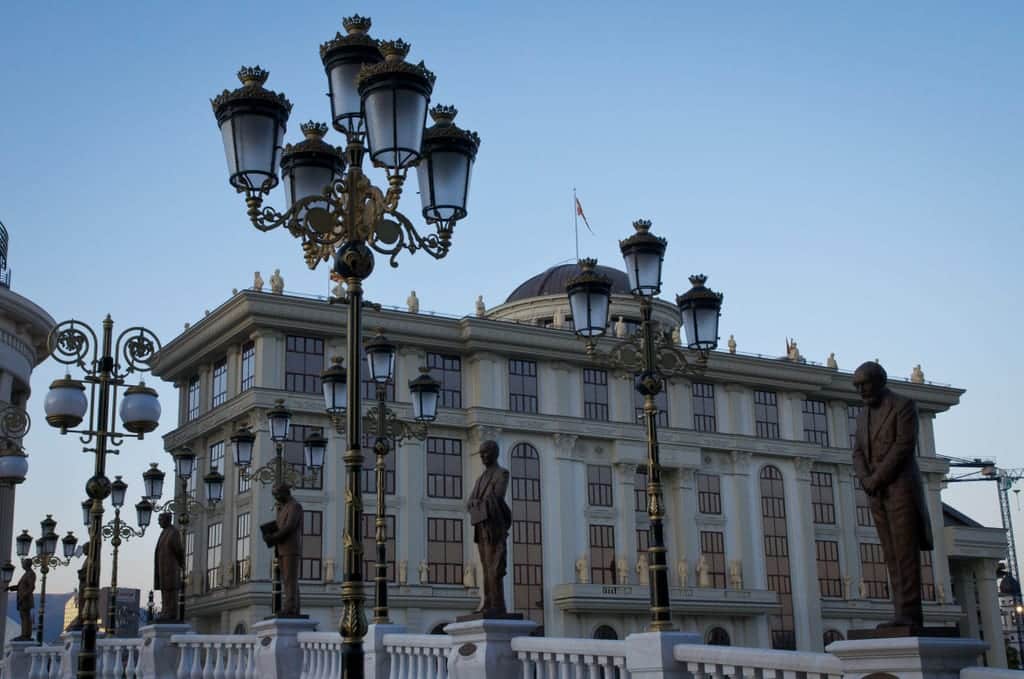 Why I Love Macedonia
Let's start with the bombshell: Macedonia is the cheapest country I've been to in Europe. Many guides say that Bulgaria is the cheapest, but I found Macedonia to be even cheaper than Bulgaria!
Typical costs? The cheapest hostels start at around $7; nicer hostels were around $10; you can get private rooms from $15-25. A multi-course dinner with wine never exceeded $10; most of my meals were $3-5.
It's also incredibly beautiful. Ohrid is the nation's pride and joy, but Macedonia is also a land of mountains, and the views from the countryside are spectacular.
Delicious, cheap wine. I'm nowhere near a wine expert, but I found Macedonia's red wines to be some of the best I've enjoyed in a long time. I usually paid around $2-3 for a single-serving bottle that came out to about a glass and a half.
Yummy and healthy food. The food didn't push any boundaries, but I found it to be delicious and heavy on the veggies (which is unusual for Eastern Europe). I ate a lot of stuffed peppers, a huge variety of salads, and the occasional veggie pizza. And because the food is so cheap, you can sit down in a restaurant without even looking at the prices.
I also discovered chocolate and strawberry popcorn. It's actually not that bad.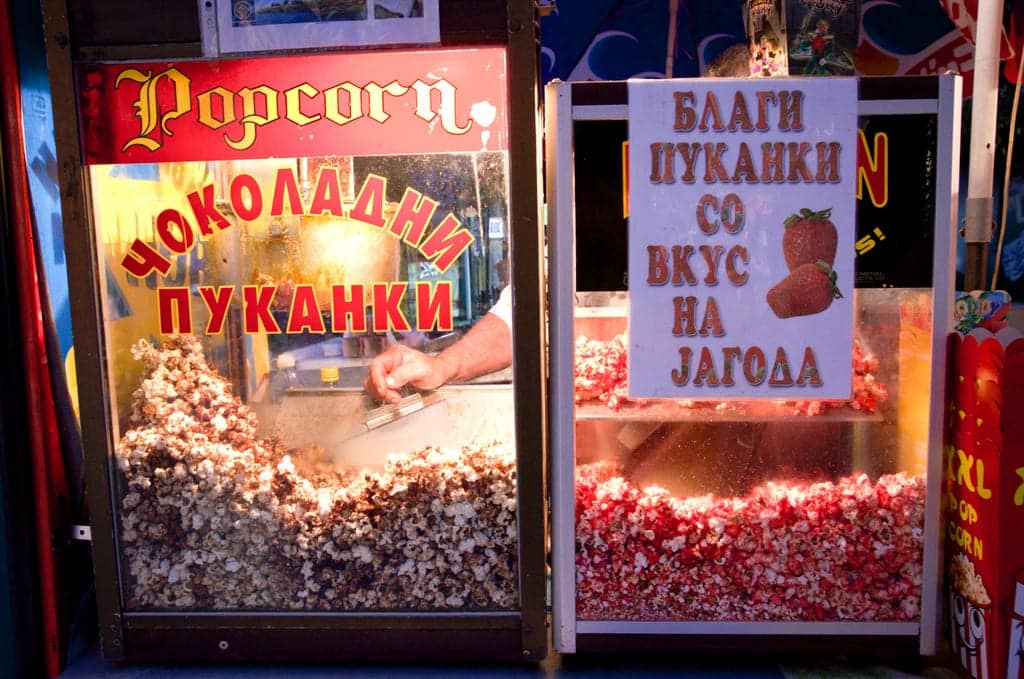 Efficient, no-nonsense people. I didn't find Macedonians to be overly warm and fuzzy, but they got stuff done — like the hostel worker who reamed out a cab company over the phone on my behalf when my driver never showed up. Most people spoke good English as well.
Easy travel connections within the region. I flew to Skopje from Istanbul on discount airline Pegasus Airlines. While there are a few trains within the country, it's cheaper and easier to travel by bus to Albania, Montenegro, Kosovo, Serbia, Bulgaria, Greece, or even Turkey.
Quirks. From money-changing booths that looked like fortune-telling booths to the fact that 90s music was played nonstop just about everywhere I went, I found Macedonia as interesting as it was beautiful.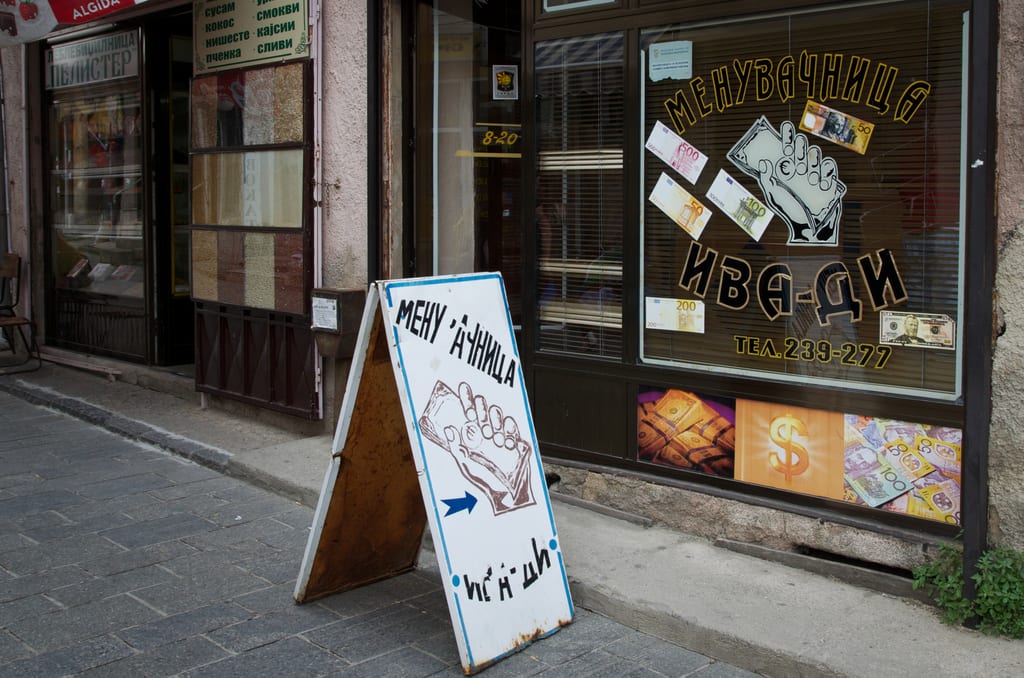 Get In While It's Still Unknown
Macedonia is not nearly as well known as it should be, and it's in a position to grow immensely — so much that it could even become the new hotspot of the Balkans. It's prime for development for tourists outside Eastern Europe.
Still, make sure you keep your expectations in check. Macedonia isn't as well-groomed as Croatia, Slovenia, or the Montenegrin coast. In many ways, Macedonia reminds me of Bosnia. There's trash in the streets. Buildings are crumbling. Taxi drivers parked at train stations can and will rip you off. The internet, though good in places, could overall stand to be improved.
That said, if you're not picky, you'll enjoy this country immensely.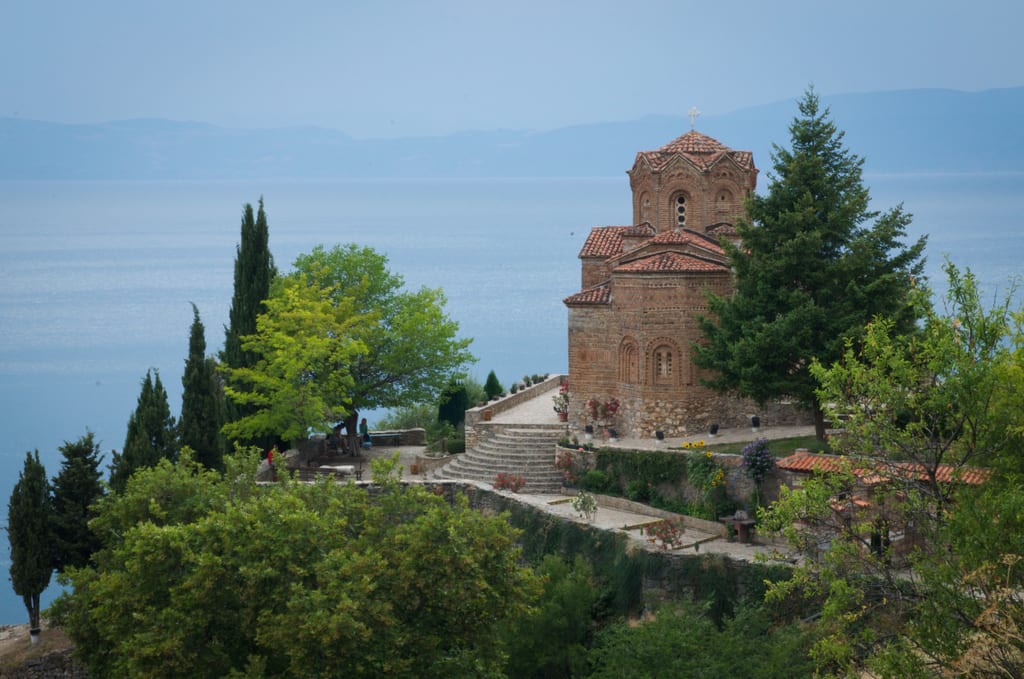 Ohrid
My first stop was Macedonia's most celebrated spot: Ohrid, a pretty town located on the shores of Lake Ohrid. Lake Ohrid is snugly tucked in between Macedonia and Albania, but the Macedonian side is the more developed of the two. The region is also a UNESCO site.
Being the premiere resort of the country, there's something for everyone here. You'll find clubs that rock all night long, tons of family activities, and lodging options from camping to five-star luxury resorts. Even the president has a vacation home on the shores of Lake Ohrid.
But no matter what you like to do while traveling, it's all about the beauty of this lake.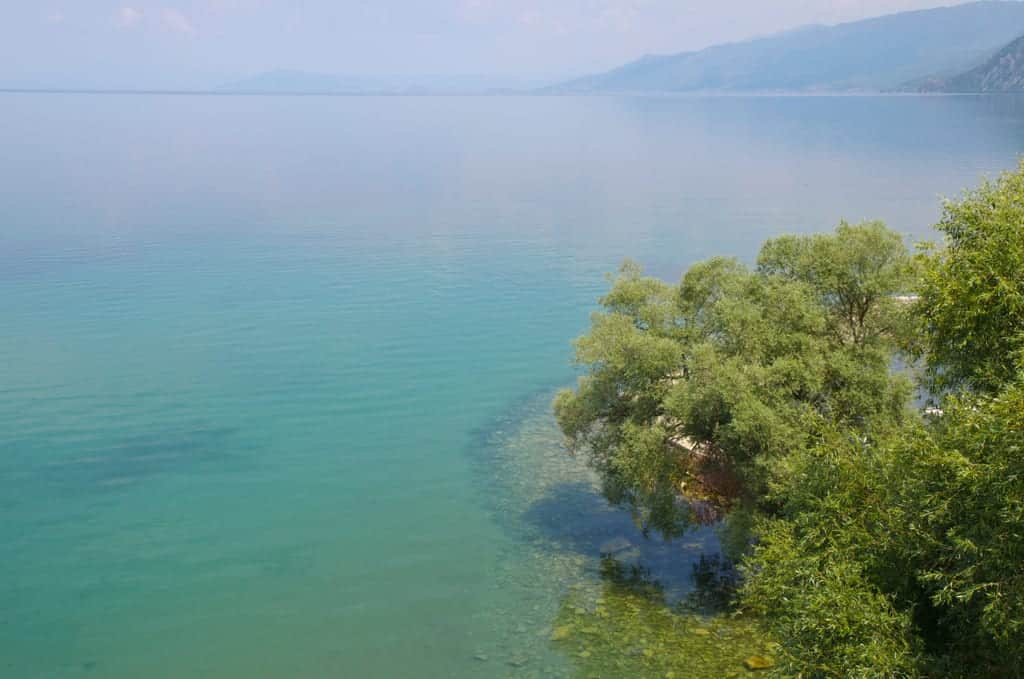 Ohrid is a lake unlike any I've ever seen — it seems to meld perfectly into the sky. Taking a boat across it felt like I was gliding across an endless aqua cloud. Back on shore, the lake turned turquoise. It was like a shimmering mood ring, its affections changing with the wind.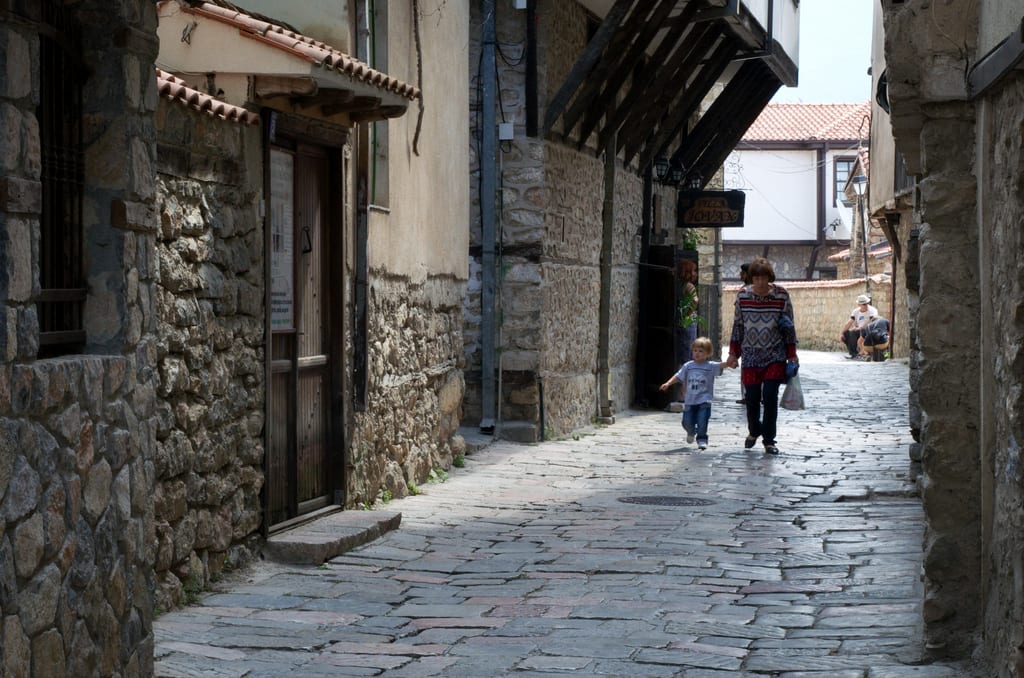 The town of Ohrid itself is positively charming, filled with cobbled streets, unforgettable views, and all of the other cliches that you'd expect to find in perfectly adorable little towns around the European continent.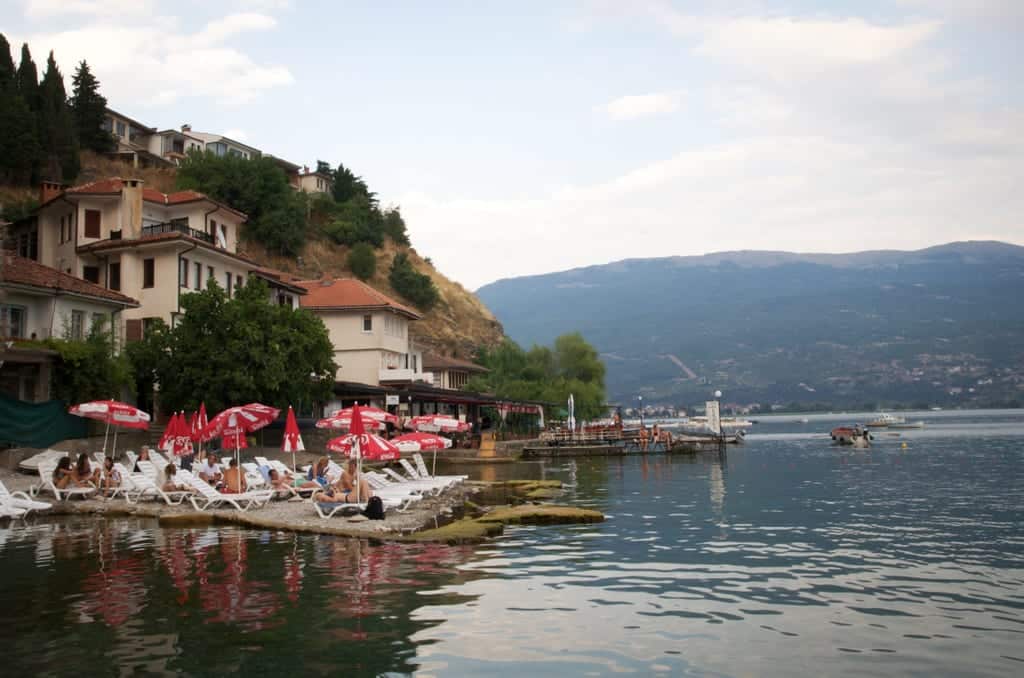 I think that Ohrid would make a smashing place to spend the summer as a digital nomad. You could rent an apartment for just a few hundred dollars a month and enjoy the beautiful lake, the parties, and the amenities of the town, all without breaking the bank.
Who knows — maybe I'll end up there one summer myself!
Find hotels in Ohrid here.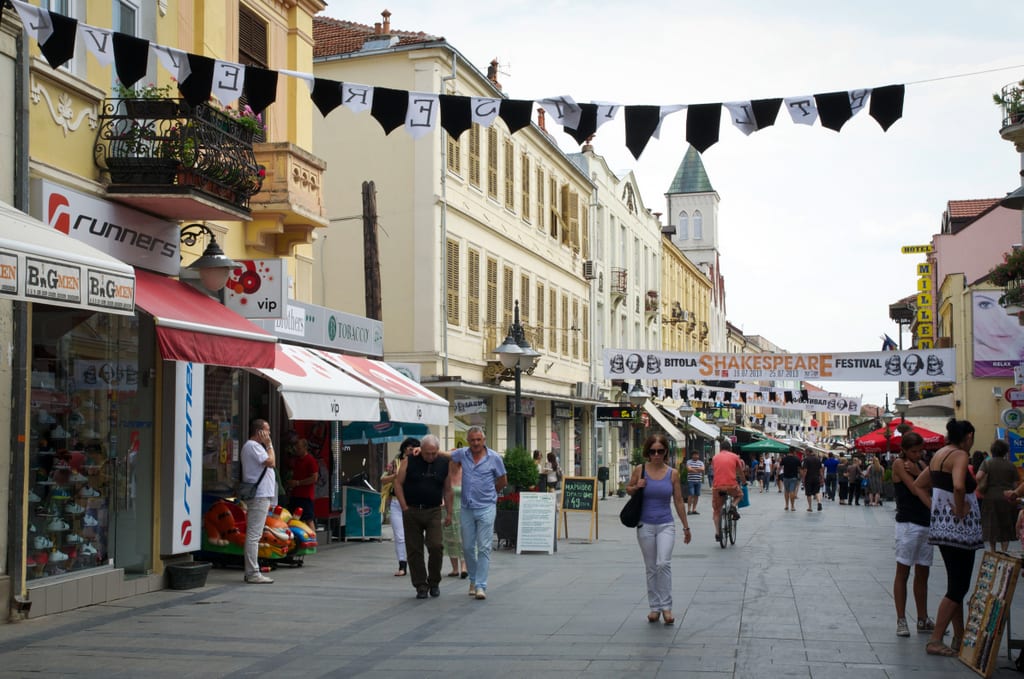 Bitola
For my second stop, I hit up Bitola, not knowing anything beyond the fact that it was one of the nicer, prettier and more livable cities in Macedonia. It didn't take long for me to fall in love!
For me, the biggest highlight was Sirok Sokak — a long street filled with endless cafes and banners celebrating the latest festival, which happened to be the Shakespeare Festival. Sirok Sokak is THE place to see and be seen in Bitola, no matter the time of day. All of the chairs face the street for this reason.
At night, the cafes convert into bars, and you'll see the girls go from t-shirts, ponytails and skinny jeans to short dresses, complicated updos, sky-high stilettos, and crazy nail art.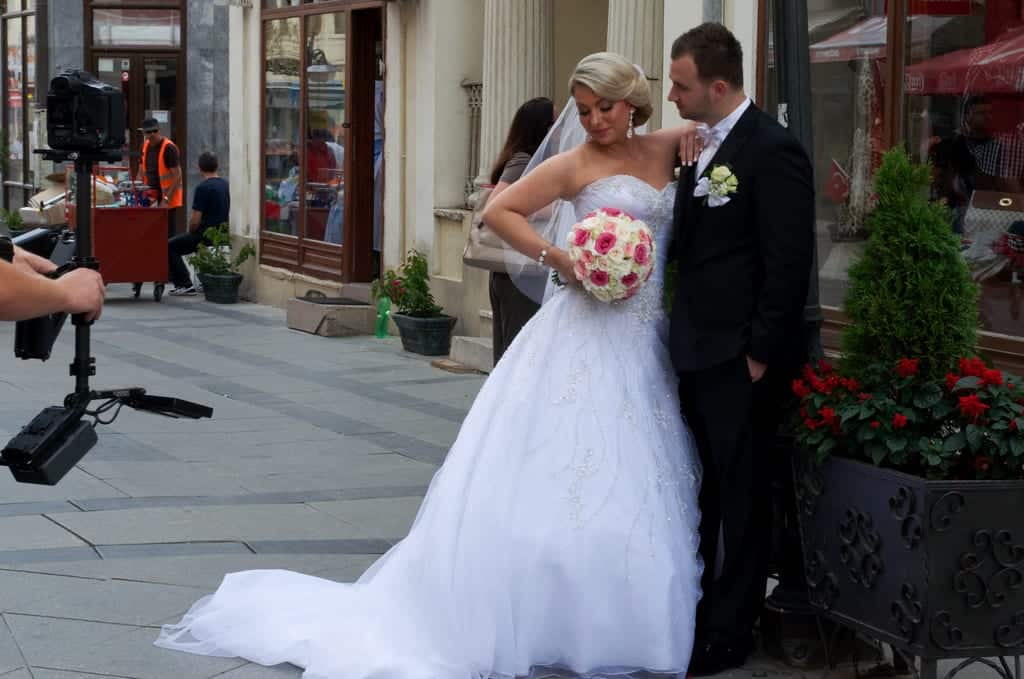 I also saw more weddings in one weekend than I've seen in the past five years. Wedding parade after wedding parade drove through the city, each car covered with white ribbons and honking incessantly. Every couple came to pose on Sirok Sokak.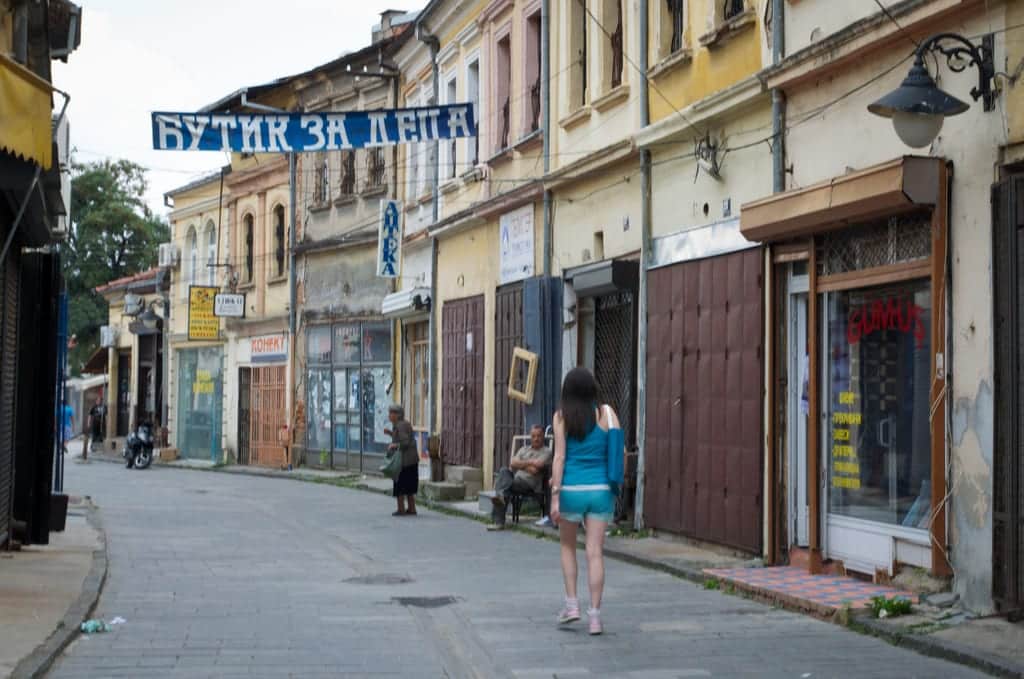 Another cool thing about Bitola is its outdoor bazaar. I've never seen one quite like this before. Rather than being enclosed in a building, like Istanbul's Grand Bazaar, the stores are out in the open, pressed close together, and filled with eager shoppers looking for deals.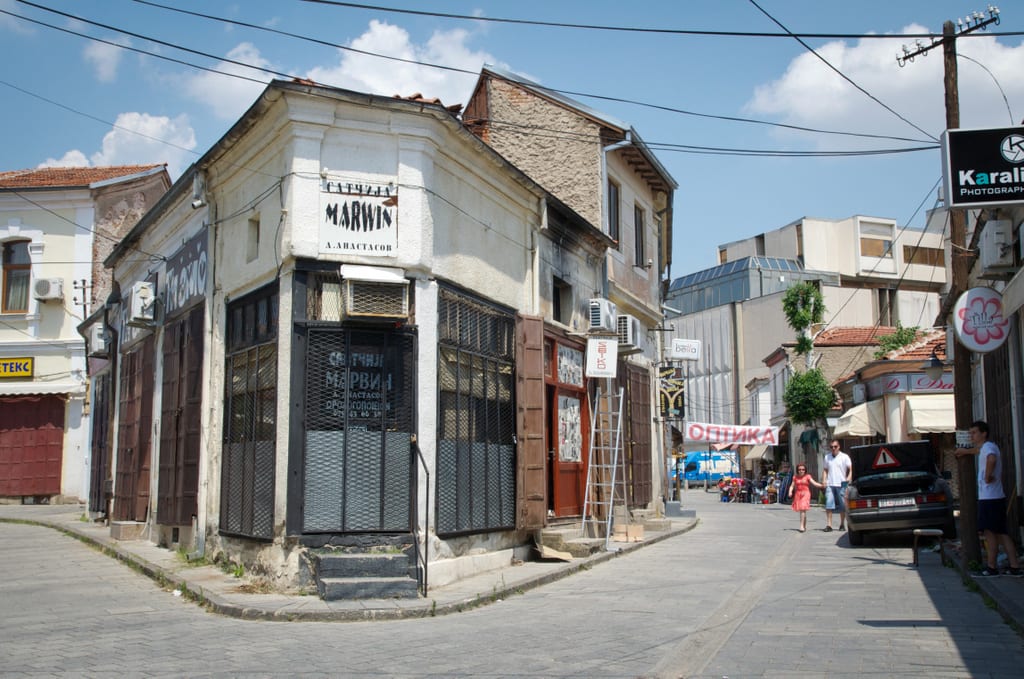 I found Bitola a wonderful little place to spend a few days, and I easily could have stayed for longer. It makes me wonder how many towns like Bitola are scattered throughout Europe and the world — towns that I would just adore, had I ever heard of them. There must be thousands.
Find Bitola hotels here.
And then…there was Skopje.
Skopje
Oh my God, Skopje. Skopje made me walk around slack-jawed, my eyes the size of flying saucers. I cannot remember the last time a destination shocked me as much as this place.
I had arrived expecting an unremarkable Eastern European capital. Instead, I found a city covered in multiple dancing fountains, some of them actually simulating flames!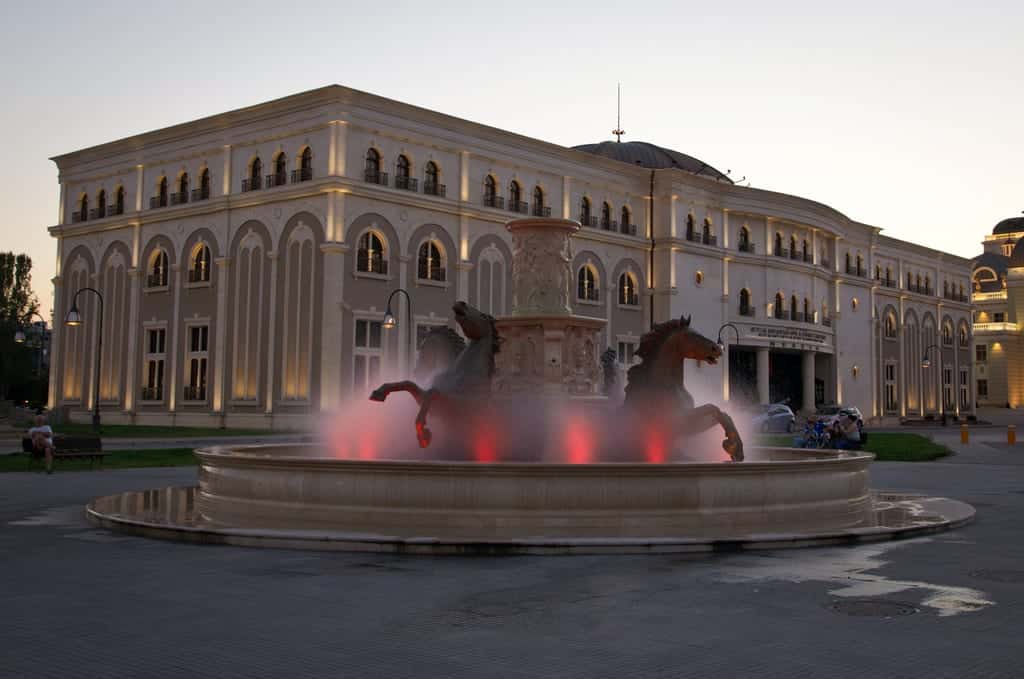 Skopje has been under a lot of construction over the past few years, and rather than building upon the traditional architecture, they've been going for a more Vegas-like look. The architecture is a combination of classical and Renaissance influences; lots of statues of famous Macedonians decorate bridges. Nothing is built on a small scale — everything here is immense.
After all, what city square doesn't need a statue of a man on horseback ten times what would be its actual size, surrounded by water jets taller than most humans?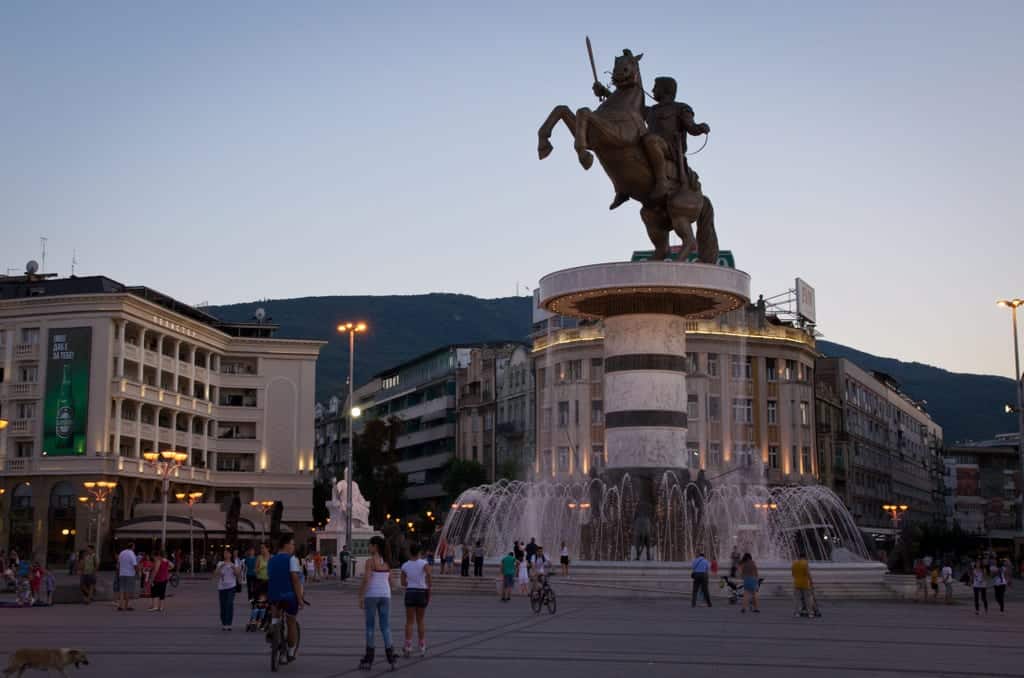 I wish there were an accurate way to convey to you just how much Skopje blew my mind. I was literally walking around with my eyes wide, occasionally shaking my head and muttering "…the f*ck is this place?" to myself like a crazy person.
By the end of the night, I was calling the city Skop Vegas. My cab driver loved it.
Find Skopje hotels here.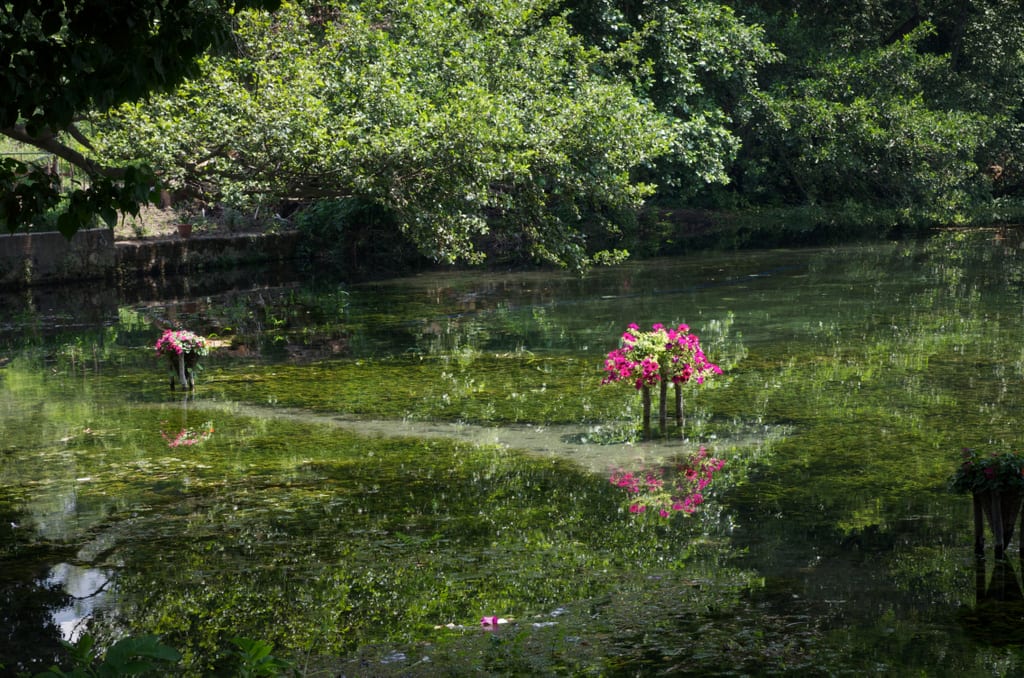 Beyond These Destinations
There is so much more to Macedonia than what I got to see in my week here. I especially wish I had gone to see the national parks (which I skipped because I don't put myself in isolating situations while traveling solo). Mavrovo National Park is famous for being an excellent cheap ski destination; Pelister National Park is right near Bitola and looks beautiful as well.
There's the Tiknes wine region, where you can sample the delightful Macedonian wines in the field.
Prilep looks like a fun city and they have an annual beer festival, which I just missed.
And if Ohrid isn't enough lake action for you, Lake Prespa is close by and looks lovely, too.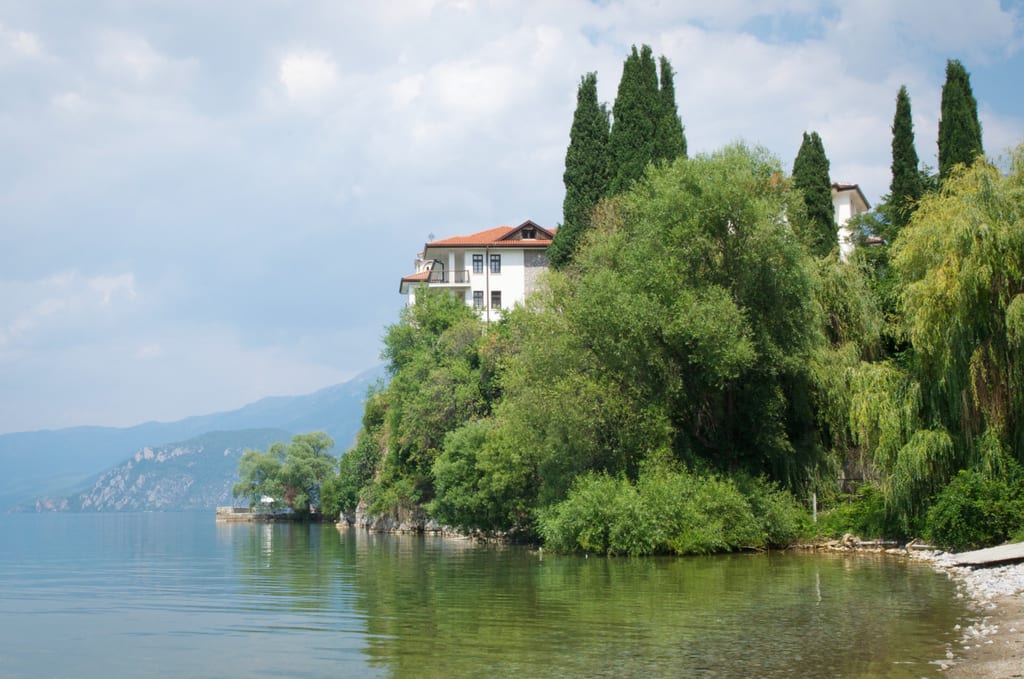 Don't Wait on Macedonia — Come Soon
Will Macedonia turn out to be an "it destination" in the future? With the help of a smart marketing campaign, it absolutely could. Macedonia a destination that sells itself brilliantly to its visitors; the only problem is getting people to actually come there in the first place.
And for that reason, I promise you that you will enjoy Macedonia. Come here and take a boat across Lake Ohrid, or stroll through Bitola's bazaar, or take ten thousand pictures of wacky Skopje. Come enjoy it while the prices are this good. This is a very special place.
Get email updates from Kate
Never miss a post. Unsubscribe anytime!