Adventurous Kate contains affiliate links. If you make a purchase through these links, I will earn a commission at no extra cost to you. Thanks!
New Orleans enchanted me from the moment I arrived.
This was my first stop on the #SouthUSA road trip and my first real stop in the South. I knew I would love it, and right away, I was fascinated by the musical city before me.
After arriving late the night before, I set out in the morning to discover what this city had in store for me in the days leading to Mardi Gras.
What did I find?
Beignets at Cafe du Monde, dusted generously with powdered sugar.
Street musicians on almost every corner, some of them dressed up in garb of centuries past.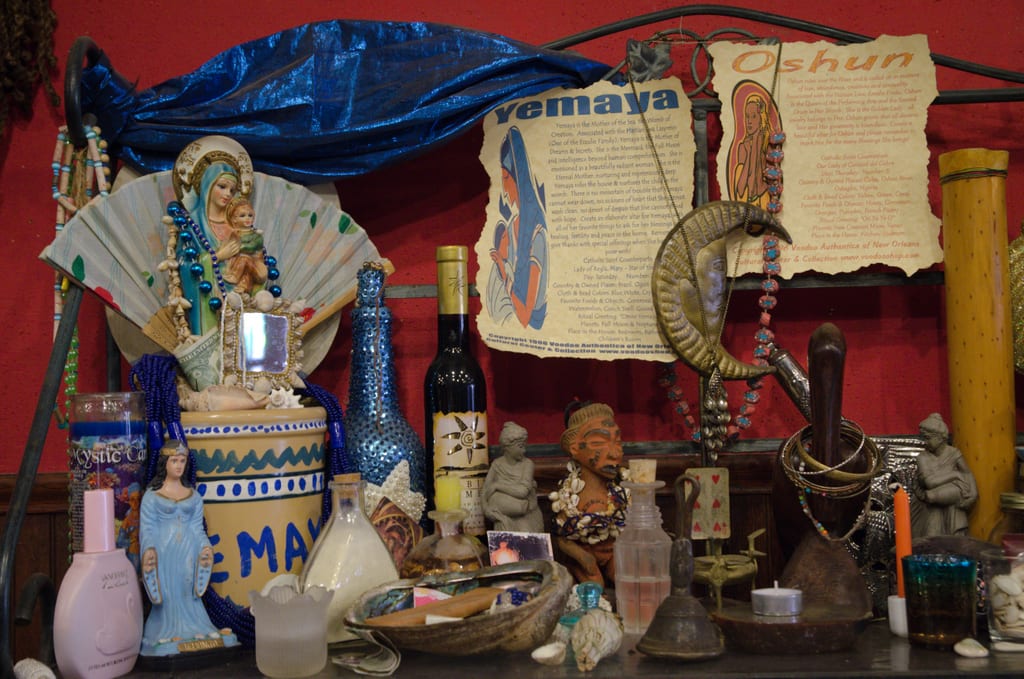 Voodoo shops, vampire shops, witchcraft shops, and paranormal shops bursting out from every angle.
And the beauty of New Orleans…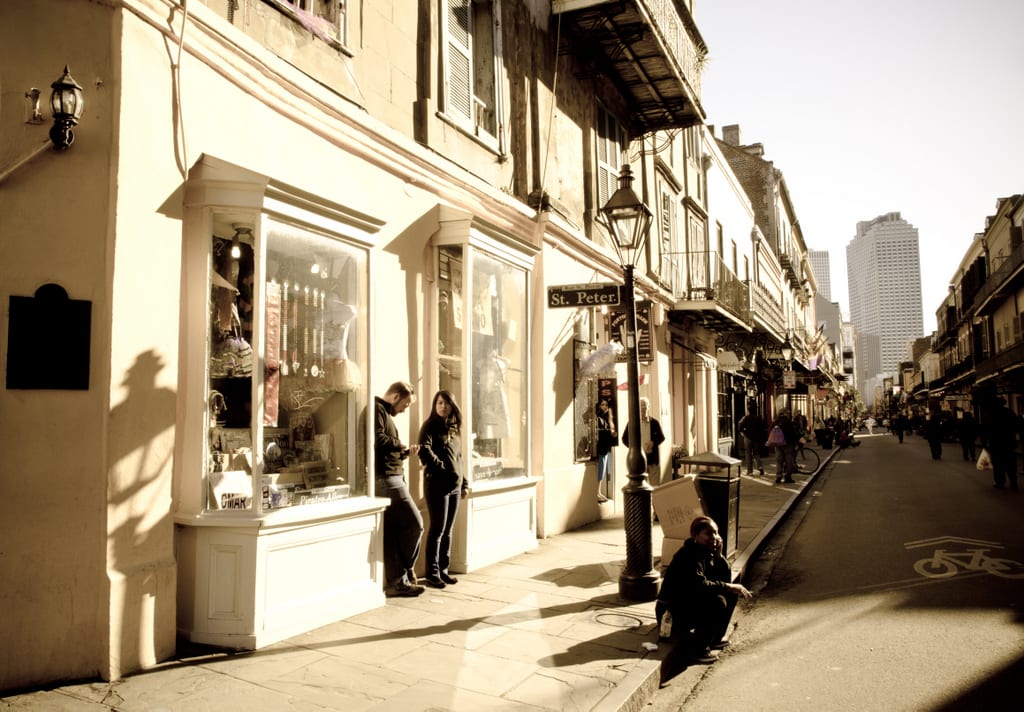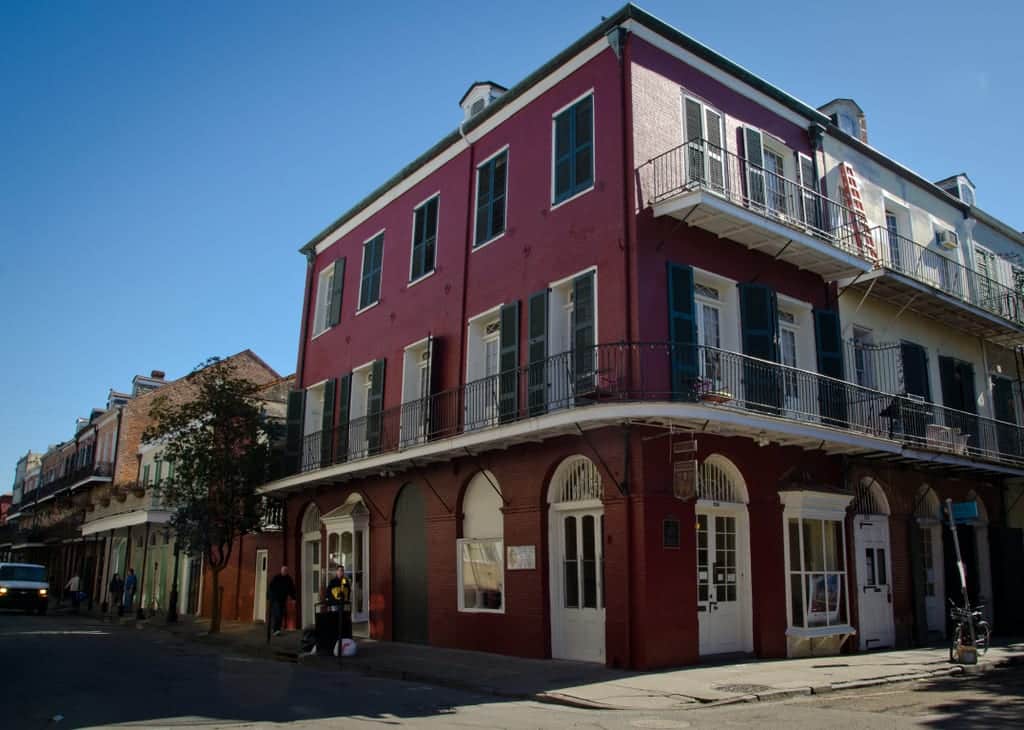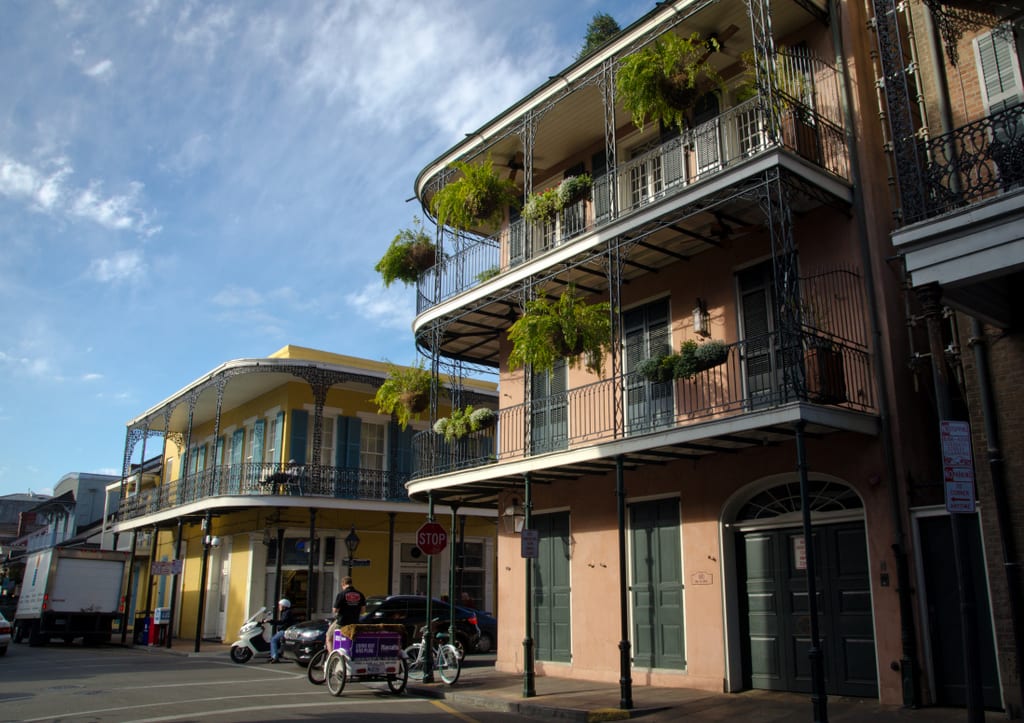 I had never seen a city that looked like this before. The soft colors, the wrought-iron balconies, the old-fashioned shutters, the lamps that flickered in the night
Being in New Orleans was like being in a dream. I was intoxicated from the moment I arrived, drifting in and out of reverie as I strolled the French Quarter.
Then came Friday.
Suddenly brightly costumed women were hanging off balconies, throwing beads to outstretched hands below. College marching bands blasted "Get Lucky" and crashed their cymbals in unison. And you couldn't just sit down at Cafe du Monde — the line for beignets stretched outside the restaurant.
This was Mardi Gras.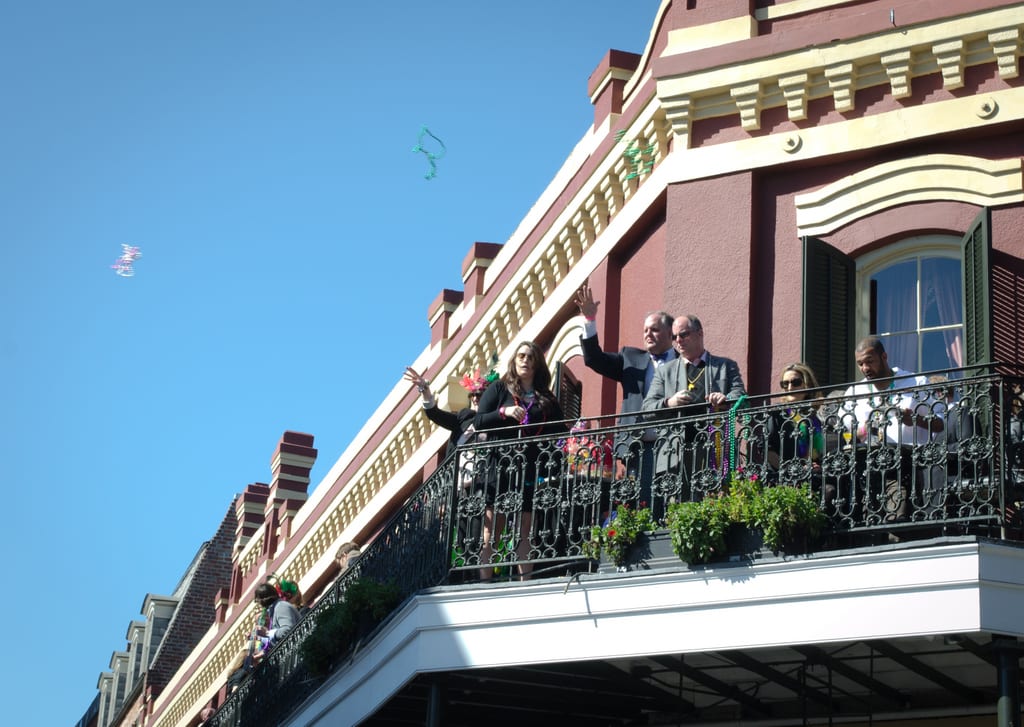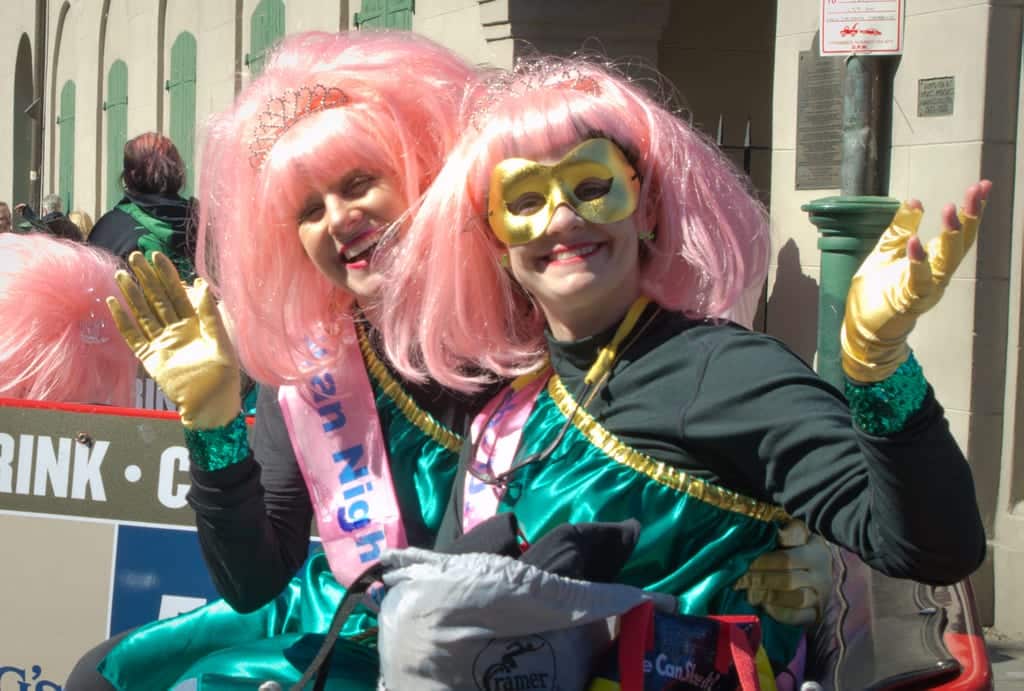 Before coming to New Orleans, I had assumed that Mardi Gras was a one-day affair — the name translates to "Fat Tuesday," after all. Well, that wasn't true at all — the parades start weeks in advance and the partying builds to a crescendo.
So it turned out that I had inadvertently booked myself in New Orleans for seven straight days of the city's biggest festival.
Was that a problem? Not at all.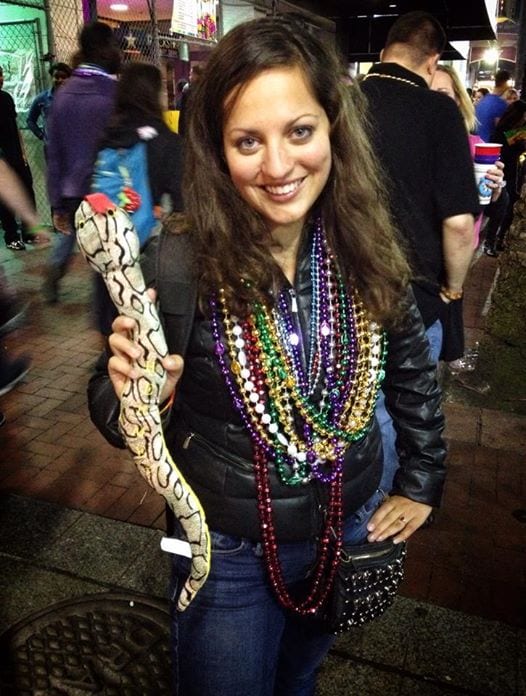 I dove straight in, jumping for beads doled out by the Krewe of Morpheus, sipping bright purple Voodoo Daiquiris that tasted like Dimetapp mixed with booze, grooving and dancing along with every marching band that came through the place.
This was Mardi Gras — and I LOVED IT.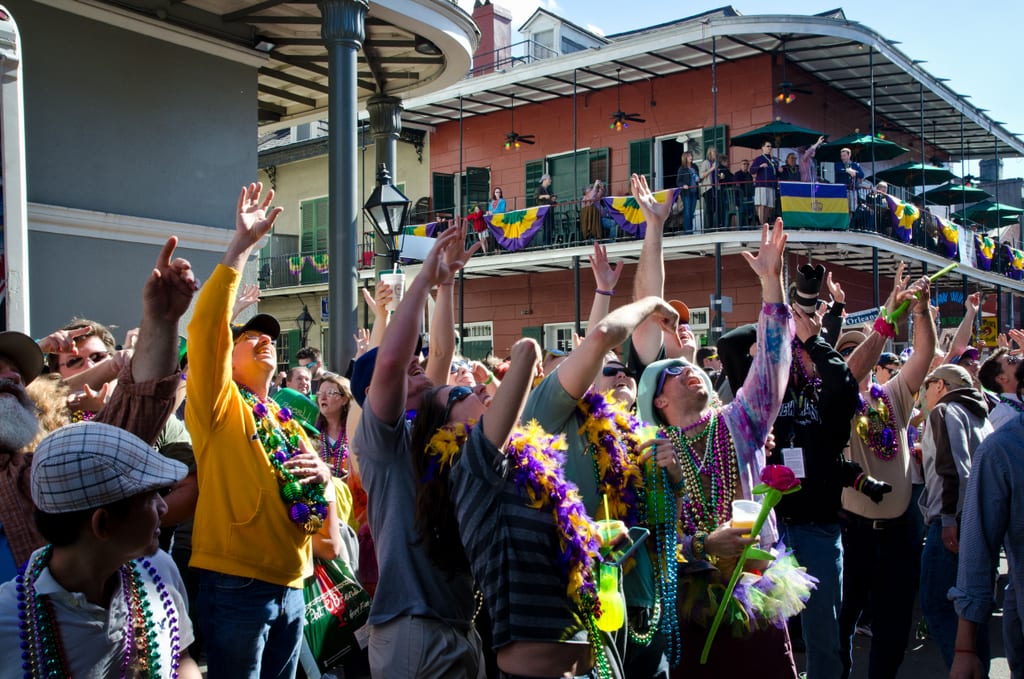 Welcome to Bourbon Street
Bourbon Street — world-famous for bars that never close. No open container laws. A constant party, 24 hours a day, 365 days a year.
I've partied in Vegas and the Thai islands. I was a regular on Boston's club circuit for years. I spent two full weeks in Vang Vieng in the days of tubing. But in terms of sheer mayhem, nowhere tops what I saw on Bourbon Street.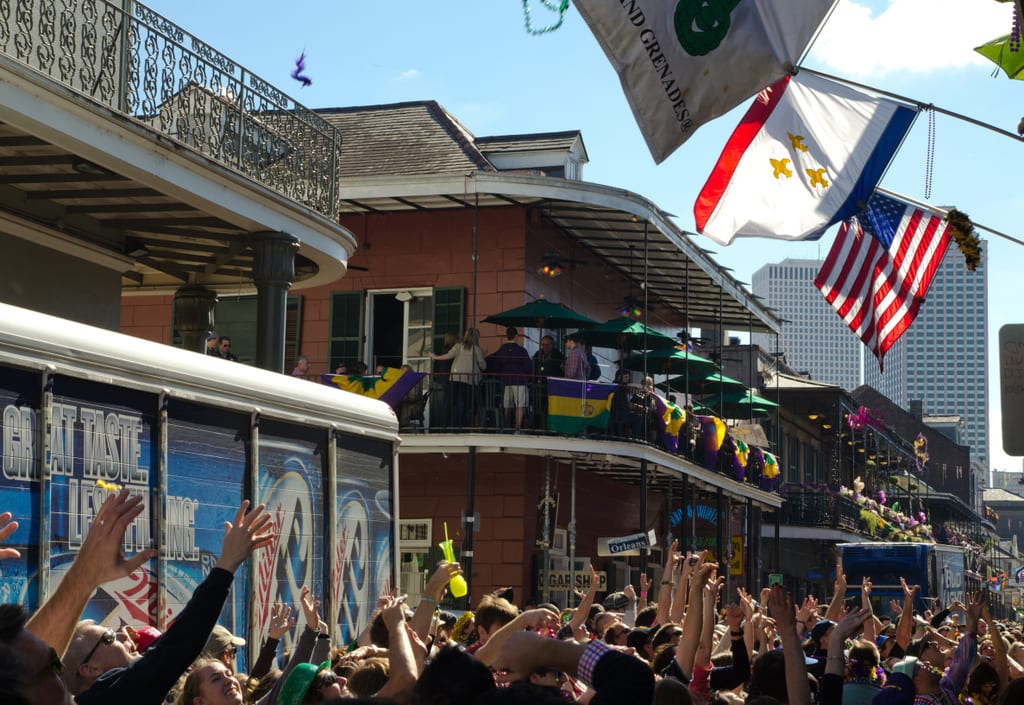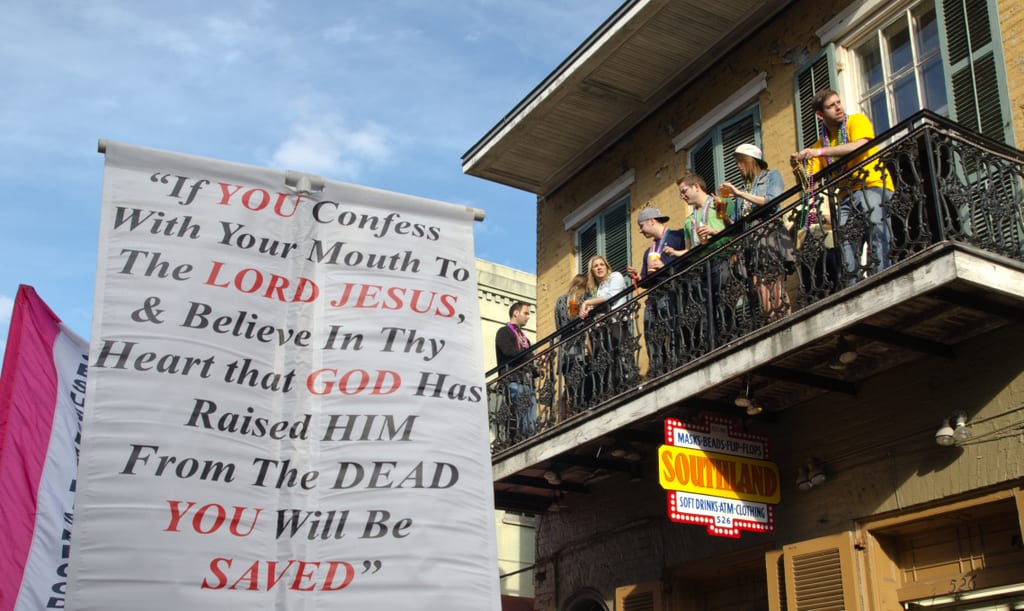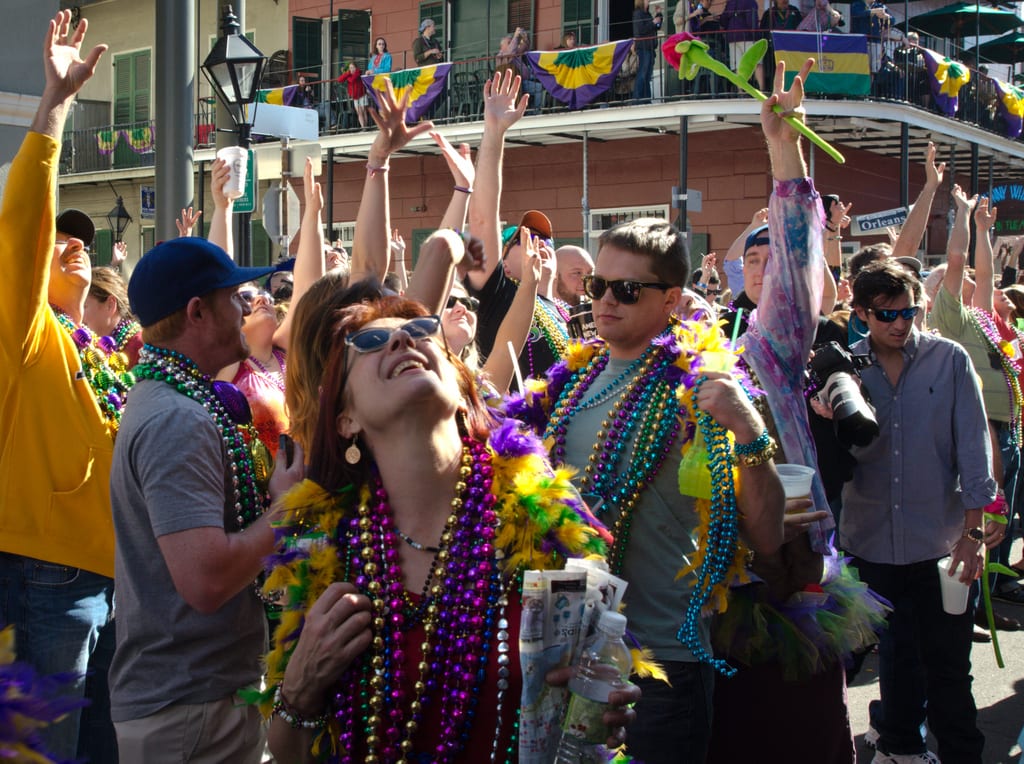 Bourbon Street was crazy and stayed crazy 24/7. Bars blast music from morning to midnight. Strip Clubs don't charge a cover and instead invite people right in. Even Hugh Laurie and Harry Connick Junior are regulars in one of the piano bars. This is also where you'll find the most obnoxious people at Mardi Gras, and where you're most likely to see someone puking on the street.
Bourbon Street can be fun. But there's far more to Mardi Gras, and to New Orleans.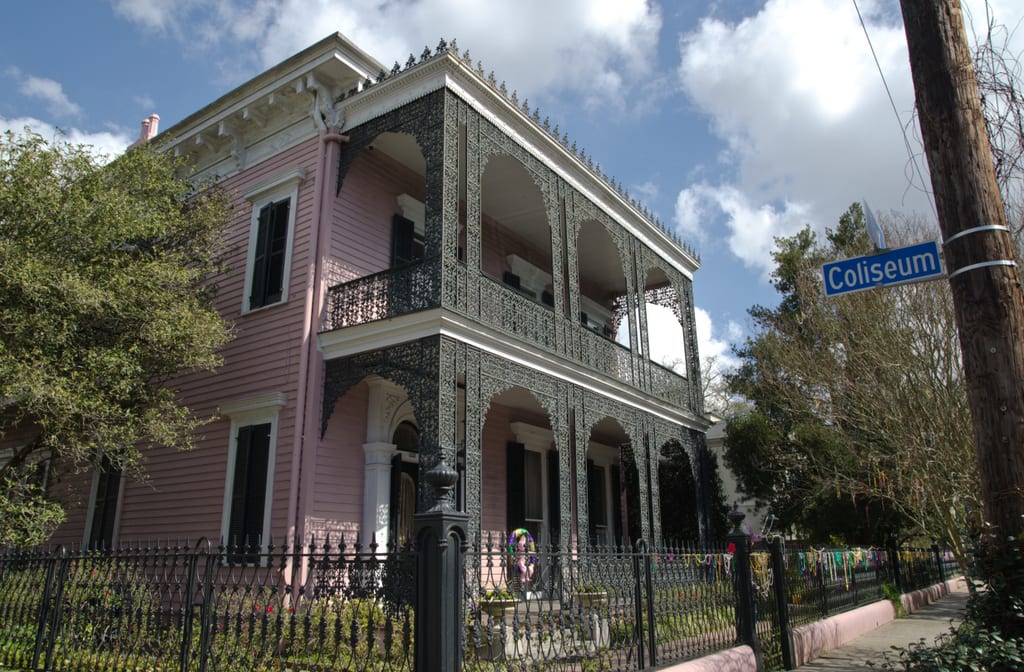 Garden District
I spent a wonderful afternoon away from the craziness, just exploring the gorgeous homes of the Garden District. Mark Twain partied here, Jefferson Davis died here, and Anne Rice still lives here to this day. If you are as crazy for architecture as I am, you must come see these homes!
The Garden District is located along the St. Charles Ave. parade route, so you can tie in your visit with a glimpse of the parade. This is where you'll find the family-friendly side of Mardi Gras, and kids are far more welcomed here than in the French Quarter.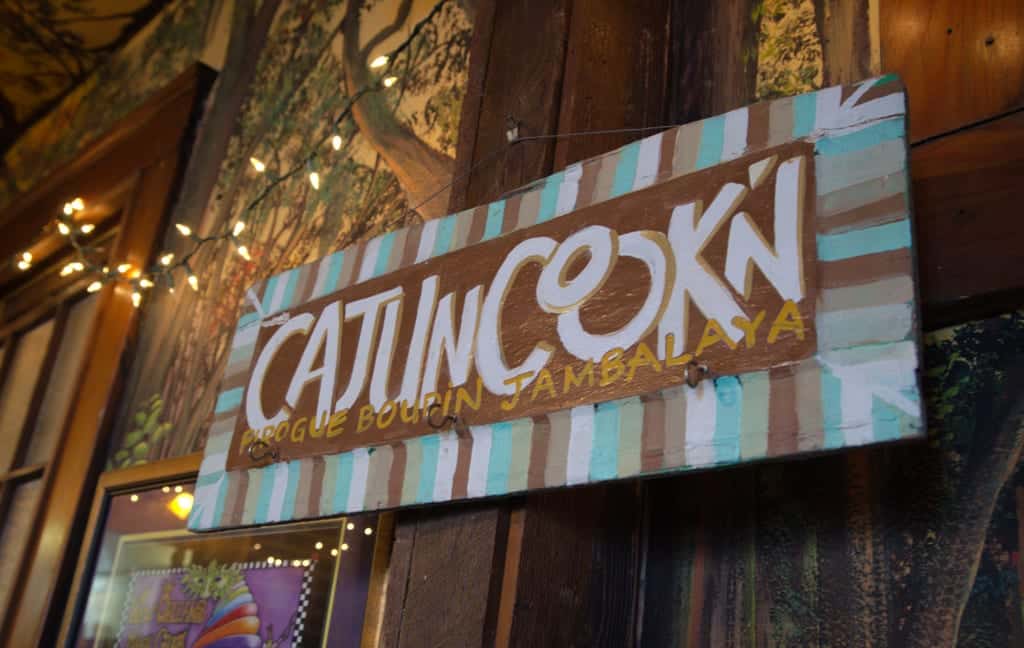 Uptown
I didn't get to see much of Uptown — not beyond a nice dinner at Jacques-Imo's — but a short stroll showed me that there's lots to see in this neighborhood. Being close to Tulane and Loyola New Orleans, it has a big student population and therefore you'll find plenty of cool cafes and nightlife. Do try to get here at least once.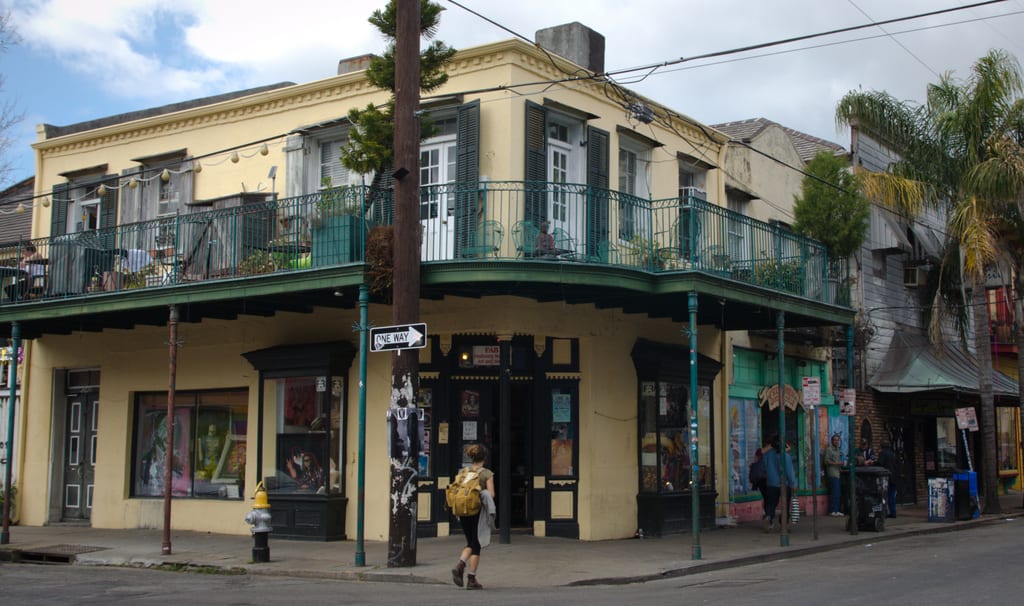 Faubourg-Marigny and Frenchman Street
Just east of the French Quarter is Faubourg-Marigny, known as New Orleans' hipster zone, filled with tattoo parlors, vintage shops, and endless live music venues, especially along famed Frenchman Street.
People will tell you that Frenchman Street is where the locals go — but after years of that tip being shared to the masses, Frenchman Street now has a mix of tourists, locals, and Mardi Gras regulars who don't fit completely into either category.
If you want a fun nightlife scene, a place where you can let loose without the complete debauchery of Bourbon Street, Faubourg-Marigny is the place.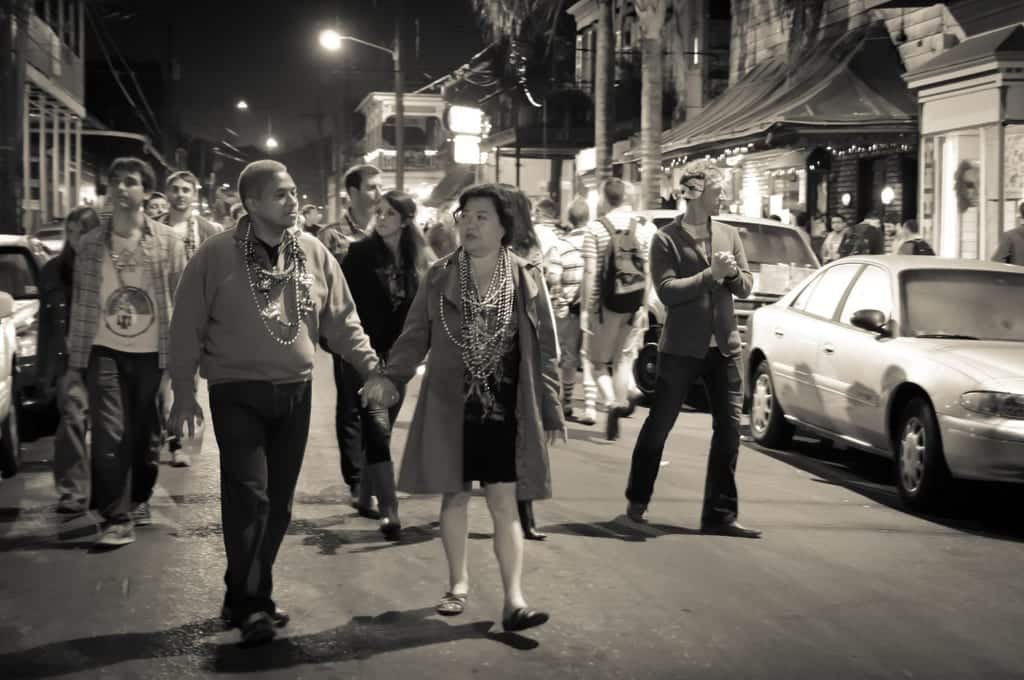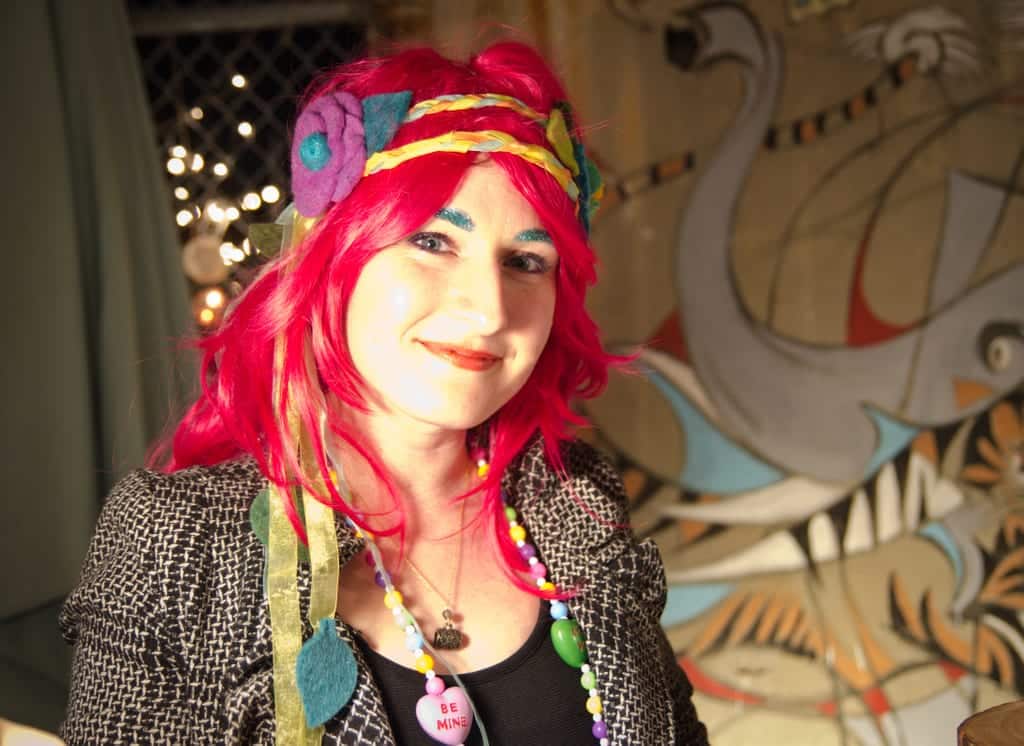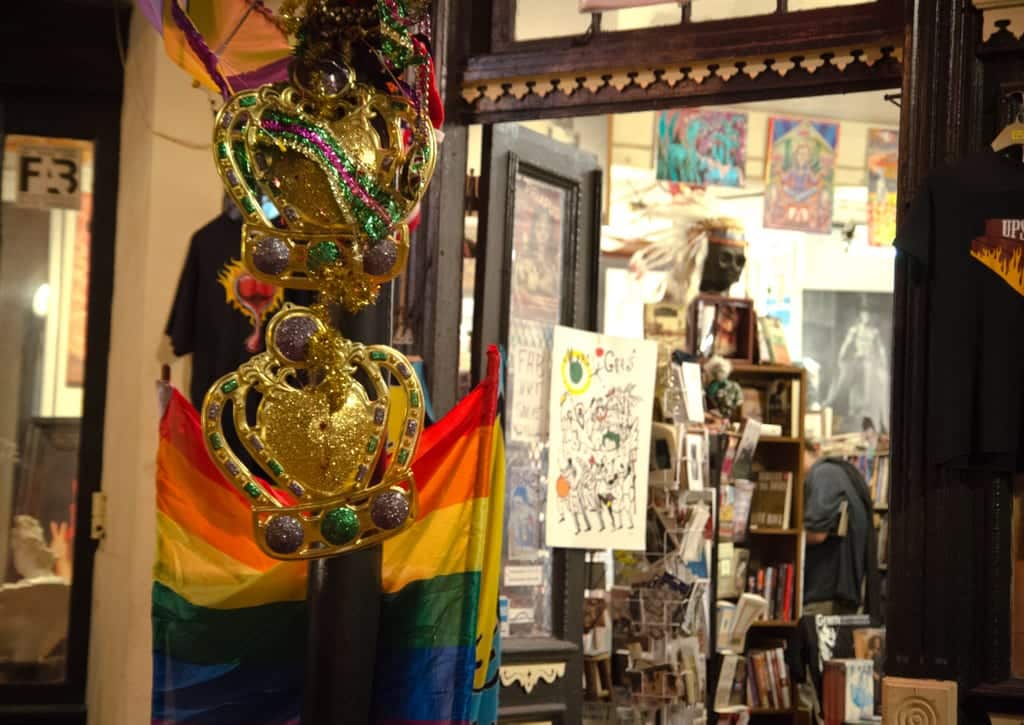 Night markets filled with one-of-a-kind jewelry. Jazz and blues bursting out of clubs as crowds spilled onto sidewalks. This was my scene.
Over the next few days, I rotated between the different neighborhoods but spent the bulk of my time in the French Quarter, getting to know Mardi Gras as best I could.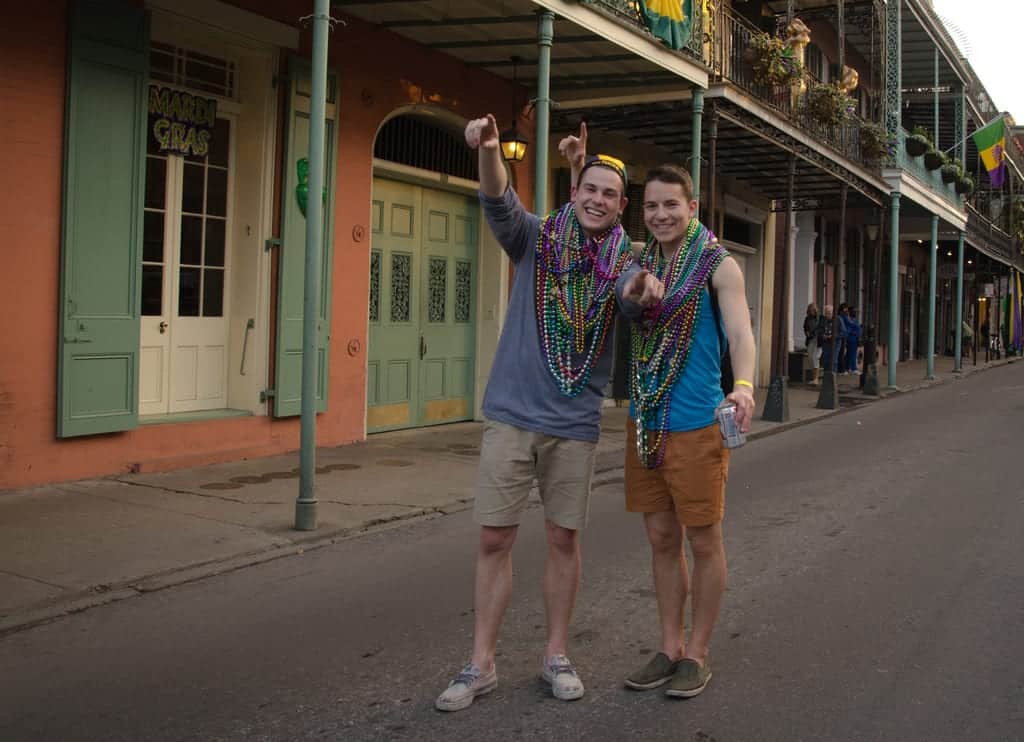 Mardi Gras Tips
If you're going to Mardi Gras, here are my best tips:
Come early. Mardi Gras is one of the best times to visit New Orleans, but you need to be prepared.
The Thursday before Mardi Gras was so different from the rest of the days — spirited as opposed to raging. I'm so glad I got to fall in love with that side of New Orleans. Coming early is also the best time to eat at popular restaurants that don't take reservations, like Jacques-Imo's and Mother's.
Be extra careful with your belongings and extra vigilant toward thieves. Like many other festivals around the world, Mardi Gras is a hotbed for petty crime. Don't go out with expensive jewelry; don't take your full wallet. Just take enough money for the day and your ID.
Use a moneybelt or at least a purse that you can hold close to you. If you're taking a camera, hold onto it closely.
Additionally, a friend of mine warned me of a scam that her son was a victim of a few years ago — his debit card was copied and stolen after using an ATM that had a tracking device was installed on the card slot. I checked every ATM I used closely and made sure there wasn't a small device attached.
Pee strategically. There are long lines for bathrooms everywhere you go, so the moment you think you might have to go, get in line. It's a good idea to carry toilet paper around with you, too.
Keep in mind that you can and will be arrested for public urination. The NOPD are very strict about this.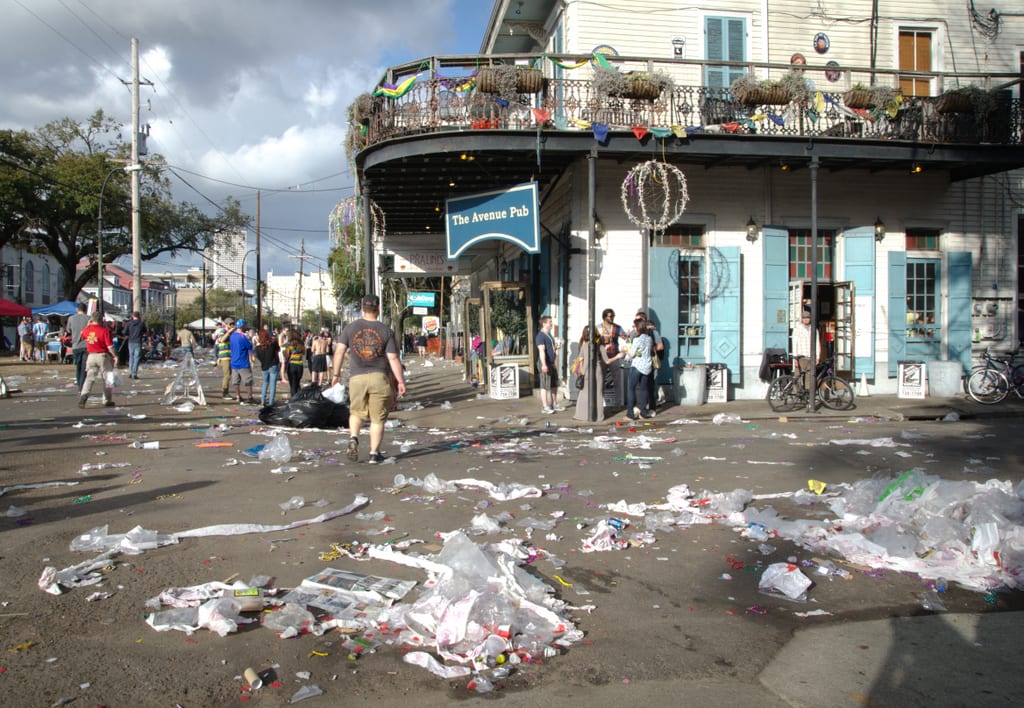 Dress for comfort and wear good shoes. Most of the time, my Mardi Gras weather was warm in the sunshine and cold in the shade, but once the weather took a turn for the worst, it was rainy and miserable. Layer up and dress for comfort. Oh, and wear your most comfortable yet ugliest shoes, because the ground gets disgusting in no time.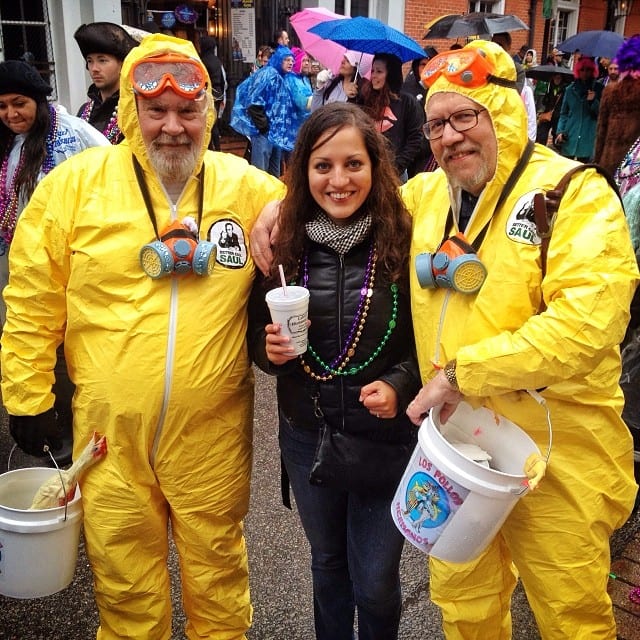 Bring costumes. No matter how you dress up, it will be heartily welcomed at Mardi Gras, especially if it's green, gold, or purple. Tutus, wigs, and feather boas are especially popular, but really, anything goes. I was especially happy to pose with these Breaking Bad cosplayers!
You can also buy costumes in New Orleans, though be prepared to pay through the nose, especially in the French Quarter. Beads are ubiquitous and you don't have to bring any with you.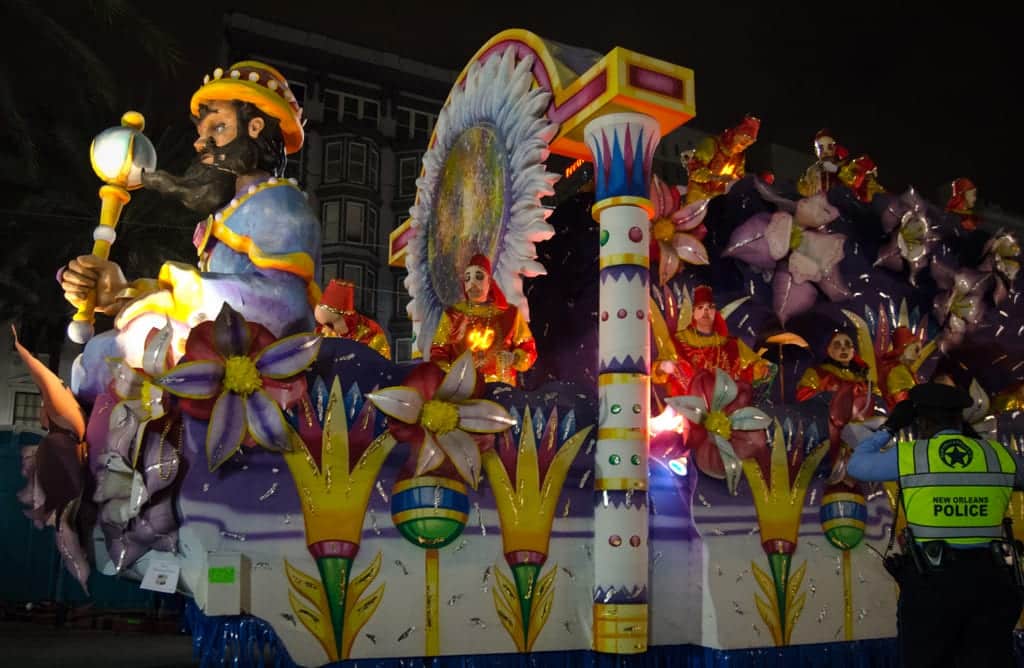 Download a parade app and arrive early. A few New Orleans news stations have apps containing the parade schedule, routes, and GPS positioning of the location of the parade, which was fantastic. Just search for "Mardi Gras parade" on your app store and you'll find a few of them.
If you want to be able to catch beads or the other swag thrown my the krewes, get to the parades early — one to two hours in advance. The prime spots get taken several hours in advance, but you should be able to get a front row spot if you're punctual.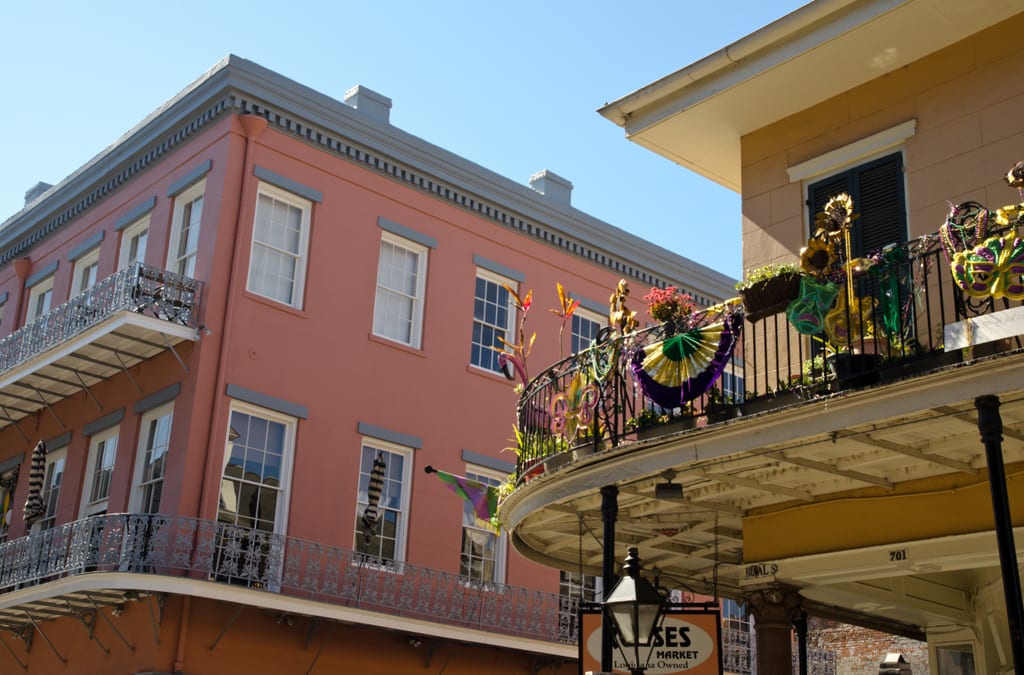 Take your time — it's a marathon, not a sprint. You don't have to be out all day, every day. If just a few hours a day satisfies your Mardi Gras curiosity, that's fine. If you're partying, you don't want to go too hard too fast.
There are lots of things to do — I loved exploring the Garden District, attending a burlesque show, checking out the paranormal-themed shops, taking a vampire tour, chatting up random strangers on the street, and just wandering quieter parts of the French Quarter.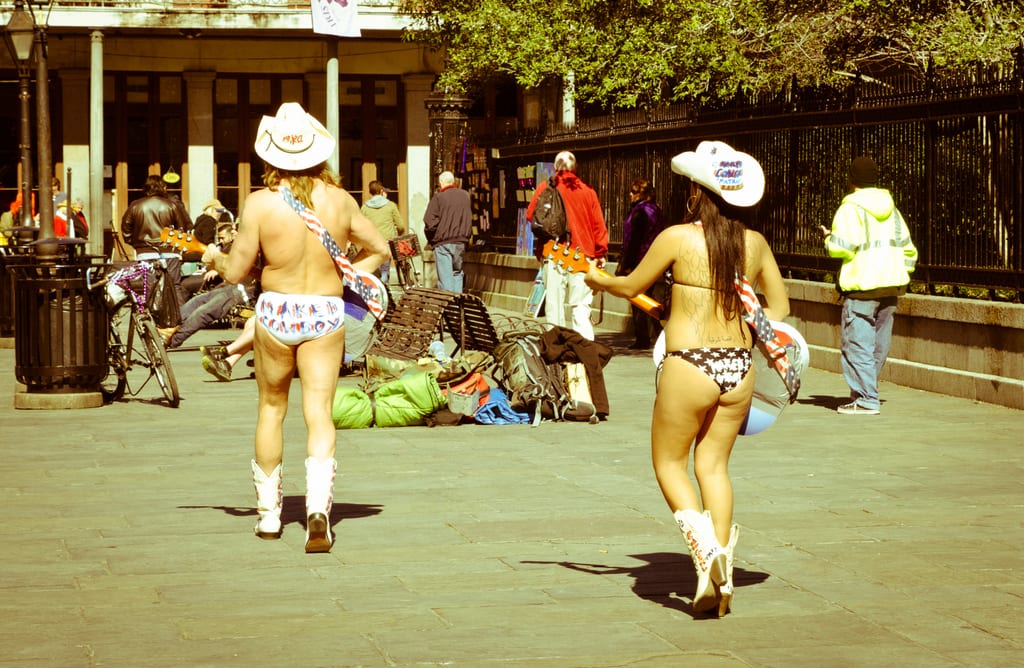 My single best tip: stay within safe walking distance of the French Quarter. Getting a taxi is nearly impossible during Mardi Gras. When I called for taxis it would take me about 50 calls to get through to the operator, they would dispatch the taxi, and it would never come. This happened several times in a row. Trying to hail one down on the street could take as long as an hour.
There no way around the taxi situation — Uber is not available in New Orleans. If you're coming to New Orleans during Mardi Gras, you need to stay within a safe walking distance of the French Quarter. New Orleans is a checkerboard city in terms of more-safe and less-safe areas, and locals told me to avoid walking through some of the neighborhoods surrounding the French Quarter at night.
Which brings me to my next point.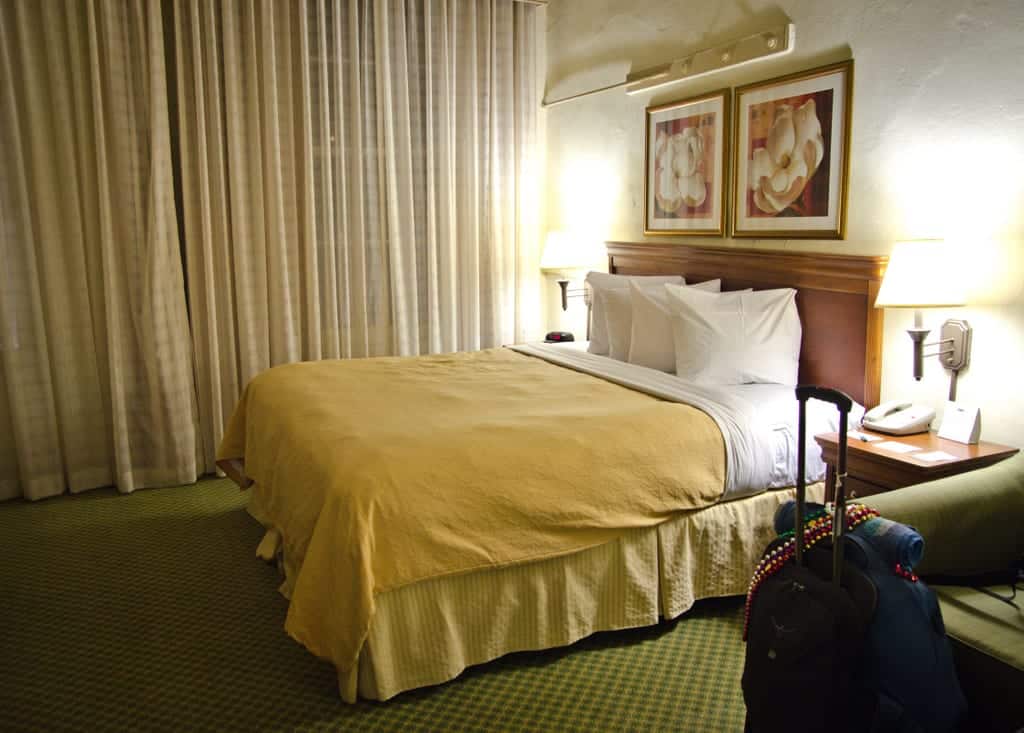 Where I Stayed — Country Inn and Suites, New Orleans French Quarter
For my first stay of the #SouthUSA road trip, Country Inns and Suites hosted me in their downtown New Orleans property, a beautiful 19th century building just a few blocks from the French Quarter.
It was a sanctuary. Having a sanctuary during a festival as long, loud, and crazy as Mardi Gras is critical for your sanity. Especially since after five days in New Orleans, the weather had turned cold, the crowds had become suffocating, and a chilly rain had begun to pour down.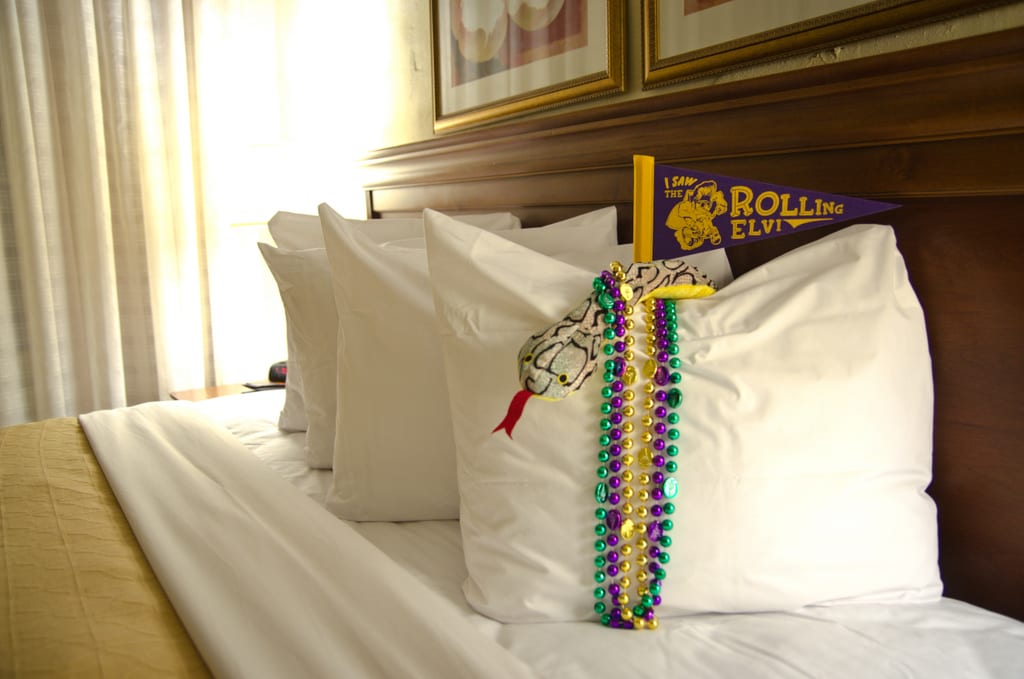 It was SO WARM. The most comfortable bed. Tons of space. Free hot breakfast, including eggs, bacon, and biscuits and gravy. Warm cookies were a mainstay of the front desk.
And most importantly, it was very safe to walk home from the French Quarter at night. For that reason, I'll be staying at this Country Inn when I come back for my next Mardi Gras.
The Takeaway
While I'm not a big fan of bucket lists (if your deadline is death, it's not a priority!), Mardi Gras is something you should try to experience at least once in your life. Though after you go once, you'll soon be planning your return! I'm already starting to think about costumes for next time and different people I'd like to take.
New Orleans needs to be seen to be believed, and it has quickly found its way into my list of favorite cities, though I'd love to return and continue exploring it outside of Mardi Gras.
Mardi Gras has earned a place in my top three festivals of all time, alongside Up Helly Aa in Shetland and Songkran in Thailand. That's an extremely high distinction, and it takes a lot to earn that distinction in my book. Mardi Gras is truly spectacular.
More on New Orleans:
Best Time to Visit New Orleans
Solo Female Travel in New Orleans: Is it Safe?
Exploring New Orleans' Garden District
In New Orleans, the Sweet Art of Stillness
See all New Orleans posts here.

Essential Info: Mardi Gras takes place the day before Ash Wednesday, usually in February. Find out more information here.

Rates at the Country Inn and Suites New Orleans French Quarter during my Mardi Gras stay were $220; low-season rates start at $138. I do plan staying there when I return to New Orleans but you can find other hotels here. Just be sure to do research and make sure your hotel is within safe walking distance of the French Quarter.
The #SouthUSA campaign is brought to you by Country Inns and Suites by Carlson and I Holiday Autos. All opinions, as always, are my own.
Have you been to Mardi Gras? Is this your kind of party?
Get email updates from Kate
Never miss a post. Unsubscribe anytime!