Adventurous Kate contains affiliate links. If you make a purchase through these links, I will earn a commission at no extra cost to you. Thanks!
Where are the best Mexico City neighborhoods — places to stay in Mexico City that are also safe for travelers? I am very happy to help you with that! Mexico City is one of the world's largest cities and it can be overwhelming at first.
Mexico City is one of my favorite cities in the world, and I've spent more than a month there in total over the last few years. Unfortunately, Mexico City tends to have a far worse reputation than it deserves, due in part to how American cable news treats Mexico.
Mexico City is gorgeous, elegant, and endlessly interesting. There are quite a few Mexico City neighborhoods that are just as safe as your neighborhood at home. And of course there are less safe areas, just like there are less safe areas in your region — so you stay out of them.
That's what this guide is for — to tell you where to stay and where not to stay in Mexico City.
(I also have a full guide to Solo Female Travel in Mexico — plenty of safety information and well worth the read!)
Sometimes referred to as CDMX or DF (Distrito Federal) by locals, Mexico City is brimming with history, culture, and cuisine that make other destinations pale in comparison. The art is overwhelming; the food is outstanding.
I think Mexico City is as close as you can get to the New York City of Latin America. (Though I'm sure some people would argue with me about that!) In terms of cultural dominance, you can't beat it. In terms of Mexico City neighborhoods, there are hundreds if not thousands, just like in New York.
So what's the best place to stay in Mexico City? I could talk about that for days! You have loads of fantastic options to choose from, as the city's many neighborhoods each have their own particular flavor.
Let's take a look at the best neighborhoods in Mexico City to stay in on your trip.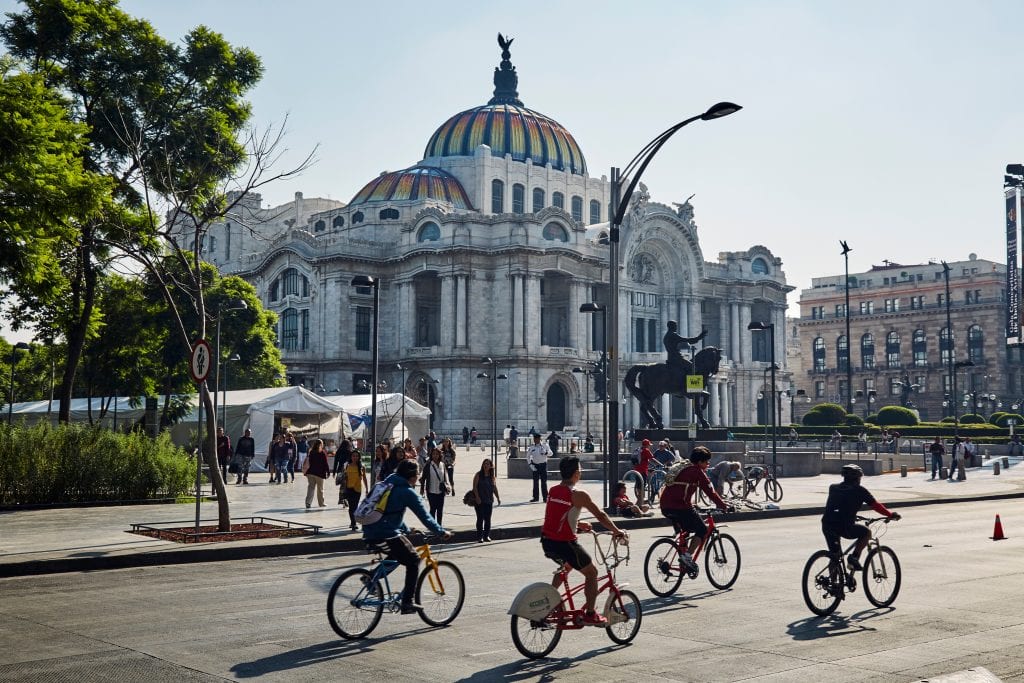 Best Neighborhoods to Stay in Mexico City
Because of its enormous size, it can be hard to narrow down where to stay in Mexico City. To make things a bit easier, consider what type of traveler you are, what your priorities are, and what you want to do on your visit.
Do you prefer a closer proximity to major tourist and historic sites? Or are you more interested in the overall atmosphere and charm of your neighborhood? Are you looking for a high-end hotel, or would you rather have an apartment in a cool neighborhood like a local?
Whether you prefer a more urban vibe or a suburban feel, a local area or a neighborhood that caters to tourists, Mexico City has a little something for everyone.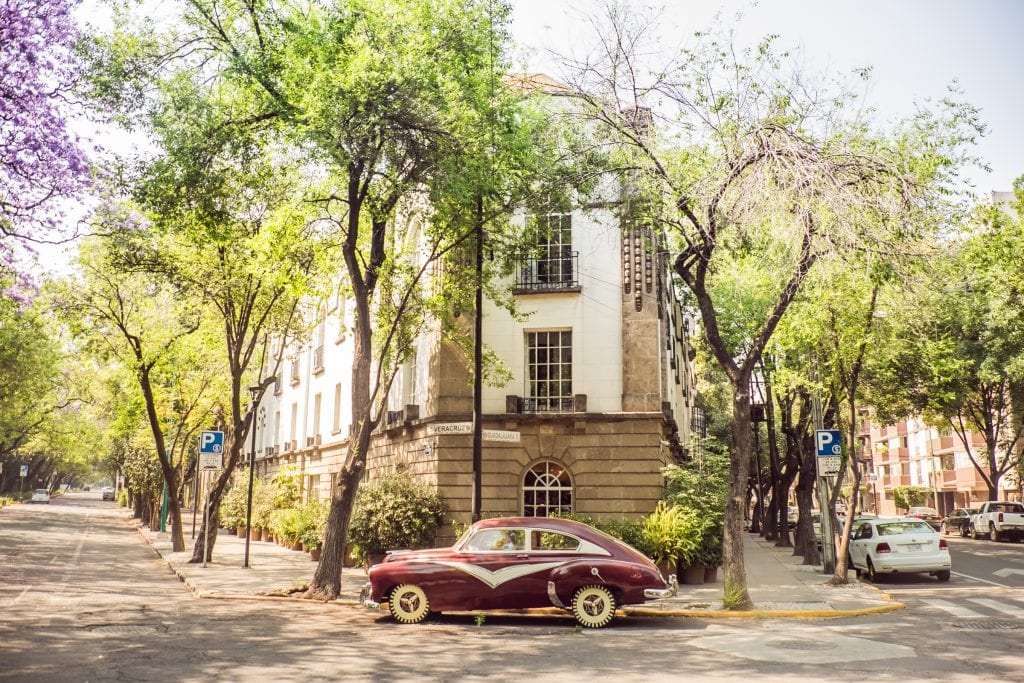 Best Mexico City Neighborhood Overall: La Condesa
For me, the best neighborhood overall to stay in Mexico City is La Condesa. The charming atmosphere of tree-lined streets and cute restaurants and cafes feels completely different than any other Mexico City neighborhood.
I adore La Condesa so much, I was ready to move there after two days. Every time I go back, I walk loops around Avenida Amsterdam and pick out where I want my future home to be. It's hard to think of a place where you get better value for your money in a place this cool!
La Condesa is filled with greenery, and Parque México is a lovely place to spend an afternoon wandering at your leisure. It's so green here, in fact, that you'll forget that Mexico City has a reputation for lower air quality. La Condesa is exploding with so many trees and plants that the air smells fresh and glorious.
If you take a walk down Avenida Amsterdam, which loops through the neighborhood, you'll experience the best of La Condesa with all of its trendy shops, restaurants, and cafes. This area reminds me of walking around in Paris or in downtown NYC but is still distinctly Mexico City — I honestly can't think of a cooler neighborhood anywhere. It's one of the best areas in the world if you like hip places to eat and drink!
My boyfriend Charlie is perpetually searching for a neighborhood that is even cooler than our neighborhood of Karlín in Prague. La Condesa is the ONE neighborhood around the world that he thinks is cooler!
Similar neighborhood? Hipódromo is the southern part of La Condesa, edging further south next to Roma Sur, and you can still have a similar atmosphere (perhaps with a few less trees) and lots of great places to enjoy.
Where to Stay in La Condesa: Hotels
La Condesa has a variety of hotels and accommodation options to choose from, making it a great choice for any type of traveler.
However, no matter which type of accommodation you're looking for, you'll want to be careful not to book a hotel near a nightclub, which can be tricky as there are lots of nightclubs on the busy streets. Nightlife here can get super noisy, so if you're staying too close to a discoteca you'll have a hard time getting a decent night's sleep!
For La Condesa, I find that it's smart to read lots of reviews before booking. If several reviews complain about noise, choose another place, or pack your earplugs (essential for everywhere in Mexico).
Best Luxury Hotel in La Condesa: Casa Corp Boutique Suites in Condesa — Enjoy celebrity treatment at this upscale hotel located in the heart of La Condesa.
Best Mid-range Hotel in La Condesa: Condesa Suites — A solid mid-range hotel in La Condesa, travelers rate Condesa Suites highly for its spacious rooms and proximity to charming restaurants and cafes.
Best Budget Hotel in La Condesa: Izta Hostels — This is the best hotel in the area to get the most bang for your buck! Izta Hostels is situated in a quiet neighborhood located nearby Mexico City's main attractions.
Best Hostel in La Condesa: Casa Pancha — Bright, airy, and modern, Casa Pancha is a lovely hostel located perfectly in La Condesa near a bakery I love, Patisserie Dominique.
Best Apartments in La Condesa
Incredible Apartment: Pool, Snackbar, Office & Terrace! This modern apartment comes with all of the amenities. From the rooftop pool, you can see Spain Park, Chapultepec Castle, and more.
Condesa Vogue & Trendy 2 Bedroom Apt: Bright, spacious, and modern this apartment has three different terraces to relax outside, plus it's centrally located and walking distances to parks, restaurants, and everything else you need.
Condesa Super Stylish 2BR with Private Rooftop: This apartment is perfectly located and offers amazing views of the city.
Jojutla Apartments – Comfort + Terrace in Condesa: Bright, airy, and well decorated, you'll love this trendy La Condesa Airbnb.
Find deals on hotels in La Condesa here and see all La Condesa apartments here.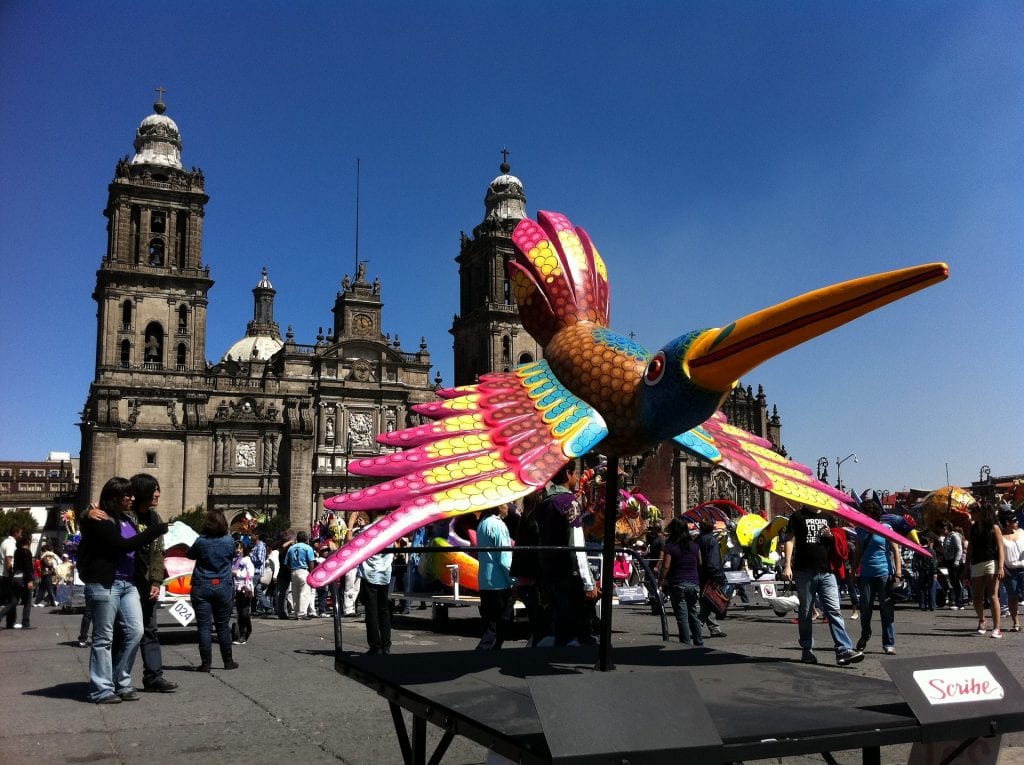 Best Mexico City Neighborhood for Budget Travelers: Centro Historico
Mexico's Historic Center is the best place to stay for travelers on a budget. Centrally located among the city's major cultural and historic destinations, this area is the perfect base for exploration.
Best of all, the Mexico City hotels in this area are extremely budget-friendly, providing travelers with accommodation that offers great value for their money. Nothing beats the city center!
Mexico City's acclaimed Zócalo (also known as the Plaza de la Constitución), or main square, lies at the heart of the Centro Historico and has been the city's primary political and religious center even before the arrival of the Spanish conquerors.
Today, the Zócalo is characterized by an enormous square that's bordered by a number of important historic buildings, including the Metropolitan Cathedral of Mexico City, the National Palace, and the ancient ruins of Templo Mayor. The entire surrounding area is filled with buzzing shops, bars, and traditional Mexican eateries that every visitor to the city will want to check out. Plenty of bus and metro stations connect you around the city.
One thing you should know is that the Zócalo is often where protests take place. These protests encompass a variety of causes, and the vast majority of protests are peaceful. You don't need to worry about safety, but sometimes protests can be annoying to get around.
Best Centro Historico Hotels
The Centro Historico has something for everyone. No matter what type of accommodation you're looking for, it's sure to come at a reasonable price!
This area has some of Mexico City's best hostels, so budget travelers in particular are in luck. That said, those looking for higher-end, luxury accommodation will find what they need here as well.
Best Luxury Hotel in Centro Historico: NH Collection México City Centro Histórico — This 4-star hotel is situated perfectly, just around the corner from the Zocalo.
Best Mid-range Hotel in Centro Historico: Hotel Zocalo Central — A beautifully appointed hotel, the Hotel Zocalo Central is located right next to the National Cathedral.
Best Budget Hotel in Centro Historico: Hotel Panuco — Just a half-mile from the Zocalo, Hotel Panuco gets the job done for travelers on a budget.
Best Hostel in Centro Historico: Casa Pepe — This charming hostel has a clean and funky interior, perfect for travelers passing through the city.
Best Apartments in Centro Historico
Penthouse in Centro Historico with Private Terrace: Walking distance to the main attractions and one of the tallest buildings in the area, this penthouse offers exquisite views of the city.
Apartment in the Historic District, Walking Distance to Attractions: This apartment is in a recently restored 18th century colonial hacienda, right in the heart of the Historic District. Walking distance to all the main attractions.
CASA SAUTO New Luxury Suite in the Heart of CDMX: This luxurious Airbnb is stylishly appointed and overlooks the Zocalo.
Find deals on hotels in Centro Historico here and see all Centro Historico apartments here.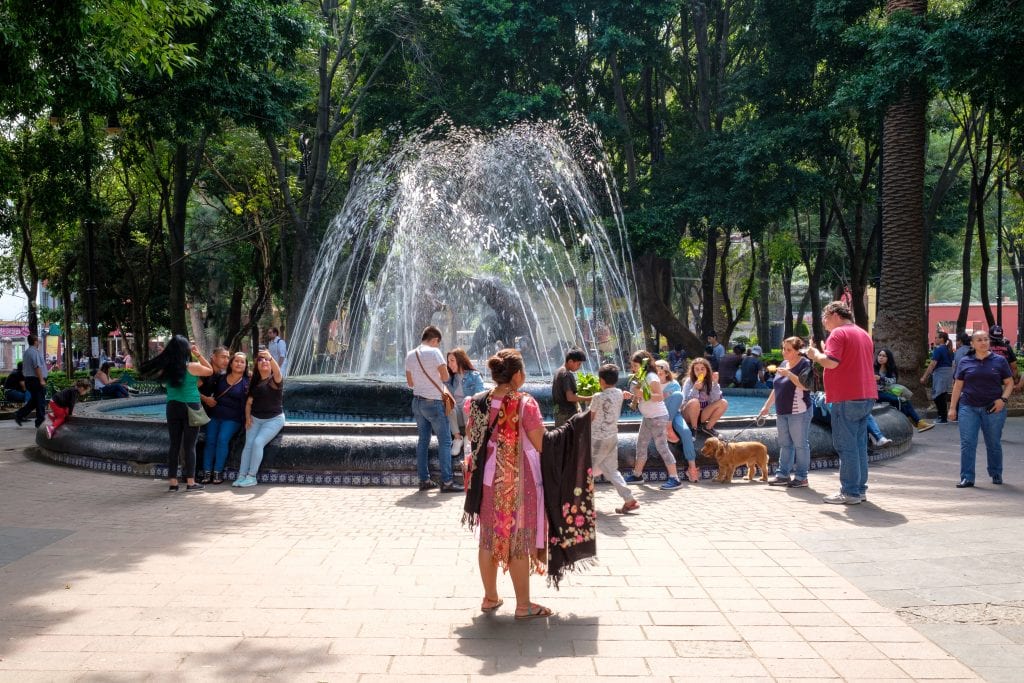 Best Mexico City Neighborhood for Families: Coyoacán
I love spending time in Coyoacán! Home to Frida Khalo's Casa Azul, this beautiful neighborhood feels much more suburban than other CDMX neighborhoods.
Though the Frida Khalo Museum is the major draw to this area, it also has one of the most pleasant squares in Mexico City which is great for people-watching. It reminds me a lot of Oaxaca's vibrant Zócalo, especially when it's filled with families on the weekends.
Coyoacán translates to "the place of the coyotes" in Nahuatl language, and the neighborhood is anchored by its coyote fountain. The bustling Mercado de Coyoacán is the area's authentic Mexican market where visitors can spend hours wandering from vendor to vendor in search of traditional handicrafts and souvenirs as well as some delicious local cuisine.
Coyoacán used to be on the outskirts of Mexico City, and even today, it feels removed, almost provincial. For that reason, it wouldn't be my first choice for accommodation in Mexico City. But with good transportation access, it's easy to get to metro stations all over Mexico City, and if not, Uber is easy and cheap.
I know that some people relish a more suburban, calmer environment. If you're looking for where to stay in Mexico City with kids, Coyacán could be a great option.
Similar neighborhood? San Angel is a residential neighborhood next door to Coyoacán with a similar quiet atmosphere and lots of local beauty — but with zero of the Frida tourists.
Best Coyoacán Hotels
Though a bit off the beaten track, Coyoacán offers a variety of accommodation options, ranging from luxurious properties to Airbnbs to hostels and more.
Coyoacán is one of Mexico City's safest neighborhoods that costs less, making it another great neighborhood for budget-conscious travelers.
Best Luxury Hotel in Coyoacán: H21 Hospedaje Boutique — This boutique hotel offers the most luxurious accommodations Coyoacan has to offer.
Best Mid-range Hotel in Coyoacán: Fiesta Inn Periferico Sur — If you're looking for more of a classic hotel vibe in Coyoacan, the Fiesta Inn is just what you need.
Best Budget Hotel in Coyoacán: Calle Berlin Boutique — This charming boutique hotel is a great representation of how Coyoacan can offer travelers the most bang for their buck!
Best Hostel in Coyoacán: Hostal La Encantada — If you're looking for a solid hostel in the heart of Coyoacan, Hostal La Encantada will do the trick.
Best Home Rentals in Coyoacán
Cozy Modern Apartment in 16th Century Coyoacán: This cozy apartment is within walking distance of all the main attracts in Coyoacán.
Magnificent Colonial-Style House in the Heart of Coyoacán: If you're traveling with a group of people or bringing the whole family along, this colonial-style house is perfect for up to 10 guests.
Private Terrace Loft in Heart of Coyoacán: Start your mornings taking in the city on the terrace of this perfectly charming Airbnb in the heart of Coyocan.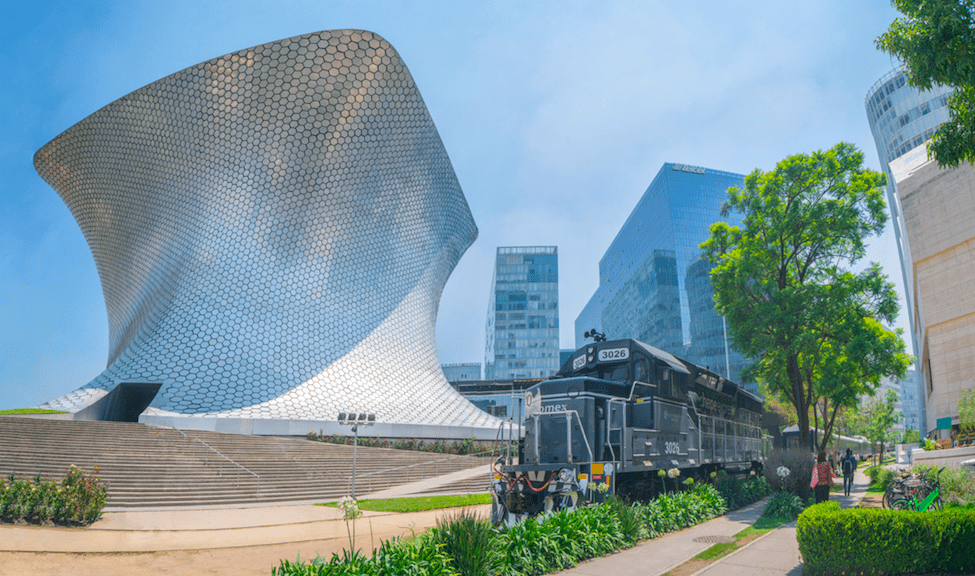 Best Mexico City Neighborhood for Luxury: Polanco
There are few places to stay in Mexico City more luxurious than Polanco — I call it the Beverly Hills of Mexico. A hub for the city's elite, you can expect to find a number of 5-star hotels throughout the neighborhood. Stroll down Avenida Presidente Masaryk if you're looking for high-end boutiques.
Personally, Polanco is a place I go for the restaurants (Quintonil and Pujol are here!), but that's it. It's a somewhat bland, overly sterilized neighborhood that feels much more like upscale California than Mexico.
For that reason, Polanco is the best place to stay in Mexico City if you're traveling with someone who is deathly terrified of being in Mexico City.
Similar neighborhood? Santa Fe has a similar atmosphere to Polanco — lots of tall buildings, luxurious feel, modern and almost American. But it's more of a business-oriented neighborhood, with underground malls more or less out of sight, and far from a central location. I know some people who love Santa Fe, so perhaps it could be for you.
Best Polanco Hotels
It's no secret that the Polanco neighborhood is designed for luxury, so travelers will be hard-pressed to find low cost accommodation here. If you choose to stay in this neighborhood, you're likely to find some seriously extravagant digs!
Best Luxury Hotel in Polanco: Grand Fiesta Americana Chapultepec — This hotel is the perfect accommodation for travelers looking for classic Polanco luxury.
Best Mid-range Hotel in Polanco: City Suites Anzures — This lovely hotel proves that Polanco does, in fact, have more to offer than ultra-luxurious accommodations!
Best Budget Hotel in Polanco: Suites Arquimedes 33 — Even budget hotels in Polanco aren't too shabby, according to Suites Arquimedes 33!
Best Apartments in Polanco
Polanco Lovely Apartment *Amazing Amenities*: Amenities at this bright, modern apartment include an indoor pool, spa, and incredible views of the city.
Polanco 3 BR Luxury Duplex: This spacious, bright apartment is located right in the heart of Polanco, and even features a private backyard space.
Casia Polanco l 1BR l Intimate Suite: Enjoy a stay in this ultra-modern Polanco suite, perfect for a solo traveler or couple.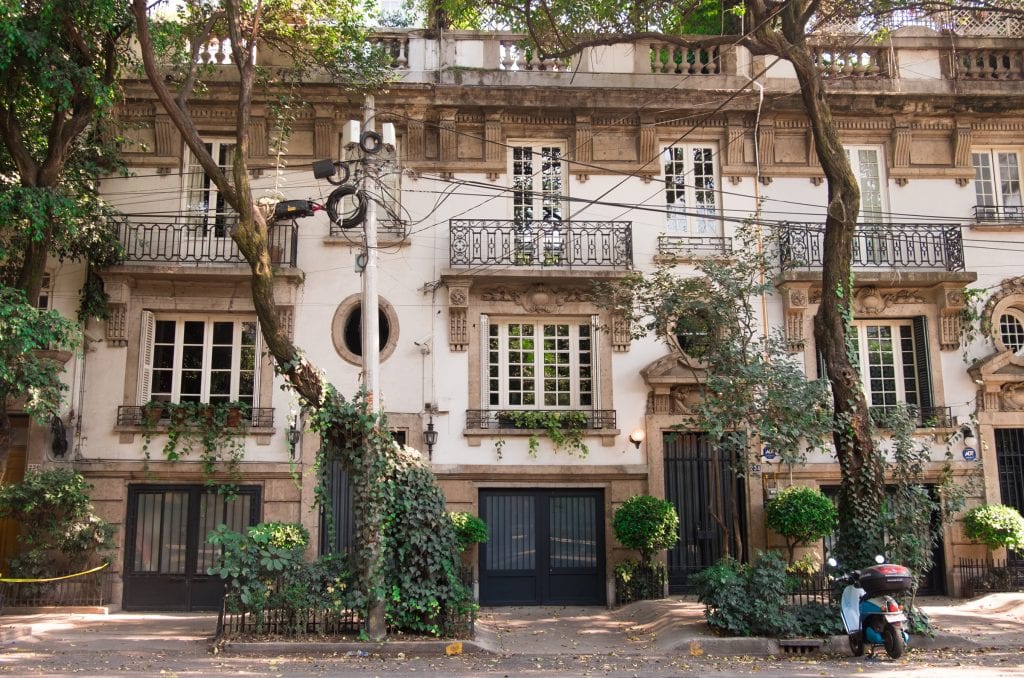 Best Mexico City Neighborhood for Hipsters: Roma
Though Roma often gets lumped in with La Condesa, it's very much its own place! A super cool neighborhood that's a bit grittier and more alternative than La Condesa, Roma is definitely the best place to stay in Mexico City for hipsters, trendsetters, and those who value the vibe of a neighborhood the most.
The neighborhood is filled with colorful colonial-style buildings and art deco mansions, as well as some industrial-meets-modern architecture, making it the perfect spot for those seeking something a bit alternative. It's also in a fairly central location for exploring other Mexico City neighborhoods.
Roma has no shortage of fantastic coffee, cute boutiques, and chic eateries, including the hippest-of-hip Mercado Roma which is a great place to go when you can't decide what to eat!
Similar neighborhood? Obviously La Condesa! Sometimes it's hard to find the dividing line, though Roma is a bit scruffier. Keep in mind that Roma is large and there is a difference between Roma Norte and Roma Sur. I find Roma Norte to be a bit nicer and better situated, though it's a bit like splitting hairs.
Beyond that, you may want to take a look at San Rafael, just a bit to the north. This up-and-coming neighborhood is now the place where artists love to flock, now that Roma's prices have driven many people out. San Rafael may become the new major hip spot!
Best Roma Hotels
Though Roma's status definitely still falls into the "up-and-coming" category, there is actually a ton of variety when it comes to the Mexico City hotels in this area.
With a decent number of 5-star hotels as well as a solid assortment of Airbnbs and budget accommodation, every type of traveler should be able to find what they're looking for when it comes to where to stay in Roma.
Best Luxury Hotel in Roma: Brick Hotel — This Roma hotel is spectacularly luxurious, so be prepared! Modern rooms with balconies are just the beginning, and the price will certainly reflect that.
Best Mid-range Hotel in Roma: Capital Luxury Apartments — I love staying at this hotel when I need home-style amenities, including a kitchen, gym, and washer-dryer. It's solid and great.
Best Budget Hotel in Roma: Hotel Embassy — This hotel is centrally located and just right for those on a tight budget!
Best Hostel in Roma: Casa Pancha — Technically located in La Condesa, Casa Pancha is just a short walk from Roma and provides chic and clean accommodations.
Best Apartments in Roma
Luxury Apartment in Colonia Roma: For luxury at an affordable price, check out this stylish apartment surrounded by restaurants and shops.
Lovely 3BR 2 Bath Apartment in the Heart of Roma: This recently renovated apartment is just minutes from restaurants, coffee shops, and parks.
Casai Roma Chic Penthouse: This lovely penthouse boasts spectacular views over the city, which can be enjoyed from your private patio.
Gorgeous 1940s Biblioteca Turned Private Apartment: For a unique and charming stay, check out this library turned apartment in Roma Norte.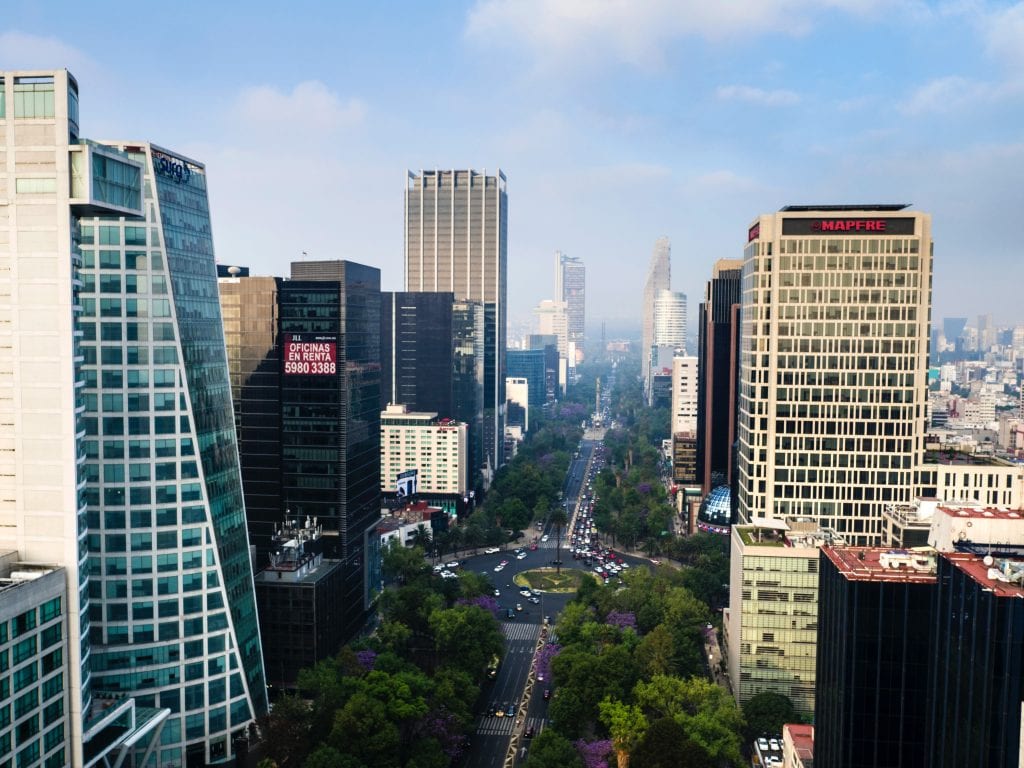 Best Mexico City Neighborhood for Nature Lovers: Reforma
Bordering the D.F.'s distinguished Bosque de Chapultepec, the largest park in the city, Reforma is the perfect neighborhood for anyone who loves to escape the hustle and bustle of the concrete jungle and relax in nature.
If you're a runner, this is one of the best places to stay in Mexico City. You can enjoy running through Chapultepec Park without struggling with the traffic and air pollution that plagues much of the city.
Beyond the park, in downtown Reforma lies one of Mexico City's primary business districts. The iconic Paseo de la Reforma is lined with towering buildings, historic monuments, museums, and local street vendors which is a major draw for visitors to the city.
If you're a museum lover, Reforma is a great option for where to stay in Mexico City. The National Museum of Anthropology (highly recommended), the Museum of Modern Art, and several other of the city's top museums are located in this area.
Best Reforma Hotels
As this is one of the city's main business districts, business travelers tend to be dominant in this neighborhood. You can expect to find a number of high-rise hotels and higher-end accommodation in Reforma.
You're not likely to find great options for hostels and budget accommodation here, however. But you might get lucky if you look closely.
Best Luxury Hotel in Reforma: The St Regis Mexico City — A sophisticated hotel situated right on La Reforma Avenue, this is the place to stay if you want to see Mexico City in style.
Best Mid-range Hotel in Reforma: Galeria Plaza Reforma — This hotel offers high-end amenities and won't break the bank!
Best Budget Hotel in Reforma: Hotel Casa Blanca — This lovely hotel is well located and includes an outdoor pool and fitness center.
Best Hostel in Reforma: UCo Juarez — This hostel is well located and offers clean dorms and free WiFi.
Best Apartments in Reforma
Beautiful Penthouse in the Heart of the City: If you're looking to be in the center of it all, this is for you. Located right on Reforma Ave, you'll love this gorgeously appointed penthouse and gorgeous views of the city.
Studio Unit at the Heart of Mexico City: This cute studio is perfect for a solo traveler or couple and just minutes away from museums.
Modern, New Centrally Located Reforma Apartment: With a stylish, minimalistic vibe, this apartment is centrally located along the Paseo de Reforma Ave.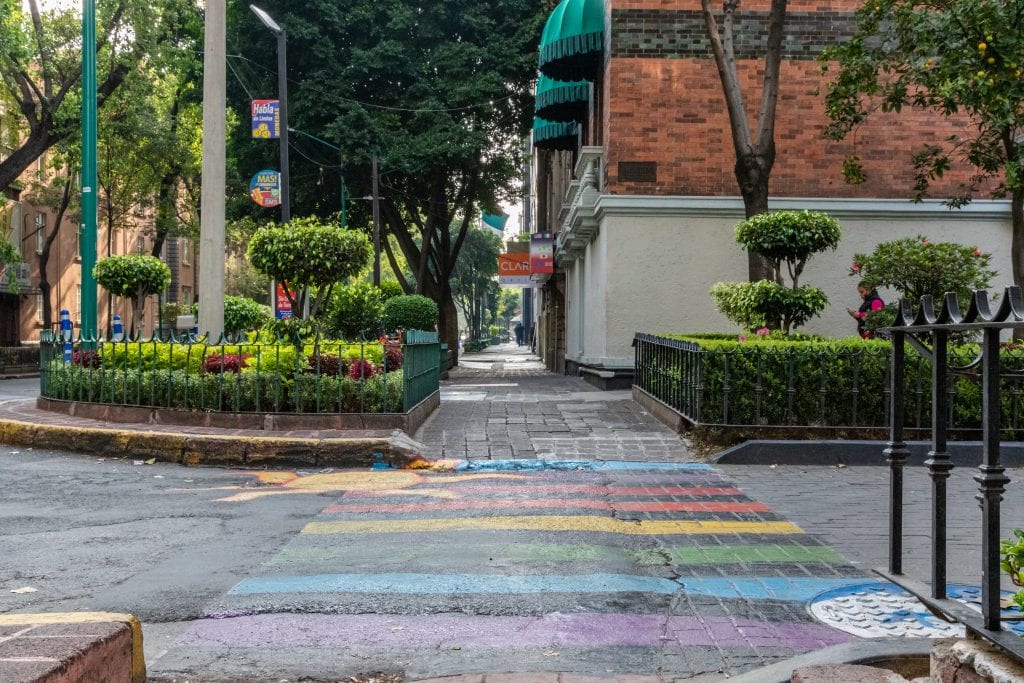 Best Mexico City Neighborhood for LGBTQ+ Folks: Zona Rosa
There's no question that Zona Rosa is one of the best places to stay in Mexico City to experience the vibrant LGBTQ+ community. This is THE gay neighborhood of Mexico City — and pretty much all of Mexico! (Though Puerto Vallarta's Zona Romantica comes close.)
Home to some of the city's best shopping and most lively nightlife, the bohemian Zona Rosa is incredibly queer- and tourist-friendly.
Brimming with charming restaurants and cafes, art galleries and museums, antique markets, a newly established Little Korea, and of course, the enormous annual Gay Pride Parade, you'll never be lacking for things to do in Zona Rosa.
Similar neighborhood? Zona Rosa is technically located within Juarez, an edgy neighborhood just north of Roma Norte. This area is changing rapidly with more hip businesses moving in constantly, and I have the feeling we're going to be hearing much more about Juarez in the next few years.
Best Zona Rosa Hotels
From boutique hotels to luxury accommodation to hostels and Airbnbs, Zona Rosa is another great neighborhood for any and every type of traveler.
This is another area of the city where you'll want to make sure that your accommodation isn't situated too close to a nightclub or noisy bar. If you're up all night from the craziness outside it could ruin your whole trip!
Again, read lots of reviews online before booking to make sure there aren't lots of noise complaints. And bring your earplugs anyway, because Mexico is a loud country and you never know!
Best Luxury Hotel in Zona Rosa: Eurostars Zona Rosa Suites — With all of Zona Rosa's top attractions within walking distance, this hotel offers all the standard amenities of a luxury hotel.
Best Mid-range Hotel in Zona Rosa: Hotel Geneve CD de Mexico — This historic hotel offers high-end amenities at a mid-range price point. It also has two restaurants on-site.
Best Budget Hotel in Zona Rosa: Ibis Styles Mexico Zona Rosa — This hotel really captures the essence of Zona Rosa with its funky interior and colorful style.
Best Hostel in Zona Rosa: UCo Juarez — If you're looking to live it up in Zona Rosa, this hostel is sure to show you a good time.
Best Apartments in Zona Rosa
2 BR New Apartment Next to Roma Norte and Reforma: Not only does this cozy apartment give you all the perks of Zona Rosa, it's also super close to Roma Norte and Reforma as well.
Cozy Loft Near Reforma: Small but modern and centrally located, this loft is perfect for solo travelers on a budget.
Marseille Suite l Wifi l Apple TV: This suite, complete with upgraded amenities, is within walking distance to many major sites of Mexico City.
Terrace Retreat l 3 Bedrooms: This trendy, modern apartment is perfect for a few couples, family, or group of friends traveling together.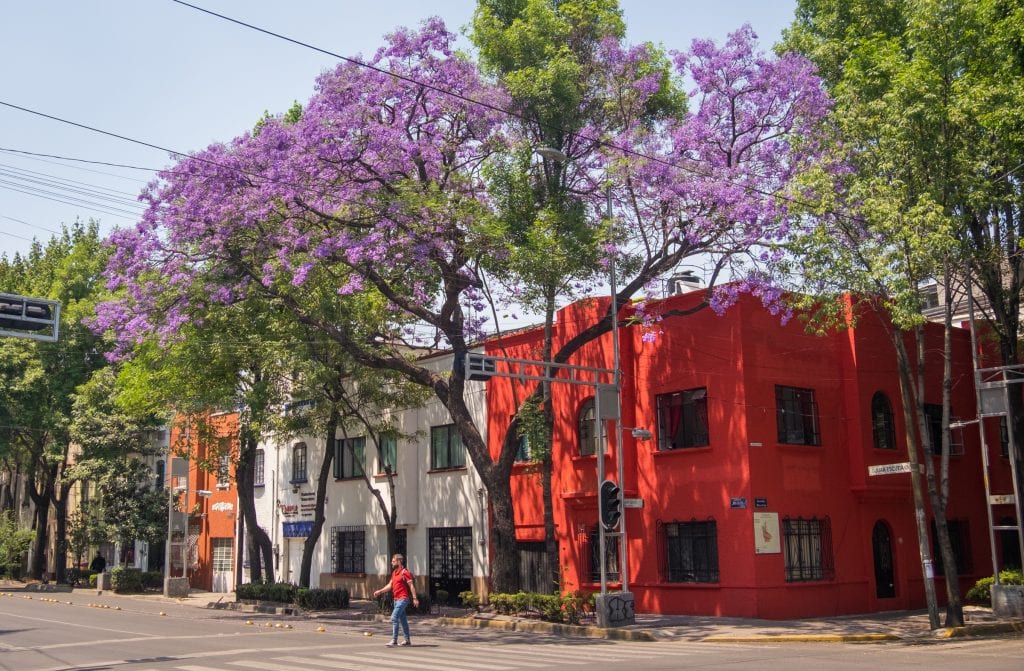 Where Not to Stay: Worst Mexico City Neighborhoods
There are a few areas where you should NOT stay in Mexico City. For example, visitors to CDMX will want to avoid staying near the airport because it's way too far away from the city's main attractions. Uber is cheap and easily available; you can always get a quick ride to the airport.
I also wouldn't recommend staying in the following neighborhoods for first time visitors, largely due to safety concerns: Tepito (often referred to as the city's "Black Market"), Ciudad Neza (one of the city's districts that is majorly impoverished, making it a hot bed for crime), La Merced Market (great for a daytime visit, but not recommended after dark), Doctores (home of some traditional Mexican lucha libres which you should definitely see, but should probably not hang around otherwise), and Iztapalapa (problematic area for tourists).
Tourists visiting Mexico City for the first time should try to avoid staying in neighborhoods that are situated particularly far north or particularly far south in order to ensure the safest, most fulfilling Mexico City experience.
All that said, there are plenty of wonderful neighborhoods to stay in Mexico City that are completely safe for tourists.
No matter where you travel to, always be sure to use common sense and keep your wits about you. That means not getting super intoxicated, taking Ubers home at night rather than public transit, holding onto your bag in crowded areas, and try your best to blend in and immerse yourself in the local culture as much as possible.
The St. Regis Mexico City hotel is the best option for travelers looking to experience Mexico City in complete luxury. Located in the Reforma neighborhood, this hotel is situated right on the Paseo de la Reforma boulevard.
Just steps from Mexico City's top attractions, there's no better location for visitors who are only spending a short time in the city. Even if you don't have a lot of time, try to fit in a nice walk in Chapultepec Park.
With three on-site gourmet restaurants, a spa, two ballrooms, and an indoor pool, few other properties in Mexico City can compare to the St Regis. Rooms are appointed with top luxury amenities to make your stay truly perfect.
More Top-Rated Luxury Hotels in Mexico City
Situated in the heart of Coyoacán, there's no question that other Mexico City boutique hotels pale in comparison when it comes to matching price with value. Calle Berlin Boutique embodies the charm of the historic and traditional neighborhood of Coyoacan.
Just steps from Frida Kahlo's Casa Azul, this boutique hotel is located perfectly to enjoy the best of the neighborhood. If you're looking for a quieter stay in Mexico City away from the hustle and bustle of the busier neighborhoods, this is the perfect hotel for you.
Calle Berlin Boutique boasts a garden, private parking, barbecue facilities, and a terrace to make your stay comfortable and pleasant. If you're looking for a unique boutique hotel experience in Mexico City, this is it.
More Top-Rated Boutique Hotels in Mexico City
A historic hotel situated in the heart of Zona Rosa, Hotel Geneve CD de Mexico is the ideal accommodation for travelers looking for a solid mid-range option. Brimming with historic charm, this hotel has all the modern amenities to ensure a comfortable stay.
One of the best things about Mexico City is that you can really get great value for your money when it comes to hotel accommodations. Hotel Geneve CD de Mexico is a great example of that!
Just steps from shops, restaurants, bars, and historic landmarks, there's no better location to stay if you want to get a comprehensive feel for Mexico City.
With antique artwork and decor, Hotel Geneve CD de Mexico offers travelers a truly unique experience in Zona Rosa.
More Top-Rated Mid-Range Hotels in Mexico City
For budget travelers looking to get the most bang for their buck, the Ibis Styles Mexico Zona Rosa will give you just that. From its colorful and well-appointed interior to its excellent location in the heart of Zona Rosa, this hotel offers everything you could want for a price that's just right.
With unique amenities including soundproofed rooms, free Wi-Fi, private parking, and more, you could stay at Ibis Styles Mexico Zona Rosa for as little as $29 per night.
Located a stone's throw from the shops, bars, restaurants, and monuments of Zona Rosa, you're unlikely to find a more impressive deal in the city.
More Top-Rated Budget Hotels in Mexico City:
Best Hostel in Mexico City: Casa Pepe
Located in the heart of Mexico City's Historic district, Casa Pepe is an adults-only hostel that includes a restaurant, a bar, and a shared lounge and kitchen. With a 24-hour front desk and a tour desk, Casa Pepe ensures a pleasurable stay close to the city's most important historic destinations.
With a funky interior, lovely, clean amenities, and a free buffet breakfast Casa Pepe is easily one of the top choices for best hostels in Mexico City. Each room comes with its own private bathroom and shower so guests can enjoy privacy after a long day of exploring.
If you're passing through the city alone or with friends, Casa Pepe is the perfect place to experience the best of Mexico City.
More Top-Rated Hostels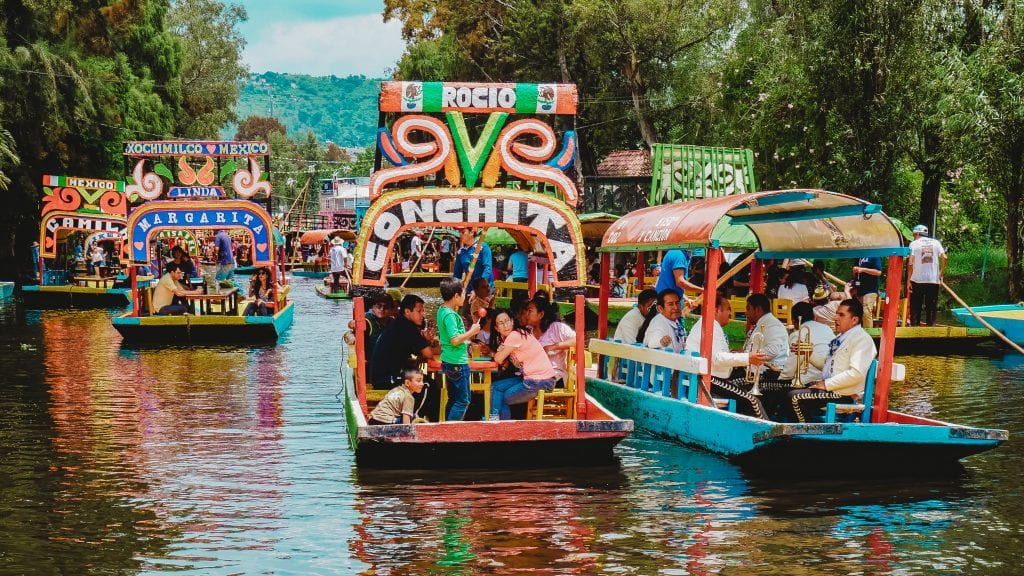 Best Things to Do in Mexico City
There are a MILLION incredible things to do in Mexico City, especially if it's your first time visiting! Here are a few of my personal recommendations for the best things to do in Mexico City.
Spend a day at Xochimilco on a party boat tour: There are few Mexico City experiences more fun than joining a group tour boat party at Xochimilco. Join an epic fiesta while you glide through the Floating Gardens on CDMX's colorful canals and meet tons of interesting new people. (Note: this one I absolutely recommend joining as a tour, because it's not the right experience if you go solo!)
Spend a day walking around Bosque de Chapultepec: Mexico City's famed Bosque de Chapultepec is an enormous lush green park right in the heart of the city. Think the CDMX version of Central Park. There are so many things to do here you could easily spend the whole day wandering, relaxing, and exploring. Don't forget to check out the Chapultapec Castle at the top of the park!
See a Lucha Libre performance: This is a definite must when visiting Mexico City for the first time. What's more exciting than attending a traditional Mexican wrestling match while tossing back shots of tequila and bringing home your very own lucha libre wrestling mask? Nothing. Nothing is more exciting.
Take advantage of eating at one of the best restaurants in the world for much less than you'd pay in New York or Paris: I adore fine dining in Mexico City for a fraction of the cost. If you're interested in Pujol, Quintonil, or Contramar (lunch only), be sure to reserve at least two months in advance. Last-minute? Check out Migrante.
Go on a food tour: There's a reason why Mexico City is renowned for having some of the best cuisine on the planet! Experience it all on an organized food tour to (safely) step outside your comfort zone and experience the best of this country's traditional flavors.
Take a stroll around Avenida Amsterdam: In my opinion, this is easily the best street in Mexico City. Located in La Condesa, Avenida Amsterdam runs a loop through the neighborhood and showcases the best of Mexico City. I want to move there.
Visit the ruins at Teotihuacán: Situated just outside of Mexico City, the Teotihuacán ruins are the result of an ancient Mesoamerican civilization. Also known as the City of the Gods, a day trip to these ruins is definitely worth it if you have the time.
Explore the Zócalo: Located in the heart of Mexico City's Centro Historico, the Zócalo is the city's primary cultural and historic square and has been since precolonial times. Spend an afternoon exploring this area to discover a bit of Mexico City's fascinating history and culture. There's a great rooftop bar overooking Templo Mayor!
Visit La Casa Azul in Coyoacán: The Blue House, also known as the Frida Kahlo Museum, is one of Mexico City's major attractions. Head over to Coyoacán to learn about Frida Kahlo's life, art, and experience in Mexico City — not to mention her passionate, often-stormy relationship with artist Diego Rivera.
Check out a museum or two: Mexico City is filled with a rich culture that spans thousands of years. Whether you're interested in history, anthropology, or modern art, you're sure to find a Mexico City museum that piques your interest.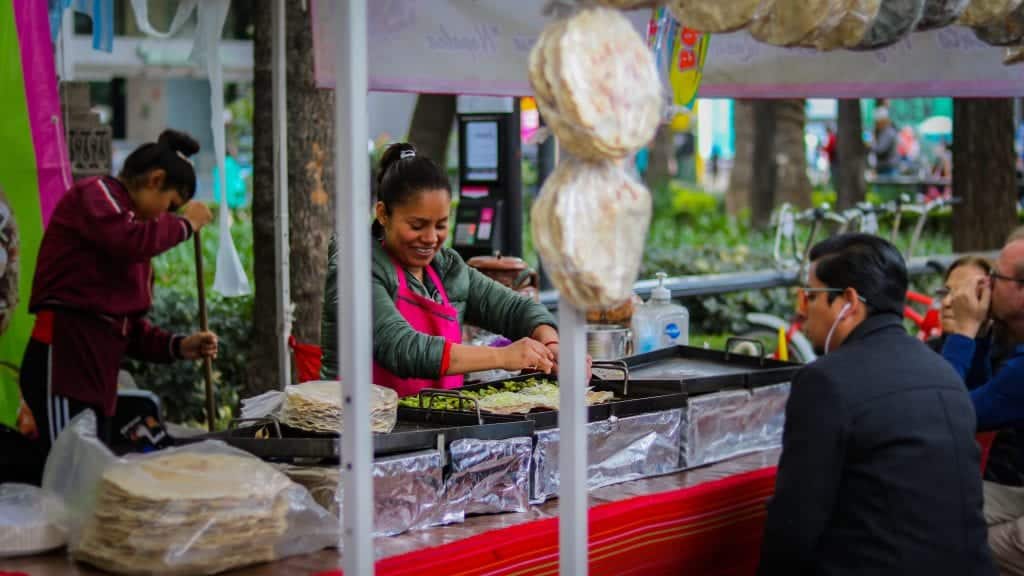 Mexico City Travel Tips
Bring a portable safe to Mexico City to protect your belongings. Avoid bringing your valuables with you while you're out and about. Instead, keep them locked safely away in this awesome portable safe which you can lock onto something sturdy in your room. Regardless of whether you're in a shared dorm room or a private room, it's better to be safe than sorry!
Check Skyscanner before booking your flights to Mexico City. I find that Skyscanner tends to have the lowest prices.
DO NOT drink the tap water in Mexico City! In case you're in the market for a serious case of Montezuma's Revenge, always drink bottled water. Mexicans know how to properly serve safe water and ice, so don't worry about consuming ice.
Choose street food vendors that seem crowded and always have a line. This is your best bet for avoiding risky street meat or other dishes that may give you food poisoning.
Plan to tip around 15-20% when eating in restaurants. Taxi drivers and street vendors don't require tips (though of course they're always appreciated).
Mexico City has a temperate climate, and it can be visited year-round. The best time to visit Mexico City is during the the months of March to May and October to November. During these times you can expect dry, mild weather and pleasant temperatures.
Keep your belongings secured while you're in the city with the Speakeasy Travel Supply Scarf. It has a hidden pocket for your valuables that no pickpocket will know about.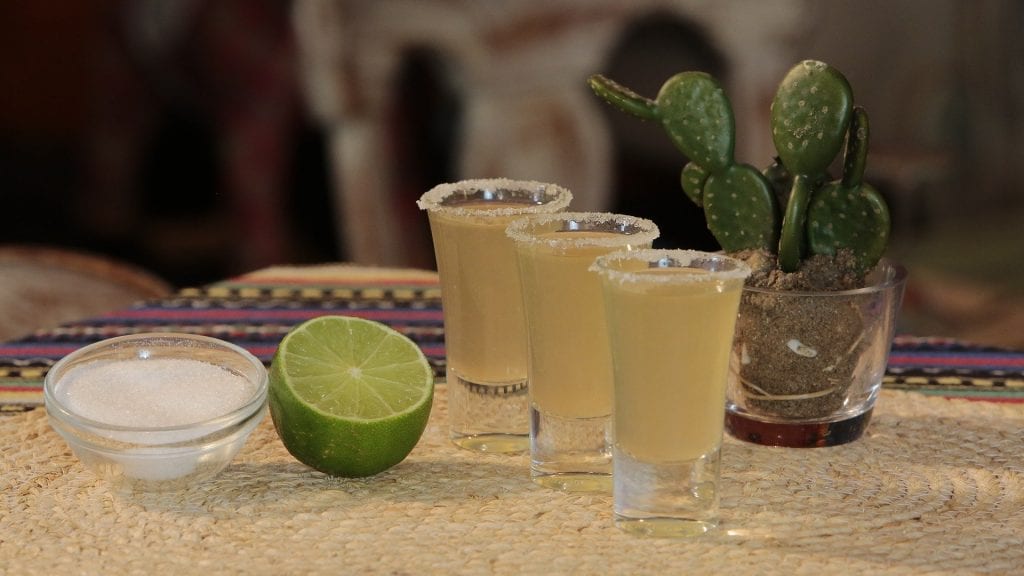 Don't Visit Mexico City Without Travel Insurance
A lot of people think travel insurance is an unnecessary expense — that's far from the truth. Travel insurance is essential. It's saved Kate hundreds of dollars and for one of her friends who slipped and broke his back while traveling, his travel insurance saved him literally hundreds of thousands of dollars.
If you get pickpocketed on a touristy Mexico City street, travel insurance will refund you what you lost.
If you trip over a curb on Avenida Amsterdam and break your ankle, travel insurance will refund your medical costs and get you home for free.
If you get appendicitis while in Mexico City, travel insurance will cover your medical costs.
If an immediate family member dies while you're in Mexico, travel insurance will help you get home immediately.
These are unpleasant things to think about, but it's so important to be prepared for the worst.
I use and recommend World Nomads Travel Insurance. They're a great fit for almost every traveler. Take a look at their policies before you buy to make sure they're right for you.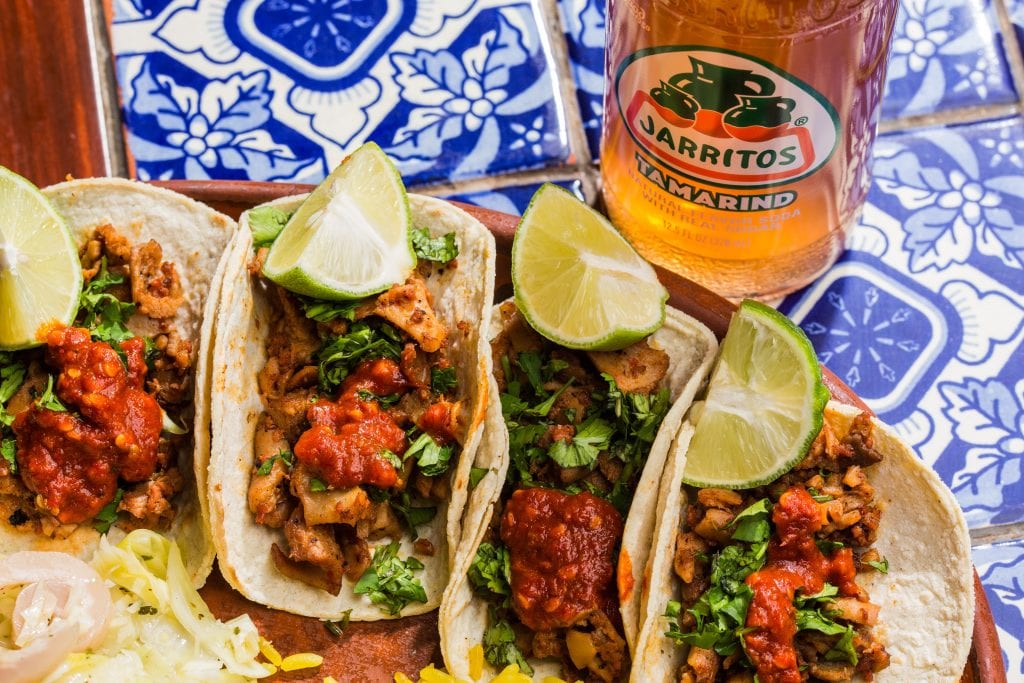 My #1 Mexico City Travel Tip
Plan your trip around food, from taco stands to high-end restaurants — because Mexico City is one of the best culinary destinations on the planet!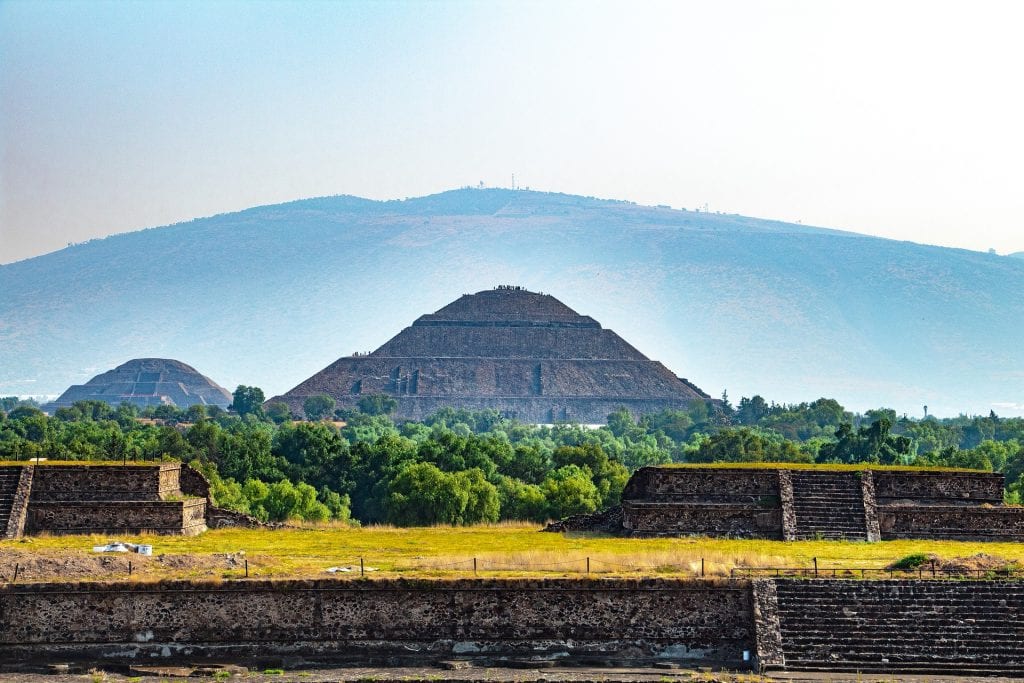 Are you ready for your trip to Mexico City?
Find deals on hotels in Mexico City here and see all Mexico City apartments here.
Planning a Trip to Mexico:
Places to Visit in the Yucatán and Mexico's Caribbean Coast:
Places to Visit in Inland Mexico:
Places to Visit on Mexico's Pacific Coast: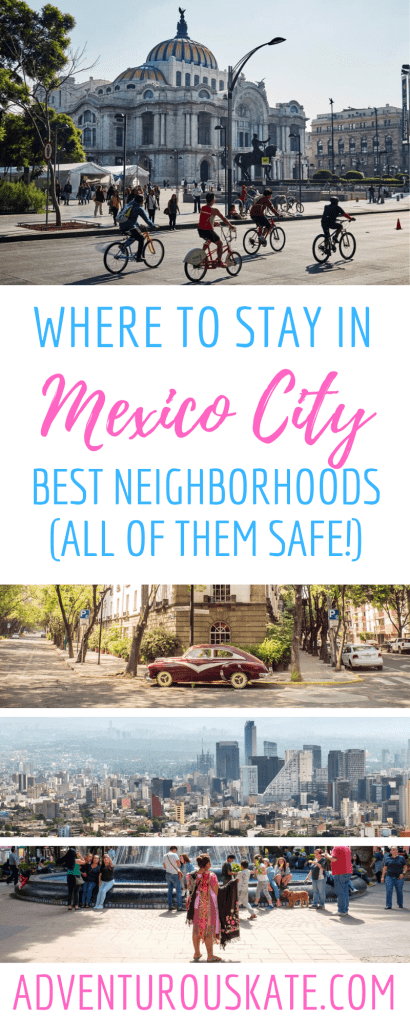 Have you been to Mexico City? Where do you recommend staying? Share away!