Adventurous Kate contains affiliate links. If you make a purchase through these links, I will earn a commission at no extra cost to you. Thanks!
Here's an egregious travel oversight of mine: until this June, I had never been to the Midwest before. Not even Chicago!
But the spring I was invited to serve as a mentor at Navigate Media Group's latest Bloghouse, this one taking place in Milwaukee. Milwaukee, it turns out, was the perfect introduction to the Midwest.
As much as I love visiting new and unusual countries, there's something that I adore about visiting new corners of the US, like I did on my southern road trip last year. The more similar the place is to your home, the more you notice little nuances that you never knew existed.
I loved Milwaukee. Here are some of the takeaways I took from my time in the city.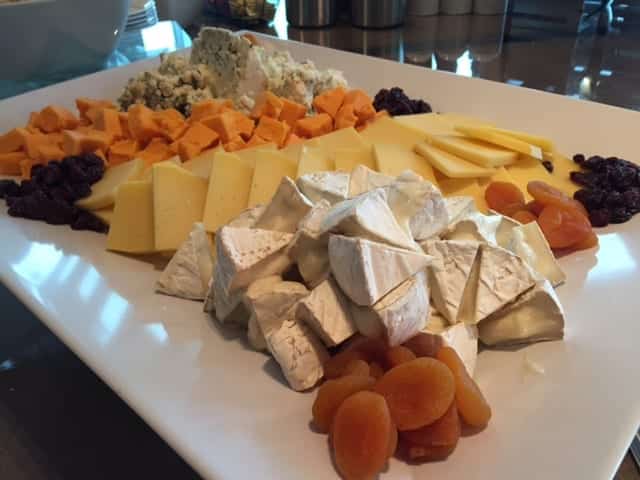 The cheese is just as great as everyone says.
As a cheese fiend, I was very much looking forward to sampling Wisconsin's most famous export. Yes, they are very serious about their cheeses, and for good reason. I couldn't get enough of them.
One of my favorite places for cheese was the Wisconsin Cheese Mart, which we visited as part of the Bikes, Brats, and Beers tour from Milwaukee Food and City Tours. The cheese is overflowing at these places. Huge platters of cheese, trays of sausages, and plates of highly stacked grilled cheeses, all with plenty of unusual beers on tap.
Another great place to hang out and eat some great cheese is the Rumpus Room, which held one of our evening receptions. It was nice to experience a more classy, hip atmosphere in what feels like a very casual city.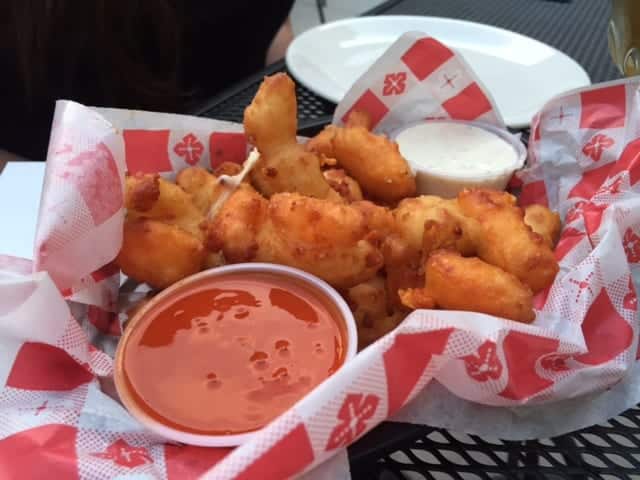 But if there's any particular cheese dish you should sample in Milwaukee, it's deep fried cheese curds.
I kept trying them everywhere and my favorites were at the restaurant in the Brewhouse Inn and Suites, a fun hotel in the former Pabst brewery that offered me a complimentary stay my first night. While most places serve them with just ranch dressing, they served them with both ranch dressing and buffalo sauce. Decadent and awesome.
The beer is awesome, too.
Milwaukee is a pretty intense beer city, and while I'm not as crazy about beer as I am about cheese, you'll find lots of tasty varieties here.
One of the best parts of my time in Milwaukee was the tour at the Lakefront Brewery, which was also part of the Bikes, Brats, and Beers tour. I've done lots of brewery tours and they're not really my thing. Look at tanks, munch on hops, wrinkle your nose at the smell. I hope it's a quick tour and we can start drinking, I thought to myself.
Well, I was wrong — this is by far the best brewery tour I've been on and one of the funniest tours I've been on, anywhere! Our guide was lightning-quick and had us in stitches the entire time, down to getting our group to parody the Laverne & Shirley opener at the end!
I can't recommend the Lakefront Brewery tour enough. Even if you're not a brewery person, you'll laugh your head off here.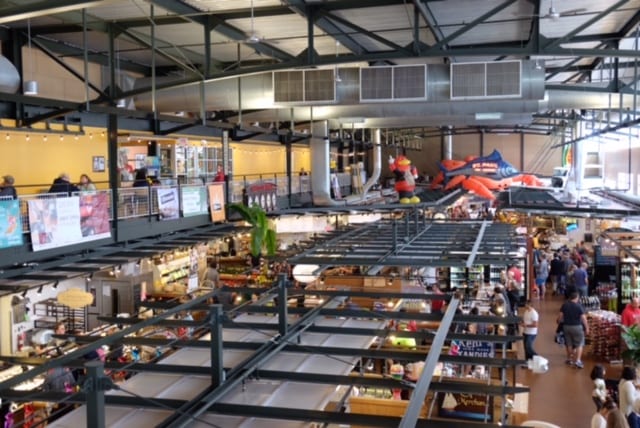 Yes, there's other food besides cheese and beer.
I really enjoyed visiting the Milwaukee Public Market, a collection of food stalls and restaurants in downtown Milwaukee. It reminded me of Quincy Market in Boston, only a bit smaller, more local, and much classier.
After all the beer and cheese and sausage and bread we had been eating for days, I made a beeline for The Green Kitchen and got myself a nice kale smoothie, hoping it would undo at least part of the damage.
On recommendation from a local, I went to the St. Paul Fish Company and got a salmon sandwich with bacon and spinach for lunch. Fantastic.
I also tried a spoonful of another Midwestern delight: frozen custard! It's a much creamier and sweeter version of ice cream and I can't imagine how anyone can eat a whole cone of it.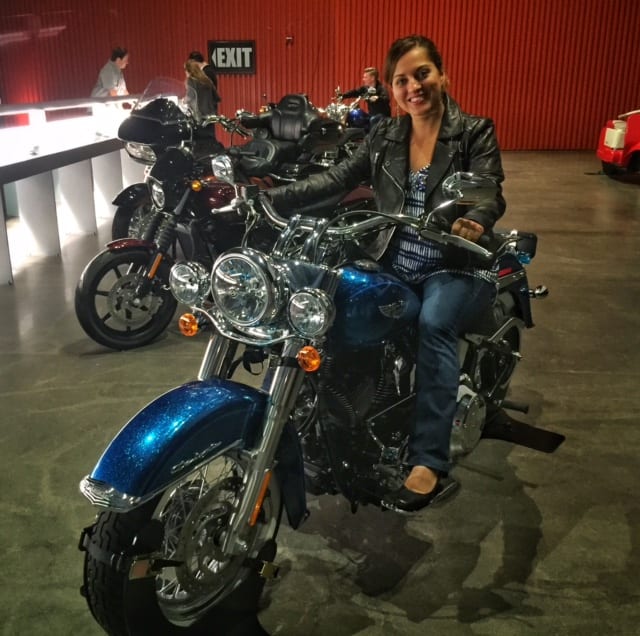 Maybe I should get a Harley?
I first discovered my inner biker chick in Southeast Asia, most memorably when racing along Vietnamese highways, trying to beat the sunset. But I never knew much about the Harley-Davidson fascination until I had a mini-tour of the Harley-Davidson Museum.
There are some brands out there that inspire the fiercest devotion. Harley-Davidson is unquestionably one of those. Have you ever seen a Harley fan? They are hardcore — and loyal for the rest of their lives.
So this tour made me realize what made Harley lovers tick, and we learned a ton of the history, including some World War II tidbits and a truly moving story about the tsunami in Japan.
You might not think motorcycles are your thing, but believe me, this museum is something special. Our guide was wonderful and told us stories that had us laughing one minute and in tears the next.
There's a casino, and it's actually really great.
Milwaukee is home to the Potawatomi Casino, where we all stayed and held the Bloghouse. I love Vegas, but most non-Vegas casinos creep me out (I'm looking at you, Foxwoods and Mohegan Sun!).
But Potawatomi was different. Sure, the slot machines were home to plenty of chain-smoking senior citizens in motorized wheelchairs, but the actual floors had a much better, younger, non-scary crowd. Is it the Midwestern factor?
As you can see above, I left about $120 richer than I arrived! I rocked at blackjack and roulette and most importantly, got out while the getting was good! (I didn't make out quite as well as Steph and Mike, though, who won $80 and decided to bet it all on red before they left. They doubled their winnings!)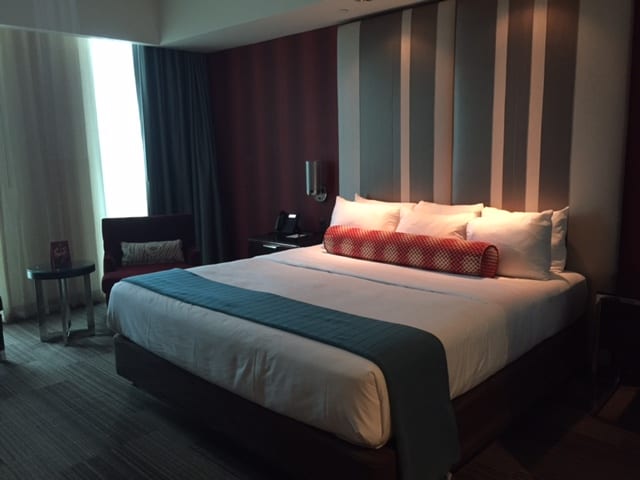 These were our rooms. Supremely comfortable and luxurious. I also loved the elevators — when you take them down to the casino floor, the music is peppy and upbeat; when you go up to your room, the music is calm and soothing.
I tried a few restaurants at the casino and highly recommend Locavore, which features local Wisconsin food. We had one of our group meals here and tried a deconstructed take on a Fish Fry, a Friday tradition in Wisconsin.
One of the craziest bars I've ever seen is in Milwaukee.
Cailin and I got to Milwaukee a day early and on recommendation of a few readers, decided to check out the Safe House, a spy-themed bar. WHAT A PLACE.
First of all, to get in, you need the password. (Thank you to the lady at the airport who offered it to me.) If you don't know it, you'll have to do weird antics for a camera (think dancing or push-ups) as people inside the bar watch you and laugh.
Once you get inside, you'll find a maze of different bars. There are closet-like rooms that have revolving booths. There are panels that slide backward. Everything is vintage and it's like you stepped into a swirling time warp. It feels like you're in a haunted mansion!
This place is so cool. Do what the locals do and order an Old Fashioned made with bourbon. I'm not a whiskey fan and somehow never had one before, but now I'm a huge fan. In Wisconsin, at least!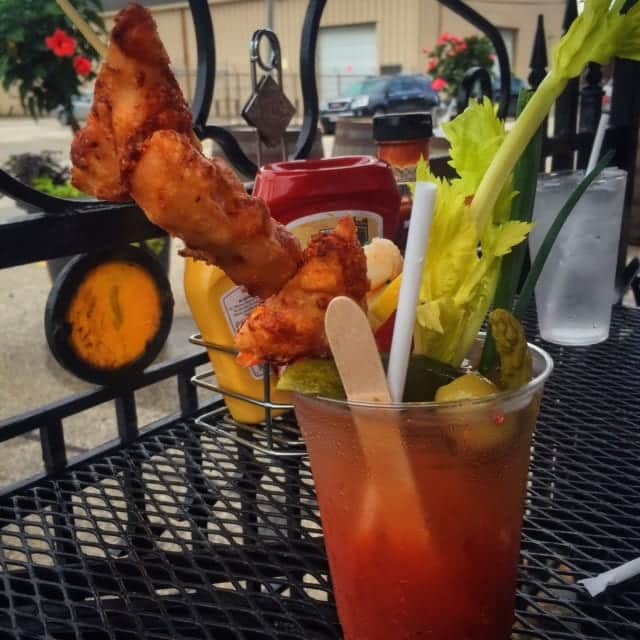 Bloody Marys are serious business here.
I've seen Buzzfeed features on how crazy Bloody Marys can get in Wisconsin, so before leaving town, Cailin and I set out to try them at one of Milwaukee's most famous burger joints, Sobelman's.
Mine, the Cheesehead Bloody ($11), featured a skewer of "bacon cheese crack", a concoction of fried cheese and bacon that melts in your mouth.
Cailin's, the Baconado ($12), featured a "baconado," or a skewer of bacon-wrapped jalapeño cheese balls.
Both of them also included cheese, sausage, shrimp, and various pickled vegetables. Oh, and a mini beer as a chaser. I love me some Bloodys, especially the spicy ones they make in New Orleans, but nothing has been anywhere nearly as extreme as Milwaukee's.
But neither of us were brave enough to try the Chicken Fried Beast ($45), which features two sliders, two baconados, tons of sausage and cheese and pickled vegetables, and an entire fried chicken.
Believe me, if I didn't have a train to catch, I would have gone for it.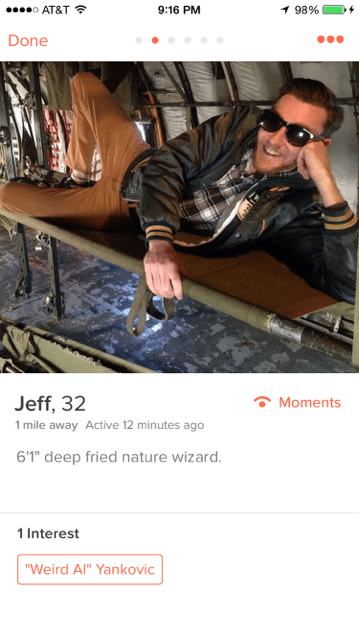 Tinder is also serious business here.
I've heard lots about Midwestern guys, that they're polite and sweet and corn-fed. Well, I hopped on Tinder to sample the wares, and WOW.
I couldn't believe 1) how good-looking the guys were, 2) how often I got matches (a far higher rate than usual), and 3) how nice the guys were once I chatted with them.
(And if you know my taste in guys in the least, you know the Weird Al-loving "deep fried nature wizard" above is very much my type. And now I know someone in Milwaukee is going to recognize him and tell him he's on this site…hi, Jeff…)
I didn't have time for any dates during my stay in Milwaukee, but DAMN. I'll make time next time. I've got a list.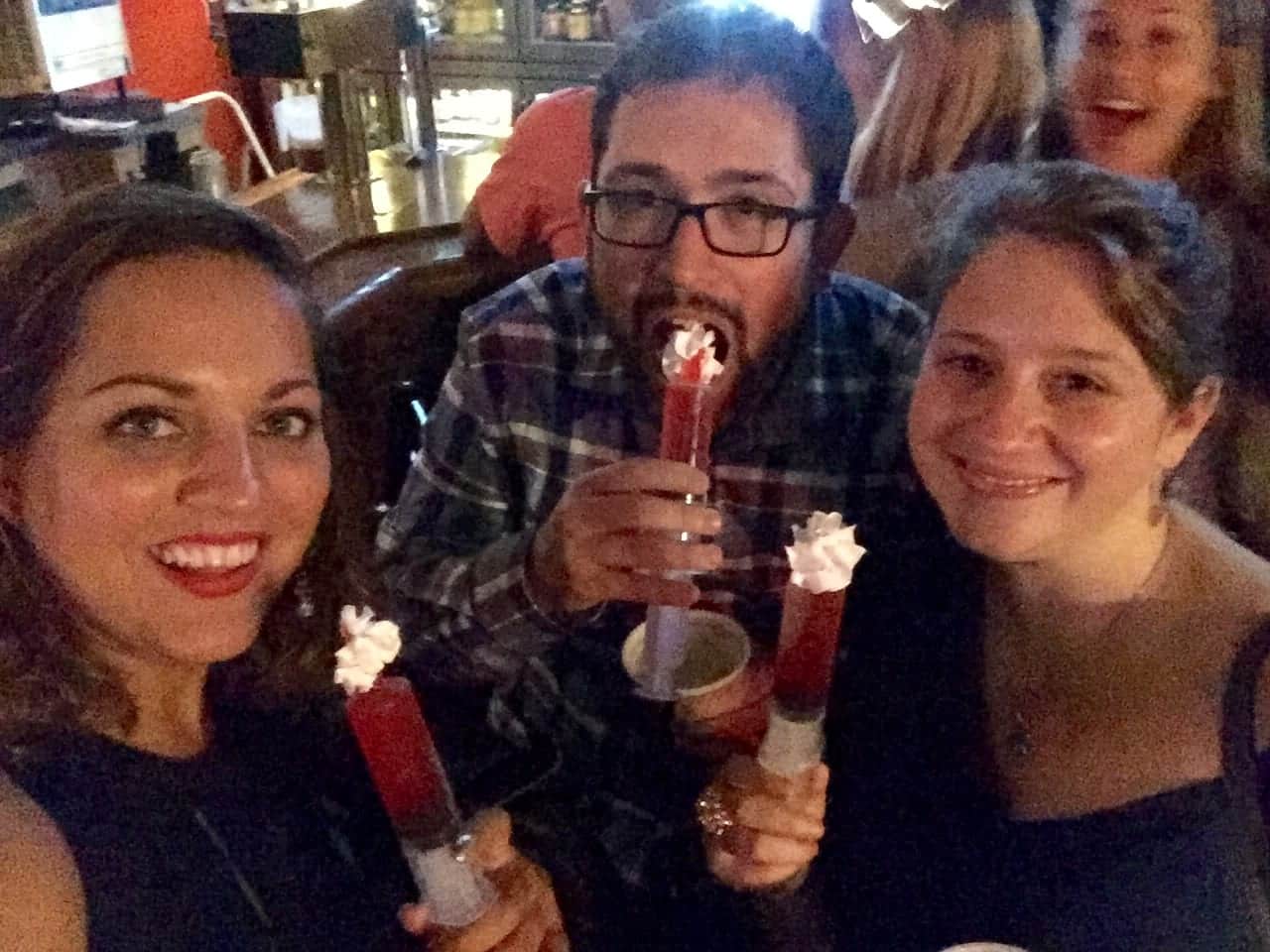 Piano bars are fun. Losing your debit card is not.
On our final night out, our new local friends suggested we head to Lucille's Piano Bar. I love piano bars — one of these days I'm going to jump up there and challenge them back! I can join in on the piano on any song — I really think I could win a challenge!
Yes, there may have been jello shots served in giant plastic hypodermic needles.
We got so carried away that I left without closing my open tab. And then the bar was closed for the next few days. Which means I couldn't get my debit card back before I left the city, and I had to cancel it and have another overnighted to me for the third time in seven months. Sigh…
And the Bloghouse itself rocked!
We spent four days teaching a new group of travel bloggers everything we knew that turned us from hobby bloggers into professionals earning enough to quit our jobs. It was a mixture of speaking sessions for the whole group (I personally spoke about Facebook and Snapchat, two platforms that I rock particularly well) and one-on-one sessions with individual bloggers, going through their sites with a fine-tooth comb.
It was a lot of work. But it was a lot of fun, too! And I'm happy I left Milwaukee with a new group of friends in the travel blogging world.
Is Bloghouse for you? It's for someone who has been blogging for at least several months, is good at it, and has been having trouble getting beyond a plateau.
If you're a brand new to intermediate blogger, I recommend Travel Blog Success instead. That is what will help you incredibly fast in a short period of time.
The Takeaway
Milwaukee is so much fun and I'm glad it was my introduction to the Midwest! I know it's not a traditional travel destination, but I think it makes a really fun weekend getaway, especially if you're into food.
And when you consider that it's only a 90-minute train ride from the much more visited city of Chicago, that gives you an added incentive to visit.
After my visit, I now want to return and visit more of Wisconsin. It looks like it has a ton to offer and I'd love to experience even more of the cheese.
PIN IT!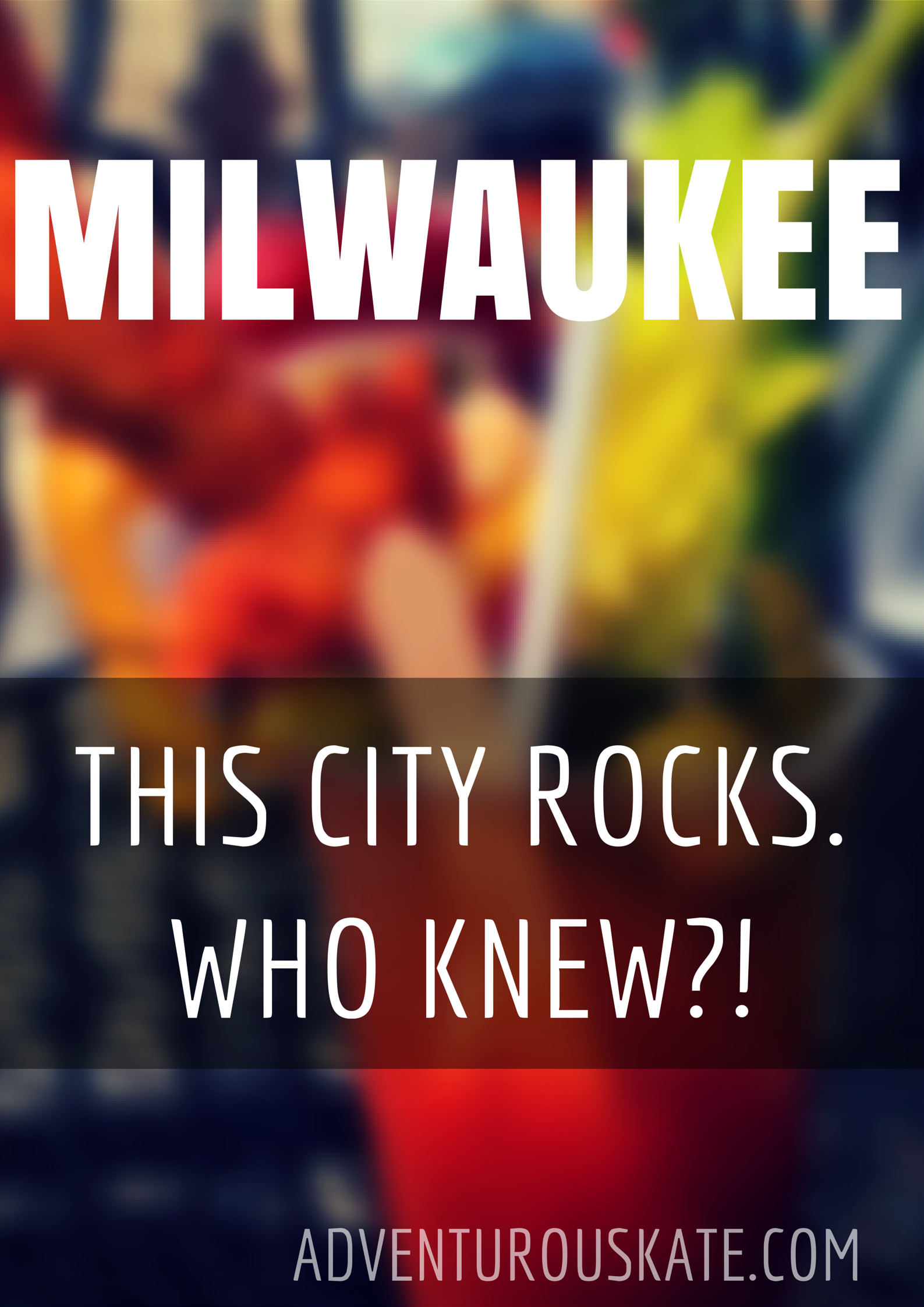 Essential Info: The Bikes, Brats, and Beers Tour from Milwaukee Food and City Tours costs $60 per person and includes a mini tour of the Harley-Davidson Museum, beers and food at Wisconsin Cheese Mart, and a tour at the Lakefront Brewery.

If you want to visit the Harley-Davidson Museum on your own, admission is $20 for adults, $14 for students and seniors, $10 for kids, and free for kids under 5.

Rooms at Potawatomi Casino start at $152. Rates at the Brewhouse Inn and Suites start at $179. You can find the best prices on other hotels in Milwaukee here.

Both Safe House and Lucille's Piano Bar have a cover charge of $5. Other venues listed are free.
Many thanks to the sponsors who made Bloghouse Milwaukee possible: Visit Milwaukee, Travel Wisconsin, Potawatomi Casino, Flipkey, and the Bartolotta Restaurant Group.
Most of the activities and items listed in this post were complimentary for me as part of the Bloghouse. I paid for my crazy Bloody Mary at Sobelman's; my nights out at Safe House and Lucille's Piano Bar; some of my food at Milwaukee Public Market; all of my drinks and gambling at Potawatomi Casino; a portion of my flights to and from Milwaukee; a ton of Uber rides; and various incidentals along the way. All opinions, as always, are my own.
Have you been to Milwaukee? Or do you simply love cheese enough to venture there?
Get email updates from Kate
Never miss a post. Unsubscribe anytime!