Adventurous Kate contains affiliate links. If you make a purchase through these links, I will earn a commission at no extra cost to you. Thanks!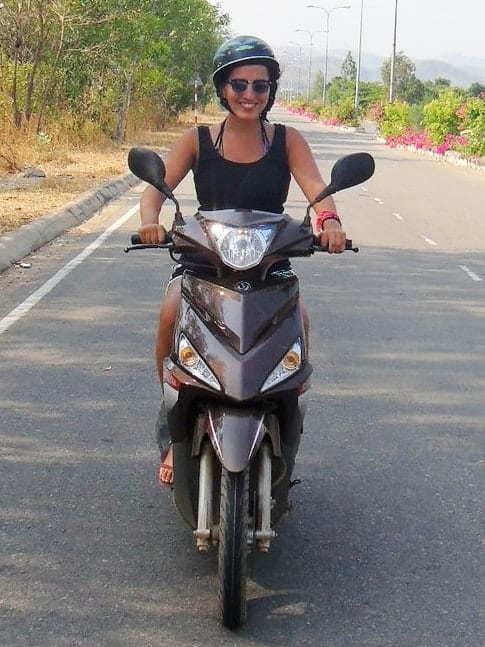 One of the great surprises about traveling in Asia is discovering that there's always been a biker chick hiding inside me. Never did I ever dream it could be possible, but it's true.
From the first moment I got on my motorbike in Pai, I was in my element.  Through Laos and Cambodia, I continued my newfound hobby, letting the wind rush through my hair as I sped down highways.
But in Vietnam, I would meet my greatest challenge yet.
After riding to the white sand dunes the day before, my friends and I decided to ride to Ta Cu, a mountain 45 km south of Mui Ne.  The route would take us through the city of Phan Thiet and along the highway.
Now, that doesn't sound too bad until you consider this:
Vietnamese drivers are totally f*cking insane.
It's not like complaining about Boston drivers.  Boston drivers are practically Amish compared to the Vietnamese, who are outrageous even by Asian standards.
Buses think nothing of passing each other while swerving into oncoming traffic.  Sometimes buses will pass buses that are already passing others, nearly causing accidents on a regular basis.  And they do it all while honking more or less constantly.
I was going to drive in the middle of all that.
Surprisingly, the drive there wasn't that difficult.  I loved driving in Phan Thiet – after weeks of learning how to cross the motorbike-filled streets of different Vietnamese cities, finally, pedestrians had to look out for me!
After that, the highway was nearly empty, echoing my days motorbiking the Bolaven Plateau in Laos.  It seemed like my worries had been exaggerated.  Well, not for long.
We stopped at a gas station and Sander went to ask for directions to the mountain.  He came back moments later, a tight grin stretched across his face.
"Well, he doesn't speak English and he's carrying a large knife, so we should probably go now."
We laughed and took our time getting ready.
"Um, guys?" Sander asked worriedly.  A man was walking toward us with a machete in hand.
Never have I ever pulled away so fast.
Eventually, we made it to lovely Ta Cu.  We took a cable car to the top, enjoying spectacular views.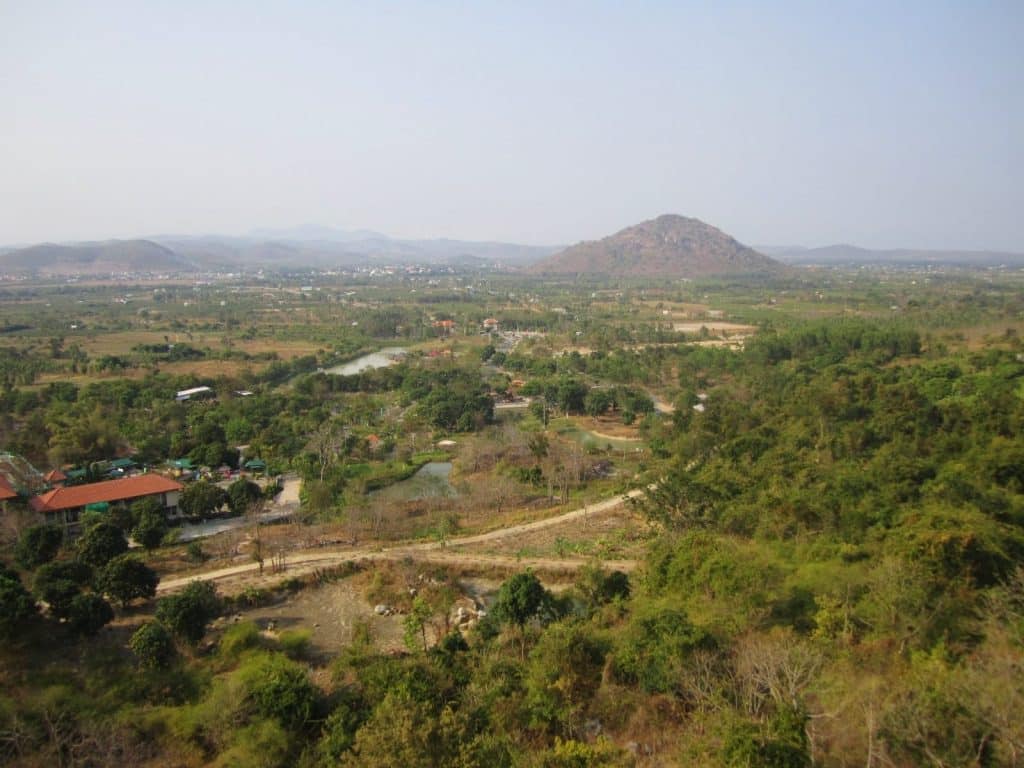 At the top was an impressive giant reclining Buddha – even bigger than the giant reclining Buddha in Bangkok!
Best of all, we were the only Westerners there. The Vietnamese lined up to shake our hands and gawk at Sander's height.  All in all, a very worthwhile visit.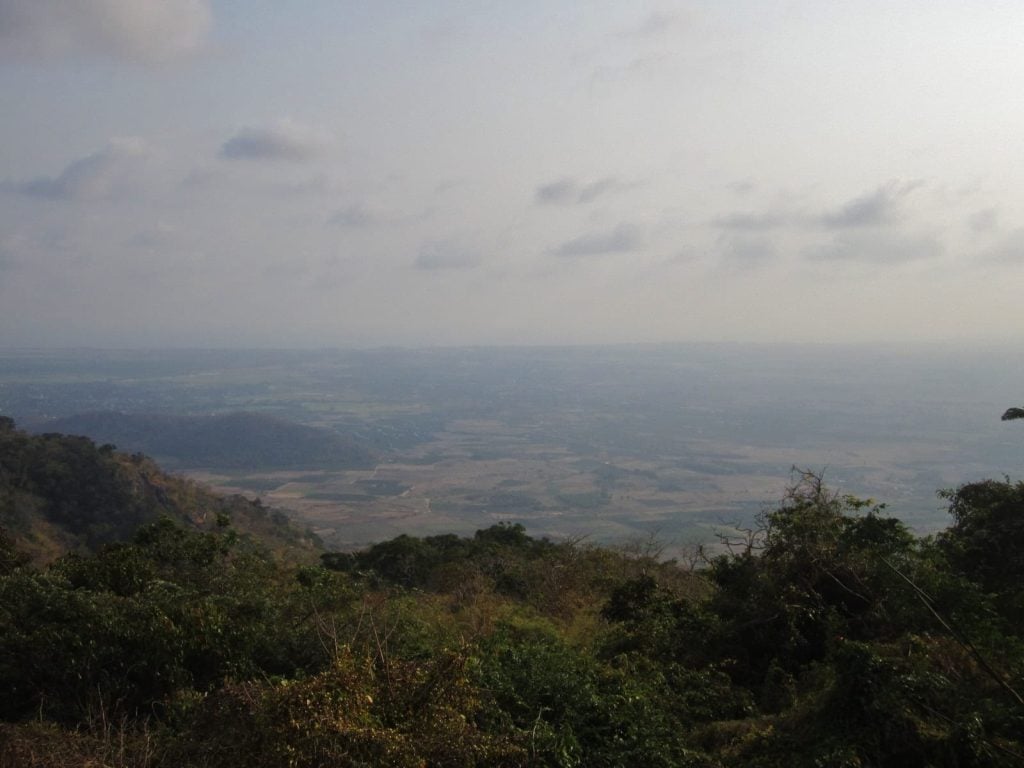 By the time we left, the sun had begun to set.
And it hit us –
We had to make it back to Mui Ne before sundown. And in order to do that, we would have to drive fast.  Much faster than we drove there.
And we would be facing rush hour traffic.
So began the most exhilarating hour of my life.
My friends and I drove as fast as we could, passing every motorbike that dared to go slower than us.  We honked our horns constantly, Vietnamese style.  And the whole time, giant buses honked as they passed us, sometimes barely leaving a foot of space in between us.
And the sun continued to set in the background.  If we didn't keep it up, we'd be in total darkness soon.
My heart beat fast the entire time.  We have to make it, I thought.  There's no way I can drive like this in darkness.
We dodged teenagers on bicycles.  We dodged people riding in the opposite direction.  We dodged kids who decided to just stop in the middle of the motorbike lane.
And through it all, we were celebrities on the road! Western tourists are rare finds on the highway, and motorbikes kept pulling up alongside us, saying hello.  People even leaned out of bus windows and waved to us!
Phan Thiet was much busier than before as well.  Weaving in and out of urban traffic was both a thrill and a delight, and I sped across a line of motorbikes coming from the opposite direction, barely fitting through the tiny gap I found.
"Wow, Kate.  That was adventurous of you," Mike said later.  I never get tired of hearing that!
I can't tell you how much fun it was.  It was one of the most exhilarating days of my life.  And there was a huge sense of accomplishment at the end of the day.
I think that I might actually be ready to drive in Hanoi or Saigon. Those cities are literally swarms of motorbikes, but after learning the rules of city traffic, I think I could handle it.
My love affair with motorbikes won't be ending anytime soon – and that goes for my mates, too!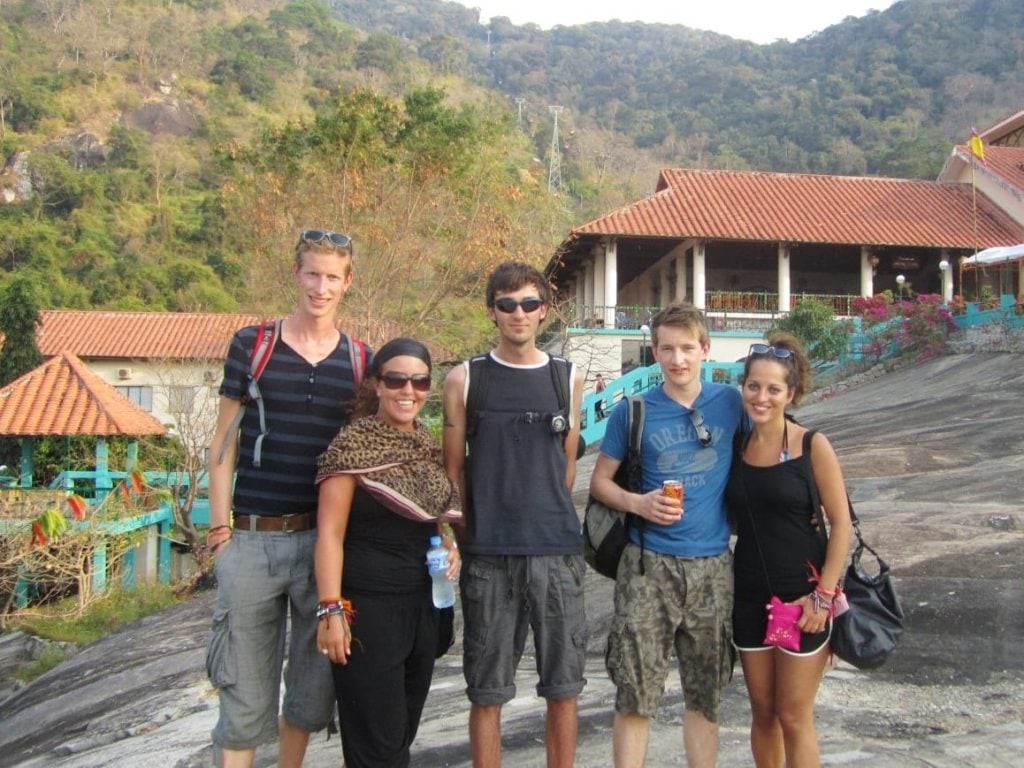 We did it.
Get email updates from Kate
Never miss a post. Unsubscribe anytime!