Adventurous Kate contains affiliate links. If you make a purchase through these links, I will earn a commission at no extra cost to you. Thanks!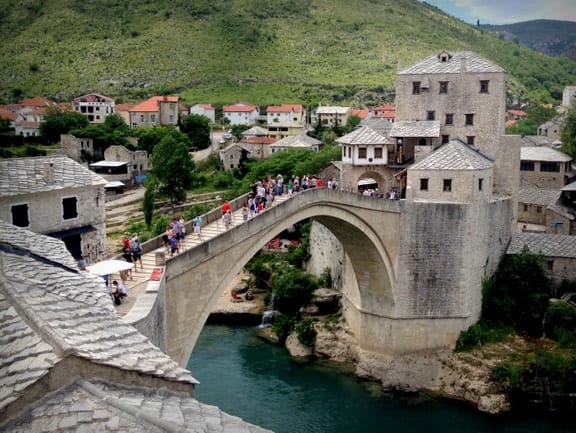 After seeing the remnants of war all over Sarajevo, I thought I had seen my fill of Bosnian devastation.  Little did I know that Mostar — beautiful, tiny, freshly rebuilt Mostar — would be even worse.
Shortly after arriving at Hostel Nina, our next HostelWorld property, Žika welcomes us and tells us we're just in time for his official tour.  Žika's tour, which is only open to Hostel Nina guests, is a tour of his life in Mostar.  No other tour will take you to sites like these.
As we walk down the street, I notice the heavily pockmarked buildings.  While Sarajevo was ravaged during the war, it's nothing compared to what Mostar went through in the early 90s.  Mostar was all but completely leveled.
Strangest of all is that the buildings with the most bullet holes are often in between clean, newly constructed buildings.  I ask Žika about this.
"Every year, they decide which buildings to repair," Žika says.  "Sometimes they say, 'Hey, we will fix this building this year,' but sometimes, they choose to fix another building instead."
"So it's building by building instead of by neighborhood or region?"
"They choose each building."
Our next stop is to a Mostar cemetery, fresh with headstones from the last 25 years.  Some are headstones for bodies that were never found and are still presumed missing.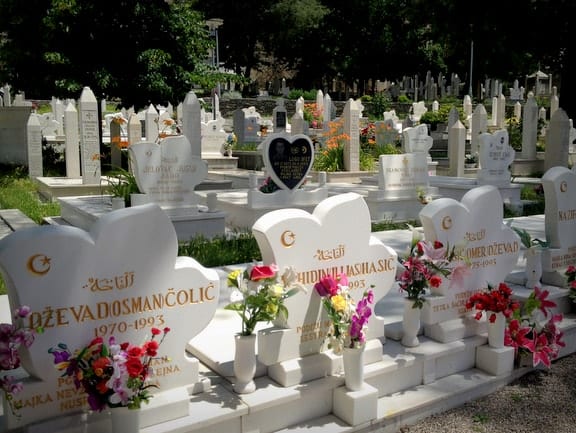 "Half of my high school is here," Žika says.
We're silent.
Žika puts a personal face on the conflict that we mostly ignored as kids and held at a distance since.  How can you go through something so terrible and still have a desire to go on with your life?  I can't even begin to imagine.
Next, we visit a deadly site: the sniper tower of Mostar.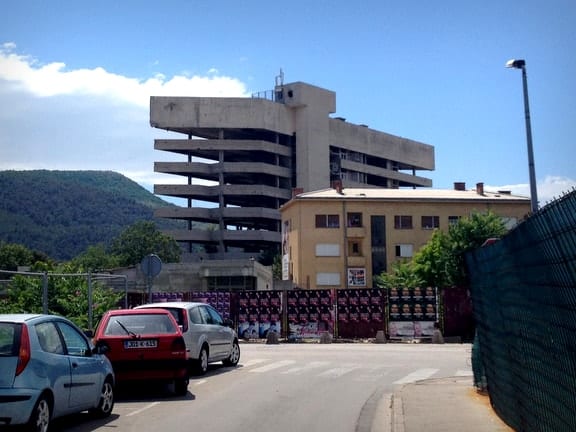 This building used to be a bank — until the war, when the Serbs and Croats took it over and turned it into a sniper tower that they used to pick off the Bosniaks.
We walk into the building, stepping through piles of ashes, broken glass, and what is likely asbestos.  Believe it or not, the building isn't closed off to the public.
After climbing eight precarious floors to the top, we're greeted with a wide view of the city.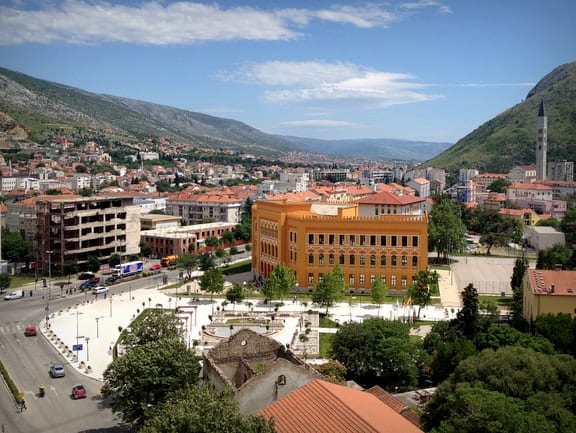 "Before, we were brothers," says Žika.  It's true — before the war, Muslims, Catholics, and Orthodox Christians lived together in harmony.  Now the different groups don't so much as cross the river to each other's neighborhoods.
"Do you go to McDonald's?" one of the guys asks.  Mostar's McDonald's is deep in the Orthodox neighborhood, west of the river, and Žika is a Muslim.
"Of course!"
"But what if there's a sale on the other side of town and you want to buy t-shirts?"
Žika pauses.  "I can go there.  I'll buy the t-shirts…but I won't eat there."
"You won't linger," I clarify.
"I won't linger."
We walk down a floor to see where the Serbs and Croats aimed their rifles before leaving the building and its dark history.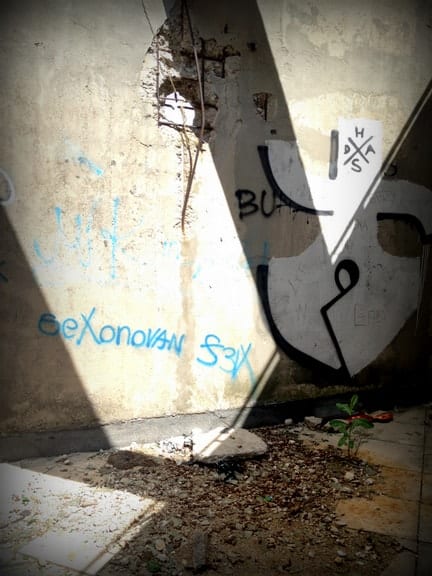 The Old Bridge is the most famous sight in Mostar, but its current incarnation is less than a decade old.  The bridge was destroyed by missiles in late 1993.  Žika watched it go down.
The bridge was painstakingly reconstructed for three years, using the same stone and the same construction methods as the original, and it was unveiled to great fanfare in 2004.
Today, the bridge is most famous for its divers — people who plunge off the edge into the icy Neretva River below.  These men are the celebrities about town.
Oh, and of course, Žika was once one of them!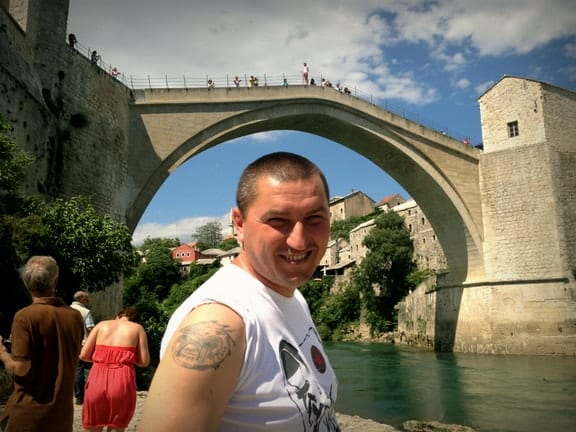 The jumps are typically done feet-first, but some of the men do a traditional head-first dive.  With the river only three meters deep, this feat is extremely difficult and dangerous.
But once you do it, you get a tattoo of your bridge on your bicep!
Today, if you want to see a jump off the bridge, you'll have to wait until the jumper collects enough donations from nearby tourists.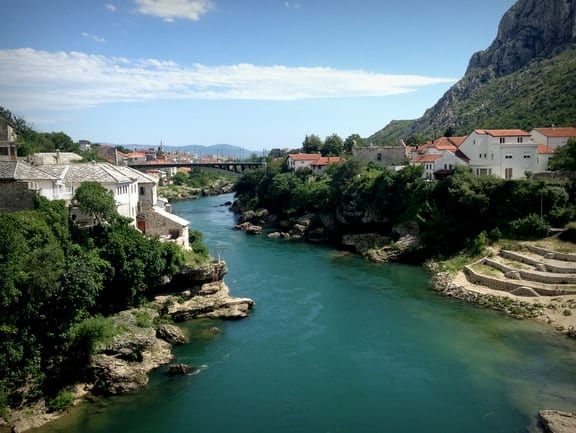 Žika wraps up the tour in a fascinating place — a house on one edge of the bridge home to a makeshift bridge diving museum.  It's chock full of pictures and artifacts from bridge drivers, as well as a book signed by every foreigner who managed to jump and survive.  There are thrill-seekers from Australia, Norway, the United States, and more!
And hilariously, this museum is home to a dungeon of sorts.  People in Mostar tend to take the law into their own hands, and when they find someone breaking the law, they'll haul him into the dungeon and call the police.  Depending on the egregiousness of the crime, the police will often take their sweet time picking him up.
Žika leaves us in a nearby cafe to enjoy some Turkish coffee.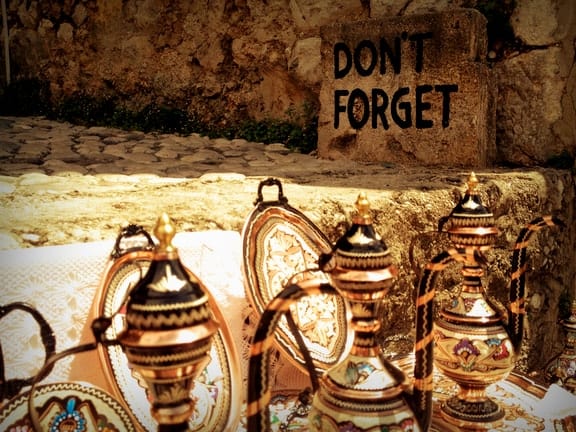 Mostar has been reconstructed beautifully since the war, and the area around the bridge is filled with souvenir shops and kiosks and perfect little cobblestone streets.  It seems frivolous to enjoy any of this, having seen what we've seen now, and I thought this shot was most appropriate.
Hostel Nina
Though we were only there for one night, Hostel Nina welcomed us with open arms.  We found their owners right at the bus station, saving us a mile's walk with our backpacks!  (Be sure you arrange for a pick-up beforehand.  The hostel is tucked in an alley off the street and a bit tough to find.)
Regrettably, I don't have pictures of our room at the hostel.  It was enormous with a double bed as well as a single bed, an armoire, and chairs.  There was a single shared bathroom for the hostel.
The location was perfect, just a five-minute walk from the Old Bridge and even closer to a 24-hour bakery filled with delicious burek (meat and cheese pastries) that Žika helpfully pointed out to us.
It was such a brief visit, and I found myself wishing we had planned for a bit longer in Mostar.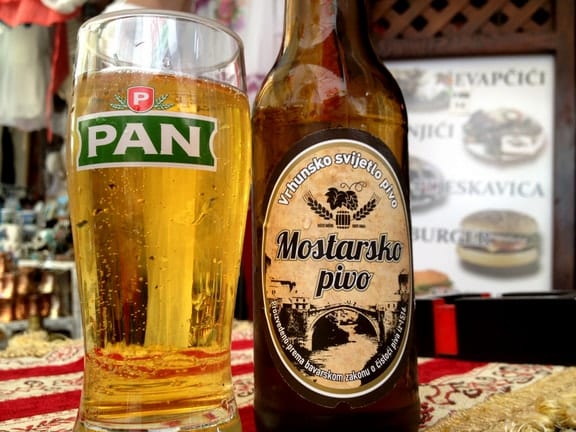 Hostel Nina Breakdown:
Location: Excellent location on the east side of the river, just a five-minute walk from the Old Bridge.
Staff: Žika could not have been a better host and tour guide!  His mother was also lovely, and woke up early to take us back to the bus station the next day.  THAT is going above and beyond.
Social Atmosphere: Instead of a common room, Žika invites all the guests out to his family's bar, right on the river, a short walk away.  It was definitely a nontraditional hostel experience, but it was a great way to meet the other travelers staying at the hostel.
Internet: There was WiFi, but only for non-Apple devices — a trend that I've been seeing more in Europe lately.  There is also a computer with internet access.
Cost: $13.97 per person for two people in a double room with shared bathroom.  There are also dorms.
Drawbacks: Having only Apple devices, the internet situation was a huge drawback.  Also, the bathroom was a shared single bathroom, rather than stalls, so we had to wait to use it most of the time.
Overall, Žika's tour made our visit to Mostar incredibly special and a day we'll never forget.
Many thanks to HostelWorld and Hostel Nina for the complimentary stay and tour.  All opinions, as always, are my own.
Get email updates from Kate
Never miss a post. Unsubscribe anytime!