Adventurous Kate contains affiliate links. If you make a purchase through these links, I will earn a commission at no extra cost to you. Thanks!
Happy New Year, everyone!  As you read this, I'm participating in Blogmanay up in Edinburgh.  I wanted to close out the year with a bang, so I decided to share my favorite photos from the year.
You know your photography skills are improving when you regularly cringe at shots you took six months ago.  That said, I'm really happy with my photos from this year — they cover 14 countries, 9 of them new.
When putting together my favorite photos of the past year, I narrowed it down to 28 that I REALLY loved.  Maybe you can even see a stylistic evolution!
Here are my favorite photos from this year, in chronological order: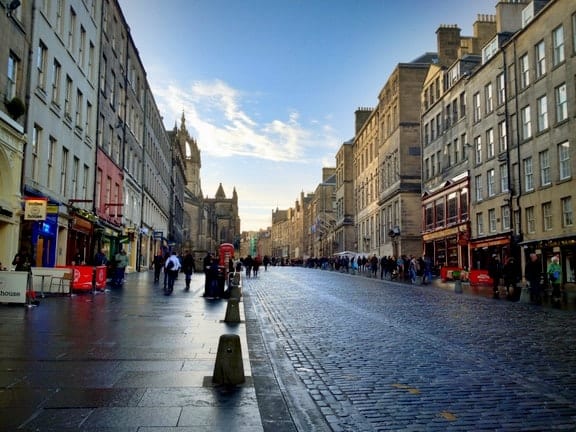 Royal Mile, Edinburgh
One of my favorite cities in the world — and I love how the cobblestones turn blue here.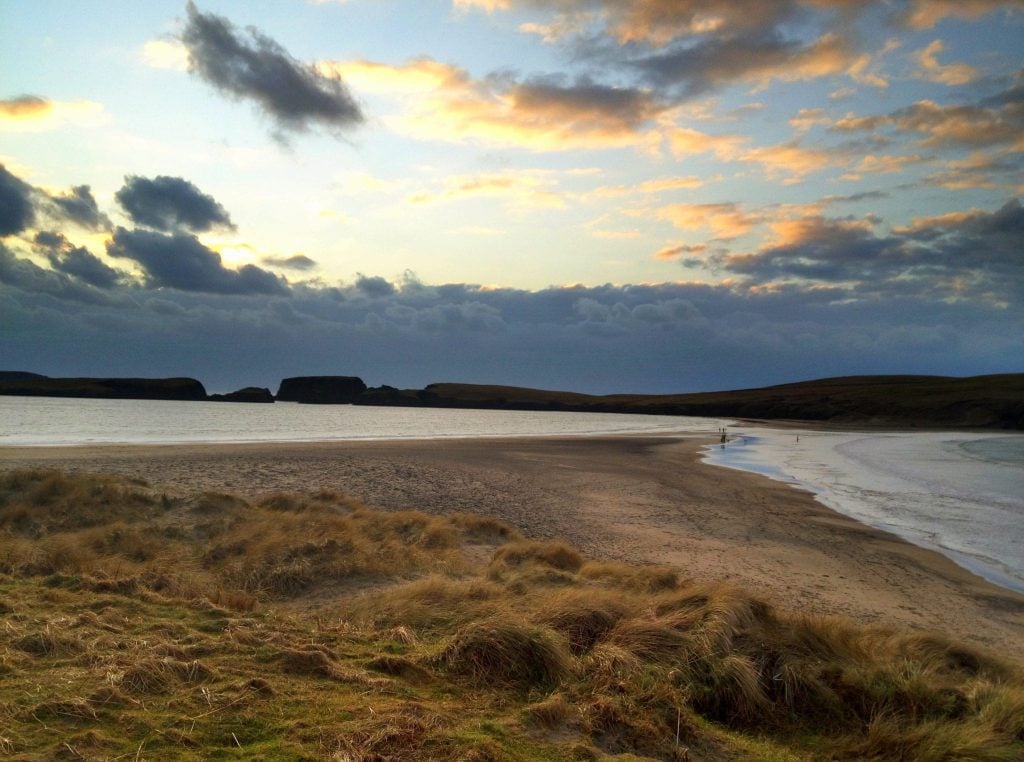 Double Beach, Shetland
This double beach was one of my favorite natural wonders of the year.  If you ever get up to Shetland, try to time it when the tide is coming in — it's incredible.
Dunnotar Castle, Scotland
Simply the most beautifully situated castle in Scotland.  I gave my dad a framed print of this for Christmas.
Flying into Lisbon
We can all go home now!  I'm sure that I will never take a better photo from a plane than this shot I took as we landed in Lisbon.  Talk about perfect timing.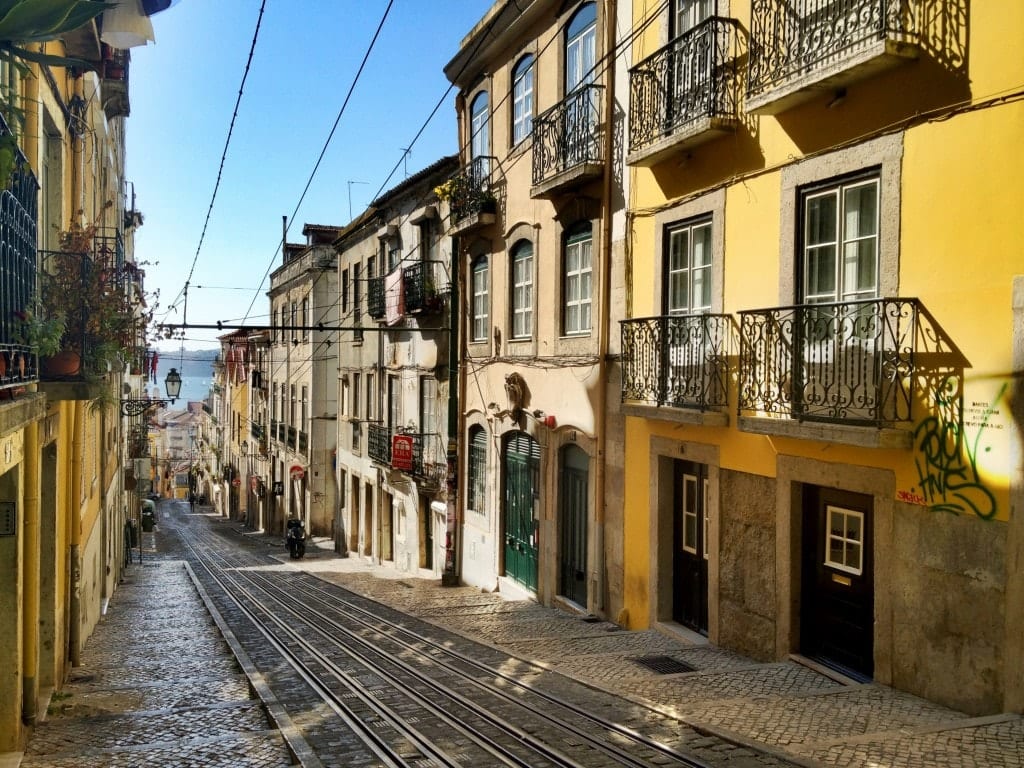 Sunny Lisbon
This is one of the first shots that I took in Lisbon — and it perfectly exemplifies the sunny, warm nature of the city.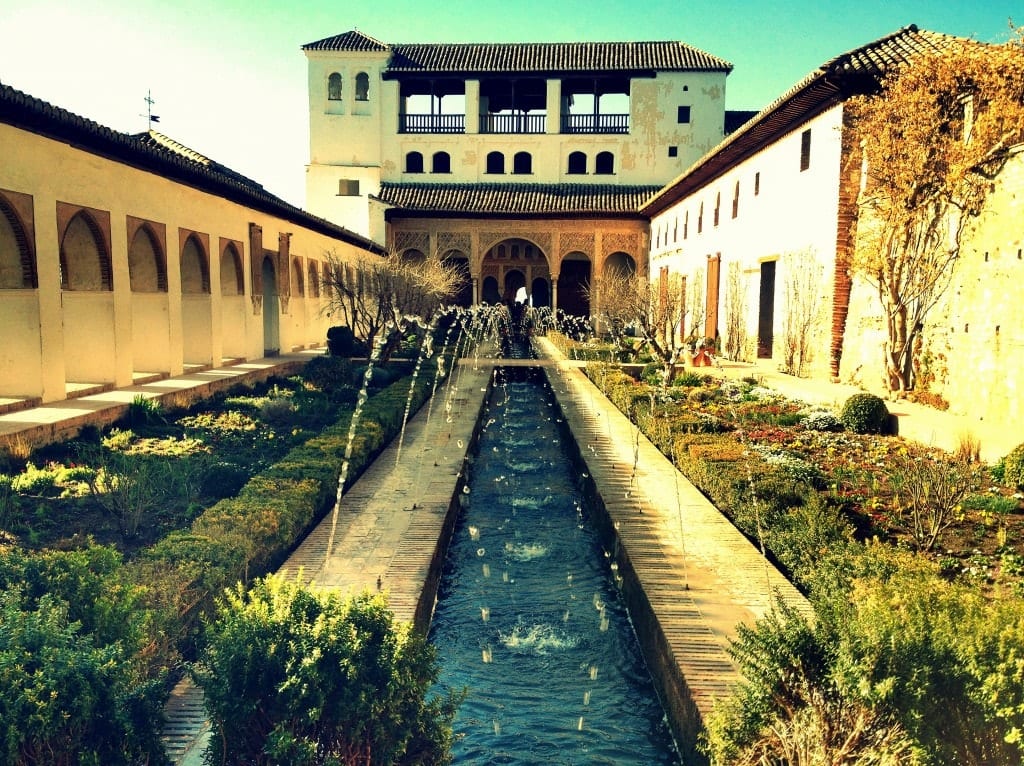 Generalife
Visiting the Alhambra in Granada blew me away — but my favorite shot was taken at the Generalife, the residence for visitors.  Not a bad holiday home.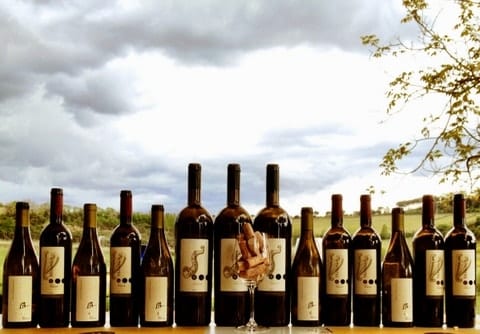 All the Wine in Umbria
Ah, this shot once again — this is what lunch for travel bloggers looks like.  There are few pleasures like drinking (lots of) wine in the Italian countryside.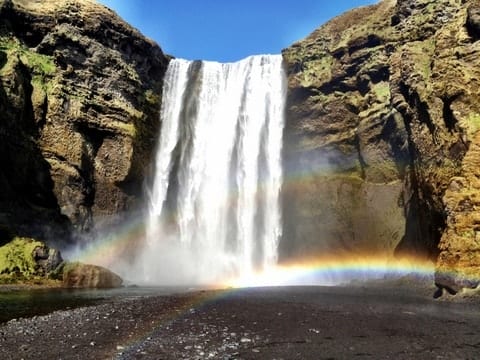 Icelandic Waterfall and Double Rainbow
All my readers who have been to Iceland had the same reaction: "HOW DID YOU HAVE WEATHER THAT GOOD?!"  I really lucked out.  Skogafoss Waterfall gave me a double rainbow that day.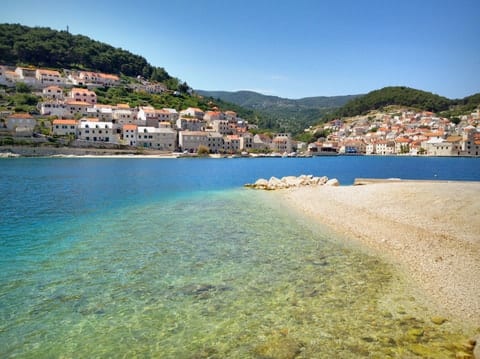 Perfect Croatian Beach, Pučišća
We were only here for an hour, but it made such an impression on me.  This is my idea of the perfect Croatian village.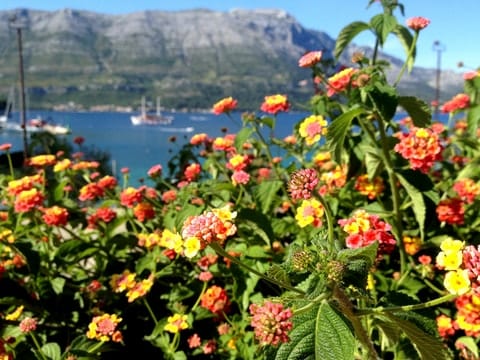 Flowers in Korčula
It was the details that captivated me on Marco Polo's island, from the architecture to the flowers.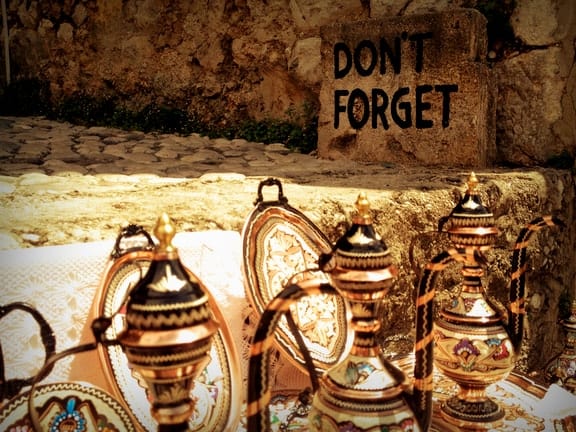 Never Forgotten in Mostar
It's astounding to see what a beautiful place Mostar's Old Town is these days, considering how recently it was a pile of rubble.  Never forget what they went through.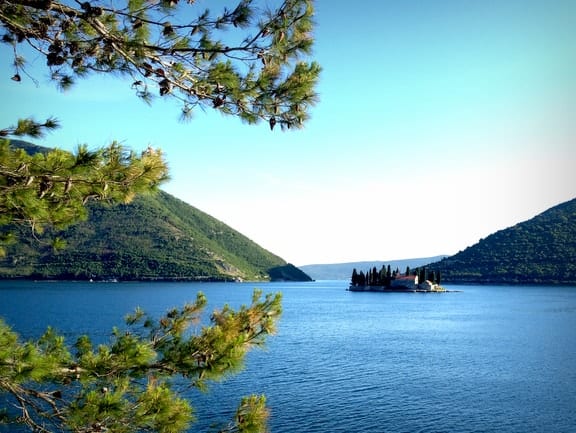 The Montenegrin Island
A tiny island in the Bay of Kotor, nothing but a church.  One of the many delights of Montenegro, my pick for the most naturally beautiful country in Europe.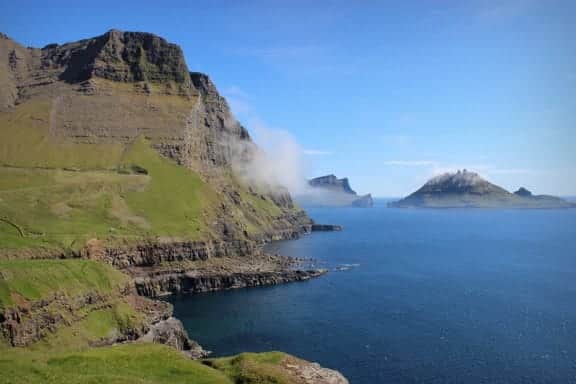 Welcome to Jurassic Park
My first stop in the Faroe Islands was the village of Gasadalur — and I couldn't get the Jurassic Park theme out of my head.  The islands, ensconced in clouds, were downright mystical!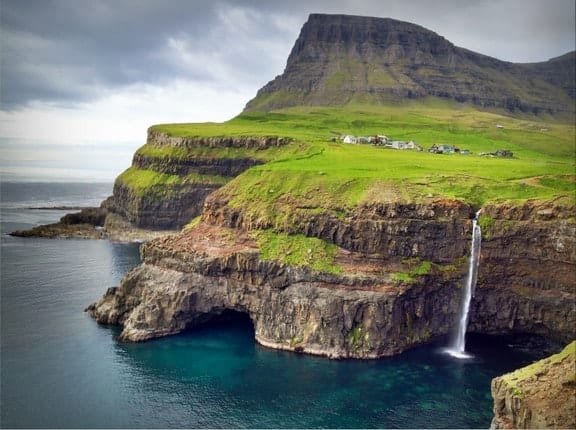 Gasadalur
And then there was this photo.  "This is the best photo I've ever taken," I thought as soon as the image appeared on my screen.  People agreed — it is the most popular photo I've ever shared on Instagram.
On my first day at Gasadalur, I looked but couldn't figure out where the waterfall was.  Two days later, I took a ferry that went past the village and pinpointed exactly where the waterfall was, then returned to photograph it.  This was the one photo I wanted to get in the Faroe Islands.
And then, of course, I promptly drove my car into a ditch.
SoHo Life
The perks of working in downtown Manhattan!  I took this on the roof deck of my sister's office.  She and her coworkers hang out there with drinks on summer nights.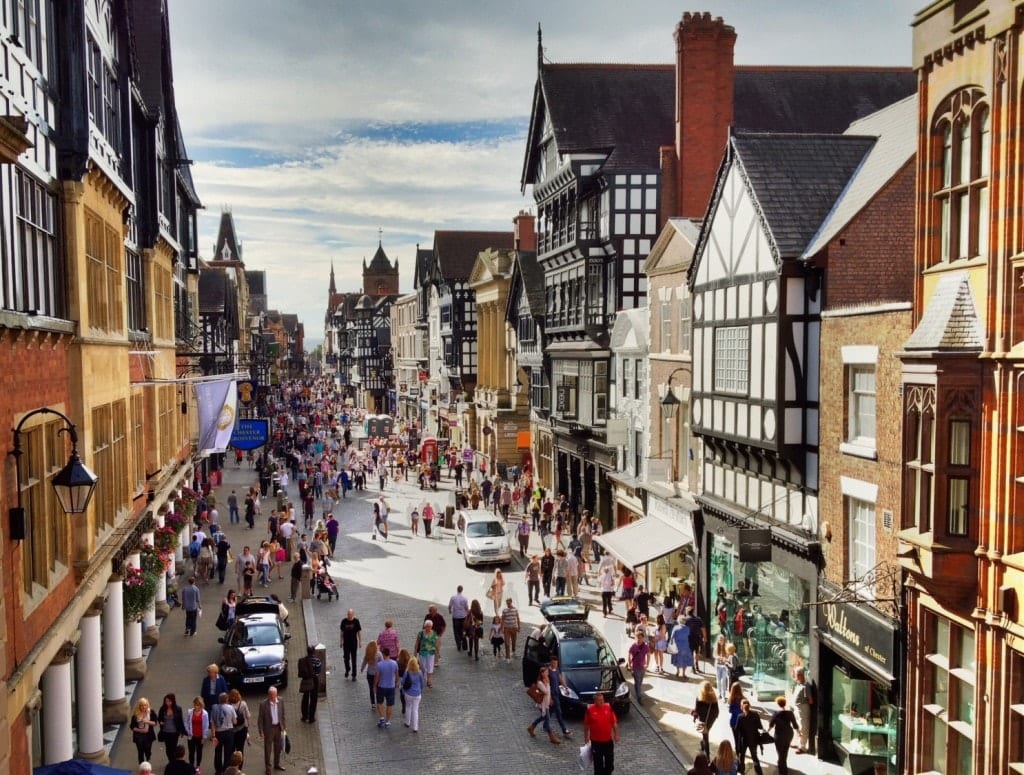 Chester on a Sunny Day
Chester is such a beautiful Tudor town, and I think this is the best shot that I've ever taken of it.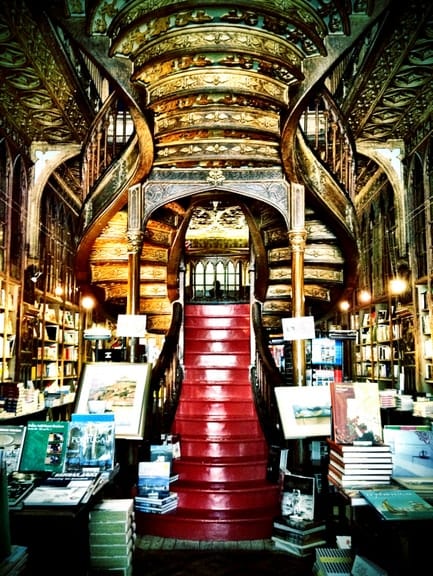 Harry Potter's Bookstore
J.K. Rowling spent years living in Porto, Portugal, home of the fantastic Lello Bookstore.  The design served as inspiration for Hogwarts.  (Good luck taking pictures in here — they're technically not permitted, but I got this one just in time.)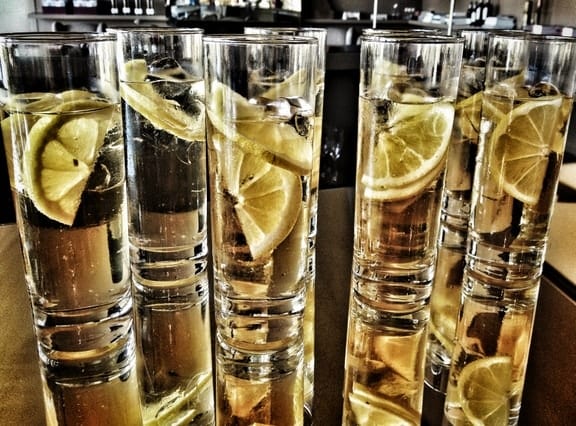 Porto Tonic O'Clock
One of the great joys of visiting northern Portugal was indulging in port tonics — my new favorite cocktail.  Believe it or not, it's a delicious cocktail.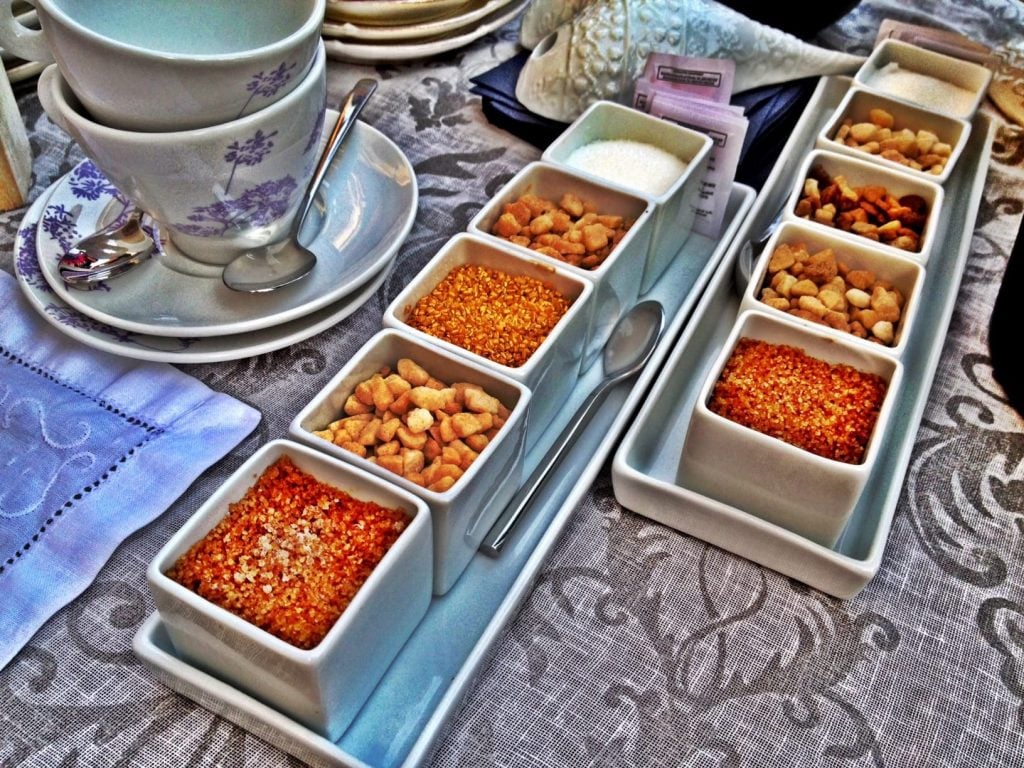 The World's Prettiest Sugars
Stopping for coffee in Costa Brava, I marveled at how pretty all the little sugars looked in their dishes — and then the Camera+ HDR filter brought them to the next level.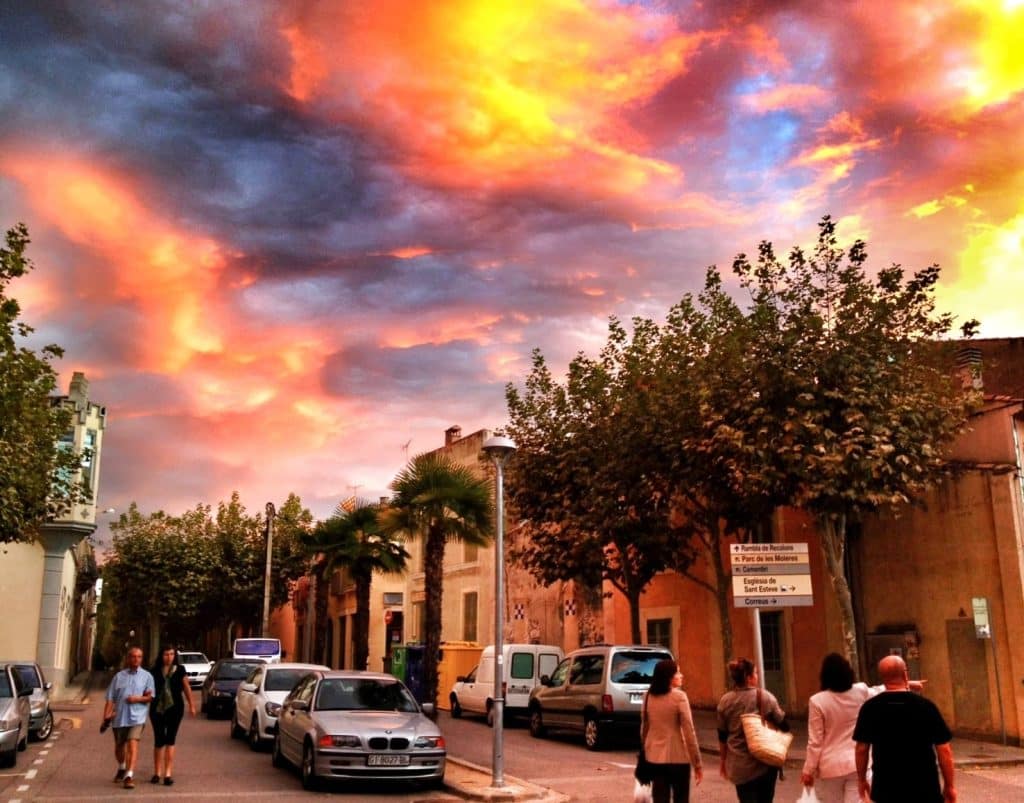 Dramatic Costa Brava Sunset
WHAT a SUNSET!  It was the kind of moment that travel bloggers dream of.  As we strolled through the spa town of Caldes de Malavella, the sky lit up with perfect pink and purple clouds.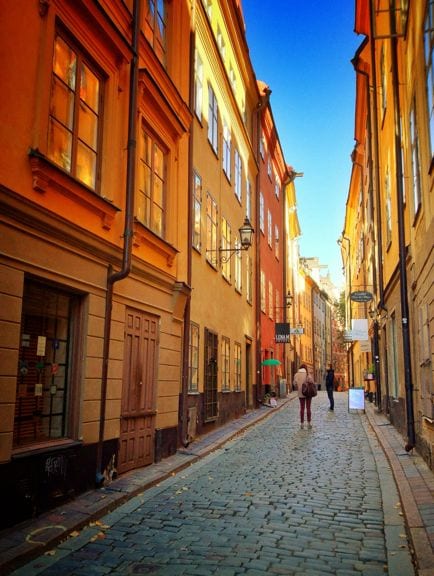 Yellow Gamla Stan
Stockholm is home to one of the prettiest Old Towns I've seen in Europe, and the Gamla Stan is characterized by its bright yellow buildings, perfect against a bright blue sky.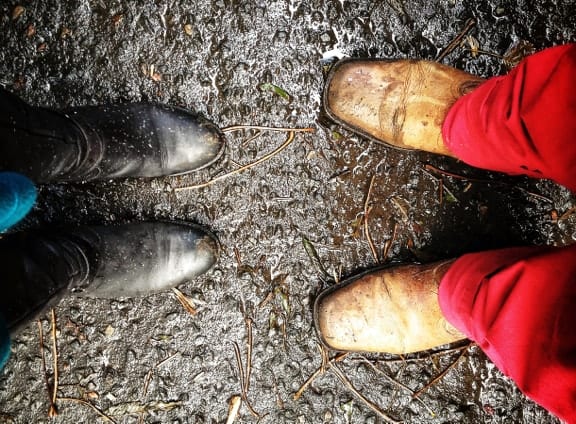 Rainy Walks in Edinburgh
I just love this photo.  My bud Kash and I went for a walk through rainy Edinburgh, exploring the Water of Leith.  I love the colors, the mud-splattered shoes, the wet ground.  We had fun that day.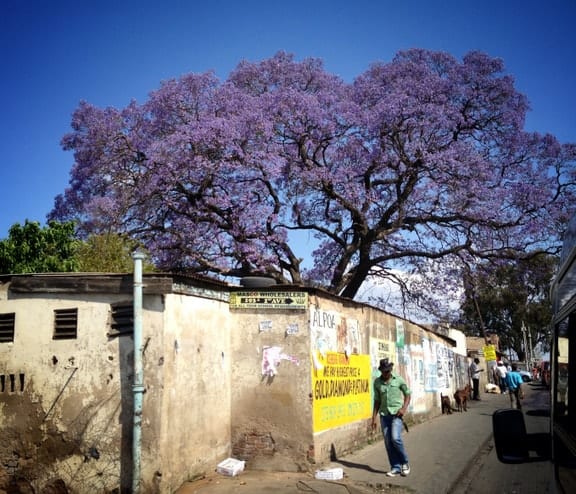 Township Life
Now, THIS is South Africa.  The jacaranda, the concrete walls, the man with the jaunty hat — if ever it were possible to boil Alexandra Township down to one image, this would be that image.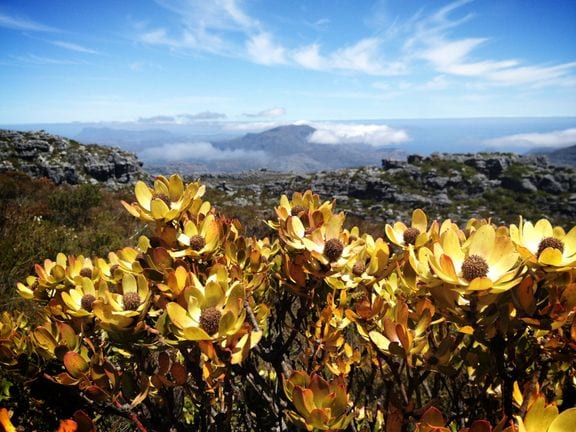 Table Mountain Flowers
Bright blue and bright yellow is one of my favorite color combinations, and I loved these flowers against the blue sky on top of Cape Town.
Cape Town Waterfront
Cape Town — not to mention the surrounding Cape Peninsula — is a photographer's dream.  It's impossible to find a bad angle in this town.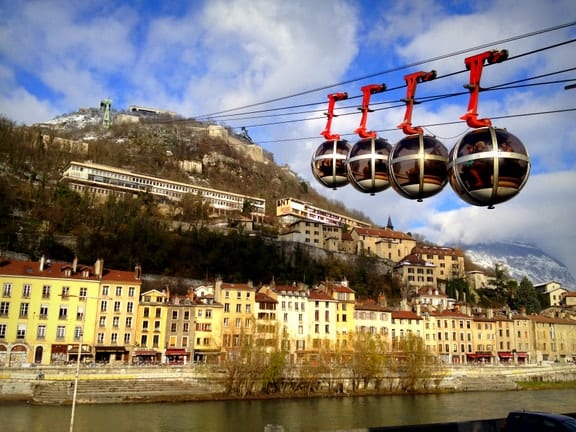 The Gondolas of Grenoble
A picture-perfect winter day in the French Alps — it couldn't be a better opportunity to jump in the famous "bubbles" of Grenoble and head to the top of the Bastille for mountain views in every direction!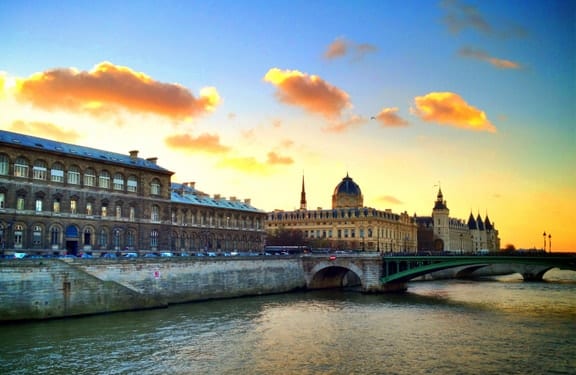 Vivid Paris Sunset
There are sunsets, and then there are neon Paris sunsets.  The world's most beautiful city.
Christmas in Montmartre
And finally, every color of the rainbow is featured in this shot of Place du Tertre in Montmartre, just before Christmas.  Christmas in Paris was so magical.
Thank you, as always, for taking the time to read and comment on this site.  I appreciate it greatly and hope to see you in 2013!
Which photo is the best of 2012?
Get email updates from Kate
Never miss a post. Unsubscribe anytime!