Adventurous Kate contains affiliate links. If you make a purchase through these links, I will earn a commission at no extra cost to you. Thanks!
I've been planning it for months.  I've been alluding to it and dropping more and more hints. I've told my family, my friends, and several of my favorite travel bloggers.  Now, it's time to tell the world!
Later this fall, I leave for seven months in Southeast Asia.
Image: WarzauWynn
How It Began
If you remember my 26th birthday post from August, I alluded to a time this past January that changed everything: I lost my job, I lost a lucrative freelance job, my long-term relationship ended, and Ted Kennedy's Senate seat went to a Republican.  All within two weeks.
I'm always looking for signs in my life, and I took this as a sign that it was time to move on from Boston.
After a particularly rough day, I texted my sister.  "Do you want to move to NYC or LA?  Or anywhere?"
"nyc probably"
"[Old freelance job] folded today. I now have nothing keeping me in Boston."
"well you wanna move to nyc in august?"
"CONCRETE JUNGLES WHERE DREAMS ARE MADE OF!!" (Forgive me.)
And with that, we started planning a move to New York, slated for when our lease ended at the end of August.
I was so excited to move to New York, but there was something that I couldn't quite put my finger on that made me feel uneasy.  And then it hit me.
Travel.
During this whole time, I was saving for an eventual RTW — savings that were eventually eaten up by credit card debt.  I paid that debt off in January and began to save — hard.  I knew that a RTW trip would be years away, so why not spend it in an awesome place like New York City?  Sure, living in New York would make it harder to save money quickly, but it was still NEW YORK, right?
Then why was I so sad?
I felt like there were no options.  I couldn't afford a RTW trip.  I couldn't teach abroad on a yearlong contract because of a close friend's wedding in summer 2011.  At my new job, if I never took a single day off, I wouldn't have even earned two weeks of vacation by the end of the year.
Travel was so far out of my hands, and I was miserable.
Then after a sobbing mid-workday phone call with my mom in the spring, it hit me — what if I went to Southeast Asia, but for only a couple of months, and came back in time for the wedding?
Holy crap. That could work.
Image: Rene Erhardt
Why Southeast Asia?
I've already traveled through much of Europe, North America and a bit of South America.  Southeast Asia has always topped my list of destinations, and it was the largest part of my RTW itinerary. As Uncornered Market recently pointed out, Southeast Asia is an ideal destination for first-time backpackers.
Southeast Asia has excellent infrastructure and a well-worn backpacker trail (most popular with Australians and Europeans).  Southeast Asia has incredible food and so many sights.  And, most importantly, Southeast Asia is CHEAP.  Really cheap.  Cheapest-region-in-the-world cheap.
There is so much to see in Southeast Asia that I want to see — Thailand's beaches, Bali, Angkor Wat, Halong Bay, temples and massages and street food and beach parties and temples and wonderful people — that I know I would love to stay in that region for a long time.
I know that staying in one region for so long may sound counterproductive for a girl who yearns to travel the world, but this reply that I received from Lazslo on the Thorn Tree made me think:
I honestly think that in your case, the best time for an RTW is never!

RTWs are mostly for those who want to rush around the whole World in a limited time, typically people who have never travelled overseas before.
There can be exceptions, but the above seems usual.

Since you are already making great, focussed choices by concentrating on specific regions like SE Asia and the Balkans (both among my favourites!), you may have realized that you see more by seeing a more limited area at a time, rather than trying to see "The World" in one go.
While I want to reiterate his point that there are plenty of exceptions to typical RTW travelers, and I know quite a few of them, I think he makes an excellent point.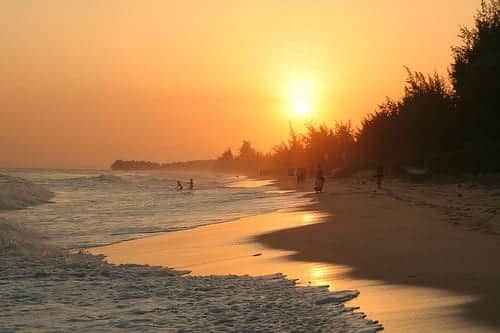 Image: mr clearview
How I Saved The Money
In short, living a miserly existence.
For several months, I've been living on about $1,000 per month (excluding rent).  I canceled my gym membership (which broke my heart), brought my lunch to work every day, and limited my nightlife.  I took my car off the road.  I never traveled.  No extras whatsoever.  I can't even remember the last time I bought clothing.
My final rent check went out on July 1 and I've been saving the additional would-be-rent money since.
And I found ways to make more money: ratcheting up advertising on my three sites, taking on quite a bit of freelance work.
By early August, I was burning the candle at both ends, working all day, working on my site and doing freelance work all night, only eating if I remembered to.  I slept four hours a night during the week, lost 20 pounds and most of my social life, and developed new back pain.  Once I moved home and my mom saw my work habits, she was horrified.
But it paid off — I plan to arrive in Bangkok with about $9,000 in the bank, of which $2,000 is saved for "reestablishment funds" when I come home.  I plan to continue working from the road, though obviously not as hard as I am now, to earn more cash.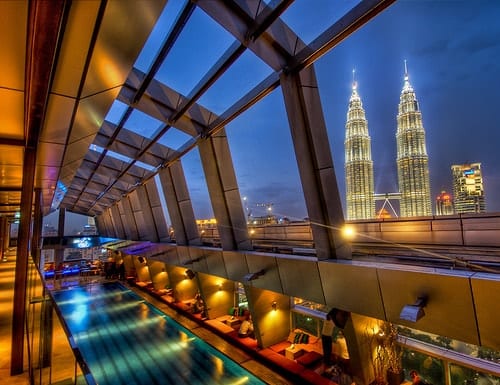 Image: Stuck in Customs
The Plan and Itinerary
The trip will begin before the end of 2010 — not revealing the date just yet.  I arrive in Bangkok.  After some time in Bangkok, I'll likely head up to Chiang Mai and explore northern Thailand from there, then head over to Laos, crossing from the south into northeastern Cambodia, and make my way back to Bangkok for Christmas.
After that, probably Vietnam.  Southern Thailand, both coasts.  Then down into Malaysia, using Kuala Lumpur as a base for several cheap Air Asia flights: first to Sri Lanka, a place that I've dreamed of visiting for so long, then to the Philippines.
After returning to KL, I will make my way to Singapore, then Bali.  Next, it's back to Bangkok, and on my way home, a five-day stopover in South Korea.  I return to the States in the spring.
And of course, I'm well aware that this itinerary will probably change quite a bit!  I'd also love to add Hong Kong and Macau if possible.
Things that will NOT be missed: Full Moon Party on Ko Pha Ngan, Thailand; tubing in Vang Vieng, Laos; cruising through the islands on Thailand's Andaman coast; zip-lining through Bokeo Nature Reserve, Laos; sailing through Halong Bay, Vietnam; TONS of cheap massages everywhere I go.  God, I love massages.
So, do you plan to be in the area anytime before the summer?  Let's meet up!  I'm already looking forward to meeting several of my travel blogger friends.
Image: Fadil Basymeleh
The Long-Term Plan
I want to make this work long-term.
It may seem ridiculous to say that, especially since I'm only four years out of college.  But after spending years in Boston's competitive internet marketing scene, I'm ready to try a slower-paced career that leaves me happier, healthier, and with the autonomy and location independence I crave.  Doing this means giving up a lot of securities and luxuries, but I'm ready to try it.
I run advertising on my three web sites and I am currently developing more.  Between that and my freelance writing and web work, my goal is to create a sustainable income that will allow me to make enough of a living to live in cheap places around the world.
I'm sure it will take a long time, and I'm positive I'll require outside employment along the way.  But I'm working hard, and I wouldn't publicize this if I didn't think I had a decent chance at succeeding.
Image: Stuck in Customs
This Blog is Going to ROCK.
This blog will absolutely continue — and it will be better than ever before.  I read about 80 travel blogs, and I've learned from them what works and doesn't work when blogging from the road.  Some blogs turn AWESOME once they hit the road.  Some, frankly, don't.
This blog will continue to have targeted, specific posts — a post on street food in Singapore, or on the Pak Ou caves outside Luang Prabang.  I don't want it to grow into "This is what I did today in Chiang Mai" or have posts filled with "Then I met a friend at the hostel, and she was cool, so we walked around, and it was fun, and then we met another friend…" Nobody wants to read that.
I want this to become a resource for travelers, especially solo female travelers, so I will be adding travel guides and advice to the site as well.
In short: INTERESTING POSTS.  USEFUL POSTS.  QUALITY POSTS.  FREQUENT POSTS. And you know that I'm not afraid to hold back!
Sadly, I won't be able to continue with recapping #TNI every week, and my best of the week feature will probably be downgraded to once a month.  But I will continue to acknowledge outstanding blogs on a regular basis.
So, if you haven't yet, please subscribe to my RSS feed, follow me on Twitter, or become a fan of Adventurous Kate on Facebook.
I hope you come with me on my journey!
Get email updates from Kate
Never miss a post. Unsubscribe anytime!