Adventurous Kate contains affiliate links. If you make a purchase through these links, I will earn a commission at no extra cost to you. Thanks!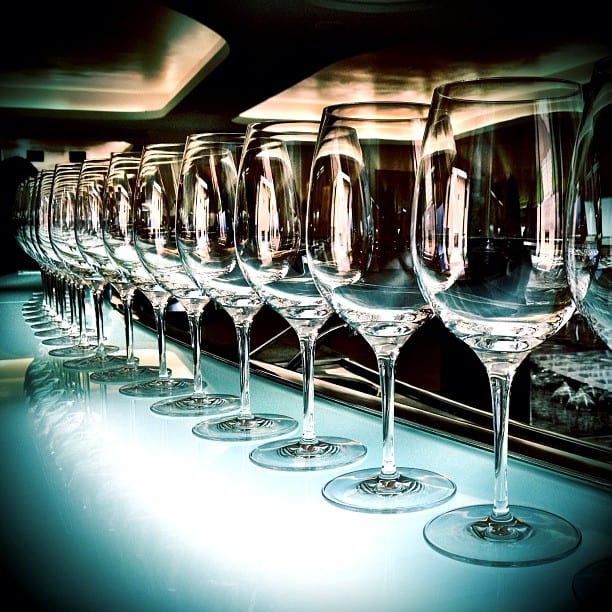 Montefalco, Italy. Likes: 41.
It was a year and a half ago when I first started using Instagram and using my iPhone as a major source of photography.  I love Instagram (you can follow me here!) and it's especially useful as a traveler.  No matter how beautifully you write, nothing transports you to a destination like a photo.
At first, I wanted to share my "greatest hits" from Instagram — but as I went through my old photos, I was stunned by just how much of an evolution my photography has taken.  I can't believe this is only over the course of a year and a half — it looks like it's taken YEARS!
There's no question — Instagram has made me a much, MUCH better photographer.
So I'd like to invite you on a journey that takes you from mediocre shots of the Alps to sunsets over Istanbul's mosques, Spanish forests and Icelandic glaciers, the mind-blowing natural beauty of South Africa, and stunning, light-filled shots of Paris.
It doesn't look very good at first, but trust me — it gets much better.
The Very First Photo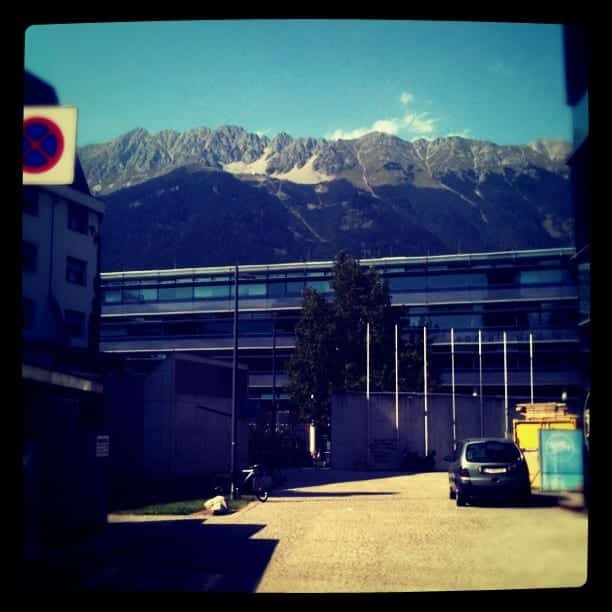 Innsbruck, Austria. Likes: 2.
My first ever Instagram shot was not attractive whatsoever.  Luckily, there was nowhere to go but up — and by the end of the week, I was taking much better shots.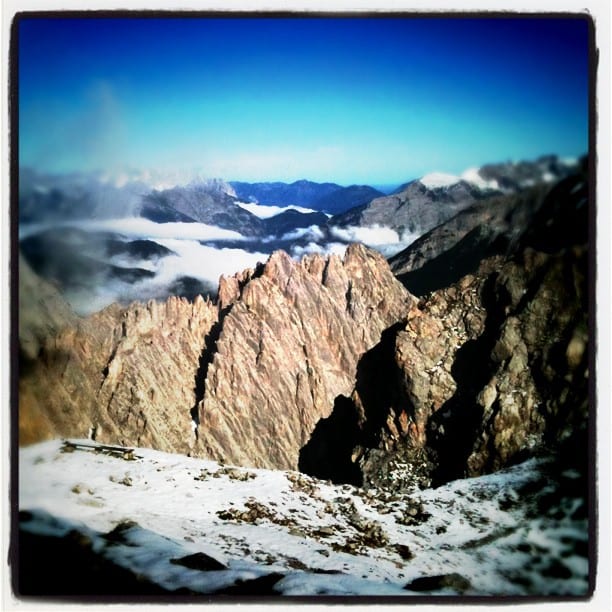 Innsbruck, Austria. Likes: 6.
The Early Days
I spent my first few months on my iPhone 3GS, whose camera is not nearly as good as the iPhone 4S that I have now.  There was no way that the photos I took would hold up to a regular camera, so I focused on taking artsy, dramatic pictures.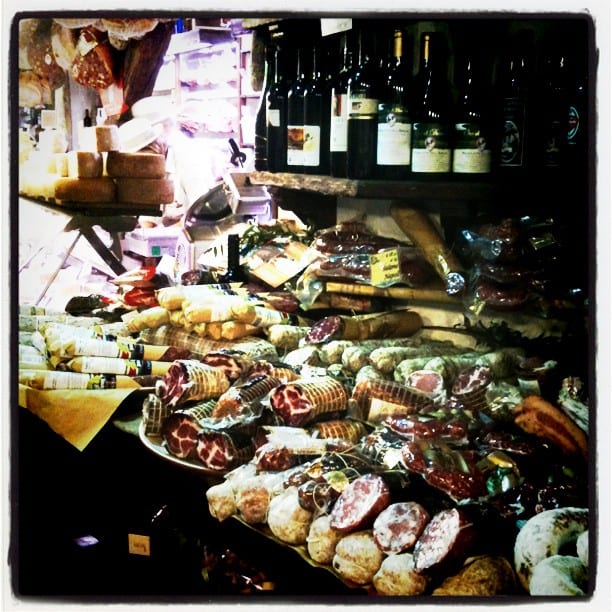 Bologna, Italy. Likes: 3.
I never really liked the Instagram filters, so most of the time I used the filters from the Camera+ app — one of my top apps and one I highly recommend.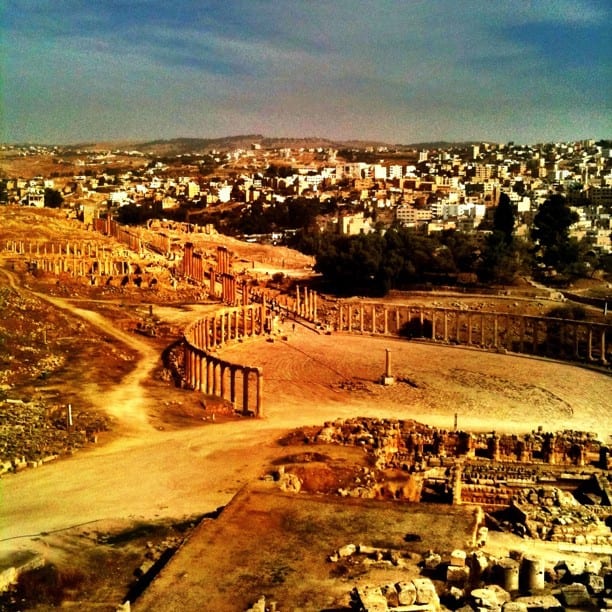 Jerash, Jordan. Likes: 15.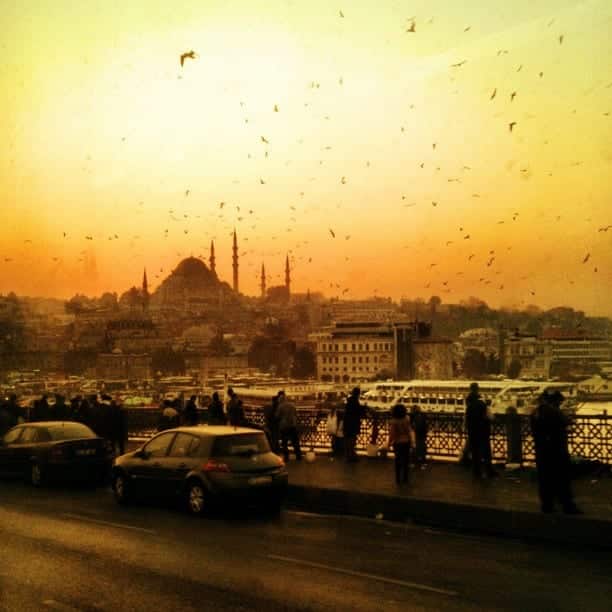 Istanbul, Turkey. Likes: 40.
Using a red filter made this sunset over the Galata Bridge all the more dramatic!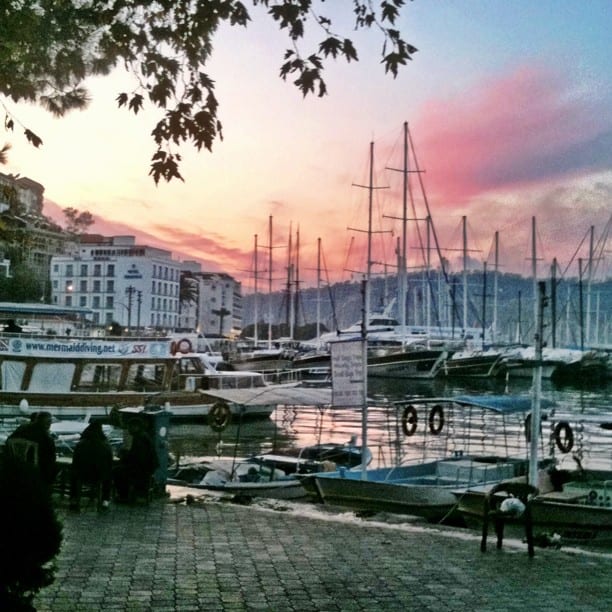 Fethiye, Turkey. Likes: 31.
Camera+ also has a "Fake HDR" filter.  It won't cure any lighting problems, it gives your photos some dramatic outlines.
GOOD Black and White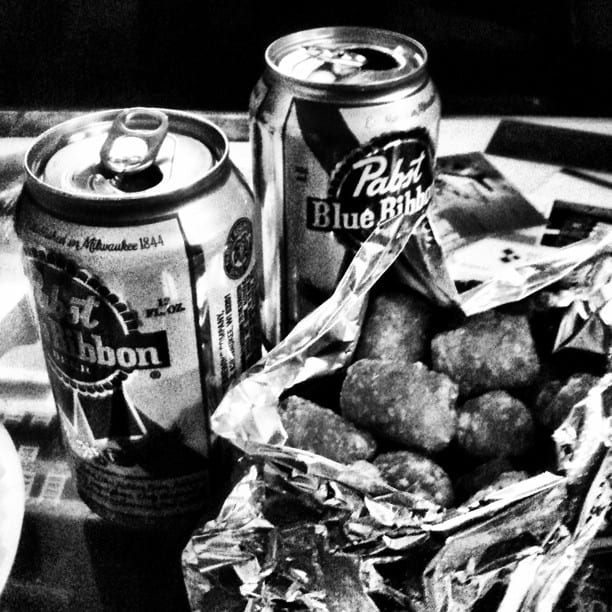 New York, New York. Likes: 8.
I don't do a lot of black and white photos.  But over time, I learned that black and white is best suited to situations with a lot of contrast.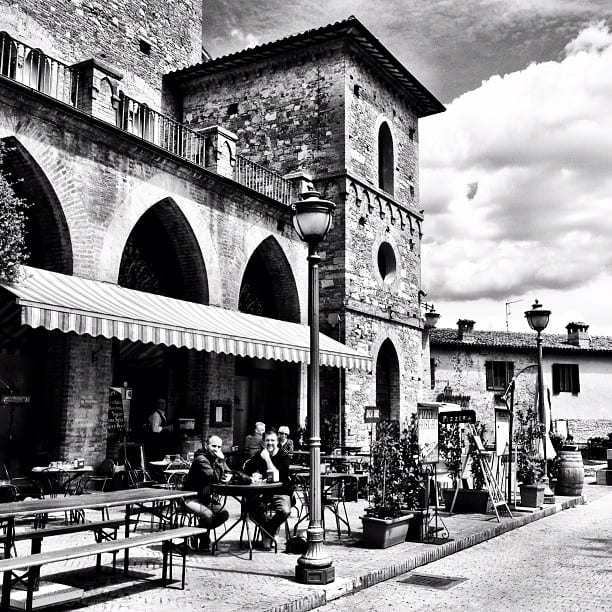 Bevagna, Italy. Likes: 32.
In the case of this picture from Italy, I had to increase the clarity and contrast.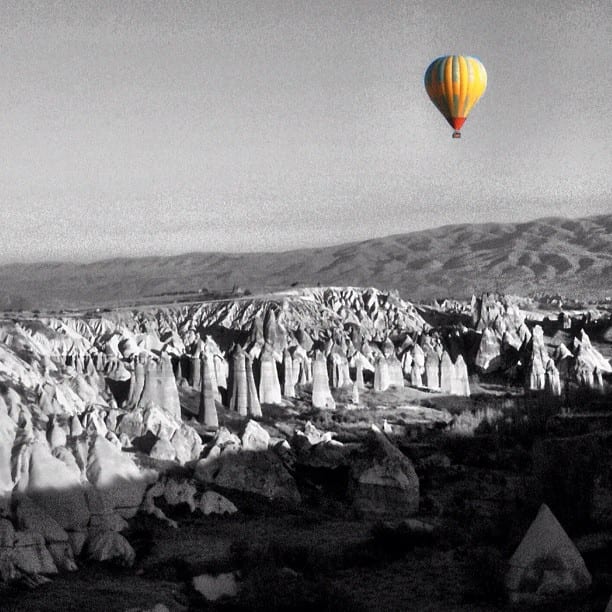 Cappadocia, Turkey. Likes: 30.
And there's always fun with black and white!  The Colorsplash app lets you color in selected parts of a photo, leaving the rest black and white.
Now Shooting in HDR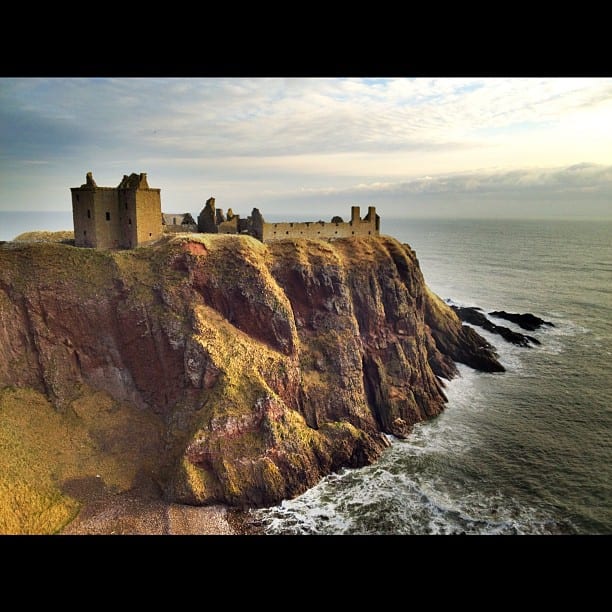 Stonehaven, Scotland. Likes: 44.
And then I got my iPhone 4S, with its much better camera, and became an HDR fiend.  HDR is when two or more images are taken of the same shot at different lighting levels, then merged together.  For regular cameras, you need special software to make HDR photos.  With the iPhone all you need is the excellent Pro HDR app.
At first I was shooting absolutely everything in HDR (and annoying several tour groups in the process) before I learned that it's best used for dramatic landscapes and tough lighting situations.  Especially when there's good cloud action.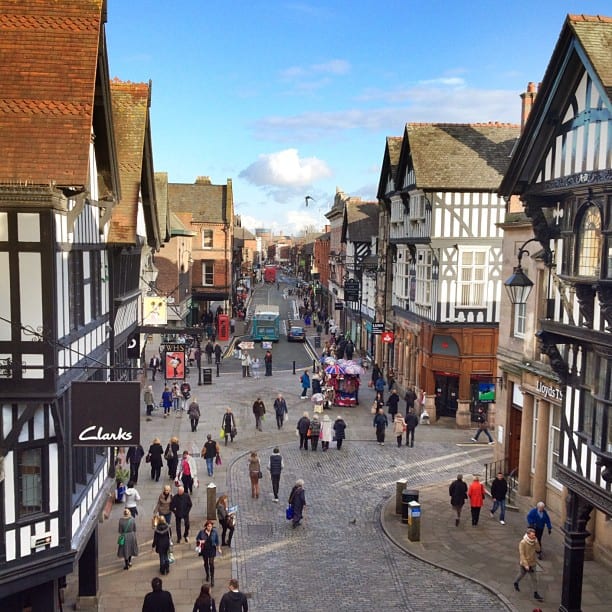 Chester, England. Likes: 24.
I tried shooting this picture as a regular shot, and there is no way this photo would have been this good without HDR.  (My American friends immediately deemed it "Harry Potter Land"!)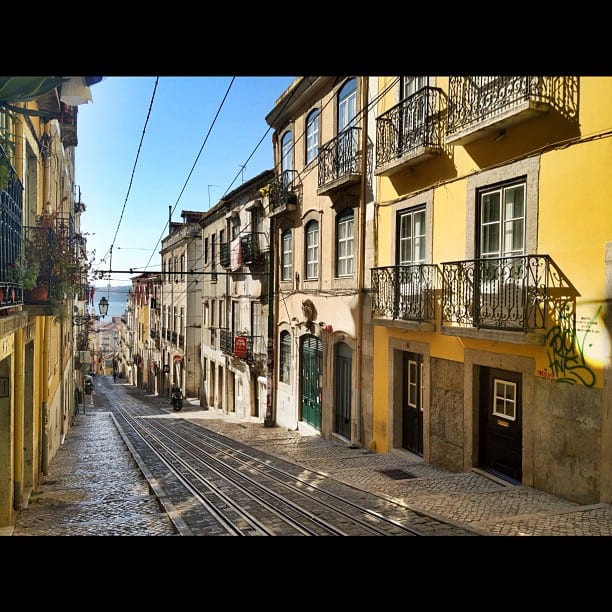 Lisbon, Portugal. Likes: 24.
Who knew that the first picture I took in Lisbon would be one of the best ones I took that year?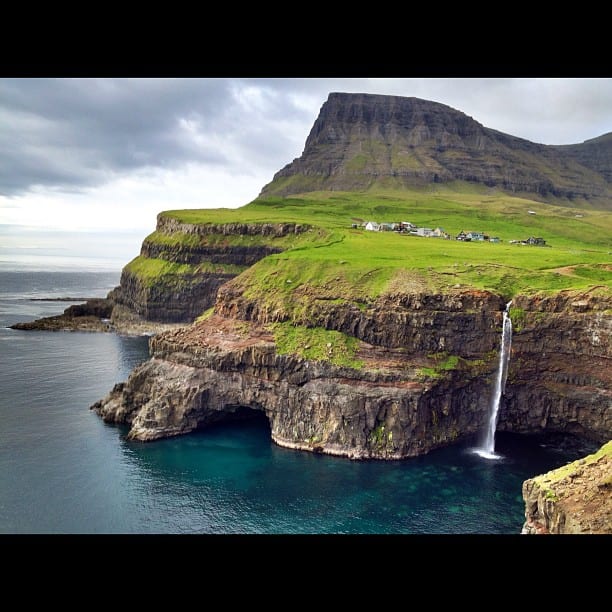 Gasadalur, Faroe Islands. Likes: 94.
Then came what I still consider the best photo I've ever taken: Gasadalur in the Faroe Islands.
Weddings and Special Events
Outside Philadelphia, Pennsylvania. Likes: 5.
Instagram can be great for weddings.  I took this as my college roommate Kelly Anne walked down the aisle and instantly uploaded it and tagged her.  While it wasn't very popular on Instagram, it was huge on Facebook — because Kelly's friends who weren't at the wedding were thrilled to see a picture of her as a bride in real time!
Some weddings specify hashtags and use it to collect all their wedding-related content across social media.  Conversely, other weddings kindly ask their guests to put their phones away for the day.  I think you can guess which kind of wedding I'd have!
Comedy
Reading, Massachusetts.  Likes: 45.
It turns out that Instagram is a great forum for comedic photos!  Instagram is often so filled with photographers trying to take serious shots that a funny photo breaks up the tension.
Like that time we recreated The Last Supper: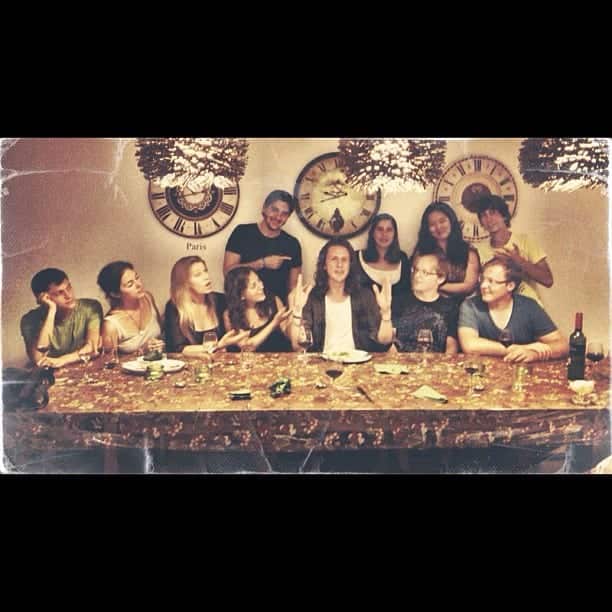 Porto, Portugal. Likes: 28.
The Snapseed Age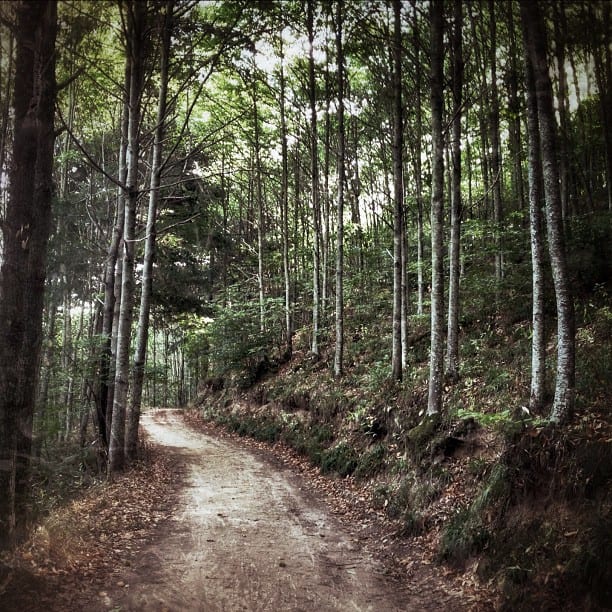 Montseny, Spain. Likes: 51.
And then I learned of the most amazing mobile photography app there is — Snapseed.  Not only was it remarkably intuitive, it offered a variety of tools to fine-tune your images better than ever before.
Google has since bought Snapseed, so it's now available for free.  There's no reason not to have this excellent app.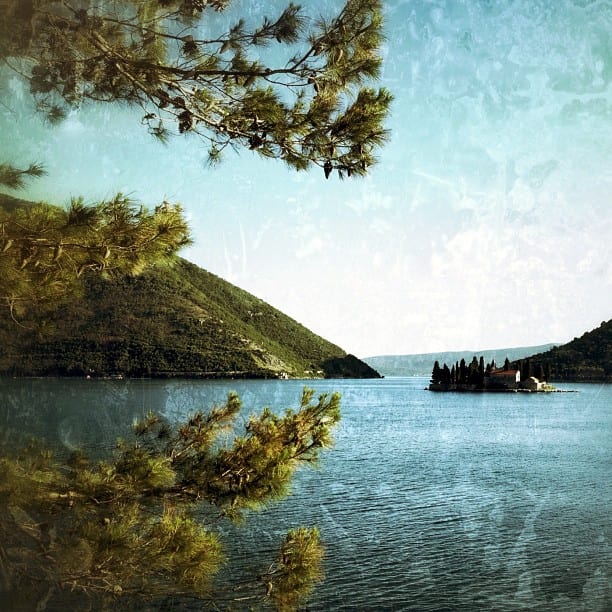 Kotor, Montenegro.  Likes: 30.
Although Snapseed is best used for fine-tuning, they also have a selection of filters. I used one of the grunge filters to get this watercolor-like finish.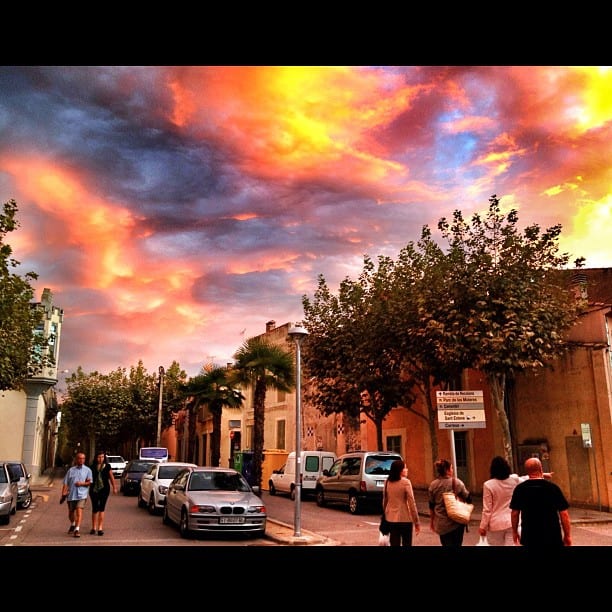 Caldes de Malavella, Spain. Likes: 71.
And the "Drama" filters made a colorful sunset look like the beginning of the apocalypse.
The Realism Age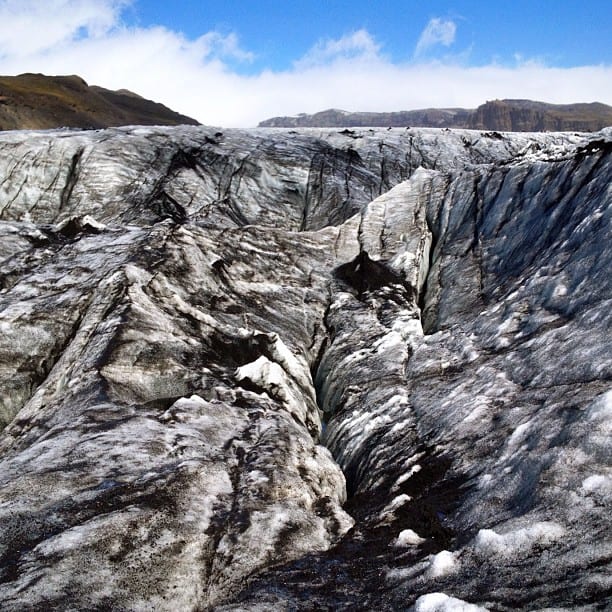 Sólheimajökull, Iceland. Likes: 26.
After initially going crazy with Snapseed, my photos went in the opposite direction — they became more realistic.  In most photos, I would do just a touch of editing with Snapseed — a little clarity, a little contrast, just a hint of saturation, maybe play with the white balance a few degrees.  Maybe a vignette — a tiny vignette. But I'd keep it simple.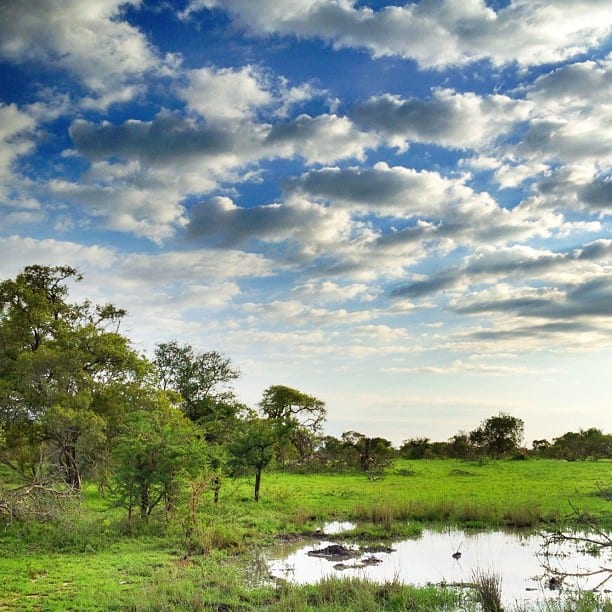 Ngala Private Game Reserve, Kruger National Park, South Africa. Likes: 63.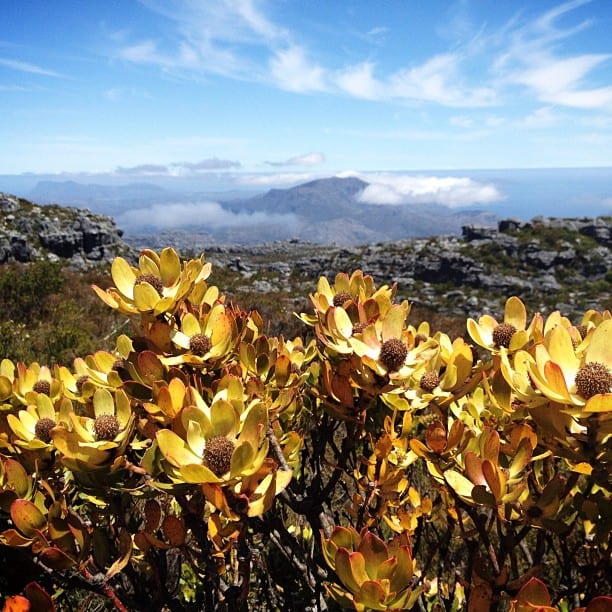 Cape Town, South Africa. Likes: 73.
Diptychs, Triptychs, Collages and More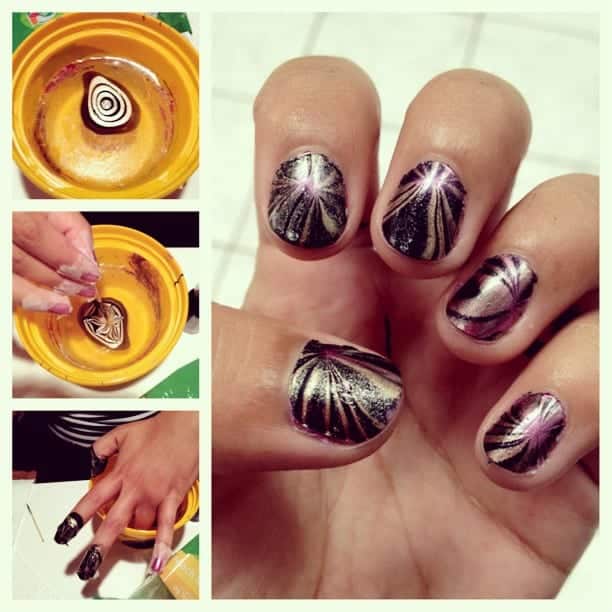 Brookline, Massachusetts. Likes: 24.
Collages are more than just throwing several images together.  They can be used to show a process — like above, when I showed how to do a marbled manicure.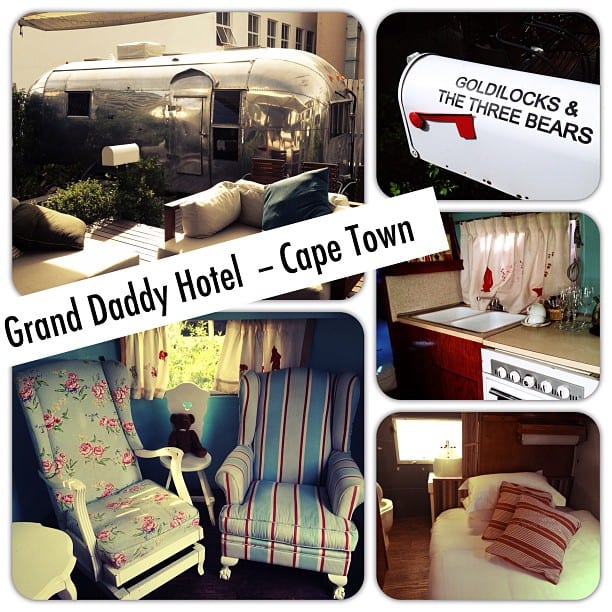 Cape Town, South Africa. Likes: 48.
And then I discovered the excellent PicFrame app.  It gives you so many more options for your pictures, like shading, changing sizes, and rounded corners, along with the option for labels!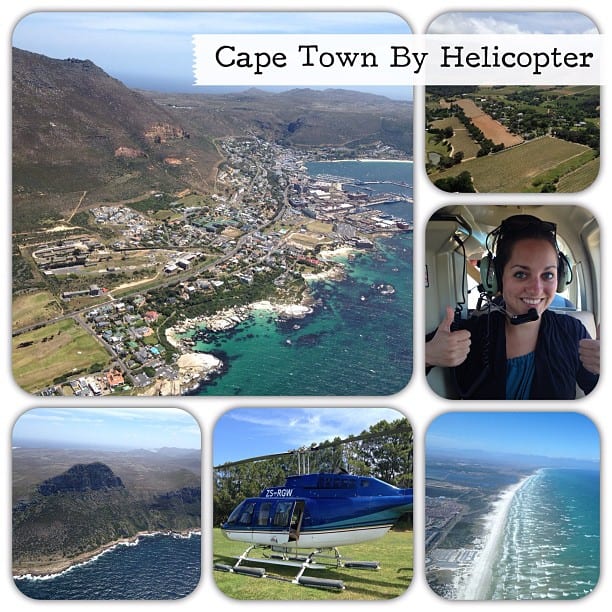 Cape Town and Constantia, South Africa. Likes: 60.
Collages like these are great for showcasing several aspects of a single activity, like our helicopter ride above the Cape Peninsula.
Today
London, England. Likes: 45.
And this is where I am today — an era that is yet to be named.  I just try to make photos look as interesting as possible, and do whatever it takes to get them there.  I LOVE this shot taken from the top of the Photographers' Gallery in London.  The view didn't look interesting whatsoever — but with the right filters, clarity and saturation, it immediately took on a dramatic look.
The Five Most Liked Photos
To finish, I'd love to share the five most popular photos I've ever posted on Instagram.  Keep in mind that these are related to how recent they were, as your number of followers greatly impacts the number of likes you receive.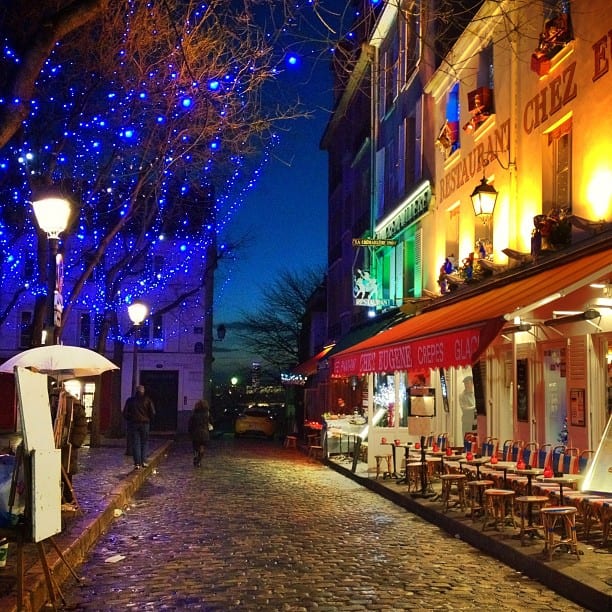 Paris, France. Likes: 97.
I took this photo with Pro HDR and edited it in Snapseed, with a focus on the colors.  I think I got every shade of the rainbow in this shot!
New York, New York. Likes: 100.
This is one of my all-time favorite Instagram shots.  I love how the old lens effect from Snapseed makes it look like people are in faster motion at the perimeter.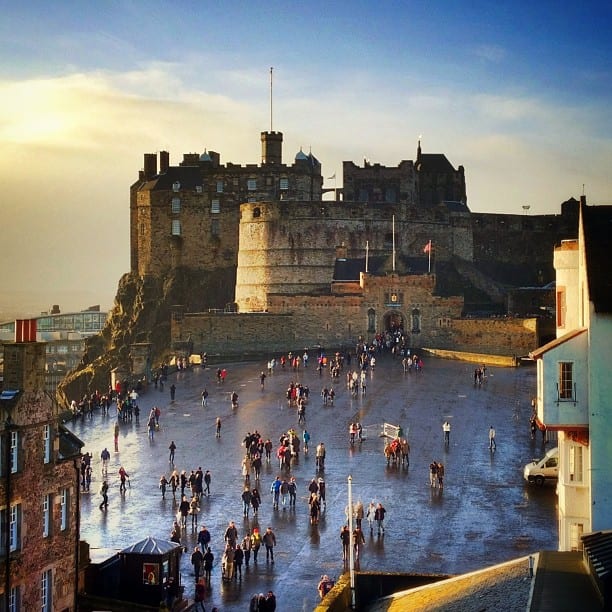 Edinburgh, Scotland. Likes: 102.
I didn't expect this one to come out well — the light demanded that I use HDR, but shooting moving people in HDR usually means that you have a set of little ghosts along the screen.  But it turned out perfect — and the light was amazing.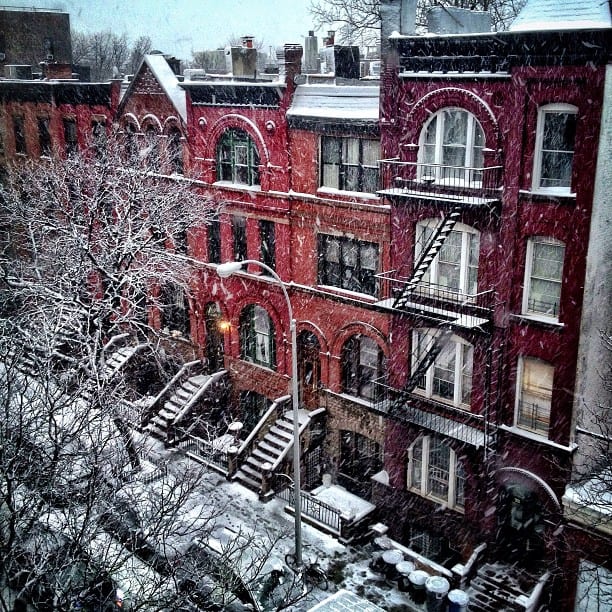 New York, New York. Likes: 112.

I'm shocked this photo was so popular — I don't even consider it that good a shot!  This was taken on a colorful block in Harlem at the beginning of Storm Nemo, one of the biggest snowstorms to hit the Northeast US in the past few years.
The Most Liked Photo Ever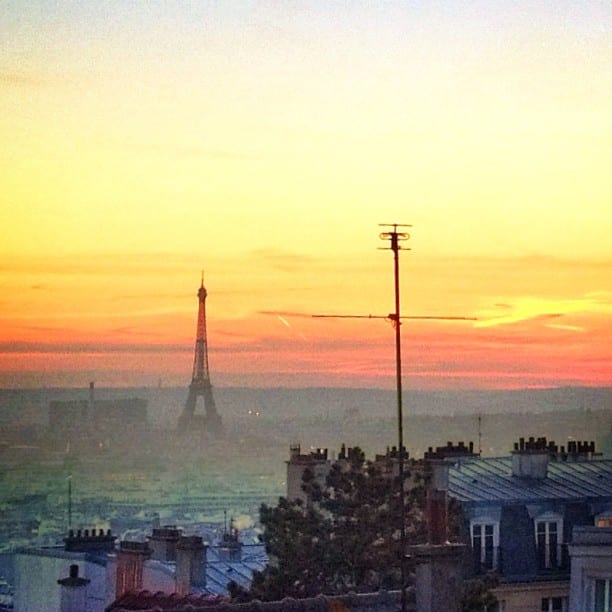 Paris, France. Likes: 125.
Between a beautiful sunset and the Eiffel Tower, it's no wonder this is my most liked photo of all time.
Can Instagram make you a better photographer?  Looking from the beginning, you can see how it made me a MUCH better photographer.  If you're not on Instagram yet, please feel free to join — it's a fantastic way to improve your photography skills!
Which photo is your favorite?
Get email updates from Kate
Never miss a post. Unsubscribe anytime!