Adventurous Kate contains affiliate links. If you make a purchase through these links, I will earn a commission at no extra cost to you. Thanks!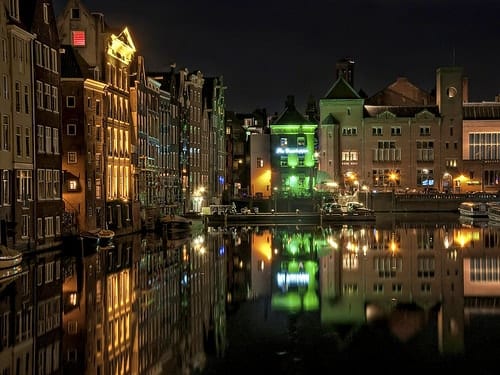 Image: Werner Kunz
About a year ago, while working at my last job, I found out that I might be sent to London for a week or so.  Though this would be a business trip, I was jumping-out-of-my-skin excited.
Oh, to spend more time in the great city of London, where I've only stayed for a few days at a time!  But even better: I had a ton of vacation days that I needed to use before the end of the year.  I could use a few to extend my European holiday.  To Paris, my favorite city in the world.  To Barcelona or Edinburgh or Rome.  Or to Amsterdam, where I hadn't even been yet!
I made up my mind.  I'd go to Amsterdam for a few days after my London trip.  I'd visit Anne Frank's house and the Van Gogh museum, eat rijsttafel and broodjes, shop in the Jordaan, ride a bike through a city for the first time ever.  Maybe I could even drop by Delft for some Vermeer worship.
So when I told my boyfriend at the time about my plans, I expected him to be happy.  From the first day we met, he knew that my dream was to travel the world alone.  I talked about it constantly, and he seemed excited about it.
But after "mm-hmm"-ing a number of times, he dropped the bomb:
"It's not safe for a woman to travel alone."
I beg your mother****ing pardon?
"I've traveled alone before.  You know that," I told him.  "Including London, Paris, and all over Italy."

"You haven't been to Amsterdam," he insisted.  "I have.  And Amsterdam is just crazy on every level."

"I won't go to the red light district alone at night," I pointed out.  "I've researched, and I know that's not the best idea.  But to completely write off the city?!"

"Where are you going to stay?"

"Probably The Flying Pig."

"Do you have any idea how nuts hostels in Amsterdam are?  This trip is not safe."

"If that's not safe, then what did you think of my solo trip to Buenos Aires?"

He didn't answer right away.  "I didn't know you at the time.  But I probably wouldn't have let you go.  You could have gotten yourself killed."

"Oh my GOD."
We went back and forth like this for quite a while until I thought of a compromise.
"What if I went to Paris instead?" I begged.  "I've been there several times, I speak the language, I know the city so well, and I've spent time there alone."

"I don't like it, but it's better than Amsterdam."

"Fine," I acquiesced.  "I'll go to Paris."
Looking back at that conversation, I'm horrified.  How could I have allowed someone to exercise control like that over me?  Why would I have to offer a compromise for my own actions?
I knew, as you all know, that a three-day trip to Amsterdam would have been just as safe as a three-day trip to New York.  Maybe even safer.  I knew that I was right and that he was wrong, but I let him cancel my trip anyway.
To a place like this.
Image: Claudio.Ar
Well, that business trip never came to fruition.  And the relationship ended, for reasons that you can probably detect in the above exchange.
But I learned something important: never compromise your travel ideals.  This is the only life that you get.  How would your life be if you always kowtowed to other people's wishes?
This could have snowballed into something terrible.  Five more years of acquiescing and my biggest adventure could have been returning to the same condo in Florida every year.
I'm not saying to ignore the advice of the important people in your life.  Take their words into consideration.  But chances are that you are much more well-versed in travel than them.  If you do your research and are committed to safety, it's safe for a woman to travel alone almost anywhere.
If you're going to cancel a travel adventure, cancel it for a good reason.  Not like this.
Get email updates from Kate
Never miss a post. Unsubscribe anytime!