Adventurous Kate contains affiliate links. If you make a purchase through these links, I will earn a commission at no extra cost to you. Thanks!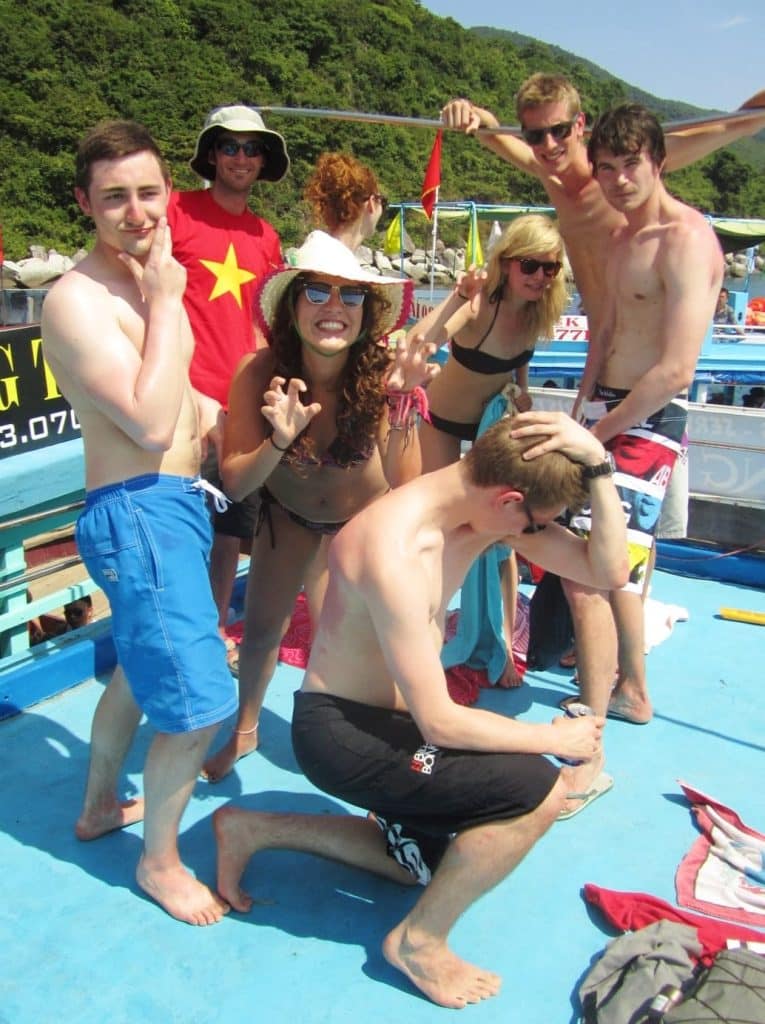 I didn't grow up with brothers or boy cousins.  My birthday parties were as girly as you can imagine, down to the all-female guestlists.  And to this day, my closest friends are straight girls and gay guys and girls.  I love my close straight male friends to pieces, but there aren't a lot of them.
In short, I've always been a girls' girl.  Never one of the boys.
So one of the great surprises on this trip is that at least 90% of the people I've been hanging out with – not to mention the closest friends I've made – have been straight guys!
Why?  There are far more guys than girls on the Southeast Asia backpacker trail, that's for sure.  Especially in pairs or groups.
But mostly, it's easier to join a group of guys. Groups of guys tend to be open and welcoming. While the girls I've met on the road have been very nice, I've found that groups of girls tend to be quite insular.  Being a girl and joining an established group of girls is incredibly difficult.
And while I hate to admit it, girls can be quite catty and competitive with each other. We all know that the Mean Girls phenomenon doesn't end in high school.  Especially when you throw anything involving guys into the mix.
I explained this to my friend Ste, and he simply replied, "We just don't give a sh*t." And there you go.  That's the difference between men and women right there — what took me five minutes to explain took him six words!
I traveled down the length of Vietnam, from Hanoi to Saigon, with five awesome guys: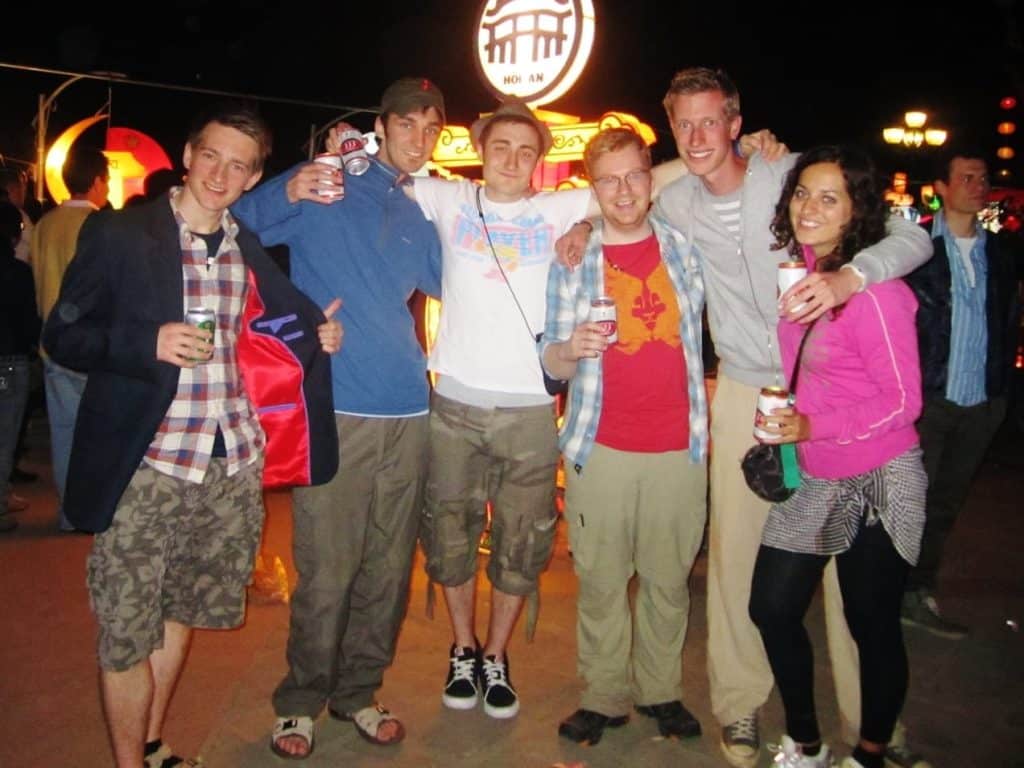 Dave, from the UK, possibly the greatest white dancer alive, with a penchant for custom-made pimp suits,
Mike, from the UK, who will blow everyone out of the water with his Savage Garden karaoke skills,
Ste, from the UK, with a gift of charming every female he meets in Vietnam, from little girls to old ladies,
Darren, from the UK, with magical ginger hair and a talent for posing awesomely in every group photo taken,
And Sander, from Holland, whose height fascinates little Vietnamese girls and whose disposition is permanently, exuberantly happy.
I love these guys. They're fun, they're sweet, they're hilarious, and they're always up for an adventure!
At no point did we ever say, "Let's travel together." We just kept running into each other in while drinking snake blood in Hanoi and partying in Halong Bay, ended up on the same night bus to Hue, and by then, continued on together to Hoi An, Nha Trang, Mui Ne, Saigon, the Mekong Delta and Cu Chi!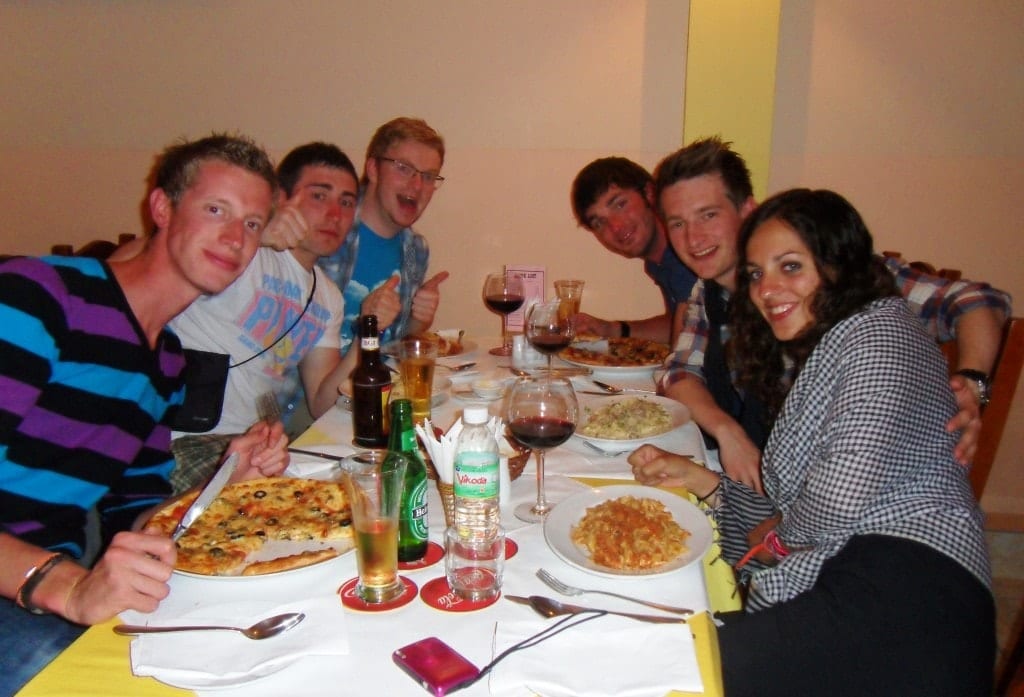 Was it strange being the only girl in the group?  Not at all. Aside from the one time when they almost had a peeing contest off a balcony (I took that as a cue to go write for a bit), things were perfect.  For the first time ever, I was one of the boys.  In our last week, we added another girl to our group — Jitske, also from Holland — and she became one of the boys as well.
I'm trying to think of a way to end this post — I do always like to include a bit of advice or a lesson!  Perhaps it should be that you should always be open to friendship.  Don't overlook befriending a group of guys if you've never done so before.
Ste's suggestion?  "Not all boys are sex toys." Once again, the concise male reply wins!
Get email updates from Kate
Never miss a post. Unsubscribe anytime!