Adventurous Kate contains affiliate links. If you make a purchase through these links, I will earn a commission at no extra cost to you. Thanks!
Prague restaurants have SO much to offer — and the Prague dining scene is one of the best things of living here. You might not have known that!
I've been living in Prague for 2.5 years, and have a circle of foodie friends here. We regularly go out to the best restaurants in Prague, always keeping an eye out for cool new spots. Over time, I've built a list of the absolute best places to go out to eat in Prague — and I'm delighted to share it with you.
Prague has changed a lot since my first visit in 2004, when my study abroad friends and I came over for a cheap party getaway. In the last 20 years, Prague has become much more sophisticated, with new high-end restaurants catering to wealthy Czechs and international visitors, including some Michelin-starred restaurants.
Prague is no longer the bargain basement destination it used to be, but you still get fantastic value for money here, especially when it comes to dining out. So take advantage and go to some nice restaurants!
In my experience, Prague restaurant prices tend to be about one third of New York restaurant prices, and as far as Europe goes, Prague is much cheaper than Paris, Reykjavík, or London. Prices drop further when you leave the city center.
And it's wildly international here in Prague, too. You can find restaurants in Prague dishing up Vietnamese bun cha, Neapolitan-style pizza, Georgian khachapuri, Mexican tacos, Japanese ramen, Ukrainian vareniki, French pastries, and American chicken and waffles, just to start.
Come with me — let's take a look at Prague's best restaurants!
This post was published in April 2023. Planning a trip to Prague? Don't forget to check out my list of unusual things to do in Prague!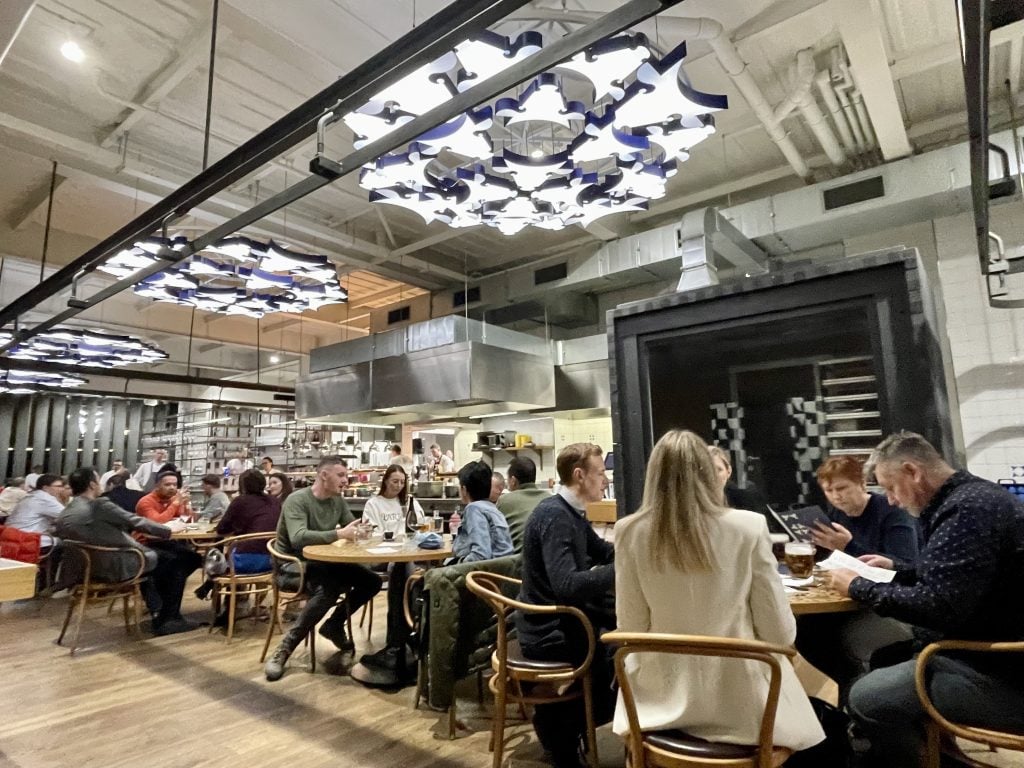 Best Restaurants in Prague
A lot of Prague travelers assume that they should be eating traditional Czech food for their entire visit. Nothing like enjoying some beef goulash and bread dumplings on Old Town Square, followed by a walk across the Charles Bridge to Prague Castle! How about some wild game? Venison and even more dumplings, why not?
Of course you should try Czech food here in the Czech capital, and I definitely recommend diving into a few traditional dishes at Czech restaurants. (You will find some delicious Czech dishes at Kantyna, Krystal, and Coda, which are all on my list below.)
But don't limit yourself to only eating Czech food in Prague. Czech food can be pretty heavy, especially in the summer months, and I can't eat Czech food every day.
Instead, take advantage of what else Prague does especially well: Vietnamese food, Asian fusion, and butcher shop restaurants.
Prague has a large and vibrant Vietnamese community, dating back to communism, when guest workers from North Vietnam emigrated to the Czech Republic in droves. Prague is a rare European capital where Vietnamese is the dominant Asian cuisine — to the point that there are pho shops on almost every block!
Ngô is my favorite Vietnamese restaurant in Prague, and it's on the list below. I also recommend Cà Phê Cổ, and banh-mi-ba or Pho Bar for something fast and casual.
Prague also excels at Asian fusion cuisine. This isn't the tired Asian fusion of the turn of the century in New York — think vibrant flavors and unusual combinations.
Three Asian fusion restaurants I recommend on the list below are Taro, QQ Asian Kitchen, and PRU58. Sansho and Zatiší are two others worth visiting.
And finally, Czechs love their meat, and the butcher shop restaurant concept is popular in Prague. The quality of the meat served is superb — it's local, it's high quality, and it's probably far better than what you can get at home.
Two butcher shop restaurants in Prague that I recommend on the list below are Kantyna and Čestr, and two others I recommend are Naše Maso and Mikrofarma.
Now, let's take a look at the best 17 Prague restaurants — my personal favorites!
Kantyna
Come to Kantyna for: Local Czech dining at its best, lots and lots of local meats, great beer, and the best burger in Prague. Not a good choice for vegetarians, vegans, pescatarians, or non-red meat eaters.
How do I even begin to describe Kantyna? It's my favorite place, my fiancé's favorite place, my friend group's favorite place. This place is the reason why I ask my friends, "Do you eat meat and drink beer?" before they come to Prague.
Kantyna is part butcher shop, part restaurant, serving fantastic, high-quality, local meats along with great Czech pilsners. There are seats for dining, and a giant table at the center where people stand enjoying their meals and merriment. This is very Czech — casual and convivial and fun.
Walk in, get a ticket from the register, and this will be where servers record what you consume. You go up to order burgers, steaks, tartare, and carpaccio at the front counter; roasted meats and prepared foods in the center; and beer at the bar. They'll give you a bone with a number on it and bring you your food. Servers will also grab you beers and other beverages.
Know that Kantyna is extremely popular and doesn't take reservations, so you might end up having to stand in the middle (a fun way to dine, but not if you really need to sit).
Kantyna also serves Dinner Off the Bone (the butcher's dinner), a reservation-only dinner for 6-12 people, where they serve a tasting menu with a mix of popular and unusual cuts and include a little tour behind the scenes. I've done this twice (it's one of my favorite unusual things to do in Prague) and it's fabulous if you have enough people.
What to get at Kantyna: I think Kantyna has the best burger in the world. Yes, world. But their steaks are also outstanding. Usually I start with the excellent carpaccio or tartare (both if with a group!), followed by either a cheeseburger or steak depending what I'm in the mood for. If you get a steak, their chimichurri and coffee sauce are both fantastic. And beer, of course.
Taro
Come to Taro for: Special occasion splurge, tasting menu, Asian flavors, beautifully plated dishes, cheap but fancy lunch. Not a good choice for picky eaters or groups.
Taro is the perfect place to celebrate a special occasion in Prague. This restaurant centers Vietnamese cuisine and from there careens off into unusual flavors from all over Asia, made with modern European techniques.
Taro serves an eight-course tasting menu for dinner, and each item is beautifully designed and gorgeously inventive. And this is an expensive meal — 1700 CZK ($83) for the food alone. But they also serve a much cheaper "business lunch" during the week, with a four-course menu for 750 CZK ($34).
You should make a reservation for Taro in advance, as there are only 20 seats, all surrounding an open kitchen area. This design means it's best for for solo diners or couples and not a good choice for groups.
What to get at Taro: Taro serves a tasting menu, so you get what you get. But I recommend seeing what they have for lemonades. Czechs love their lemonades (which rarely have lemon in them — just fruit and sparkling water), but Taro has made some especially inventive lemonades.
The Italians Wine and Food Market
Come to The Italians for: The Eataly of Prague, with good food from all over Italy, served in a casual but stylish atmosphere. Good for families, picky eaters, people with dietary restrictions.
The Italians Wine and Food Market is the Eataly of Prague — it's a big market featuring produce from all over Italy, including an immense selection of Italian wines. The kind of place that's a little too expensive to go for regular shopping but the place you go when you need something special.
Attached to the food market is a big restaurant serving dishes from all over Italy, including plenty of pizzas and pastas. What I think works well here is that the restaurant is large and feels upscale, but it also feels welcoming for all kinds of people. I've gone here for dates, and it also works well as a spot for families. You'll probably see a few big tables celebrating a special occasion when you're there.
A few years ago, I decided to have my birthday here, and Charlie and I ate our way through a salume (charcuterie) platter, a giant pizza, and three Italian desserts! Plus the Franciacorta and the Primitivo. The quality is solid — I've never had a single less-than-great dish here.
What to get at The Italians: Everything is good here, but I especially love their pizza. If you order a large pizza to share, it feels like the closest thing to good New York pizza that you can have in Prague. Don't miss a perusal through the dessert case in the front — I especially love their tiramisu.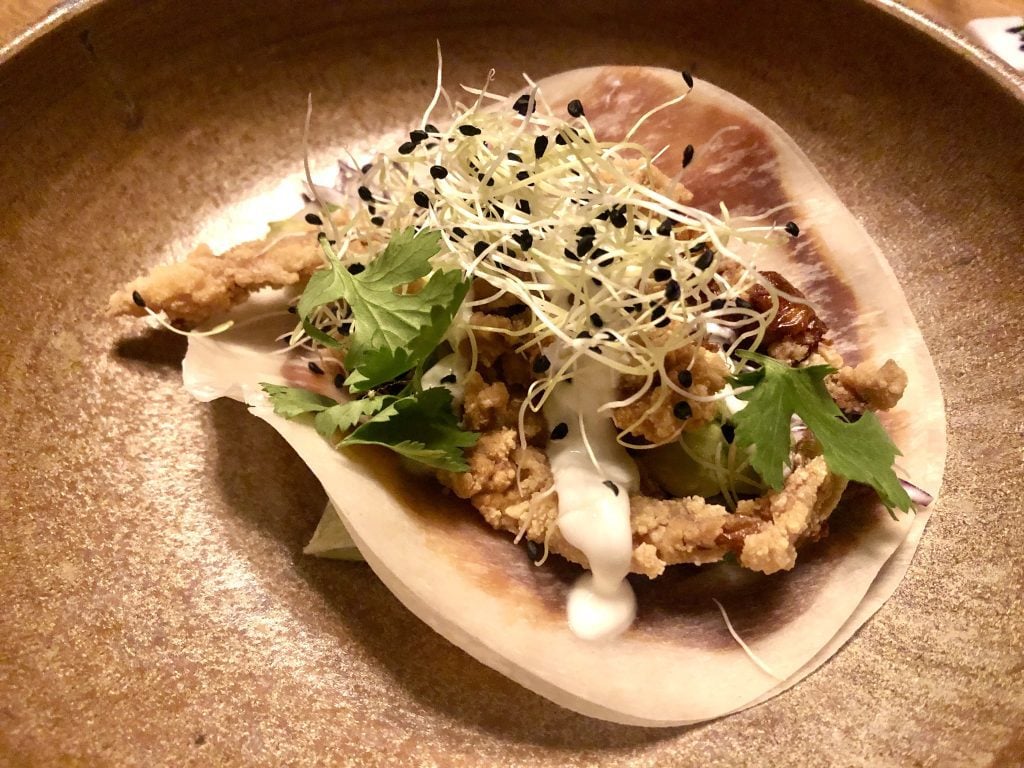 QQ Asian Kitchen
Come to QQ for: Inventive and creative Asian fusion cuisine served at a level above the usual.
Prague has so many interesting pan-Asian restaurants — the best of which is QQ Asian Kitchen. You might not be so into pan-Asian cuisine or even Asian fusion as a concept, but this is a restaurant that does it SO well, pulling in delicious flavor combinations and doing their cuisines justice.
Here you can order à la carte or try the four-course tasting menu. Dishes can range from the roast rabbit betutu curry to the pan-fried prawns in coconut laksa, sweet potato and tofu potstickers, and slow-cooked beef rendang. The chefs are of Balinese and Taiwanese-American origins, which guides a lot of their flavors.
QQ considers themselves a "casual fine dining" restaurant, which isn't an attempt at appealing to everyone under the sun, but it's a place that works well for a special occasion while still feeling approachable.
What to get at QQ: There are so many cool dishes at QQ, but the one that someone in my party always gets is the soft shell crab mushu taco. One of my friends even ordered a second taco for dessert!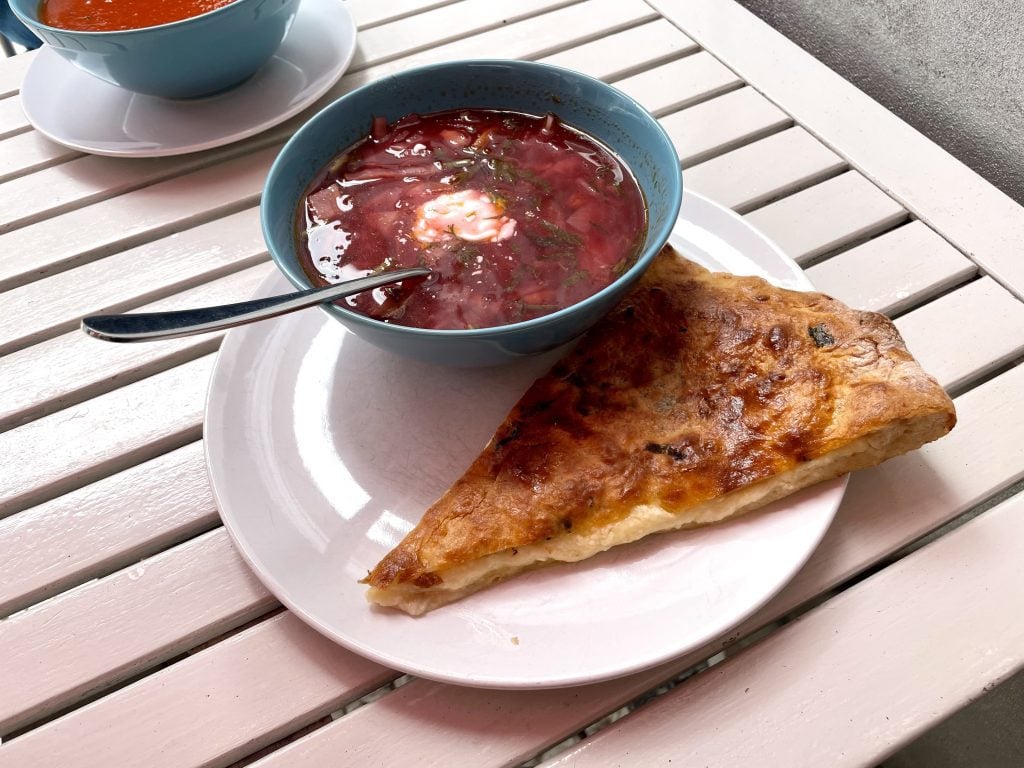 Polévkárna
Come to Polévkárna for: A quick soup and a khachapuri for a cheap weekday lunch.
Many of the restaurants on this list are high-end, but Polévkárna is one of my favorite cheap places. This tiny Georgian restaurant in the Karlín neighborhood dishes up fresh soups and homemade khachapuri (Georgian cheese pie) for weekday lunches only.
Polévka means soup in Czech, and –árna means "place that sells" (i.e. lekárna means pharmacy, pekárna means bakery). So polévkarna isn't really a word, but it's a cute Czech portmanteau!
Each day they serve around five soups or so, but know that Czechs tend to eat lunch a bit early, and by 1:00 PM they tend to be out of all the soups except borscht and chicken with tarragon. (That doesn't matter to me — borscht and chicken with tarragon are my two favorites!)
Round your meat out with one of their baked goods — especially the plain or spinach khachapuri. Note that most of the menu is in Czech, but the staff speak English and can translate for you.
What to get at Polévkárna: If you think that borscht is sad cold soup, this place will change your mind — this borscht is FANTASTIC and piping hot, filled with meat and topped with a dollop of sour cream. The khachapuri are fabulous, too, and I love dipping a forkful in the soups.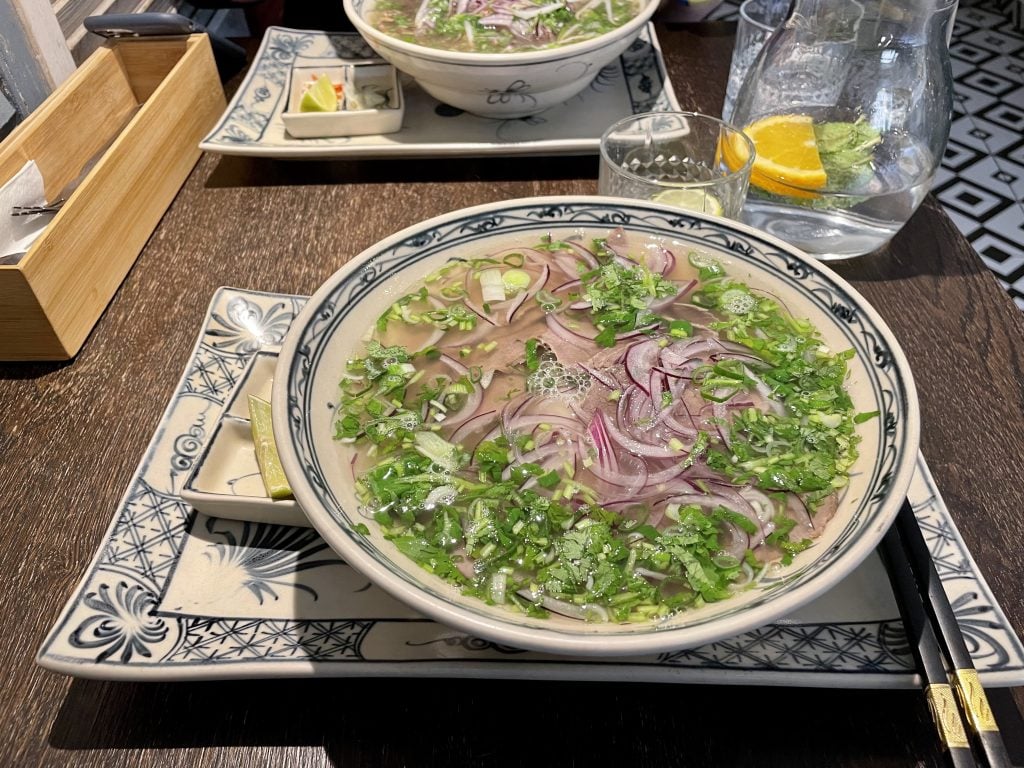 Ngô
Come to Ngô for: Delicious and varied Vietnamese food at mid-range prices, as well as the best pho in town.
Ngô Restaurant was a former neighborhood stalwart of mine, holding court a stone's throw from the main square in Karlín. When they moved to the chic Vinohrady neighborhood, I still made the trek over to enjoy their dishes.
In Prague, you can tell that there are two generations of Vietnamese restaurants here — the first generation, run by Vietnamese who came to the Czech Republic as guest workers during the communism era, and decided to stay. These workers primarily came from Hanoi and North Vietnam.
The second generation of Vietnamese restaurants are run by their children who traveled back to Vietnam, explored the country in depth, and brought new and interesting dishes from all over the country, and served them in beautiful restaurants ready for Instagram.
Ngô is very much the latter — beautiful, inventive, with absolutely fantastic Vietnamese food and quirky global influences in different places. The back garden is a lovely place to eat on a beautiful day. (In Prague, Vietnamese food is the traditional cuisine of the warmer months!)
Come here for affordable lunch specials and a more extensive à la carte menu. You might even see a Vietnamese-inspired scotch egg if you're lucky.
What to get at Ngô: Everything's good here, but I highly recommend the roasted beef pho. It's my favorite pho in the city — made with roasted sirloin. The flavors here are so much deeper and more interesting than any other pho I've ever had in Prague.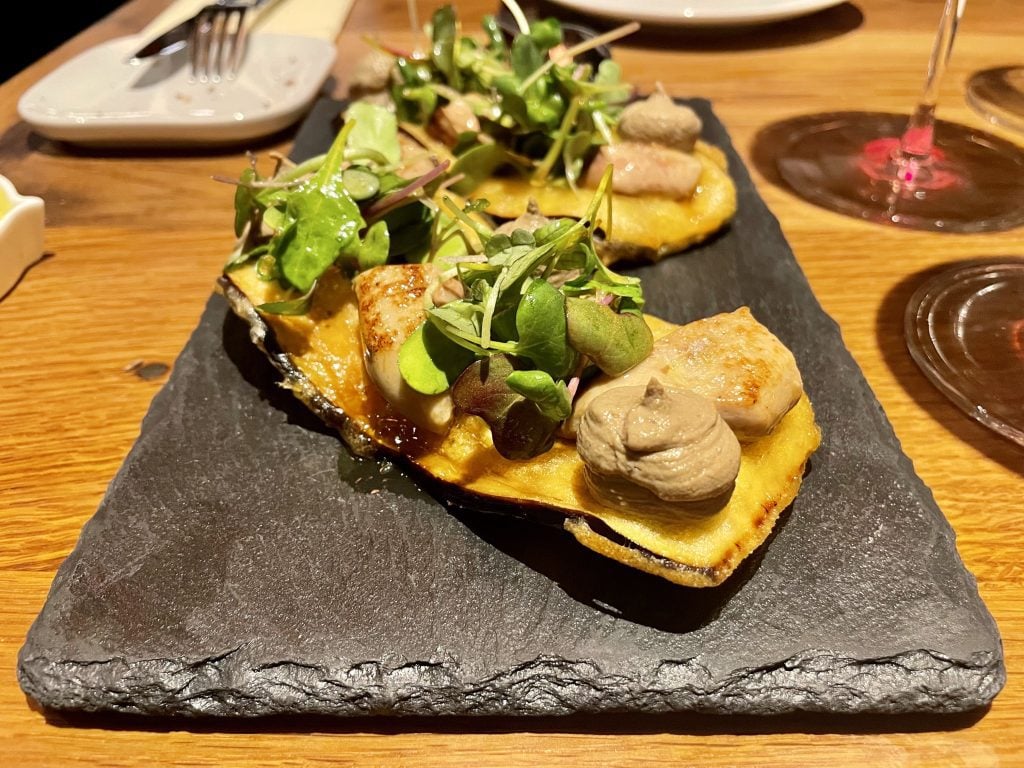 El Camino Tapas Restaurant
Come to El Camino for: Spanish tapas and superb wines served in an upscale setting. Decent choices for omnivores and pescatarians with a few inventive vegetarian options.
El Camino Tapas Restaurant is the first restaurant in Prague that I truly fell in love with — and that I thought was my special place. Since then, Charlie and I have returned for special occasions like our anniversary.
What stands out at El Camino is the service level. I think it's home to some of the best service I've had in Prague. Right away you're whisked to your table, offered a few wine choices, and they know when to serve and when to leave you alone.
Then there's the food. OH, the food is so good here! This is a Spanish restaurant that consistently turns out interesting, offbeat dishes, and they are all fantastic.
One nice thing about the menu at El Camino is that it's primarily small plates and a few larger raciones. You can build yourself a menu that fits what you eat — and there are usually three or so vegetarian choices of small plates. (This place is easier as a vegetarian than as a vegan.)
What to get at El Camino: The menu here is rotating, so you never know what you're going to get — but I've had a few oxtail dishes at El Camino that rocked my world. The plates are small so it's a good reason to try a bit of everything!
Aromi
Come to Aromi for: High-end, fancy Italian cuisine that's as beautiful to look at as it is to eat.
There are lots of Italian restaurants in Prague (and I have been to A GREAT MANY of them). But if you're looking for a special occasion restaurant with fantastic service that serves Italian dishes that look like works of art, you'll want to visit Aromi.
On the constantly changing menu, you have a selection of Italian dishes with creative touches. Grilled octopus comes with anchovy mayonnaise; their version of "tortellini in brodo" comes with oxtail broth and mushrooms; a tarte tatin comes with pine nuts and rosemary cream.
The plating here is some of the best I've seen in the city, and you'll want to photograph every dish.
Just know that Aromi is not a laid-back place in the least. Service is very deliberate and the surroundings are so fancy. But if that sounds like your kind of place, go ahead!
What to get at Aromi: If there happens to be a truffle pasta special on the menu, you should get it. It was one of the most heavenly dishes I've ever eaten in Prague.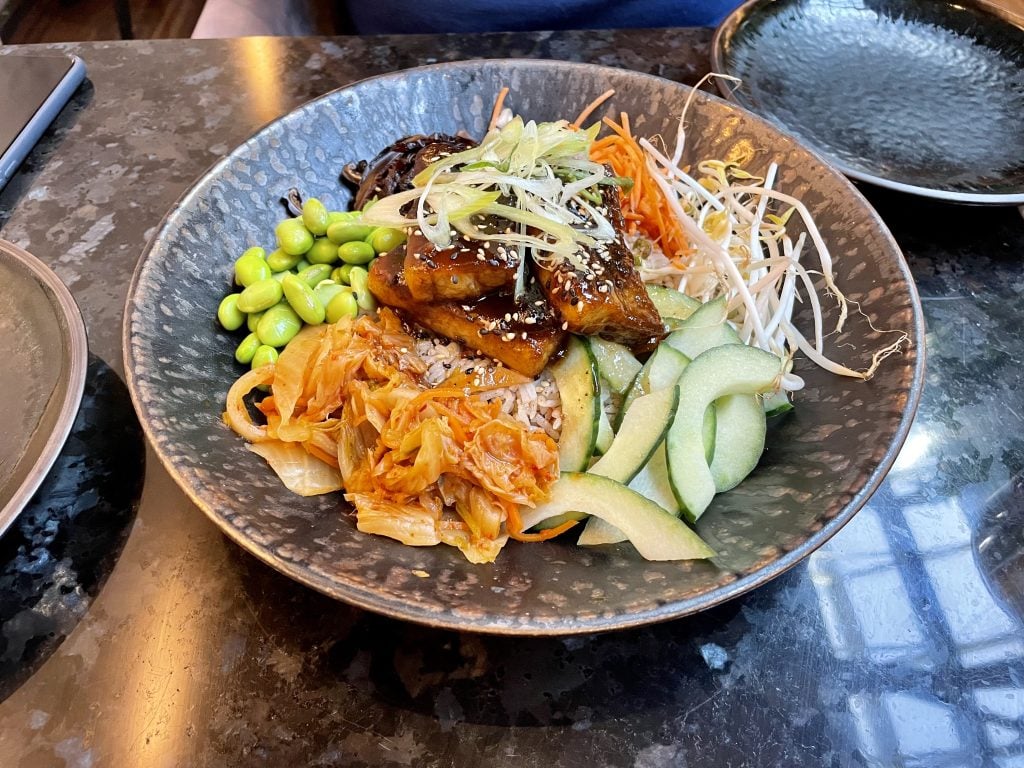 PRU58
Come to PRU58 for: Solid, delicious pan-Asian dishes, from Thai to Korean to Indonesian, served in one of the most beautiful restaurant interiors in Prague.
PRU58 is a bit of a newcomer to Prague's dining scene, and located a bit out of the center in the Holešovice neighborhood, but from the first time I visited, I was smitten.
First of all, the interior is stunning. It's full of plants, vines, and greenery, and all the chairs are in a soft, cool lavender palette playing off the greenery. Straw lampshades and a stunning bar add to the vibe.
PRU58 serves a variety of Asian dishes — and while ordinarily I'm not a fan of that (just choose a cuisine and do it well!), PRU58 makes each dish nothing short of immaculate. The dishes change periodically, but whether you're having a Thai somtam (spicy papaya salad), Malaysian seafood laksa, or Singaporean beef noodles, you're going to love it.
What to get at PRU58: The menu here is continuously changing, but I absolutely loved the bibimbap with barbecued pork belly. The pad thai is one of the best I've had in Prague.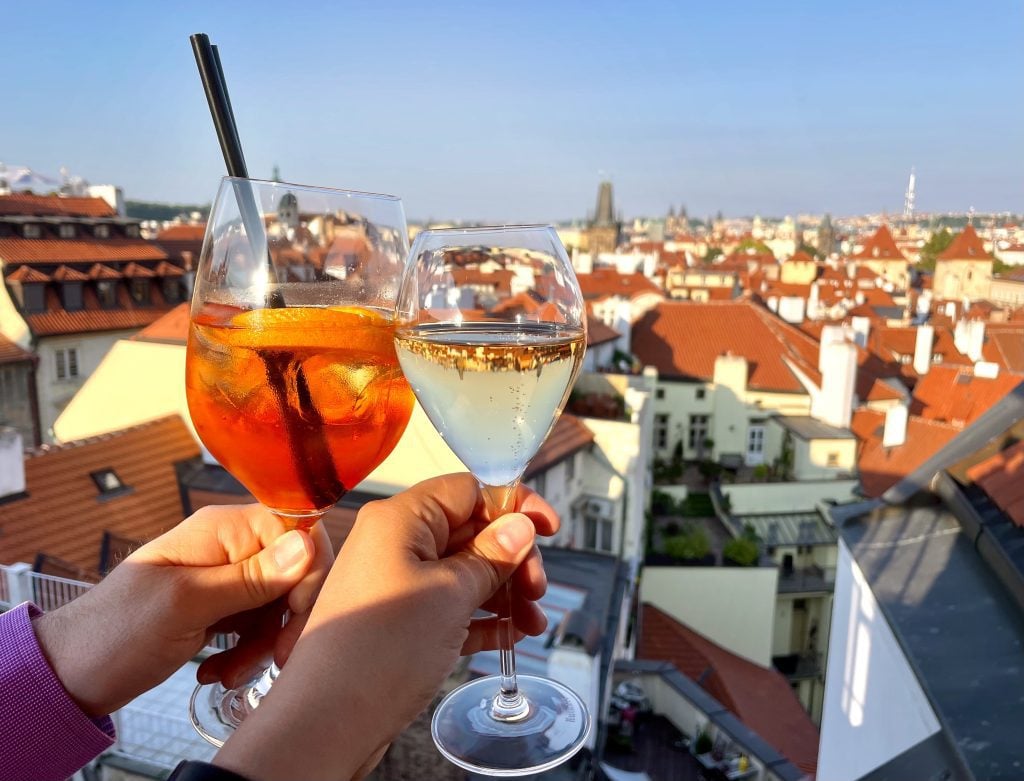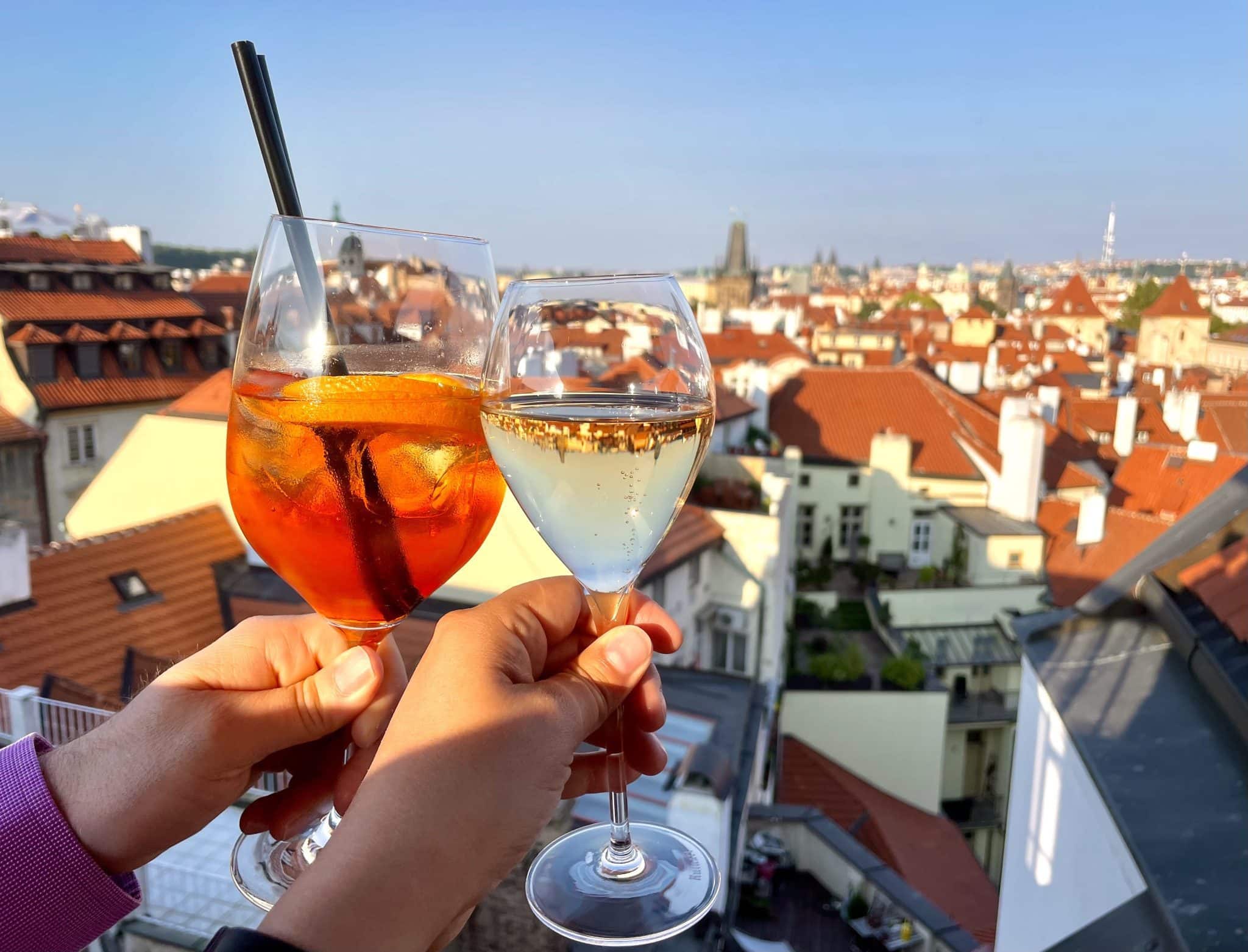 Coda Restaurant
Come to Coda for: Outstanding, beautifully plated fine dining and the best city views in all of Prague.
If you want to wow somebody you're taking to Prague, and you're visiting during a warm time of year, I can't recommend the rooftop terrace at Coda Restaurant enough. It is gorgeous, special, an unusual view of Prague, and it will knock your socks off.
But even if you're visiting during a colder time of year — and I've been here in winter — Coda impresses with its fine dining. Dishes are exquisitely and inventively created, with Czech influences that extend throughout Europe.
Full disclosure: Charlie and I are friends with Coda's Executive Chef, Jan Kaplan, and he is pretty fucking fantastic at what he does.
What to get at Coda: Coda features a rotating menu with a variety of dishes, including a Czech tasting menu option. I'm still dreaming of the almond soup they were serving this past winter.
Krystal Bistro
Come to Krystal for: Lighter and more refined Czech classics with a French touch and a modern twist, served in a local neighborhood.
Czech cuisine can be a tough sell to people; that's always been the case for me. But Krystal Bistro, located in my neighborhood of Karlín, takes the heavier, meatier Czech dishes and gives them a much lighter touch through French techniques.
This restaurant is a bit off beaten path and serves a mostly local crowd, making it a great spot hidden away from the tourist crowds.
Traditional Czech dumplings get served with blueberries and cream, tartare comes in both Czech style and French style, and French onion soup and escargots have their place on the menu. Delicious food, no matter what you get, and the local beer is always fabulous.
What to get at Krystal: I absolutely love the chicken řízek (Czech schnitzel), which isn't on the main menu but is always a special on the board. You can get it either with potato salad or mashed potatoes. Both are good, but the potato salad is transcendent.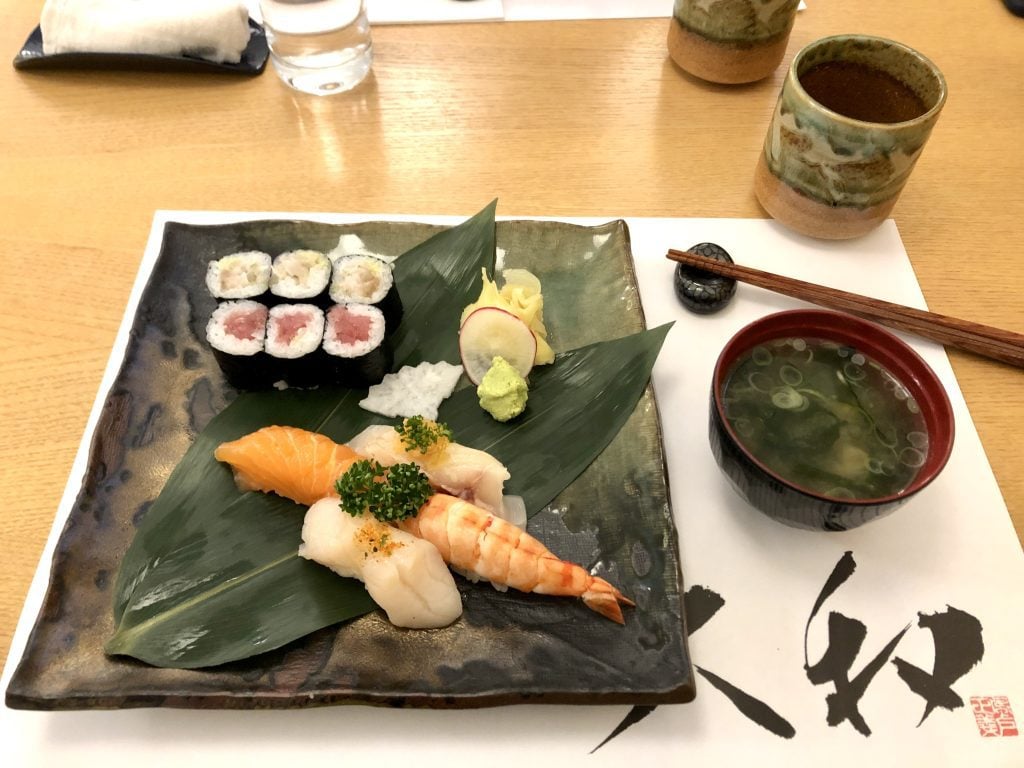 Yamato
Come to Yamato for: Excellent high-end Japanese food, including the best sushi in Prague.
When I first visited Prague back in 2004, it was a lot cheaper than it is now, and my study abroad roommates wanted to go out for ALL THE SUSHI while it was this cheap. Today in Prague, you can still find cheap sushi, but why not go for something better?
Which brings me to Yamato — one of my favorite Prague restaurants and a must-visit if you're craving sushi. Everything is incredibly fresh and comes with surprises — yellowtail with umeboshi and truffle oil; avocado tempura comes wrapped in thinly sliced tuna.
If you want to splurge, go for the dinner degustation for 1990 CZK ($93 USD), or more if you upgrade to the wagyu beef. This can be a pricey spot, but the lunch menu is much more moderately priced.
What to get at Yamato: Everything here is good! Just make sure you at least get some sashimi to luxuriate in the really good raw stuff.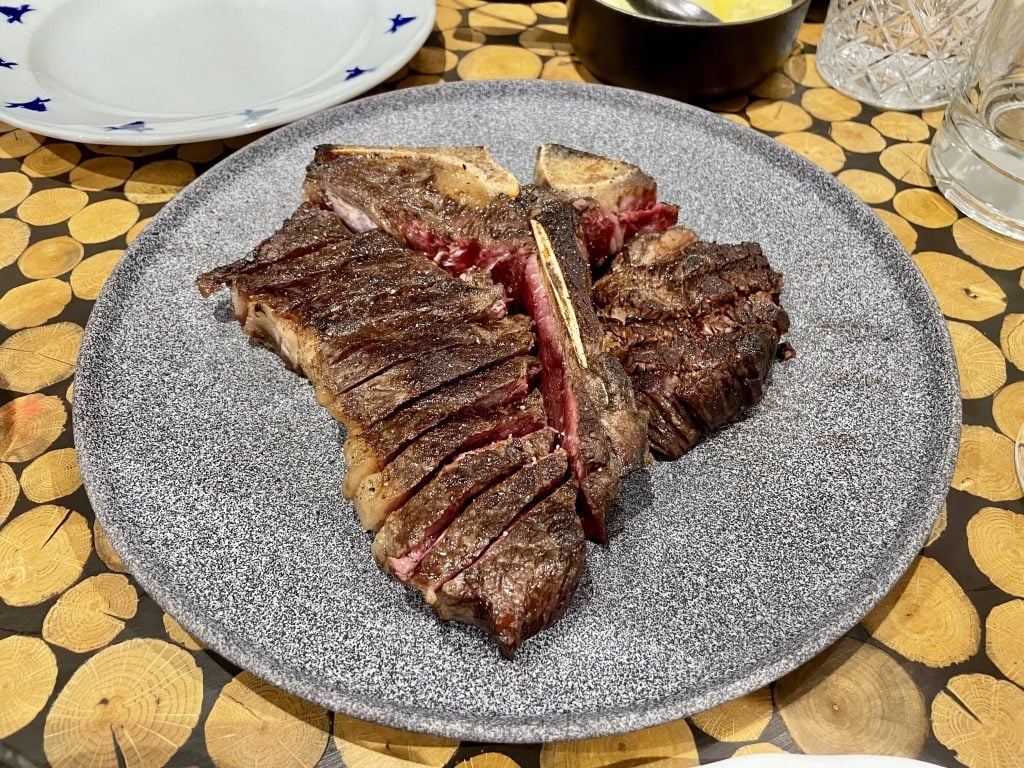 Čestr
Come to Čester for: Meat, outstanding meat, and lots of it. Not a good choice for vegetarians, vegans, or pescatarians.
Czechs love eating high-quality meat, and Čestr (pronounced Chester) is where you'll find some of the best meat in the city. The restaurant goes hard on the beef theme, from the geometric cow head-shaped lamps to the modern photography featuring cow hides to the open meat locker displaying the current wares.
In short, don't bring vegans here.
But if you're a meat fan, you'll be in heaven. Čestr serves high-end meat dishes, culminating in a fabulous selection of steaks, including oyster blades, rib-eyes, and dry-aged t-bones. Not the biggest beef fan? There's wild boar, deer shoulder, pork schnitzel, and a transcendent fried chicken toast. There's also a "beer sundae" for dessert if you're game.
This is one of the pricier spots on this list, but it's absolutely worth a stop if you're a beef eater.
What to get at Čestr: Beef may be the name of the game at Čestr, but my favorite dish on the menu is actually chicken — fried chicken served on brioche toast with truffle gravy. That dish is mind-bogglingly good. Charlie and I will sometimes split it for an appetizer. If you really want to splurge here, go for a t-bone.
Manú
Come to Manú for: Authentic, well-made Neapolitan pizza that you'd never guess was made in Central Europe.
Pizza is the best — that's something we can all agree on! And while I love going to The Italians Wine and Food Market for New York-style pizza, there's nothing like Neapolitan pizza with its soupy, tender center, made fresh with San Marzano tomatoes and buffalo mozzarella.
A few restaurants in Prague make high quality Neapolitan pizza, but Manú is my favorite. In addition to pizza, they have plenty more Italian dishes, with several pastas, meat and fish dishes like vitello tonnato and grilled octopus, and a selection of desserts.
Manú is located on the edge of the old town, close to the river, and I love the interior with its rich colors.
What to get at Manú: You know the drill! Neapolitan pizza. I'm always a fan of a perfect margherita with buffalo mozzarella, though Charlie will go for the strangest one on the menu (a white pizza with Tropea onions and tuna lives in my memory).
SUN.DAY TERRACE
Come to SUN.DAY TERRACE for: Fabulous, warm, homey Georgian food that will have you booking a flight to Tbilisi before the check arrives.
We are lucky to have a handful of Georgian restaurants in Prague, and SUN.DAY TERRACE is a great choice if you want to make a Georgian night of it.
This restaurant sticks to Georgian classics, including a variety of khachapuri (including the adjaruli, the famous one topped with egg and butter that is shaped like a boat), lots of grilled chicken and pork dishes, and plenty of cheese, eggplant, and walnut-based dishes.
I often think that a mark of a good Georgian restaurant is the lobio — the classic Georgian beans that are on the table most of the time. Even if you're not a bean person, you will love these rich, meaty beans.
It's a bit dark in here, and you'll have to use your phone to read the menu, but I think the food more than makes up for it.
What to get at SUN.DAY TERRACE: If you're new to Georgian food, let me tell you what to order. Get a bottle of Georgian wine. Get a few kinkhali dumplings (one to two per person is fine) and some badridzhani (eggplant walnut rolls). Get an adjaruli khachapuri (the cool one shaped like a boat), some chicken or pork main courses that sound good to you, and lobio — Georgian beans. The beans are a must. Trust me.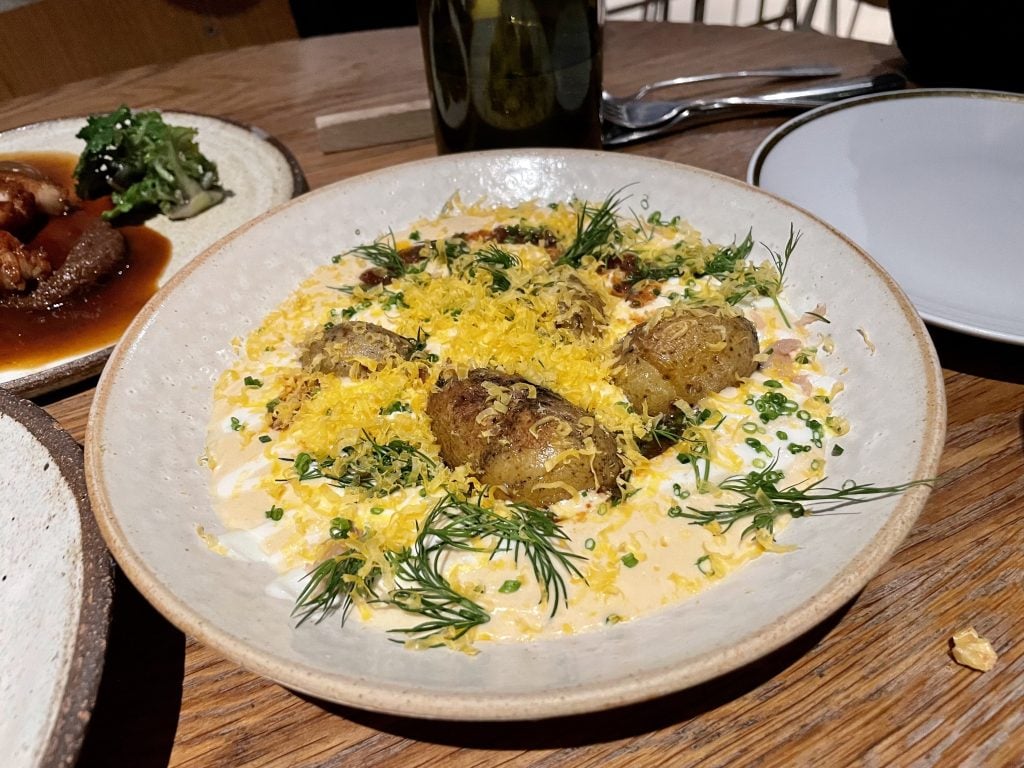 Eska
Come to Eska for: Something strange and different, served in a modern setting. Not for picky eaters.
Many members of the Ambiente Restaurant Group are on this list. Eska is known as the weird one — the one for hardcore foodies, serving unusual high-end dishes in experimental ways.
Here, you might order an appetizer of bloody rare duck hearts — and they come served with thin beet slivers cut into the shape of hearts, dripping deep purple-red. Hearts on hearts, blood on blood! Again, this place is not for everyone. But if you're into that? You'll love it.
If you're not up for a full meal, there's also a coffee shop on the ground floor. I highly recommend getting Eska's větrník — a Czech cream puff filled with multiple layers of cream and topped with caramel sauce. They often sell out, so I'd go around lunchtime. Sometimes they make different větrníky; I had a nice one with apricots.
What to get at Eska: The "potatoes in ash" are one of Eska's signature dishes and I love them. Small roasted potatoes are buried in a thick chowder made with buttermilk foam, pieces of smoked fish, kefir, and egg yolk.
Manifesto Market
Come to Manifesto Market for: A fun outdoorsy setting with lots of great, varied food from different market stands. Great for groups and people with different food tastes.
Of all the places on this list, Manifesto Market is one of the places I visit the most. It's a great spot when you and your friends all want different things to eat! Manifesto has had many different locations over the past years, and is now located in Anděl.
In addition to great food and drinks (the beer here is top notch, as you'd expect in Prague), Manifesto puts on different events, from live music to trivia nights to family-friendly daytime events. They even had a Day of the Dead party for Halloween, complete with a live band, which really made me ache for Mexico!
This place is fun, casual, great in the evenings (though it closes by 10), and recently caused controversy in the New York Times because a bunch of readers were shocked that Czechs like to eat things besides roasted pork knuckle.
What to get at Manifesto Market: With so many food stalls to try, you'll find something you love. I personally enjoy the fried chicken and bibimbap from Korean restaurant Bab;rýže; the animal-style fries from Faency Fries; the pizza from Mare by Aromi, and I especially adore the tacos al pastor from Alebrijes (they are pretty much as close as you can get to legit in Prague).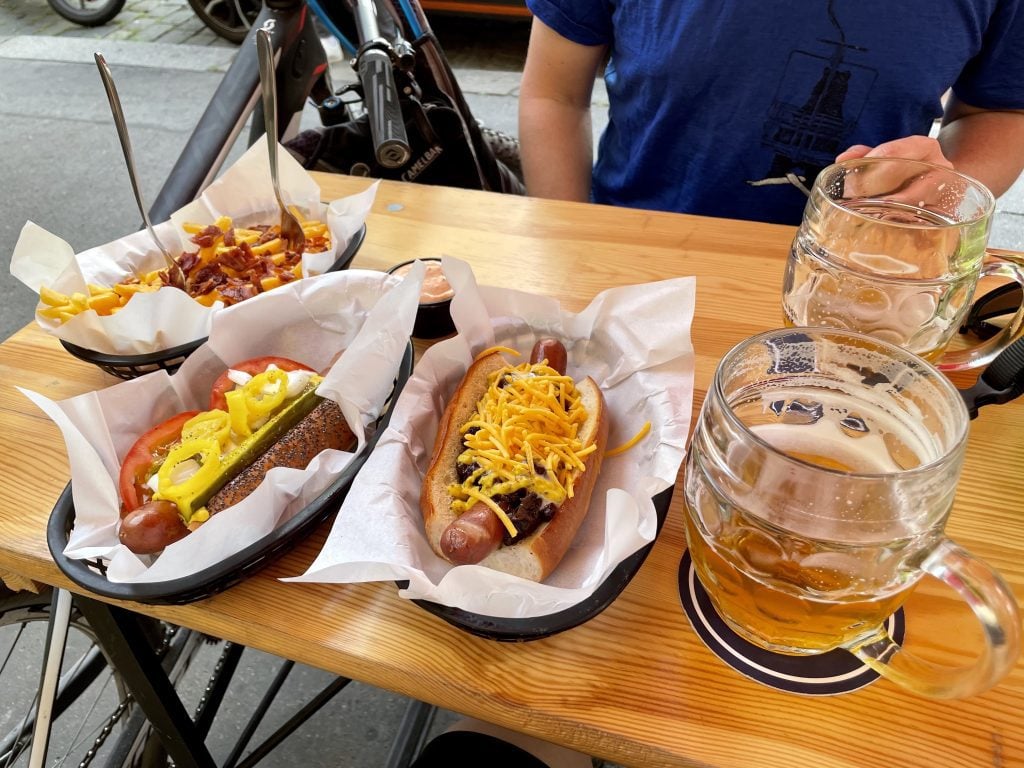 A few more notable restaurants in Prague
There are a few more restaurants that I wanted to mention, but I don't think quite merit their own entry.
If I'm craving the food of my people — Americans, that is — I love going to Mr. HotDog in Letná, which has a delicious menu of hot dogs, sliders, chicken sandwiches and more. Another is The Tavern, a popular restaurant for an American-style brunch (just don't expect American portion sizes).
Naše Maso and Mikrofarma are two more combination butcher shops and restaurants similar to Kantyna. Both serve excellent meat and fantastic burgers, though neither has the atmosphere of Kantyna.
As far as Indian food goes, Sangam is a solid option in my neighborhood of Karlín with good weekday lunch specials, while V Zátiší has really interesting food that combines traditional Czech cuisine with South Asian flavors.
For fast casual food in Prague, go for one of the local restaurants rather than McDonald's or KFC. I'm a fan of banh-mi-bah (Vietnamese), Pho Bar (Vietnamese), Bageterie Boulevard (sandwiches — basically the Subway of the Czech Republic), and Bufet (chicken sandwiches, burgers, and fries).
Sapa is a Vietnamese market on the outskirts of the city that has tons of cheap and fantastic food. Cà Phê Cổ makes great Vietnamese food and serves sinfully sweet Vietnamese egg coffees! And Cafe Sofa puts on lots of cool pop-up Asian menus.
And, of course, there's Lokal — a pub chain with casual Czech food and great beer. It doesn't quite crack my list of absolute favorites, but it's a great place nevertheless!
More on the Czech Republic: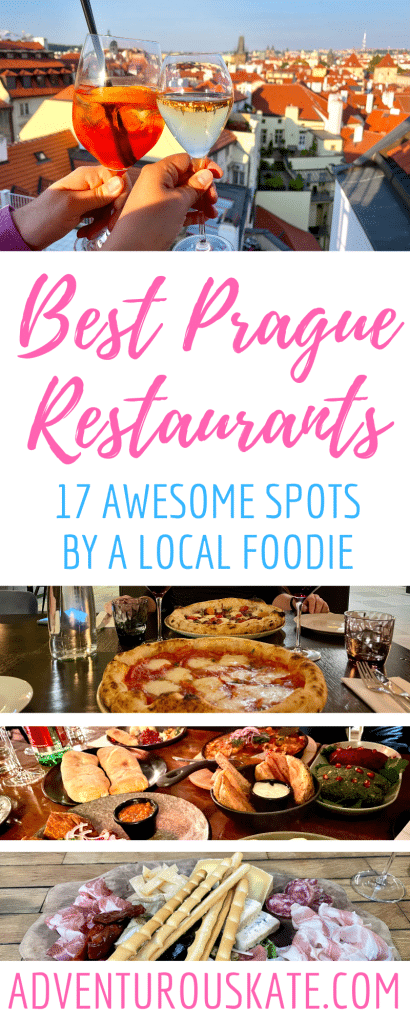 What are your favorite Prague restaurants? Share away!