Adventurous Kate contains affiliate links. If you make a purchase through these links, I will earn a commission at no extra cost to you. Thanks!
After living in Prague for a few years, I'm finally sharing my list of unusual things to do in Prague! If you want to live like a local while visiting Prague — not in the boring way, but in the awesome way — you are going to LOVE this list.
Prague is an enormously popular city to visit — but most travelers come for a few days and stick to the city center. They visit Old Town Square, the Charles Bridge, the Astronomical Clock, the Lennon Wall, Prague Castle, and maybe pop into the Vinohrady neighborhood for a meal if they're feeling a bit offbeat.
There's nothing wrong with that, but as a result, it feels like Prague is two cities. The city center — the Old Town and New Town — is filled with tourists and businesses that cater to them. The surrounding neighborhoods, however, are nearly 100% locals and have a completely different vibe and feeling.
That's a big difference from Paris, Barcelona, or London, for example. In those European cities, travelers tend to venture out into different neighborhoods. But in Prague, even experienced travelers tend to stick to the city center and not venture far beyond.
As a result, I've put together a list of things that my Prague friends and I love to do. You'll find a lot of foodie things on this list, from where to find Vietnamese egg coffees and the most decadent větrník pastry in town, as well as some nearby hikes and bike trips that Prague locals love, quirky touristy activities like the beer spa, and some meals you'll never forget.
Prague is a fantastic place to live — and with this list of unusual things to do in Prague, perhaps you'll start feeling like a local yourself.
So this is my call — go beyond the standard things to do in Prague! You're going to love it here.
This post was published in April 2023.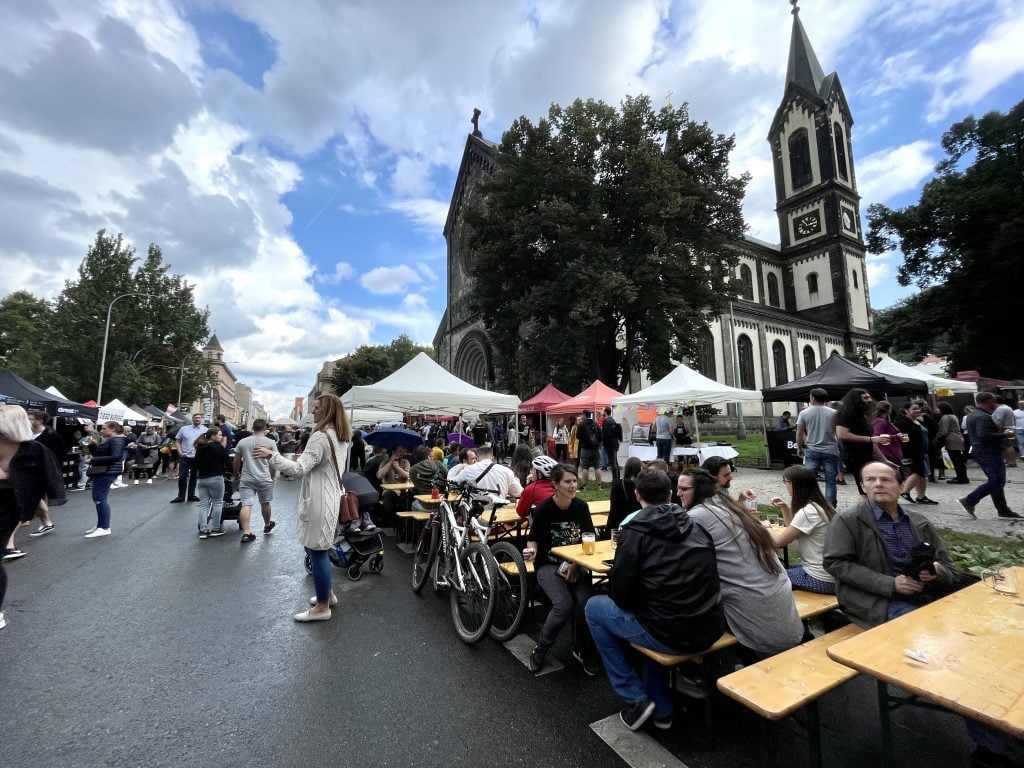 Unusual Things to Do in Prague
Hit Up a Food Festival
If you're visiting Prague on a weekend in spring, summer, or fall, guess what — you will likely come across at least one food festival! Food festivals are one of my favorite things about living in Prague — they are popular and varied and happen all the time.
How do you find food festivals in Prague? I recommend taking a look at Facebook Events. They will always tell you what's going on.
In the meantime, there are events you can hit up weekly, spring through fall — like the Dejvice Farmers' Market, which takes place at Trhy na Kulaťáku on Saturdays, 8:00 AM-2:00 PM. This market has lots of food sellers as well as lots of prepared food stalls and makes a great spot for breakfast!
Another weekly food market, Farmářské tržiště Náplavka, takes place on Saturday mornings and afternoons at Náplavka, on the banks of the Vltava River, on the eastern side just south of Palackého náměstí.
If you're visiting in late June: Prague Ice Cream Festival takes place the last weekend of the month at Výstaviště Praha, with more ice cream than you could ever eat!
If you're visiting in July: The French Market at Kampa takes place the week of Bastille Day (July 14), on the northern end of the Charles Bridge, and features a collection of French food stalls with live music.
If you're visiting in September: Americke Street in the chic Vinohrady neighborhood turns into a festival with food from all over the world, live music, good cheer, and good times. (I convinced Charlie to go to Chile for our honeymoon after we had the Chilean wine here!) This usually takes place the second weekend of September.
If you're visiting in May or September: Pivo a Burger (Beer and Burger) usually takes place once in May and once in September on Karlínske nam., in my neighborhood of Karlín! This festival features all kinds of burgers, beers, and interesting surprises. (Beware the scorpion pepper burger. We actually had to go home to drink milk after trying that one!)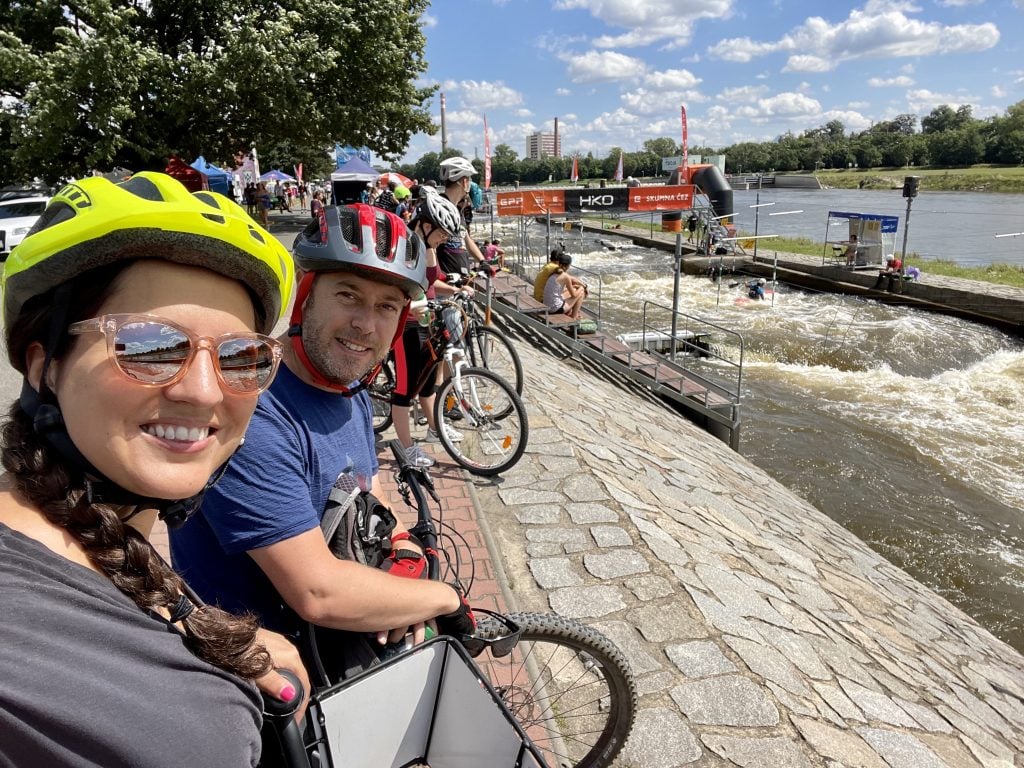 Rent a Bike and Pedal Along the River
Czechs are very active and outdoorsy people, and a typical Czech weekend involves biking, hiking or skiing, followed by a pub visit. One of the ways I have a typical Czech weekend is to rent a bike and spend a few hours enjoying the scenery.
I am NOT comfortable biking in cities — but Prague has a wonderful car-free biking trail that runs along the eastern side of the Vltava River. And because Prague is a small city, it doesn't take long before you're surrounded by forests and mountains.
Rekola is an easy bike-sharing program in Prague. Just download the Rekola app and it will show you the locations of bikes all over the city. Navigate your way to one and it's yours!
I recommend picking up a bike and heading east (and north) along the Vltava River. Keep following the path and soon Prague goes from urban buildings to green mountains and cute little cottages. You'll pass some bridges and a stretch of the river where you can go whitewater kayaking, then continue as long as you're enjoying yourself.
Once you pass the kayaking area, you'll see there are a LOT of tiny riverside pubs. These make a great place to stop in for a beer or lemonade, then continue further down the river or head back to the city!
Go Axe-Throwing
Axe-throwing has become a popular offbeat activity over the past few years, and Prague now has its own, very Czech axe-throwing spot: The House of Axes! Definitely one of the more quirky attractions in town these days.
Head into this basement venue and you'll be given your own throwing range with targets, along with a tutorial on how to skillfully throw the axes so they hit the target.
This is a great activity to do with friends, as it's a competitive activity and you never know which one of you might turn out to be the axe-throwing prodigy. It has nothing to do with your athletic ability! Some people are just uncannily good, right off the bat.
And yes, alcohol is served. My friends and I decided to go fancy and drank svařák — Czech hot mulled wine — out of cute little teacups in between our throws.
Enjoy a Fancy "Business Lunch" for Cheap
Here's a secret — some of Prague's expensive restaurants have much cheaper lunch menus. Remarkably cheaper lunch menus. And it tends to be only locals that know about them, but these are fabulous places to splurge.
Two of my favorite restaurants that do business lunches are Taro and CottoCrudo.
Taro serves outrageously good fare, all served with seats facing an open kitchen, so it's better for one or two people than a big group. (And the dinner menu is EXPENSIVE. Like, milestone birthday expensive. Dinner was fantastic, but lunch is far better value for money.) The four-course lunch menu is 750 CZK ($36 USD).
CottoCrudo is the restaurant at the Four Seasons. The small outdoor seating area has a perfect view of Prague Castle, and I'd recommend reserving ahead there for the view, especially if you visit in summer. Don't miss the fun cocktails, too! The two-course lunch is 525 CZK ($25 USD) and the three-course lunch is 625 CZK ($30 USD).
FIELD is another high-end Prague restaurant with a business lunch — and they have a Michelin star — but they've recently raised the price of their business lunch. Now it's 1100 CZK ($52) for two courses and 1350 CZK ($64 USD) for three courses.
FIELD is still worth eating at, and the service is fantastic — but it's not quite as worth it anymore as Taro and CottoCrudo.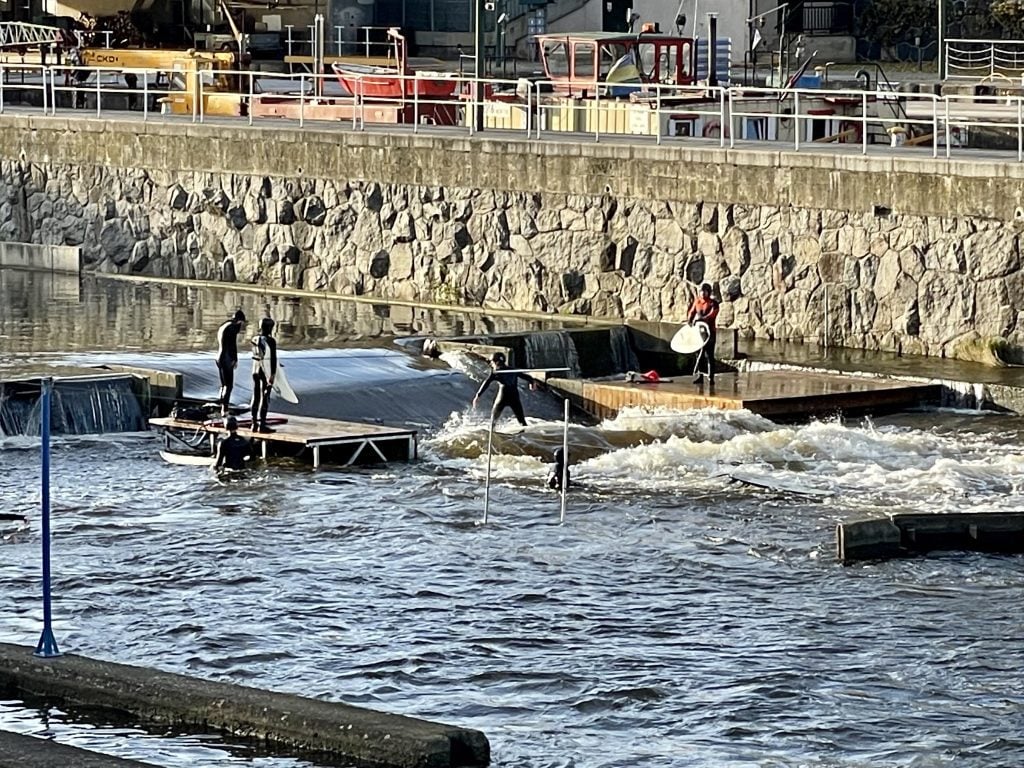 Go Surfing on the Vltava River
If you've been to Munich, you've probably dropped by Englischen Garden to watch the river surfers on the Eisbachwelle. But not many people know that Prague features river surfing as well!
This wave is a relatively new development in the city, and while it doesn't draw the crazy spectator crowds of Munich, it's easily one of the coolest unusual things to do in Prague. Definitely a unique experience.
Since I doubt you packed a surfboard for your trip to Central Europe, I recommend joining a surfing tour that will provide the equipment you need. Biko Adventures offers surfing group tours in the afternoons. You don't need to be an expert surfer; you only need to know how to swim. Cowabunga!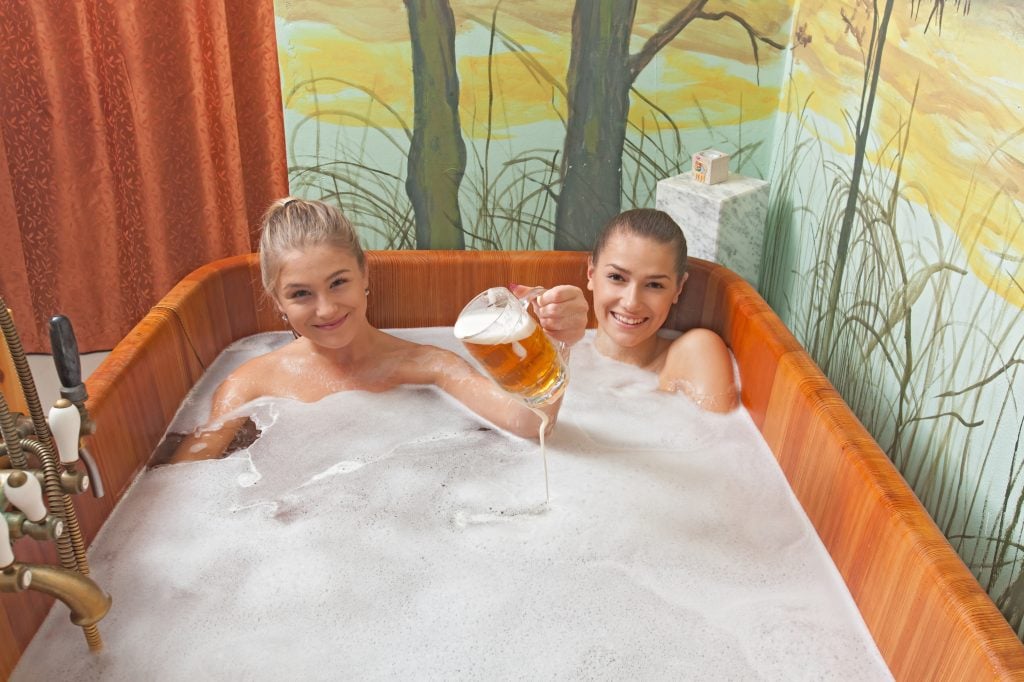 Try a Beer Bath or Private Spa
The Czechs love beer so much, you can even bathe in it. Well, kind of. The Beer Spa offers you a chance to bathe in brewer's yeast while enjoying drinking Krušovice beer directly from the tap. Afterward, you relax on a bed of straw.
You can book beer baths for one or two people, either sharing a tub or with separate tubs, 2000-3300 CZK ($93-154) for one hour. I've done this and it's fun and unique, but just keep in mind that the more you drink, the more you'll have to pee.
And if you're not up for a beer bath, consider booking a private spa. There are several spas in Prague that you can book privately — your own private sauna and jacuzzi for two hours. Look for the words "private wellness." (Some come with beds, Prosecco, and fruit and have a bit of a love hotel feel. Even so, I think these are some of the best places for exhausted moms who need relaxing time alone!)
Spa Spa in Letná is one that I particularly recommend. You can book a two-hour duration for 2490 CZK ($116 USD) or overnight for 5990 CZK ($280 USD).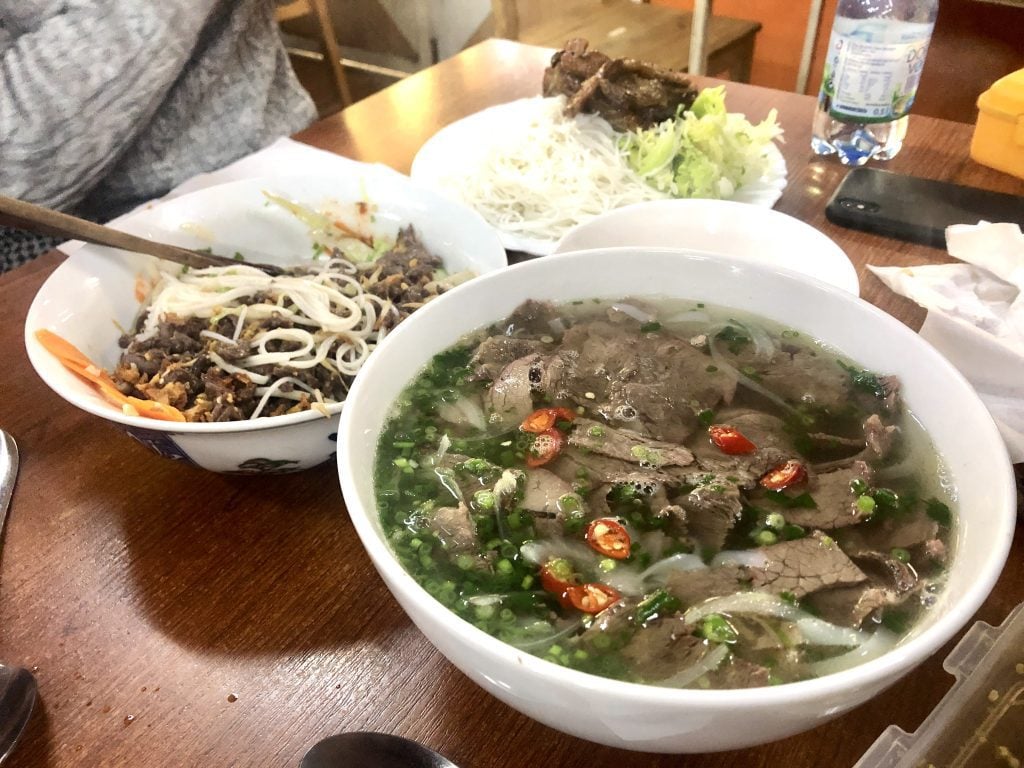 Visit Sapa — Prague's Enormous Vietnamese Market
As soon as you get to Prague, you might notice that there are Vietnamese restaurants everywhere. Sometimes it seems like there are pho shops on every block. There's a reason for that!
During the communism years, the Czech Republic offered a guest worker program to their fellow communist country, Vietnam. Plenty of Vietnamese people came over and chose to stay long-term, many of them opening restaurants.
While most of these guest workers came from North Vietnam, many of them had children who went back to Vietnam, traveled the country, and opened new Vietnamese restaurants in Prague featuring specialties from every corner of Vietnam.
But the biggest Vietnamese hotspot in Prague is Sapa Market, located on the edge of Prague. Sometimes called "Little Hanoi," Sapa is a melange of Vietnamese shops, cafes, and restaurants — and it's one of the largest Vietnamese markets outside Vietnam.
Spending a few hours at Sapa is one of the unique things to do in Prague, though keep in mind this is not a tourist attraction. Ask before you take photo of anyone. I like to take a look at what people are ordering at the restaurants before deciding what I want. If you'd like to plan your trip ahead of time, Taste of Prague has a good guide to visiting Sapa, including what to eat at the different restaurants.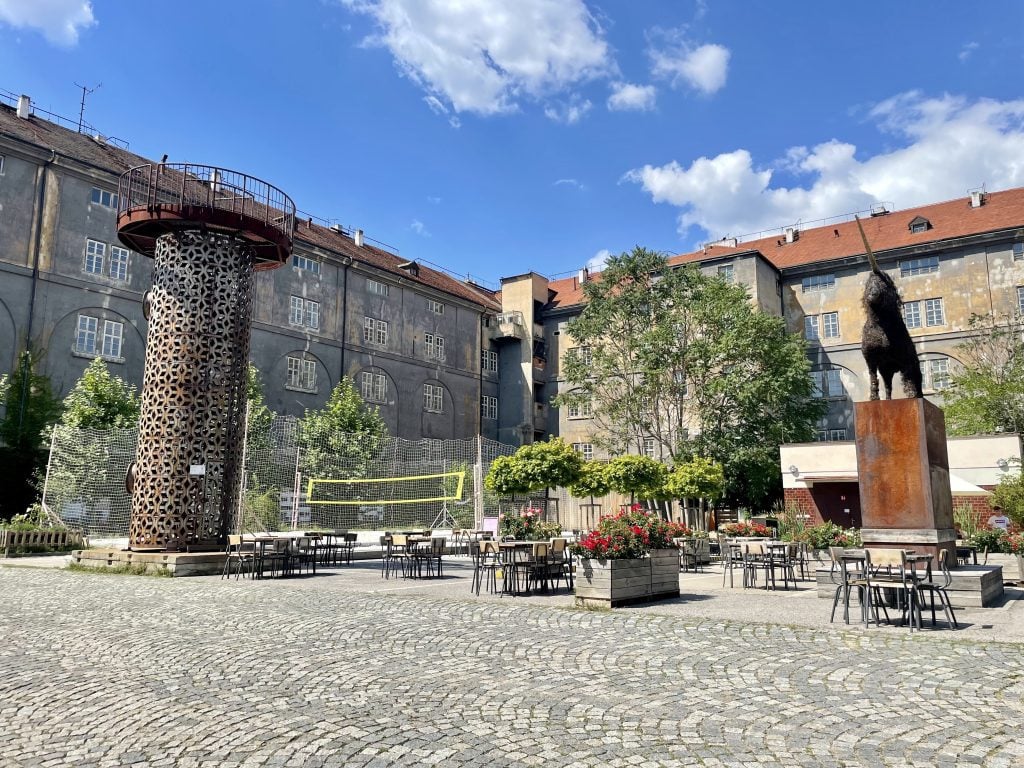 Kasárna Karlín
Here's a place that locals love that you'll never find in a guidebook. Kasárna Karlín is a big open courtyard in my neighborhood of Karlín that was once a barracks. Inside the courtyard are several cafes and bars, art galleries, playgrounds for kids, sculptures, a fire pit, and outdoor sitting areas.
During the summer months there are lots of events in the evenings — think concerts, movie screenings, and other live performances. But even if nothing's on, it's a fabulously pleasant place to grab a beverage and chill out for a few hours.
Some of my neighbors refer to Karlín as "Small Berlin." This place definitely captures that feeling — it's a creative, alternative world. And that's before you get to the bar seating in a former swimming pool…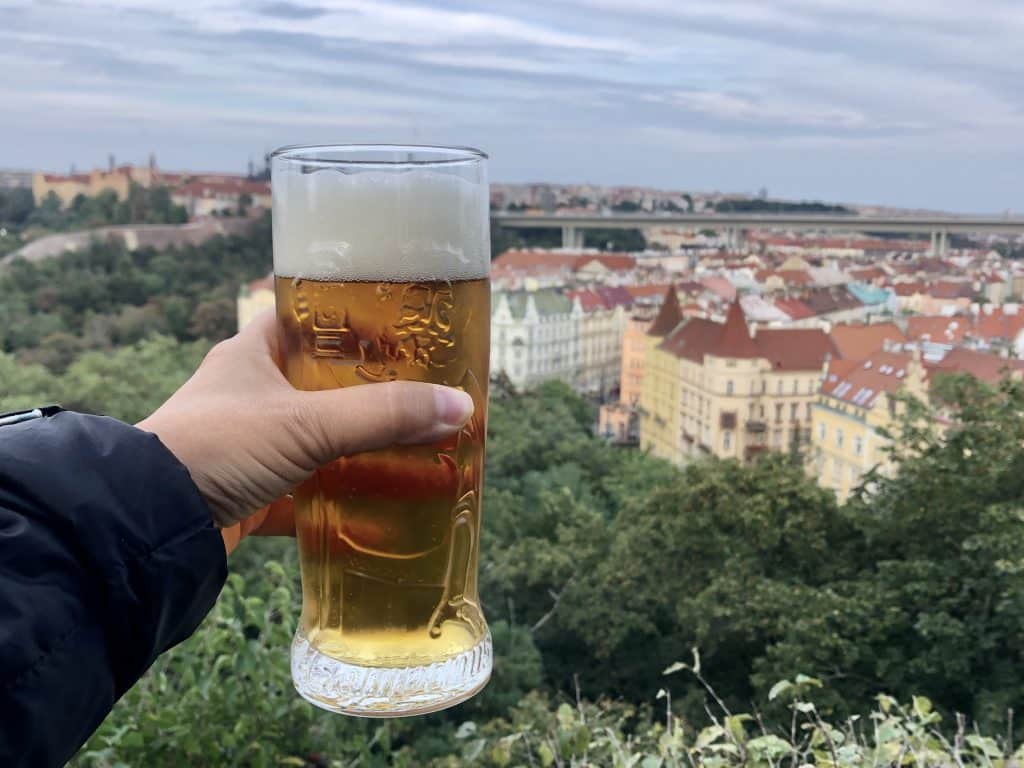 Learn How to Properly Pour a Czech Beer
If you don't know by now, the Czech Republic is home to the best beer in the world. And it's cheap, too. It's not cheaper than water anymore (they passed laws about that awhile ago, but visitors love repeating this statistic), but it's fantastic nonetheless.
You can drink the beer pretty much everywhere — but if you're a beer aficionado, consider taking a beer-pouring class with Lokal. You'll learn how to properly pour different kinds of Czech beers, from a traditional na dvakrát pour to the mostly-foam mlíko to the blended light and dark řezané to my favorite, the teeny-tiny šnyt that looks too adorable to drink.
At 3,800 CZK ($176), this course doesn't come cheap. But if you're genuinely interested in diving into Czech beer culture beyond just drinking it, this is the best way to become an expert, and one of the coolest unusual things to do in Prague.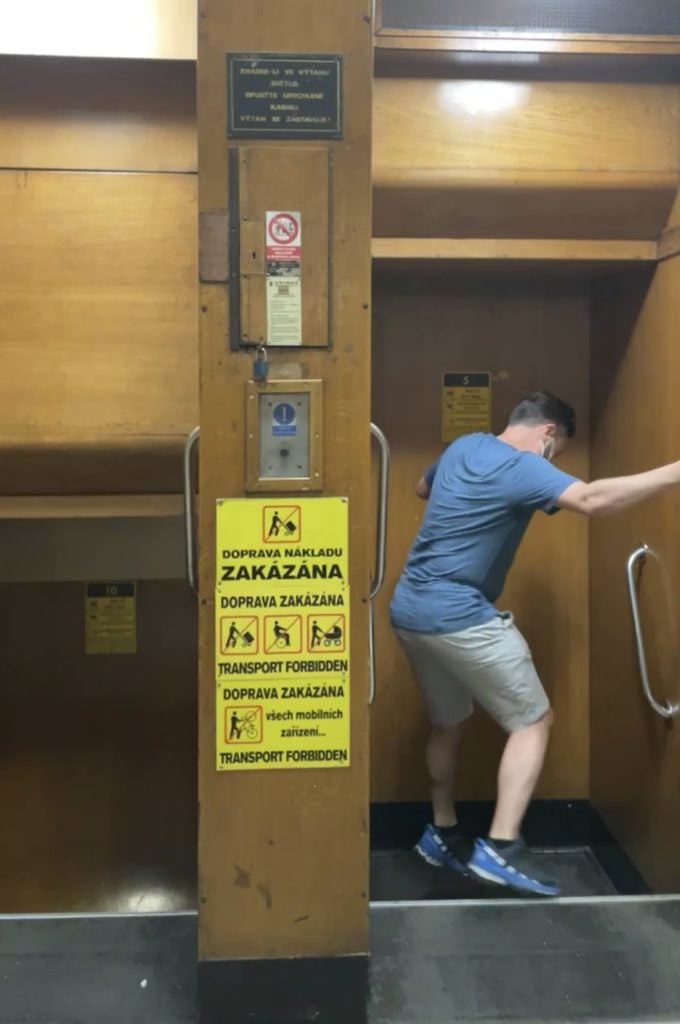 Ride a Paternoster
Prague is home to several paternosters — open elevators that run continuously. They look intimidating to get on — the American me was wondering, "Is this even SAFE?!" before we jumped on and were whisked to the top.
Of all the paternosters in Prague, the one in Prague City Hall on Old Town Square is the most famous one, but instead, I recommend you take the one at Lucerna Palace (Palác Lucerna) just off Wenceslas Square. This building is home to a spectacular rooftop terrace and gorgeous views of the Prague city skyline, and you can order drinks.
Hop on for a fun ride and hop off when you reach the top floor! Admission to the rooftop terrace is 100 CZK ($5).
And if you stay on, don't worry — you won't be turned upside-down! You'll stay right-side-up before coming down again. (Paternosters are some of the best places to get video for TikToks or Reels about Prague.)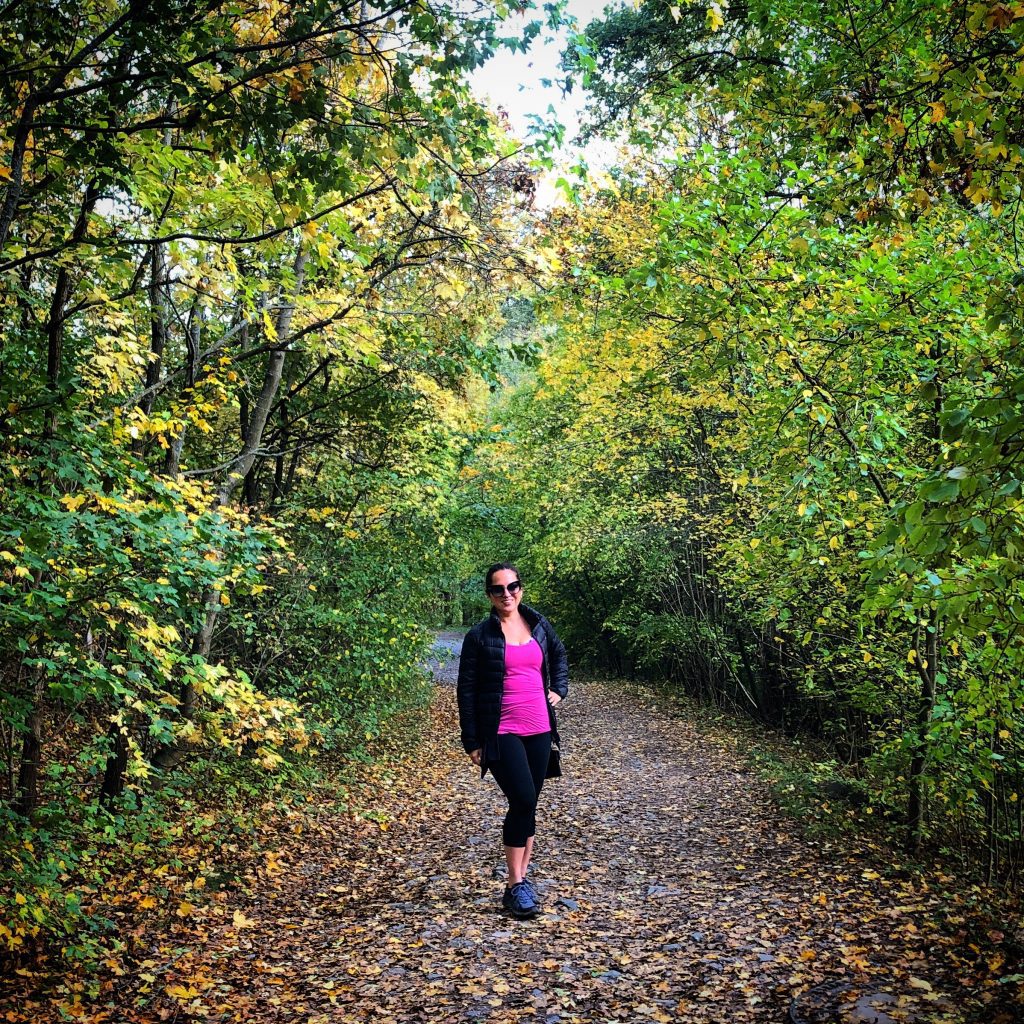 Visit Únětice
While there are a lot of cool day trips from Prague, one that you almost never seen on lists is the town of Únětice (OON-ye-tee-tsa). This town is located on the edge of Prague, but getting there is the fun because it involves a long walk or bike ride. It doesn't have a ton of tourist value, but it's something Czech people love to do on weekends.
You can get to Únětice by riding a bike or walking. If you're walking, take the train to Roztaky U Prahy stop, then walk to the end of a pretty street called Tiché údolí and follow it until it ends. The street (it means "silent valley" in Czech) turns into a hiking path through the forest. After about an hour of walking, you reach the town.
If you're biking, rent a bike as recommended above and ride along the eastern side of the Vltava River, then cross it by the tiny ferry at Klecanky-Roztoky. From here, head down Tiché údolí and follow the path until you hit town.
So what do you do in Únětice? Make like a Czech: park your bike and have a hearty lunch at Únětický Pivovar, the brewery, which dishes up a variety of Czech dishes. My personal recommendation? Get the potato dumplings filled with smoked meat — some of the best things on the menu. You can also get duck with potato pancakes, goulash with bread dumplings, grilled pork tenderloin in pepper sauce, and vegetarian quiches and salads.
Afterward, head to a nearby cafe, U Lasíků, which makes a fabulous selection of koláčy (Czech cakes). Grab a koláč with a coffee or lemonade and take in the peaceful atmosphere before heading back to the city. What a lovely way to spend a day and get to enjoy one of the hidden gems of the Prague area.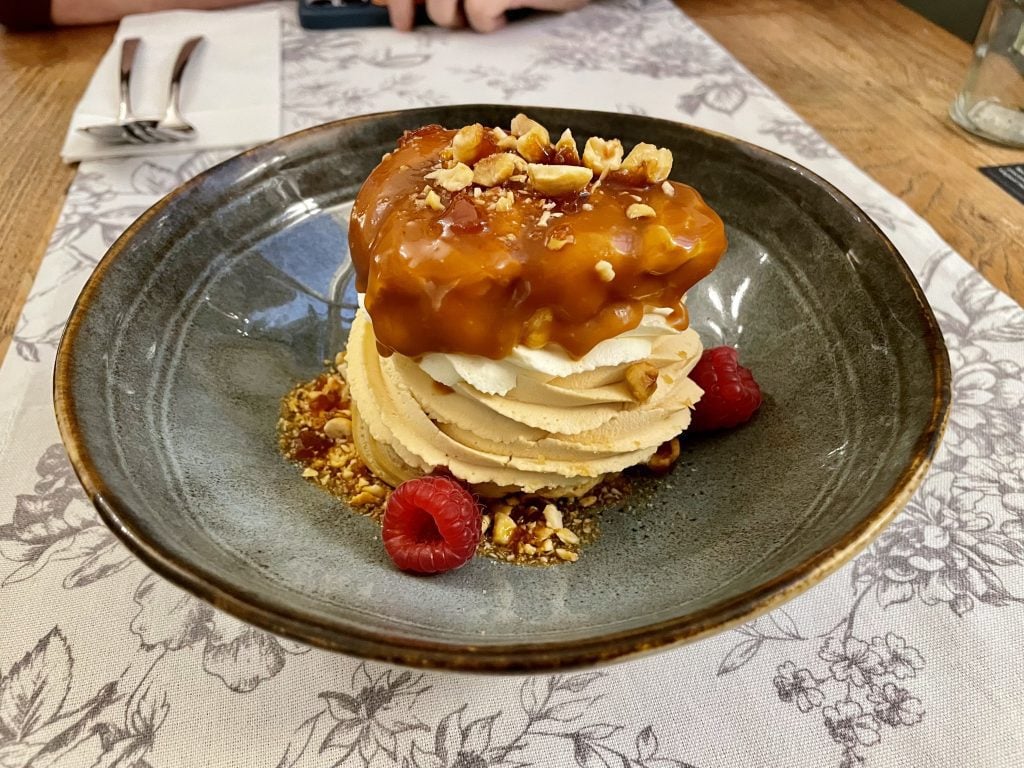 Have a Větrník in a Hidden Garden
If you have a sweet tooth, you should try my favorite Czech pastry — the větrník (VYET-er-NEEK). The větrník is similar to a profiterole or cream puff — it's two halves of a round choux pastry with two kinds of cream in the inside (vanilla and caramel creams), topped with a layer of caramel sauce on top.
Věterníky are SO good, but my favorite place to have one is Gardens Restaurant. It's located right off Wenceslas Square in the New Town, but it's a bit hidden in the back of an alley. Once you arrive, you can enjoy the gorgeous interior of the little restaurant, or dine outside in the greenery-filled garden. (I go for just coffee and pastry, which is fine.)
And their větrník is even more extreme than usual, with three different types of cream, hazelnut praline, chocolate glaze, and caramelized nuts. It is absolutely decadent, and when you pair it with the magical setting, it makes a lovely thing to eat in Prague.
(Ready to try more větrníky? I love the classic větrník at Eska, an avant-garde restaurant and coffee shop in my neighborhood. Sometimes they feature different types — they once had a delicious apricot větrník. Cafe Savoy is another Prague restaurant that receives a lot of accolades for their větrník.)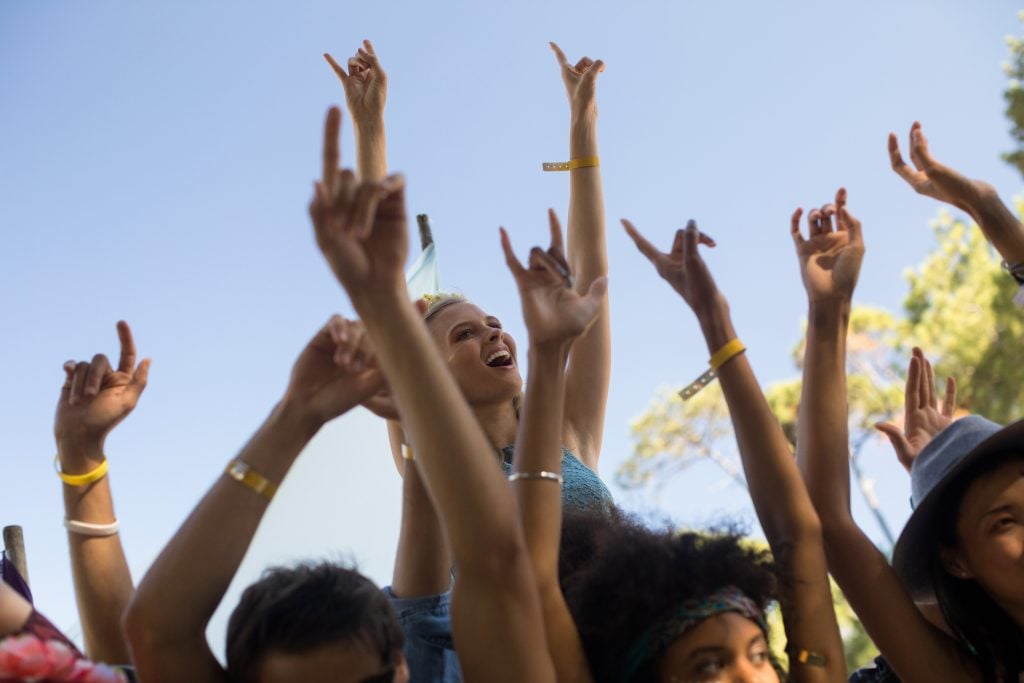 Join an Ecstatic Dance Party
Have you heard of ecstatic dance? These sober dance parties are a sensation all over the world, but they are really starting to become a thing in Prague! Ecstatic dance is all about letting the music move you, without any outside forces spoiling the experience.
There are four rules to ecstatic dance: 1) Everyone is sober — absolutely no drugs or alcohol. 2) No talking, just movement and dancing. 3) No photos or videos. 4) You must be barefoot!
My friend Ondřey, whom I originally met while backpacking in Central America, now runs Ecstatic Dance in Prague! Parties take place every other Friday, often on boats moored in the river, starting at 7:00 PM with the dancing over by 10:00 PM (hell yeah, early birds).
You can see the website here, but it's all in Czech. I'd recommend checking out their Instagram page, which always has a link to the next event. Tickets are usually 500 CZK ($24 USD) if you buy in advance.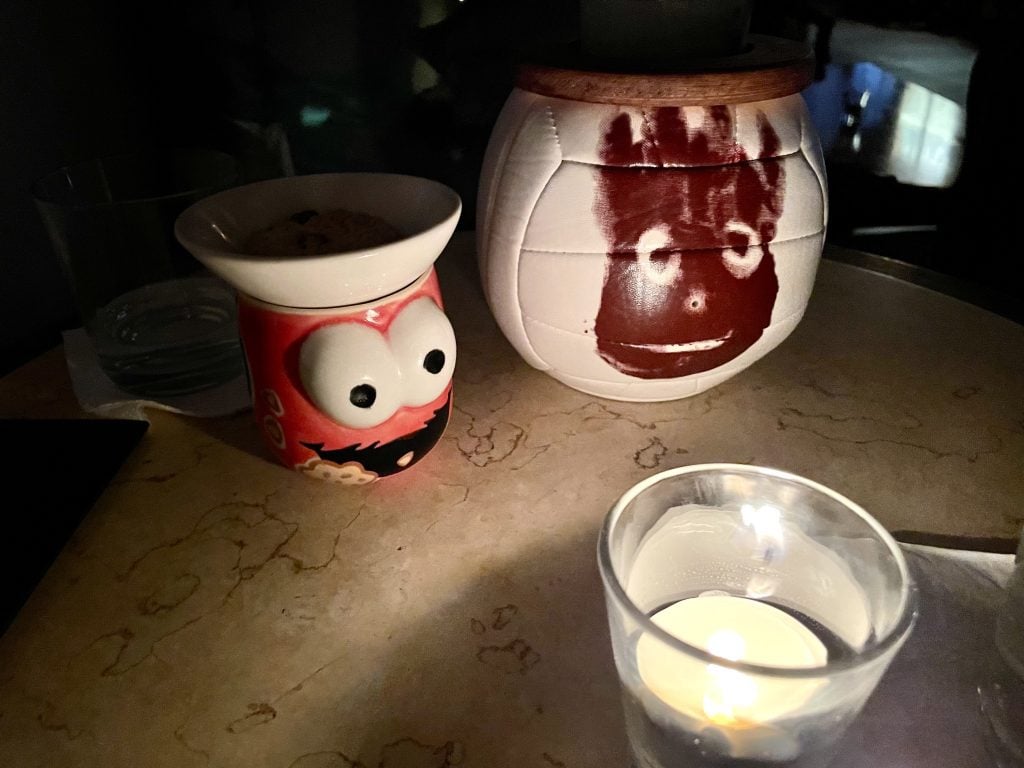 Visit a Cocktail Bar with a Secret Invisible Menu
Prague's not just about the beer — we love our wines and spirits as well! Prague is rich with cocktail bars, featuring classic and original libations made with local liqueurs.
One Prague cocktail bar especially worth visiting is Anonymous Bar. Hidden on a quiet street in the heart of the Old Town, this mysterious bar has a dark interior and servers who wear Guy Fawkes mask.
You order your first cocktail — perhaps a signature cocktail that involves a fire show, or the blood cocktail that comes in its own blood bag (eek!).
Then it comes time for your second drink — and they bring you the secret menu. It's invisible, in fact — and there's a black light key that lets you read it. These cocktails are exclusive to people who stick around for a second drink — and I can assure you they are some of the best ones on the menu.
One cocktail that we ordered was served in an Elmo glass. The other was served in Wilson the volleyball.
(Interested in visiting more Prague cocktail bars? Two I especially recommend are Bugsy's Bar and L'Fleur. They're located around the corner from each other so easy to visit in a single outing!)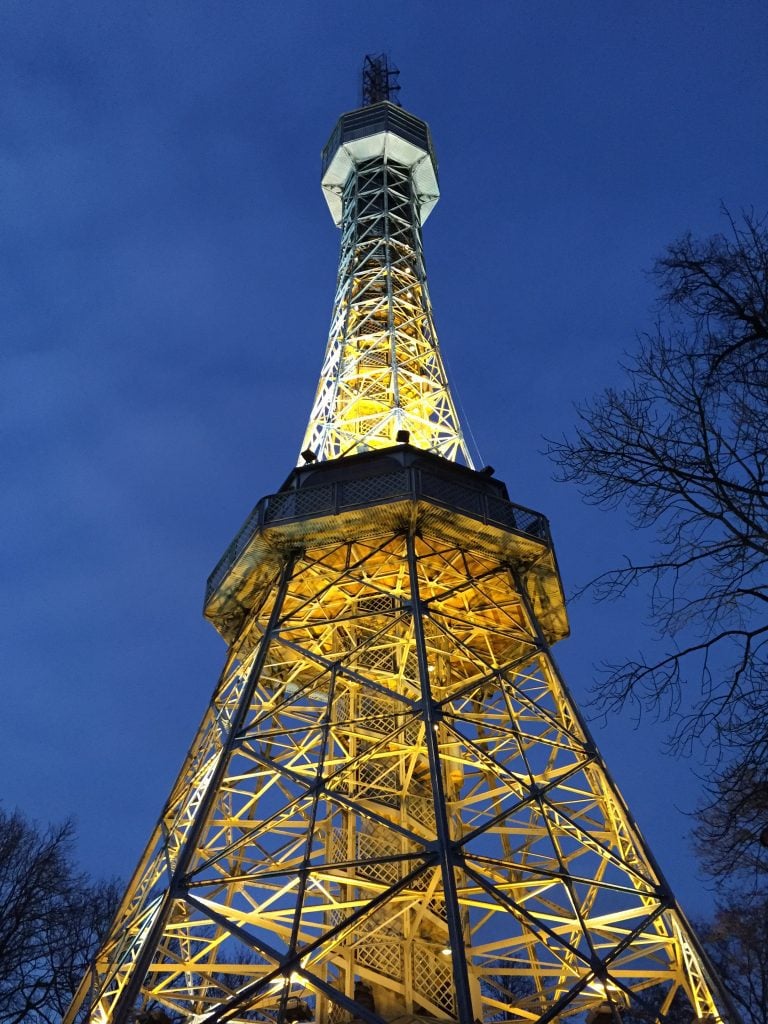 Climb Atop a Teeny Tiny Eiffel Tower
Standing on the edge of the river and looking toward Prague Castle, you might notice a tiny metal building on the hill to its left. Is that…an Eiffel Tower? Kind of!
Petřín Lookout Tower, located on top of Petřín Hill, was originally constructed in 1891 for the Jubilee Exhibition. While a copy of the Eiffel Tower, this version is only 20% of the size of the Parisian original.
Today, you can climb the tower (know that it has 299 steps before setting out). Climbing it costs 150 CZK ($7 USD); there's an elevator that you can take for an extra cost.
There's a funicular that runs to the top of Petřín Hill from Ujezd in the Malá Strana neighborhood. And don't miss walking around the top of the hill — besides the tower, there are lots of nice gardens, playgrounds, and wooded areas worth exploring.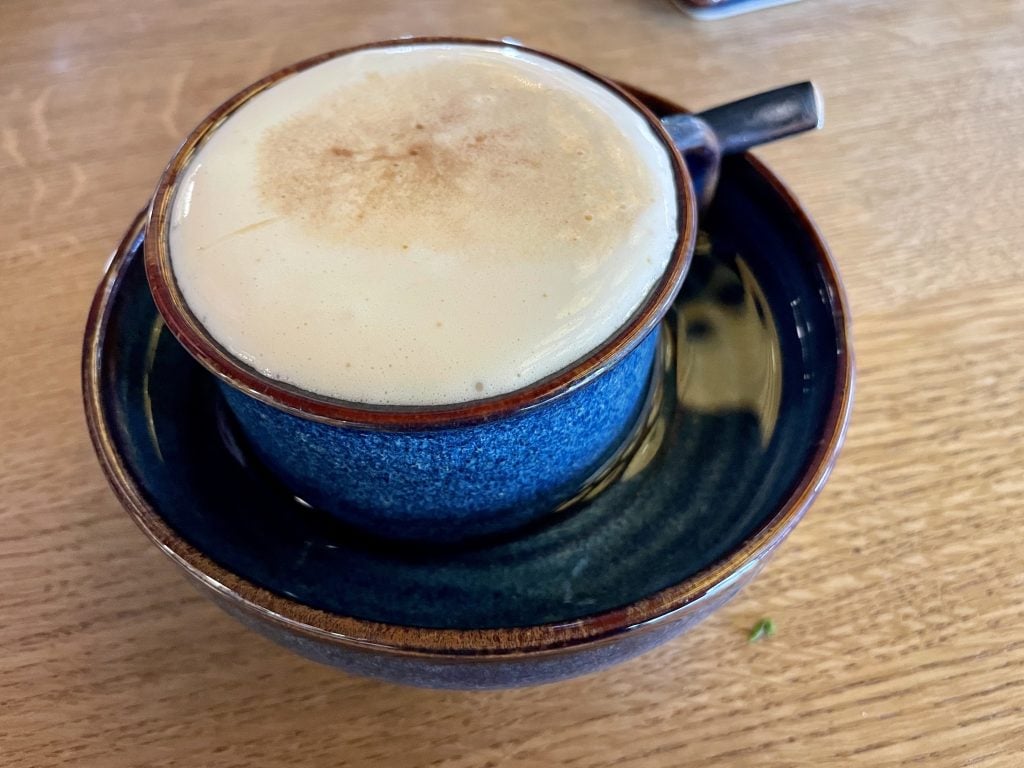 Try a Vietnamese Egg Coffee
If you've been to Vietnam, you probably dipped a toe into the country's robust coffee culture, enjoying tiny cups spiked with sweetened condensed milk. And if you were really lucky, you might have come across the confection that is a Vietnamese egg coffee.
The Vietnamese egg coffee, or cà phê trứng, is a sweet dish that adds blended egg yolk to the sweetened condensed milk before adding the coffee, giving it a consistency more like marshmallow fluff.
Vietnamese egg coffees are a bit tough to find in Prague, but there is one place left where I love to get them. Cà Phê Cổ is a chic, beautifully decorated restaurant in the Vinohrady neighborhood that serves up egg coffees along with their delicious menu (I love their Cơm Gà Hội An, Hoi An-style chicken and rice). They also have a location in Brno if you're heading that way.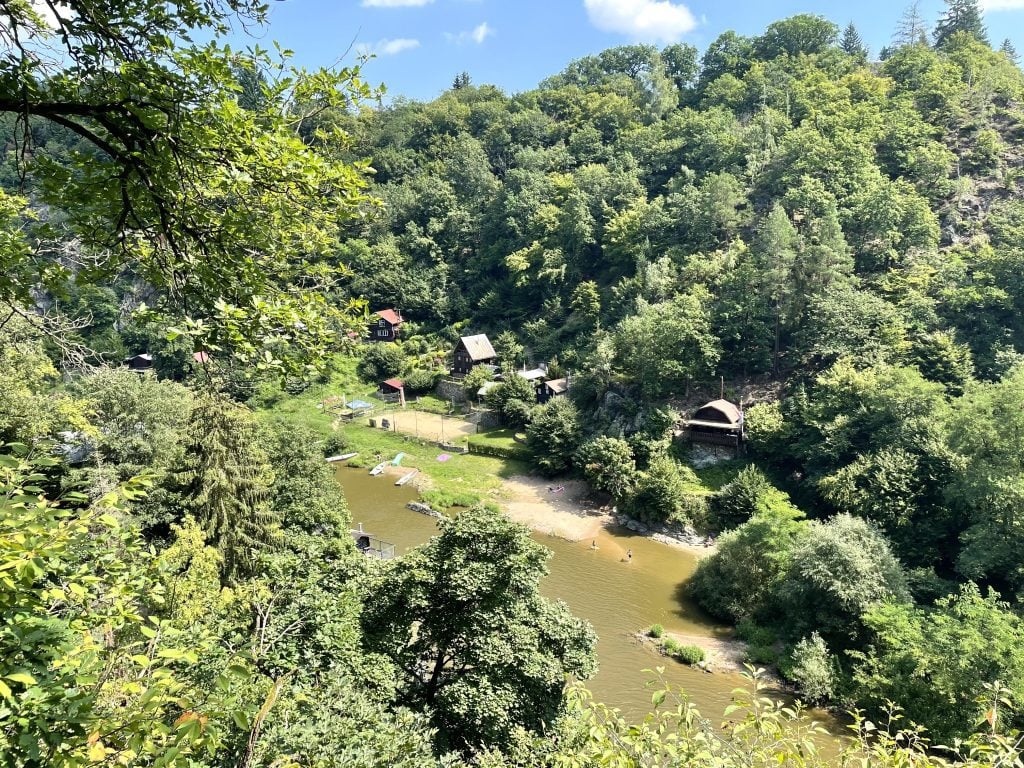 Hike the Posázavská Stezka
Czechs love to get out and hike on the weekend, and there are plenty of hikes within a short journey of Prague. A great moderate hike is the Posázavská Stezka, located within an hour's train ride from Prague.
This is a beautiful and interesting hike that has a lot of up and down, along with views along the Sázava River. It feels much further from the city than it actually is.
Take the train from Prague to Kamenny Přivoz station and take it back to Prague from Petrov u Prahi, which should give you 2.5-3.5 hours of hiking. And the Czech tradition is to finish your hike with a beer — so make sure you do that! There's a pub right at the Petrov u Prahi train station.
A bit of a warning: I was shocked to see multiple confederate flags at bars on this walking path. Judging by the Western decor that accompanied them, I think the owners were attempting "Americana" rather than what the flag actually communicates. Just keep that in mind.
(Want to do more hiking in Prague? A stunningly beautiful place to visit, though much further from the city, is Bohemian Switzerland, which is technically in the Czech Republic, on the border with Germany. You can book a hiking day trip from Prague with Airbnb Experiences here.)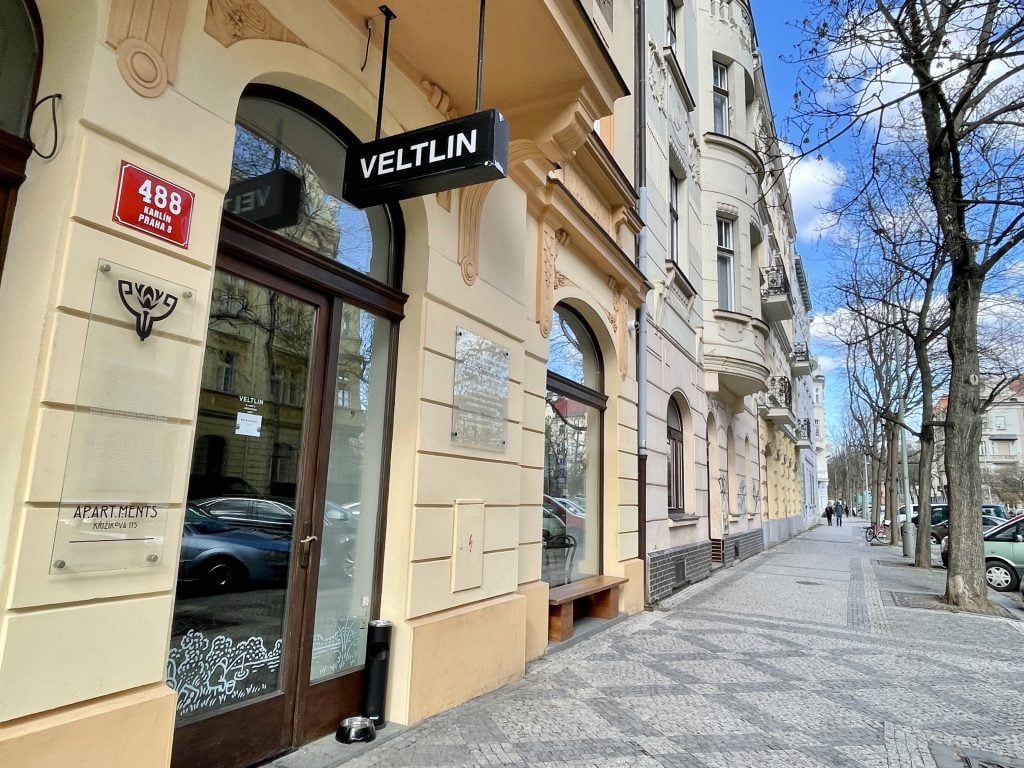 Try Exclusively Central European Wines at Veltlin
You may know your way around a wine bar, but have you had the best of what Central Europe has to offer? It might not be as famous as Bordeaux or Rioja, but we make a lot of decent wines in South Moravia, Czech Republic.
A great place to sample these wines in Prague is Veltlin, a small wine bar in the cozy, tree-lined neighborhood of Karlín. I live in Karlín, and it's the perfect place to have a non-touristy experience in Prague.
What makes Veltlin special is that they have relationships with all the wine providers that fill their bar — exclusively Central European wines, taken from the limits of the former Hapsburg Empire. Ask for a glass of white and they'll pour you what they've chosen that day — perhaps something Czech, but it could easily be Austrian, or Slovenian, or Hungarian.
Round out your visit with a few nibbles — cheeses and meats that come from local producers. And they often put on group tastings, featuring the works of a winemaker or focusing on a small region or varietal.
(Interested in visiting another wine bar in Prague? Vinograf is one of my favorites and close to the center.)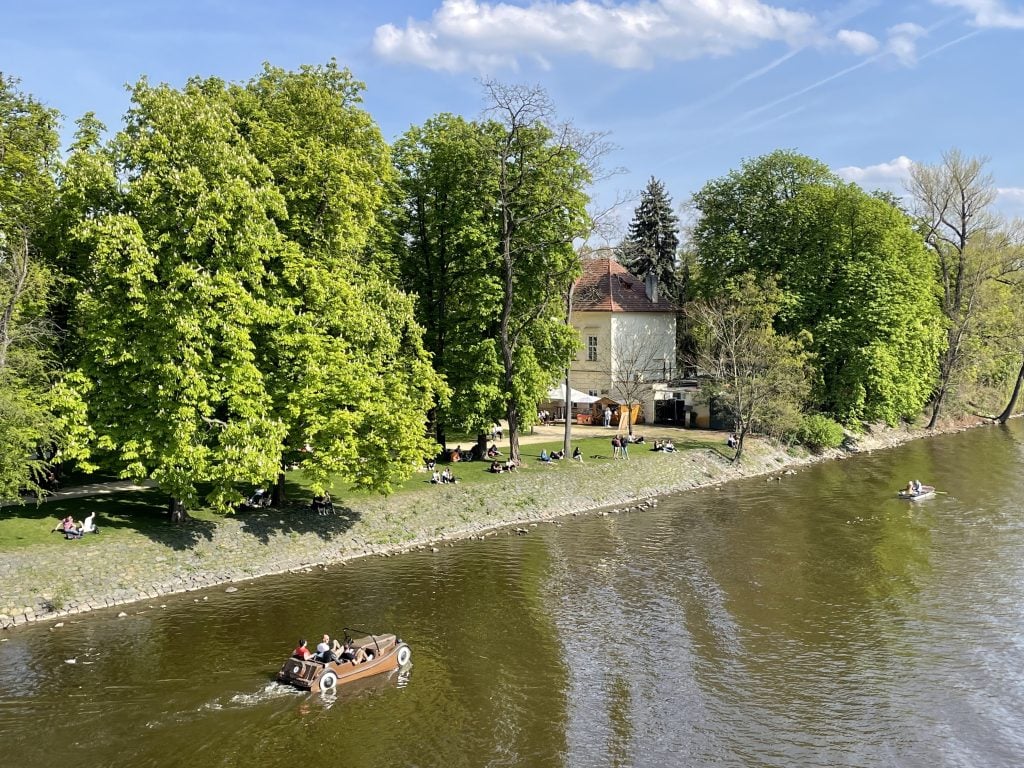 Ride an Antique Car Boat on the River
Walk over a bridge on the Vltava on a nice day between spring and fall and you'll see the river dotted with boats. You'll see some regular paddle-boats, some giant swans — and some antique cars that have been remade into paddleboats!
The cars are the coolest ones of all, and renting one of these is definitely one of the more unusual things to do in Prague.
My one big recommendation is to wear adequate sun protection — there is absolutely no shade when you're out on the river. Sunscreen, a hat, and a long-sleeved shirt or jacket will serve you well here.
There are a few different companies with boat rentals based on Slovanský ostrov, one of the islands in the Vltava. Rentals start at 300 CZK ($14) per hour.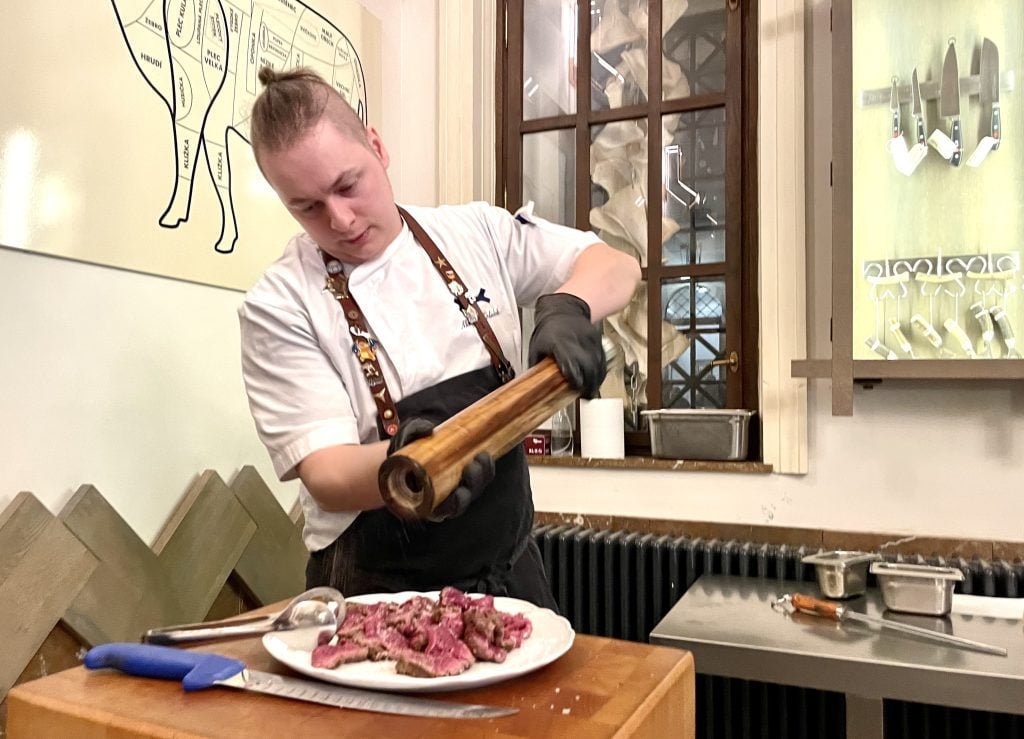 Feast on Dinner Off the Bone at Kantyna
Kantyna is one of my favorite restaurants in Prague and a true, local Czech experience. This butcher shop restaurant serves some of the best local meat in the Czech Republic, and is a carnivore's delight. (Don't come here unless you eat red meat and/or pork.)
But the most special thing Kantyna does is "Dinner Off the Bone" — the butcher's dinner that they put on a few nights a week. At this dinner, you are served a multi-course feast featuring lots of Kantyna's best cuts, along with several unusual and lesser-loved cuts. You'll also get a welcome drink and a tour of the kitchen, all for 1,980 CZK ($92 USD) each.
Be ready to eat adventurously! At this dinner I've had sumptuous crispy pig's ears and the best tripe I have EVER had anywhere. Because it's Kantyna, everything is done super, super well. One of the pleasures is having carpaccio sliced in front of you by hand.
Note that these days Kantyna are no longer taking individual bookings, and instead require a group of 6-12. But if you have a big enough meat-loving group visiting Prague, this is one of my favorite celebratory dinners in the city.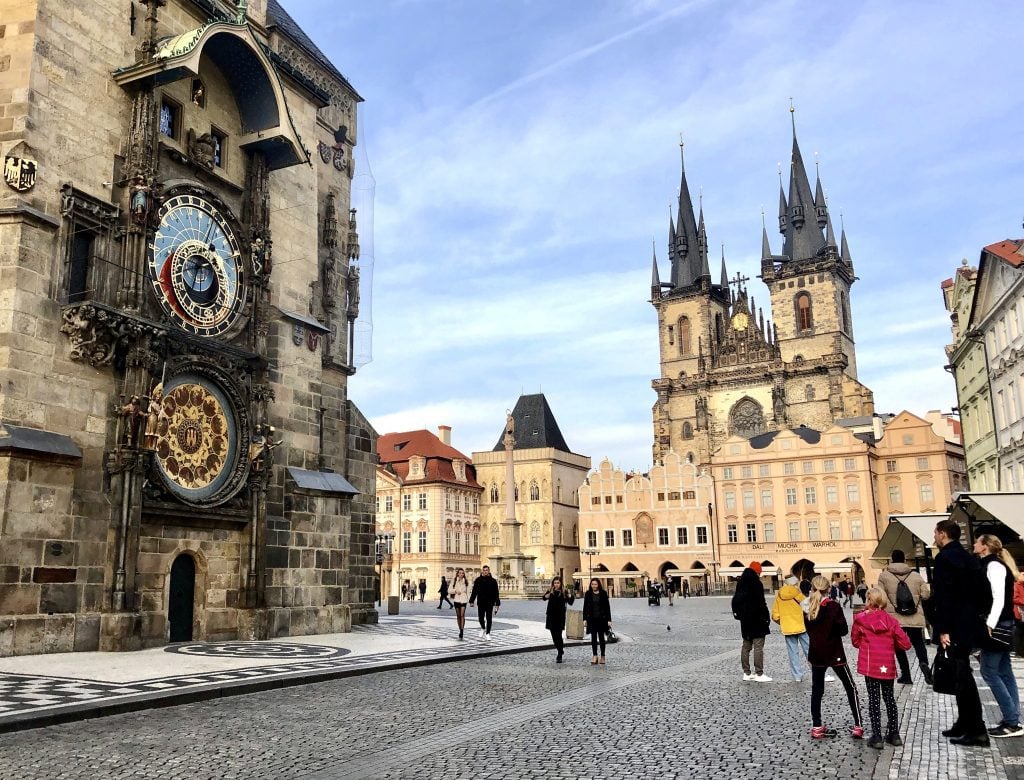 And don't forget the usual things to do in Prague.
And now that we're at the end, I'll add some more common things to do in Prague. Of COURSE you should visit Old Town Square and watch the Astronomical Clock as it chimes the hour. (Just don't get a beer right on Old Town Square. Those cafes are massively overpriced.)
You should walk across the Charles Bridge to Malá Strana, taking in the views, and visit Prague Castle (worth touring the castle grounds!) and Petřín Hill. Tour Prague's Jewish Quarter, Josefov, and visit the old Jewish cemetery. Take in the rich history of the city and see why Historic Prague is a UNESCO World Heritage Site.
Wenceslas Square is on a lot of itineraries but it isn't THAT great…it's the worst parts of Times Square without any cool neon. And while lots of places go all in on absinthe, it's not nearly as good as the cocktail bars I mentioned above.
On the same level, don't feel a need to visit the Museum of Medieval Torture Instruments or the Sex Machines Museum. There are better things to do in Prague.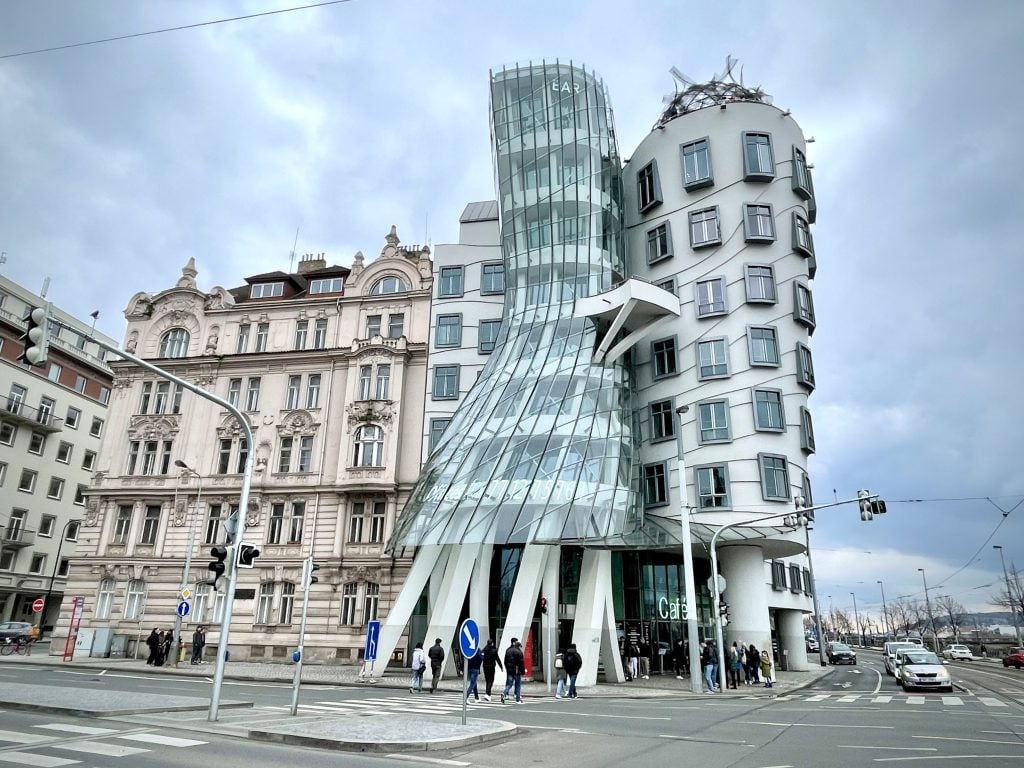 See the Dancing House, designed by Frank Gehry, and have a drink in the cafe at the top. Have a beer at the beer garden in Letna Park. Take a photo in front of the John Lennon Wall if you feel compelled to do so.
Prague's Christmas Markets are lovely, though I'll be honest — Vienna's and Munich's are much better.
Go on a Prague food tour (they include Kantyna!), or a historic pub crawl, or a historic walking tour. Even the alternative Prague walking tour for a guided tour about the Prague of today — not the Prague of the past.
But whether it's your first time in Prague or your tenth, I hope this list has inspired you to go a bit beyond the usual Prague itinerary and get off the beaten path. Enjoy your time in my adopted city!
More on the Czech Republic: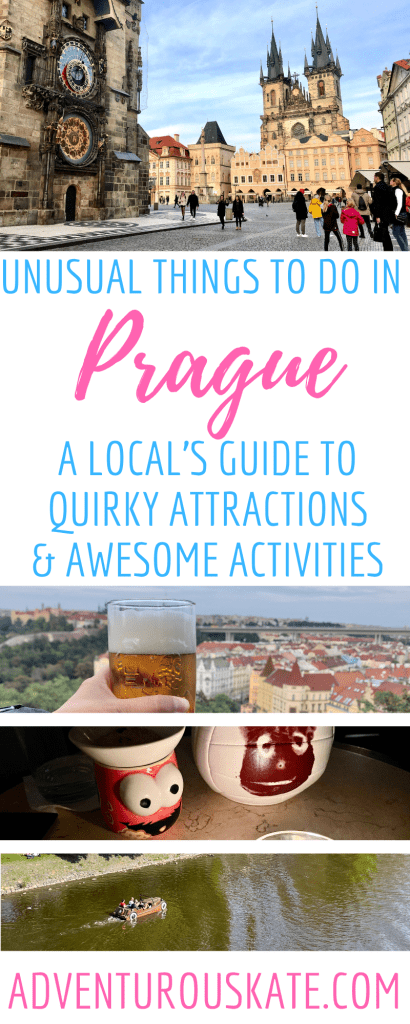 Have you been to Prague? What's your favorite unusual thing to do? Share away!