Adventurous Kate contains affiliate links. If you make a purchase through these links, I will earn a commission at no extra cost to you. Thanks!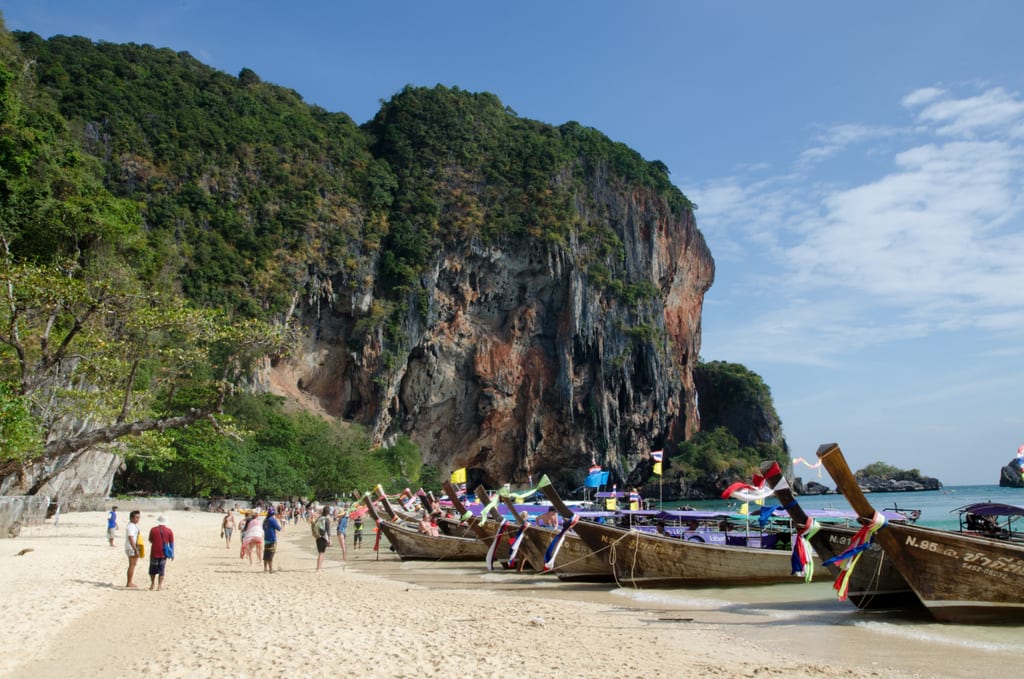 I'm going to do something different for this post. I'd like you to read an old post first and see what you think.
Go, read The Endangered Beauty of Railay — it's short — and come back here.
Right. Let's get started.
In the first piece, I briefly mentioned Gone Walkabout — but I didn't share just how much it inspired me. I first came across this collection of travel diary entries in 2006 and I fervently read through it, literally shaking with excitement as I read it.
People could save up money and travel the world alone for a year. The concept had never come across my mind.
I could do that. I WOULD do that. Right away, I started a travel savings account and began socking away cash.
I was 22 and working at my first job out of college, keeping the site up in the background and reading entry after entry as the Sean, the writer, traveled solo from New Zealand to Thailand to Nepal to Iran.
The single location that inspired me the most was Railay, Thailand. Sean spent several weeks living here, describing an idyllic environment. At that point (1994/1995), Railay had hardly been developed at all and was a place that only travelers in the know would visit.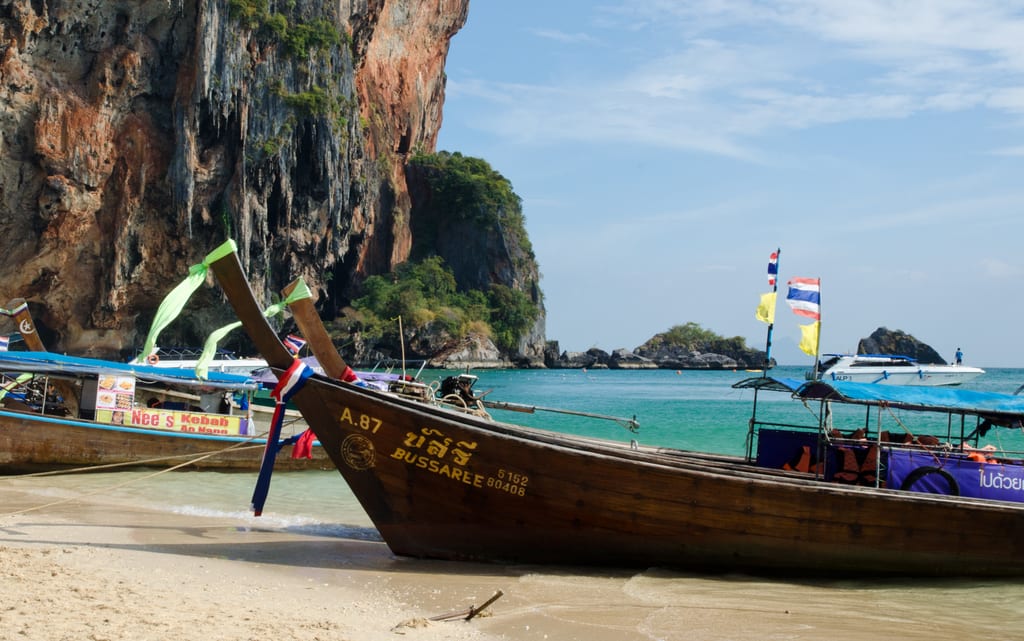 In 2010, I made it. It was November and shoulder season. While it rained at night — so hard my friends and I were wading through ankle-deep water! — the days were sunny and warm.
That said, this was not the pristine environment that Sean had described. I had a nagging fear that stayed in the back of my head for the duration of my visit, which I later put into words:
I genuinely fear for Railay. I'm afraid that it will become the next Koh Phi Phi, the entire island smelling like sewage because the infrastructure can't handle the number of visitors.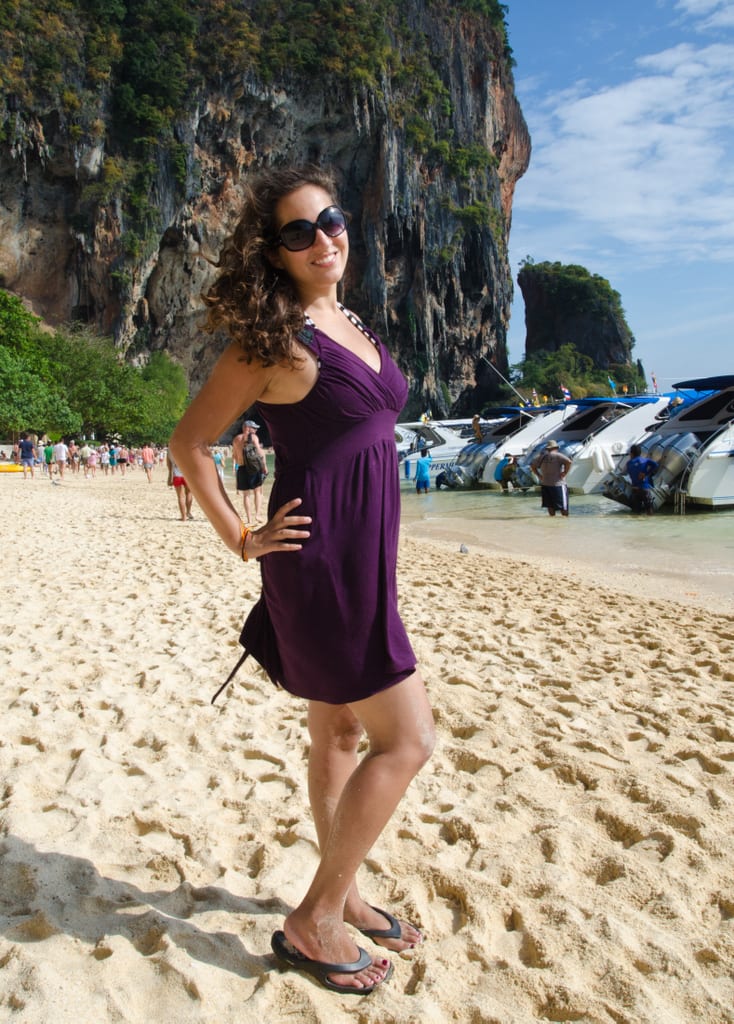 I returned to Railay three years later in early January, the height of peak season in southern Thailand. I arrived on Railay West Beach and smiled as I passed streets and shops that I had forgotten, making my way through the pathways to Phranang Beach, the most beautiful beach of all.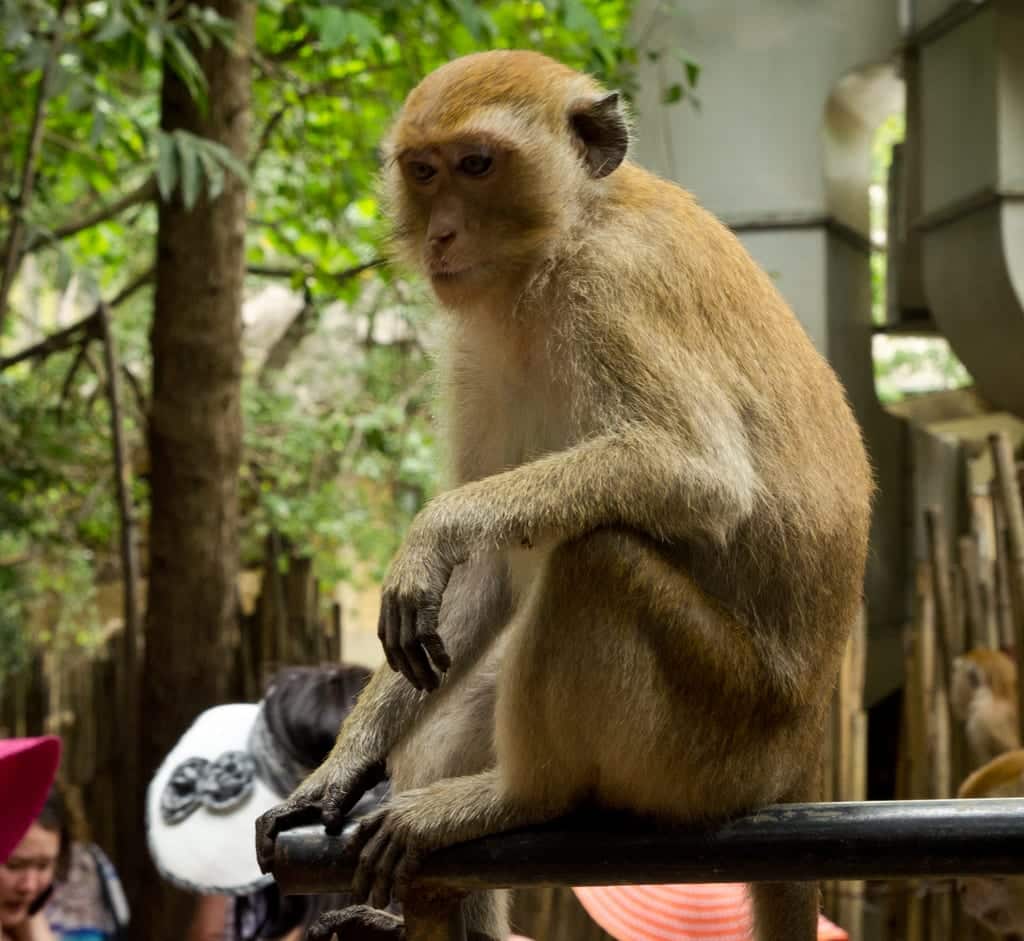 Monkeys still hold court on the path to Phranang Beach. They'll leave you alone if you leave them alone — but you definitely don't want to tease them. One of them poked a hole in a man's water bottle!
As you would expect in peak season, the weather was at its best and the crowds were at their worst. Once again, I struggled to get photos that weren't filled with crowds.
And then I was given an unexpected gift — the wind picked up in the afternoon, whipping sand everywhere. People started leaving the beach in droves. Perfect — I could take uncrowded pictures!
Crowds notwithstanding, Railay is still beautiful. Gorgeous. Breathtaking. Every cliche word. When you're at your office during a snowy day in February and you close your eyes, imagining the perfect beach in Thailand, this is exactly what you have in mind.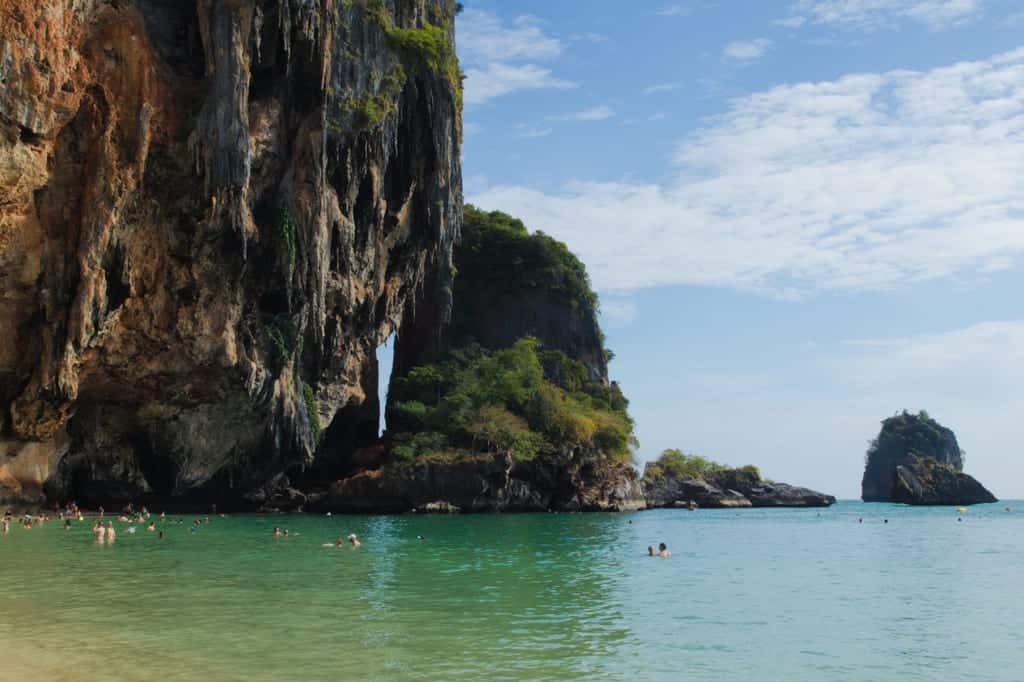 The water is still turquoise. You can go far into the ocean and still see the bottom.
There are still longtail boat restaurants in lieu of buildings on the beach, which delighted me three years ago — only instead of two, there were about a dozen this time, selling mostly kebabs, burgers, and pancakes.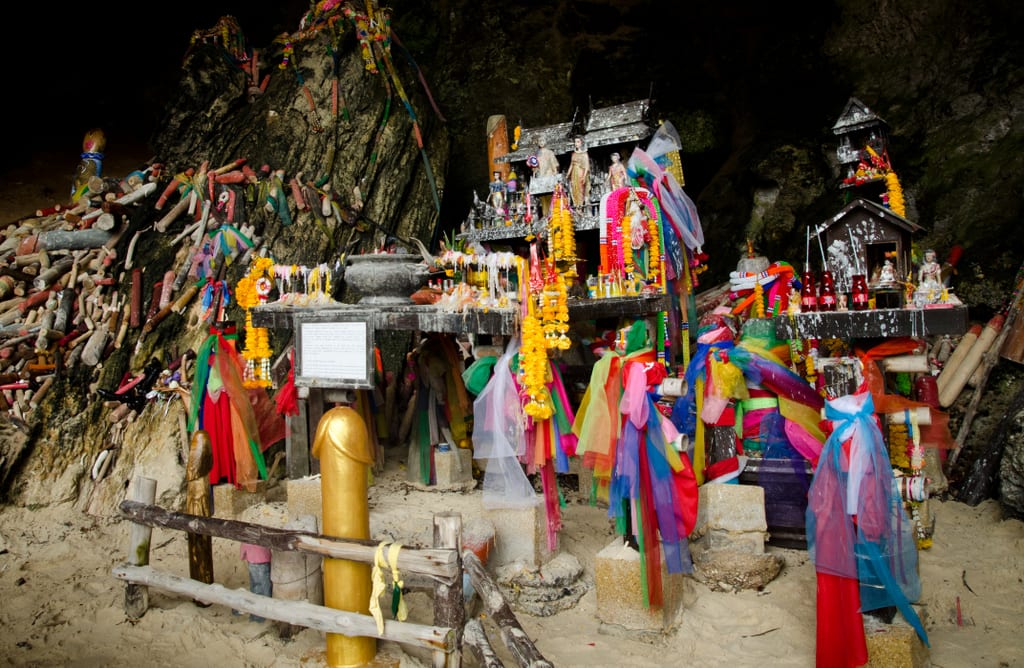 Phranang Beach still has its infamous "penis cave" filled with a shrine to the phallus. (I checked my old pictures and yes, that hefty golden peen is a recent addition.)
As much as I loved being back on that beautiful beach, my fears weren't unfounded. Phranang Beach was covered with trash, especially tied-up plastic bags that had been half-buried in sand.
I wonder if all that trash is a factor of seasonality or time. Perhaps it's a bit of both. Maybe they need to start charging an arrival fee and putting it toward keeping the beaches clean, a strategy that appears to be working in both Koh Lanta and Boracay.
So is Railay worth it? Of course it is! Really, in terms of natural setting, Phranang is one of the most beautiful beaches in the world.
But I would recommend going slightly outside peak season if you can. If you come during July or August, you might struggle to get sunshine, but the beaches will be virtually empty (and the rates far lower!). October, November, April, or May are good shoulder season months that give you a combination of nice-but-not-ideal weather and far smaller crowds.
---
---
I stayed on Phranang Beach until the virtual sandstorm started wearing me down. (Little did I know I'd be finding sand deep in my ears for the next week!) I headed back to Railay West for a drink before hopping into my longtail boat once again.
It was a good day on one of the best beaches I'll ever see.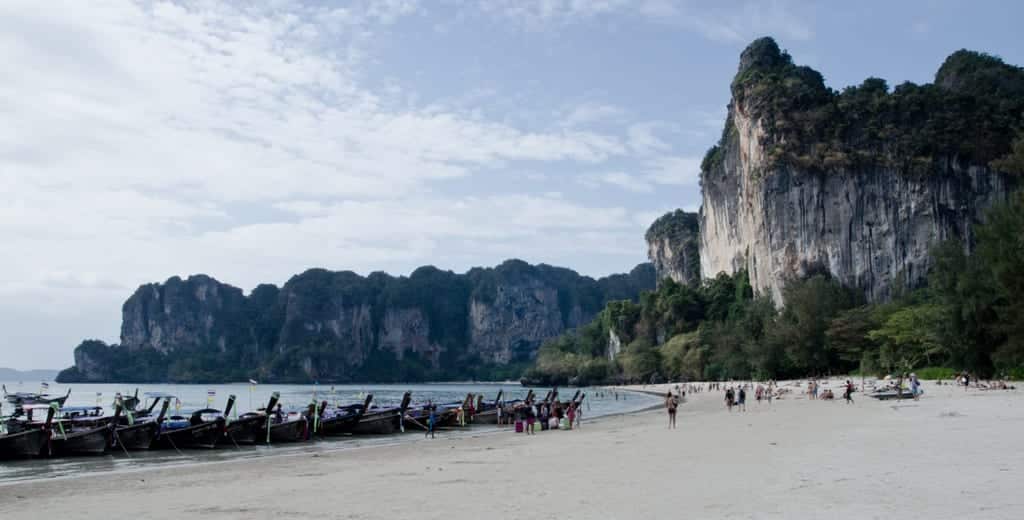 As for Sean, I wonder if he ever returned to Railay since his trip 19 years ago. I wonder what he would have thought of it today.
Essential Info: Railay is on the mainland but only accessible by boat, and unless you're staying at one of the fanciest resorts, you must arrive by longtail boat. You can take large ferries here from places like Koh Lanta, Koh Phi Phi, and Phuket, but they will herd you into a longtail boat for the final leg of the journey.

For that reason, if you have unusually large or bulky luggage, you might want to take a day trip instead of overnighting there, as you'll need to do the hauling of the bags into and out of the longtail boat yourself, and the boats stop in water about one foot deep.

I visited Railay as a day trip from Ao Nang and the longtail journey cost me 100 baht ($3) each way. You buy tickets at a kiosk at the corner of the main road and the beach. It's 50% more expensive at night.

If you do choose to stay overnight, the cheapest accommodation is in Railay East, further away from the beaches. I recommend hitting up The Last Bar — they have great live music and it's a nice, chilled out atmosphere. And if you want to go rock climbing in Thailand, Railay is hands-down the best place.

Find Railay hotels here and Ao Nang hotels here.

Tonsai Beach is next door to Railay, accessible by a path, and a world away in terms of the culture. Accommodation here is basic and much cheaper than Railay proper, and while Railay tends to have more older couples and families, here you'll find a reggae-loving community of beach bums.

Be sure to buy travel insurance before your trip. I use and recommend World Nomads.
Have you been to Railay? What did you think?
Get email updates from Kate
Never miss a post. Unsubscribe anytime!