Adventurous Kate contains affiliate links. If you make a purchase through these links, I will earn a commission at no extra cost to you. Thanks!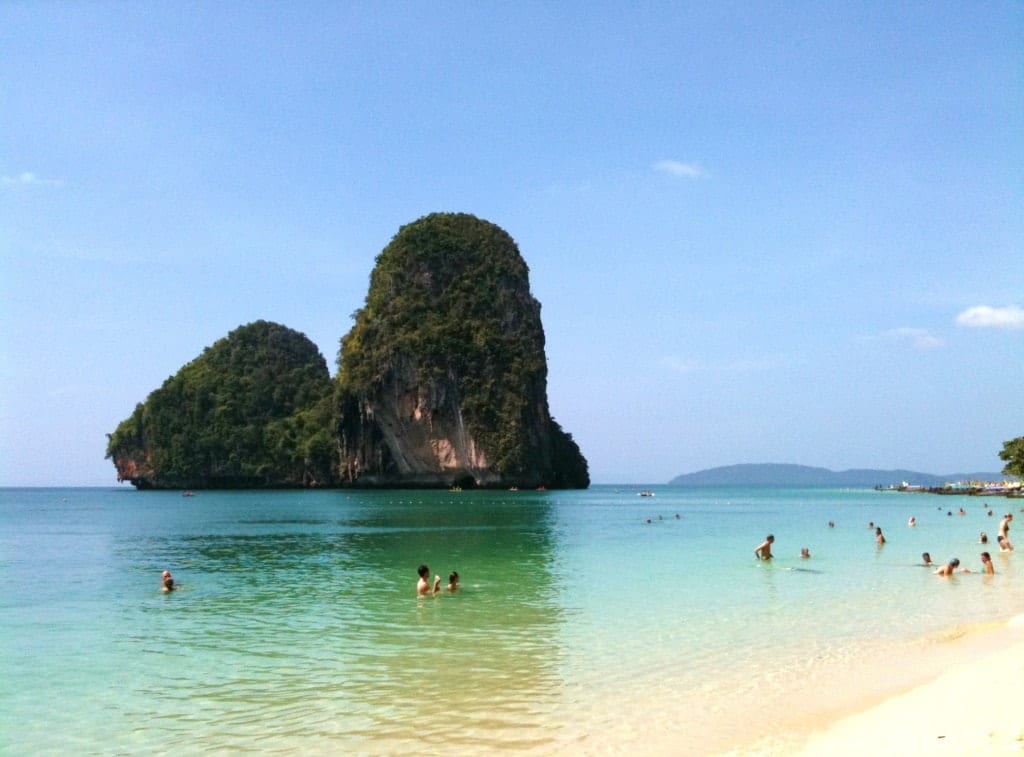 Railay is one of Krabi's most beautiful beaches, only accessible by boat and packed with islands of limestone.  Railay had been one of the destinations I had wanted to visit the most on my Asia Jaunt.
In fact, I had wanted to visit Railay for four years! Right after I started my first post-college job, I discovered my first online travelogue: Gone Walkabout.  The writer went to Railay on a whim and fell in love, staying for weeks, turning into the beach bum he never thought he'd become!
Of course, his travelogue, which was actually his journal at the time, took place during the mid-1990s. I feared that after 15 years, Railay would be completely changed, as overly touristed and overdeveloped as Koh Phi Phi.
But after hearing wistful, glowing reviews of Railay from Caz of y Travel Blog and Michael of Art of Backpacking, I had hope.  This place had to be beautiful.
And it was.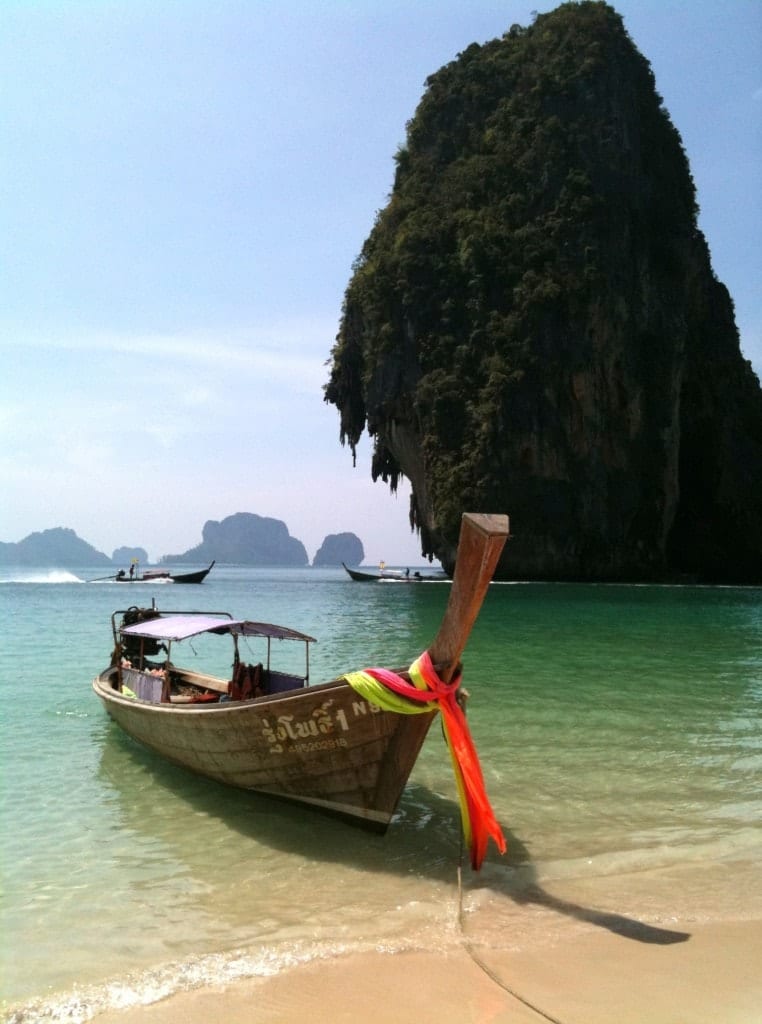 Everyone who goes to Thailand gets a photo of a longtail boat on a beach.  Now I have mine!
Railay is probably the most beautiful of all the beaches I saw on the Andaman Coast. The cliffs here are the most dramatic; the water is the most turquoise.
Between Railay's beauty and the fact that I had longed to visit for so many years, I should have loved it.  But I couldn't.
It was crowded.  Not at the level of Koh Phi Phi, but quite crowded nonetheless.  You have no idea how much work it took to get pictures without people in them!  The beaches and oceans were filled with people; the little land that Railay has is packed to the gills with hotels and restaurants.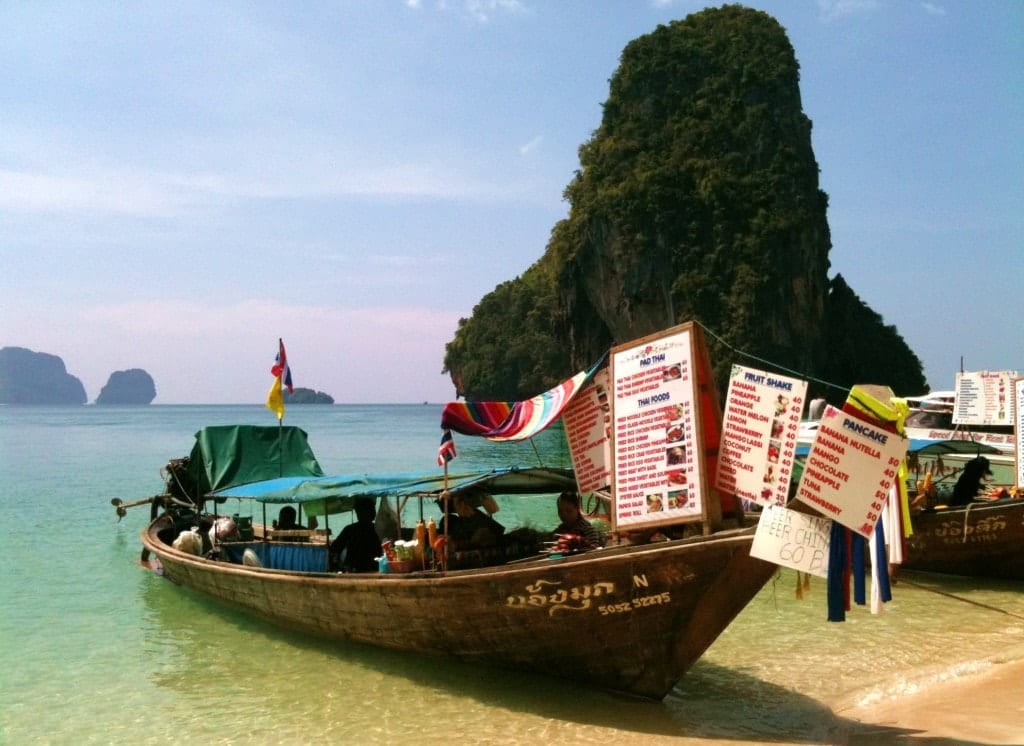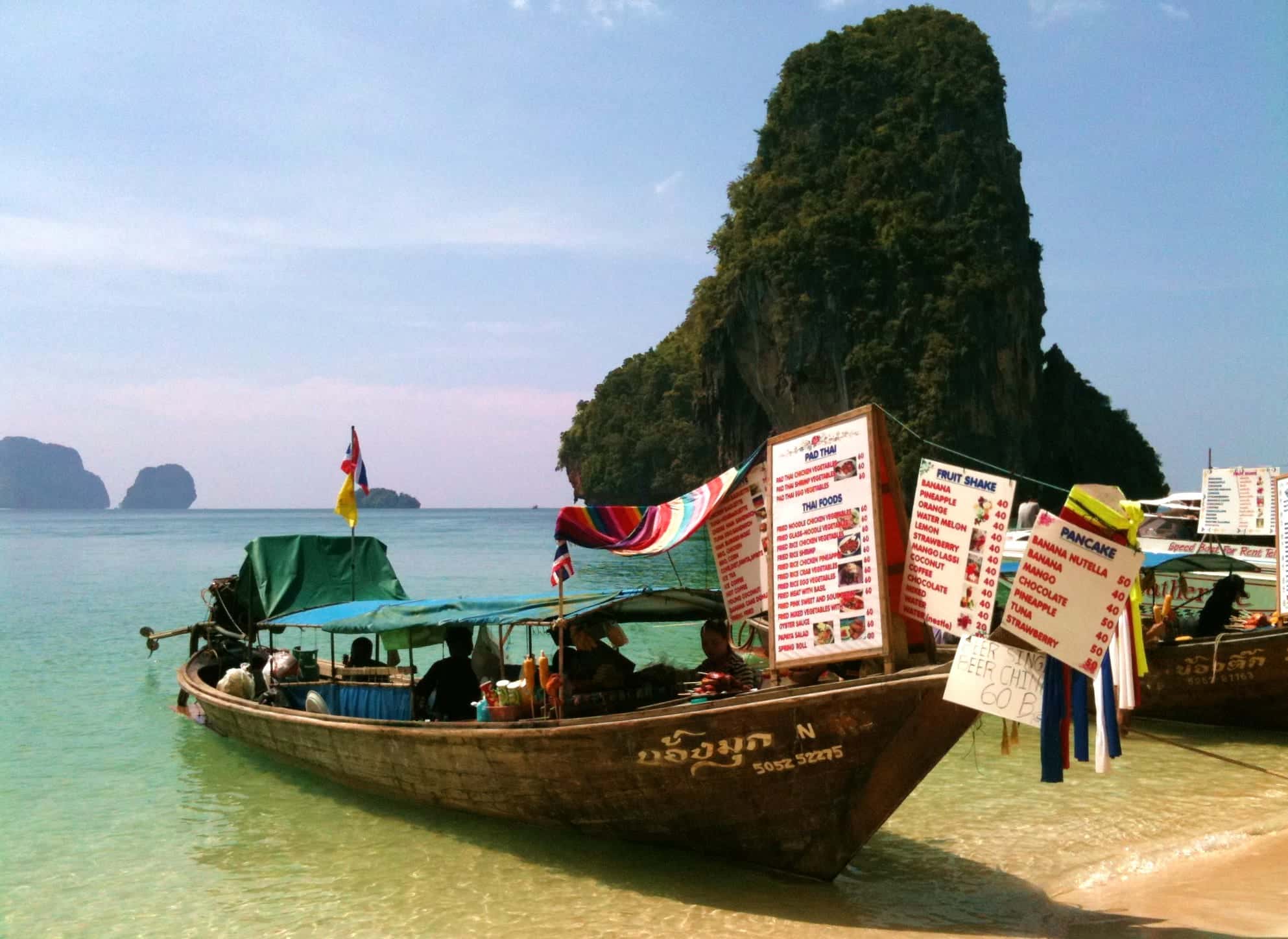 This is something I hadn't seen yet: a restaurant run out of a longtail boat!
Maybe I was spoiled, having just spent a blissful week in Koh Lanta, which felt like an undiscovered paradise.  I missed having an endless expanse of beach, few other people around.  The next place I'd visit could only pale in comparison.
I genuinely fear for Railay.  I'm afraid that it will become the next Koh Phi Phi, the entire island smelling like sewage because the infrastructure can't handle the number of visitors.
And I have no idea what to do about it.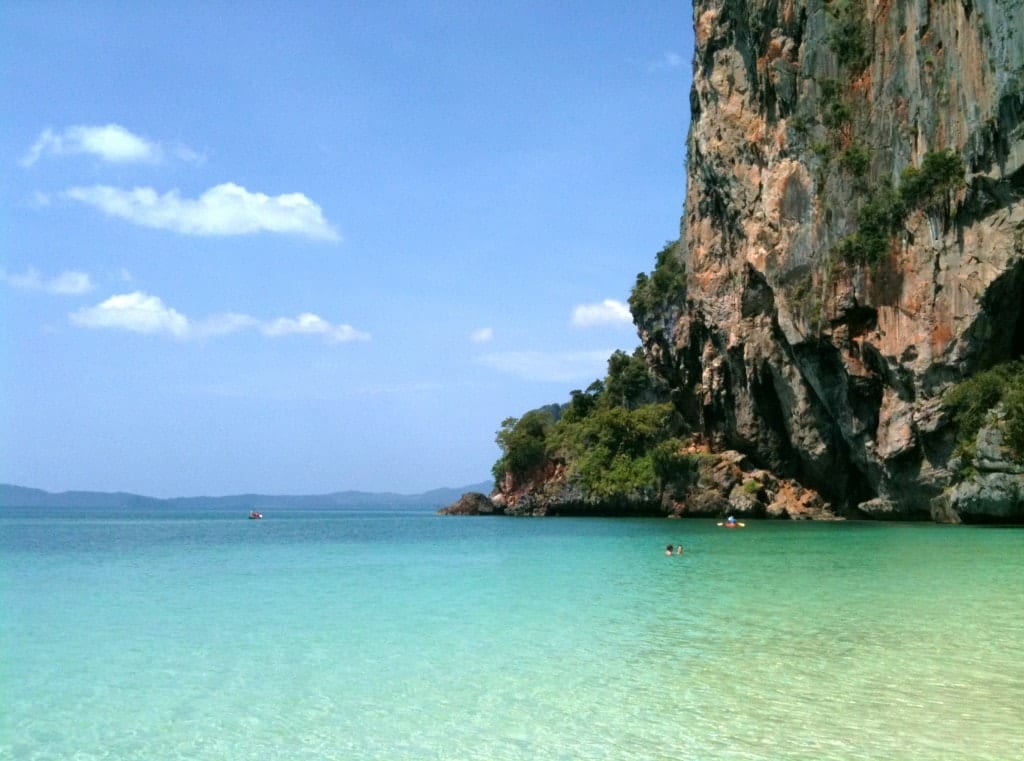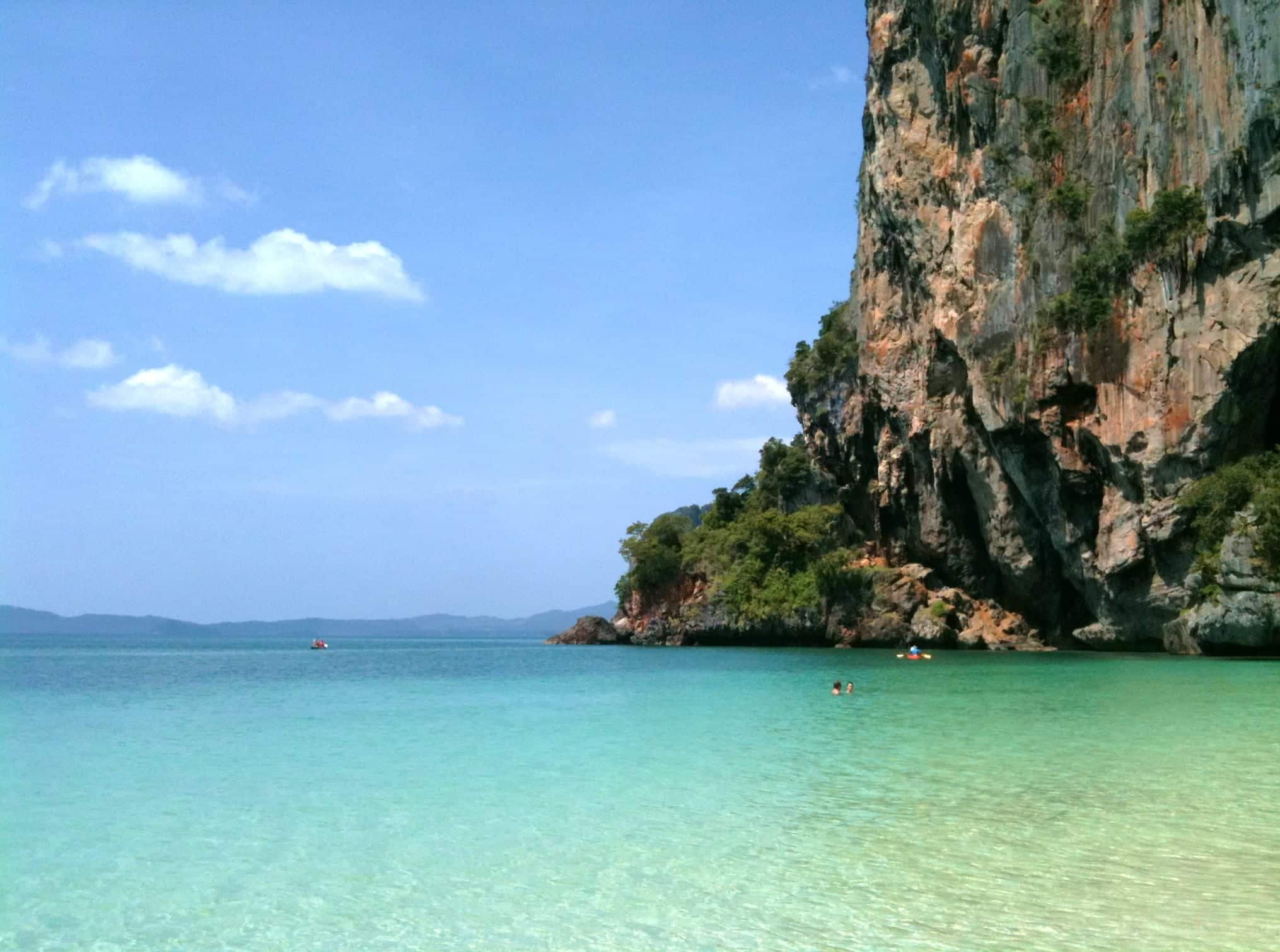 Despite this post's negativity, I enjoyed Railay — I loved the beaches, the nightlife was awesome, and there's a really cool expat community.  And if you're into rock climbing, you'll be in heaven!
But I am so afraid for it.
I know that this counteracts what I've said so far…but go to Railay.  Go now. See it while it still looks like this.
And, as I've said before, go to Lanta.  That island holds my heart.
But there's something that Railay has that Lanta does not…a sacred penis cave.
And my girlfriends will have flights to Railay booked in three…two…one…
Get email updates from Kate
Never miss a post. Unsubscribe anytime!