Adventurous Kate contains affiliate links. If you make a purchase through these links, I will earn a commission at no extra cost to you. Thanks!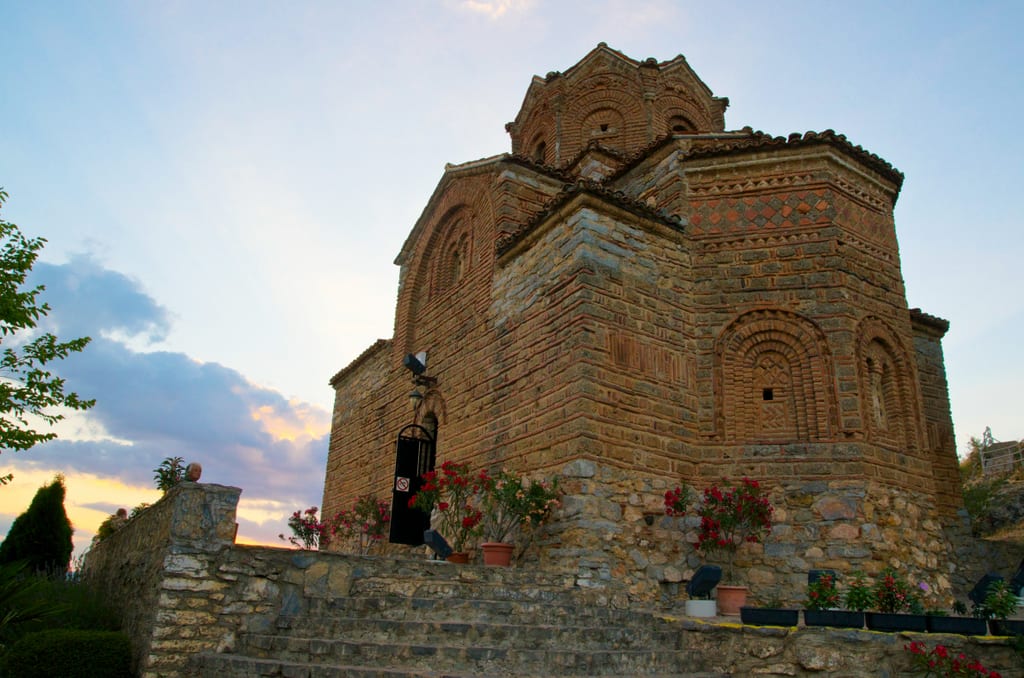 If you're familiar with Lake Ohrid, one image probably comes to your mind: a tiny red-brick church overlooking the vast expanse of blue lake, faint mountains in the distance.
This church is Sveti Jovan, and it's probably the most famous image in all of Macedonia. As soon as you arrive, you'll want to photograph it from every angle.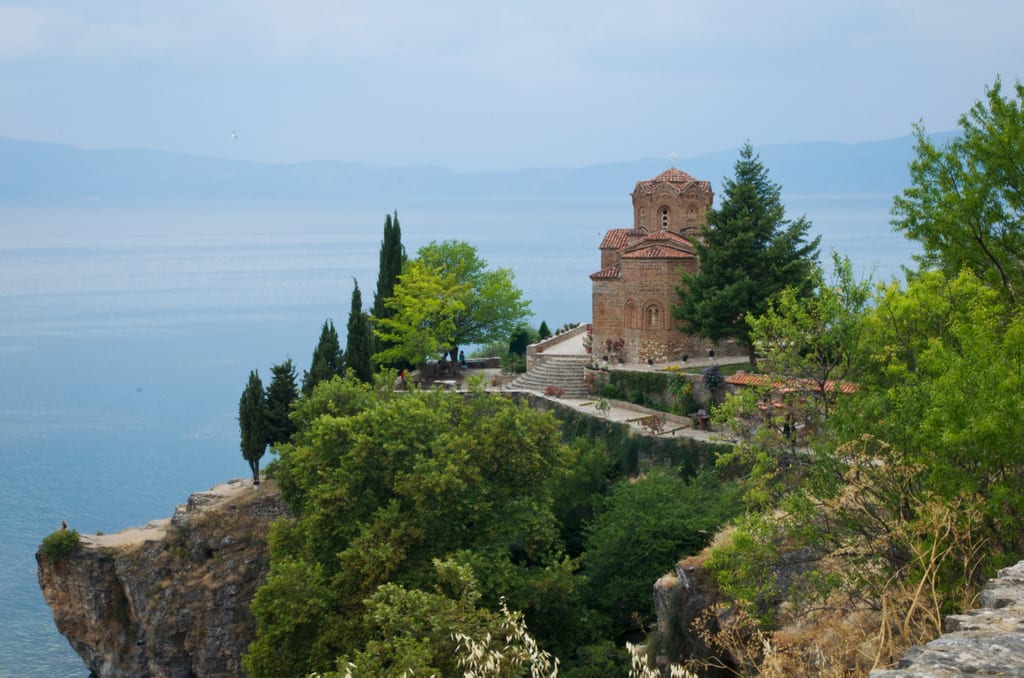 Every evening, I made the 20-minute trek to Sveti Jovan from central Ohrid, crossing over docks on the way there and climbing hills through the town on the way back.
With a west-facing view over the lake, it's a wonderful place to watch the sunset.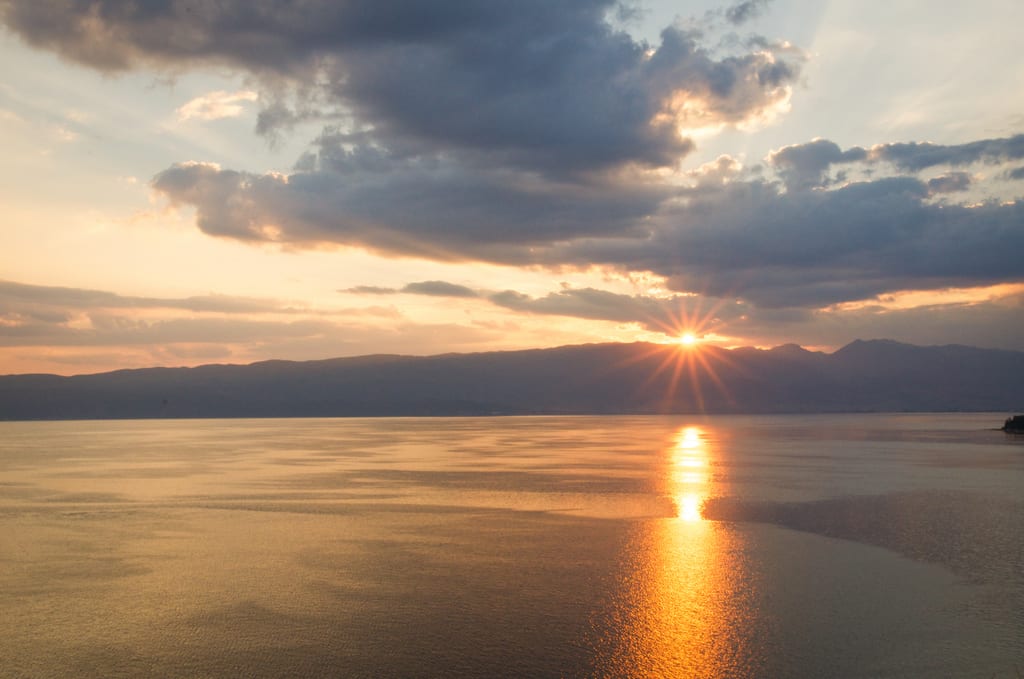 Still, Sveti Jovan is just one tiny corner of the Ohrid region, and you could stay here for weeks just photographing the beauty around this part of Macedonia.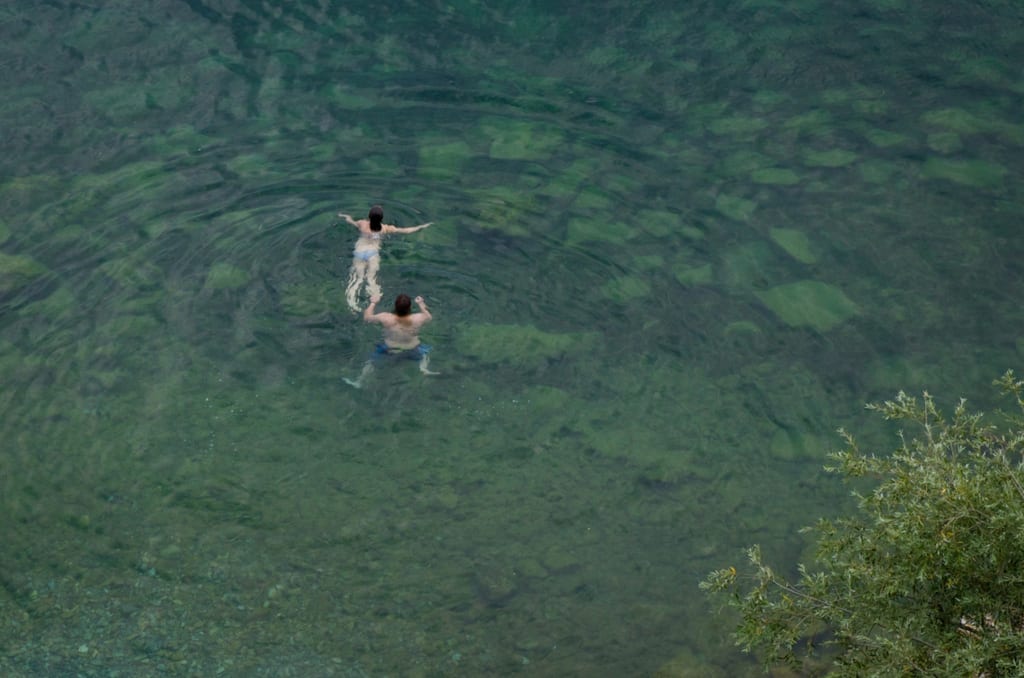 My plan had been to spend my two weeks in Eastern Europe traveling incognito — no comps, no special treatment, no fielding endless questions about how I make money. I would be just another anonymous backpacker for the first time in years.
That plan was foiled a few hours into the trip when I walked into my Ohrid dorm and saw a girl sprawled out on one of the beds.
"I know you!" she exclaimed. "You were shipwrecked."
Ah.
That girl was Gloria, a native Californian who has spent the past few years jaunting around the world at an impressive rate, from Nepal to Ukraine. She turned out to be a very cool girl — not least because she used my posts to plan her time in Southeast Asia!
Our hostel owner suggested we see more of the region and take the boat trip to Sveti Naum the next day. Perfect.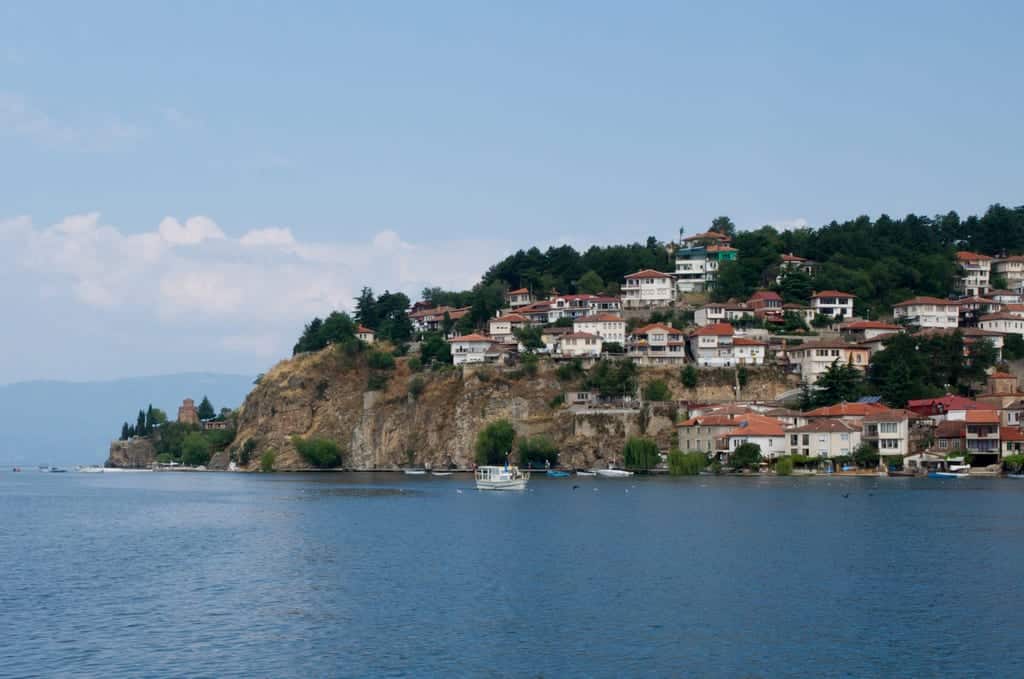 The boat trip to Sveti Naum is one of the most popular activities in Ohrid. Sveti Naum is a monastery further down the lake, a stone's throw from the Albanian border.
(And yes, that's Sveti Jovan once more on the far left, growing smaller as we sailed down the coastline.)
After a 90-minute journey past hidden beaches, campgrounds, and the president's summer residence, we arrived at Sveti Naum. Our unlikely welcome brigade: several peacocks!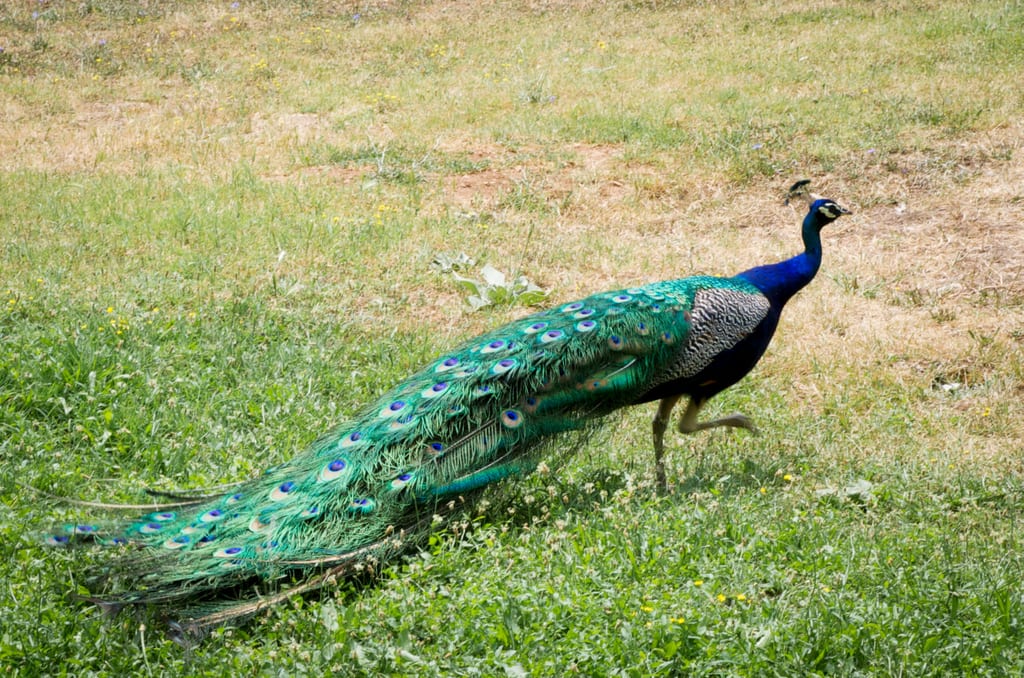 As I had learned a few months ago in Emilia-Romagna, peacocks make noises like strangled cats. You don't want to make them angry. But are they ever beautiful…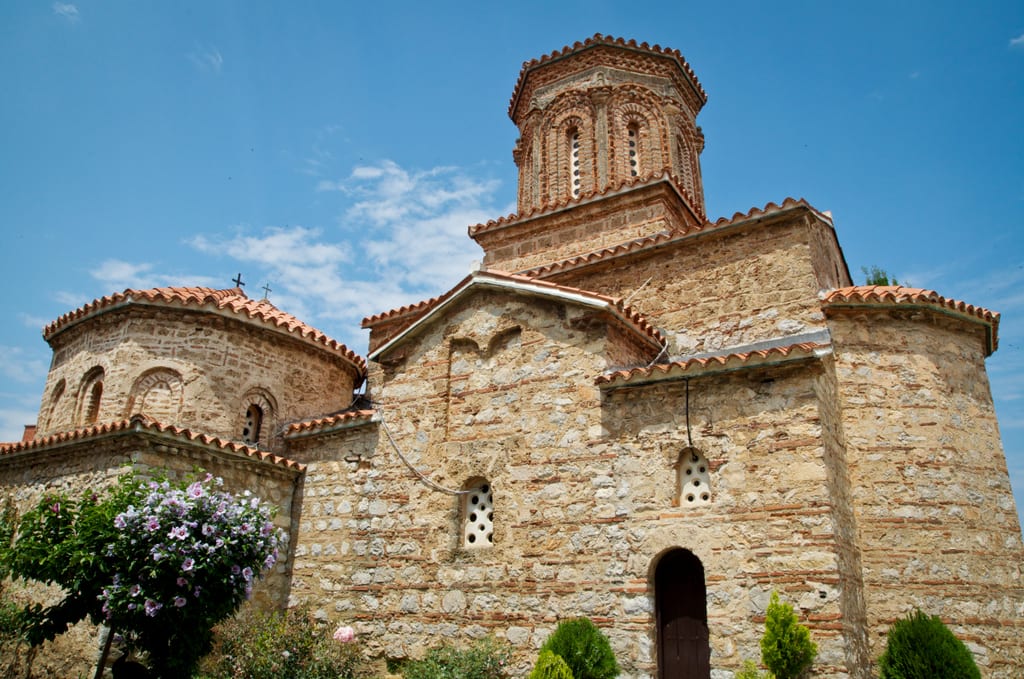 Sveti Naum was much smaller than I expected it to be and very similar in style to Sveti Jovan — but the inside of the monastery was stupefying.
Incredible, isn't it? I've never seen a church like this.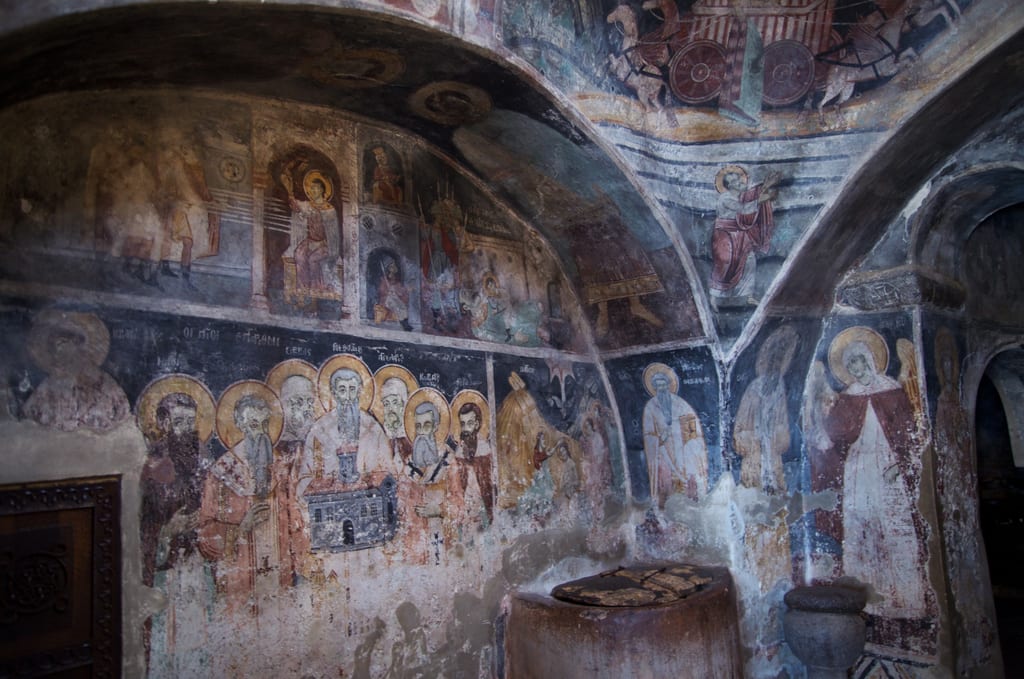 Not an inch is uncovered with frescos.
Better in black and white, or in color? I like them both.
Sveti Naum is next to one of the nicer beaches on Lake Ohrid, and people were camped out for the day with chairs, coolers and boom boxes. Groups of teenagers held court alongside families with small children.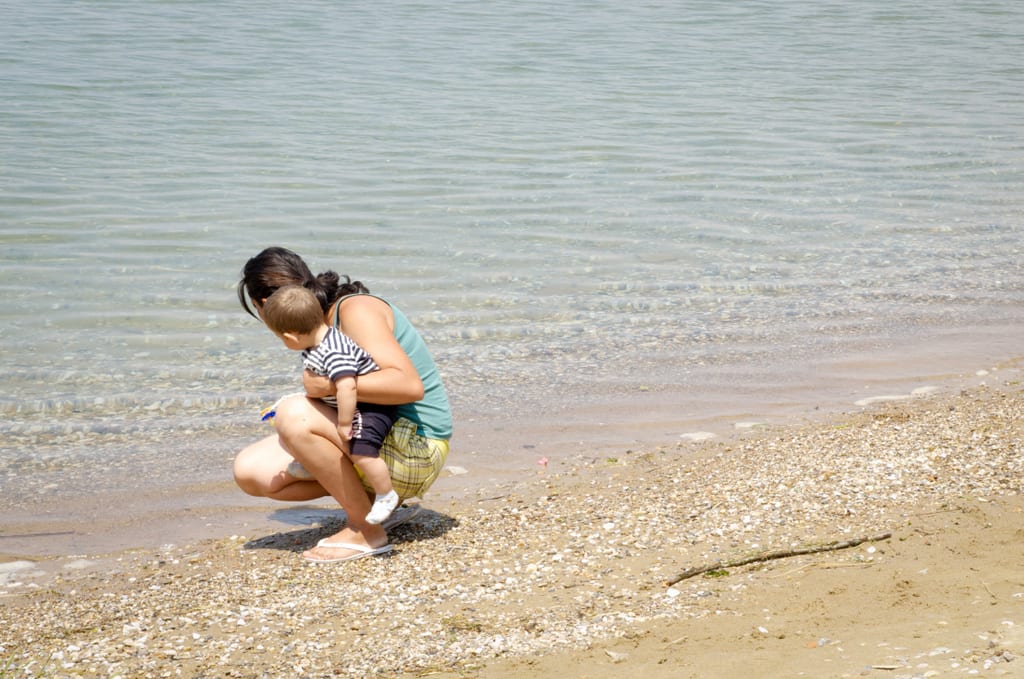 Just off the beach is a verdant lagoon illuminated by thousands of shades of green.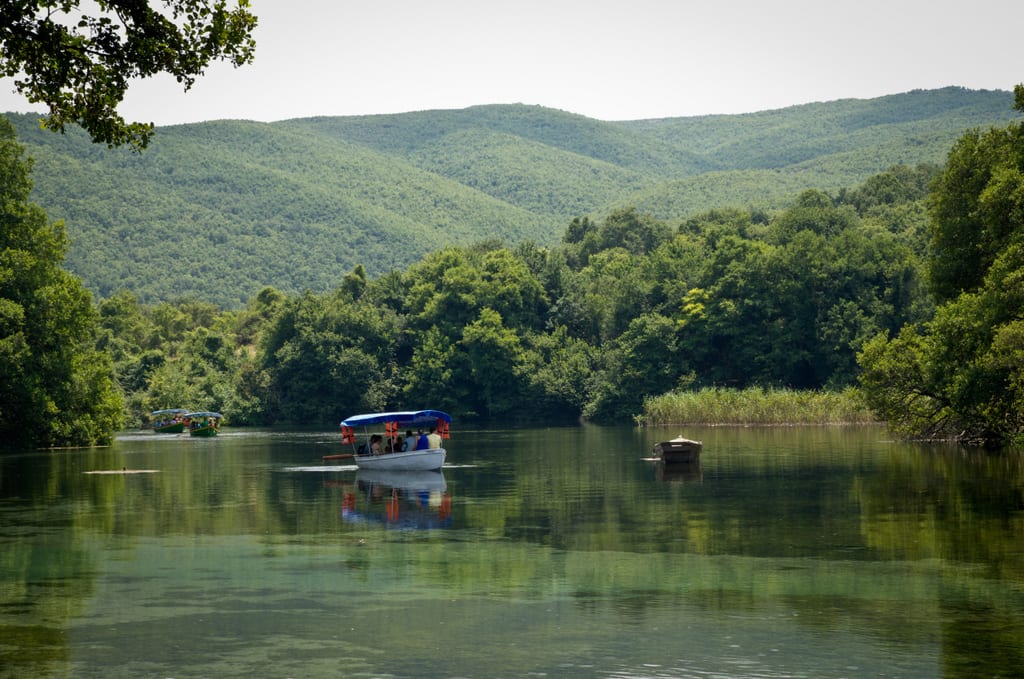 One of the stranger yet sweeter encounters we had was by the dock. Gloria and I came across a group of local guys with a watermelon. Without speaking a word of the other's language, one of them promptly sliced us some watermelon with what looked like a pirate's cutlass. Or maybe a machete. I kept waiting for the inevitable scream and blood splatter.
Like all the produce I sampled in Macedonia, this watermelon was fresh and delicious. Our slices were enormous, and it took the two of us a good 20 minutes to finish them off!
Soon, it was time to get back on the boat and head back to Ohrid. Sveti Naum rose up in the distance one last time as we sailed away.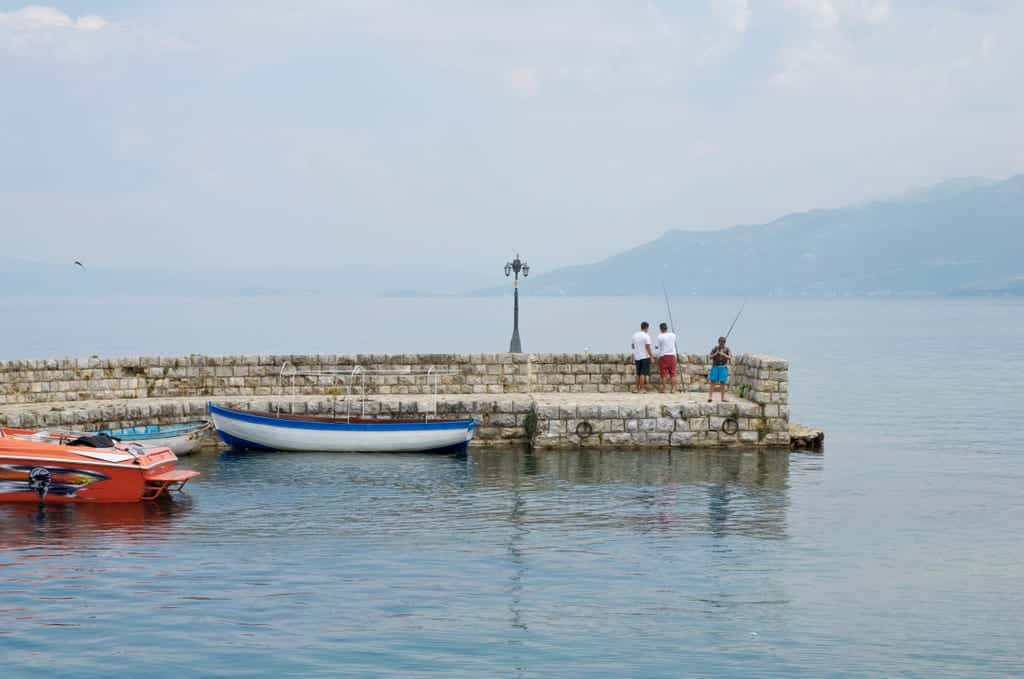 It was a perfect sunny day in Macedonia's summertime paradise. While the Balkans are certainly not lacking when it comes to natural beauty, Ohrid is one of the most surprisingly beautiful regions I've visited in the Balkans so far.
Essential Info: The round-trip boat ride to Sveti Naum costs €5 or 300 Macedonian dinars ($7) each way. The boat trip takes about 90 minutes each way. It sets sail from Ohrid's dock each morning at 10:00 AM and departs Sveti Naum at 3:00 PM.

Two boat companies do this trip: they are parked on either side of the dock and have the same exact route, pricing, and schedule. I chose the boat that had couch-style seating rather than chairs, and they also had mattresses on deck for stretching out in the sun.

There's also a bus that travels from Ohrid to Sveti Naum, taking two hours each way for about a third of the price. Personally, I thought the boat trip, though pricier, was an exceedingly pleasant way to travel between the two towns.

I used World Nomads travel insurance during this trip and I always recommend getting it before you travel, no matter where you go.
Which photo of Lake Ohrid is your favorite?
Get email updates from Kate
Never miss a post. Unsubscribe anytime!