Adventurous Kate contains affiliate links. If you make a purchase through these links, I will earn a commission at no extra cost to you. Thanks!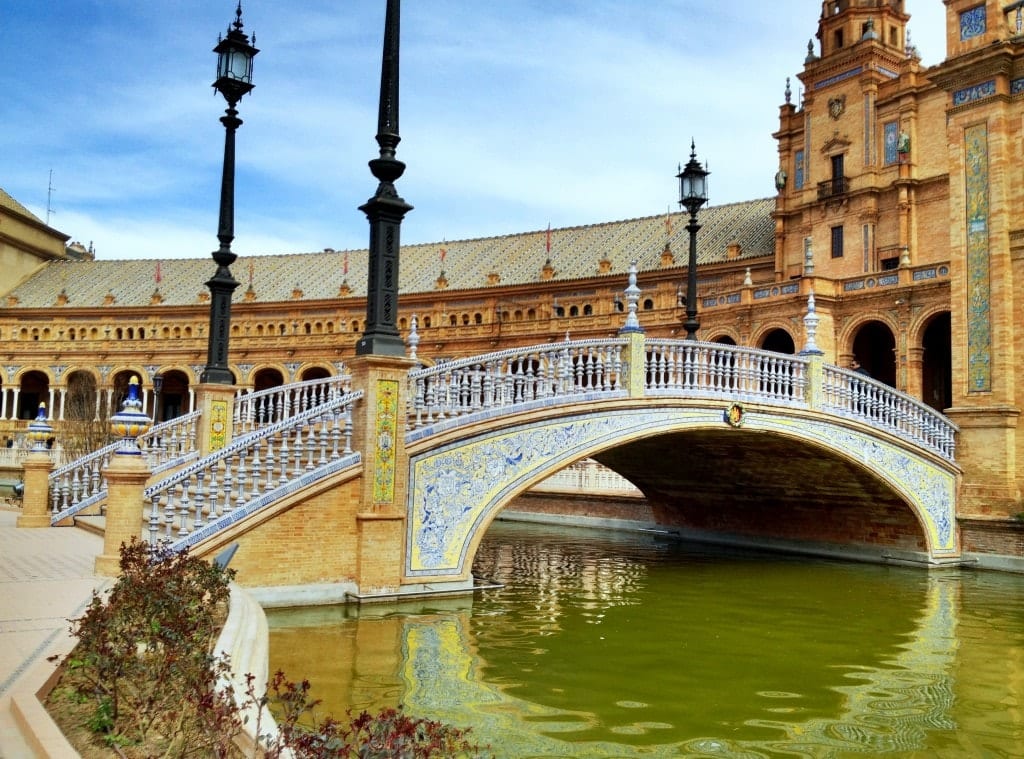 Sevilla was my first stop in Spain, and I couldn't think of a better introduction to this wonderful country.  The region of Andalusia is the romantic Spain of yore — Moorish architecture and bullfighting and flamenco — and Sevilla is its astoundingly beautiful capital.
I've seen a lot of Spain in the past few weeks.  And while I haven't seen every Spanish city renowned for its beauty — Toledo, Segovia, and Santiago de Compostela are a few notable absences — I feel like Sevilla is so, so much more beautiful than any other city in Spain.
Sevilla is just insanely good-looking from every angle.  Just walking down the street, you could come across an intricately carved building like this…
Or a perfectly Spanish plaza lined with brightly colored buildings and horse-drawn carriages…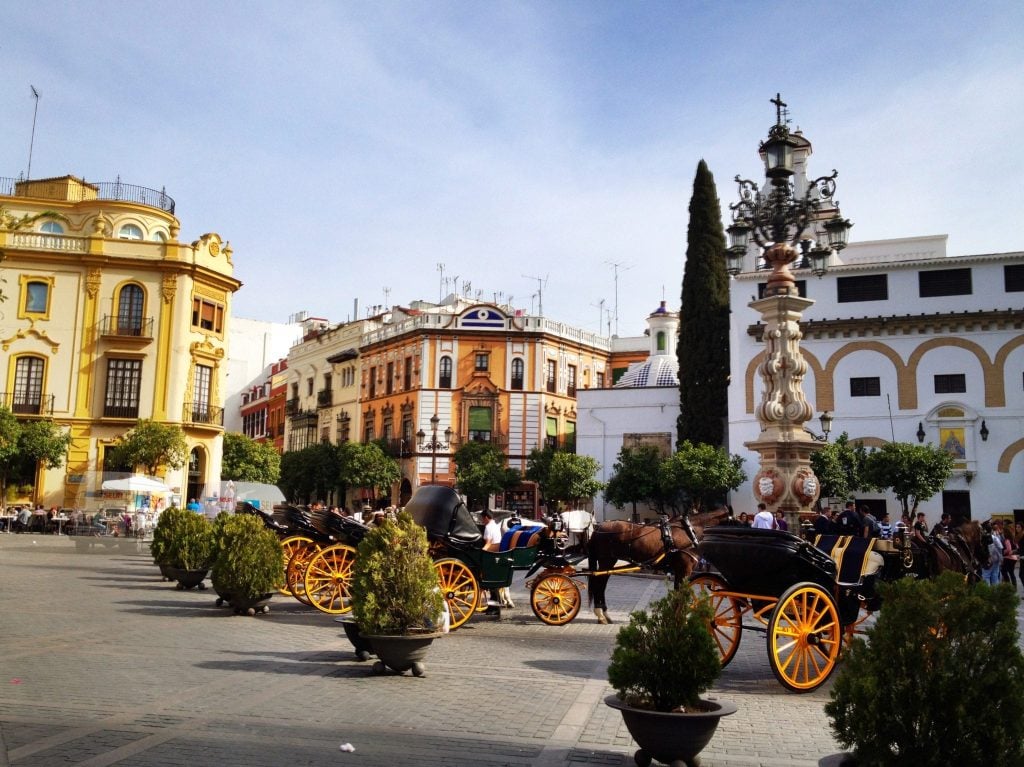 Or an effortlessly stylish bar on a streetcorner!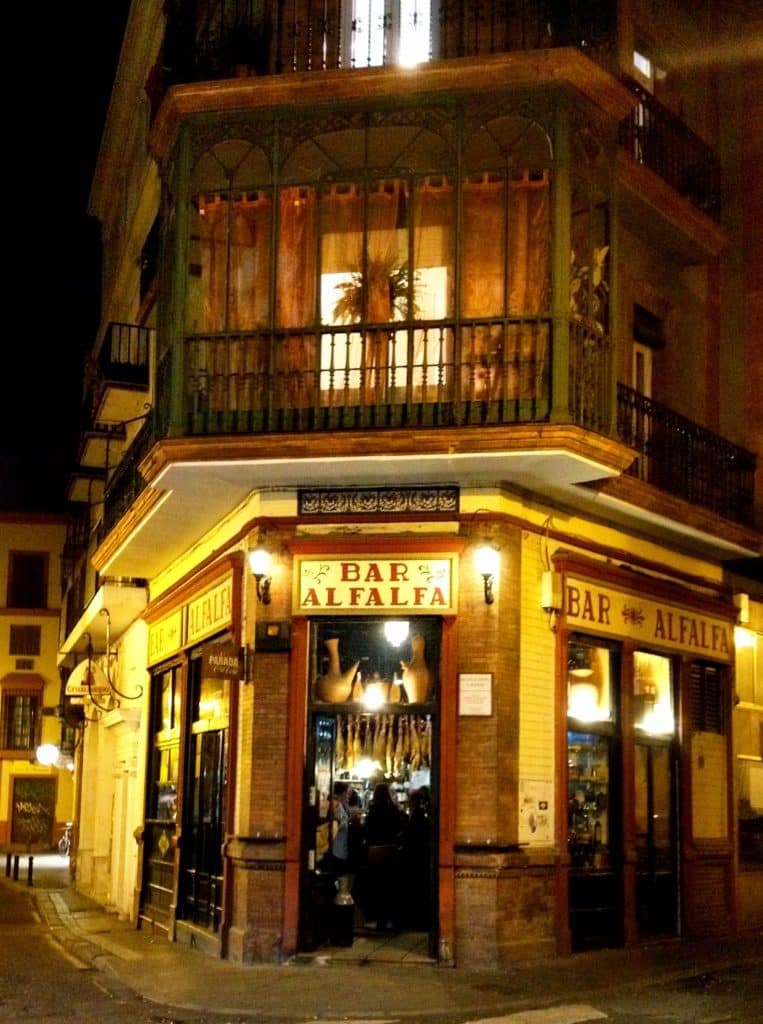 And yes, the most beautiful city in Spain pays homage to the most glamorous woman Spain has ever known: La Duquesa de Alba!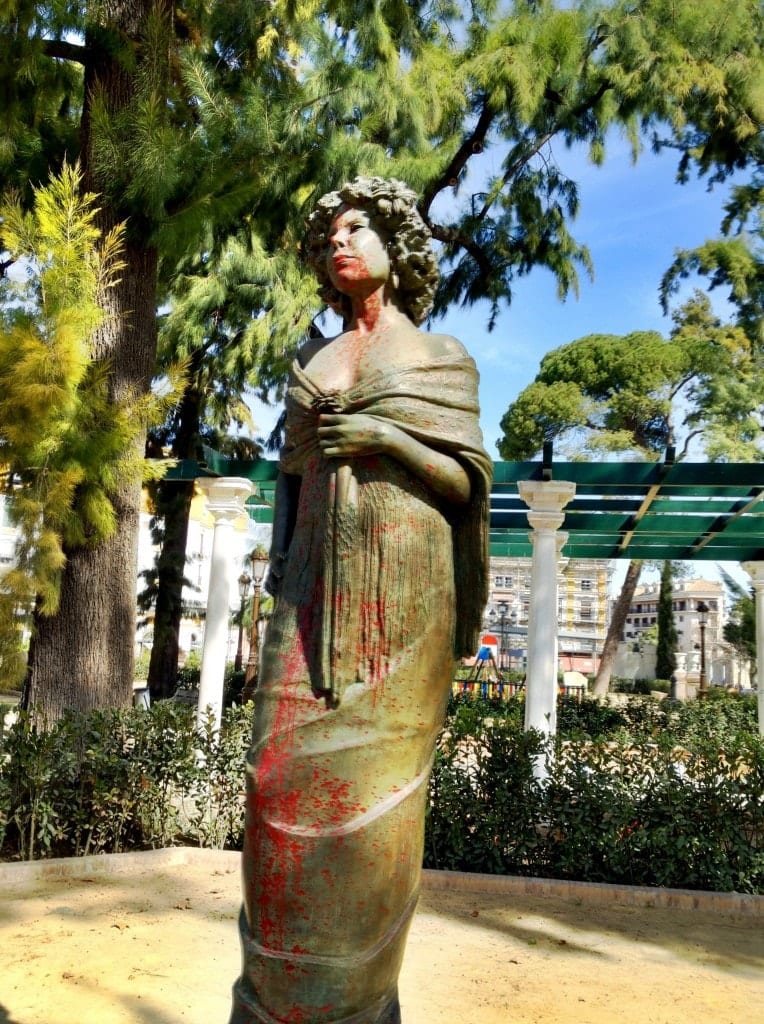 If you're a Dlisted fan, you've no doubt heard about the Duchess of Alba.  This woman is insanely rich — she has more money than the Queen of England and just married yet another much-younger husband.  She may be royal, but it's her attitude that makes her the ultimate glamour icon.
She's Elizabeth Taylor crossed with Queen Elizabeth.  With bigger jewels.  I KNOW.
But of all the beautiful places to see in Sevilla, the monument that you must visit is Plaza de España.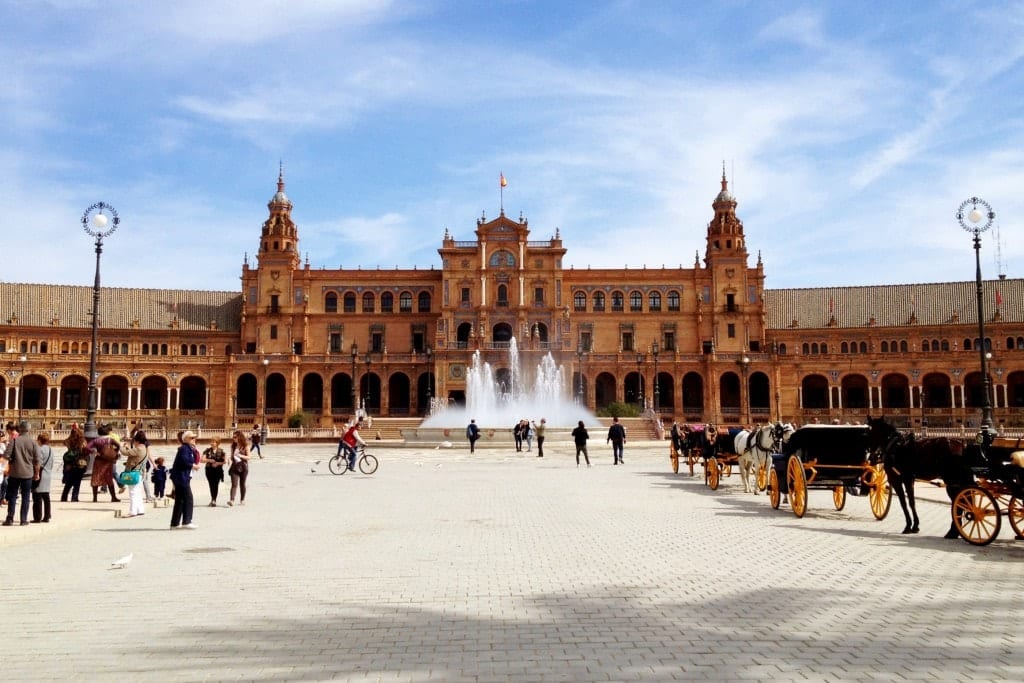 This plaza was built in the 1920s in preparation for Sevilla's 1929 hosting of the Ibero-American Exposition's World's Fair.  Sevilla was made over during that time, and Plaza de España is undoubtedly its finest contribution.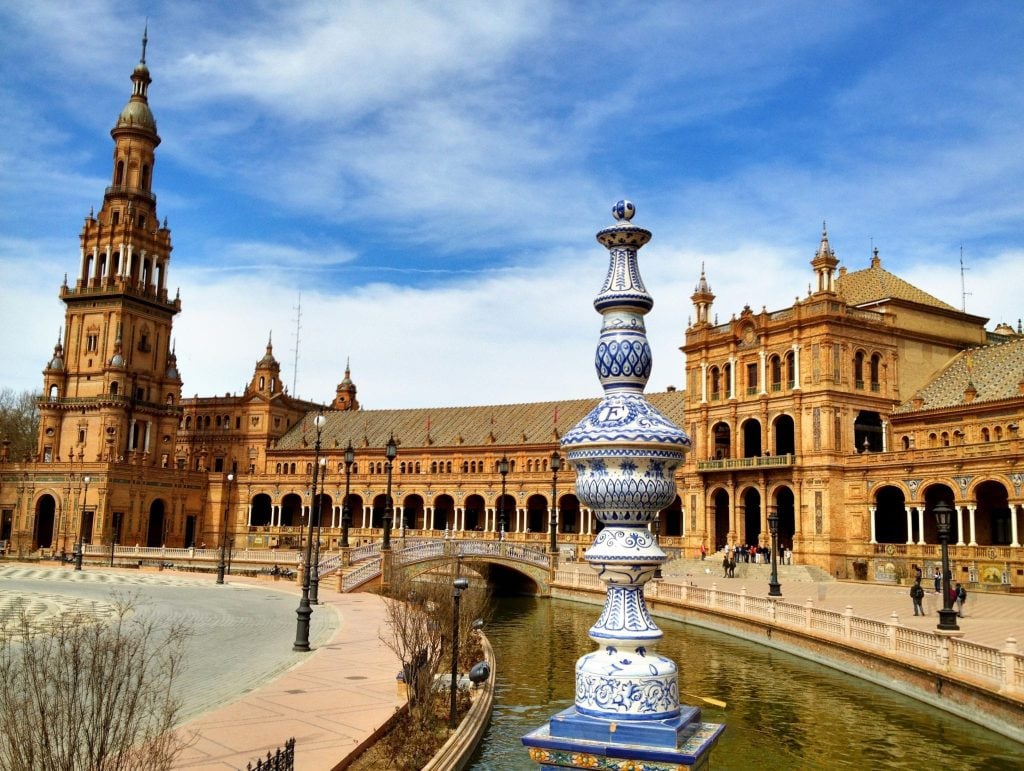 I especially loved the alcoves.  There is an alcove for each province in Spain, and they are each decorated in the province's style.  It's a Spanish tradition to come to Plaza de España and pose in your province's alcove.
Like this one for Castellon: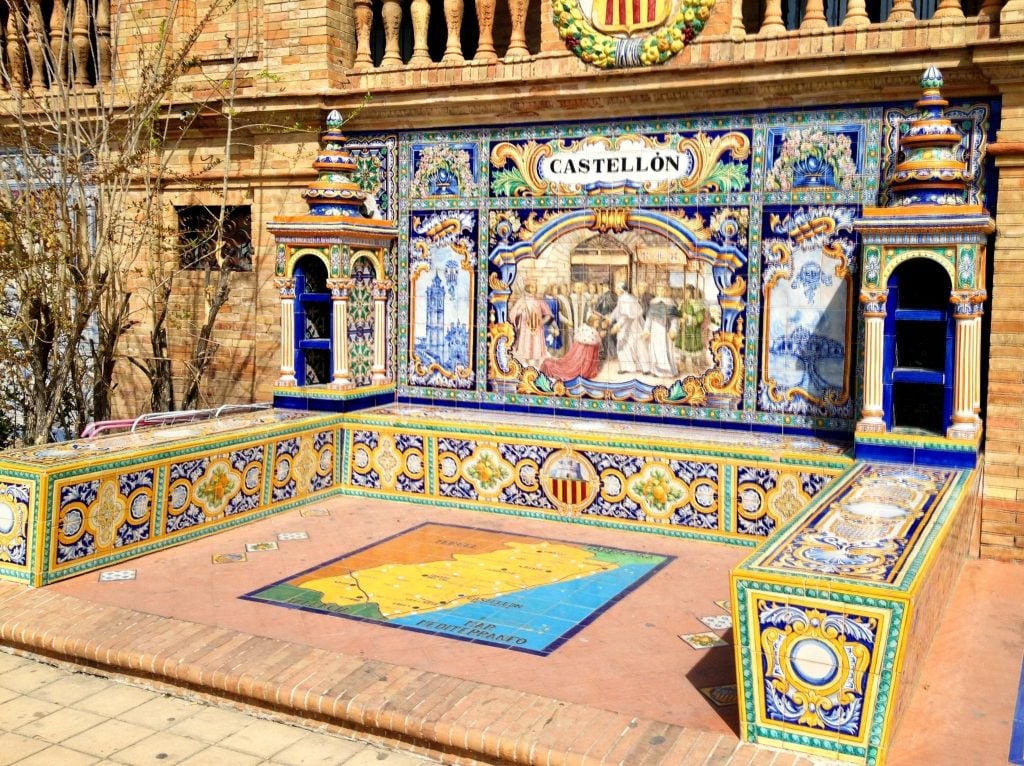 A lovely place to spend an afternoon, don't you think?
And lest you think that Sevilla's beauty is entirely classical and traditional…
There are mushrooms.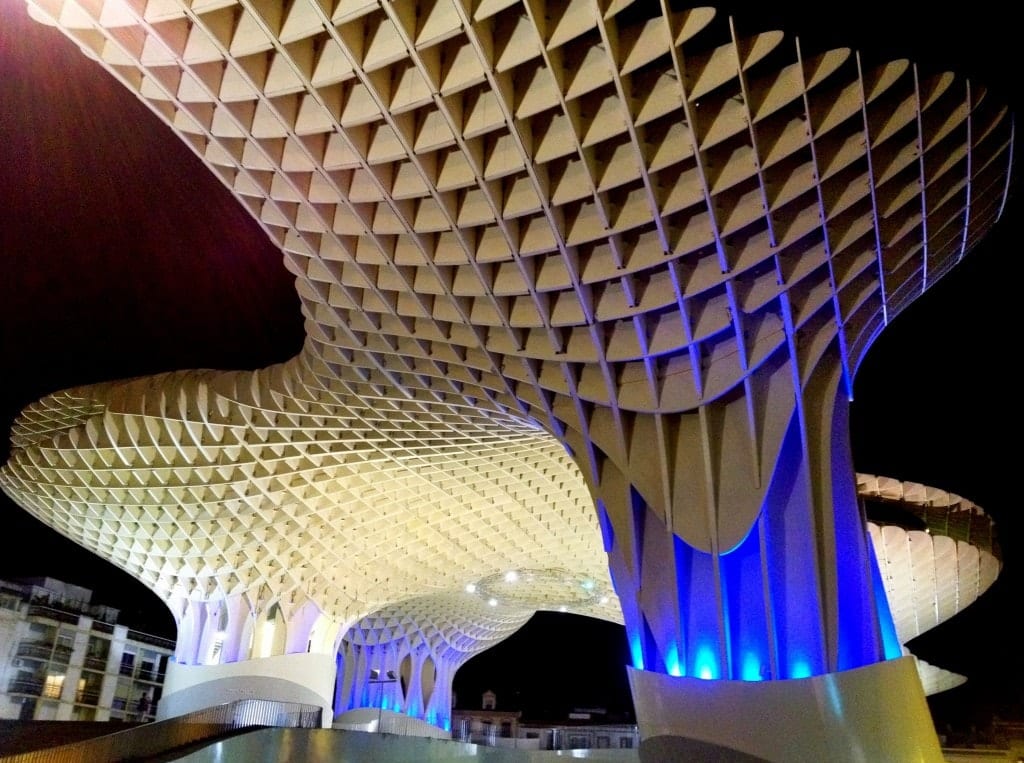 A bastion of Sevilla's modern art scene, these infamous mushrooms loom over part of the city — but they in no part detract from the rest of Sevilla.
Sevilla became one of my absolute favorite places in Spain, for many reasons.  It's a perfectly sized city — not too large and very walkable, like Boston.  The tapas are fabulous.  It was also the warmest place I visited in Spain, with temperatures in the high 70s in early March!  (Andalusia gets very hot during the summer, but it's a perfect place to escape the cold of winter!)
I know I will return to Sevilla.  I am absolutely positive about that.
Now…how about you?  Do these photos make you want to pack your bags and book a ticket to Sevilla?
Get email updates from Kate
Never miss a post. Unsubscribe anytime!