Adventurous Kate contains affiliate links. If you make a purchase through these links, I will earn a commission at no extra cost to you. Thanks!
"Oh, you simply MUST go to Sintra!"
If you're planning on visiting Lisbon, chances are you'll hear the above statement at least once.  Of all the day trips you can take from Lisbon, Sintra is the most famous.  Since I had a full week to spend in Lisbon, I decided to take the 40-minute train journey to this mysterious place.
So: what's Sintra like, and how does it look through an iPhone lens?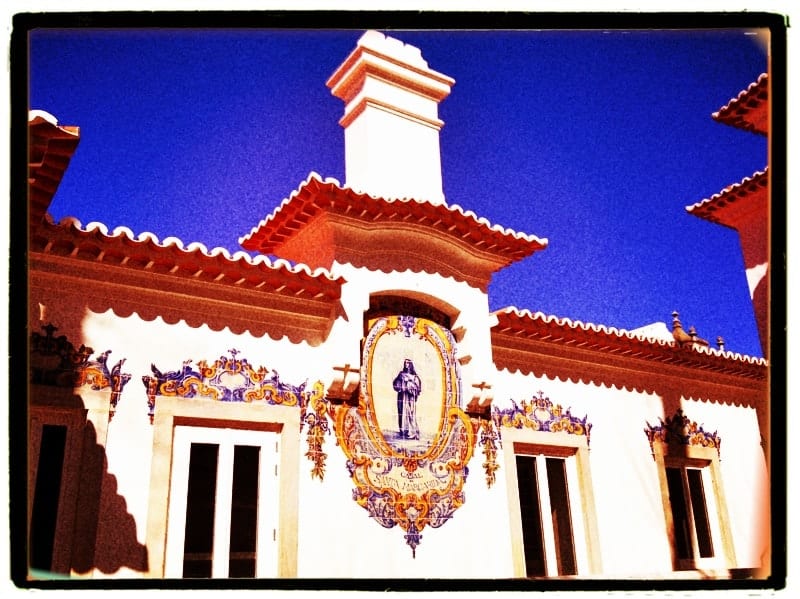 Sintra was formerly a retreat center for Lisbon's elite, including the royal family.  Built on a mountain, the wooded landscape is filled with castles, palaces, and beautiful gardens, all overlooking a valley.  If you're looking for a setting straight out of a fairy tale, I doubt you could do better anywhere else!
At first, I was pleased at how cheap a day trip it was turning out to be — it was only €4 for a round-trip ticket from Rossio station.  However, I soon realized that Sintra is actually quite an expensive day trip if you want to see all the sights.  There are several palaces, gardens, and museums, and each of them cost €6-8.  That adds up — quickly.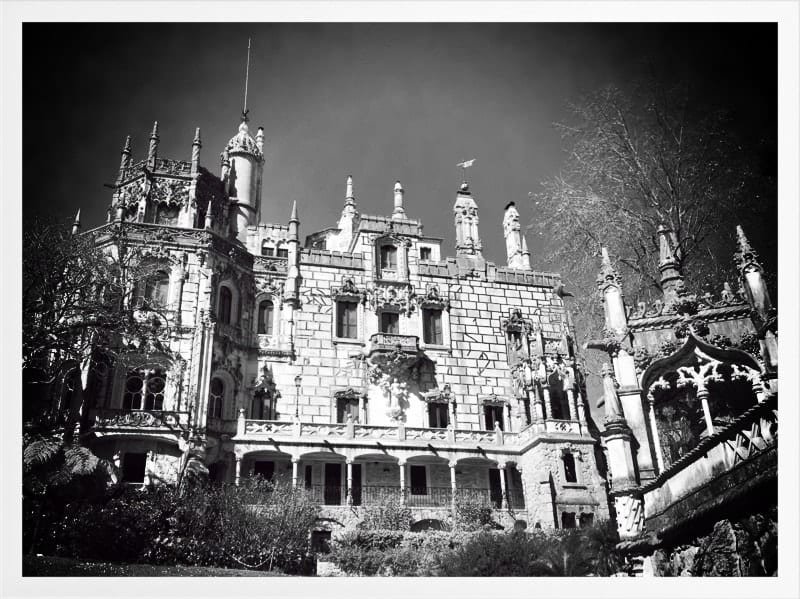 I decided to visit one admission-charging attraction: the Quinta da Regaleira, a UNESCO World Heritage Site.  The grounds include a castle, a chapel, grottoes, gardens, and fountains.
It was quite a striking residence, with plenty of royal touches.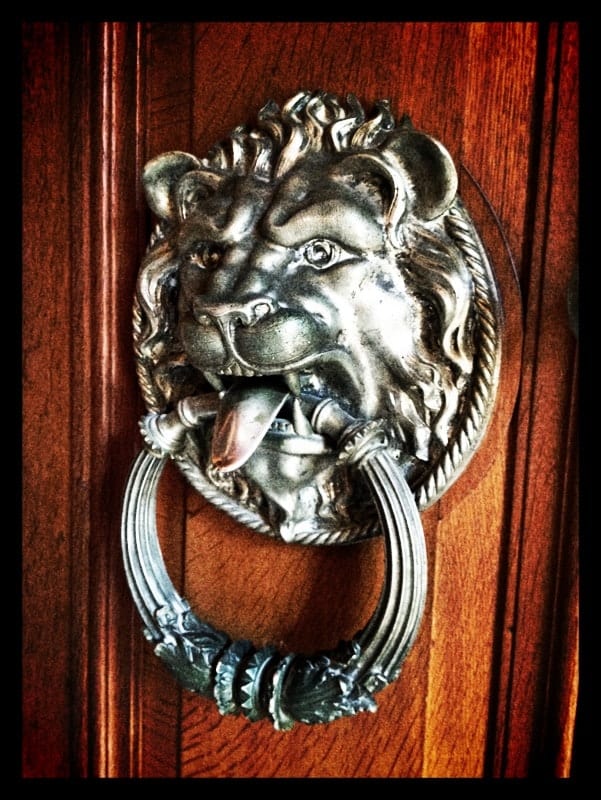 Now THAT is a manly doorknob!  (And I used to know a guy studying in Florence who, in his quest to look "Italian," wore a belt buckle every day with a lion on it just like that.)
Despite how many times I wandered the grounds, I was drawn again and again to the palace — it was just SO photogenic!
Once leaving the Quinta da Regaleira, I wandered back to town.  Sintra's town center is pretty tiny but it's lovely — especially when you take the time to discover the best views.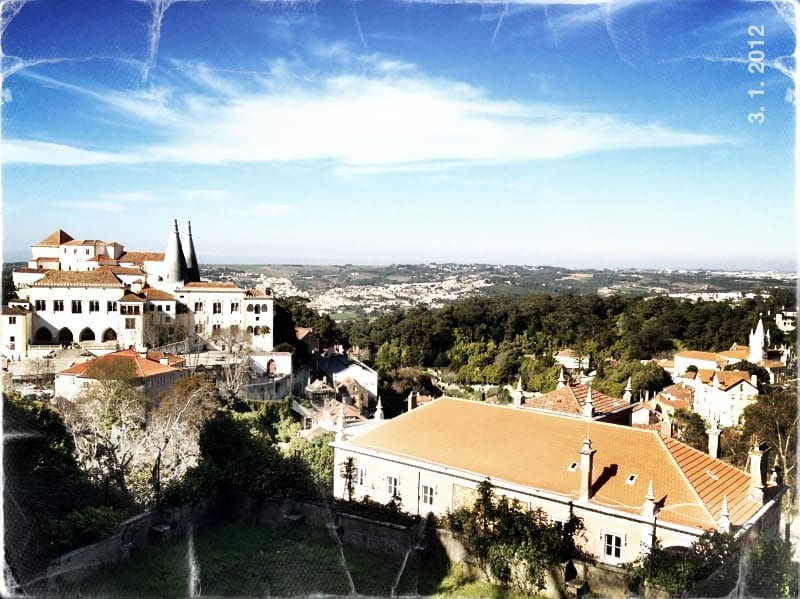 On the suggestion of my friend Kash, I tried a local specialty, a ginjinha — a very sweet cherry liqueur served in a chocolate cup.  You can find them all over Sintra for €1.  I sipped it daintily…and nearly coughed it up.  Cherry liqueur?  More like Robitussin!  Kash, you are a man of impeccable taste, so I'll forgive you this one.  😉
After wandering the town, you'll probably be hungry for a snack, so do as the Portuguese do: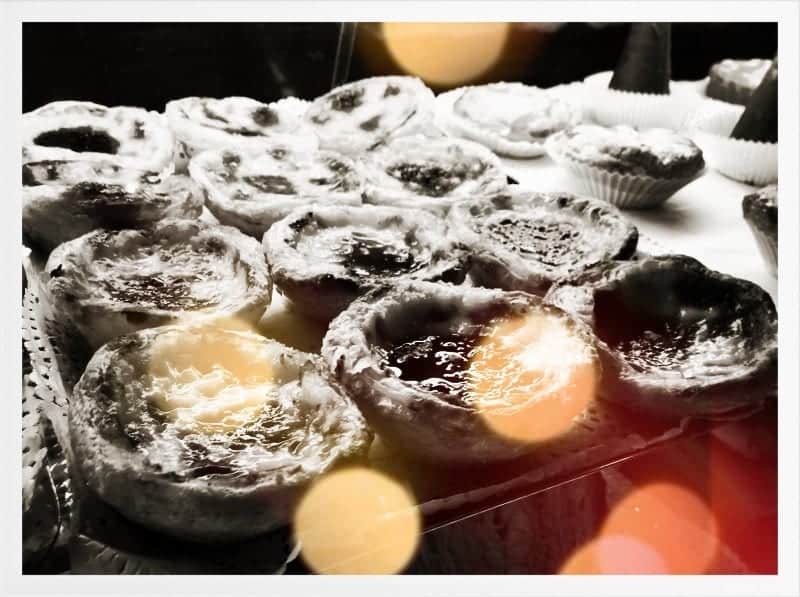 Stop for a coffee and a pastel de nata, a delicious Portuguese custard tart! I may not have been a fan of the ginjinha, but trust me — these pastries are GOOD.  You'll be downing them like a local in no time.
What I liked most about my trip to Sintra was smelling the fresh air.  Lisbon is a very clean city, but it's still a city, and I didn't realize how much I had missed clean air and the scent of trees until I got out of town.  And to enjoy the outdoors among so many palaces was a lovely treat.
So let me join the masses — why, you're going to Lisbon?  Are you going to Sintra?  Oh, darling, you simply MUST!
Which photo is your favorite?
Get email updates from Kate
Never miss a post. Unsubscribe anytime!