Adventurous Kate contains affiliate links. If you make a purchase through these links, I will earn a commission at no extra cost to you. Thanks!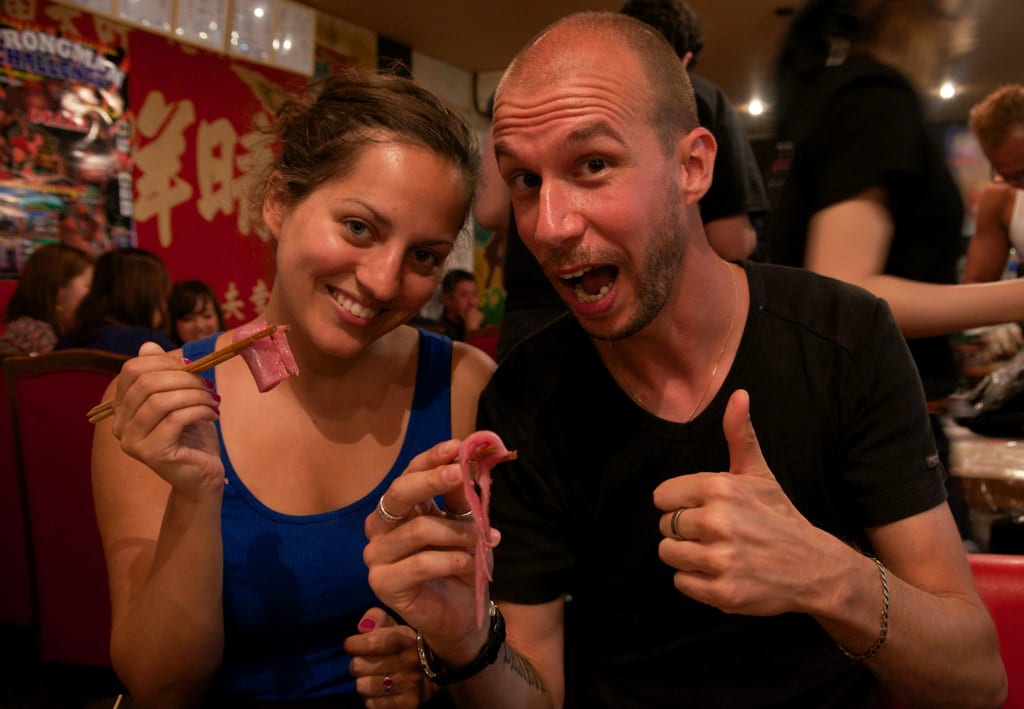 Three months have now passed since Mario and I touched down in Paris, beginning our yearlong SOTM Tour. This month took us on our longest journey yet — from Dubai to Tokyo — though not without a few snafus along the way.
It was a month of fulfilling longtime travel dreams: finally visiting Japan and learning that it's just as wonderful as everyone says — not to mention finally setting foot in the Burj al Arab.
It was also a month of hitting travel burnout. Ever since getting to Korea, we've done hardly any sightseeing. It's partly the fact that we're tired, partly the fact that we don't feel as compelled to sightsee as in other loctions, and partly the fact that Korea has the fastest wifi on the planet. Literally. We're taking advantage of it as much as we can.
Here's the review of our third month on the road!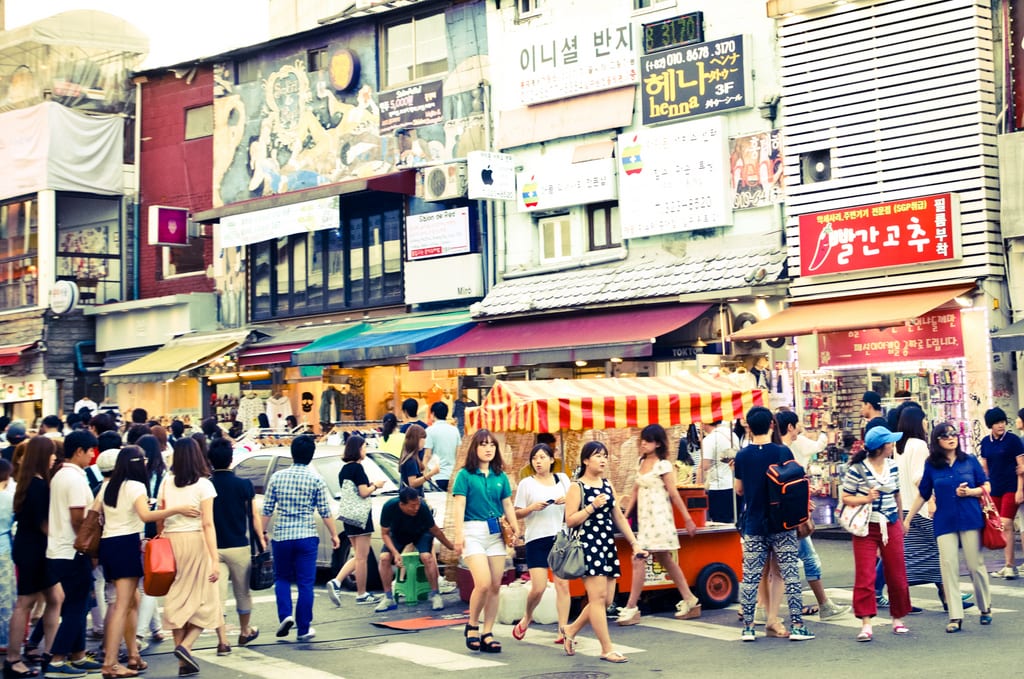 Destinations Visited
Dubai and Hatta, United Arab Emirates
Tokyo, Kyoto, Kobe, Osaka, and Hakone, Japan
Seoul, Yeosu, and Busan, South Korea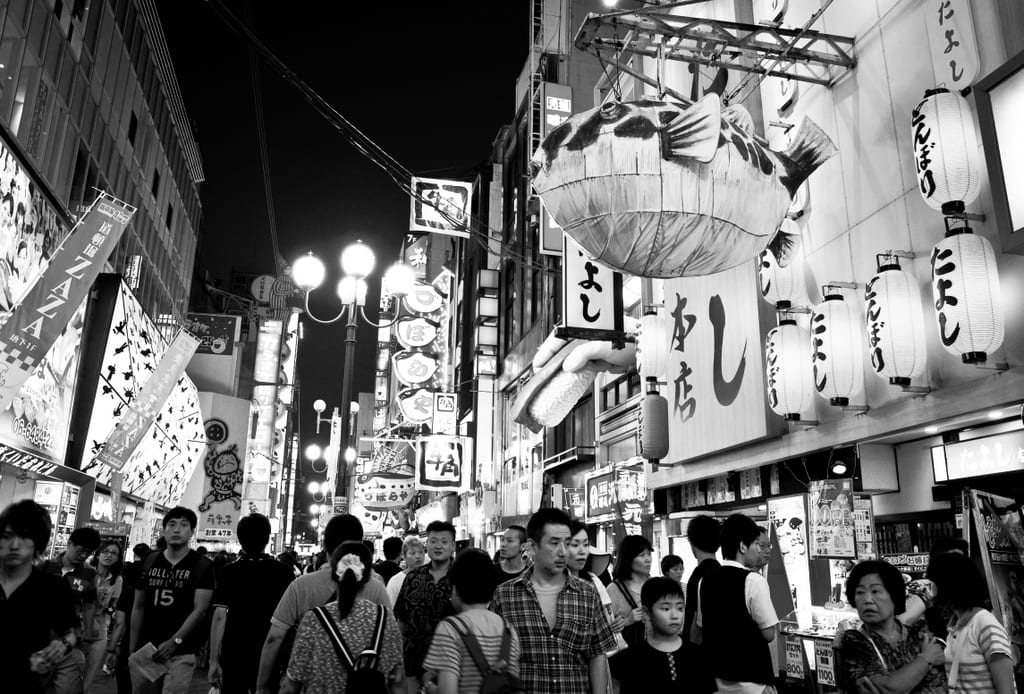 Favorite Destinations
Tokyo. I have never seen so many well-dressed women (and men, for that matter) in one place on the planet.
Osaka. Not what I expected at all — it seemed like a rougher, tougher version of Tokyo at first — but then we got to Dotonbori and saw an explosion of neon, the street food, the crazy shops. Visually spectacular.
Hongdae, Seoul. I just really like this neighborhood — it's bright, it's exciting, it's filled with crazy socks and blaring K-Pop and and street food and tons of coffeeshops. You could never be bored here.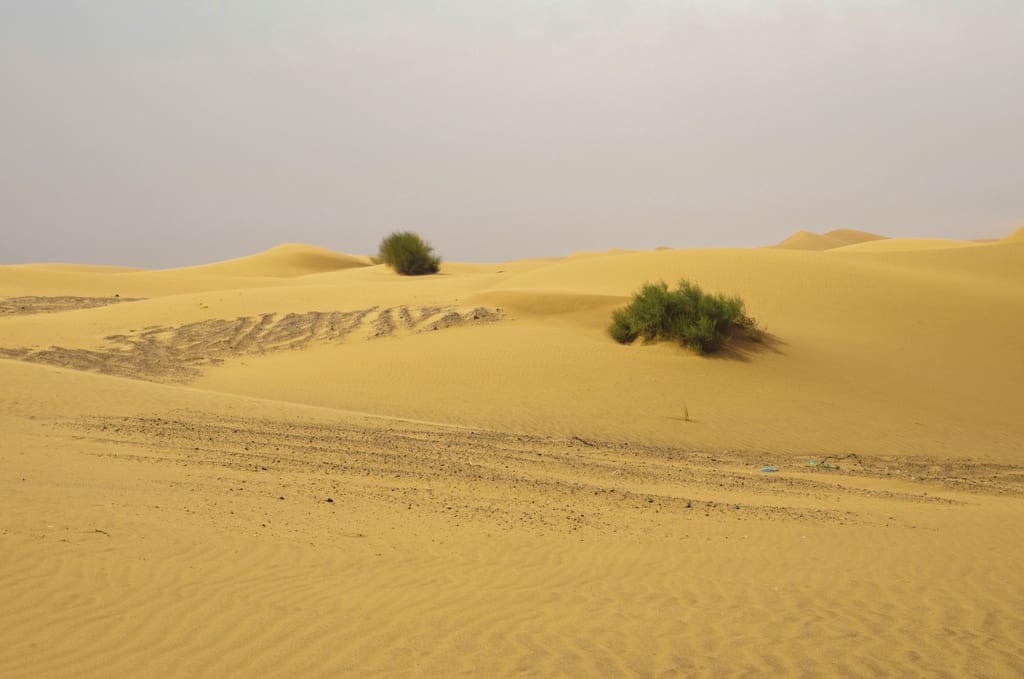 Highlights
Finally visiting the Burj al Arab and having afternoon tea while overlooking the coastline.
Every moment in Japan. Really. Everything. I have no idea how I'm going to be able to describe Japan when I finally write about it — just know that it's the kind of place
Everything we ate in Japan. I've never had such consistently good food as I did in Japan! Everything, down to the fast food, was immaculate and delicious.
And my favorite activity in Tokyo? Bar-hopping in Golden Gai. This neighborhood of tiny hovel bars may be my new favorite place on the planet to get a drink. Stay tuned for a full post.
Getting into Korean life in Yeosu. We visited our friend Heather, who has been living and teaching English in Yeosu, a small city on the southern coast, and we got to know her amazing students, hung out with tons of teachers, ate the most amazing food and had one memorable night belting out karaoke.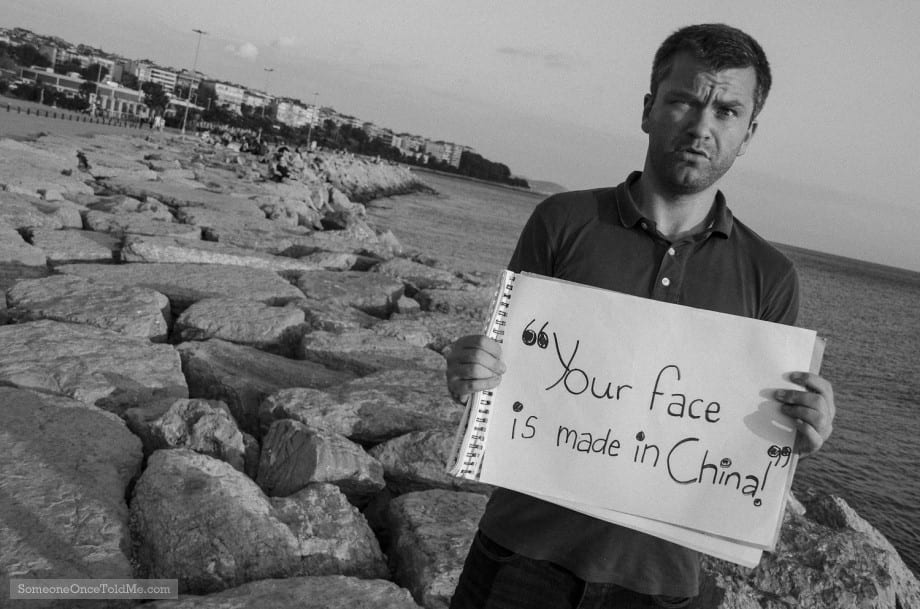 Memorable SOTM Pic
I love this shot of Tom, taken on the waterfront of Kadikoy in Istanbul. Of course, he decided to go with one of his Korean students' most creative insults. Read the story behind the picture here.
Best Thing I Ate
Have you ever traveled to a city to eat a certain delicacy? We went to Kobe just to eat Kobe beef in its hometown.
Did it meet my expectations? It EXCEEDED my expectations. This beef was beyond sensational — so rich and delicious. This is how all beef should taste, and this is how I will be craving beef from now on — eaten with chopsticks!
We had our Kobe beef at a restaurant called Steak Land, just across the street from the north entrance of Hankyu Sannomiya station (not JR Sannomiya station). Not all the beef on the menu is Kobe beef — make sure you choose a steak specifically labeled as Kobe beef! We each got the lunch Kobe beef special for 2950 yen ($30) each and the steak came with miso soup, rice, pickles, and coffee.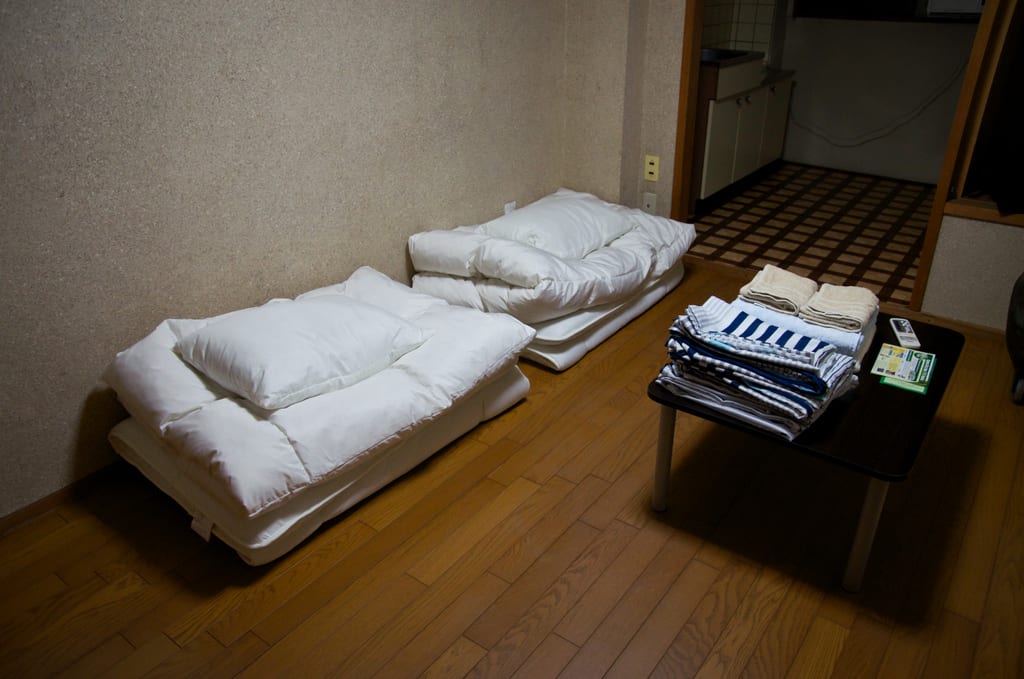 Best Place I Stayed
Believe it or not, I had never tried Airbnb until we arrived in Tokyo! I can't believe I waited this long. There are so many great deals on this site — and you can generally find a private room for cheaper than a hotel in the same neighborhood.
We stayed at a great place in Kyoto: a private room, Japanese-style with futons (very, very comfortable futons) and a toilet (the shower was shared). Laundry was free, wifi was super-fast, and the view from the roof was absolutely breathtaking. Total cost? $31 per night plus Airbnb fees (around 6-12%). $31 per night for two people! That is incredibly low.
The main drawback was its location. Though around the corner from Golden Pavilion, one of the most popular temples in Kyoto, and easily connected all over the city, the buses in Kyoto stop running relatively early (some stop around 10:30 PM). A taxi from Gion, one of Kyoto's most popular areas, will run you about 2000-3000 yen ($20-30). Eek! Don't plan on staying out late most nights.
Overall, though, this apartment is a supremely great find. If you're heading to Kyoto, check this place out — and say hi to Kazu for us. He's a cool guy.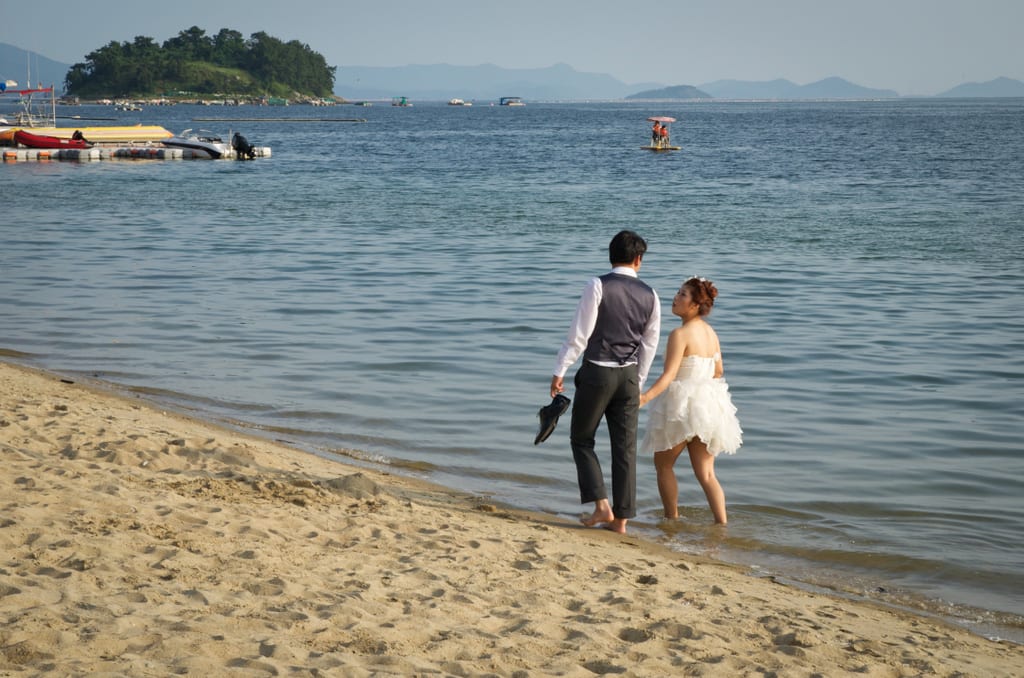 Challenges
With the amount that I crowed over finding $280 flights from Dubai to Tokyo, it's only fitting that our super-cheap flights ended up messing up enormously.
Now — nobody likes to read about crappy flights, so I won't get too into it here. Just know that our second of three flights was cancelled; Kunming airport was a madhouse; the Chinese passengers quickly got violent, we were pretty much left adrift, and very few airline employees spoke English well enough for us to communicate. Eventually we made it to Shanghai and overnighted in a hotel just outside the airport before getting to Tokyo about 24 hours late.
My tip: If you must fly internationally through China, make sure you're connecting in Beijing, Shanghai, and/or Hong Kong. Outside the major cities, far fewer people speak English and if you get stuck like we did, you'll need English speakers.
Another challenge was the heat in Japan. I had no idea that Japan got unbearably hot — and while we were in Tokyo, the mercury hit 106 F (41 C), breaking all-time records. In Kyoto, people walked around with towels around their necks to mop up their faces. I've never been so sweaty in my life!
People told us again and again that we were visiting at the worst time of year possible. Japan, not unlike Bulgaria, is best seen in the spring and fall.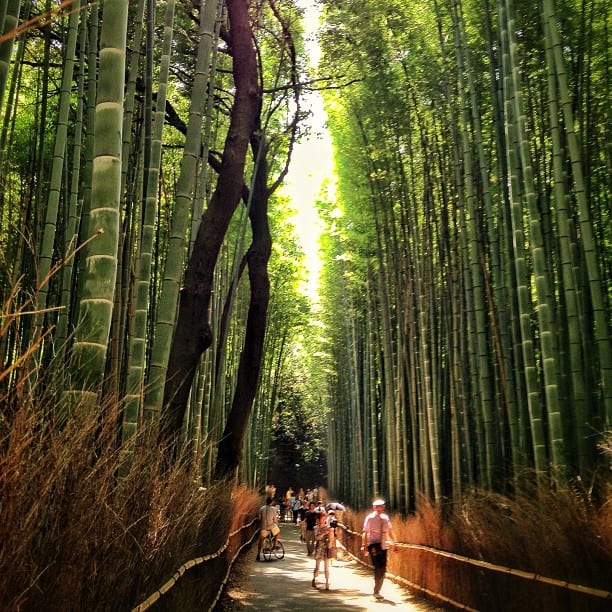 Most Popular Photo on Instagram
Arashiyama is one of the most beautiful parts of Kyoto — not least because it's home to a bamboo grove. It's a magical place to wander. I do wish we had come early or late enough to get some shots without the crowds, though.
Even so, this picture garnered 220 likes, making it my second most liked photo ever! (The Eiffel Tower sunset from month one is still #1 with 241 likes. Will we dethrone it before the end of the SOTM Tour? We'll see!)
Coming Up in Month Four
Mario and I are heading back to Seoul for five days — and then it's time for Australia! It's my first time ever in Australia — not to mention my sixth continent — and I am brimming with excitement.
We'll be starting with a week in the Northern Territory, where we will be hosted by Northern Territory Tourism. We worked together to create an itinerary that takes in the best adventures of this exciting region — while doing so on a budget.
We'll be camping in Kakadu National Park, experiencing both the sunrise and sunset at Uluru, and I just might be getting back into a tank with a crocodile in Darwin!
From Uluru we fly to Sydney for five days, then we fly to Melbourne for a full week. If you'll be in either of these cities, we'll be planning two casual meetups for hanging out, talking travel, and taking photos for Someone Once Told Me. Stay tuned for details!
On the first day of Month Five, we fly from Melbourne to Bangkok — and then Southeast Asia will be our base for the next five months.
Any suggestions for Month Four? Let me know!
Get email updates from Kate
Never miss a post. Unsubscribe anytime!