Adventurous Kate contains affiliate links. If you make a purchase through these links, I will earn a commission at no extra cost to you. Thanks!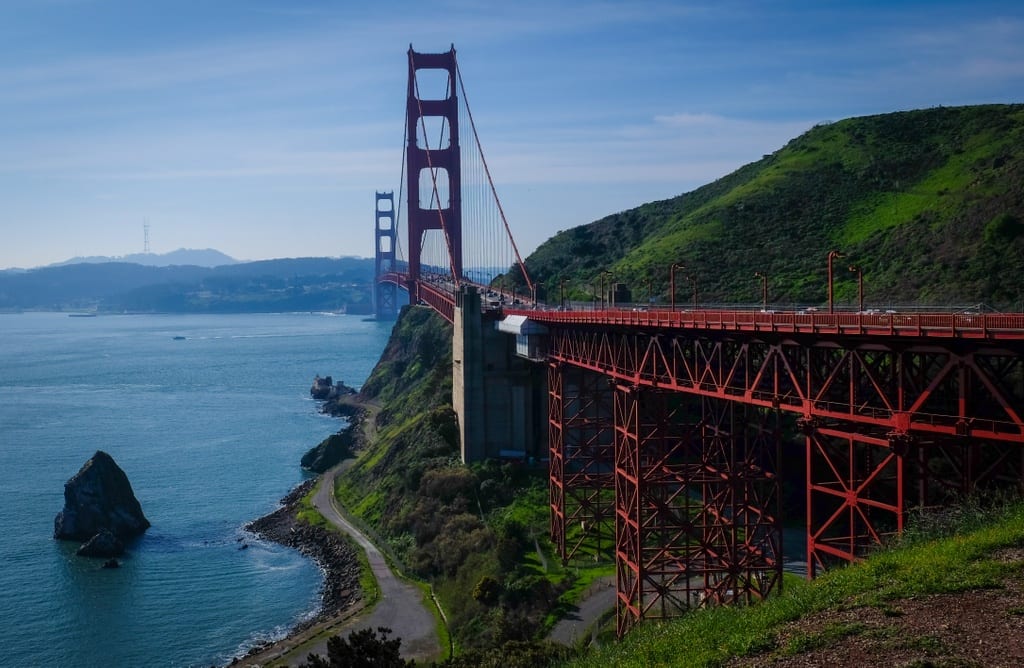 I adore California. It's my favorite state to visit as a traveler. I love the beaches, the palm trees, the laid-back attitude. And I love In & Out Burger. (I don't love how you have to drive everywhere in most places, but hey, no destination's perfect.)
But my favorite thing about California is the constant sunshine — and with it, the bountiful fresh produce. Farmer's markets are active year-round here. You don't tend to appreciate this until you've tried to find an avocado for sale in London that wasn't as hard as a rock. (Spoiler: I tried and failed.)
I visited California on a campaign for Visit California, focusing on the culinary culture of the Bay Area and Top Chef-owned restaurants. (For my international readers, the Bay Area is the area surrounding San Francisco, including Oakland and Napa Valley, which I visited on this trip.)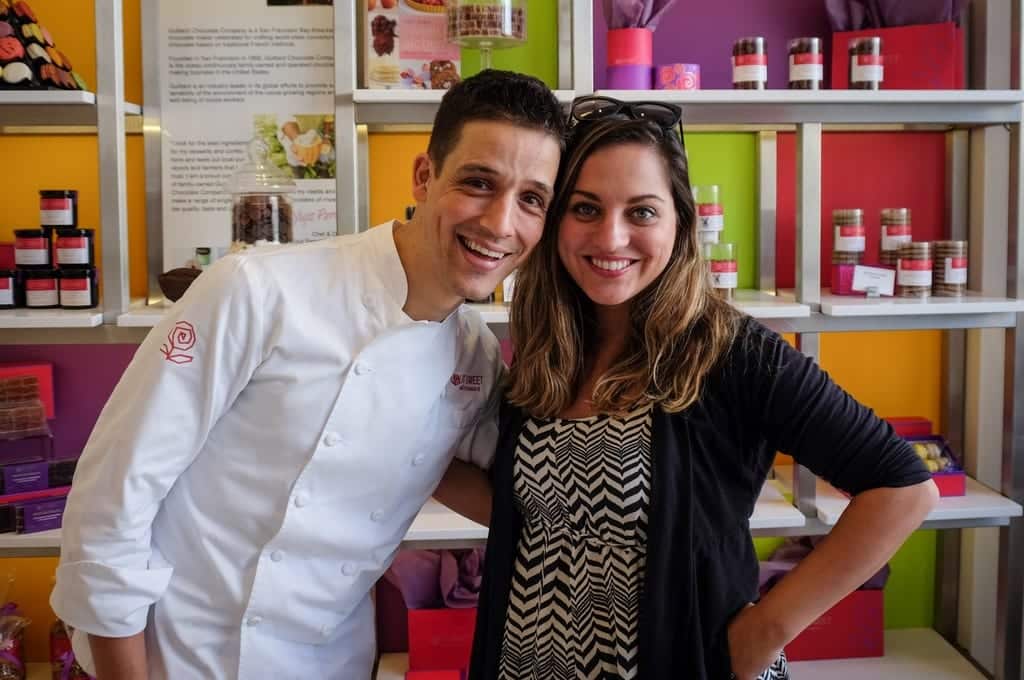 Maybe it's all the sunshine, but all of the chefs and culinary professionals were so nice, friendly, and eager to chat about food near and far! Like Yigit Pura from Tout Sweet Patisserie, pictured above.
The food was nothing short of stupendous. I decided to break down my absolute favorite dishes of the trip, so when you make your next trip to San Francisco, you can eat as well as I did!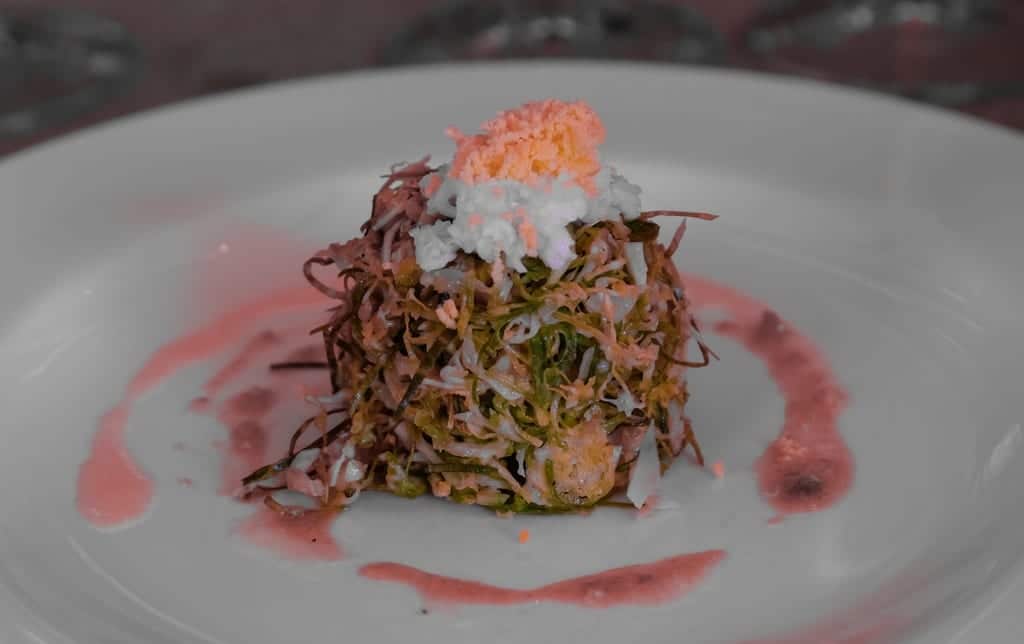 Brussels Sprouts Salad at Bottega in Yountville
If there's any dish that I yearn for weeks later, it's this — a shaved brussels sprouts salad with marcona almonds and pecorino and a Meyer lemon vinaigrette, topped with a sieved egg. I NEED TO LEARN HOW TO MAKE THIS AND IT DOESN'T LOOK TOTALLY IMPOSSIBLE TO REPLICATE. It was an absolutely perfect balance of flavors and textures and that's honestly all I can say about it.
Bottega was, hands down, the best restaurant where I ate on this trip. Every single dish was outstanding — the short ribs (mentioned below), a simple spaghetti dish inspired by Sophia Loren's hometown, a chocolate panna cotta, even the asparagus soup amuse-bouche and this fantastic dip for the bread! Chef Michael Chiarello features dishes from all over the varied microclimates of Italy.
(Just know one thing — the outdoor seating was underneath a red tarp, which gave all our photos a weird neon red tint. That's why the color is so weird on that photo — I removed all of the red, pink, and magenta so it would look somewhat normal! Cailin remarked that my original photos looked like that episode of Seinfeld when the chicken place with the giant neon sign moves next door to Kramer…she wasn't wrong. BAD CHICKEN!!)
Insalata di Cavolini di Bruxelles, $13.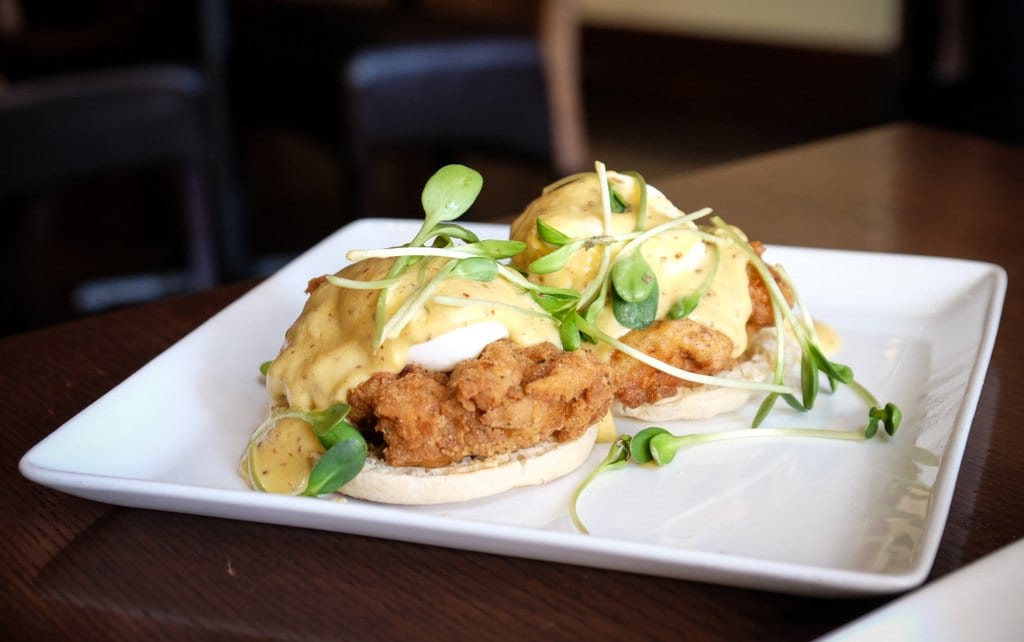 Fried Chicken Benedict at Picán in Oakland
Eggs Benedict. But remove the Canadian bacon and add a boneless fried chicken breast. And top it with mustardy hollandaise.
WHY HAVE WE NOT BEEN DOING THIS FOR YEARS?!
Picán is a kickass Southern restaurant in the heart of Oakland and they definitely don't scrimp on the decadence. Other standouts included the shrimp and grits (mentioned below), fried green tomatoes with gravlax and a kickass horseradish mascarpone sauce, and Louisiana-style beignets. And the Bloody Marys? KILLER.
Signature Chicken Benedict, $18. Brunch only.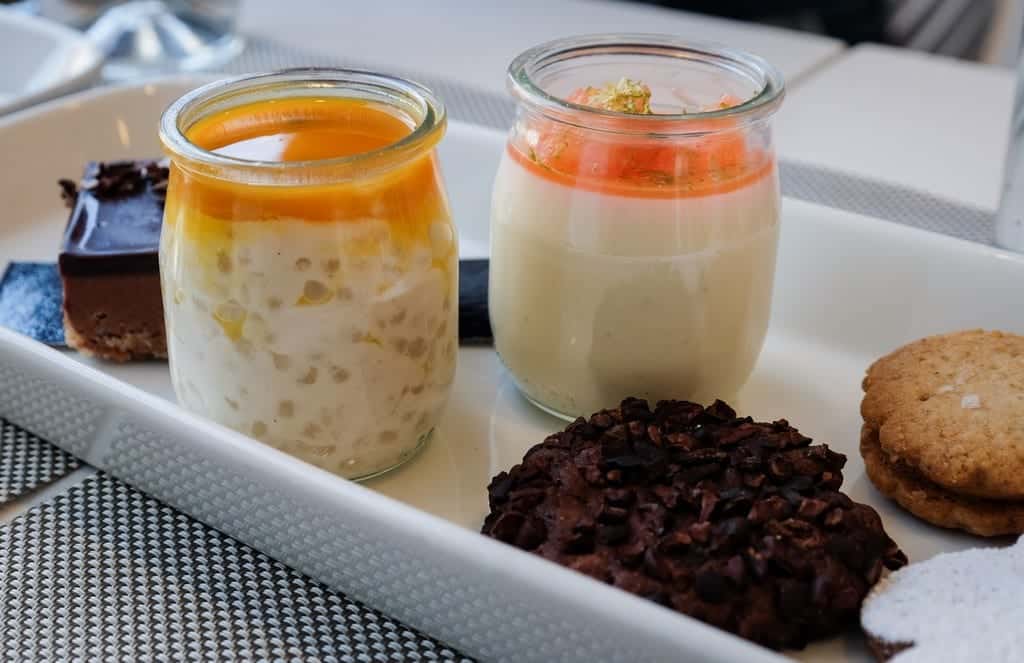 If you have a sweet tooth in the least — or even if you're like me and go for salty more often — stop in at Tout Sweet. Chef Yigit Pura, the winner of Top Chef Desserts, has created a variety of creative and whimsical desserts. And surprisingly, I didn't find any of them overly sweet!
The Maui is so simple — tapioca, coconut milk, mango. It reminded me of my favorite Thai dessert, sticky rice with mango, and it's named after Yigit's beloved dog.
Other standouts: a fabulous pineapple cake, the WTF ("what the flavor") cookie, a breakfast bar made by throwing lots of random stuff in a pan, and a raspberry pistachio macaron-like pastry.
Prices and selection vary.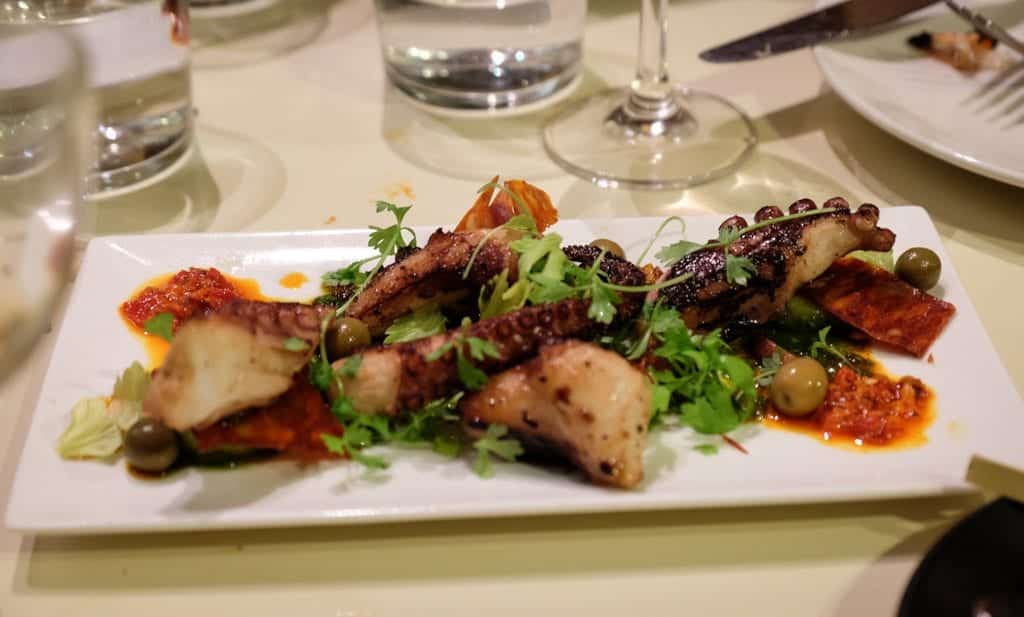 Octopus and Chorizo at Shakewell in Oakland
Who knew that octopus and chorizo was such a divine pairing? It makes so much sense once you taste it. This is actually Chef Jen Biesty's favorite dish on the menu, and it was mine as well. Octopus can easily be cooked badly, but every piece was perfect, and the chorizo lit it on fire.
Shakewell is a rollicking Spanish restaurant in Oakland and their dishes are both classic and unusual. Bacon-wrapped dates and duck liver mousse…but also a black rice dish with clams, chorizo, and saffron, among other ingredients. Chef Biesty was also a Top Chef contestant!
Spanish octopus, potatoes, celery hearts, salsa verde, arbequina olives, spanish chorizo, $17.
Braised Short Ribs at Bottega in Yountville
I couldn't just mention one dish at Bottega and call it a day — I have to mention the short ribs as well. Short ribs braised to the point that they were deeply smoky and sweet like candy, falling off the bone. This is the kind of dish you eat and make embarrassingly loud yummy noises over until it's gone.
Costolette Brasate e Affumicate, $32.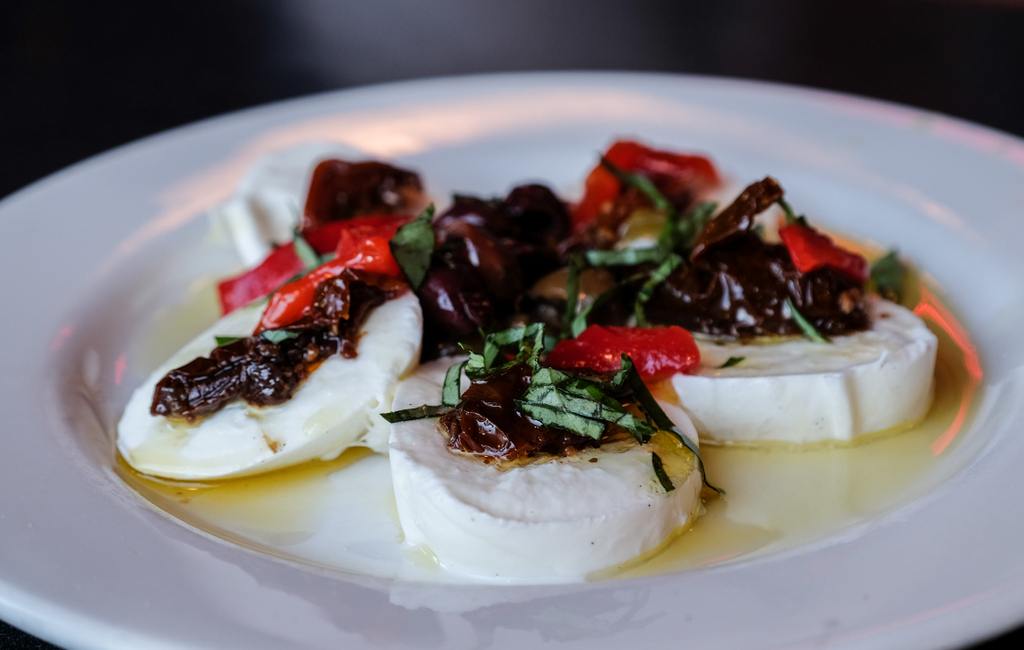 Fresh Mozzarella at Mario's Bohemian Cigar Store Cafe in San Francisco
The best Italian food starts with the best ingredients. (Why else do you think Emilia-Romagna is my favorite food region in the world? Ah, I digress…) And this mozzarella astounded me. It wasn't burratta, but the inside was so moist it was almost soupy. I'm closing my eyes and imagining spreading it on a baguette…
This was one of the first stops on the Tastes of the City North Beach Food Tour, which was led by North Beach native Tom, a hilarious guy who got just as excited about us trying the food as we did! The tour, specializing in all Italian-American food, was excellent. We were us a truly insane amount of food over a three-hour period. All of the ingredients were fresh and all the vendors were such cool people that I ended up gabbing with them for the whole visit!
Join the tour for $55.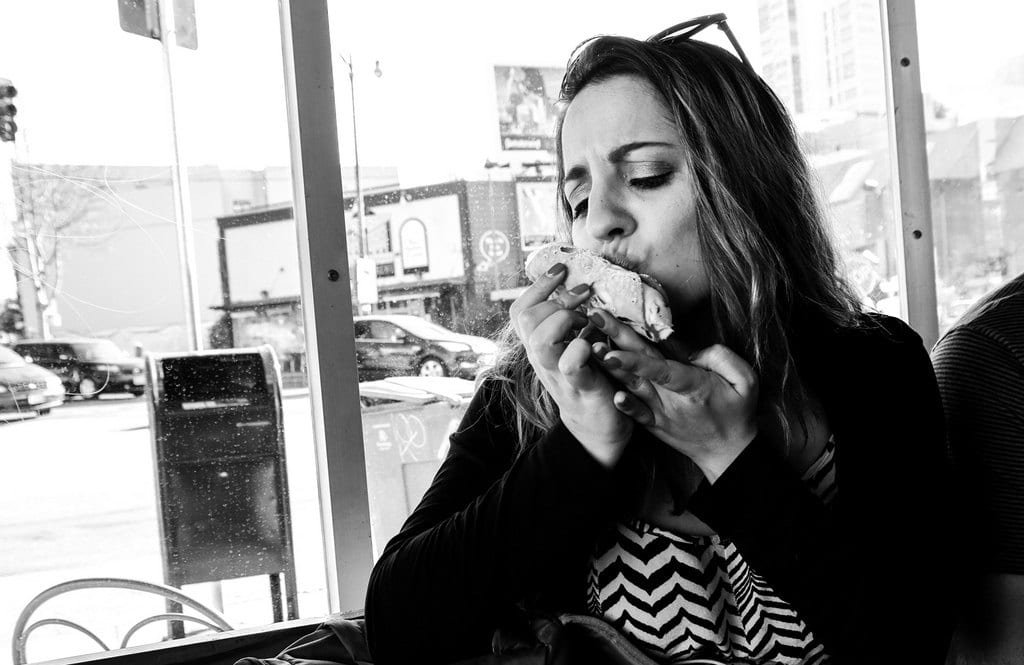 Cannolis at Victoria's Pastry in San Francisco
This was another top-notch spot on the Tastes of the City North Beach Food Tour.
If you know me, you know I'm very serious about cannolis. If you've ever asked me what to do in Boston, I've ordered you to go to Modern Pastry, NOT Mike's across the street, and get a cannoli. I won't touch a cannoli if it's been sitting around cream-filled all day.
Did these pass the test? Well, we walked in…and they were waiting for us, already filled.
"When were these filled?" I asked Tom suspiciously.
"While we were across the street," he answered with a grin.
"THEN THEY'RE OKAY!" I crowed. And they were more than okay. Flaky, creamy, sugary perfection. We had a moment, as you can see in the photo.
Join the tour for $59.
Sandwiches at Molinari's in San Francisco
Another notable stop on the Tastes of the City North Beach Food Tour was Molinari's, which looks exactly like an Italian deli should (there's a picture further down in the post). Salamis hanging from the ceiling? Check. Bright blue boxes of Baci chocolates? Check. Butchers telling people to stay away from me because I'm a Boston Sicilian? Check.
If I lived in San Francisco, I'd shop here all the time. But I settled for having a sandwich with salami, mozzarella, roasted red peppers, and pesto. Perfection inside a loaf of bread.
Join the tour for $59.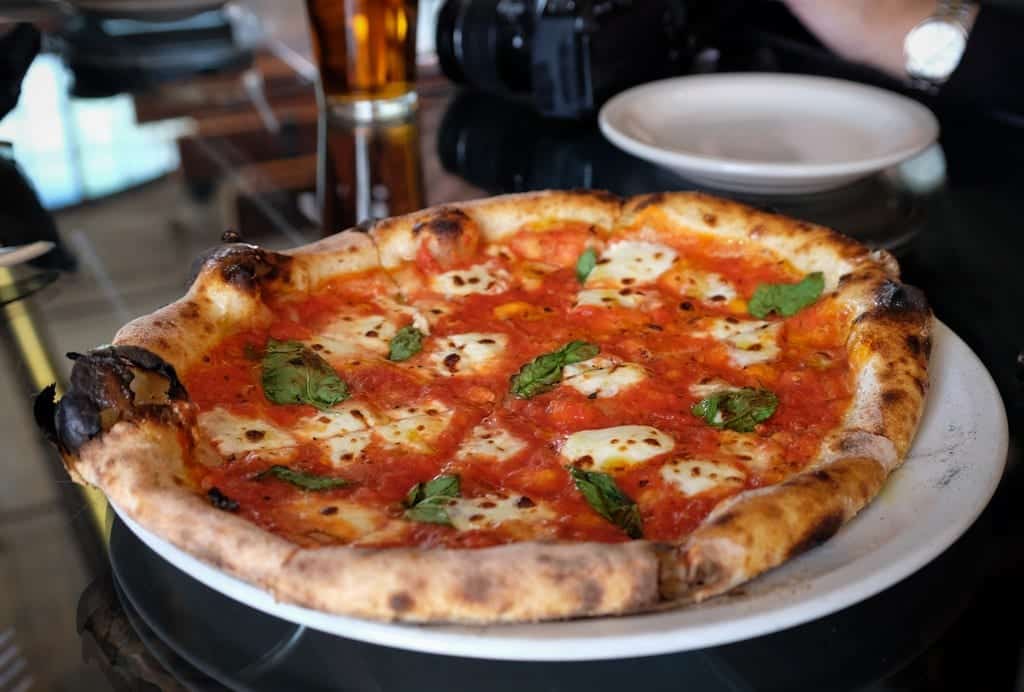 Margherita Pizza at The Forge in Oakland
As I tried this pizza at The Forge, I lit up with delight — this was just like my favorite pizza in London, Franco Manca! Neapolitan-style sourdough pizza. Could not be more hipster. The great thing about pizza like this is that it puts the toppings on display, and I couldn't get enough of the tomato sauce, which tasted like sunshine.
Also on the menu? Wisconsin-style cheese curds, delicious brussels sprouts, and a meatball pizza called Balls Deep. Which is the kind of thing I order based on name alone.
I visited The Forge as part of the Savor Oakland Jack London Square Food Tour, which is a great way to discover Oakland's culinary side as well as the city's Urban Wine Trail. They also offer a Chinatown food tour. (2023 Update: Unfortunately, Savor Oakland is no longer offering tours.)
Join the tour for $55.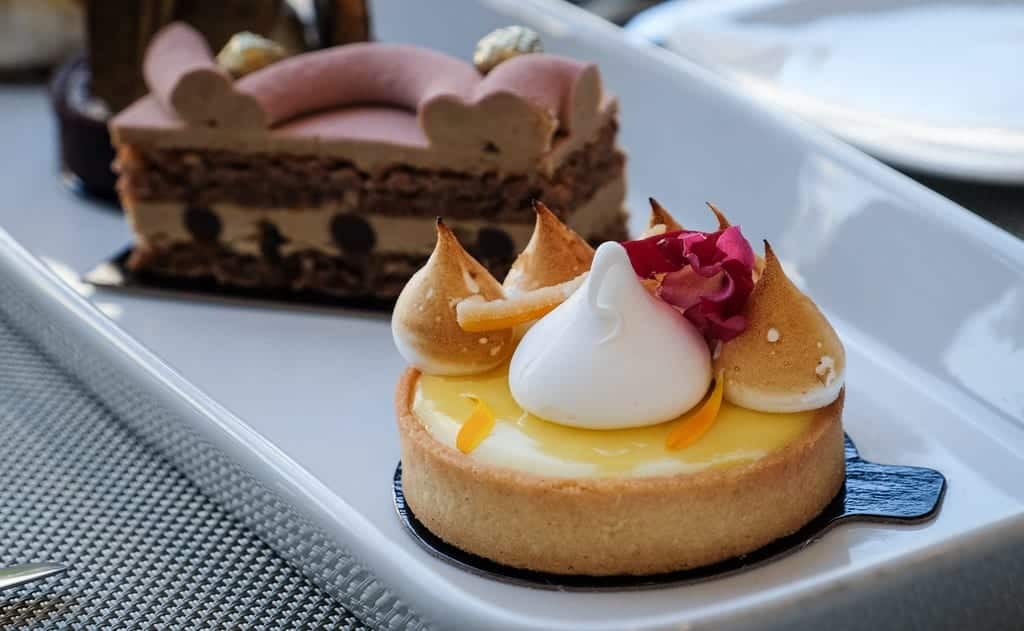 The Satine at Tout Sweet in San Francisco
My second favorite from Tout Sweet is not that double meringue lemon tart (though it was amazing!) — it's the brown pastry behind it. The Satine is named after Nicole Kidman's character from Moulin Rouge: a roasted, flourless, gluten-free hazelnut milk chocolate cake. So fancy.
(Also, guess what, celiacs? There are a few pastries at Tout Sweet that are naturally gluten-free. No recipe tweaks or crappy imitations. Just delicious desserts that happen to be gluten-free.)
Prices and selection vary.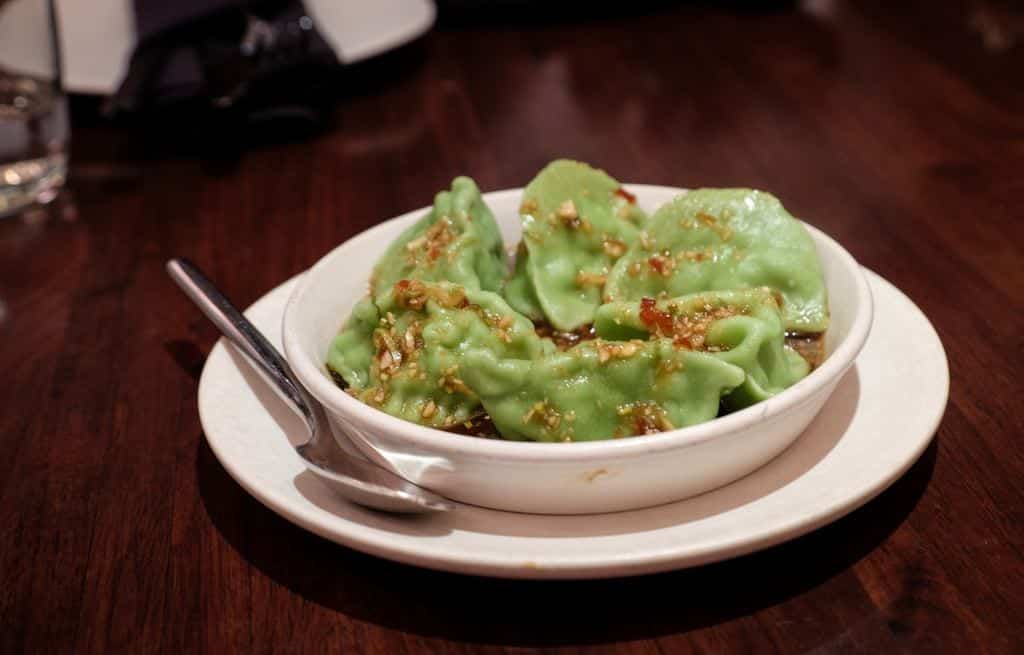 Seafood Dumplings at M.Y. China in San Francisco
You can't go to San Francisco without getting Chinese food at least once. Look for Chinese food and there will be dozens if not hundreds of recommendations. As for me? I went to the modern M.Y. China, by Chef Martin Yan, and loved everything we had, from the Szechuan green beans to the Peking duck to the crispy tofu to the black pepper-glazed sea bass.
But most of all, I loved these little seafood dumplings. The dumpling is made with spinach and the insides are filled with scallops and shrimp. They reminded me of the euphoria-inducing dumplings I had at Shandong Mama in Melbourne, Australia!
Spicy seafood dumplings, $9.
Shrimp and Grits at Picán in Oakland
One of my biggest oversights when I ate my way through the South was never getting to try shrimp and grits. And perhaps I'm doing it wrong by trying them in California…but these were so fantastic, rich and deep and barbecue-y and moist, that I have to give them a shoutout here. The fried okra was a nice touch, too!
Gulf Shrimp and Logan Turnpike Mill Grits, $18.
Jicama Salad at Mijita in San Francisco
At the time that I ate this fabulous salad, it was the culmination of a gluttonous afternoon at Tout Sweet and then the North Beach tour. But this was absolutely perfect — so light, so simple, a perfect combination of flavors. Jicama, grapefruit, avocado, pumpkin seeds. What more could you need?
Mijita is a fabulous Mexican restaurant located in the Ferry Building. It's a great spot to drop in after photographing a pink sunset on the Bay Bridge. Also try the ceviche tostadas, the margaritas, and any dish Chef Traci Des Jardins happens to come up with for a special (we enjoyed a pork neck salad with chicharones).
It was also nice getting to share this meal with Chef Melissa King from Top Chef Boston — a.k.a. the only season of Top Chef I ever watched! She's got a lot of exciting stuff planned for the next few months, including a stint in one of my favorite countries…
And as for the drinks…
Coffee. Wine. Cocktails. Three of my favorite things, and California does all three quite well. Here are my #1 favorites in all three categories:
Salt Air Margarita at Calavera in Oakland
Salt on the rim? That's been done a million times. But if you're looking for something modern, Calavera offers a Salt Air Margarita, where you get a foamy cloud of salt that just sits on your margarita! I already love this so much more than salt on the rim!
Calavera is a cool restaurant with an amazing bar area — it's all rare tequilas, white shelves, and a ladder sliding along it. Expect more on it in my Oakland post soon.
(Note that I'm holding the mini size given to us by the owner. The actual margarita you get off the menu is much larger.)
Salt Air Margarita, $13.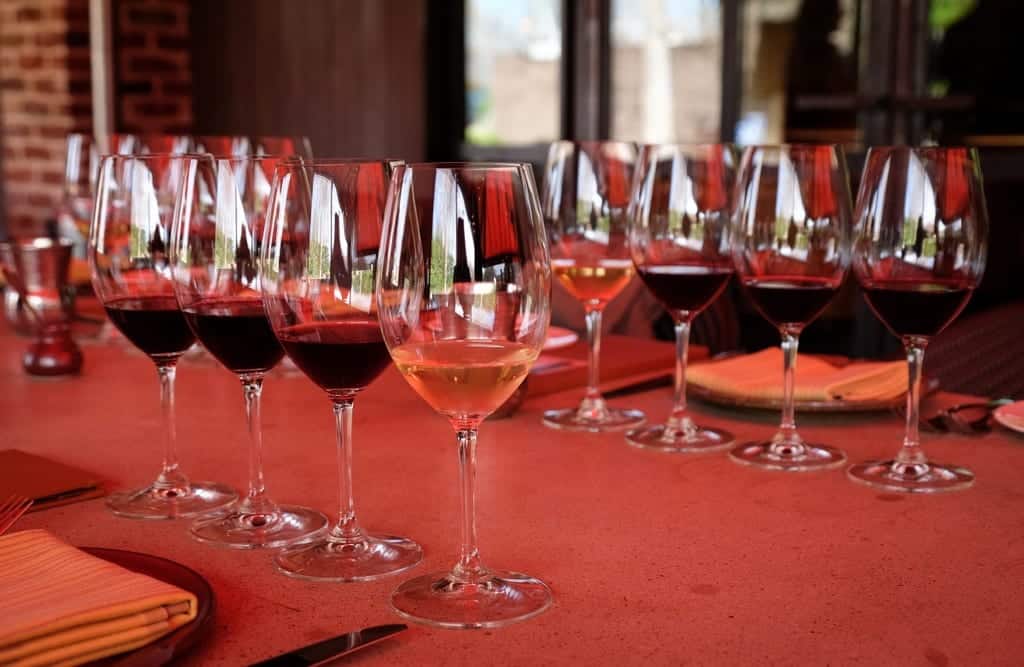 Chiarello Family Vineyards is tied into Bottega — both are products of Chef Michael Chiarello. Chef has named wines after all four of his children. My favorite was Bambino e Mamma, meaning Baby Boy and Mother, for his youngest son. I'm not good at writing about wine, so let's just say that it was exceptionally lovely.
I was ready to buy a bottle of it — then when I realized it was $75 a bottle (even if that's a good price for a wine you love!), I quickly moved on. Ah, someday I'll be able to drop money like that.
Bambino e Mamma Cabernet, $75 per bottle in the restaurant or online, or $900 for a case of 12.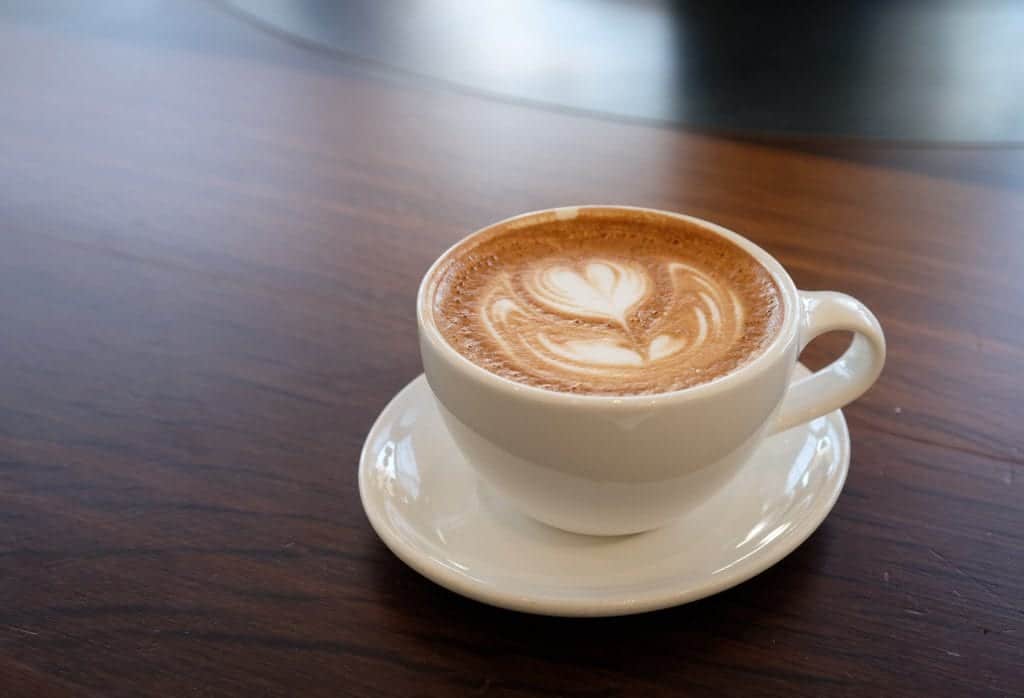 If you need some caffeination, the Bay Area has tons of fantastic options. My personal favorite was the rich, full latte I got at Blue Bottle Coffee. I visited the W.C. Morse location in Oakland location, but they have additional locations throughout the Bay Area, New York, Los Angeles and Tokyo.
Caffe Latte, $5.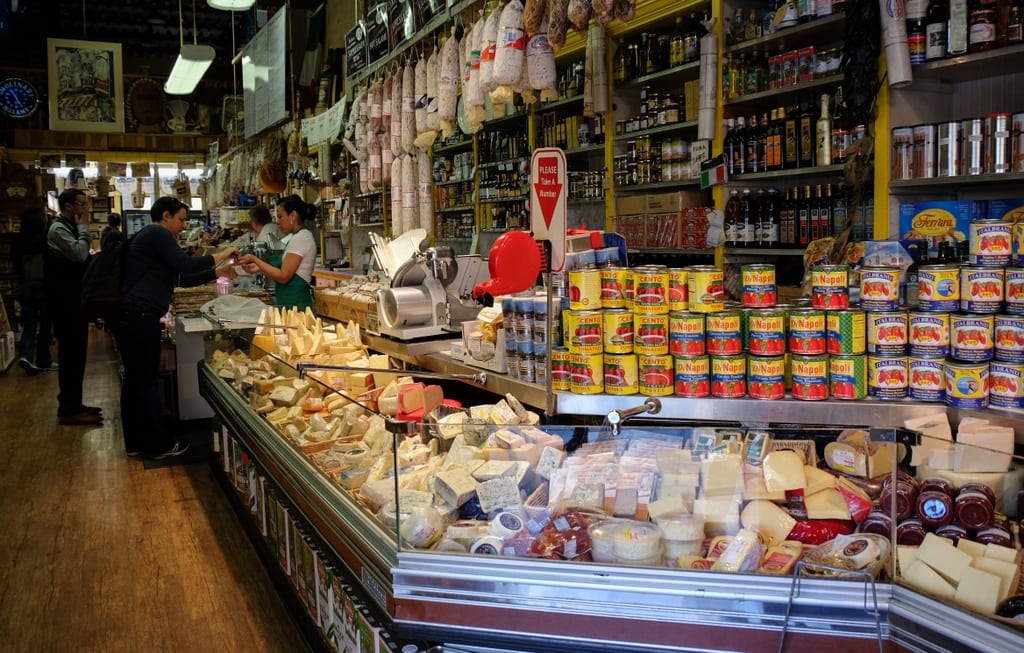 Kate's Top Recommendations for the Bay Area
Really, every place on this list is excellent. But if you ate at all of them, you would explode. Hell, I felt like the gluttony dude in Seven after packing them all into four days. My stomach hurt so much after this trip that I was carrying around ginger tea bags for days.
But if you wanted to narrow it down to three out-of-this-world dining experiences, here are the ones that I would recommend the most:
Lunch at Bottega in Yountville. Seriously, make the journey out to Napa Valley solely to eat here. Go for lunch and enjoy the outdoor atmosphere. You will not regret it one iota. This was one of the best meals of my life.
Tastes of the City North Beach Food Tour. I've done a lot of food tours and this one stands out for the quality of the food as well as the friendliness of the vendors, which is rare. Plus, Tom, the guide, is a character and a half and knows North Beach like the back of his hand. He's a little kooky in the best way possible. I loved getting to know him!
Brunch at Picán in Oakland. But you'll get more out of it if you're not from the South. Go totally decadent for brunch and be sure to top it with one of their fabulous cocktails.
That said, forget my top three — the best thing you can do is go to whatever place sounds awesome to you! Happy eating and don't forget the elastic pants!
Essential Info: Tastes of the City North Beach Food Tour costs $59 for three hours, which I think is astoundingly good value considering the quality and quantity of the food. Do not eat beforehand — you will be getting more than enough for a full meal!

Savor Oakland's Jack London Square Food Tour costs $55 for three hours, and while the food wasn't quite on the level of the North Beach tour, I found it to be a wonderful way to eat your way through a city that so many people don't know about. They also have a Chinatown food tour for $59.

While in San Francisco I stayed at two hotels: Hotel Zephyr and Hotel Zelos.

Hotel Zephyr is by Fisherman's Wharf, a touristy area that I prefer to avoid (think Times Square/Faneuil Hall). There's a lot of funky art in the lobby, including a wax statue of Leonardo DiCaprio, and rooms were very comfortable. I'd stay here if you want to be near the waterfront. Doubles from $359.

I much preferred Hotel Zelos, which was better situated near Union Square and had comfortable, luxurious rooms with crazy deep tubs, as well as a chic cocktail bar, Dirty Habit. Doubles from $348.50.

In Oakland I stayed at the Oakland City Center Marriott, which was in a convenient location and got the job done. Pretty standard, not too exciting, but very comfortable. Ask for a room with a view of San Francisco. Doubles from $189.

Are these hotels too expensive? In the past I've stayed at the Green Tortoise in San Francisco, which I think is the best hostel in the United States. It has a PERFECT location in my favorite neighborhood, North Beach. The private rooms (all with shared bathroom) are situated in a quiet house down the street from the main hostel. Free breakfast every day includes eggs (!!) and bagels (!!!), and they also do free dinner a few nights a week! Dorms from $34, doubles with shared bathroom from $80.

Find the best prices on other accommodation options in San Francisco here.

The best way to get around San Francisco and Oakland is to use a combination of public transit and Uber. (New to Uber? Get a free ride up to $15 with the promo code 9x41m.) Public transit is good in some neighborhoods but poor in others, and Uber will save you a lot of headaches. It's best to rent a car to get to Yountville and Napa Valley, but PLEASE don't drink and drive!
I was hosted in California as part of a campaign with Visit California. All opinions, as always, are my own.
Have you been to the Bay Area? Where's your favorite place to eat?
Get email updates from Kate
Never miss a post. Unsubscribe anytime!