Adventurous Kate contains affiliate links. If you make a purchase through these links, I will earn a commission at no extra cost to you. Thanks!
The best food in Italy is in Emilia-Romagna. Period. Long known as the home of parmesan cheese, prosciutto, and traditional aged balsamic vinegar, even Italians from other regions will grudgingly admit that yes, Emilia-Romagna is home to Italy's best food.
Emilia-Romagna, a northern region consisting of the western inland region of Emilia and the eastern seaside region of Romagna, may not be as famous as Tuscany or Venice — but when it comes to culinary treasures, it blows away the rest of the country.
I love Emilia-Romagna. I love the beauty of the towns. I love the people I meet. And most of all, I love the food.. I've been three times now, each time longer than the last. By this point, I think I have a pretty good idea what the best food experiences are.
Behold: the 25 best food experiences in Emilia-Romagna!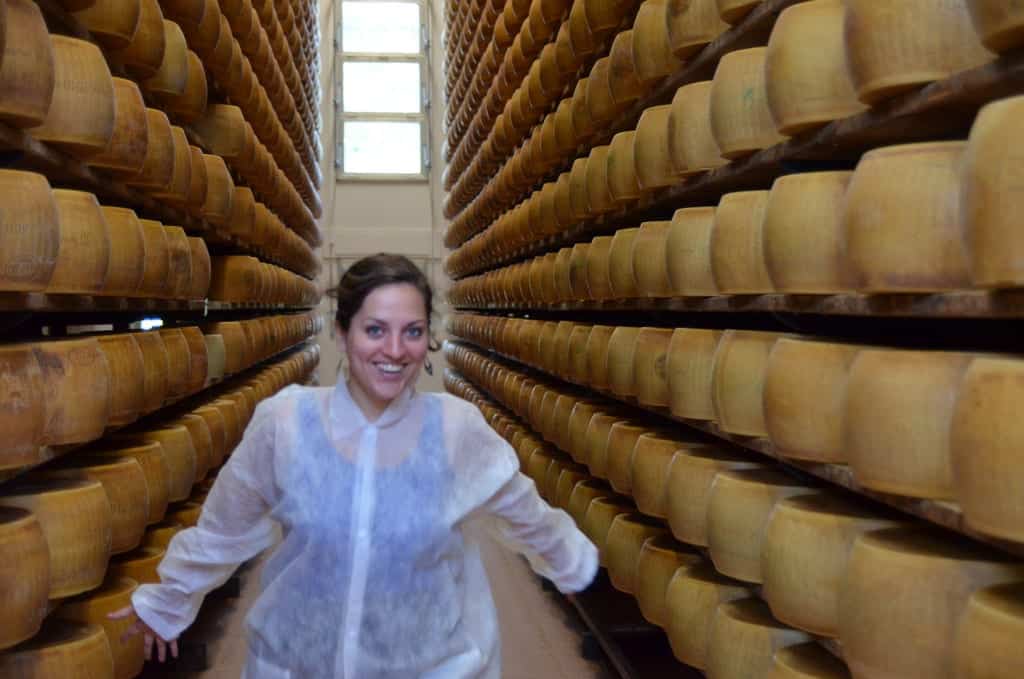 1. Running Through a Cheese Factory in Parma
Haven't we all dreamed of running through a cheese factory? This was the climax of my day touring a Parmigiano Reggiano factory just outside the town of Parma. Thankfully, Italians have a great sense of humor and indulged my whim. We celebrated by feasting on huge chunks of aged Parmigiano.
Want to do it? Book a free visit to a Parmigiano Reggiano factory through ParmigianoReggiano.it.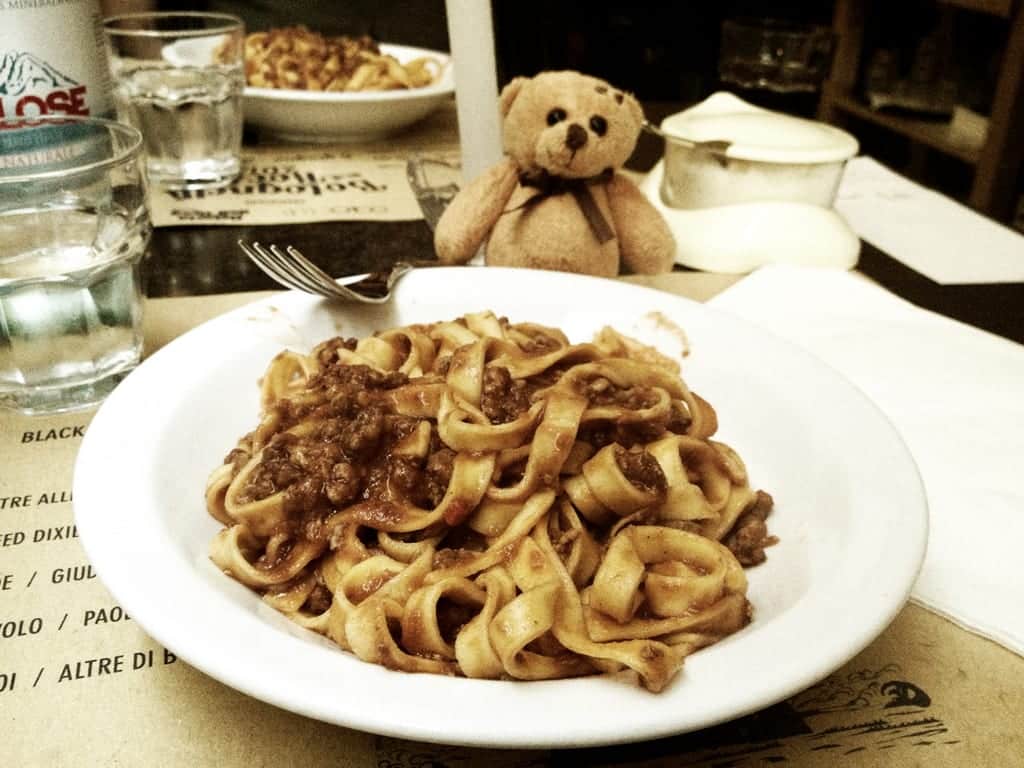 2. Tagliatelle Ragu — The Real Bolognese
Forget everything you thought you knew about spaghetti bolognese. Spaghetti bolognese is not an Italian dish — it was simply a bastardized version of what Italians, and Bolognese, actually eat.
The real thing is tagliatelle ragu — thick pasta with rich meat sauce. As if skinny spaghetti had the strength to hold up the robust chunks of meat! Tagliatelle ragu is one of the best comfort foods in Bologna, so be sure to indulge often.
My favorite tagliatelle in Bologna is at Osteria del'Orsa. It's not listed on the menu, but they make it every night. A bowl costs six euros ($8).
3. Gorging on Crudo in Rimini
Is raw seafood an exclusive domain of the Japanese? Not all all. The Italians have been serving up crudo, fresh raw seafood, long before sashimi became a trendy dish worldwide.
While Emilia-Romagna is most famous for its inland dishes, it actually has quite a bit of coastline — and with coastline comes seafood. The seaside city of Rimini is a wonderful place to enjoy a platter of velvety magenta tuna among other crudo delicacies.
A great restaurant to try crudo is Il Pescato del Canevole in Rimini.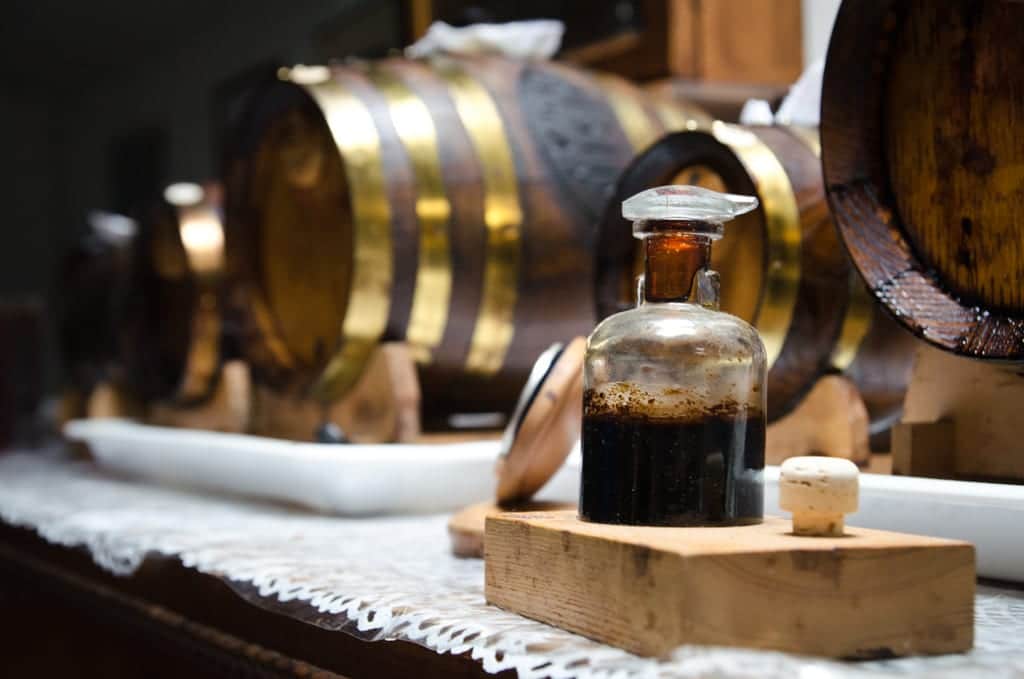 4. Tasting the Real Aceto Balsamico Tradizionale di Modena
Forget any balsamic vinegar you've tried. The real stuff, containing the word tradizionale, is aged for a minimum of 12 years, preferably for 25 or longer, exclusively in the Emilian town of Modena. It's not cheap — an 800-ml bottle aged 12 years starts at around 40 euros ($54); the vinegar aged 25 years starts at 70 euros ($95).
You don't put this stuff on your salad. Add just a few drops to risotto, frittata, chunks of parmigiano, or even gelato — and savor each bite. Balsamico tradizionale is like salt in that it elevates flavors exponentially, making every bite a borderline out-of-body experience.
Want to see it being made? Contact the Consorzio Prodottori Antiche Acetaie for a free tour at a producer in Modena.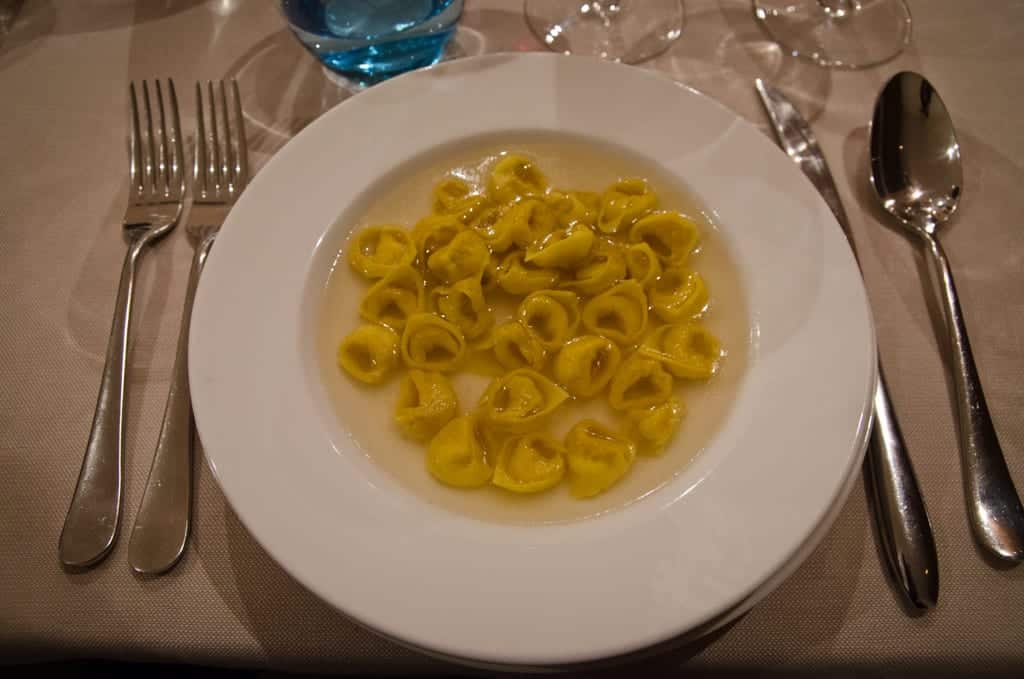 5. Tortellini in Brodo
It's traditional to eat tortellini in brodo — tortellini in broth — on Christmas Day, but there's nothing wrong with enjoying it 365 days a year! In fact, tortellini in brodo itself is like Christmas morning — since it's served as the primo piatto, or first course, you know it's just the beginning and you've got a lot of deliciousness ahead of you.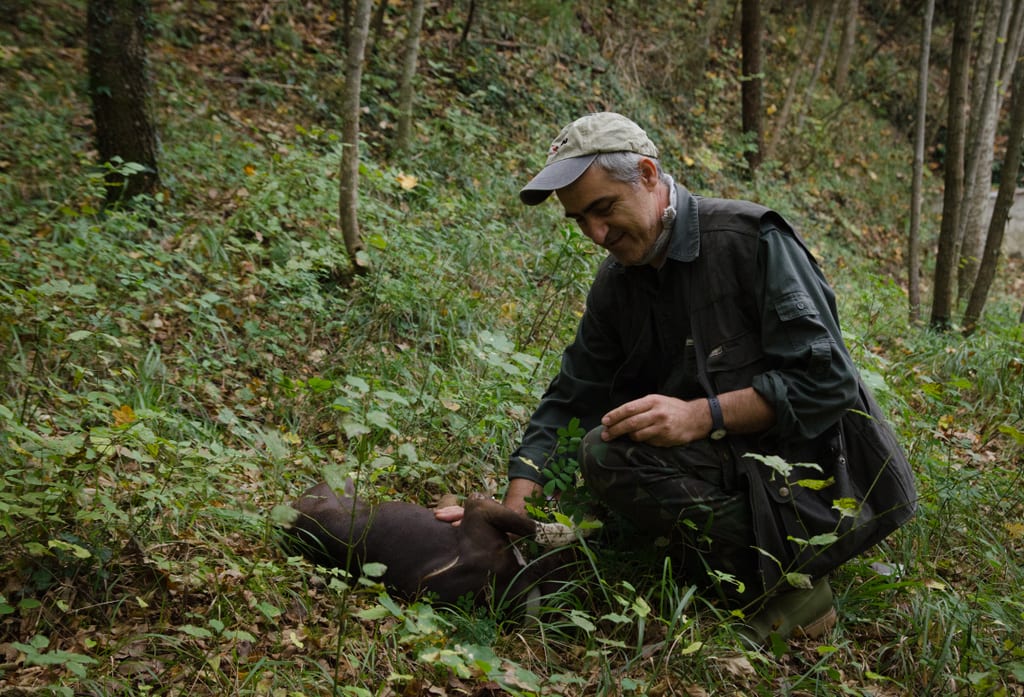 6. Hunting for Truffles with Dogs in Romagna
Even if you're not a truffle-lover — or dog-lover, for that matter — hunting for truffles with dogs is a fascinating adventure into finding where your food comes from. The dog will jump up and leap around the woods, intoxicated by the telltale smell.
The interesting thing is that truffles just grow out of nowhere underground. They can't be farmed or controlled in any way. Alarmingly, truffles in Emilia-Romagna are far more rare than they were decades ago. Combine that with the fact that Chinese "truffles" of dubious quality are infiltrating the marketplace, and a crisis could be on our hands.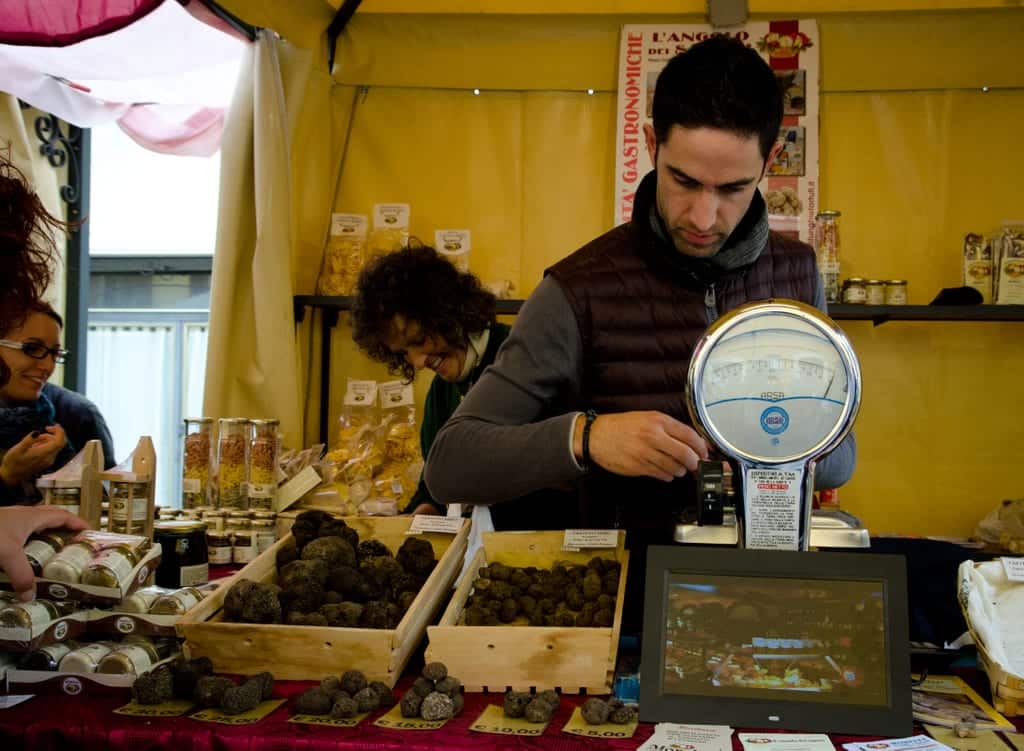 7. Celebrating Truffles in Sant'Agata Feltria
Well, if you are a truffle fan — and I most certainly am — you can't miss the truffle festival in Sant'Agata Feltria in Romagna. Here you will find thousands of euros worth of black and white truffles for sale, in addition to a tent filled with truffle-covered dishes at just eight euros ($11) each. There's something for everyone.
Besides the truffles, you can find food stalls hawking everything from truffle sauces and truffle cheeses to rich meats, sauces, and chocolates. Come to the festival hungry and you won't be disappointed.
Sant'Agata Feltria's truffle festival takes place on Sundays in October. Buses run direct from Rimini.
8. Exploring Bologna's Food Markets at Night
When darkness falls, head to Piazza Maggiore in Bologna. Just east of the piazza you'll find an electric atmosphere with streets teeming with displays of fresh produce. Head inside the shops to sample cheeses, meats, and, if you're lucky, some traditional balsamic vinegar. This is a very local experience in Emilia-Romagna, as opposed to the many tourist-oriented food markets in other regions of Italy, so you'll have good prices.
If you do plan on buying produce, here's a tip — don't touch anything! Italian shop owners will put it in the bag for you, thank you very much.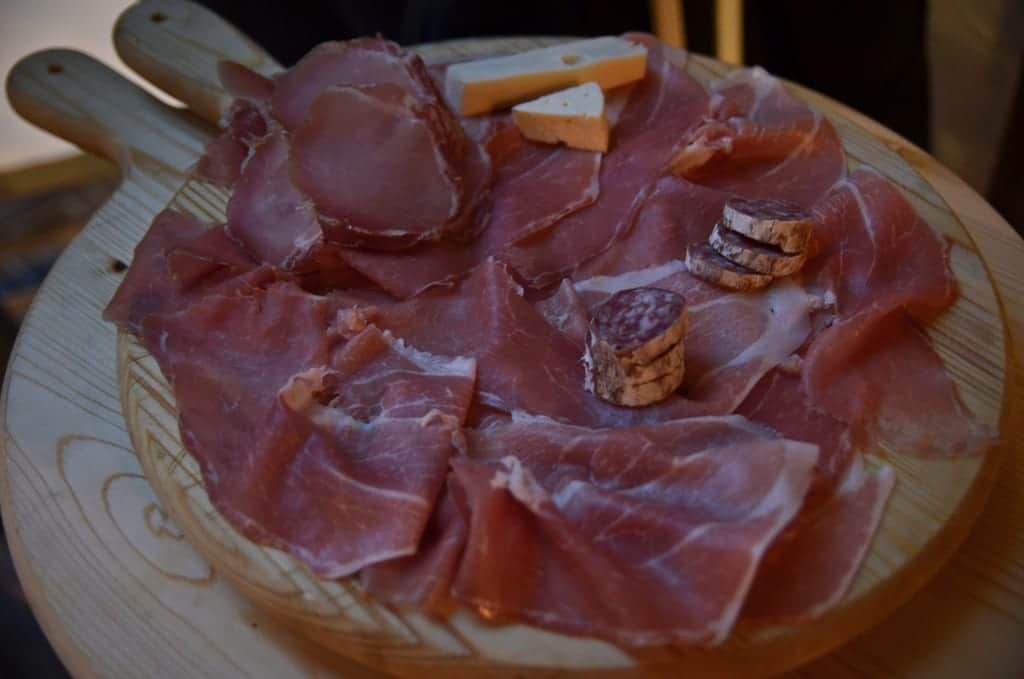 9. Prosciutto di Parma — and Salume
Without question, prosciutto di Parma — also known as Parma ham in the UK, or just prosciutto in the States — is the best meat that Emilia-Romagna has to offer. While you'll find it all over Italy, its cultural home is in the Emilian city of Parma. Oh, and what incredible meat it is. Soft and perfectly salty.
Most meals in Emilia-Romagna start with a plate of salume, or cured meats. Trust me: as a connoisseur of cured meats, nobody, and I mean nobody, does them better than Italians. Try them all!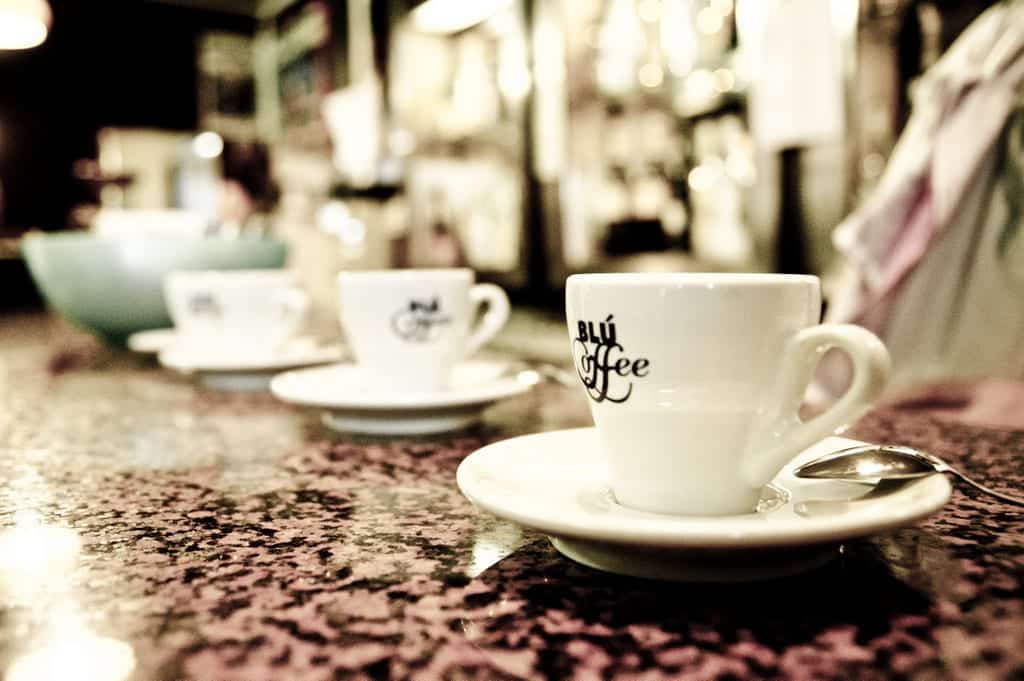 10. Caffe, Caffe, Everywhere
If you're hanging out with Italians, anytime there's a lull in conversation, you'll probably pick yourselves up and head out to a bar for a coffee break. In fact, anytime one of you is the tiniest bit thirsty, you'll head out for a coffee break! Basically, it's always time for another caffe, and you'll drink a lot of it in Emilia-Romagna.
Italians typically head to a bar (cafe) where they stand up and enjoy a caffe (espresso) or doppio (double) if they're feeling sleepy. It's consumed quickly and you go on your way. Cappuccino, though you can order it 24/7, is typically a drink to enjoy in the morning at a leisurely pace.
11. Learning How to Make Pasta in Forlimpopoli
At Casa Artusi in the Romagnan town of Forlimpopoli, you can learn how to make fresh pasta from the experts — nonnas who don't speak a word of English, but yell, plead, and cajole you into kneading, kneading, kneading until that mass of egg and flour can be cut and shaped into various pastas, from thick-cut tagliatelle to nimbly sculpted shapes.
If you want to take skills home from Emilia-Romagna, a pasta-making class is the way to ensure that your pasta will be top-notch — forever!
Casa Artusi offers pasta-making classes for 1-20 people. For information on their current offers, contact them directly. Forlimpopoli is located on the main train line between Bologna and Rimini.
12. Chestnut Gathering in Castel del Rio
In a region where every town has its signature ingredient, Castel del Rio is home to the finest castagne, or chestnuts, in Emilia-Romagna. Visit an agriturismo in the region and you can collect them for yourself! Whether you enjoy them plain and roasted, pureed into a dessert, or even made into a liqueur, these chestnuts will be some of the finest you'll ever taste.
Alternatively, stop in Castel del Rio for a chestnut-centric meal. You'll leave full and happy.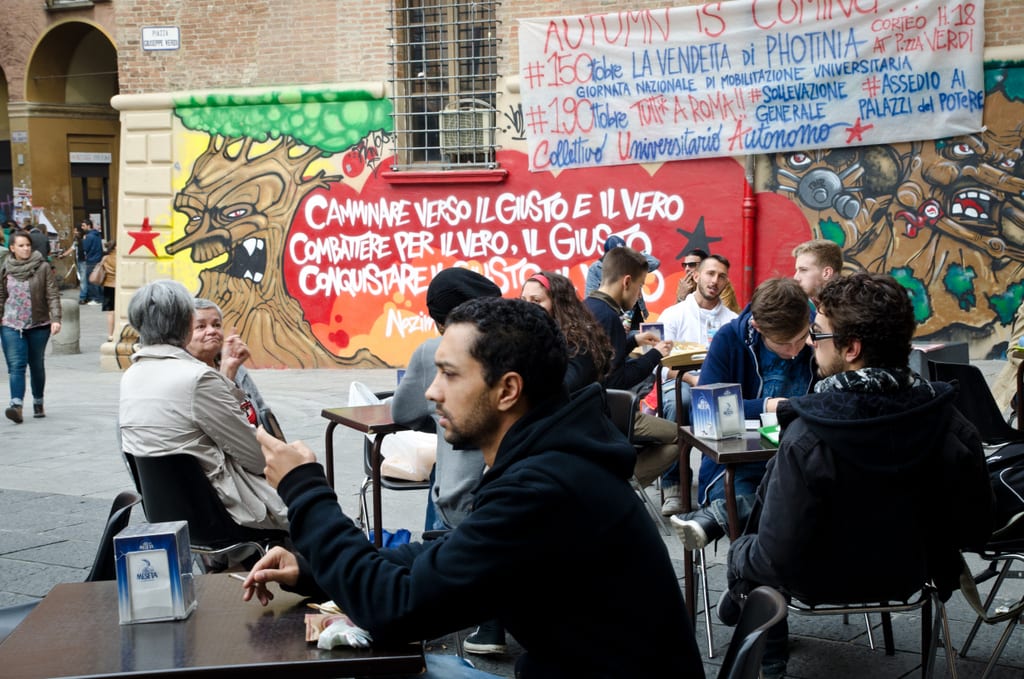 13. Cheap Student Eats in Bologna
One reason why I like visiting university towns is because you can always find places to eat on the cheap. Bologna is the ultimate university town — the Universita di Bologna was founded in 1088!
The university is located around Piazza Verdi and along Via Zamboni. You'll find lots of student lunch specials right on the piazza, and if you check out the side streets, you'll find bars, pizza places and sandwich joints where you can fill your belly for less than five euros ($7).
14. Sipping Barbarossa Wine at Fattoria Paradiso
Barbossa wine is only found in a tiny pocket within the Emilia-Romagna region, and the best place to sample it is at Fattoria Paradiso, a beautiful winery in the countryside. Barbarossa is a rich and deep red wine, and just one of them that they have on offer here.
Fattoria Paradiso is home to a host of colorful characters and quite a bit of history. In fact, Fellini's favorite wine came from here! As owner Graziella told us, "At Fattoria Paradiso, you have the feeling that the wine is something real that gives you the gift of the unreal."
To visit Fattoria Paradiso, about a one-hour drive from Bologna, contact them (click on the word "Contatti" for email addresses) for information about visits, whether for touring or dining.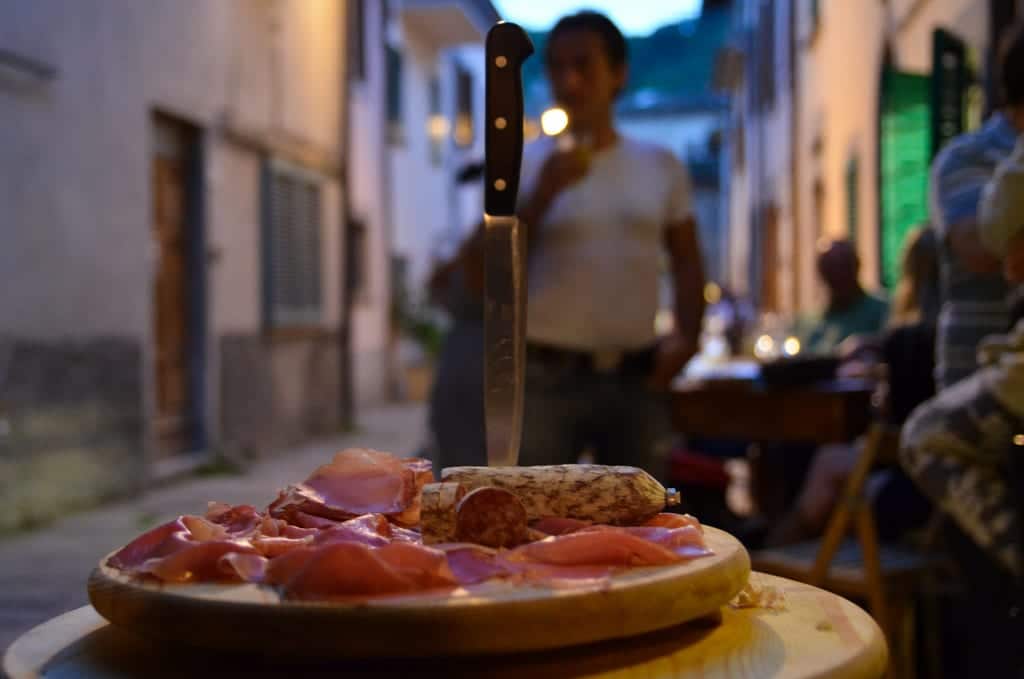 15. Stories and Salume with a Badass Chef in Bagno di Romagna
As we celebrated Blue Night in Bagno di Romagna, we were sat outside in front of the parades of children in costume, and out came our first dish: a hearty plate of salume, or cured meats. Now, salume is always good — but this one came with a giant knife stuck into the cutting board, and given by a burly, tattooed chef with a shaved head and muscles on top of muscles.
It turns out that Michele, wasn't as intimidating as he looked — and instead was full of stories from his time in the army. He went on to serve us outstanding dishes throughout the night, proving that food is definitely his calling.
Blue Night, or Notte Celeste, takes place on a Saturday in mid-June with different celebrations throughout Emilia-Romagna. Bagno di Romagna is about a 90-minute bus ride from Bologna. 
16. Stay Overnight at an Agriturismo
The Italians perfected local food tourism before the rest of us, but that doesn't mean that foreigners can't take part as well! If you're visiting Emilia-Romagna, I recommend that you spend at least one night at an agriturismo, a farm that takes in overnight guests. You'll enjoy a beautiful atmosphere and eat the freshest food possible, washed down with their very own wines, a different one for each course.
As wonderful as Emilia-Romagna's cities are, don't miss journeying into the countryside!
In Emilia-Romagna I recommend the agriturismo Isola del Sasso, just outside Bologna in the town of Sasso Marconi.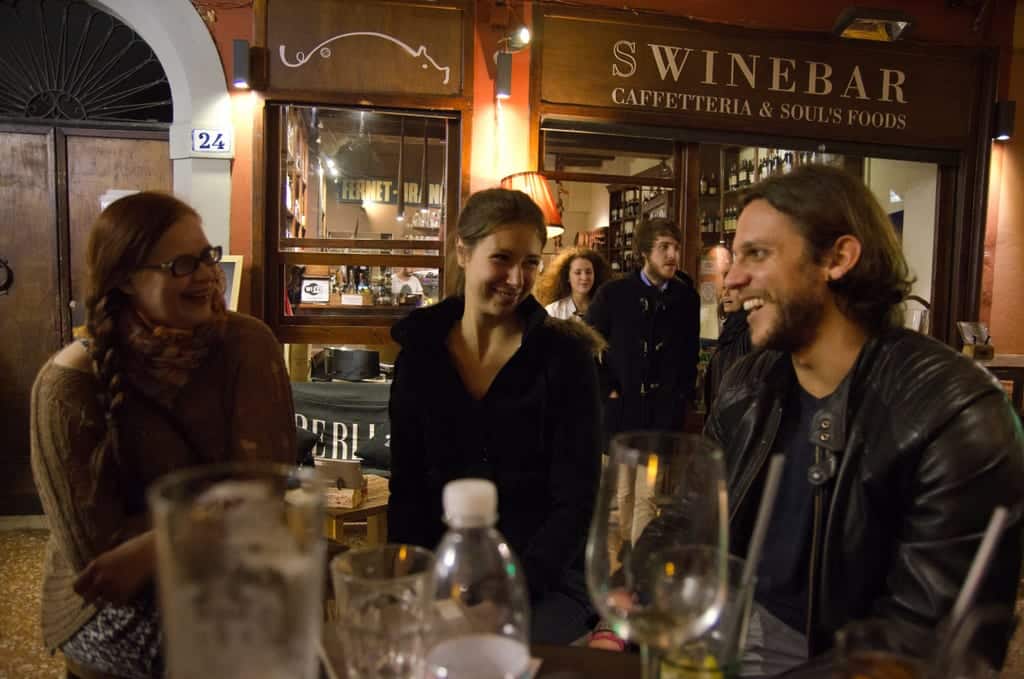 17. Aperitivo Hour in Bologna
In the early evenings, it's time for drinks and nibbles — what the Italians call aperitivo hour! Just as it starts to get dark, restaurants serve up drinks and snacks to keep you going until dinner. In most cases, you pay for a drink and get access to unlimited food. Don't go overboard, however — there's still dinner!
One of my favorite spots for aperitivo in Bologna is Swinebar, just off Via Independienza on Via Righi. As you can imagine by the name, they serve excellent salume. A glass of the best red wine along with the aperitivo buffet costs 7 euros ($9.50).
18. Meeting Food Artisans in Sasso Marconi
Sasso Marconi, just outside Bologna, isn't the kind of town that gets a lot of tourists. For that reason, Tartufesta, a Sasso Marconi festival featuring truffles and other delicious local food, is a great place to get to know the farmers and artisans without dealing with huge crowds of tourists.
Each of the vendors are eager for new people to discover their food products — and will talk endlessly with anyone who will listen, even if you don't speak a word of Italian. Andrea of Birra del Reno, himself an English speaker, talked to us about his red craft beer and poured us generous samples. Until this day, I had no idea that craft beer had a presence in Italy.
Tartufesta generally takes place on the weekend in late October and early November in Sasso Marconi. You can find the dates here.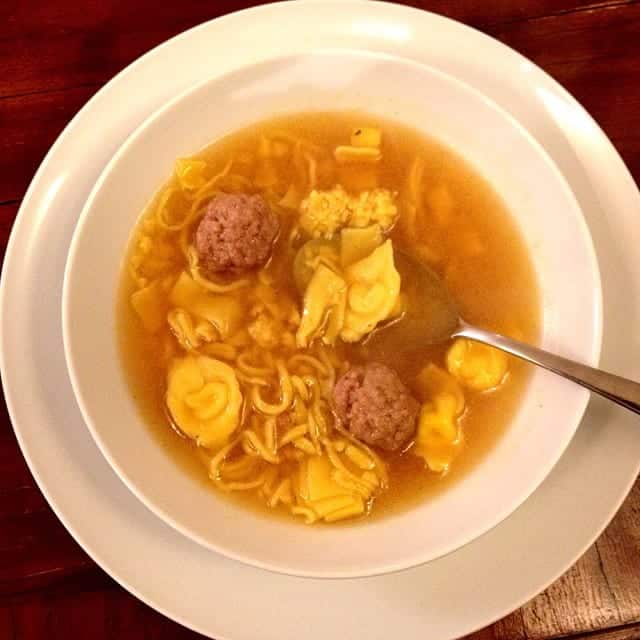 19. Home-Cooked Meals in Bologna
I was lucky to have my most recent Blogville tenure coincide with that of French Canadian food blogger Caroline. She is a fabulous chef, and many nights she treated me to her latest concoctions. The absolute best was a parmigiano risotto drenched with generous droplets of balsamico.
In addition to artisinal food shops, I always love visiting grocery stores around the world. Italy is home to some great ones. Just be careful not to go too crazy at the cheese counter!
If you want to cook during your time in Emilia-Romagna, I recommend you rent an apartment with a kitchen. Airbnb is my go-to resource.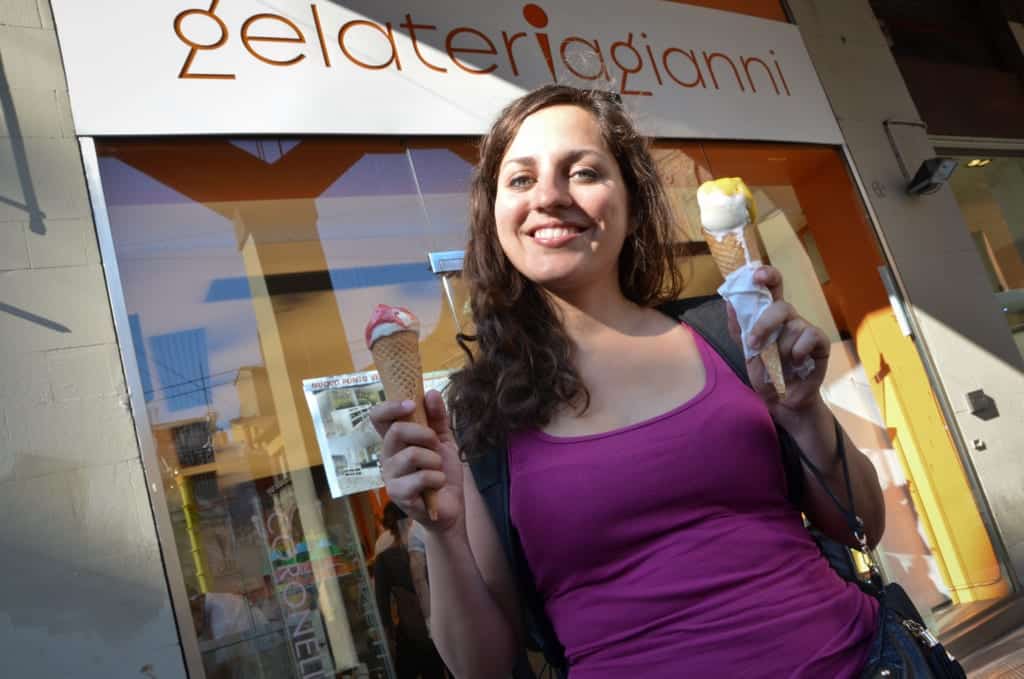 20. Gelato Bliss in Bologna
I'll be honest — Gelateria Gianni isn't everyone's favorite gelato place in Bologna. But it's mine. And it's FABULOUS. This gelato is so creamy, sweet and delicious, and they have some unusual flavors, including one named after the towers of the city.
My favorite flavor combination: Samurai (ricotta and cream with a bit of chocolate) and fragola (strawberry).
There are a few locations of Gelateria Gianni, and I go to the one right in front of the two towers. I recommend using it as a reward after climbing up and down the Torre Asinelli. Talk about motivation!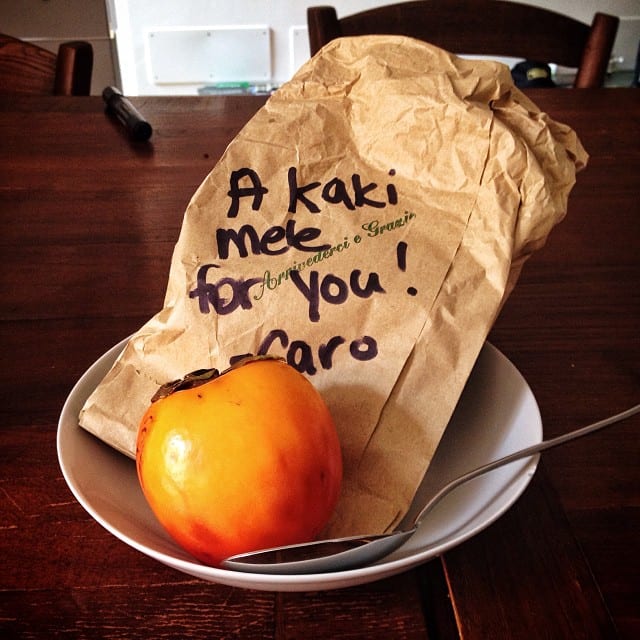 21. Kakis — and Fresh Italian Produce
If you're visiting Italy from the US for the first time, you'll most likely be struck by how impossibly fresh all of the fruit tastes. In Emilia-Romagna, the food pulsates with incredible levels of flavor.
You know all those expensive tomatoes imported from Italy that you can buy at Whole Foods? They're pretty much the rejects. That tells you about the caliber of Italian produce.
My new favorite Italian fruit is the kaki mela — or persimmon. They are deliciously light and fruity, and if you eat them at their ripest, you'll need to eat it in a bowl with a spoon! They're so juicy that they drip all over the place.
22. Piadina Perfection in Rimini
Piadine (the plural of piadina), pressed flatbread sandwiches, are a common meal or snack in Romagna. You'll probably have eaten lots of them after a trip to Emilia-Romagna. I recommend any kind with spicy salami.
For the fancier, more upscale piadine that you can make yourself, head to Nud e Crud in Rimini. This piadineria has lots of delicious fillings and some outlandish options, including a surprisingly delicious hamburger piadina!
23. Getting Into Gluten-Free Fare
Great news, celaics: Italy is a phenomenally celiac-friendly destination. One reason is that Italy is very celiac-aware, with most children being screened for celiac disease; another is that Italians have been using different varieties of flours, many of them naturally gluten-free, for centuries.
At Tartufesta in Sasso Marconi, a zesty nonna armed with power tools made us fritelle di castagne — fried chestnut pancakes with golden raisins. They were like a cross between conventional American pancakes and fried dough — and because of the chestnut flour, they were gluten-free.
A lot of my celiac and gluten-intolerant friends have thought that visiting Italy was out of their reach, and each time I've been happy to tell them that they will be able to eat so well gluten-free in Italy — and best of all, in Emilia-Romagna.
For more reasons about why Italy is a great destination for celiacs, this post from Legal Nomads is an excellent resource.

24. Eat Locally at a Zero-Kilometer Restaurant in Bologna
The Slow Food movement has spread all over Europe, and one way it has done so is through "zero-kilometer" restaurants — restaurants that commit to having a percentage of their foods sourced within close proximity to the restaurant. I love this idea, and I hope it continues to grow around the world.
We tried it out at Marsalino, a zero-kilometer restaurant in Bologna, and we were given plates of fresh produce, salads with fresh cheeses, vegetables, and seafood, and crostini topped with ragu (I am drooling at the memory). As far as local food goes, there's no better place to experience it than Emilia-Romagna.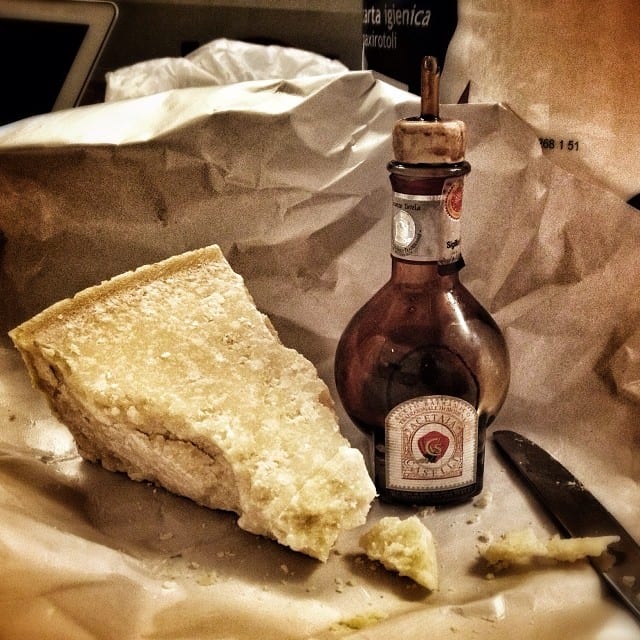 25. Emilia-Romagna's Best Snack: Parmigiano and Balsamico
Arm yourself with a block of parmigiano reggiano, preferably aged 36 months, and a bottle of aceto balsamico tradizionale di Modena, preferably aged 25 years.
Sprinkle luscious droplets of the balsamico on the parmigiano, and be in ecstasy. After all, sometimes the simplest food combinations are the most delicious. I think this is what I miss from Emilia-Romagna the most.
Are you hungry yet?
Planning a Trip to Italy:
Cool Places in Southern Italy:
Cool Places in Sicily:
Cool Places in Northern Italy:
---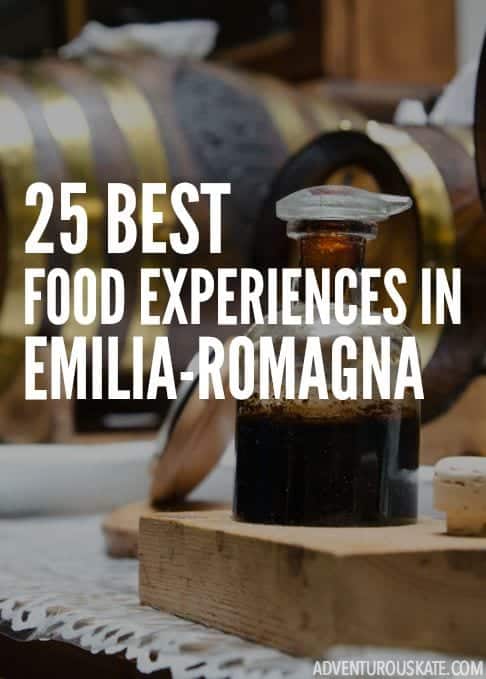 This is a Blog Ville campaign, created and managed by iambassador in partnership with the Emilia-Romagna tourism board. AdventurousKate.com maintains full editorial control of the content published on this site.
Get email updates from Kate
Never miss a post. Unsubscribe anytime!