Adventurous Kate contains affiliate links. If you make a purchase through these links, I will earn a commission at no extra cost to you. Thanks!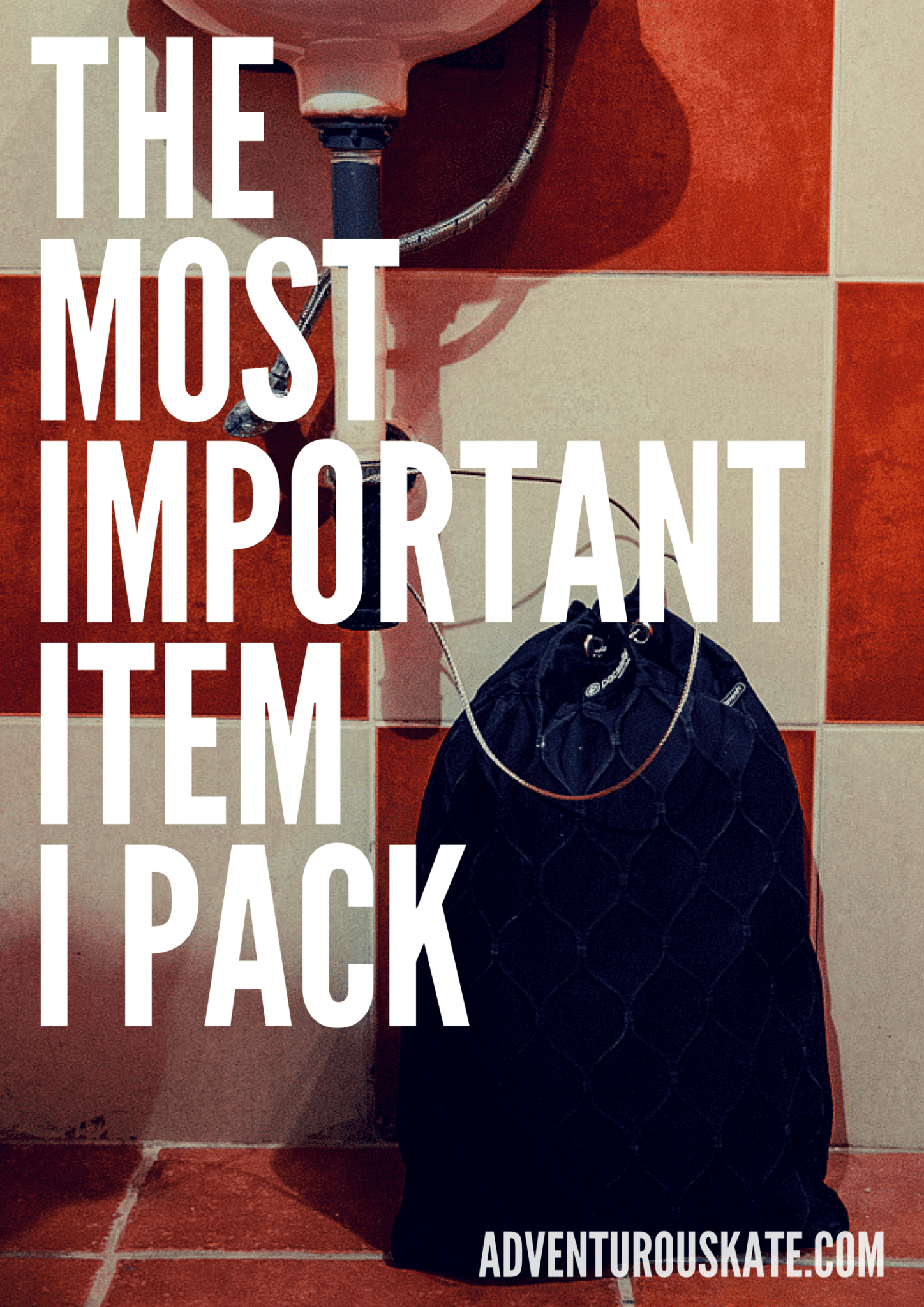 The single most important item I pack on my travels is my portable safe: my Pacsafe Travelsafe 12L.
For years, I've been recommending this product to every traveler I know. Budget, luxury, mid-range, family, solo, everything. I've urged everyone coming on our Central America tours to buy one for themselves.
And yet so few travelers have a portable safe. It blows my mind; I honestly think everyone should own one of these.
I use my TravelSafe to keep my valuables safe in my accommodation, whether it's a hostel, a guesthouse, a hotel, or a rental.
Yes, hostel dorms almost always have lockers. (I've stayed in more than 70 hostels around the world and only three of them didn't provide lockers in the dorms.) And nicer hotels often have safes.
But those hotel safes are often tiny — I can barely fit in more than my passport and Macbook Air.
And what about guesthouses, Airbnb rentals, and hotels that just don't have safes? What would you do if an unscrupulous employee, another traveler, or someone off the street broke into your room and saw your expensive items lying around, plum for the taking?
Yes, in a perfect world, nobody would break into your room and steal your things. Most travelers are kindhearted, most accommodation wouldn't want the bad publicity. But robberies still occur on the road, perpetrated by both locals and fellow travelers. For that reason, we must protect ourselves.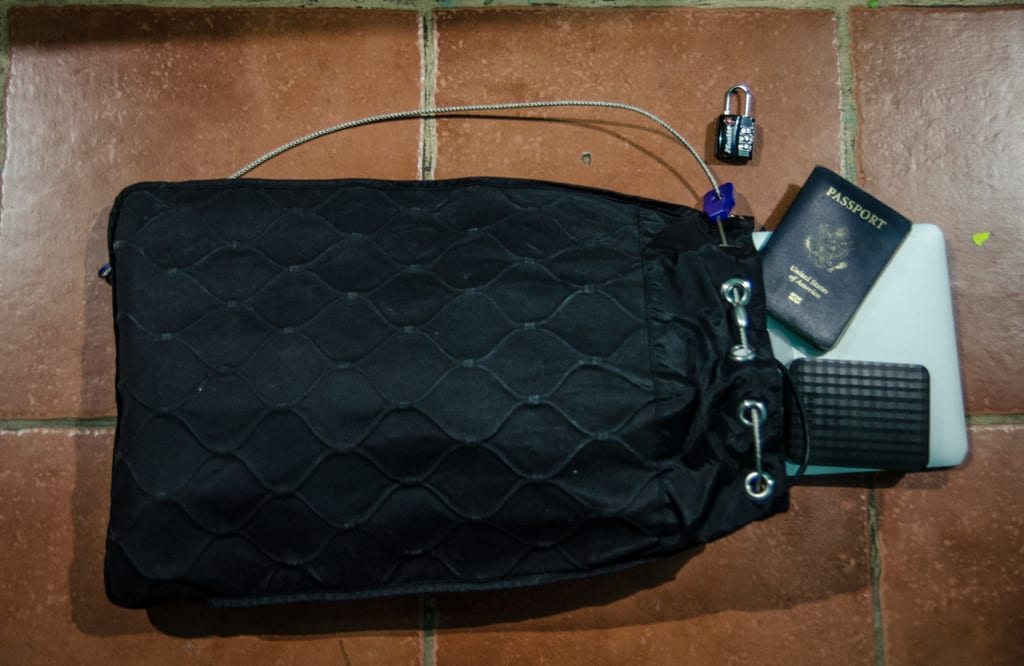 Enter the Pacsafe TravelSafe
The Pacsafe TravelSafe is a mesh-lined black bag anchored by a cord that you can fill, close, and lock to something sturdy in your room.
I keep all my valuables in my TravelSafe: my passport, laptop, DSLR camera, external hard drives, sometimes credit cards. I only take them out when I need to use them.
Because of this, I don't have to carry all my valuables with me whenever I leave my accommodation. Only when I'm in transit.
How to Use the Pacsafe TravelSafe
Step 1: Put your valuables into the TravelSafe.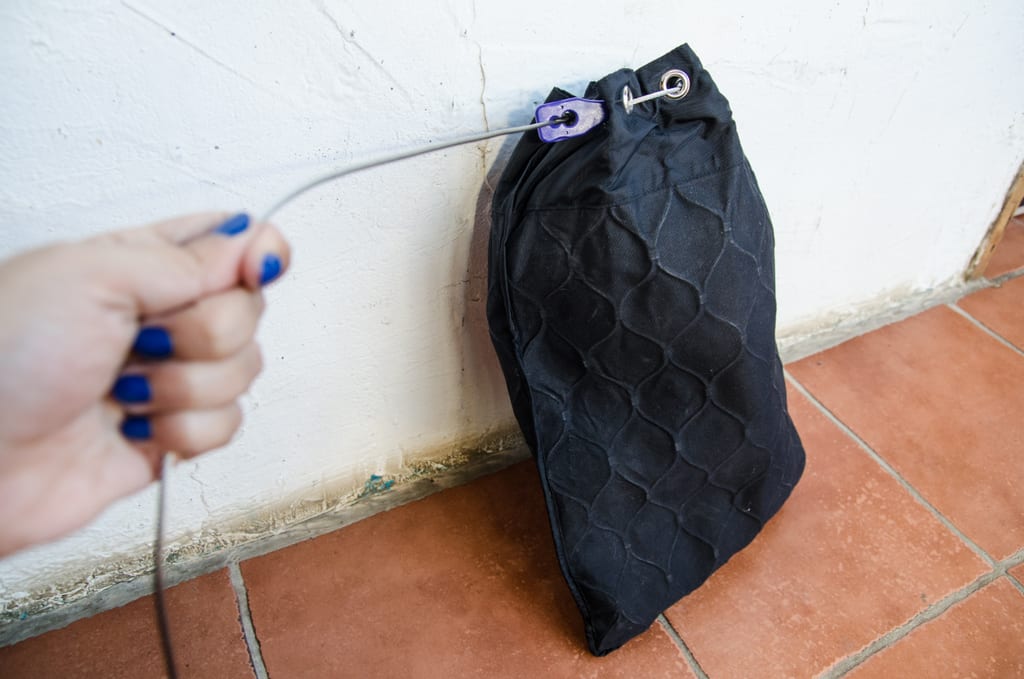 Step 2: Pull the cord tight, pulling the bead through the keyhole.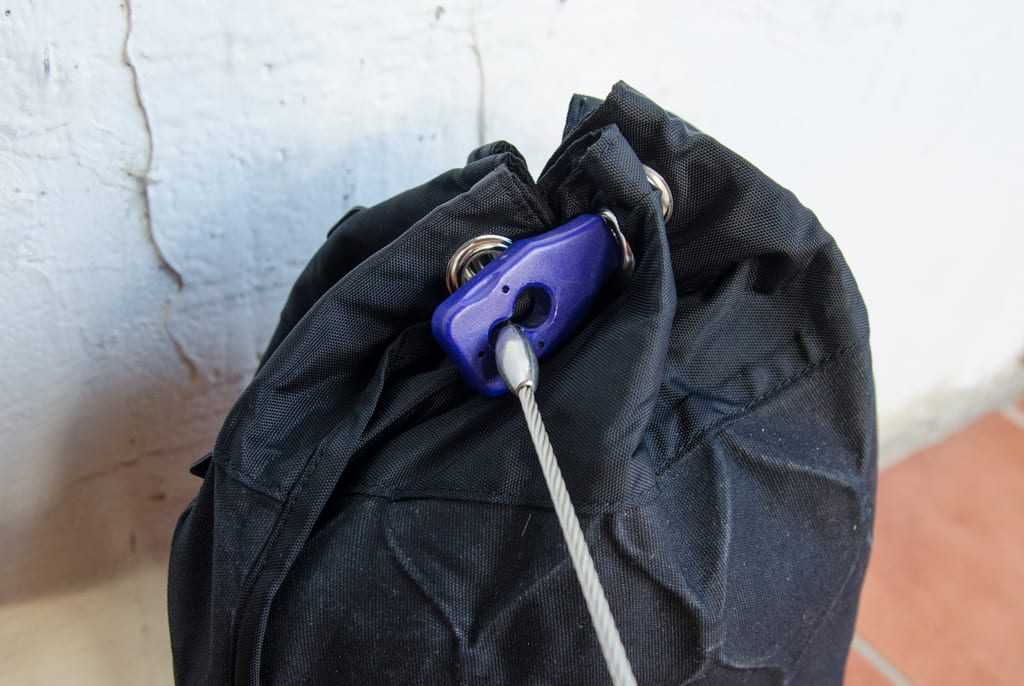 Step 3: Pull the cord into the smaller hole of the figure-8-shaped keyhole, keeping the bead pulled through it.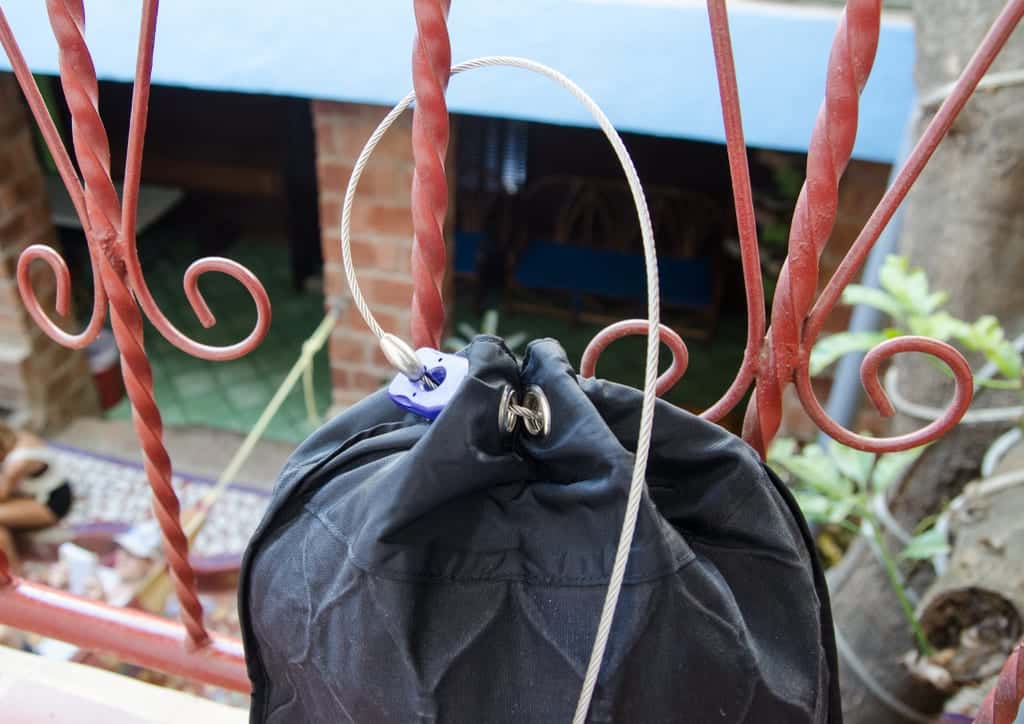 Step 4: Wind the cord around the item you're locking it to. (This railing is just used as an example; see below for where you should lock it.)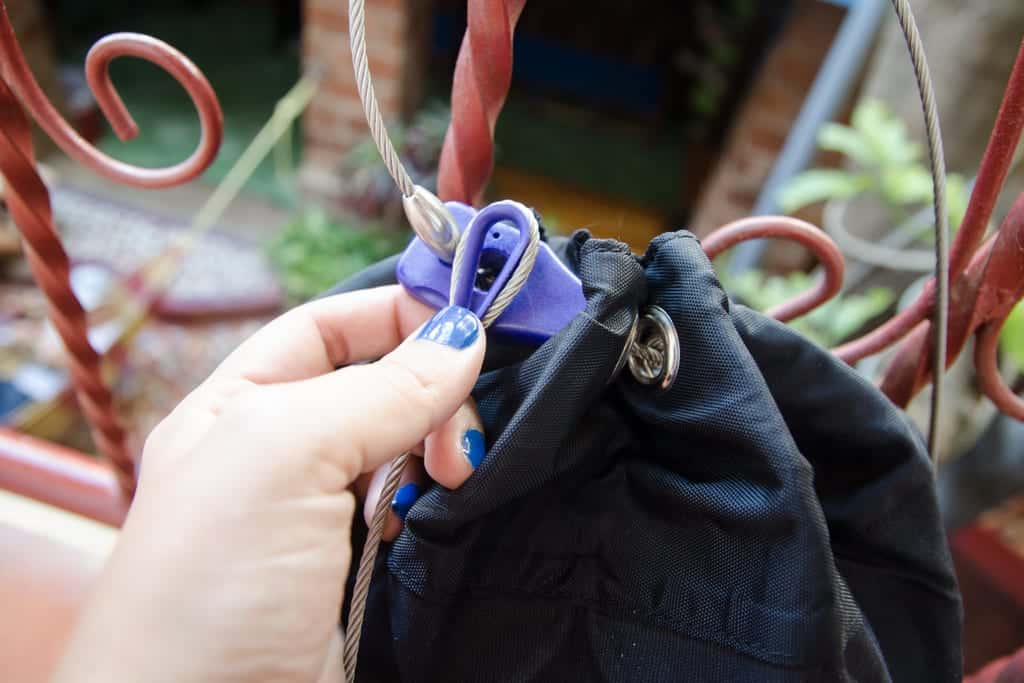 Step 5: Line up the larger hole in the keyhole and the loop at the end of the cord.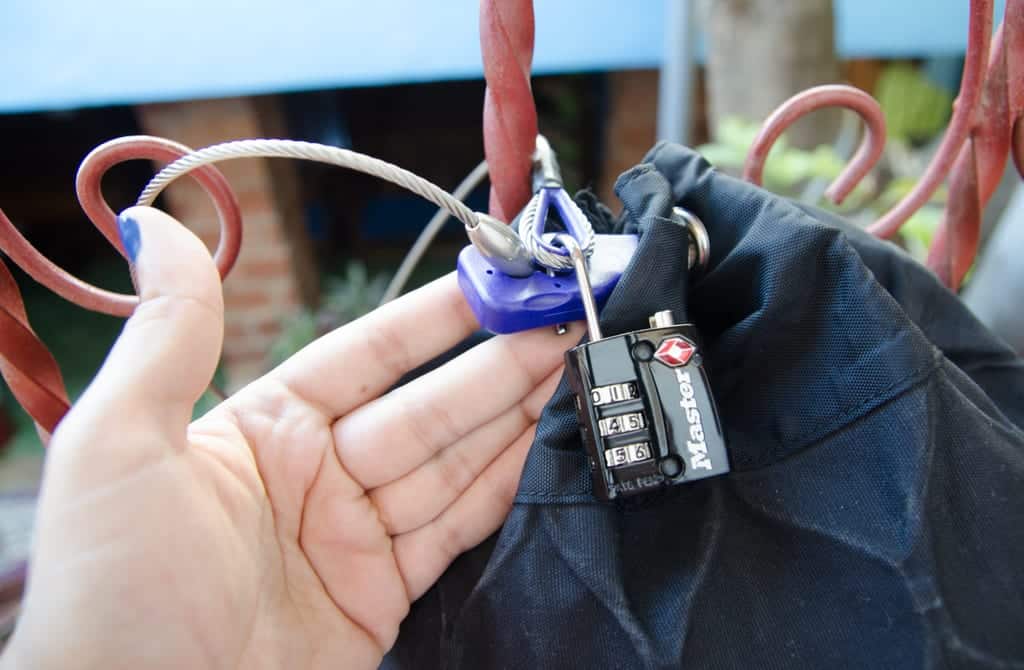 Step 6: Put a lock through the larger hole in the keyhole and the loop at the end of the cord.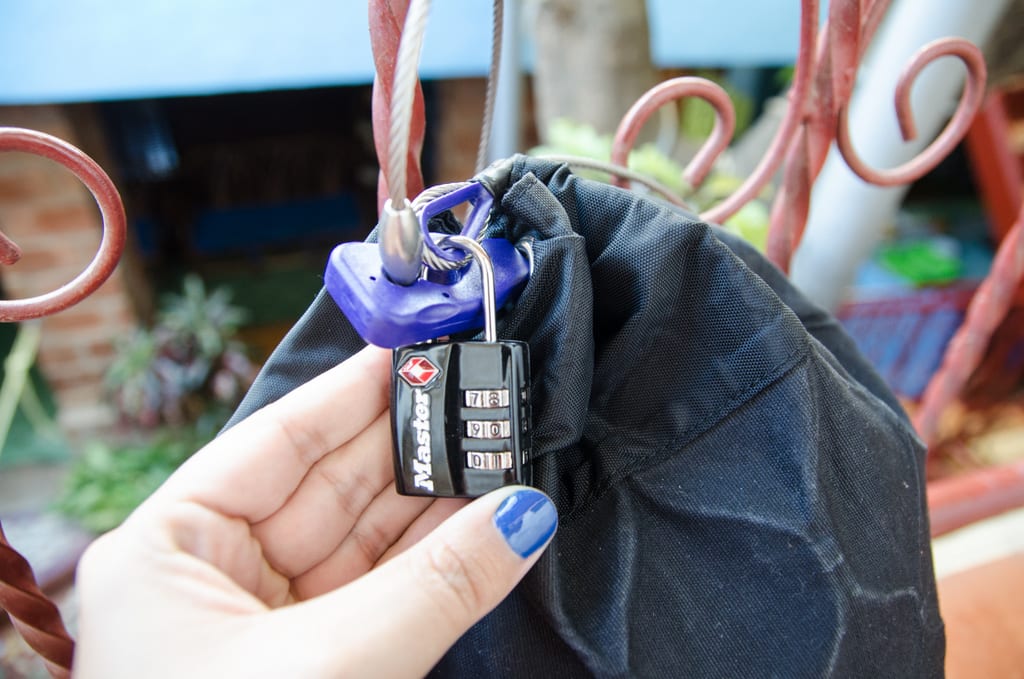 Step 7: Close the lock.
If you follow these steps, the bag will be completely closed and locked to whatever you locked it to.
What Should You Lock Your Pacsafe To?
The best thing you can lock your Pacsafe TravelSafe to is a pipe in your room. Pipes are sturdy and they can't be destroyed without causing a lot of flooding in the process. If a would-be thief is an employee of your accommodation, he won't want to risk hundreds of dollars worth of damage.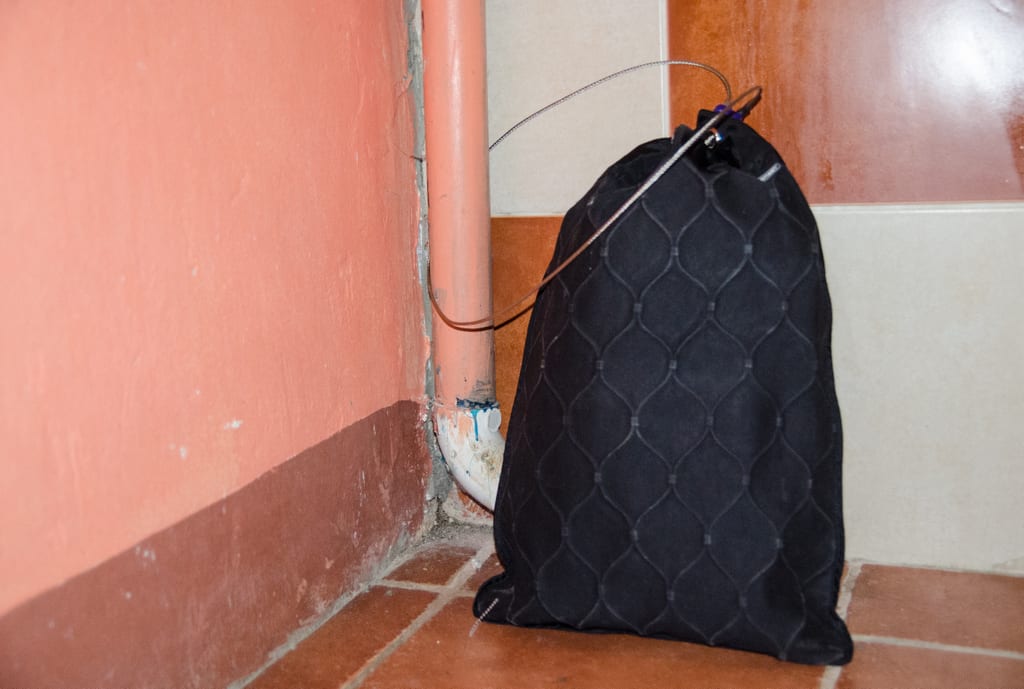 If you don't have a pipe, lock it to the base of your sink. Same reason as a pipe.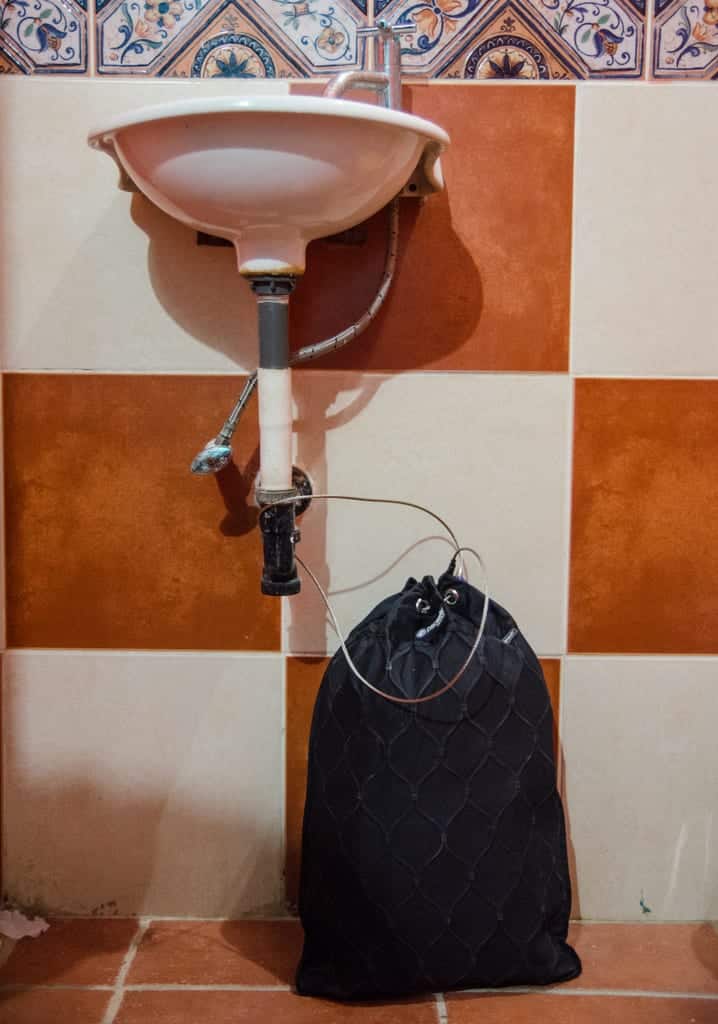 If you don't have pipes or a sink, lock it to the sturdiest thing in the room. In this case, I locked it to my wooden bedframe while winding it through the metal box spring as well.
Is a Travelsafe 100% Effective Against Robbery?
No. Nothing is 100% effective. If a professional thief is determined to steal from you, he will have the equipment to steal from you, no matter how many precautions you take.
However, the vast majority of thieves in the world are opportunistic, not professional. They burst into hostel dorms or guesthouse rooms and grab whatever's easy: passports hidden beneath pillows, phones left in their chargers. They grab what they can and get out before they're discovered. Breaking into a safe? Not worth the time or hassle.
Keeping Your Belongings Safe In Your Accommodation

I've been traveling full-time for more than four years, and although lots of bad things have happened to me on the road (I've been pickpocketed, mugged, shipwrecked, etc.), I have never had anything stolen from my room. (Knock on wood.)
Most people I know who have traveled that long have had something stolen from their room at least once. Even on my current trip in Central America, I've already heard several stories about stolen phones.
I'm sure I've lucked out this long because I've always been so careful, and a big part of that has been using my TravelSafe vigilantly.
Here are some other ways to keep your belongings safe:
Never leave your valuables unattended in a dorm or shared accommodation. Even if you're using the bathroom for just a minute, don't leave your laptop out on your bed.
Stay with your phone while it charges. If you need to go somewhere, use a portable charger and take it with you, or lock your phone in the Travelsafe while charging. I use the MyCharge Peak 6000 ($59.99 on Amazon).
Don't trust strangers to watch your things. While it's tempting to ask a Starbucks neighbor to keep an eye on your laptop, it's safer to take your laptop with you and ask the neighbor to hold your table instead.
Which PacSafe TravelSafe Is Right For You?

Pacsafe TravelSafe 12L — This is the one I use. It's big enough for a 15″ laptop, DSLR camera, and a few other bulky items, including my purse. $88.55 on Amazon. Note — this is currently unavailable. I recommend you look at the TravelSafe 25 instead.

Pacsafe TravelSafe 5L — This will fit a small laptop and flat items. If you have a camera larger than a point-and-shoot, you should get the 12L. $69.98 on Amazon.

Pacsafe C25 Stealth — The Stealth is a slightly different model that can fit around a small camera bag. $79.31 on Amazon.

If you're a photographer with lots of camera bodies and lenses, or otherwise have a lot of valuable gear, consider investing in a 55L Backpack and Bag Protector instead. It works the same way as the TravelSafe; you just wrap up your entire bag in the cage. $68.51 on Amazon.

MasterLock Combination Lock — Whichever safe you use, I recommend picking up a few of these locks because it's smart to have extras. I use these locks because they're TSA-approved and you can set your own combination.
Trust me on this — you don't want to wait to buy a portable safe until you get robbed. Get into the habit of using one on your next trip.
NOTE: This is not an advertisement and I was not compensated for this post — I just love my TravelSafe and wanted to write about it. However, this post does contain affiliate links. If you choose to buy through these links, I'll receive a small commission at no extra cost to you, which will help reduce the increasing costs of running this site. Thanks!
How do you keep your valuables safe in your accommodation?
Get email updates from Kate
Never miss a post. Unsubscribe anytime!