Adventurous Kate contains affiliate links. If you make a purchase through these links, I will earn a commission at no extra cost to you. Thanks!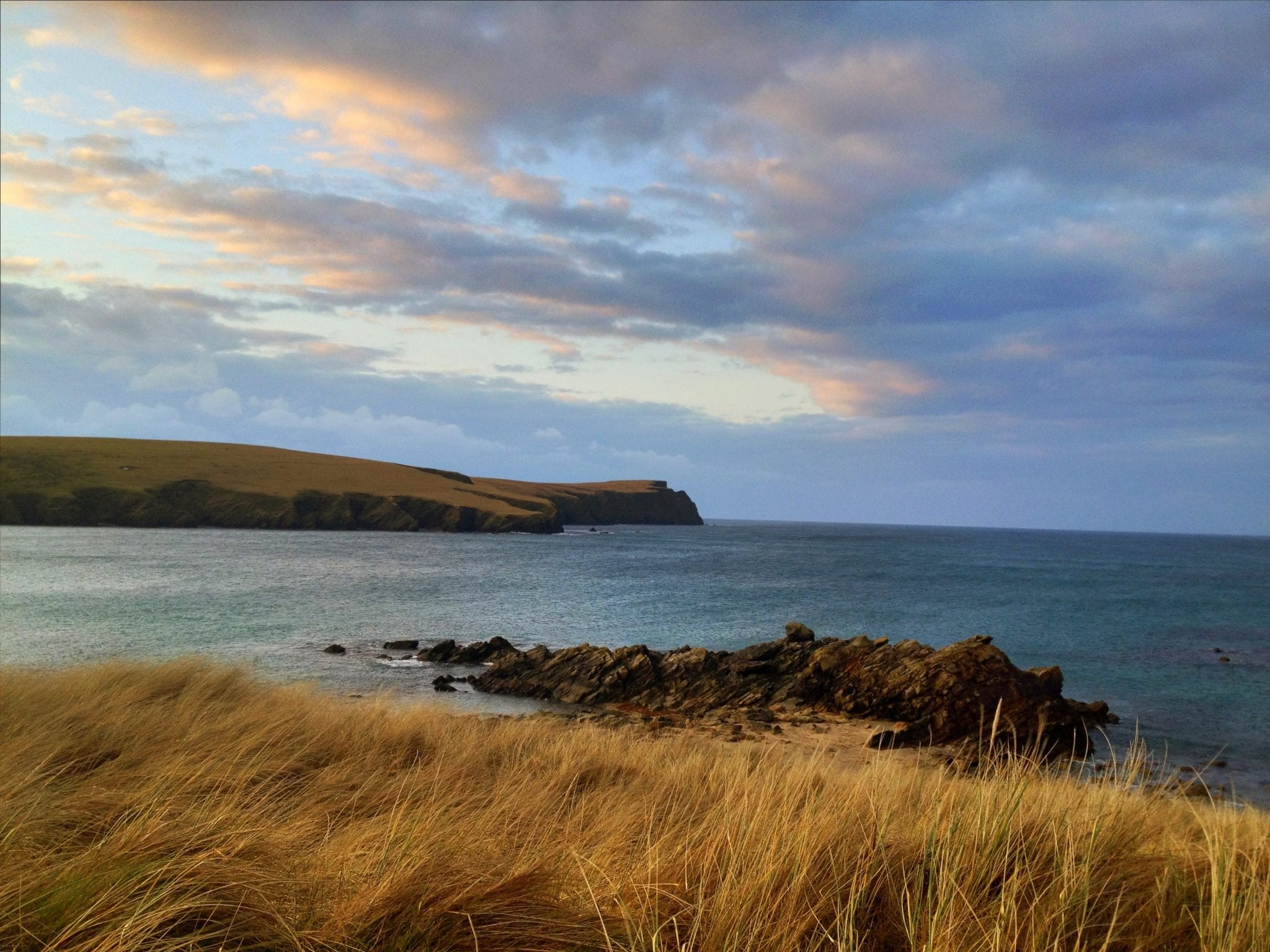 If it weren't for Up Helly Aa, never in a million years would I have gone to Shetland in January, of all months!  Between the cold and the darkness (Shetland is even further north than Stockholm!), I would have gladly waited for a summer visit.
But by visiting in January, I was rewarded with a cold, raw, extraordinary beauty.  The Shetland I saw was a series of emerald-green islands resting in a blue sea, almost untouched by civilization.  The air was cold and fresh.
Once again, I was glad that I had booked with Haggis Adventures instead of trying to explore Shetland alone — being part of the Haggis Tour made it so easy to explore the islands.  Our guides Dougie and Tony knew the best spots and how to maximize our time as we drove on our wild and sexy yellow bus.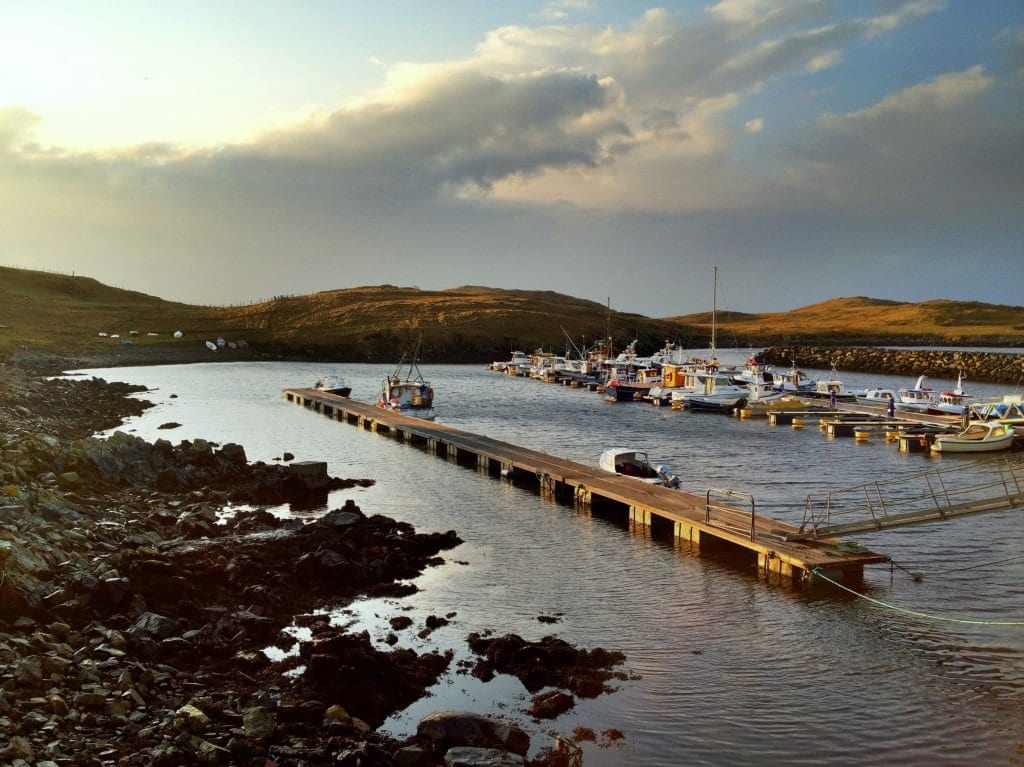 "It looks like Maine," said Breeze, a Maine native and the only other American on the tour.  I have to agree with her — this could have been a New England fishing village.  What do you think?
Throughout Shetland, you see ancient rock structures dating back hundreds or perhaps even thousands of years, adding to the spooky feel of the islands.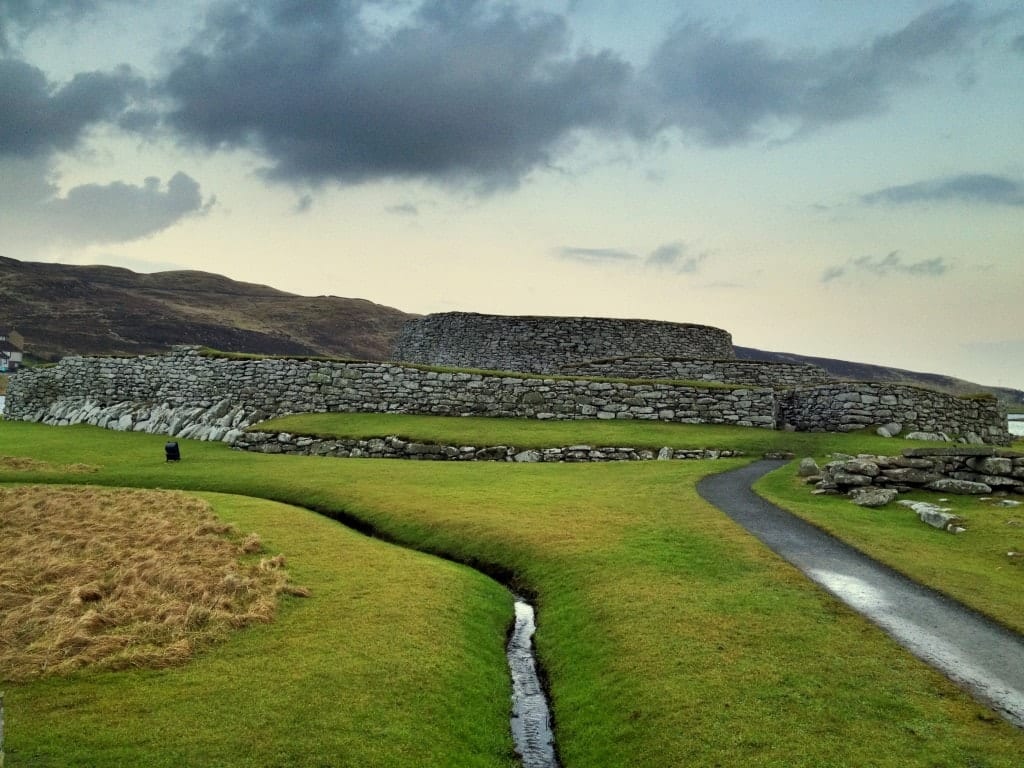 These structures really are amazing.  We visited Jarlshof, an ancient settlement that used to be buried underground, but was revealed after wind knocked down the land.
This news is usually met with a "Really?"  But as soon as you feel those strong Shetland winds, there will be NO doubt in your mind that this city was dug out by wind alone!
Oh, and by this point, I should mention that it was COLD.  Cold and WINDY.  While the weather was typically temperamental Scottish — from bright sunshine to angry clouds to hail the size of peppercorns, and back less than 15 minutes later — it was universally FREEZING and the wind whipped us across the face until our cheeks were scarlet.
We didn't let that stop us from having fun.  At Jarlshof, Tony and Dougie put together a little coffee-and-shortbread party behind one of the sheltering walls!
Walls were good for shelter.  So was Callum, the tallest guy in our group.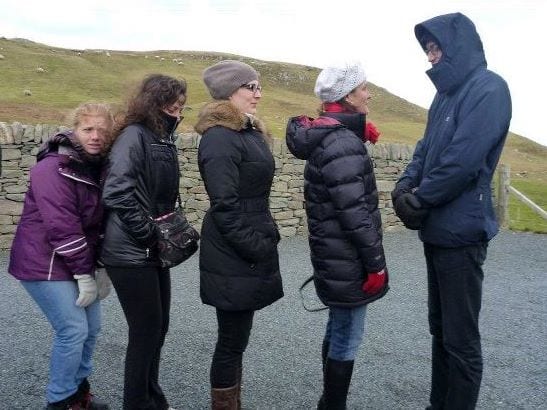 Photo by Neridah McHenry
Just when we thought everything in Shetland was either green, gray, or blue, we would come across a wildly colorful beach.
But of all the beaches, none of them were as striking as Shetland's famed double beach, connecting to St. Ninian's Isle during low tide.  With the right lighting, the beach looks almost tropical!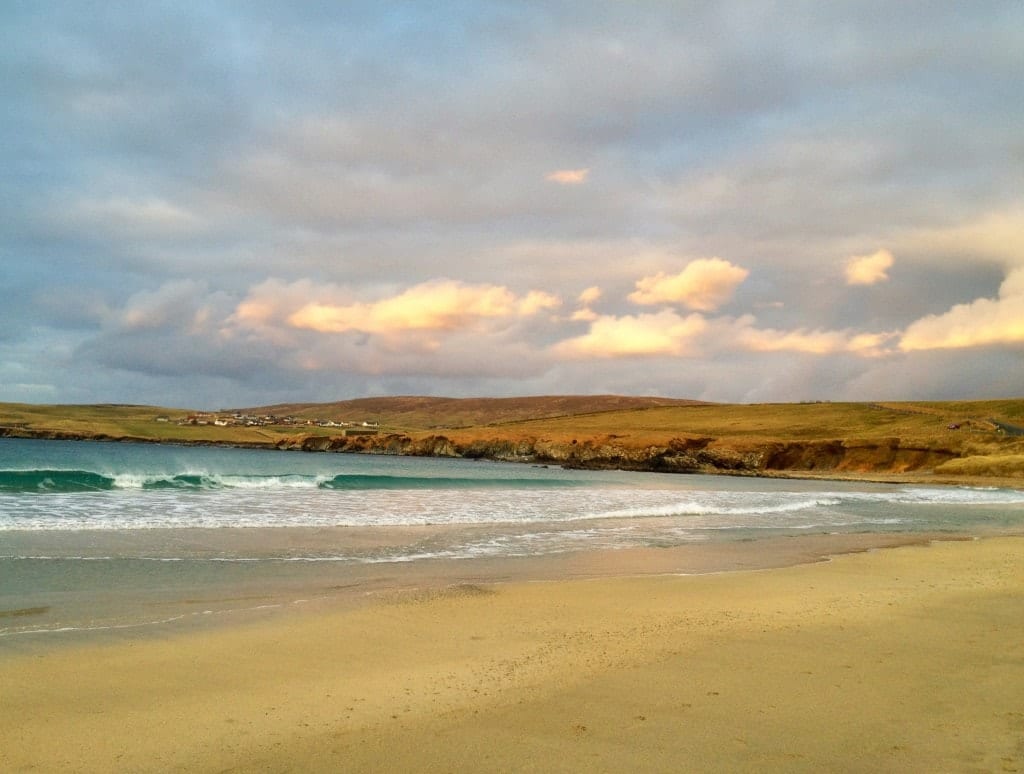 Try to visit the beach when the tide is coming in from both sides — it's an amazing sight!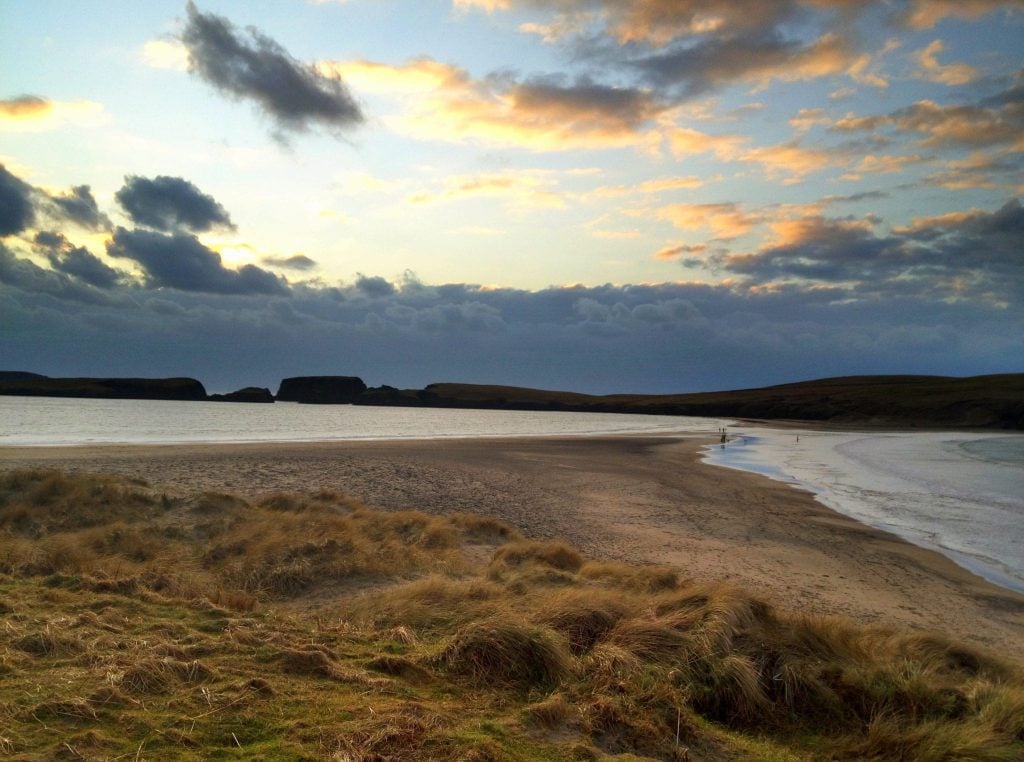 And because we were in Shetland, you know what we really wanted to see?  PONIES!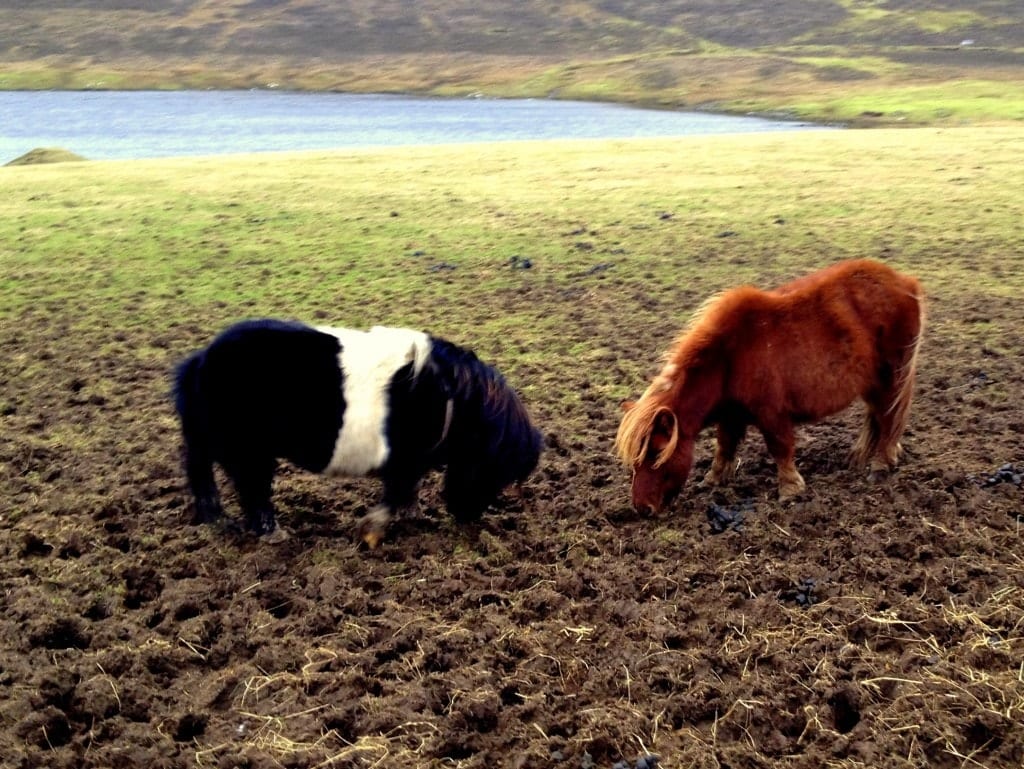 We girls were the most excited, as we had been squealing "Ponies!" again and again until we pulled over.  The guys were amused.
As for the Shetland ponies, they were largely indifferent to us, unless we fed them apples — then they quickly scarfed them down before going back to ignoring us.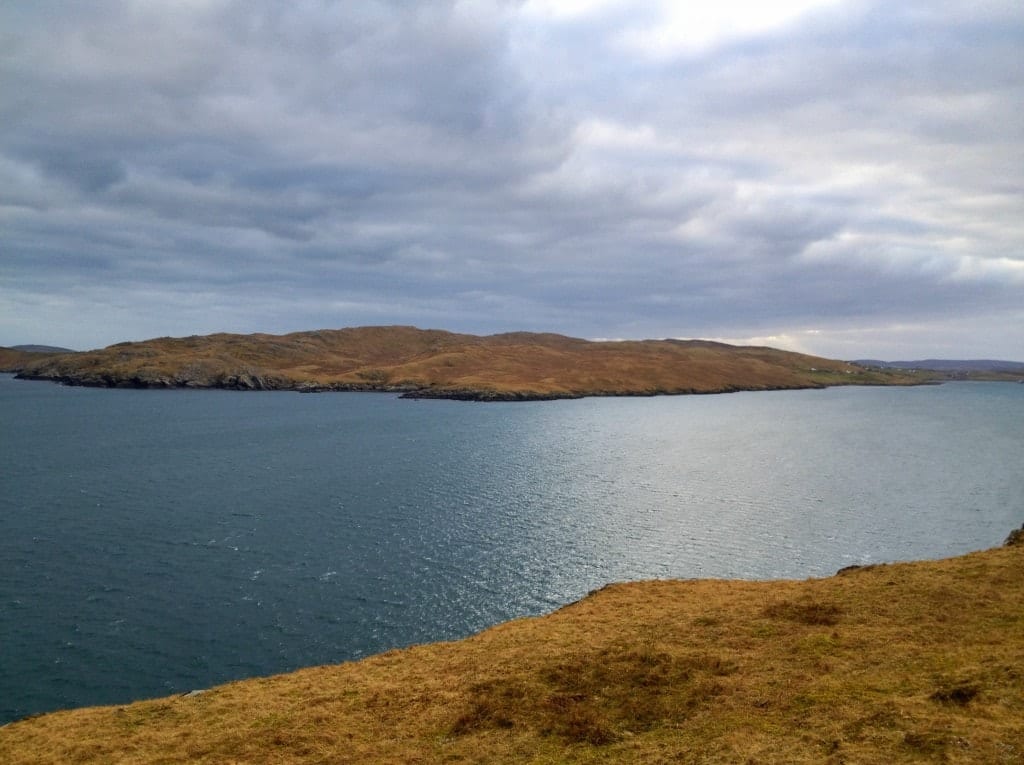 Seeing these unspoiled landscapes was one of the highlights of my trip and the perfect counterpart to the zaniness of Up Helly Aa.  I'll always remember Shetland as being a place of absolutely exquisite beauty.
Many thanks to Haggis Adventures for a truly fantastic time on the Up Helly Aa trip.  All opinions, as always, are my own.
Get email updates from Kate
Never miss a post. Unsubscribe anytime!