Adventurous Kate contains affiliate links. If you make a purchase through these links, I will earn a commission at no extra cost to you. Thanks!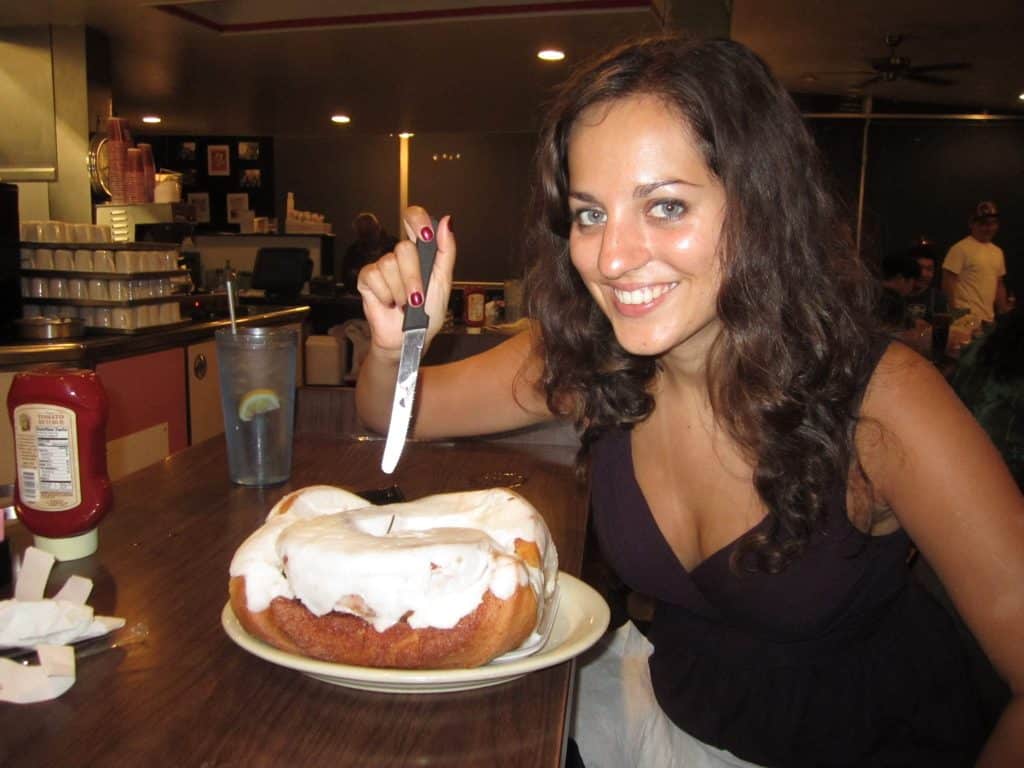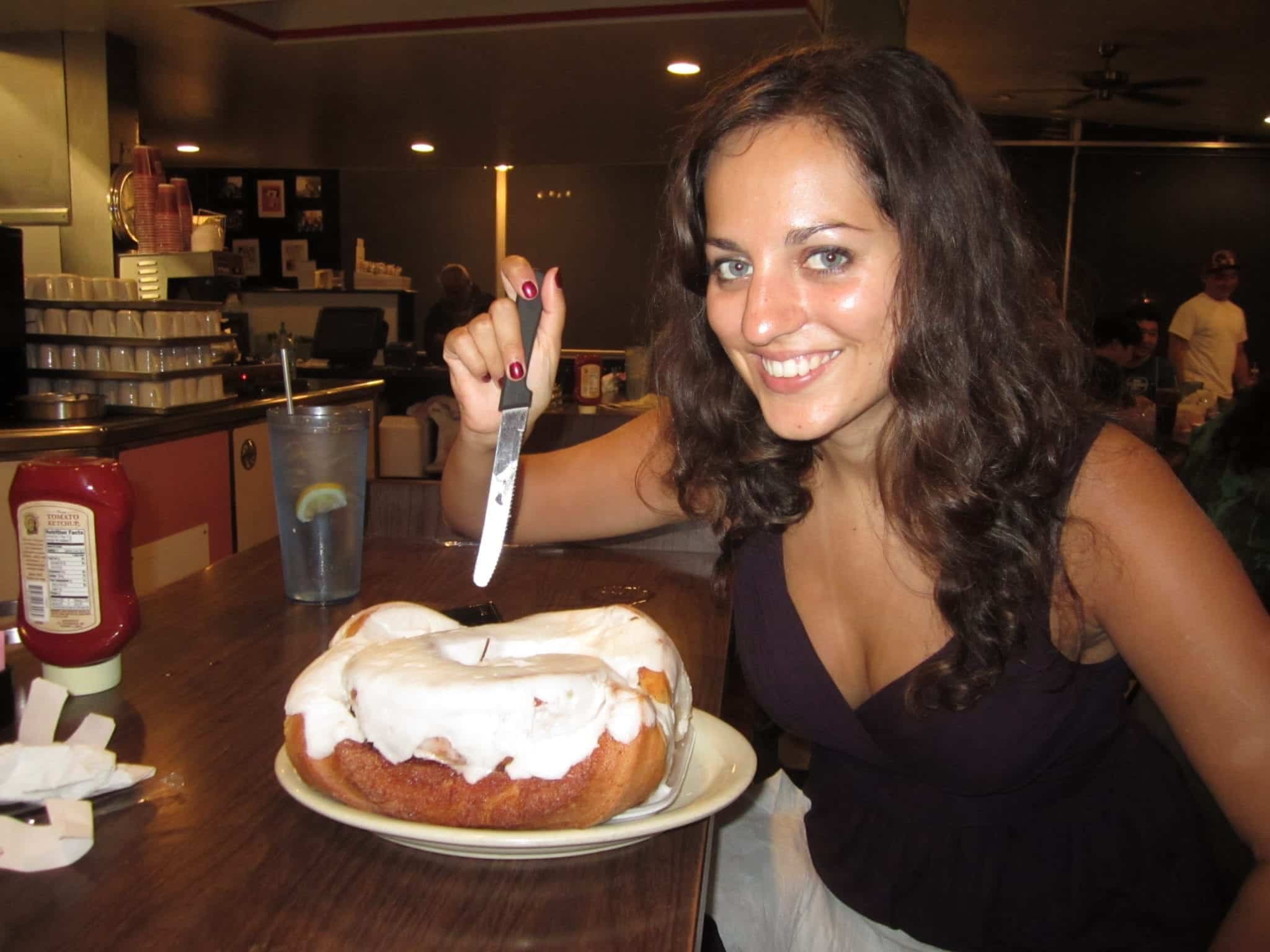 Yes, I said three-pound cinnamon bun.
I first heard of this behemoth on the TV show Man vs. Food, which if you haven't seen is probably one of the better examples of Americana in 2011.  Basically, Adam Richman travels around restaurants in the United States, finds ridiculously large portion sizes, and competes in eating competitions.
Now, I wanted there to be an eating competition in the Race to the Alamo!  I feel like Sarah and I would have won that one for sure!  (Or we would have at least beaten our vegan competitor!)
Anyway, on the San Antonio episode of Man vs. Food, Adam travels to a diner called Lulu's, famous for its chicken-fried steaks, unpretentious atmosphere, and most famously, three-pound cinnamon rolls.
The rolls are made from a piece of dough that is SIX FEET LONG, rolled up like a burrito with cinnamon and sugar, and sliced.
The food at Lulu's is delicious, as well as one of the best food experiences in San Antonio, as I mentioned earlier.
I thought that between the three of us, we'd be able to polish it off.  Not even close.  After two servings, we had only worked our way through about a third of it.
Check out the video we took:
Maybe one day I'll face a food challenge bigger than this one.  Maybe it will be during one of my all inclusive holidays to turkey, and I'll be eating a kebab the size of a kindergartner.
But we didn't hang our heads in shame — we brought it home to Massachusetts.  And in a fit of insanity, my mom bought a second one.  (At only $8 each, it wasn't that bad of an investment!)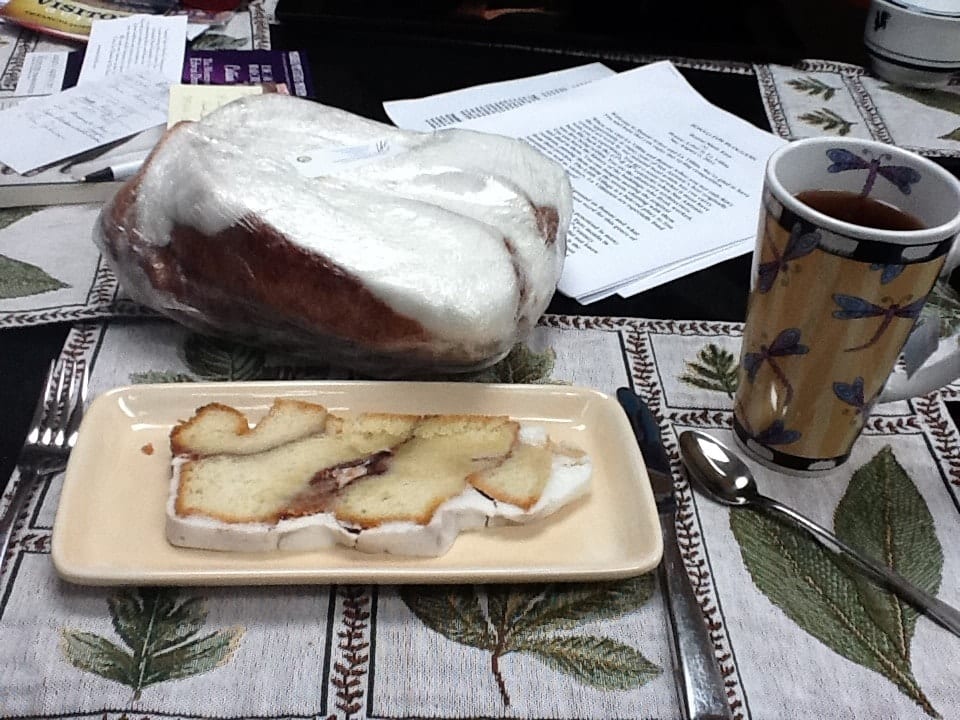 We froze one giant cinnamon bun and are still currently working on our first.  It did make for some special breakfasts at home.
(That tumor-like mass in the middle is actually a sugar-butter-cinnamon nugget.)
Want one of your own?  They ship!
To order a three-pound cinnamon bun of your own (and I imagine they make GREAT birthday cakes!), visit Lulu's web site.
Was it everything I imagined it would be?  Absolutely.
Don't forget to vote for Team Adventurous Kate to win the Race to the Alamo!  Remember, you can vote once per day through August 31, and each vote gets you closer to winning a dream trip to San Antonio!
My trip to San Antonio was sponsored by the San Antonio Convention and Visitors Bureau.  All opinions, as always, are my own.
Get email updates from Kate
Never miss a post. Unsubscribe anytime!