Adventurous Kate contains affiliate links. If you make a purchase through these links, I will earn a commission at no extra cost to you. Thanks!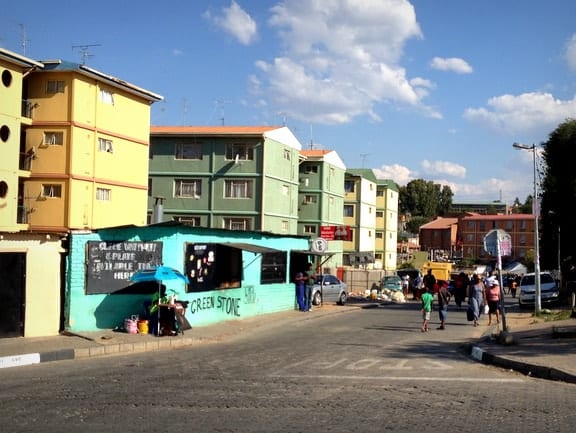 "We have a few options for lunch today," our guide Robin told us.  "We could eat in the museum cafe.  We could go to a restaurant.  Or — and this is an interesting option — we could eat in Alexandra Township.  I warn you that it's very basic.  But it's an experience."
"Definitely use the bathroom before we go," David added.
After an introduction like that, how could we go anywhere but Alexandra?!
I knew I couldn't go to South Africa without experiencing a township.  During apartheid, townships were constructed on the edge of cities as places for nonwhites to live.  Nonwhites were forced out of their homes in the cities and moved to townships, while the cities remained populated by whites.  The townships were segregated by race — black, colored, or Indian — and poorly constructed.  To this day, townships exist in South Africa, in both urban and rural areas.
And everyone knows about them.  ("Don't go into those ghettos when you go to South Africa," my mom warned me before I left.  "There's no way I'm not going to a township," I told her, "but I'll go with a guide.")
Alexandra — commonly referred to as Alex — is one of the roughest townships in South Africa.  Remember how I mentioned the taxi hand signals in Johannesburg?  You signal Alex by making your hand into a gun.  "Alex is where people from Soweto go when they want a township experience," Robin told us.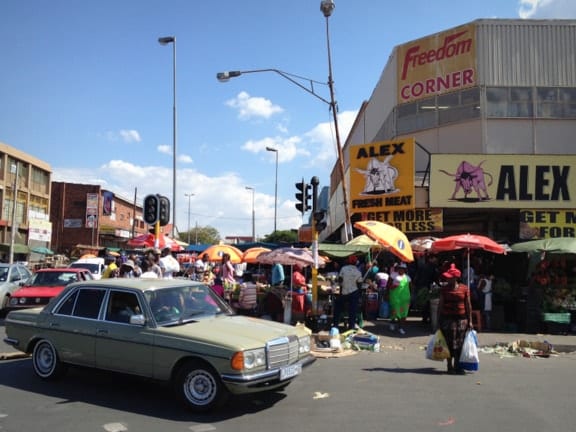 Our first glimpse of Alexandra?  Away from the shiny buildings and skyscrapers of Johannesburg, we were suddenly surrounded by color, life, and vitality.
My heart thudded as we got out of the car.  Was everybody carrying guns?  Should I hide my expensive phone?  Would the wrong move get me in trouble?  Would someone be shot in front of us?!
Turns out Alex was like nothing I had imagined.
Townships have very poor living conditions, but they are not bastions of crime in the way that many people think they are.  There is crime, and there is violence, but this is also a place where people live and want to stay safe.  People don't try to rob the tourists walking down the street.  You won't get stabbed for visiting a township.
One thing that Robin pointed out was that you tend not to see begging on the streets in townships because people maintain a level of responsibility for each other.  That's one thing that makes the townships so different from other urban areas of the world.
Townships have their problems, especially when it comes to violence, substance abuse, pollution, rape, and HIV/AIDS, but you shouldn't let that stop you from visiting.
Lunch, it turns out, was an adventure.  We headed to Joe's Butchery, a barbecue restaurant in the heart of Alex.  It's one of the most popular places in town, not only because the barbecue was fabulous.  We feasted on boerewors (sausages), lamb and chicken, as well as mealie pap (a starchy concoction like a cross between couscous and mashed potatoes) and condiments.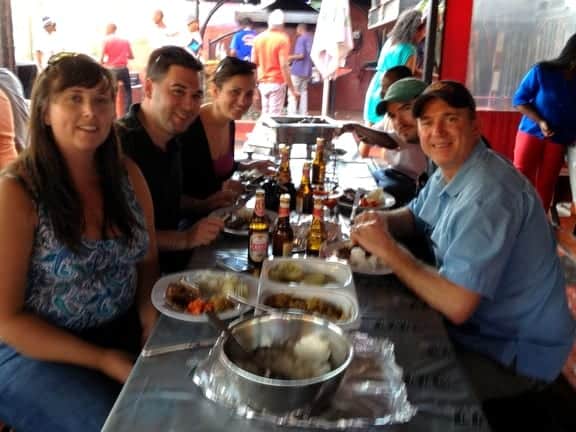 Loving the meat!
The atmosphere was festive — football games blared on large flat-screen TVs, the whole restaurant jumping up and cheering when a goal was made.  (An interesting South Africa fact: football and rugby are the two most popular sports, but football is more popular with blacks and rugby is more popular with whites.)
And above all, my favorite genre of music in the world played loudly off a giant sound system — 90s R&B!  How random is that?!  I was thrilled.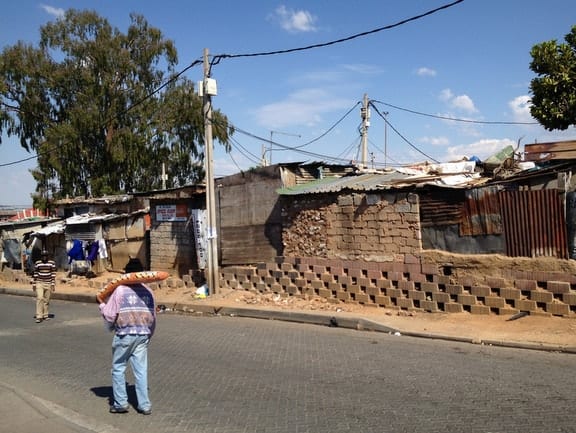 After the fun of our lunch, we explored more of the township and were confronted with sobering statistics about township life.  One neighborhood within Alex is one of the most densely populated places in the world.  There are so many births that the local maternity clinic allows women to stay two hours after giving birth — and then they need to leave.  After that, it's time for the next one.
Of the women giving birth who elect to be tested, 85% are HIV-positive, and most of them pass the disease on to their babies.
It was devastating hearing this while seeing the smiles of children in this place, knowing that so many of them will succumb to an early death.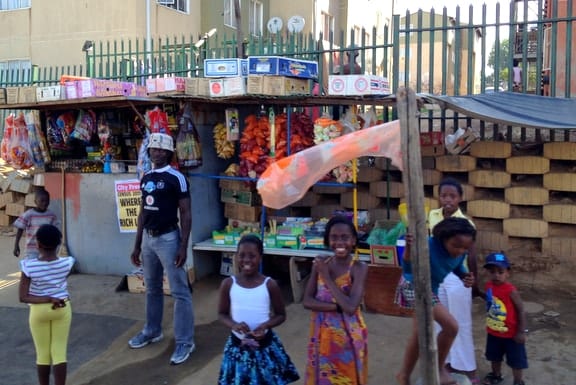 After Alexandra, we headed to the most famous township of all: Soweto.  Soweto is enormous — it has a population of 1.3 million and 80% of the city's taxis.  It's also one of the townships that has changed enormously over the years, and even has some middle-income neighborhoods nowadays.
Soweto is also home to the one street in the world in the world home to multiple Nobel Prize winners: both Nelson Mandela and Desmond Tutu have lived on Vilakazi Street.
The single best aspect of our time in Johannesburg was having the excellent Robin Binckes as our tour guide.  Now 71 years old, Robin grew up in an era of tension between Afrikaners and English-speaking whites.  He spent time in the military and became a supporter of apartheid.
A supporter?  Yes.  A supporter.  And this is a huge part of his story.
At Nelson Mandela's inauguration in 1994, Robin and his family fully expected civil war to break out.  Mandela had been jailed for decades, and they expected his inaugural speech to be a fiery call for revenge.  And what did Mandela say?
"The time for the healing of the wounds has come."
It was over.  It was all over.  It was time for South Africa to rebuild.
Can you imagine learning how to heal after decades of violence and injustice?
Today, Robin does a lot of work in Alexandra.  In fact, he told us that for one of his birthdays, he told 120 of his white friends to show up at a posh destination…where there were buses waiting to take them to Alex!  Those guests got the surprise of their lives.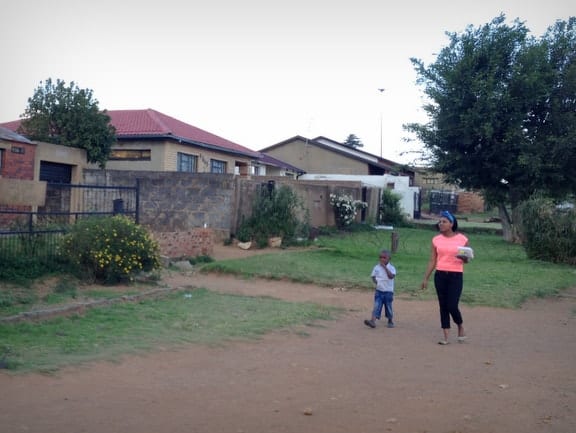 My day in the townships only scratched the surface of their story — there is so much more to cover, and when I return to South Africa, I hope to delve into them more.
Essential Info: Don't visit a township without a guide.  Robin offers several tours of Alexandra and Soweto through Spear of the Nation.  Prices are available upon request.
Many thanks to Visit South Africa for hosting my stay in Johannesburg.  All opinions, as always, are my own.
Get email updates from Kate
Never miss a post. Unsubscribe anytime!