Adventurous Kate contains affiliate links. If you make a purchase through these links, I will earn a commission at no extra cost to you. Thanks!
I'm a big advocate of traveling in the off-season and reaping the benefits: lower prices, fewer crowds, a more local experience.
But as I sit here in Turkey, I'm disappointed at my decision to come here for three weeks in late November.  Istanbul was great if a bit cold, Cappadocia was freezing cold and creepily deserted, and while I am enjoying chilled-out Fethiye immensely, I do wish I was able to enjoy nearby beachy destinations like Oludeniz and the Butterfly Valley.
Yes, off-season travel can often be worth it — but not always.
So I decided to evaluate a few destinations where I've traveled in the off-season and tell you whether or not it's worth it.
Here we go!
Venice in Winter: Absolutely Worth It
Winter is low season for Venice, but as I tell anyone who will listen, Venice is at its best in winter.  Cool, gray, misty and mysterious — this is exactly how Venice is meant to be seen!  I think that Venice is most beautiful during these months.
A city as popular as Venice is never tourist-free, but there are far fewer tourists in the winter.  You won't be crashing into as many Japanese tour groups on Piazza San Marco, that's for sure.  Be sure to bring tall rain boots, because this is the time Venice tends to flood!
Jordan in November: Absolutely Worth It
In Jordan, the peak months are May, September and October.  By November, most tour groups have gone away — leaving you with plenty of space to enjoy Jordan's top attractions without a trip-altering change in weather.
Some areas do get a bit colder during the winter.  It gets cold (though not freezing) at night in Wadi Rum and Ajloun.  Bundle up if you're camping — by day, it warms up again.  Lowland places like the Dead Sea, the Ma'in hot springs, and Feynan, as well as beach resort Aqaba, remain just as toasty in the winter.
Paris, Anytime: Absolutely Worth It
I don't think there's a city better suited to travel any time of year than Paris!  The winter here is less bitter than other European cities.  Nothing's better than strolling the streets of Paris, but there are so many great museums, cafes and restaurants if you need to escape to the indoors.
Whether basked in sunlight or underneath a fresh snowfall, can you really beat Paris for sheer beauty?  I'll be returning to Paris for the weekend in January, and I'll give you full lowdown of visiting Paris in winter!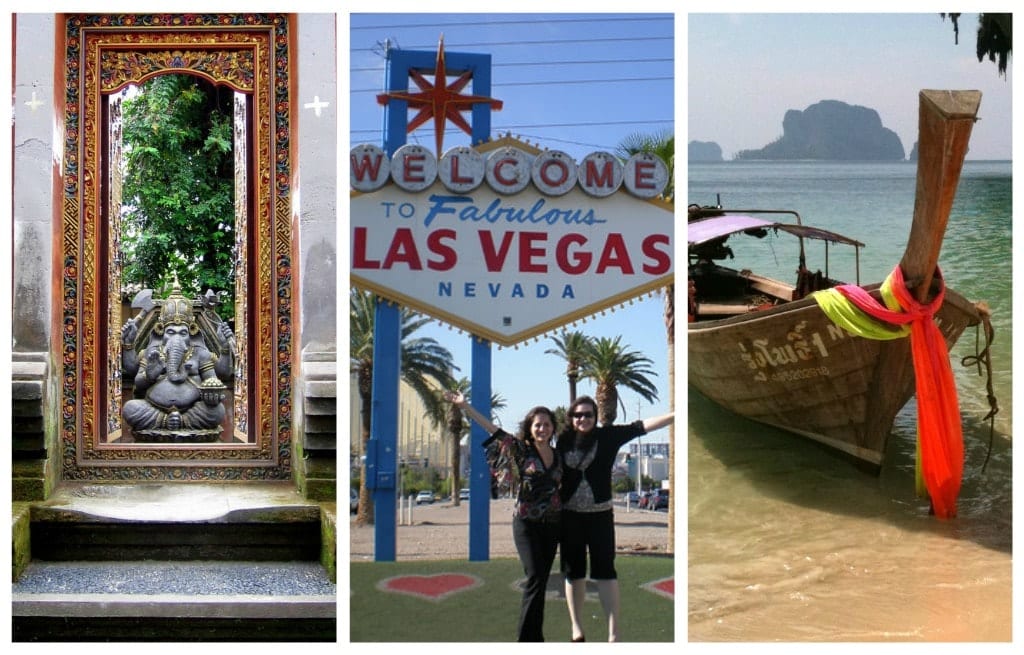 Bali in March: A Mixed Bag
March is the rainy season in Bali, and there are thunderstorms each afternoon, occasionally into the evening.  The mornings are ideal for beach time until around 1:00 in the afternoon.  If you're on Bali solely to lie on the beach, though, this is not the time to come.
But if you're visiting Bali more for the culture than the beaches, March can be a great time to visit, with fewer crowds and lower prices.  Just one thing: in the rainy season, DO NOT GET ON ANY BOATS.
Las Vegas in Winter: A Mixed Bag
Vegas in January was a welcome relief from Boston.  We escaped two-foot snowbanks to weather so warm, we could go outside without a jacket during the day.  If you don't do well in heat, this is the perfect time to visit Vegas.  If you don't like "kids in your Vegas," as I like to say, you won't see many of them.  Winter in Vegas is perfect, huh?
Not if you're here for the pool parties.  I go to Vegas for the nightlife more than anything else, and pool parties are a big part of that.  The pools are generally open from May through October.
Thailand's Andaman Coast in November: A Mixed Bag
November is still the rainy season for the Andaman Coast, featuring islands like Koh Phi Phi, Koh Lanta, and Phuket, as well as Krabi.  The rainstorms usually last for a few hours in the afternoon, and there is at least a few hours of beach time on most days, but some days are overcast all day.
If you're planning a short trip to the Andaman Coast, I wouldn't risk it in November.  But if you have longer — say two weeks or so — and have more interests than just beaching it, this is a very pleasant, uncrowded time to visit this beautiful region.  And I never miss a chance to plug my favorite island of all: Koh Lanta.
Cappadocia in Winter: NOT WORTH IT
Imagine standing around a tiny fire, dancing in place, shivering like crazy, as you wait for your hot air balloon to be inflated.  The temperature?  16 degrees F, or -9 degrees C.  That was my experience in Cappadocia a few days ago, and as enjoyable as the hot air balloon ride was (I thank the crazy Aussies who weren't creeped out by my clinging to them for warmth), the cold really ruined it.
Beyond that, the town of Goreme was a ghost town.  Nobody was around, not even locals, and the streets were deserted.  It made me uncomfortable.  Cappadocia is amazing, but it's best visited in the spring and fall, or the summer if you don't mind super-hot temperatures.
San Antonio in Summer: NOT WORTH IT
Full disclosure: I LOVE hot, humid weather.  But San Antonio in August was just too much, even for me.  While there are lots of indoor attractions, most of San Antonio, from the Riverwalk to the Missions, is seen outside, and running around in 108-degree weather (42 celsius) is a unique form of torture.
I loved San Antonio, and while I had a great time there, I would much prefer to have visited during the winter, spring or fall.  If you go in summer, don't blame me if you don't end up leaving your hotel pool the whole time.
Boston in Winter: NOT WORTH IT
This is one of the biggest reasons why I LEFT Boston — I couldn't handle the winters anymore!  Boston winters are truly awful, with about half a dozen major snowstorms each year and several smaller ones.  The city is bitterly cold and extremely windy, and many portions of the sidewalk end up matted down with snow all winter.  Boston is best seen on foot, but winter is not a pleasant time to walk around the city.
This goes for many northeastern cities — you don't want to plan weekend getaways to Montreal or New York holidays in the dead of winter, either.  If you're a winter person, there are much better places to experience the season — like a mountain town with skiing, snowshoeing and sleigh rides.  Boston is a fantastic city — but visiting in winter will keep you from seeing how great it can be.
Have you traveled in the off-season?  Was it great or awful?  Please add to this list!
Get email updates from Kate
Never miss a post. Unsubscribe anytime!