Adventurous Kate contains affiliate links. If you make a purchase through these links, I will earn a commission at no extra cost to you. Thanks!

"Change of plans.  We're going up Table Mountain now," David told us.
Now?  We had literally just stepped off the Blue Train.
"There are no clouds on top of the mountain today.  The weather probably won't be this good again."
It turns out that although Cape Town has a fantastic climate, Table Mountain can be a bit finicky and is often ensconced in a thick, heavy cloud.  If there are no clouds on Table Mountain one day, that is your cue to ascend it immediately!
I'm glad we didn't hesitate.
And how to go up it?  By cable car.  We zoomed to the top in style in a very cool revolving cable car.  There were a few windows open, and we clamored for them whenever the cable car spun their way.
Hiking up Table Mountain is also possible, though it's a bit of a challenging hike.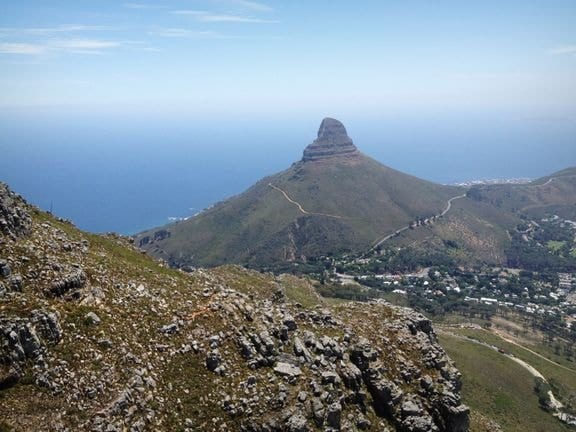 As we neared the top, Lion's Head rose ahead.  This magnificent mountain is one of the most recognizable symbols of Cape Town.
(It's also a center for adventure sports, and we were supposed to paraglide off the top of it on our last day — yikes!  Sadly, it was too windy, and we had to nix the activity.)
From the top, we were greeted with the ultimate view of the city.
People always say that Cape Town is one of the most beautifully situated cities in the world.  I could not agree more!  While Rio de Janeiro tops this list for many people, Cape Town undoubtedly has the most gorgeous natural setting of any city I've ever seen.  (Though keep in mind I haven't been to Rio yet!)
And this is only a fraction of its beauty — wait until you see my pictures from the Cape Peninsula.
Looking over Cape Town, I felt like I was really going to like this city.
From that point, we had time to wander on our own and take pictures.  The plateau of Table Mountain is immense, flat, and very easy to get around.  I got by in flip-flops, though I'd recommend better shoes than that.
My favorite part was just exploring the different areas — because from every angle, the views are wildly different, each one more sensational than the last.
This is the view from the opposite side of Table Mountain.  (A version of this shot was also the most popular picture I shared on Instagram on the whole South Africa trip!)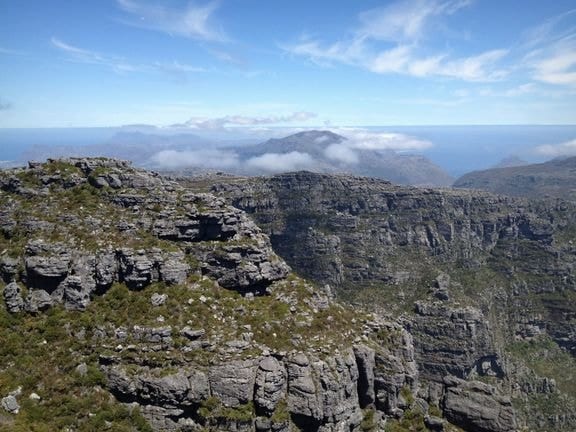 I wandered the paths of the back part of the mountain, photographing the brush-covered cliffs.  This area reminded me of the scenery on Game of Thrones.  Into the Eyrie with Catelyn's wacky sister.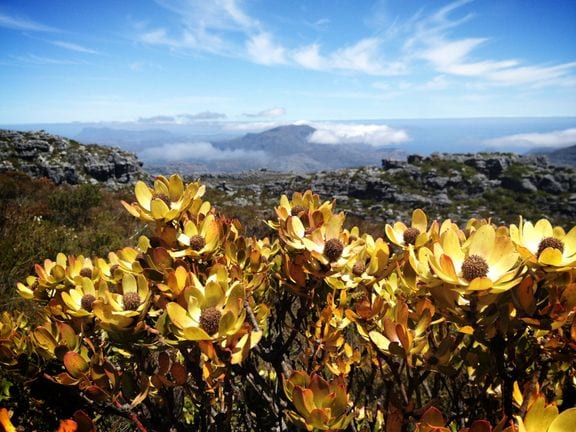 Interestingly, the Cape Town region is home to a completely unique ecosystem.  You see many flora in this region that you can't find anywhere else in the world — as well as some large rodents that look like mini-capybaras.
Maybe these flowers are unique as well.  All I knew was that they looked brilliant against the blue sky.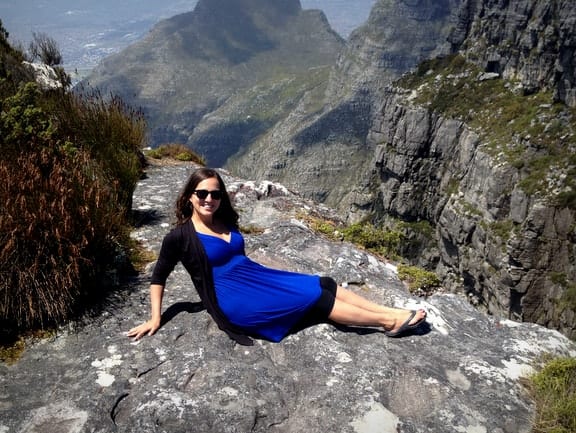 Don't fall off the cliff!  (I got a little too close for comfort here.)
We spent about 45 minutes on top of the mountain, but I would have gladly stayed for longer.  My recommendations?  Wear good hiking sneakers, pack a lunch, and make an afternoon of it!  It was so nice just exploring the mountain and seeing all the different gorgeous views, but I know I only got the slightest teaser of what Table Mountain has to offer.
Essential Info: To take the cable car up Table Mountain, one-way/round-trip tickets cost 105/205 rand for adults ($12/24) and 53/100 rand ($6/12) for children ages 4-17.  Slightly cheaper rates are available by purchasing online.  You can also hike up and/or down if you dare.
Many thanks to Visit South Africa for hosting my stay in Cape Town.  All opinions, as always, are my own.
Get email updates from Kate
Never miss a post. Unsubscribe anytime!