Adventurous Kate contains affiliate links. If you make a purchase through these links, I will earn a commission at no extra cost to you. Thanks!
Visiting the Blue Lagoon Iceland is a must for anyone visiting this mysterious, chilly nation! The Blue Lagoon is the most popular tourist attraction in Iceland — it seems like nearly every traveler who visits Iceland works a trip to the famous Blue Lagoon into their itinerary.
And being the most popular destination, there are plenty of guides and how-tos for the Blue Lagoon Iceland on the internet. But to be honest, I was surprised by how many things I didn't know.
This geothermal spa is a lot more than meets the eye. Between the warm water and convivial atmosphere, this might be one of the most memorable stops on your Iceland trip.
I've visited the Iceland Blue Lagoon several times, in different kinds of weather. As you can see by my photos, I've seen the Blue Lagoon on a gorgeous day in May; I've also visited the Blue Lagoon on a cold and rainy August day. It wasn't ideal, but it was still worth visiting the Blue Lagoon in the rain.
Before you go to the Blue Lagoon, here's what you should know.
This post was last updated in June 2022.
Blue Lagoon COVID Information (2022)
The Blue Lagoon is not taking extra COVID measures beyond Iceland's entry measures. Iceland is open to visitors and no COVID test is required.
Many people are canceling trips last-minute due to COVID infection. If you need to cancel your 2022 reservation at the Blue Lagoon, full refunds will be honored up to 48 hours in advance.
Do you need a reservation to enter the Blue Lagoon Iceland?
The Blue Lagoon strongly recommends advance reservations, as tickets are often sold out. But you can book at the door if necessary.
How warm is the water at the Blue Lagoon?
The temperature of the Blue Lagoon is 37-40 Celsius (98-104 Fahrenheit) and feels like a warm bath.
How old do you have to be to visit the Blue Lagoon in Iceland?
The minimum age to visit the Blue Lagoon is two years old. Children under 13 must be accompanied by an adult; children under 8 must wear floaties (which are available at the entrance and free of charge).
Can you wear glasses or contacts in the Blue Lagoon?
The Blue Lagoon advises not wearing contact lenses. If you wear prescription glasses, you can wear them, but don't get them wet, as the Blue Lagoon could damage them.
Is the Blue Lagoon in Iceland a natural phenomenon?
It actually isn't! Many hot springs in Iceland are natural, but the Blue Lagoon isn't.
What happens to your hair in the Blue Lagoon?
Try to avoid getting your hair wet at the Blue Lagoon, and coat it in conditioner beforehand, because the results aren't pretty.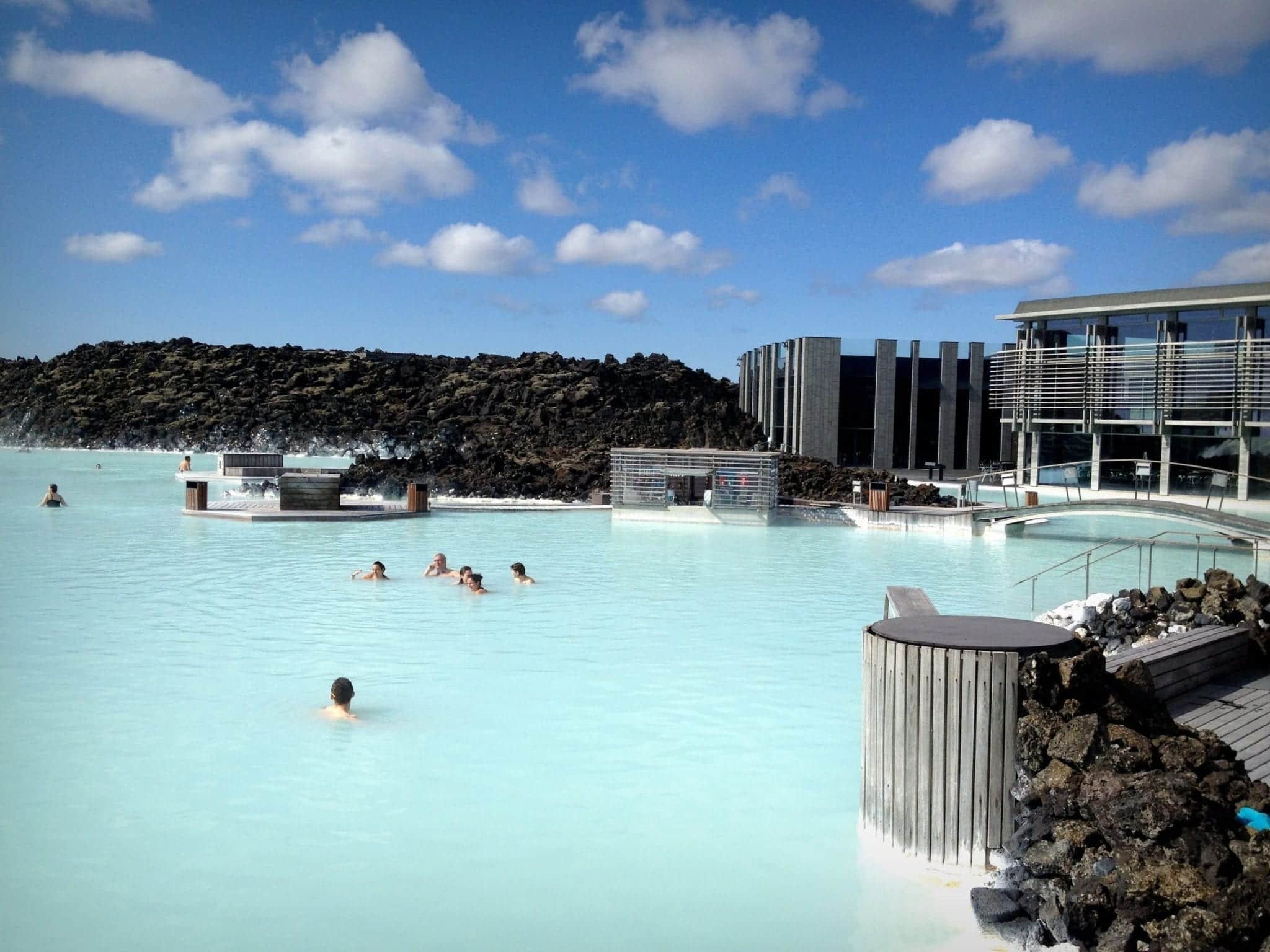 Blue Lagoon Iceland
Is the Blue Lagoon in Reykjavik?
The Blue Lagoon is not in Reykjavik. It's in the town of Grindavík, close to Keflavík International Airport and about 45 minutes from Reykjavik.
Two-thirds of Iceland's population may live in Reykjavik, but the Blue Lagoon is quite a distance away. If you haven't rented a car, you'll need to book a transfer with a tour company. You can book Blue Lagoon tickets with round-trip transportation from Reykjavik here. The drive takes about 45 minutes each way.
That said, Reykjavik is a fabulous city and being based here is the best option for visiting the Blue Lagoon and exploring the nearby region. See below for where to stay in Reykjavik.
Is the Blue Lagoon a natural spring?
The Iceland Blue Lagoon is not a natural spring. While Iceland is a country brimming with natural hot springs, the Blue Lagoon actually isn't one of them. The land is natural, as is the lava that shapes the pool, but the hot water is actually the result of runoff from the geothermal power plant next door.
The plant was built first, and it uses Iceland's volcanic landscape to produce heat power. The runoff is filtered straight into the Blue Lagoon, which is what heats the water.
That doesn't mean it's dangerous or toxic — far from it! It's still a geothermal pool with mineral-rich water. The Blue Lagoon is simply not the natural phenomenon that many people believe it to be.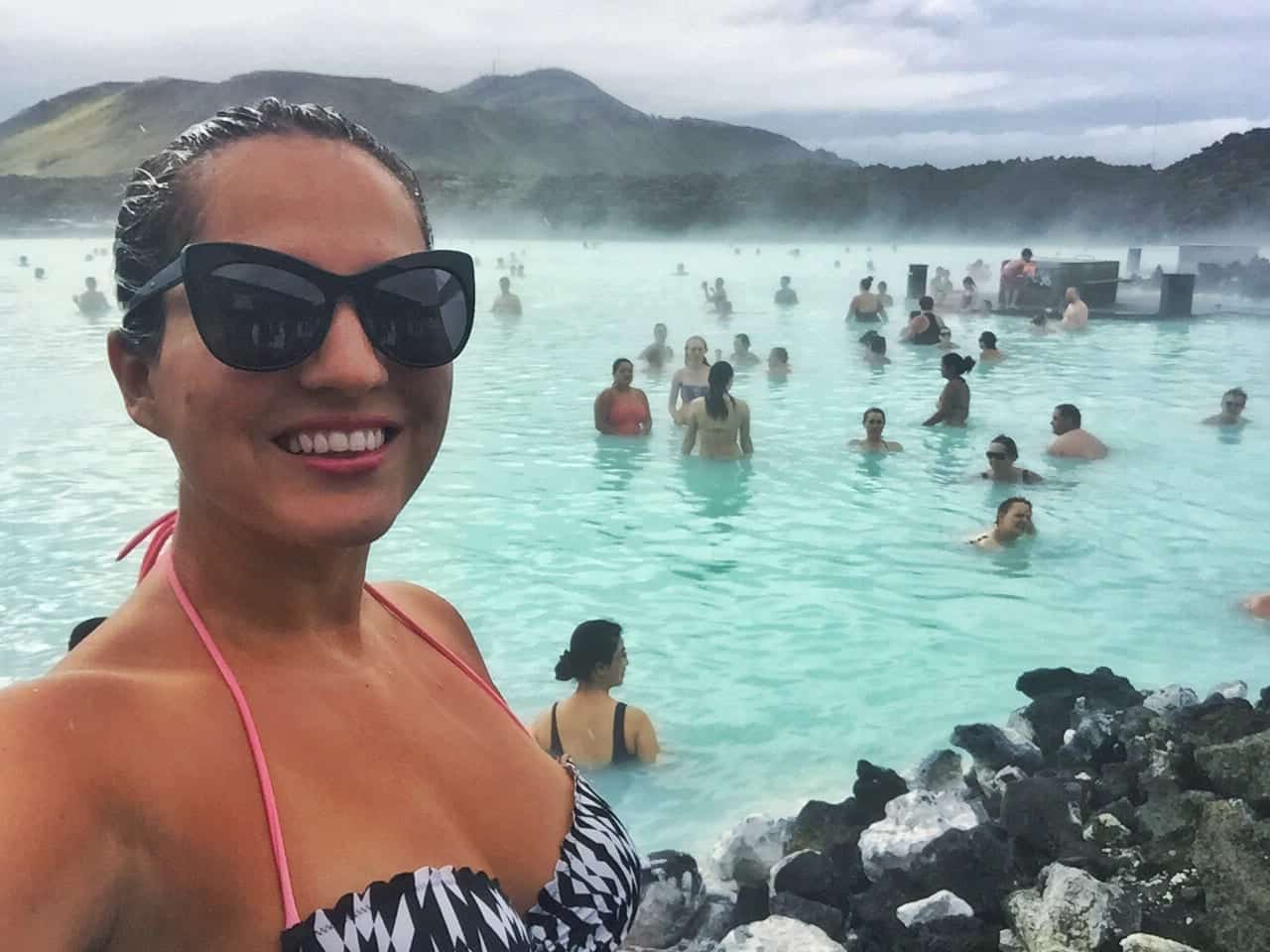 Best Time to Go to Blue Lagoon
When is the best time to go to the Blue Lagoon in Iceland? The Blue Lagoon is one of the most popular attractions to visit in Iceland, so I recommend planning your trip carefully to avoid crowds.
If you want to have the space to yourselves, I recommend going as soon as it opens, first thing in the morning. If you're waiting at the Blue Lagoon right as they open and you rush in the locker room, you could be the first person in it! (This is also the best option if you want to avoid a long line, or get photos without other people in them.)
If you want to be a bit of an overachiever, you could check the flight schedule at Reykjavik airport and plan your trip when the fewest flights are arriving and departing. Personally, I think this is a bit overkill, but some people who live for data enjoy doing this.
In terms of the best time to visit Iceland, you have options. While Iceland is very popular throughout the year, Iceland is at its busiest and most expensive during the summer months. This is when you have long days (and midnight sun!), the most pleasant weather (though in Iceland the weather can be brutal and ever-changing year-round), and the most activities available.
If you choose to visit Iceland during the summer, be sure to book as much as you can ahead of time. Many hotels, flights, and activities sell out in advance.
Winter is the slowest time of year for tourism in Iceland. If you want to experience a quieter Iceland, I highly recommend visiting during the winter. Keep in mind that it's a cheaper time to visit, flights will likely be less expensive, and fewer tours and activities will be available.
Are you interested in seeing the Northern Lights in Iceland? The Northern Lights (Aurora Borealis) are most likely to be seen during the winter months and around the vernal and autumnal equinoxes (March 21 and September 21). You are extremely unlikely to see them in the summer.
However, the Northern Lights are finicky and unpredictable. Despite your best efforts, you might not get to see them. Many an Iceland tourist has been disappointed at missing their chance.
My advice? Don't make your trip all about the Northern Lights. (Frankly, there are places much more reliable than Iceland to see the Northern Lights, like parts of Alaska and northern Norway.) Go in with cautious optimism. If you see the Northern Lights, great! If you don't, you've still had a fun trip to Iceland.
Blue Lagoon at Night
Can you visit the Blue Lagoon at night? Yes — but the opening hours vary based on the time of year. From June through mid-August, the Blue Lagoon is open until 11:00 PM or midnight. During the summer months, the midnight sun ensures that you always have a bit of light out.
One advantage of visiting the Iceland Blue Lagoon at night is that it has a peaceful, dusky, almost spooky atmosphere. Most of the visiting children will have left by night.
However, don't plan to get images of the Blue Lagoon at night underneath a dark sky. If you visit during the summer months, midnight in July will only be a bit dusky; frankly, it will be a lot darker in late December at 9:00 PM.
Is it possible to see the Northern Lights at the Blue Lagoon Iceland? Don't plan on it. Most of the images you've seen of the Northern Lights have been in places with little to no light pollution. The Blue Lagoon is full of light. Proper Northern Lights tours will take you far outside the city to see them.
Iceland Blue Lagoon Hours
1 January-30 May: 8:00 AM-9:00 PM
31 May-27 June: 7:00 AM-11:00 PM
28 June-18 August: 7:00 AM-12:00 AM
19 August-31 December: 8:00 AM-9:00 PM
How Deep is the Blue Lagoon?
The Blue Lagoon is a maximum of 1.7 meters (4.7 feet) deep.
For this reason, all children are required to have a guardian while in the Blue Lagoon.
Blue Lagoon Temperature
The Blue Lagoon has wonderfully warm water. It has a water temperature usually ranging between 37 and 40 degrees Celsius (98 and 104 degrees Fahrenheit).
It feels like a nice warm bath. However, keep in mind that the outdoor temperature and weather mean that the temperature can fluctuate a bit higher and lower.
The temperature of the Blue Lagoon is warm enough to keep you toasty on a cold day.
Are there medicinal benefits to the Blue Lagoon?
You might notice that geothermal spas around the world, as well as the Blue Lagoon, like to infer that their spas can help medical conditions, especially skin diseases. The Blue Lagoon's medical benefits were first discovered by Valur Margeirsson, a young man from Keflavík looking for treatment for psoriasis.
Margeirsson reportedly cured his psoriasis from frequent soaks in Iceland's Blue Lagoon. Of course, tales like this must always been taken with a grain of salt. Even so, many people with skin conditions enjoy spending time in an environment like this.
As always, if you have medical concerns, talk to a medical professional.
Do you have to shower before going into the Blue Lagoon?
Not unlike spas in Europe and around the world, you must take a shower before going into the pool. The Iceland Blue Lagoon goes one step further and requires you to shower naked.
Don't worry if you don't want to be naked in public. While the shower area has some shower stalls out in the open, there are now several shower stalls that lock for privacy.
If you're interested in more privacy, you get access to private changing rooms with Retreat Spa-level tickets. More on that below.
Once you're rinsed and your hair is conditioned, you can put your bathing suit on and head on into the Blue Lagoon.
Should you book the Blue Lagoon before or after your flight to Iceland?
Try to time your visit to the Blue Lagoon to your flight to Iceland. If you have super early flights to Iceland, you may not be able to do this — but if you have a morning or afternoon arrival or an afternoon or evening departure, you should take advantage of hitting up Iceland's Blue Lagoon on the way to the airport.
The Blue Lagoon is located on the Reykjanes Peninsula, much closer to Keflavik Airport than Reykjavik. Going to the Blue Lagoon en route to the airport will save you time. The Blue Lagoon Iceland is the perfect place to chill out for a bit before your flight.
If that's the case, I recommend booking a private airport transfer via the Blue Lagoon. This will give you two hours to enjoy the lagoon on the way to Keflavík Airport, giving yourself more time to spend doing other things in Iceland, plus you won't have to worry about getting onto a bus with strangers.
If you're visiting Iceland as a stopover between North America and Europe, you'll find much more convenient times for visiting the Blue Lagoon from North America to Iceland to Europe than if you are flying from Europe to Iceland to North America.
Should you combine a Blue Lagoon visit with another tour in Iceland?
If you're only visiting Iceland for a few days, you can save time and money by booking day tours that include multiple activities in a day. Not a bad way to combine a Blue Lagoon tour with another activity! Here are some suggestions:
1) Visit the Blue Lagoon and tour the Golden Circle.
2) Visit the Blue Lagoon, tour the Golden Circle, and visit Kerid volcano crater.
3) Visit the Blue Lagoon and go on a whale watching cruise.
4) Visit the Blue Lagoon and go on a cultural sightseeing tour of Reykjavik.
All four of these tours include admission to the Blue Lagoon in the price. I personally think the Blue Lagoon is a lovely way to round out a Golden Circle tour.
Your hair will get DESTROYED at the Blue Lagoon.
The one thing that everyone says is, "Use lots of leave-in conditioner." The locker rooms at the Iceland Blue Lagoon offer lots of conditioner, so that made it easy.
The water at the Blue Lagoon is not good for your hair. I would especially be cautious if you have natural Black hair, curly hair, or color-treated hair.
I thought my curly hair would be okay. Well, after covering my hair in conditioner, twisting it up in a French twist, leaving the conditioner in, and going into the Blue Lagoon, then coming out, rinsing my hair, conditioning it like crazy, and leaving it in again — my hair was destroyed for the next five days.
Take my advice — even if you condition your hair, don't let it touch the water. You're not missing out on much if you don't. You can choose to wear a swim cap if you'd like, but it's still better to keep your head dry.
The Blue Lagoon has swim caps for sale if you think you need one.
Iceland Blue Lagoon Pricing
The Blue Lagoon has overhauled their website and made it easier to see how much they charge. I'm glad to see that development! Adult tickets are sold to those who are age 14 and older.
Tickets are sold in tiers: Comfort, Premium, and Retreat Spa. Comfort and Premium just vary in terms of amenities, but the much more expensive Retreat Spa tier gives you access to a private spa and private area of the Blue Lagoon Iceland.
Comfort tickets at the Blue Lagoon cost 6,990 ISK ($5 USD). Comfort tickets include entrance to the Blue Lagoon, silica mud mask, use of towel (you can also bring your own towel), and a drink of your choice free of charge.
Premium tickets at the Blue Lagoon cost 8,990 ISK ($70 USD). The premium package includes entrance to the Blue Lagoon, silica mud mask, use of towel, first free drink of your choice, second face mask of your choice, dining reservation (optional), and sparkling wine with your dining reservation.
Retreat Spa tickets at the Blue Lagoon cost 59,000 ISK ($428). Retreat spa tickets include entrance to the Blue Lagoon, access to the private Retreat Spa (four hours), access to a private changing room, The Blue Lagoon Ritual, Retreat Lagoon, skin care amenities, access to the Spa Restaurant, and first free drink of your choice. The Retreat Spa has floor to ceiling windows and is a luxurious experience.
Which tier is best at the Iceland Blue Lagoon? Personally, I think that Comfort is more than fine — there's no real point to Premium. But if you want to go all out and have the cash to spend, go ahead and do the Retreat Spa.
Can you walk around the Blue Lagoon?
Certainly! There is a trail around the grounds of the Blue Lagoon. It's about 1.6 km (one mile), it's almost entirely flat, and it works out to be around a 30 minute walk.
Dining at the Blue Lagoon
The Blue Lagoon has several restaurants on the property, making it possible to stay there for hours and enjoy all the amenities.
I highly recommend pre booking for all three restaurants, but especially for Moss, as it's very popular. You want to make sure you can get your time slot.
Moss Restaurant
If you're looking for something truly special, Moss Restaurant at the Blue Lagoon offers high-end, elegant, beautifully plated cuisine. Moss Restaurant is the best restaurant at the Blue Lagoon, with views looking down into the surrounding landscape of the lagoon, and is open for dinner only. It's also the only restaurant to make Iceland's Michelin Guide.
Moss Restaurant serves tasting menus exclusively, for five and seven courses. A regular menu is available and there is a vegan tasting menu as well. Expect exquisite, modern Nordic dishes featuring high-end Icelandic produce.
Lava Restaurant
Lava Restaurant features gourmet dining overlooking the shores of the Blue Lagoon. Both lunch and dinner are served in this restaurant. While high-end, it's not as fancy as Moss, and you can order from two- and three-course set menus as well as à la carte dishes.
Lava Restaurant features a seafood menu, Icelandic menu, and vegetarian menu. Here the lava field is brought indoors, and you dine while surrounded by the remains of a lava cliff at the Blue Lagoon.
Spa Restaurant
The Spa Restaurant at the Blue Lagoon specializes in light, healthy dishes to be enjoyed in a quiet, peaceful environment. Plenty of vegetarian, seafood, and even meat dishes are on offer, and they have a nice selection of juices.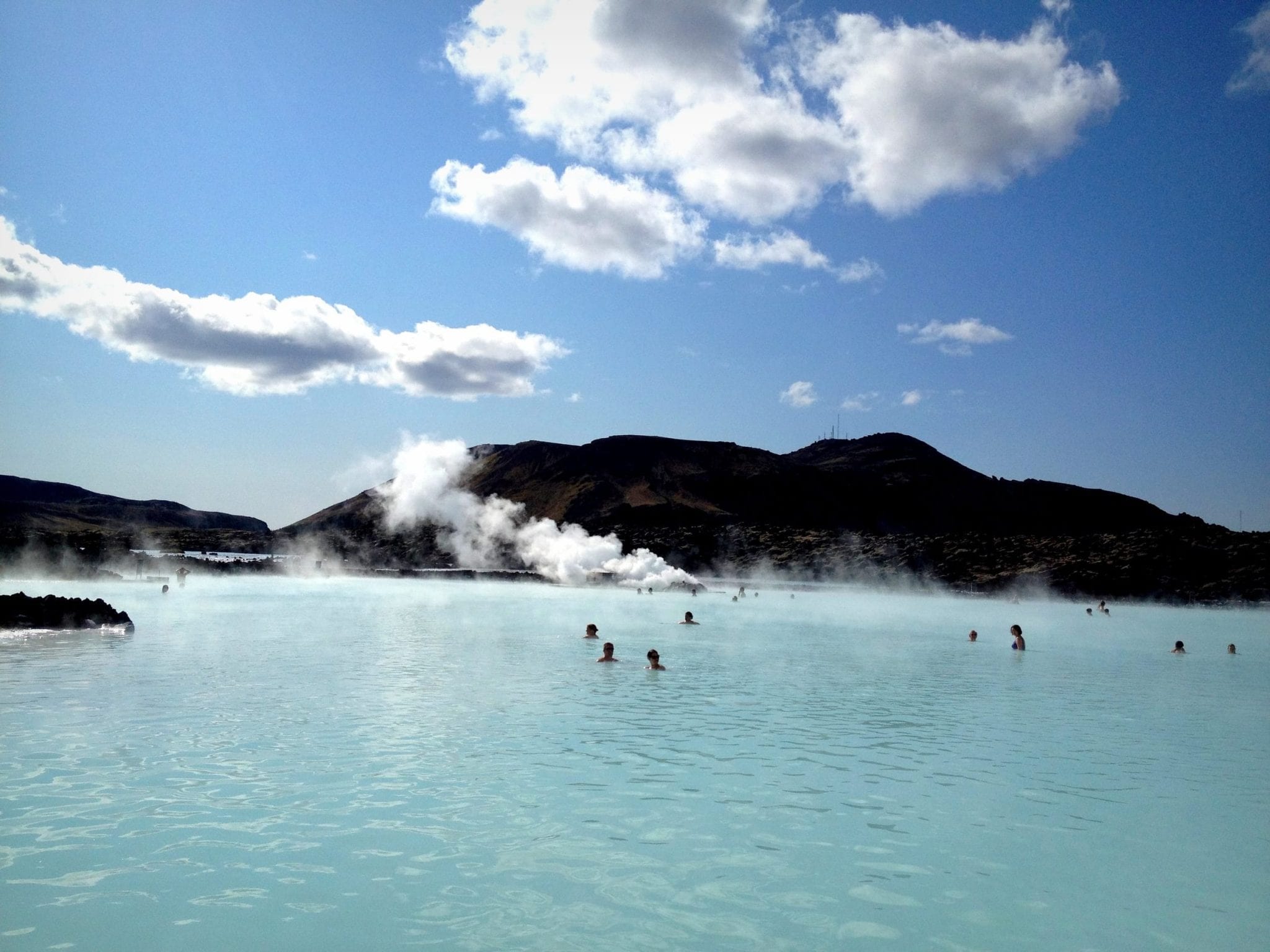 My Blue Lagoon Experience
I enjoyed my time at the Blue Lagoon. Being the kind of girl who loves extreme heat, I thought the water wouldn't be hot enough for me, but it turns out that there is a super-hot section just for cold-blooded ones like myself! You can see it in the above picture — it's where the steam is coming out.
Right away I got into the water, soft with milky blue-green algae and natural minerals, and immediately felt ten times more relaxed.
It never gets too hot in Iceland — in my spring and summer trips, temperatures hovered in mid-40s Fahrenheit (about 6-9 C), which made the pool nice and toasty, and not so cold that walking outside was like Nordic torture. It felt just fine.
If you visit the Blue Lagoon in winter, it will be colder, but that just means you should get in the water a little bit faster. It's nice and cozy year-round.
The Blue Lagoon gives you wristbands that connect to your credit card. You can use for purchases while in the water. This is a brilliant way of paying for items without having to keep an eye on your purse or wallet. The wristband system also prevents people from buying more than three alcoholic drinks.
The Blue Lagoon has a sauna and steam room, as well as an exclusive section. You can get a variety of spa treatments, like face masks, but nothings's better than a massage on a float right in the Blue Lagoon! There are cocktails and alcoholic beverages at the swim-up bar, but I prefer the smoothies instead, which you can conveniently pay for with your wristband.
On the way out, there's a gift shop filled with souvenirs to take with you.
Overall, if you're going to Iceland, the Blue Lagoon is a beautiful place and one of those experiences that you just have to try. If only for the social media posts! But if you can, I recommend you do it on the way to or from the airport — and I beg you, don't let that water touch your hair!
Once you've tried the Blue Lagoon, you may be up for trying more of Iceland's natural hot springs — the Secret Lagoon is one I have on my list.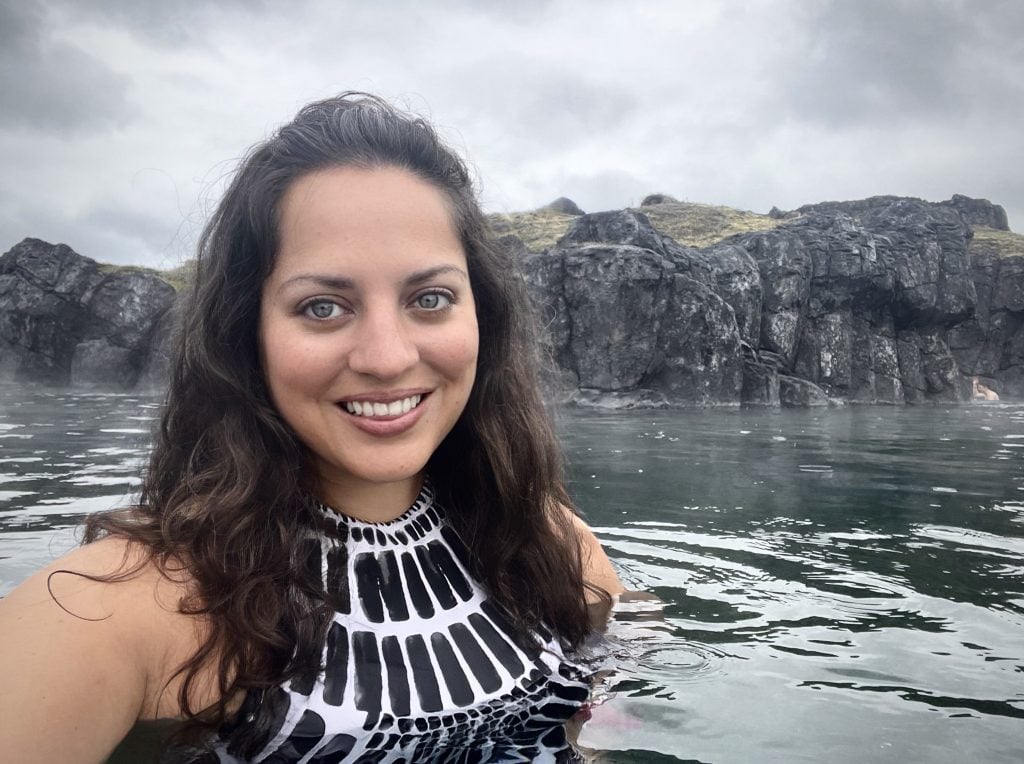 Alternatives to the Blue Lagoon
Iceland is a fantastic country, rich in geothermal spa experiences! Whether you want another high-end spa day or you want to hit the city pools with the locals, you have plenty of choices both in Reykjavik and around the country.
I am a huge fan of the Sky Lagoon, which opened in April 2021. This spa is much closer to Reykjavik (about a 15-minute drive from downtown) and it's a more luxurious, more adult-oriented experience, all gray and misty and overlooking the ocean. You can see my full review of the Sky Lagoon here.
I think the Sky Lagoon is a great option if you want a quieter, less kid-filled experience (the minimum age here is 12 and adult supervision is required) without shelling out the sky-high fees for the Retreat Spa.
Additionally, within Reykjavik are several public swimming pools that you can enjoy for a low fee. I personally visited the Sundhöllin Reykjavik downtown, which have indoor and outdoor pools and several hot pots. Keep in mind phones and cameras are NOT allowed here.
Beyond Reykjavik, there are so many memorable spots, from the Vök Baths of East Iceland to the GeoSea Geothermal Baths of Húsavík, to the Mývatn Nature Baths, known as the Blue Lagoon of the North!
Read More: Is the Sky Lagoon Worth It? A Detailed Review
Blue Lagoon Iceland Address
Visit the Blue Lagoon in Iceland at:
Blue Lagoon Iceland
Norðurljósavegur 9, 240 Grindavík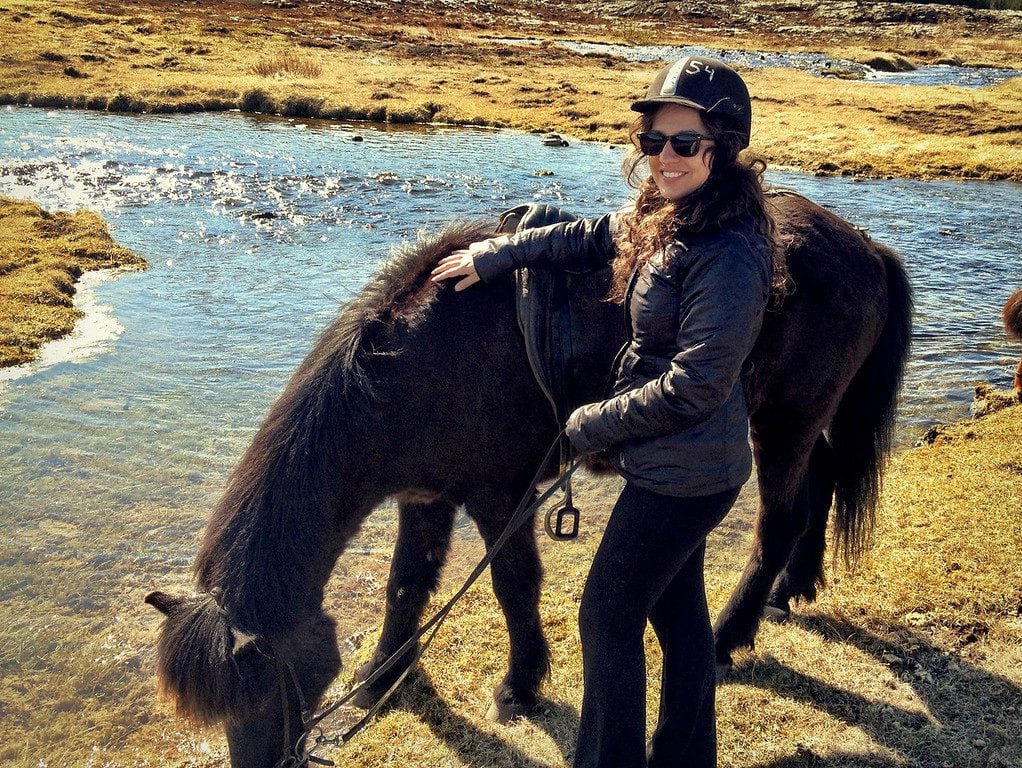 Things to Do in Iceland
Iceland is home to some of the most exciting, once-in-a-lifetime activities you can imagine! This is your chance to go all out with scenery and adventure. It seems like everywhere you go in Iceland, you're close to the top spectacular wonders of the world.
Here are some of my top recommendations of things to do in Iceland, beyond the Blue Lagoon. Here is a mix of small group tours and individual events.
Snorkeling Silfra with Professional Photos — Snorkel the cold, clear, bright blue waters between the European and American tectonic plates, wearing a drysuit to stay warmish. A very adventurous activity, unlike anything else in the world, and the best thing I've ever done in Iceland.
Horseback Riding in the Lava Fields — Icelandic horses are a unique species in the world, fuzzy and short and adorable. Hop on horseback and explore the lava fields, another truly only-in-Iceland activity.
South Coast of Iceland Tour — The South Coast is the most scenic part of Iceland that you can see on a day trip from Reykjavik (if not the most scenic part of the entire country). This tour takes in multiple waterfalls, cliffs, and a black sand beach, all seen by jeep with off-roading capabilities. A fabulous choice for Instagrammers.
Volcano Tour — Ever wanted to see a volcano spewing bright red lava? Now is your chance. A vigorous two-hour hike each way takes you to Fagradalsfjall, Iceland's newest volcano. A challenging hike with a big payoff — and your guide is a volcanologist! Definitely a National Geographic experience.
Reykjavik Food Lovers Tour — Icelandic cuisine isn't exactly world-famous, so here's your chance! Taste unique dishes from the sea and the land, including the famous street hot dog, with a local expert and new friends.
Northern Lights Hunt and Photo Shoot — Watch the green Aurora Borealis dance across the sky, and learn how to photograph it well, even with your phone. Keep in mind that the Northern Lights are seasonally dependent and never a guarantee, but this tour offers you a SECOND TRY if you don't see them your first night! Get photos of yourself beneath the Northern Lights, too.
Reykjavik Beer and Booze Tour — Head out to three cool bars in Reykjavik, led by a guide and surrounded by new friends, tasting Icelandic beers, schnapps, and spirits you never would have known about otherwise. A fun way to enjoy booze in a pricey country.
And this is just the beginning. The Reykjavík area is only one small part of Iceland. To really get to know the country, head out on a road trip, exploring the Ring Road and seeing even more incredible landscapes at every turn.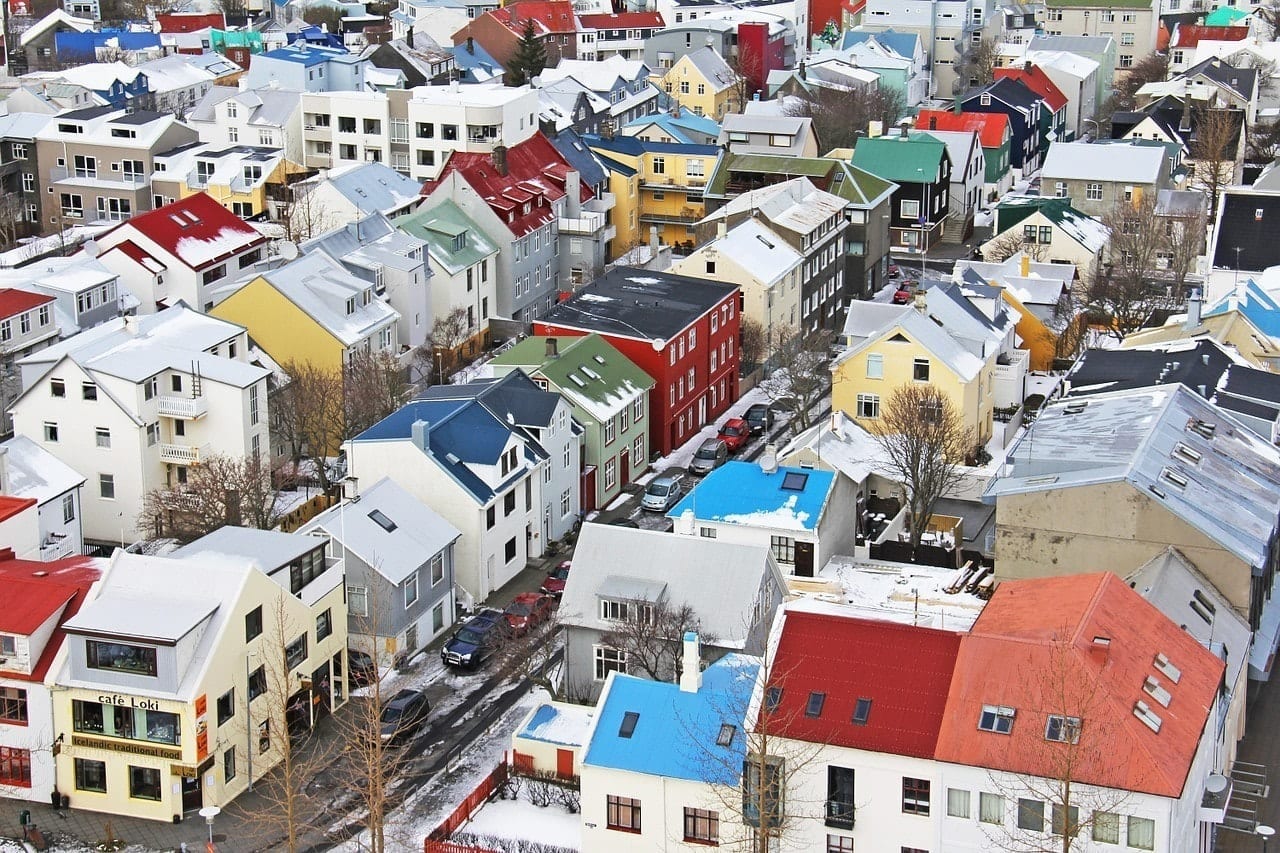 Where to Stay In Iceland
Where's the best place to stay in Iceland? If you're only staying in Iceland for a few days, Reykjavik makes an excellent base for exploring western Iceland.
Here are my top recommendations for Reykjavik accommodation, whether you prefer hotels, hostels, and apartments.
Best Reykjavik Hotels
All of the following hotels are located within Reykjavik's city center or a short walk away.
Best Luxury Hotel: Sand Hotel — Immaculate, gorgeous, and brimming with textured amenities, all set in the heart of downtown Reykjavik, steps from everything. Artsy Icelandic touches in all the right places. Truly outstanding.
Best Mid-range Hotel: Hotel Ódinsvé — Classy, clean, black and white modern hotel rooms, all in a perfect central location. Feels special without breaking the bank. Has a Danish restaurant with an elegant bar on site.
Best Budget Hotel: Igdlo Guesthouse — A warm and welcoming family-run guesthouse with both private rooms and dorms available, plus access to kitchen, barbecue, and laundry to keep costs down even further.
Best Hostel: KEX Hostel — One of the coolest and hippest hostels in the Nordics, featuring a gorgeous lounge area, a nice restaurant, and both dorms and private rooms.
Best Reykjavik Apartments
All of the following apartments are located within Reykjavik's city center or a short walk away.
Best Luxury Apartments: House of the Snowbird — Two gorgeous apartments in a cheery red house that feels like a piece of art. Filled with hand-carved furnishings, comfy robes, and pieces of Icelandic artwork. Feels almost like a retreat hotel. Unforgettable.
Best Mid-Range Apartments: Island Apartments — A minimalist Scandinavian paradise in the absolute heart of downtown. Everything you need in a very convenient spot.
Best Budget Apartments: Stay Apartments Einholt — Simple, clean, high quality apartments at a low price by Reykjavik standards. Simple kitchen facilities and access to laundry machines.
Find deals on Reykjavik accommodation here.
Blue Lagoon Essential Info
The Blue Lagoon Iceland has several different tiers of pricing: Comfort, Premium, and Retreat Spa, with entry as cheap as 76 EUR ($84 USD) in the colder months. Ticket prices vary based on the date and time of booking. Book tickets to the Blue Lagoon including a transfer from Reykjavik here.
Iceland is full of awesome tours, from ice climbing to whale watching to snorkeling between the techtonic plates. Check out some of the best tours here.
For flights to Iceland, I find the best rates on Skyscanner. Double-check here to make sure you got a good rate.
Looking for a group tour to Iceland? G Adventures has several Iceland tours, all with small groups.
The best way to get from the airport to downtown Reykjavik is the Flybus. It's cheap, easy, and runs frequently.
While Iceland is one of the safest countries in the world, it's vital to get travel insurance before your trip. If you get seriously injured and require an air ambulance home, it could save you literally hundreds of thousands of dollars. I don't travel anywhere without insurance, and I use and recommend World Nomads.
More Hot Springs in Iceland:
More on Reykjavík:
More on Iceland: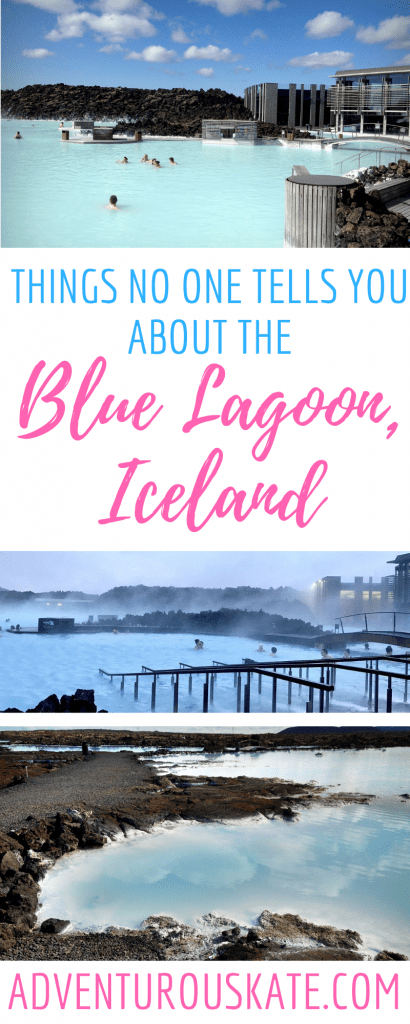 Many thanks to the Iceland Tourism Board and the Blue Lagoon Iceland for hosting my first visit in 2012. I've since returned and have paid my own way. All opinions, as always, are my own.