Adventurous Kate contains affiliate links. If you make a purchase through these links, I will earn a commission at no extra cost to you. Thanks!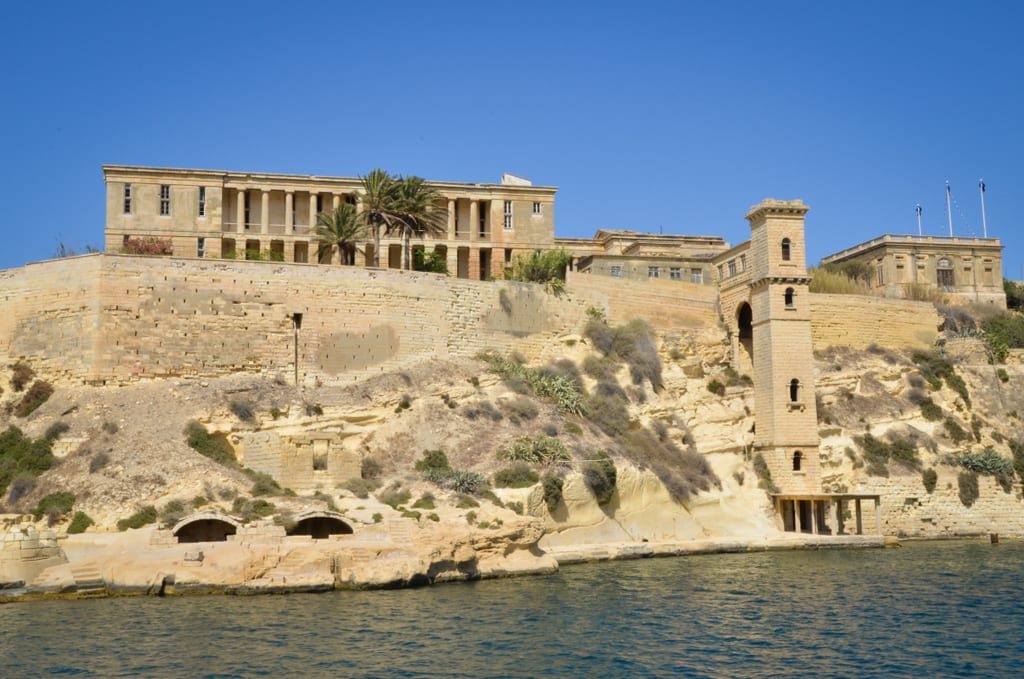 Is Malta a great country for backpackers? Absolutely. It's fun, it's cheap, it's got nice hostels, it's easy to get to and get around.
But are there backpackers here? Very few. I was shocked at how few people I saw actually backpacking Malta. Sure, there are lots of young people with backpacks, but they tend to be staying in Malta to teach or learn English. And that doesn't include the young Brits who come to party.
The thing is, I found Malta to be a great country to backpack — the only issue is that people don't know about it. People see that tiny speck on a map and think it's too difficult to get to. Well, it's really not!
I've put together a Malta backpacking guide. Here is how to plan your trip on the cheap:
Getting There: Cheap Flights
While you can get to Malta by ferry from Catania, Sicily, it's often cheaper and faster to fly from wherever you are on the European continent. Easyjet has budget flights to Italy and the UK; Ryanair (eek!) has budget flights all over Europe.
Air Malta also flies all over Europe and though it's not a budget airlines, the prices are competitive.
I was shocked at how many cities fly direct to Malta!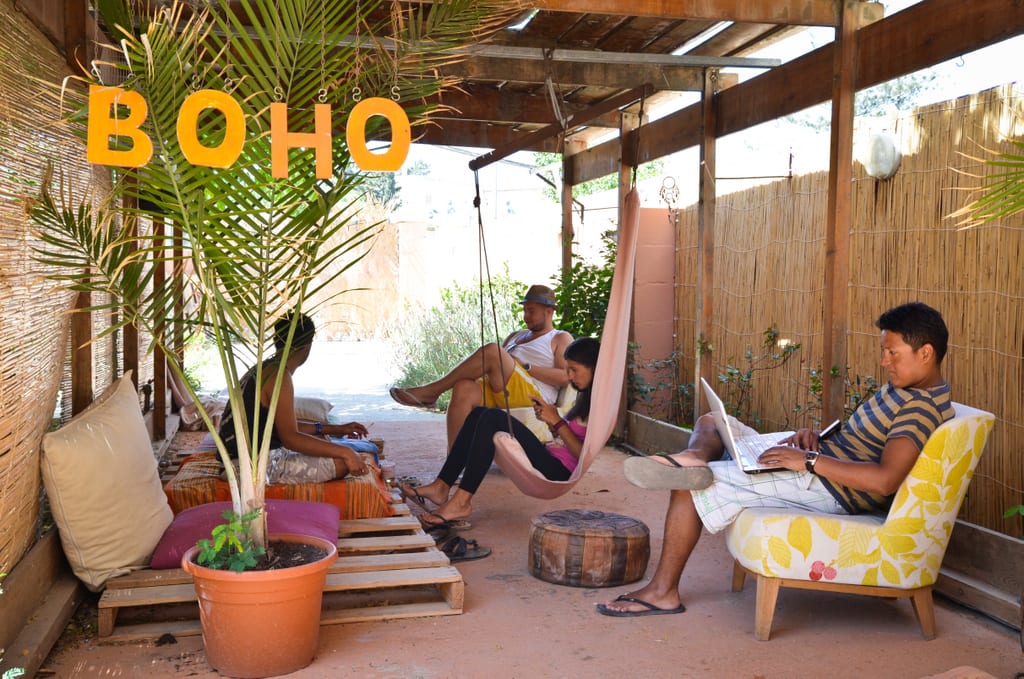 Cheap Lodging: Boho Hostel
Tucked away in a quiet neighborhood a 15-minute walk from the waterfront in St. Julians is Boho Hostel, a fun and colorful enclave for backpackers exploring Malta. Boho Hostel and HostelWorld hosted me for four nights, and I ended up loving this place.
It suits its name — it's a very bohemian place, with hammocks, brightly painted rooms, creatively mismatched furniture, a slew of guidebooks, and a great chill-out area outside.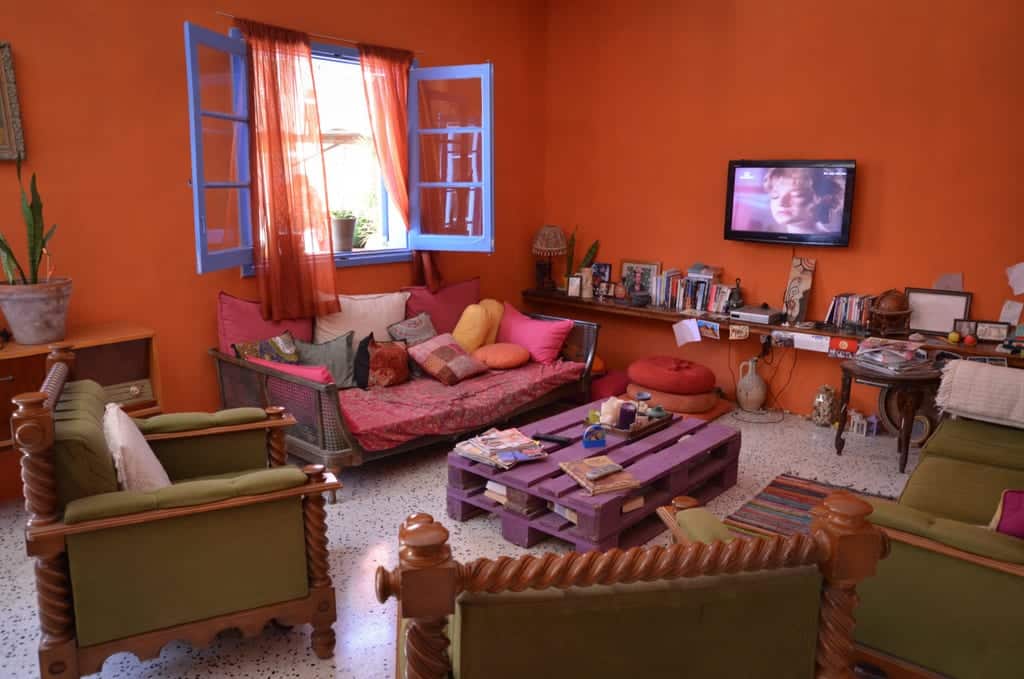 The wifi was fairly fast, but it kept crashing. The staff was very friendly and helpful, though it did seem that they weren't around a lot of the time (and I thus had to reset the router ourselves most of the time).
I stayed in a giant handicap-accessible suite with a double bed and a bathroom big enough to do cartwheels. This room starts at €40 ($53) per night; they also have six-bed dorms from €15 ($20) per night.
I loved the sense of community — they planned activities, like an evening dinner on a secluded beach most people wouldn't know about.
The location, while decent, wasn't the greatest — a 15-minute walk from St. Julians isn't that bad, but I wouldn't be comfortable walking that distance alone at night. Additionally, it's a residential neighborhood — you can't just walk down the street to a cafe. You need to take that 15-minute walk.
That said, it can be hard to find quiet places in Malta, especially on a budget, and I appreciate the location for that reason.
As far as cheap lodging in Malta goes, Boho Hostel is a solid place. I highly recommend it. You can find other affordable accommodation in Malta here.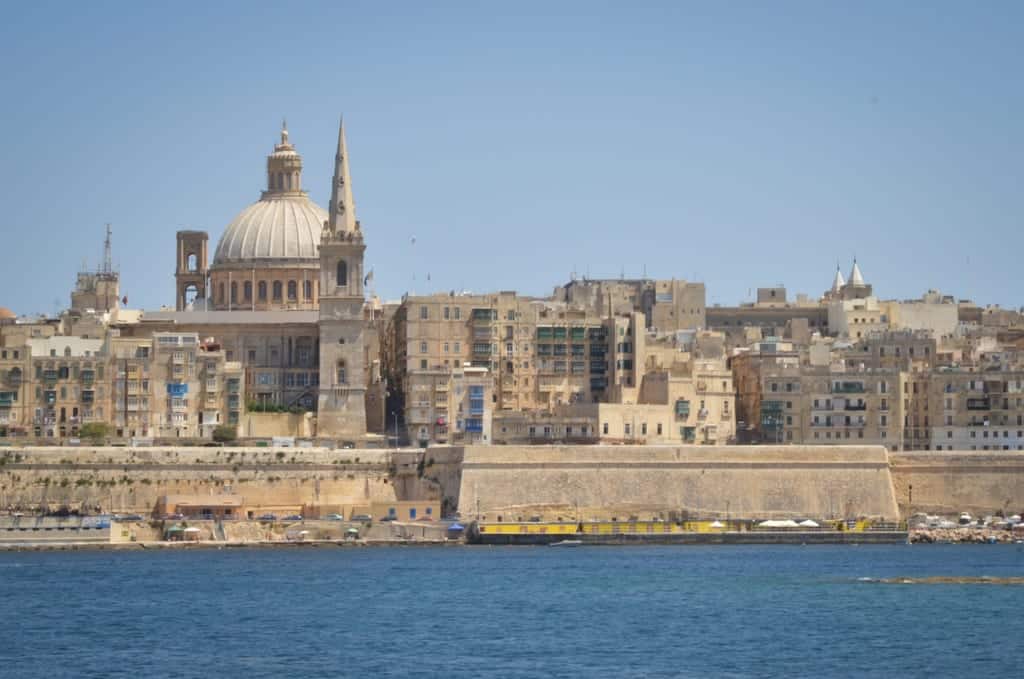 Getting Around: Buses and Ferries
While getting around by car (provided you can handle the horrific Maltese driving) is the ideal way to see the island, getting around by bus is easy and shockingly cheap. A single ticket costs €2.20 ($3), a day ticket costs €2.60 ($3.50), and even a seven-day ticket costs just €12 ($16)! They run fairly often and their network is extensive, covering Gozo as well as Malta.
In some cases, taking a ferry is best. The ferry from Sliema to Valletta — in my opinion, the best way to travel between those two cities — takes about 10 minutes, runs every 30 minutes, and costs €2.80 ($4) for a round-trip ticket.
You can check bus schedules here; ferry schedules are here.
If you want to spend more for a tourist-oriented route with commentary, CitySightseeing Malta buses cost €15 ($20) for one day and €28 ($37) for two days (the two-day one includes a harbor cruise). There are three routes to choose from: two in Malta and one on Gozo.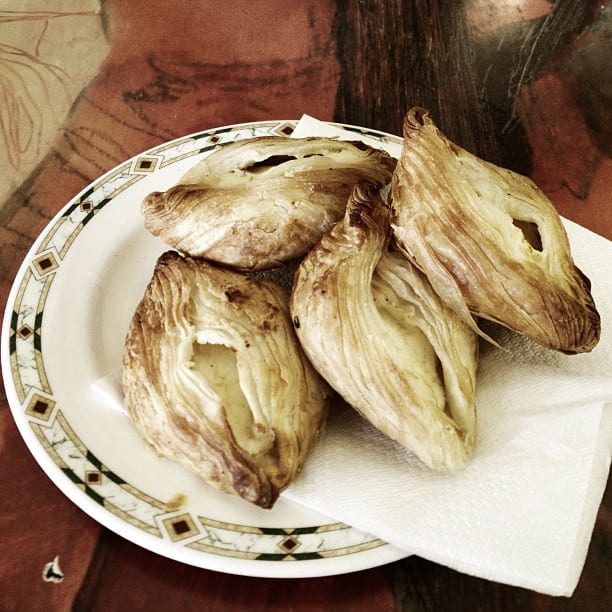 Cheap Eats: Pastizzi and Pizza
I found restaurant prices to be overall cheaper than what you'd expect in other touristed regions of Western Europe. And Malta has two particularly cheap eats: pastizzi and pizza.
Pastizzi (seen above) are incredibly delicious and supremely unhealthy pastries stuffed with ricotta or peas. I prefer the ricotta ones (everyone seems to!). Go for the boat-shaped ones, not the round ones.
These adorable little deep-fried pockets of goodness usually cost 30-50 cents ($0.40-66) each. Maybe 80 cents ($1) somewhere fancy. I couldn't eat more than two in a sitting.
Pizza, pronounced PIT-sa, not PEET-za, is basically a large sheet of pizza cut into squares. Nothing revolutionary — but it only costs around €1 ($1.30) a slice! My favorite place for pizza is Mr. Maxim's in Gzira.
You'll see produce trucks around the island, and these are great places to stock up on cheap fruits and vegetables.
And if you want a nice dinner but still want to keep it cheap, head to the fishing village of Marsaxlokk and eat fish at one of the restaurants on the waterfront. Some of them have super-cheap specials around lunchtime, but you'll find high value meals all day. Many range from €10-15 ($13-20) including a glass of wine.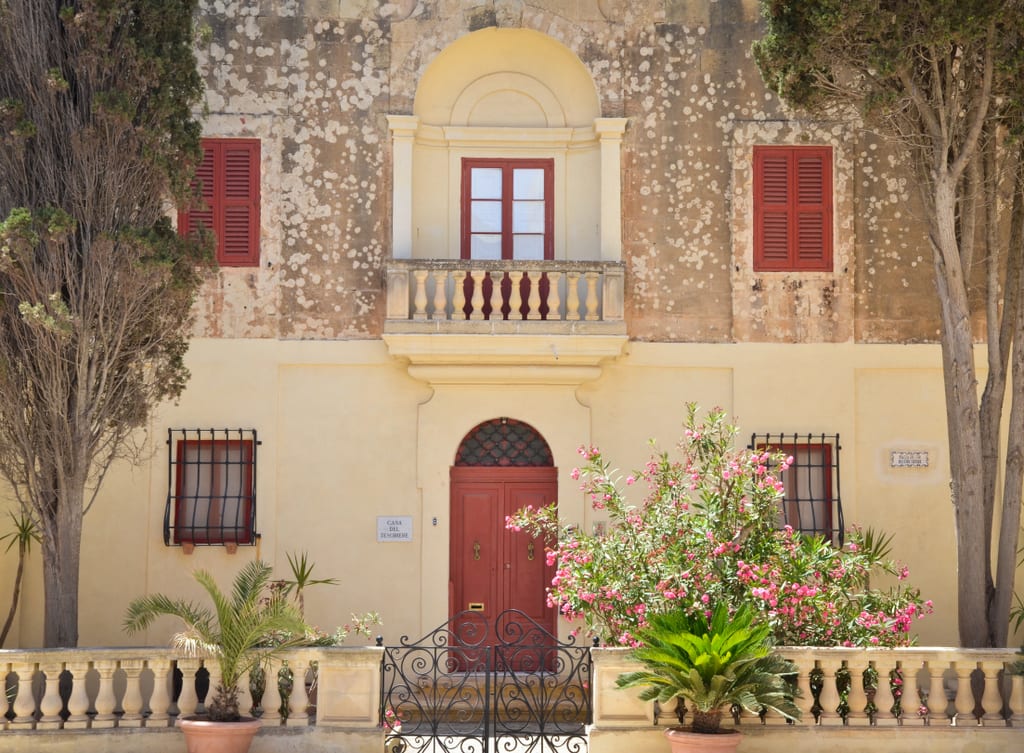 Free Things to Do in Malta
Malta is the kind of place that lends itself to wandering, taking photos, and just enjoying the atmosphere. Here are some cool free things to do:
Go on photo walks in cool cities. Valletta is a photographer's gold mine, filled with a perfect grid of streets, colorful balconies, retro charm, and the incredible views from the Upper Barakka Gardens. Mdina is equally photogenic but completely different, with its immaculate white buildings and narrow streets. So is Marsaxlokk, with its calm bay and brightly painted boats.
This is about 90% of what I did in Malta, and I would have been happy if it had been 100%! It was so much fun. But there's more:
Check out the crazy, opulent churches. With the exception of St. John's Co-Cathedral, just about the rest of the churches in Malta are free to enter. Try to check out a church or two in tiny towns.
Walk the waterfront from St. Julians to Sliema and Gzira. Not only will you work off the pastizzi, this is THE place to see and be seen in the early evening.
Catch some rays on the rocky beaches. They might not be BEACH beaches — but they're free and located throughout the country.
Visit Gozo's Citadel. From the top, you can see coastline in every direction!
Check out the natural wonders. It's free to visit the Azure Window or the Dingli Cliffs.
Cheap Things to Do in Malta
Nothing in Malta is ridiculously expensive. The one pricey activity is diving (and most divers will say it's worth it to experience one of the world's best dive sites), but you can find plenty more activities for €20 or under. Here are some of my favorites:
Lie on a sandy beach with a chair and umbrella. While beaches can get insanely expensive in Europe, you'll pay only around €10 ($13) for a chair and umbrella in Mellieha or one of the beaches on Gozo.
Check out the Old Prison and Citadella Sights of Gozo. Located in Victoria's citadel, the prison is still filled with etchings of boats and hands carved by prisoners centuries ago. Tickets cost €8 and also include admission to the Gozo Archaeology Museum, Folklore Museum, and Natural History Museum.
Check out Malta's UNESCO-listed ruins. Malta is covered with ruins, including the Tarxien Temples, which I visited and which cost €6 ($8). The Hypogeum, home to Malta's underground ruins, costs €20 ($26.50).
NOTE: If you want to visit the Hypogeum, book your visit as soon as you book your flights to Malta. They limit the number of visits and it gets booked out months in advance. MONTHS! I wasn't able to go for this reason.
Take a Captain Morgan Cruise around the Grand Harbour. Captain Morgan (no relation to the rum) have tons of cruises around Malta, from full-day cruises circling Malta to romantic sunset cruises to booze cruises on a catamaran. The Harbour Cruise is a great way to learn about Malta's crazy history and costs €16 ($21).
Visit St. John's Co-Cathedral. Of all the crazy ostentatious churches in Malta, this is the craziest, most ostentatious church of them all. Tickets cost €6 ($8) and include an excellent audio guide.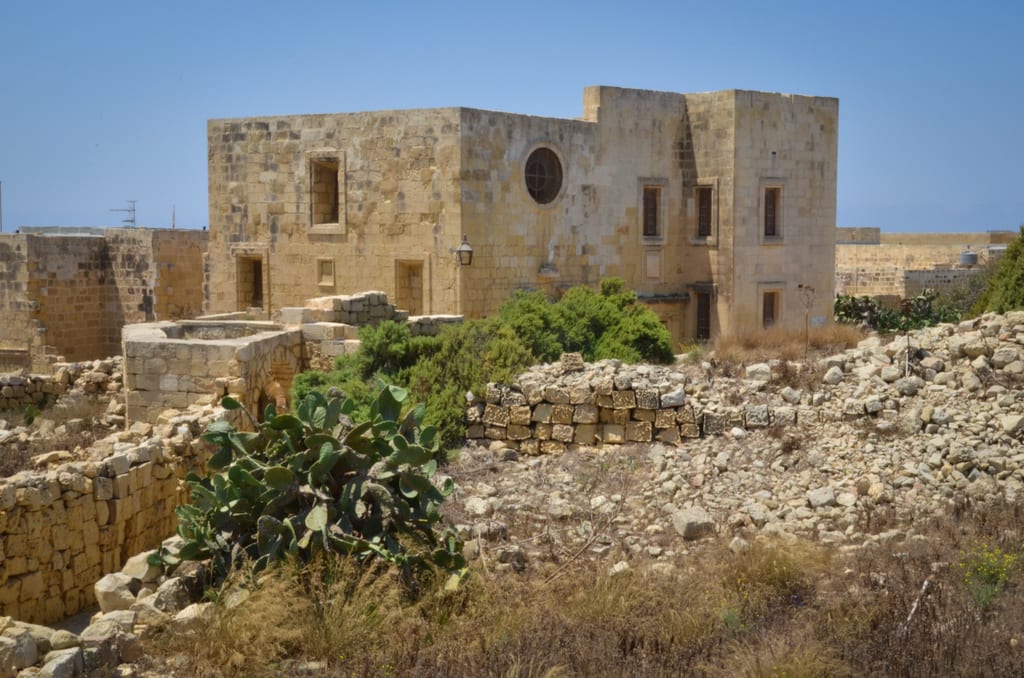 Make Malta Part of Your European Trip
Malta may not be the most convenient place to fly to from North America — but if you pair it with another European destination or two, you can visit Malta easily and affordably.
If you're planning to spend two weeks in Europe, you could plan to visit three destinations, booking cheap flights between them.
Some suggestions?
How about first Sevilla, then fly to Malta for a few days, then finish in Paris? Or you could start with a few days in London, fly to Malta, and check out Rome before flying home. Why not hit up Amsterdam, then Malta, then fly to Budapest? Or do I did — we flew to Malta from Vienna, then flew on to Istanbul!
All of these itineraries can be done with direct flights into and out of Malta, many of them on budget airlines. The possibilities are endless! Type "fly to Malta" into Google to see a full list of direct routes.
Malta is a wonderful place — and it deserves to be a spot on your personal backpacking trail.
Many thanks to HostelWorld and Boho Hostel for hosting us for four nights. All opinions, as always, are my own.
Get email updates from Kate
Never miss a post. Unsubscribe anytime!