The Most Colorful City of San Juan del Sur, Nicaragua
There's so much I have to write about San Juan del Sur. I planned on coming for three days; I ended up staying for eight. I haven't felt such a strong pull to a place in a long time. At times it almost felt like a time warp — traveling back to a time when I was a 26-year-old party girl, only now with Tinder.
But if there's anything that struck me about San Juan immediately, it was that it was just so colorful. Nicaragua stunned me with its bright colors, but San Juan brought it to a new level, both naturally and creatively.
I fell for San Juan right away, and I decided that showcasing the city's colors would be the best way to introduce you to San Juan as well.
Here are my favorite colorful shots!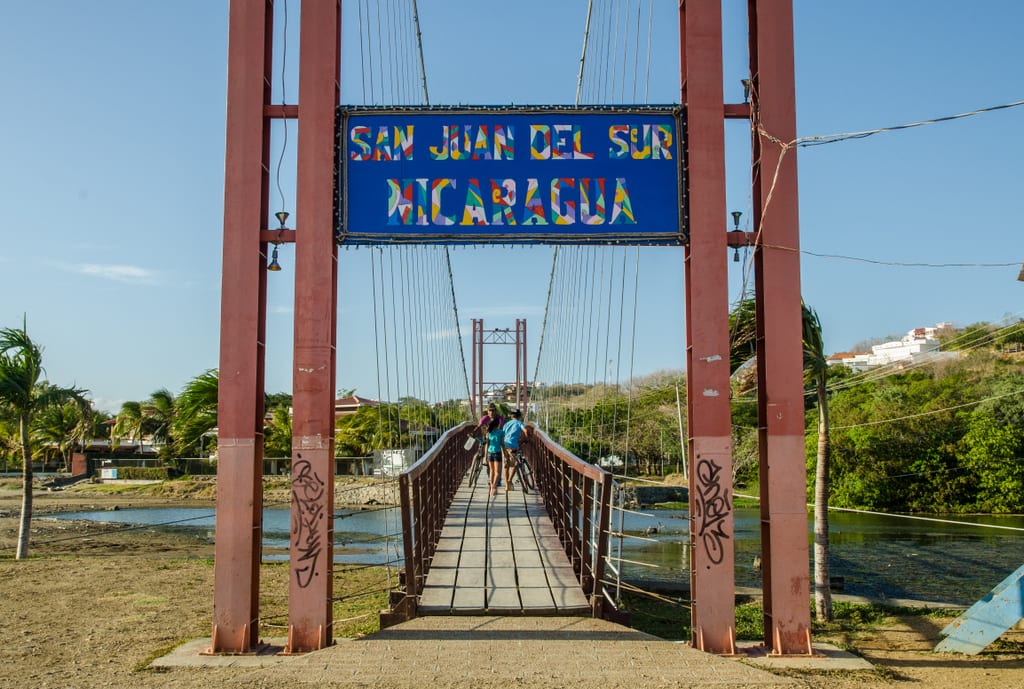 Welcome to San Juan! Ironically, you see this sign when leaving the town and heading into the hills surrounding the city.
San Juan is famous for its beach, but this actually isn't one of the better beaches in the area. Up close it's a bit dirty. You're better off heading to Playa Hermosa or Playa Maderas.
That said, the beach looks incredible from above.
I spotted that woman down the street and waited until she filled the doorway to take the photo. I love how her shirt and toenails match the red building.
San Juan's Jesus statue overlooking the town is well worth the steep uphill climb to get there. Go just before sunset and you'll be able to capture colors like these.
Alex and I rocked our colorful workout gear while catching the best light of the day. ("Can I work out with you guys?" was the unusual street harassment line of the day.)
San Juan's trademark yellow church comes with a playground in front.
Colorful Jesus, just hanging out on a rock.
How amazing is this view over the coastline?
Turquoise clapboards and classic gringos in the center of town.
Just outside the city, you can discover tiny little coves with private beaches and bright teal water.
Boutique hotels and chicken buses: San Juan is a city in the midst of transition. I would love to be a property developer there right now.
Happy Sunday Funday! Every Sunday, a pool party crawl snakes across the town, drawing huge crowds of partying backpackers. It's the closest thing I've found to tubing in Vang Vieng.
Murals dot the city streets.
The inside of my hostel, Casa Oro, which I loved and recommend. The guy in the front hammock was eager to pose; the girl in the back took a more discreet approach.
And finally, you couldn't end a post about colors without a sunset shot! Even though signs everywhere in San Juan read, "Do not go to beach at night, YOU WILL GET ROB," Alex and I stayed just long enough to photograph the pink clouds before getting out of there.
Essential Info: San Juan del Sur is close to the Costa Rica border. If you're coming from there, it's easiest to take a taxi, which should take 30 minutes and cost around $22. If you're coming from the north, it's super easy to take a bus (or taxi) from the city of Rivas or San Jorge, where you get the ferry to Ometepe.

I stayed at Casa Oro Hostel, which I highly recommend. It's in the perfect location, a social atmosphere, and they serve delicious cooked breakfasts every day (think breakfast burritos). Alex and I split a windowless ensuite room (no hot water) with one double bed and one twin bed for $32 per night, which is expensive for Nicaragua but in line with what we saw for San Juan. You can find other hotels in San Juan del Sur here.
What's the most colorful city you've ever visited?
Adventurous Kate contains affiliate links. If you make a purchase through these links, I will earn a commission at no extra cost to you. These commissions help reduce the ever-increasing costs of keeping this site active. Thanks for reading!