Adventurous Kate contains affiliate links. If you make a purchase through these links, I will earn a commission at no extra cost to you. Thanks!
Iceland is well-known for having some of the strangest foods in the world.  I mean, this is a country where rotten shark buried in the ground is a specialty!  Gordon Ramsay couldn't keep it down!
While I didn't go quite that far on my trip, I wanted to try an array of typical Icelandic foods.  Amanda from A Dangerous Business wrote about her adventures with traditional Icelandic foods and mentioned Tapas Barinn, a tapas restaurant in Reykjavik that happens to feature an Icelandic tasting menu.
As soon as I read her post, I knew I had to try this menu for myself!
Here's what I got: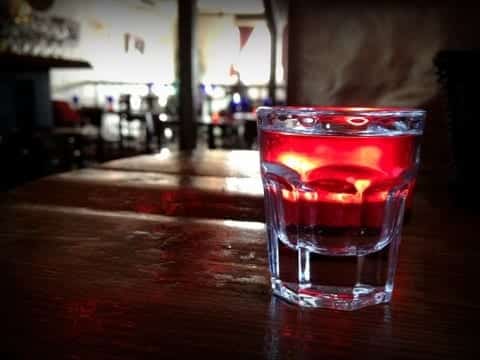 Aperitif: Brennivin
Down the hatch!  Brennivin, an Icelandic liqueur, tastes a bit like sambuca, if you removed some of the flavor and made it more potent and sharp.  Essentially, mix sambuca and cheap vodka and you'll get something like Brennivin.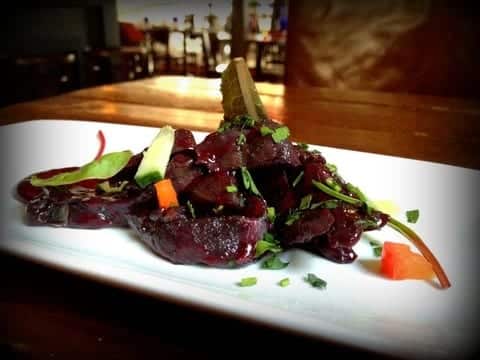 Course One: Smoked Puffin
Now, this is the controversial course.  How could anyone eat such an adorable bird?  (My boyfriend is still giving me crap for it.)
So, how did it taste?  Like a salty, meaty fish — like smoked salmon if it had the texture of steak tips.  It was served with blueberry sauce and I'm still not sure how I feel about it.  My waitress, Hilde, told me that people either love it or hate it, but I honestly still can't make up my mind about how I felt about it.
Now, what they don't tell you is that you walk home and EVERY STUFFED PUFFIN IN THE GIFT SHOPS STARES AT YOU.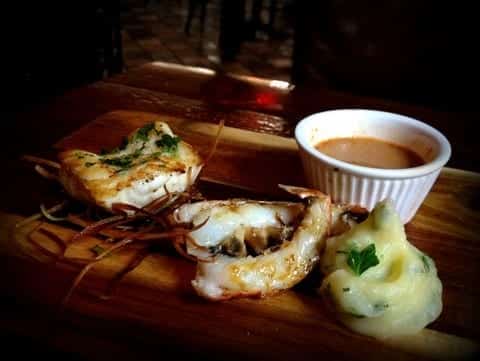 Course Two: Monkfish with Pan-Fried Lobster Tails
This fish was tender and buttery, and the very best part of it was the crispy onions!  They added a lot of nice texture and seasoning to the fish.
The pan-fried lobster tails were small and a bit on the hard side.  The mashed potatoes, filled with lots of parsley, were delicious.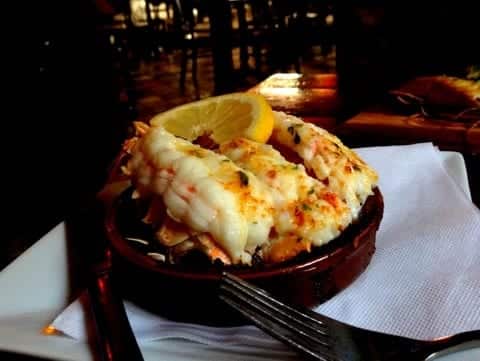 Course Three: Baked Lobster Tails
Wow.  What kind of tasting menu gives you THREE lobster tails for a course?!  Very nice, Tapas Barinn.  Being the kind of girl who willingly drives 90 minutes up to Maine to eat a butter-drenched lobster roll (but mostly the lobster-filled seafood chowda), I'm serious when it comes to this particular crustacean.
These lobster tails really can't compare to Maine lobster tails in size or taste.  BUT these Icelandic lobster tails are fabulously delicious, tender, buttery and garlicky.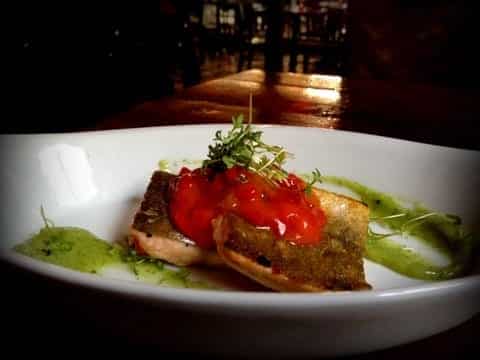 Course Four: Smoked Trout with Roasted Red Pepper Salsa and Estragon Sauce
This was a good course — but the trout really needs both sauces to make an impact.  It's a nice transitional (and more normal) course between two of the extreme options.
Course Five: Minke Whale
OH MY GOD, I ATE WHALE.  I ATE IT SO FAST I FORGOT TO TAKE  A PICTURE.  Fear not — minke whale is farmed sustainably in Iceland.  It's not like you're chomping on an endangered species.
Whale tastes like steak — a bit tougher than regular steak, but with a soft center and a nice flavor that I really enjoyed.  While I LOVED the sweet potato/ginger buttery mash on the side, I thought it was a bit of an odd pairing — ginger and seaweed are more suited for seafood dishes, and though whales live in the sea, they taste much more like beef than fish.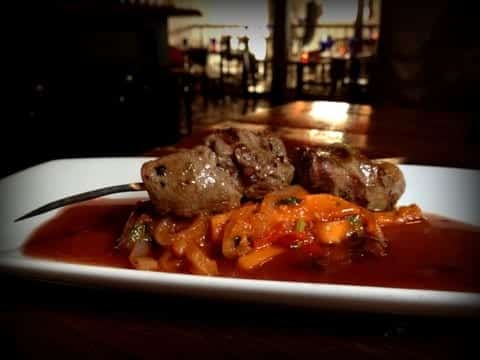 Course Six: Lamb Mint Kabob
By this point, I was absolutely stuffed from the previous five courses, but I knew I had to keep going.  This minty lamb kabob was served on a pile of tomatoes and onions, not unlike what you'd find in fajitas.
I didn't find Icelandic lamb to be that different from the lamb I've had before, only a little bit tougher.  A very good dish.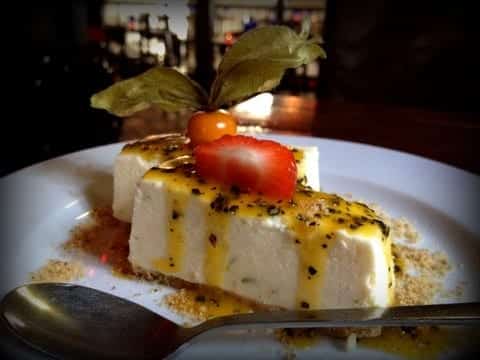 Course Seven: White Chocolate Skyr Mousse with Passion Fruit Coulis
What a delicious dessert!  I only wish I had room to finish it all.  Skyr is a thick Icelandic yogurt, and in this case, it was used to make a cake with a graham cracker-like crust.  The tart passion fruit sauce was absolutely perfect and the perfect counterpart to the delicately flavored mousse.
I ate skyr in so many forms in Iceland.  I had it in a parfait with berries and white chocolate at The Laundromat Cafe.  I had it for breakfast at another morning cafe.  It was even used instead of mascarpone in my tiramisu at Kex Hostel!
The Verdict on Icelandic Food
Icelanders, just like everyone else in the world, care about their food and love to show it off to visitors with inventive creations.  It may have veered a bit on the fishy and tough side for my personal taste, but it wasn't as bizarre as I feared.  (Then again, I still haven't tasted hakarl, the rotten shark.)
As for the Icelandic Gourmet Feast, it may seem on the expensive side at 5,890 ISK ($46), but when you consider how much food you get, how many different foods you try, and how expensive Iceland is overall, it's actually a good deal.  I totally plan on bringing people here when I return to Iceland.
And maybe, someday, I'll get the urge to try that rotten shark after all.
More on Iceland:
My Favorite Places in Iceland:
---
Many thanks to Tapas Barinn for the complimentary meal.  All opinions, as always, are my own.
Get email updates from Kate
Never miss a post. Unsubscribe anytime!