Adventurous Kate contains affiliate links. If you make a purchase through these links, I will earn a commission at no extra cost to you. Thanks!
The older I get, the more I learn how to give myself balance. I knew that September was going to be an incredibly busy month, with a hectic week of activities in Prague followed by a nearly nonstop month of travel in the States.
The me of five years ago would have pushed through, continuing to publish lots of posts, log crazy hours, and barely sleep, because that? That was my idea of balance back then: doing EVERYTHING hard.
But the me of 2021 took this month as an opportunity to put all my energy into one category — travel, research, information-gathering — and to let everything else slide. And that, making decisions based on energy, is a much better way for me to move forward.
I spent very little time doing traditional behind-the-computer work this month. I only published one new blog post (plus August's recap). And of course I did the Patreon work. But beyond that, I was content to let everything else slide and focus on travel. Plus time with my family!
Blogging will pick up when I get back to Prague in mid-October. And it's worth noting that I didn't suffer any grave consequences as a result of taking this time off.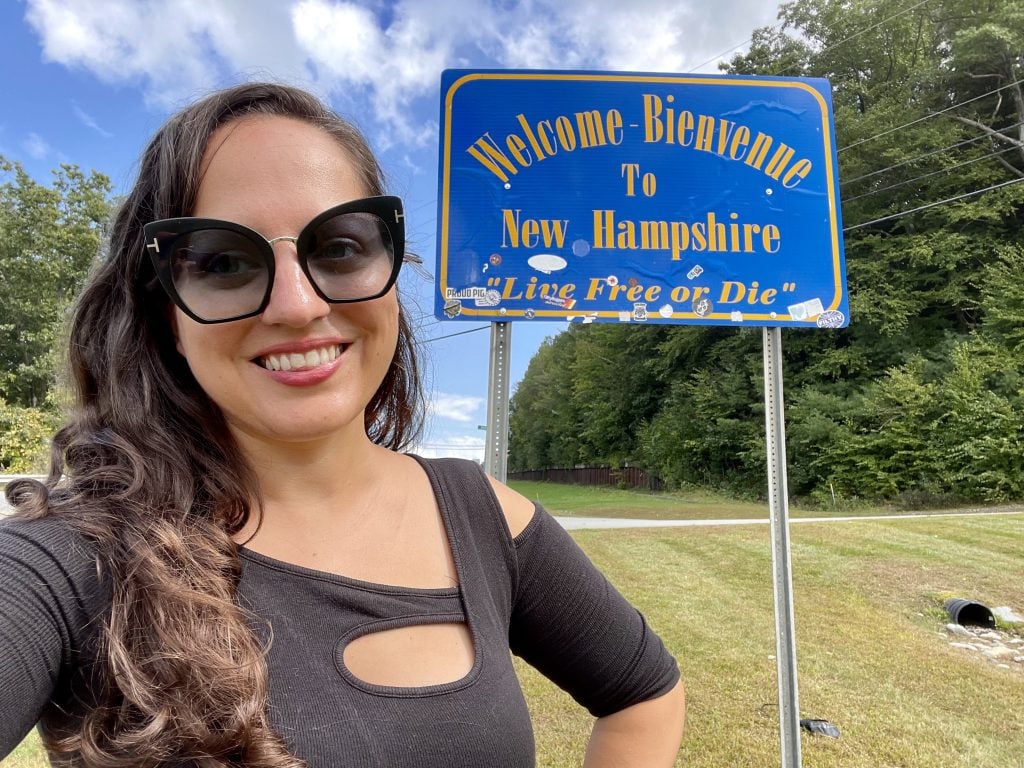 Destinations Visited
Prague, Czech Republic
Reading, Lynn, Swampscott, and Lynnfield, Massachusetts
Tilton, Laconia, Meredith, Bristol, Rye, New Castle, Portsmouth, North Hampton, Hampton, Brookline, Hollis, Nashua, Bradford, Newbury, Sunapee, Newport, Cornish, Hanover, Plymouth, Lincoln, North Woodstock, Franconia, Bethlehem, Hart's Location, Lancaster, Woodstock, Sugar Hill, Littleton, Livermore, Albany, Bartlett, Tamworth, Center Ossipee, Conway, North Conway, Intervale, Jackson, Gorham, Errol, Moultonborough, Holderness, Gilford, Alton, Wolfeboro, Chichester, Peterborough, Rindge, Jaffrey, Winchester, Keene, Chesterfield, Fitzwilliam, and Exeter, New Hampshire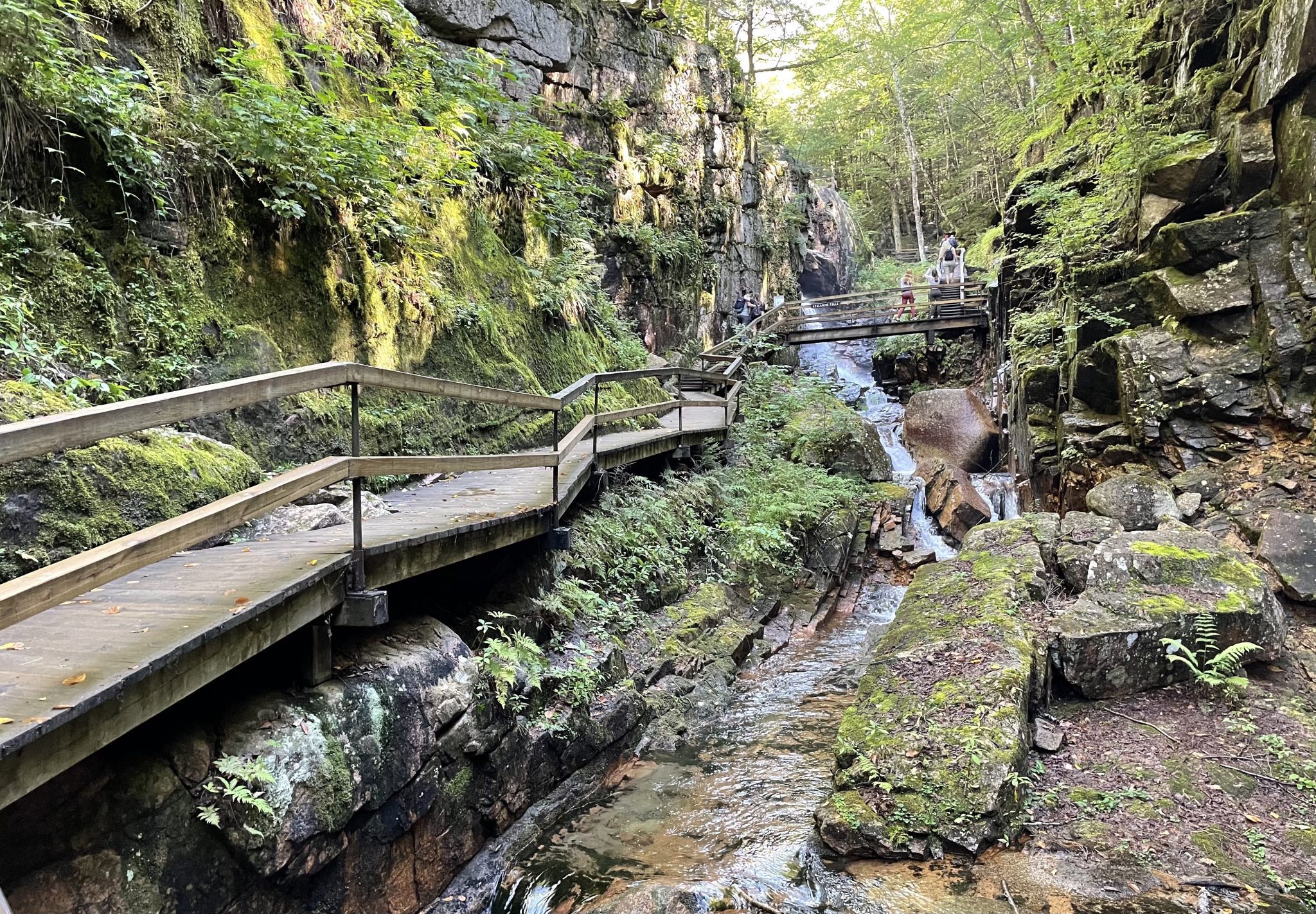 Highlights
A fabulous and comprehensive road trip around New Hampshire. You might have noticed that that's an ENORMOUS list of towns.
I grew up spending every summer in New Hampshire, and while I visit New Hampshire often when I'm home, I've never treated it like a blogger visit. That's changing now. This time I did all the research, took all the photos, did all the experiences!
Some of the highlights: doing a mailboat cruise on the M/V Sophie C on Lake Winnipesaukee from Weirs Beach (truly unique and special), going on a moose tour in the Great North Woods (we saw three lady moose!), hiking to Artist's Bluff (easy and scenic), and discovering cool towns (big fan of Keene, Littleton, Sugar Hill, and Lancaster).
Absolutely perfect weather in the White Mountains. Mid-September was glorious — clear blue skies, warm days, cool-ish nights. That is EXTREMELY unusual! I usually go in summer, and I'm used to overcast days and crazy weather that changes on a dime. I'm telling you, early foliage is the time to go.
Visiting 25 New Hampshire breweries so far. On my way to being an expert! Some favorites: Schilling Beer Co in Littleton for European beers, Woodman's in Bristol for coziness and hidden gem-ness, Rek-Lis in Bethlehem for a fun convivial atmosphere, Branch & Blade in Keene for REALLY weird stuff. I've also visited several wineries and distilleries.
Seeing Yo-Yo Ma perform live in Prague. This was special. During COVID, Prague constructed an outdoor concert venue on an island in the Vltava River. We watched him perform the Bach cello suites, and he even arrived like a baller in a lit-up boat!
Two things I loved: that people were able to watch from the bridge for free, and that everyone in the audience was dressed up. I love dressing up for events and I love when everyone else does, too.
A sweet little Prague staycation. Prague's fanciest hotels have slashed their rates due to COVID, so Charlie and I booked a night at the five-star Hotel Kings Court, went cocktail bar-hopping, and enjoyed feeling like tourists in our magical city.
We found cat sitters over Christmas! Charlie and I booked a whirlwind trip to see our families over the holidays (two nights in London, four nights in Boston, two nights in New York). Within a few days, we found a friend and a friend of a friend who offered to cat-sit and enjoy Prague in the snow.
Helping my mom move out and on. My mom is trading Massachusetts for Florida! I'm excited for her next step and relieved that she will no longer be climbing 33 steps in the snow and ice.
Challenges
Rental car ridiculousness. UGH! I was so excited that Priceline gave me a car rental for only $288 for two full weeks out of Boston. Well, I got to the counter and found out that Priceline never sent Thrifty the confirmation.
Priceline told me to book another rental with the same company, same dates, and same car class, and they would refund me. So I did. Total: $1900.
I am currently awaiting the refund. Super pissed off about all this. They do this because they think most people won't challenge them.
Getting caught in a torrential rain storm. On the day I drove up to Sunapee and Hanover (note: Boston area to Hanover is a LITTLE too far of a day trip), my dad warned me that it was going to rain. And of course that information went in one ear and out the other.
By the time I was ready to leave the Hood Museum — and my paid parking was about to run out — it was raining in SHEETS. A sweet Dartmouth student let me share her umbrella, but I still got soaked in the 10 seconds it took to get to my car.
I was two hours from home, and it was the most intense rain storm I have ever driven through. I even saw a bolt of lightning hit the ground near me for the first time ever! But there was a white line in the distant sky, and once I hit it, the rain was over. From Concord onward it was a rain-free drive home.
A scary overnight stay in Gorham. I had to spend a night in Gorham because I knew the moose tour could go as late as midnight and I didn't want to drive that late in moose country. So I booked the cheapest motel that didn't have abysmal reviews.
As I got there, my intuition was pinging like crazy. The men there were staring at me, clocking me as an outsider (it seemed like quite a few motel guests were living there long-term). And I accidentally used my key on the room next door — and it OPENED. Did they use the same key for every door?!?!
So yep, I spent the night with the heavy desk barricading the door, just in case.
Oh, and we broke a wine opener, getting it lodged in a bad cork. Never had that happen before! Charlie cut it out with a knife.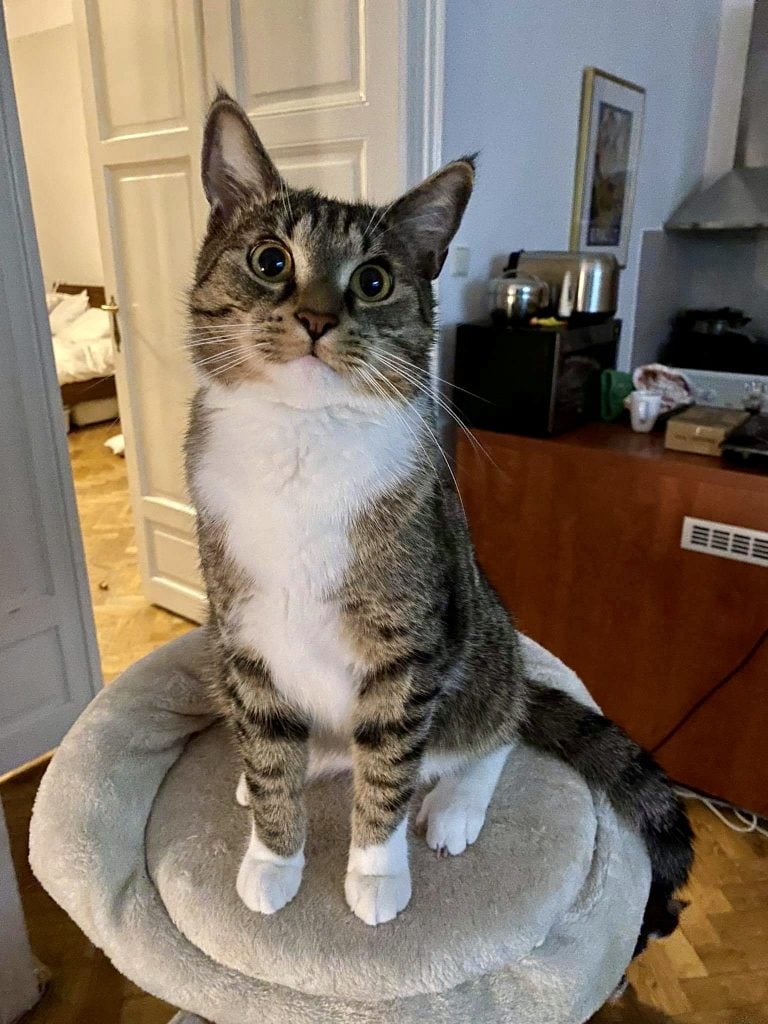 Posts of the Month
Things to Do in Cambridge, Massachusetts — A lot of people want to visit Cambridge when they go to Boston, but they don't know what to do beyond Harvard. Well, I happen to love Cambridge (it's where I would live if I lived in Boston) — so here are my top recommendations.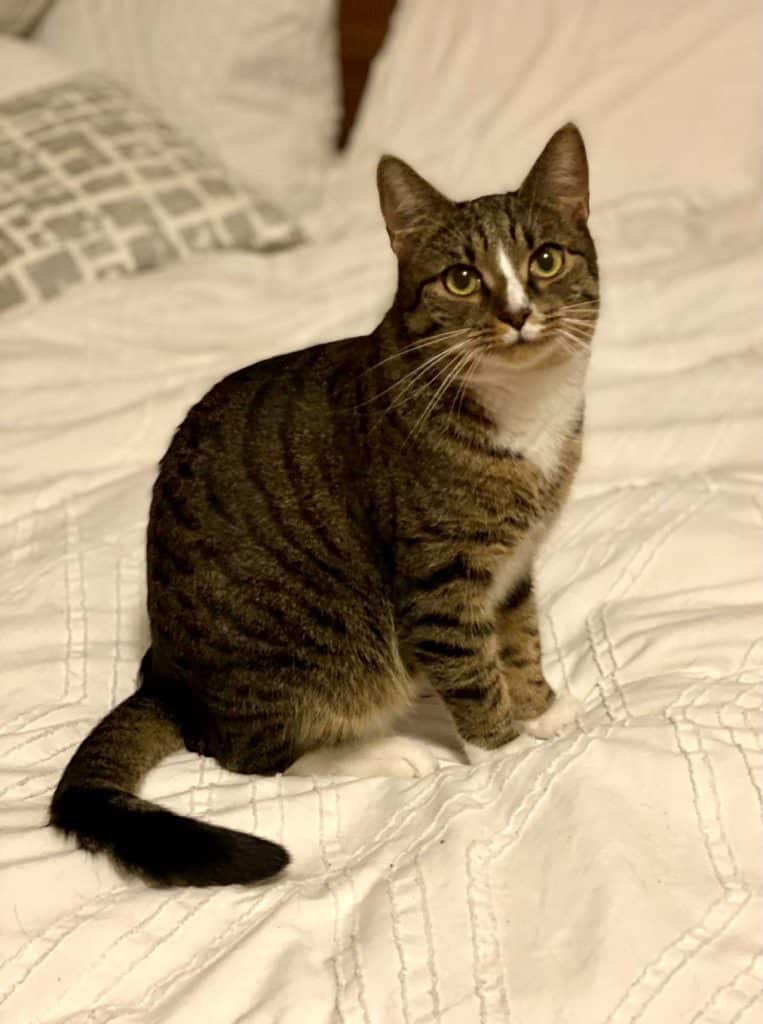 Book Club this Month
Our next book club meeting will actually be on Sunday, October 17 at 1:00 PM ET. We will be discussing How Beautiful We Were by Cameroonian author Imbolo Mbue. You can sign up here.
"We should have known the end was near. So begins Imbolo Mbue's powerful second novel, How Beautiful We Were. Set in the fictional African village of Kosawa, it tells of a people living in fear amid environmental degradation wrought by an American oil company. Pipeline spills have rendered farmlands infertile. Children are dying from drinking toxic water. Promises of cleanup and financial reparations to the villagers are made–and ignored. The country's government, led by a brazen dictator, exists to serve its own interests. Left with few choices, the people of Kosawa decide to fight back. Their struggle will last for decades and come at a steep price.
Told from the perspective of a generation of children and the family of a girl named Thula who grows up to become a revolutionary, How Beautiful We Were is a masterful exploration of what happens when the reckless drive for profit, coupled with the ghost of colonialism, comes up against one community's determination to hold on to its ancestral land and a young woman's willingness to sacrifice everything for the sake of her people's freedom."
Hope to see you there! Tickets are pay-what-you-wish; I suggest $5. Patreon members get free tickets.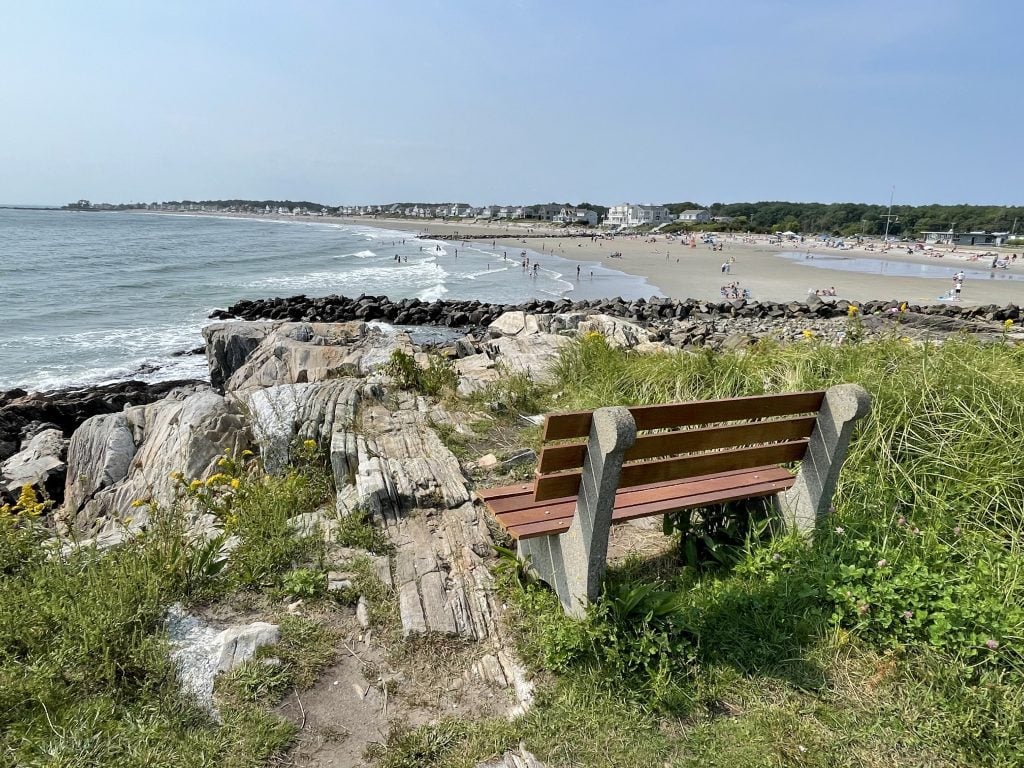 This Month on Patreon
On the Adventurous Kate Patreon, I publish exclusive content and never-told stories that you can access from $6 per month. We also have a private Facebook group and members get free access to the Book Club each month.
This month I made a big revelation to my Patreon audience — I'm starting a new (and ENORMOUS) project that I think will be a game-changer for my business long-term, as well as a creative and nostalgic joy.
In another post, I did a rundown of my New Hampshire trip — 10 things that I really enjoyed, and five things that I wouldn't recommend wasting your time on.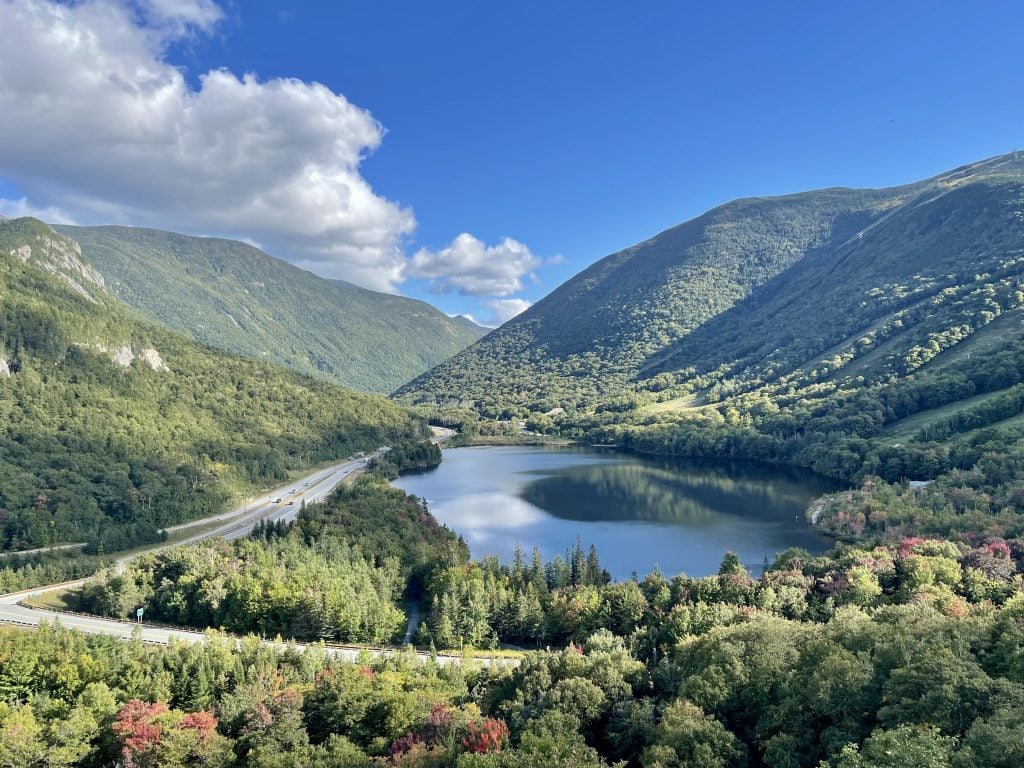 Most Popular Photo on Instagram
This is the view from Artist's Bluff in Franconia, New Hampshire. If you're looking for an easy hike with a great view in the White Mountains, this is the one. How beautiful is that? And imagine how it is during peak color!
You can do this hike in less than an hour (I did it in 90 minutes) and if you go counterclockwise, it's easier on your knees. It's popular and crowded during the busy months; I visited during the lull of mid-September so I only saw six other people on the trail.
For more updates from my travels, follow me on Instagram at @adventurouskate.
What I Watched This Month
Not much to share, but I did watch a few episodes of Motel Makeover on Netflix. It's both fascinating and annoying.
I love the idea of taking an old motel and making it over for a new generation. But they're not "decorating" so much as vomiting generic Instagram trends onto the walls as cheaply as possible, and I have the feeling it's going to look painfully dated within five years.
And The Great British Bake-Off is back! Who's your favorite? I love Giuseppe.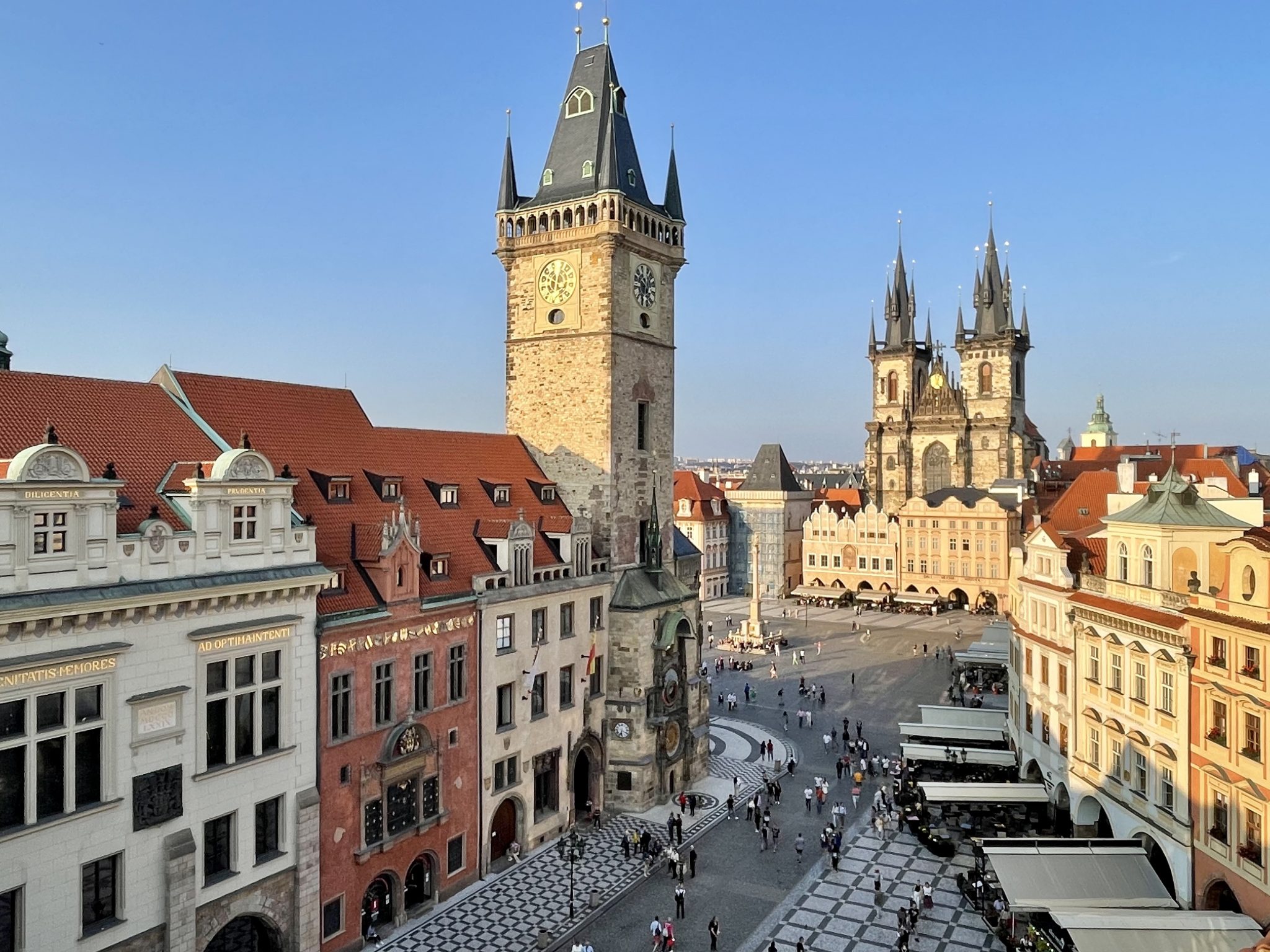 What I Read This Month
If it hadn't been for audiobooks on long New Hampshire drives, I would have only finished one this month! I'm now sitting at 53 books read in 2021, and it's always nice to surpass the book-a-week milestone.
Milk Blood Heat by Dantiel W. Moniz (2020) — In this short story collection, debut author Dantiel W. Moniz tells the stories of ordinary Floridians — men, women, children — in what the book describes as "intergenerational tales that contemplate human connection, race, womanhood, inheritance, and the elemental darkness in us all."
I don't read collections of short stories really often, but WOW. This collection is OUTSTANDING. They brought a creepy unease, not unlike Guy de Maupassant's or Roald Dahl's short stories. You can feel the Florida heat and humidity wrapped around every word. Highly recommended, and I look forward to reading more from Moniz.
Never Split the Difference: Negotiating as if Your Life Depended on It by Chris Voss with Tahl Raz (2016) — Life is a series of negotiations. How can we negotiate better and use these techniques to get what we want? Chris Voss, formerly the FBI's lead international hostage negotiator, gives a blueprint on how to negotiate your way to success in jobs, when buying cars or houses, and when dealing with loved ones.
Well, this might be one of the most useful books I have ever read! Seriously. It's a guide to making people feel more at ease in conflicts, and thus more likely to make life more easier for you. I've already done a bit of trying it out and it WORKS. Huge recommendation for this one.
I listened to this one on audio but wish I had read it (I don't retain audio super well), but I do have access to Masterclass, and Voss does a negotiating Masterclass based on the book.
Dear Girls: Intimate Tales, Untold Secrets, and Advice for Living Your Best Life by Ali Wong (2020) — Comedian Ali Wong broke out into the mainstream when she performed her first Netflix special, then her second, while heavily pregnant. In this memoir, she tells hilarious stories from her life, written as letters to her two daughters.
I love Ali Wong's comedy and this was perfect easy listening on a road trip. At first I worried that it was going to be a mommy memoir, but after some motherhood stories she jumps into studying abroad in Vietnam, coming up as a comedian, doing ayahuasca in Mexico with her husband, and more. Lots of laugh out loud moments in the car!
Memorial: A Novel by Bryan Washington (2020) — Benson, a Black day care teacher, and Mike, a Japanese American chef, are a couple whose relationship has been stagnant for years. When Mike learns that his father is on his deathbed, he flies to Osaka and his mother comes to stay with Benson. Over the next few months, they try to figure out what comes next and whether what they have is worth saving.
I had heard so much buzz about this book, but was left disappointed. It was really uncomfortable to spend so much time in a relationship where two people are so apathetic about each other. You really wonder why they saw anything in each other in the first place. And though I enjoyed being transported to Houston and Osaka, and appreciated a romance with a queer couple of color, it was honestly a slog for me.
Finally, don't listen to the audiobook. Washington voiced Benson's chapters, and his voice is a terrible monotone. I get that he felt connected with Benson's character, but this job really needed a professional voice actor. You really notice the difference once Mike's chapters start and are a million times better.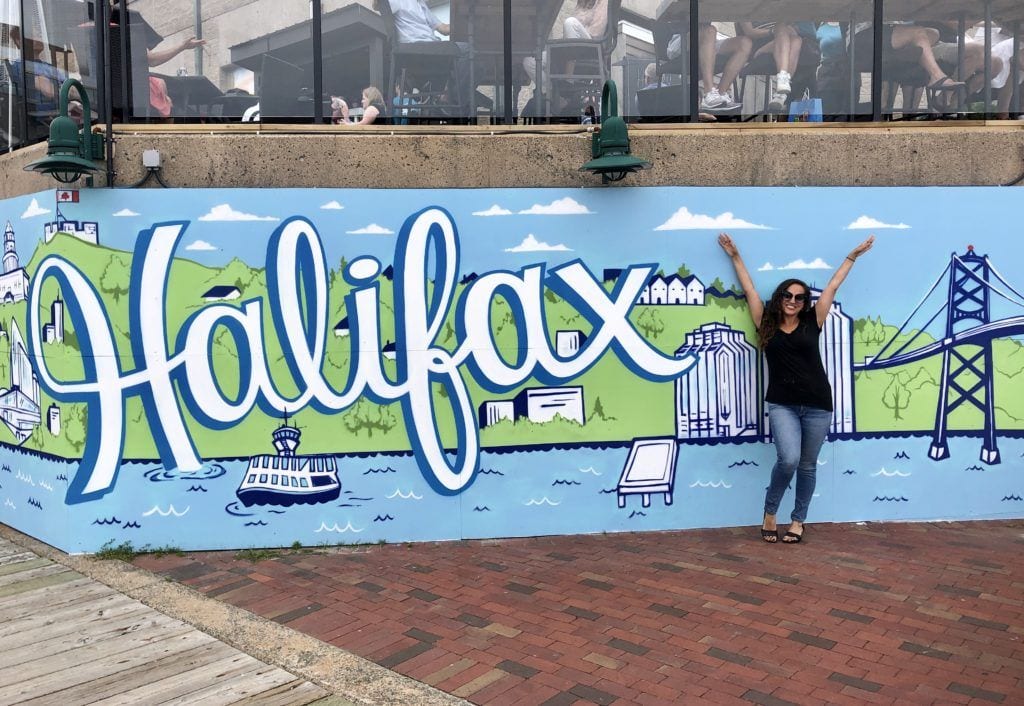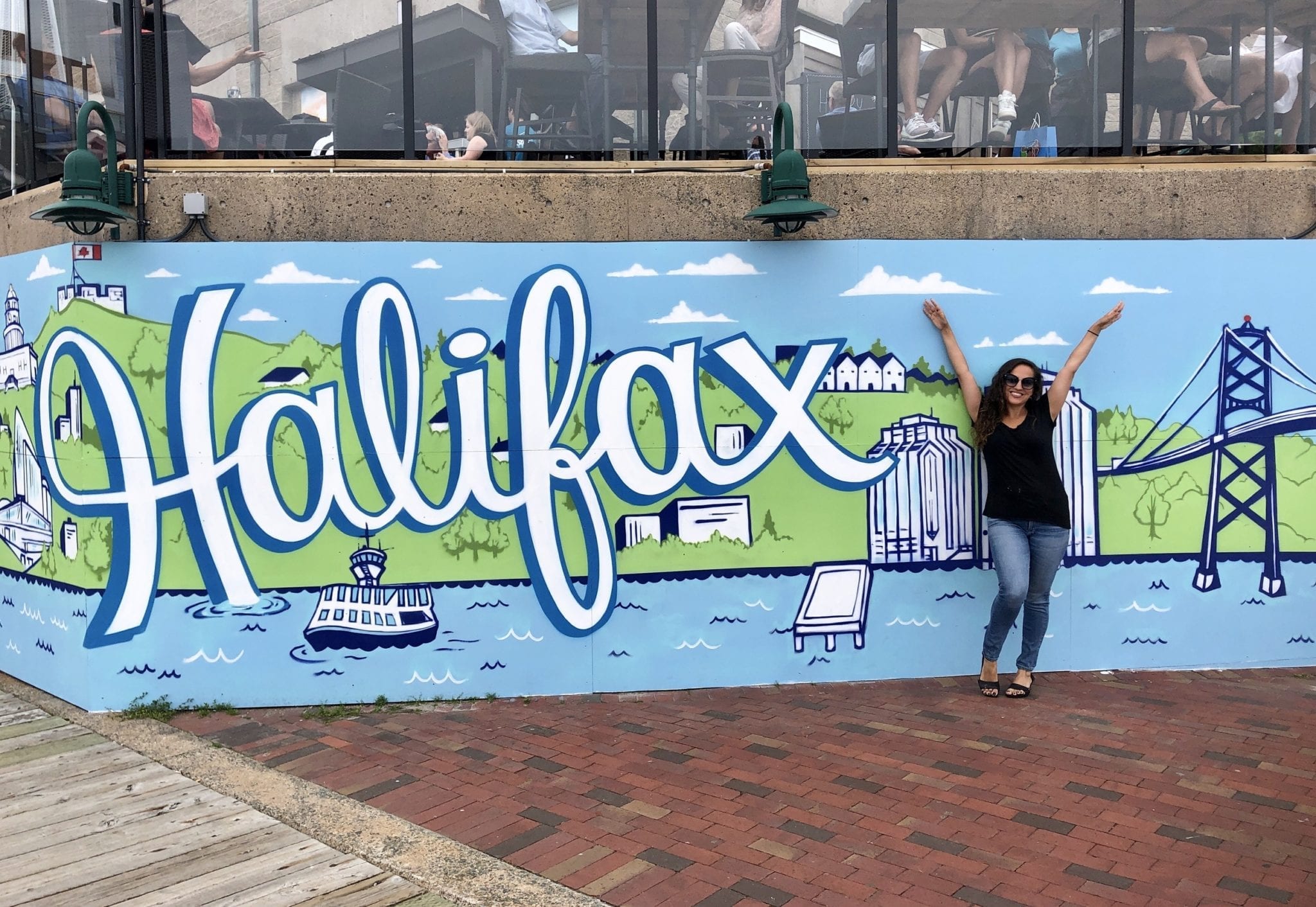 Coming up in October 2021
As I write this, I'm sitting in Logan Airport, ready to catch a flight to Nova Scotia! HELL YES, CANADA! I AM BACK!
On this trip, I'm exploring Nova Scotia's South Shore, most of which is new to me. I'll be exploring beautiful seaside towns, taking boat trips, riding bikes along seaside paths, and even doing a lumberjack experience! Plus beautiful Halifax, of course, and I'm eager to visit the new Peace by Chocolate along the waterfront.
After Nova Scotia, I'll have two days in Massachusetts before flying back to Prague. And one of them is the Boston Marathon — rescheduled to October rather than its usual April date. I'd love to catch it if I have time; it's the day when Boston is at its best (you may recall I was there during the bombing in 2015).
I return to Prague in mid-October. After a busy trip home, I'm looking forward to relaxing, spending time with Charlie and the kitties, and getting back to my routine. Maybe doing some local exploration — hopefully Tabor. Maybe Karlovy Vary or Brno.
What are your plans for October? Share away!
Get email updates from Kate
Never miss a post. Unsubscribe anytime!