Adventurous Kate contains affiliate links. If you make a purchase through these links, I will earn a commission at no extra cost to you. Thanks!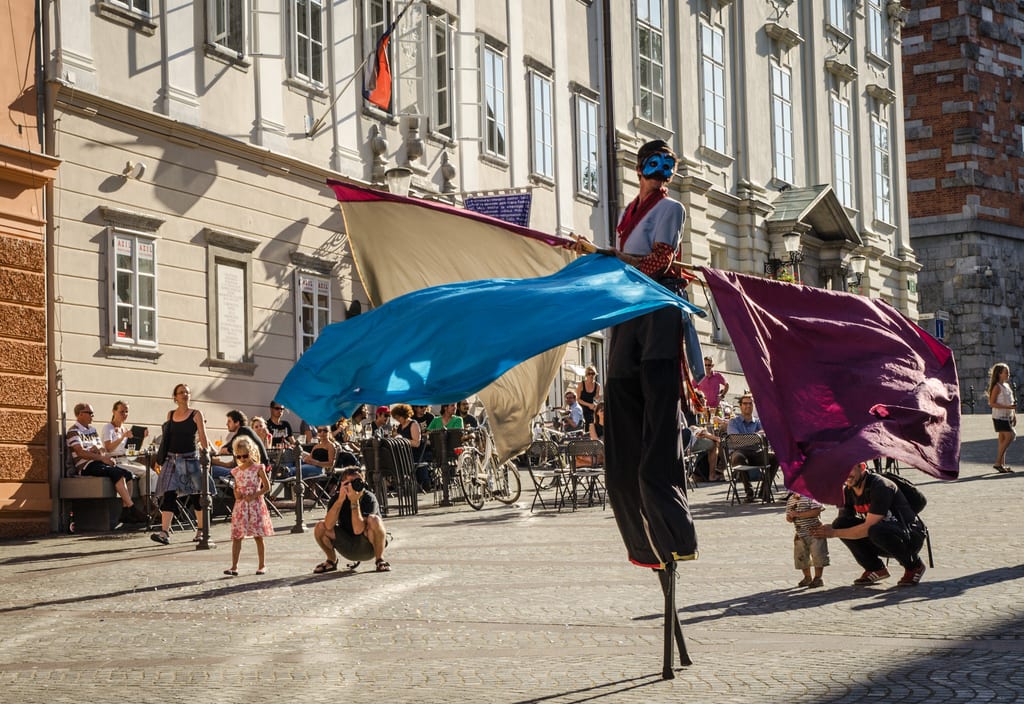 I'm spending this summer visiting quirky and unusual festivals throughout Europe. My first festival trip took me to Ireland and Limerick, City of Culture. My second took me to a very different destination and a country I had yearned to visit for years: Slovenia.
Allow me to introduce you to Ana Desetnica, the street theatre festival of Ljubljana. For four days in early July, dozens of street performers bring their wild, zany, and creative acts to Slovenia's capital city.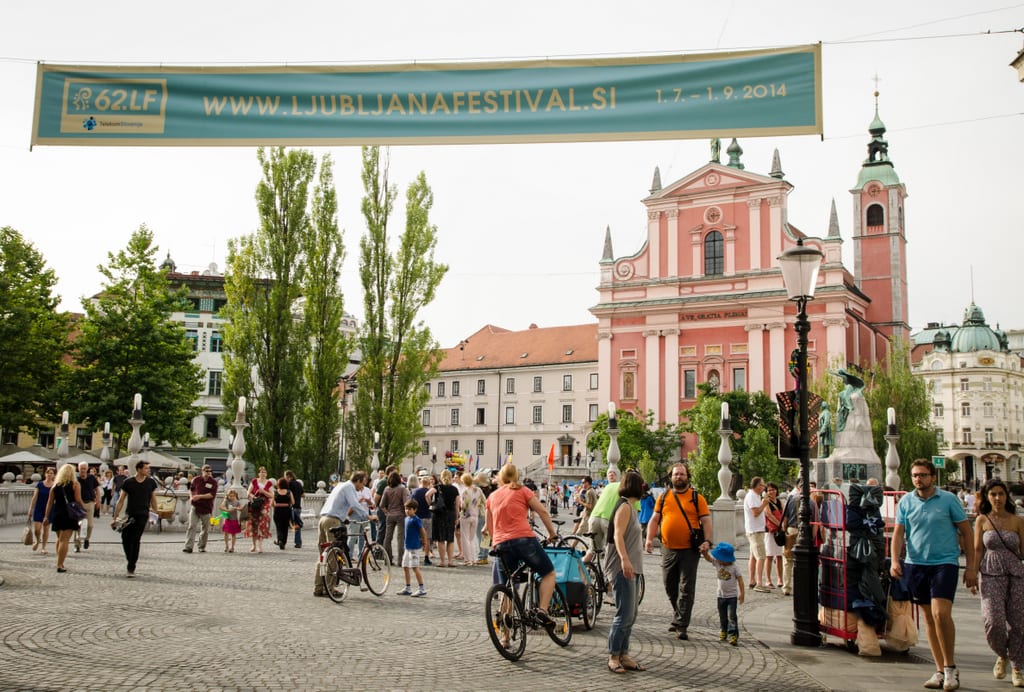 Ljubljana Comes to Life
First of all, Ljubljana is a city straight out of a fairy tale. The brightly colored buildings, the cobbled streets, the castle on a hill — I felt like I was in a Disney movie! I fell in love with Ljubljana hard and fast, and it's on the list of my favorite cities in the world now.
In this city, it just seems natural that performances sprout up seemingly out of nowhere — I couldn't imagine a more perfect place for a street theatre festival.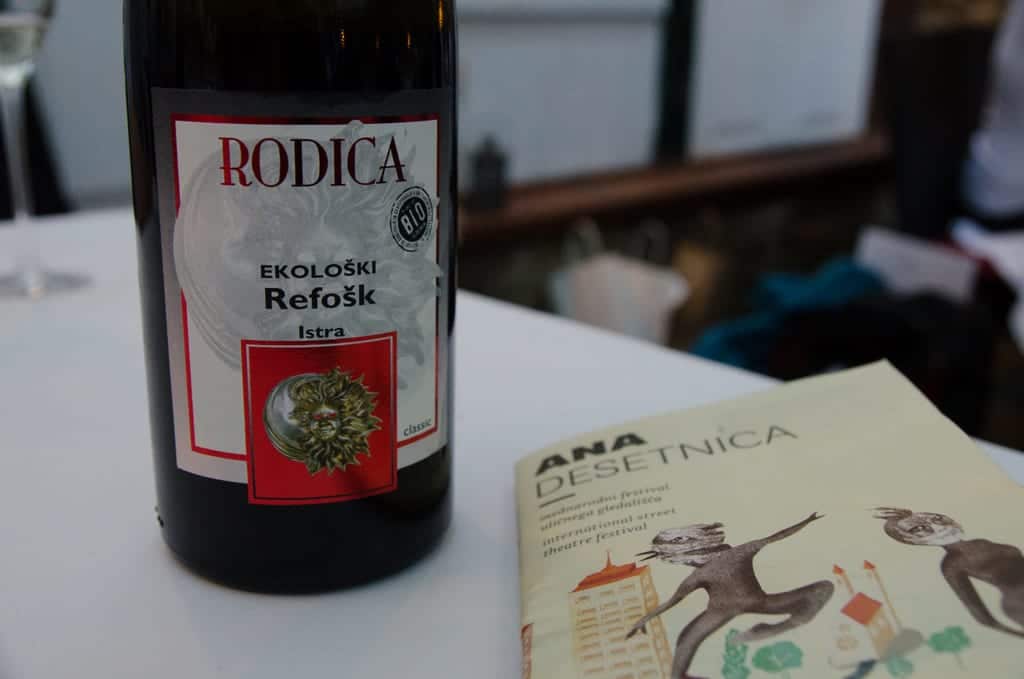 One thing that I liked about Ana Desetnica was that none of the performances started until 4:30 PM. That way, you get time to wander the city and do your own thing without feeling pressured to catch performances throughout the day.
And there's so much to do in Ljubljana, but my favorite thing to do while traveling is to sit in a cafe and feel like I'm a part of the city. Ljubljana is chock full of cafes — they spill out in every direction! I was as happy as a clam. As an introvert, I needed quiet time to balance out all the performances, and Ljubljana's cafes certainly helped me out on that end.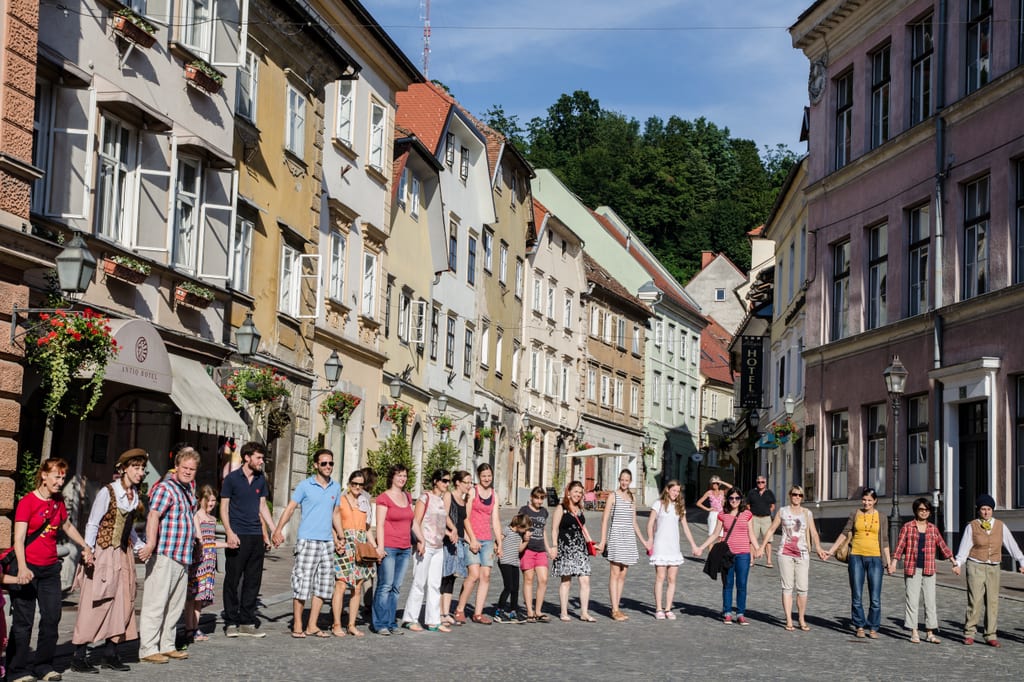 The Performances
Anything goes at Ana Desetnica. The performances range from dance and street theatre to interactive storytelling, juggling, dance, music, improv, and performances for kids. I will say that the majority of them are kid-friendly and don't contain any spoken language, making them accessible for the largest audience possible.
Here are some of the notable ones: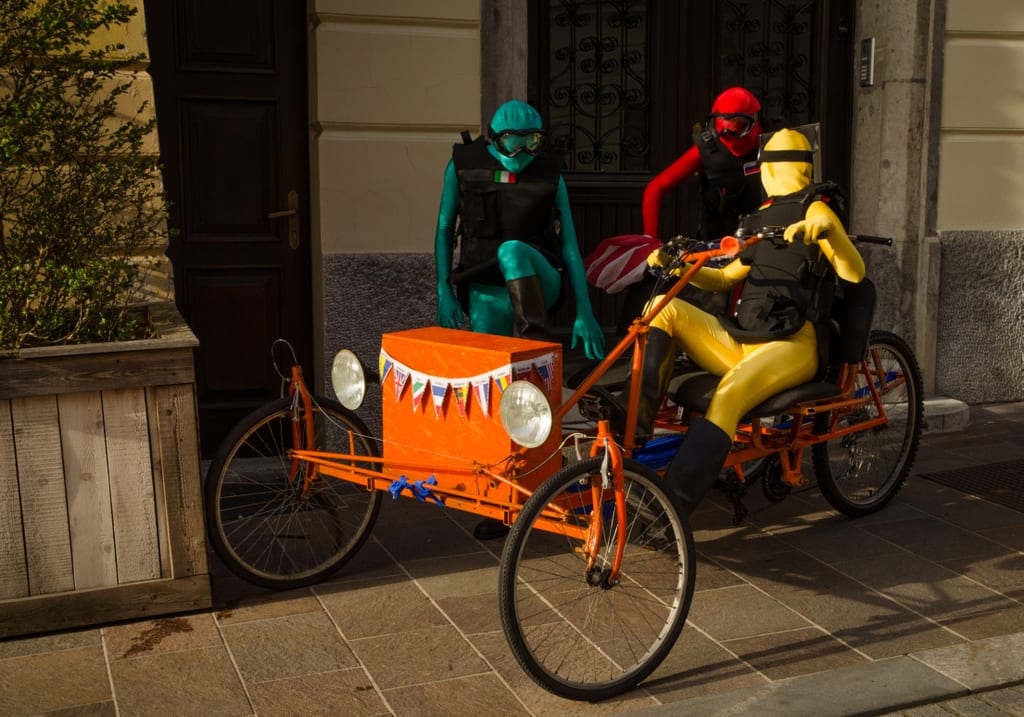 The Ukrainian group Teatr Brovi performed as the "Colored Men" — it looked fun and sweet at first, but it turns out it was a satirical take on the European Union.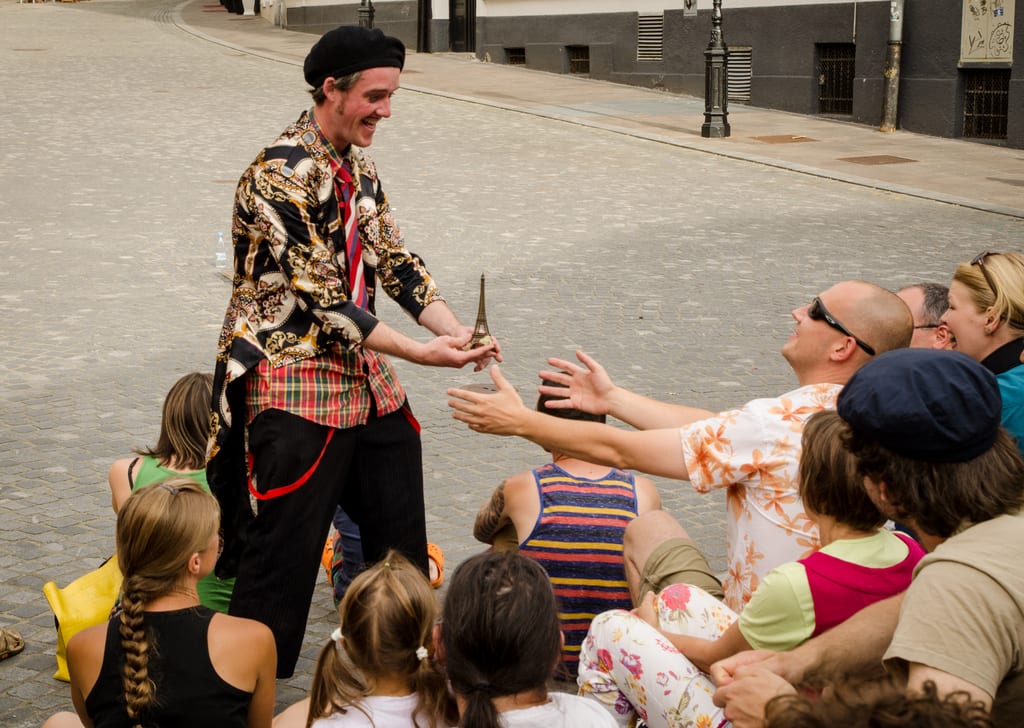 Dan Le Man is famous for being able to fit a LOT of ping pong balls in his mouth (make your own jokes). He did a wacky show involving props, and was remarkably good-natured about the annoying children who threw water on him. Believe it or not, he's not French — he's an Australian who now lives in Estonia.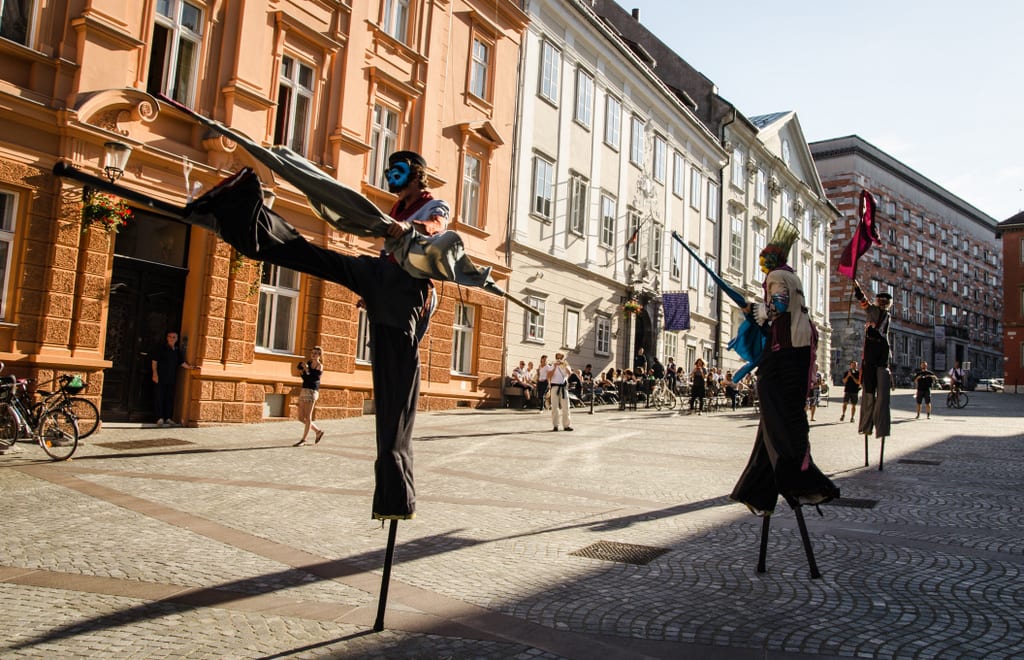 Italy's Faber Teater was a conglomeration of "short ones" (musicians) and "tall ones" (men on stilts) performing together in the square.
It got scary when the short ones came in…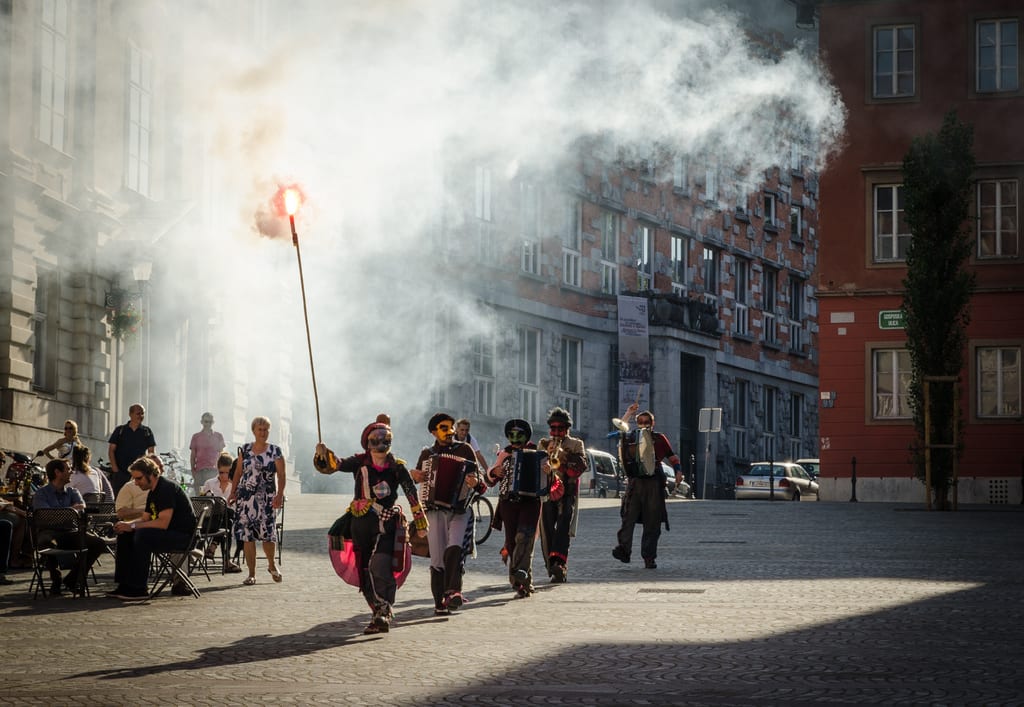 And for awhile, it looked like they actually killed the tall men. Not for long, though.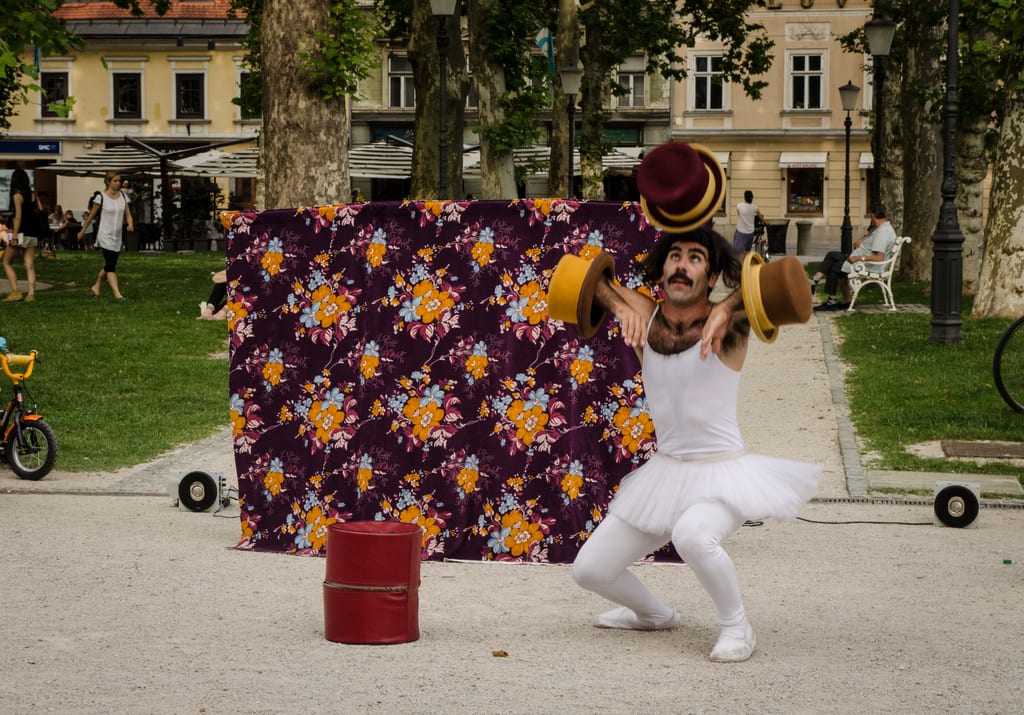 But one of my favorites was Italian MC Fois, whose show "LOVE ME!" was the funniest of the festival.
It was initially a mix of dance, juggling, and improv comedy from Conchita Wurst's long-lost brother. But then he chose his soul mate in the audience…
Tried to make him do the macarena…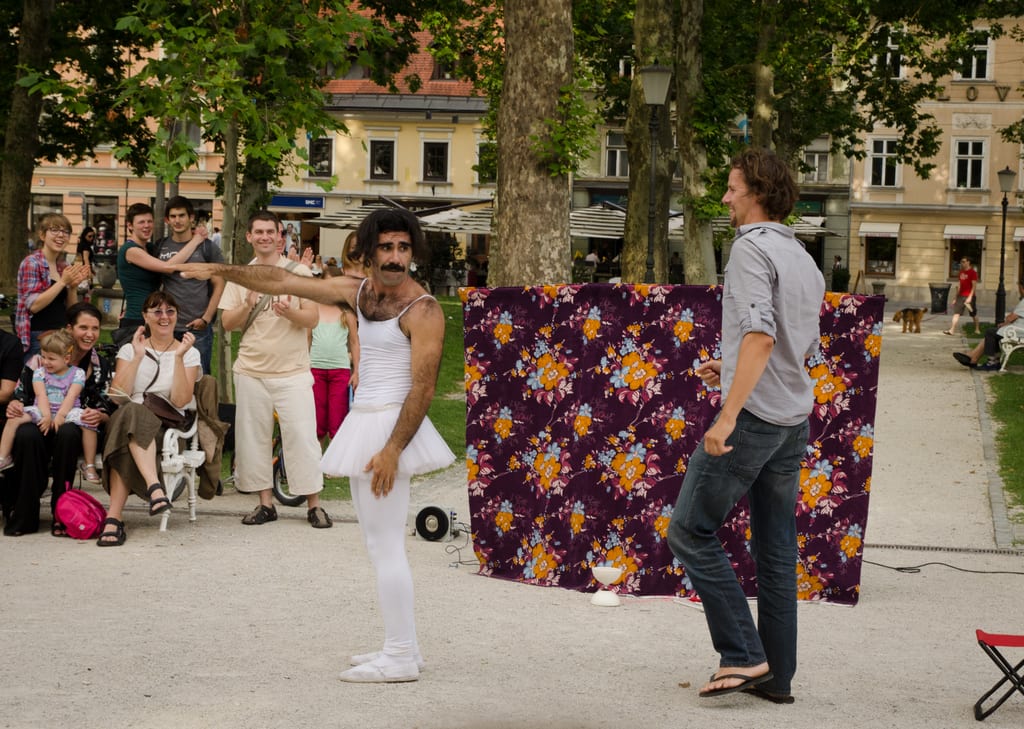 Got him to dress up and dance…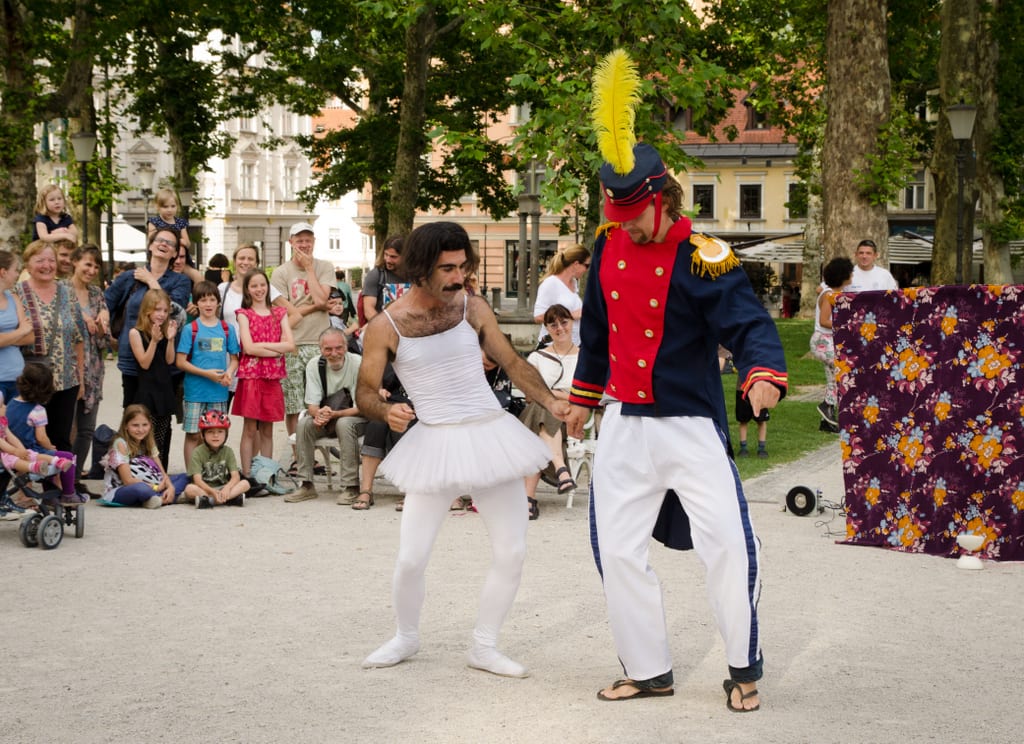 And then made him strip.
He finished by popping a balloon with a whip while blindfolded. (See the little red balloon mid-pop to the left of the smoke?)
You can see MC Fois in action here:
The last performances of the night tended to be the most dramatic and dark. Nothing was R-rated, but these were the kinds of performances that would give kids nightmares.
On the first night, it was a performance by Slovenia's KDPM Street Theatre Company. There were fiery explosions as two opera singers sang hauntingly and a man who looked like the bad guy from True Detective played a burning violin.
On my second night, the final performance was by the Slovenian/French team Vertigo: a woman dangled from a harness as the wall lit up with a wild landscape. She ran sideways along the road as the scenery changed (and a puppet named Bruno popped up now and then to mock her).  This was a really unique show and I've never seen anything like it.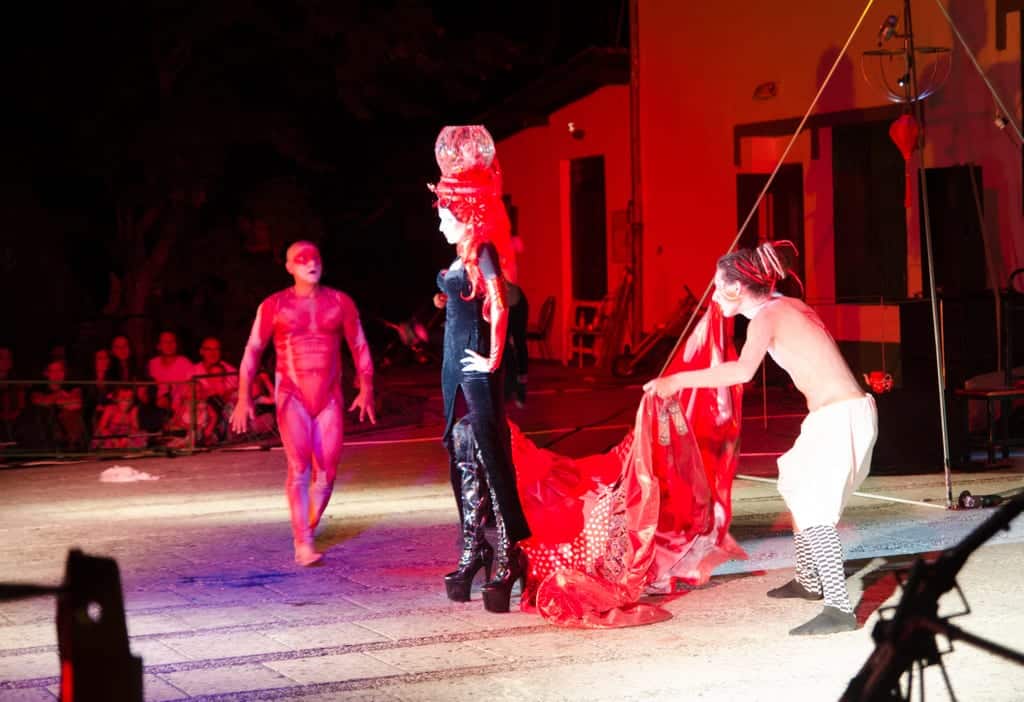 On my third night, the final performance was a truly twisted take on Alice in Wonderland by Slovenian theatre company Amanitas. There were drug simulations and a fiery jumprope and men with antlers on stilts; at one point the White Rabbit actually PEELED OFF HIS SKIN. That's him in the muscle suit on the left.
A Surprisingly Cheap Festival
While I was in Ljubljana, I was struck by how much of a bargain this festival was. Festivals usually come with sky-high prices, but that wasn't the case for Ana Desetnica.
First of all, the shows are all free (though many performers ask for donations). Secondly, many hotels and hostels don't raise their rates during the festival. And on top of that, while Slovenia isn't quite the cheapest country in Europe (that prize goes to my beloved Macedonia), prices are far lower than what you'd pay in Italy, France, Germany, or the UK.
Ana Desetnica is still a small and relatively unknown festival, and that works to its advantage.
Say you were going to go to a bigger street theatre festival in Europe — like Edinburgh's Fringe Festival. Though it's much larger than Ana Desetnica and has far more shows going on, the prices of Edinburgh are ordinarily very expensive, and festival season raises them into the stratosphere.
If you went to both Ana Desetnica and Edinburgh Fringe and spent each festival exactly the same way (same caliber of lodging, same quality of meals, same number of coffees and/or beers, etc.), I guarantee that Ana Desetnica would work out to be at least 50% cheaper, if not 60% or even 70%. This festival is stupendously good value for money.
The Takeaway
I want to go back to Ana Desetnica next year! Seriously. I really enjoyed this festival, I adored Ljubljana, and coming back will help me continue my tradition of visiting the Balkans every summer. Plus, I feel like I have unfinished business in Slovenia.
This is such a fun festival and if you're looking for something quirky and different in a gorgeous summer destination, Ana Desetnica is a wonderful option. This festival is pure joy in a spectacular city, and I loved every minute of it.
Essential Info: Ana Desetnica takes place in early July in Ljubljana.

I stayed at the Hostel Tresor, which I recommend. It's right in the dead center of Ljubljana and the rooms are very nice. Private doubles with shared bath are €30-40 ($40-54) in high season; dorms are €22-28 ($30-38) in high season. You can find other hotels in Ljubljana here.

I never travel without travel insurance and use and recommend World Nomads.
Must Love Festivals is brought to you by the Budget Traveller with lead partner Expedia and in association with the Slovenian Tourist Board. All opinions, as always, are my own.
What's the most interesting street performance you've ever seen?
Get email updates from Kate
Never miss a post. Unsubscribe anytime!